Gah! You're going to love this island! With stunning white sand, the azure water you come to expect in Thailand and of course, plenty to see and do. This is your full guide to Coral Island Phuket!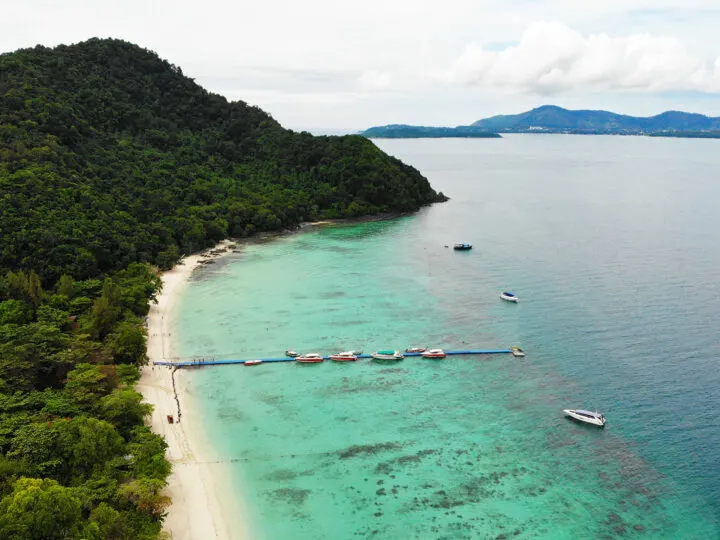 This post may contain affiliate links. For more info, see my disclosures.
A perfect day trip from the busy streets of Phuket, visiting Coral Island Thailand should be on your Thailand itinerary, for sure! Escape the crowds and hit the beach on this fun island.
These beaches are stunning, the ocean is warm and the island is an easy spot to relax on the beach for a day. A restaurant and bar, lounge spaces and perfect spots to grab your social media photos and videos, there's so much to see and do at Coral Island in Thailand!
This Coral Island from Phuket day trip reminds me a lot of the Similan Islands Thailand, which is an amazing day trip from Khao Lak, Phang Nga, just an hour and a half north of Phuket. So many beautiful options in this country!
Coral Island Phuket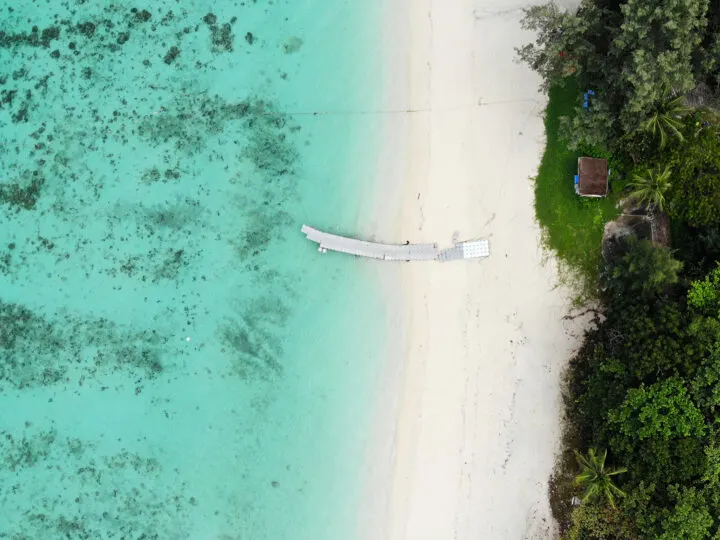 Thailand's Coral Island is a must-see, but the reasons why have changed over the years. Decades ago the island was aptly named Coral Island because of the lush coral reefs, perfect for snorkeling.
Unfortunately those were damaged with natural causes like typhoons, and unnatural causes like bleaching from toxic chemicals in traditional sunscreen. Always be sure to wear reef-safe mineral sunscreen in the ocean!
These days Coral Island is a great getaway from Phuket to enjoy the white sandy beaches and various water activities. The island is definitely groomed for tourism, too. There are many places to pose for the perfect social-media worthy photo or video.
Where is Coral Island Thailand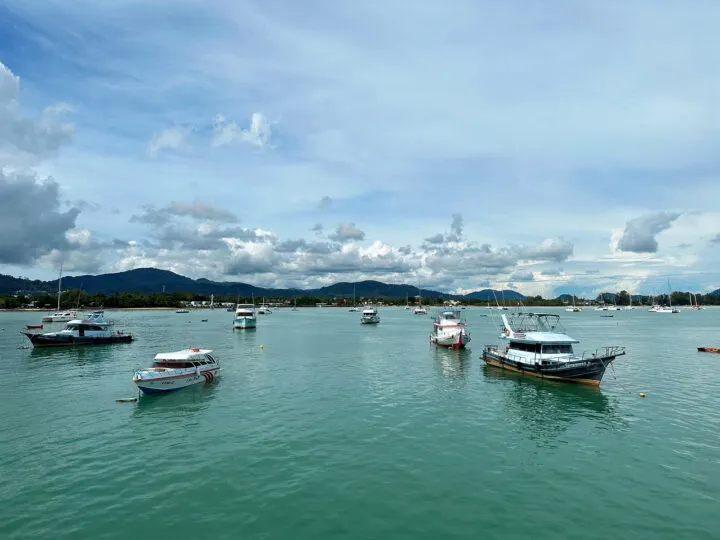 Coral Island, also known as Koh Hey, or Hey Island, is located near Phuket in the Andaman Sea. Fun fact: Thailand has over 1000 islands, and Phuket is the largest. But when you're there it just feels like part of the mainland Thailand.
Coral Island Map
If you're a visual person, this map will help you see where you'll go to Coral Island from Phuket on the pier plus a few landmarks on the island.
Pinch and zoom to check out the surrounding areas! If you're planning to visit other islands near Phuket, it's fun to see the locations of them. My other favorite nearby islands to explore were the things to do in Phi Phi Islands. 🙂
Coral Island from Phuket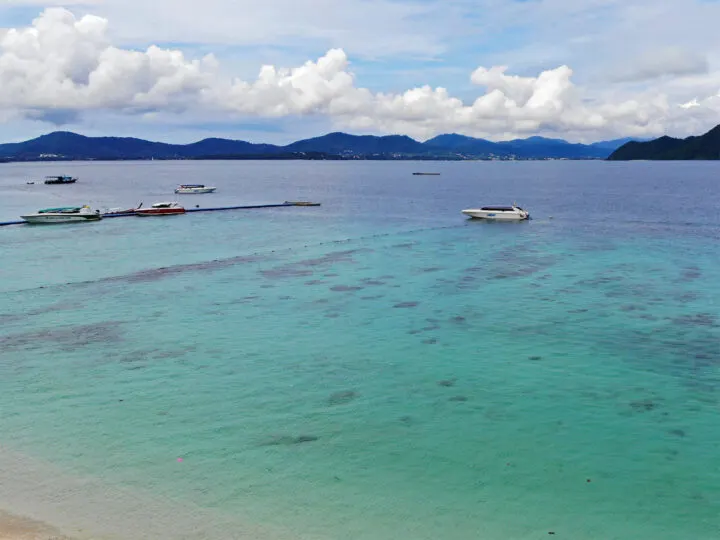 The most common way to see Coral Island is via tour. Depending on how much money you want to spend, you can rent a private catamaran for your group, or take a larger group tour via speedboat which is more economical.
This is one of the most popular day trips from Phuket, so the tours do sell out in advance, especially during busy season. Be sure to book a tour in advance to see Coral Island from Phuket.
Most tours will do a hotel pick up and head to the departure point, Chalong Pier.
You'll board your boat and head out to Coral Island from Phuket. This only takes about 15 – 20 minutes via speedboat, depending on sea conditions.
Some Coral Island tours also include stopping at Racha Island, a nearby snorkeling destination. If yours includes Racha Island, the boat will likely just anchor down for snorkeling and you won't actually go ashore.
Many Coral Island tours are full day trips, others are just 1/2 day. I'd always recommend more time at a beach than less, so a full day is the best tour, in my opinion. 🙂
Best time to go to Coral Island Phuket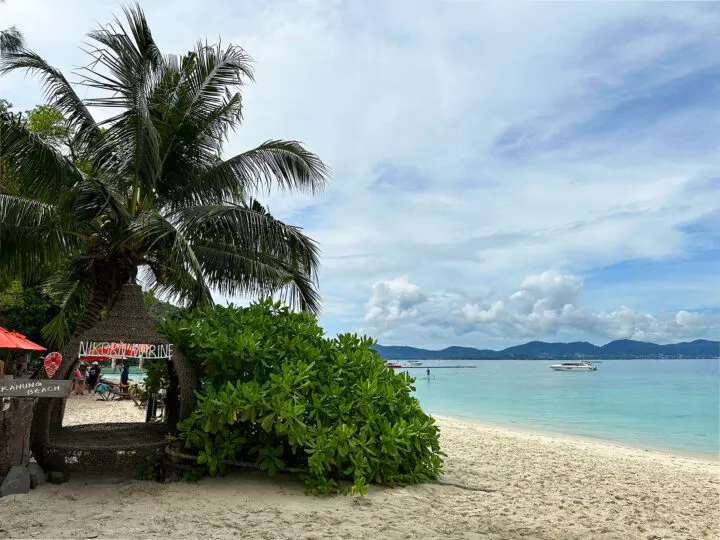 November through April is the best time to visit Coral Island in Thailand. Summer is the monsoon season, so it's typically very rainy and the seas are rough.
Over the winter months, December through March, you'll enjoy the sunniest skies where the azure water really shines!
To avoid the crowds, try visiting Coral Island Thailand during late October/early November and late April/early May. This is the shoulder season, and typically gets less tourism, meaning the beaches are more empty.
Just note Phuket is a very popular tourism destination in Thailand, and this is a common tour so you'll be sharing the beaches with others, no matter when you go.
What to pack for your day trip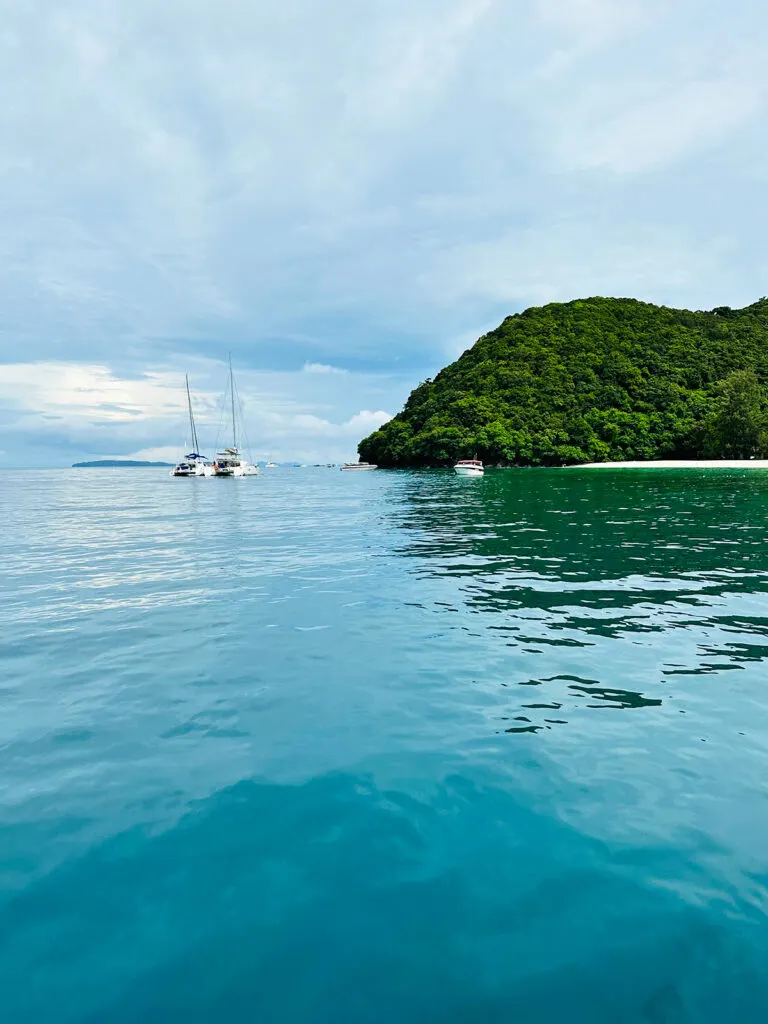 Obviously you'll be wearing beach attire for this day trip. But this Coral Island review lists a few extra things you maybe haven't thought of!
Dry bag. Keep your valuables, money and anything else you want to stay dry in a dry bag! Being on a boat and on the beach the whole day, you'll want to keep certain belongings free of sand and water.

Beach towel. I love this quick-drying towel with a hidden zipper pocket for storing valuables. I've taken it all over the world and used it in Placencia Belize, Big Sur California and many more places. Bonus – it doubles as a blanket on the flight to Thailand!

GoPro. This waterproof camera is perfect for beachy pics and underwater activities like snorkeling. I used my GoPro in Thailand and it worked great. Don't forget the float strap!

Cash. You'll want cash to pay for food, drink, admittance fees or activities that aren't covered by your tour.
Alright enough chatting already! Let's get to the details about what to actually do and see on Coral Island Thailand!
Coral Island Phuket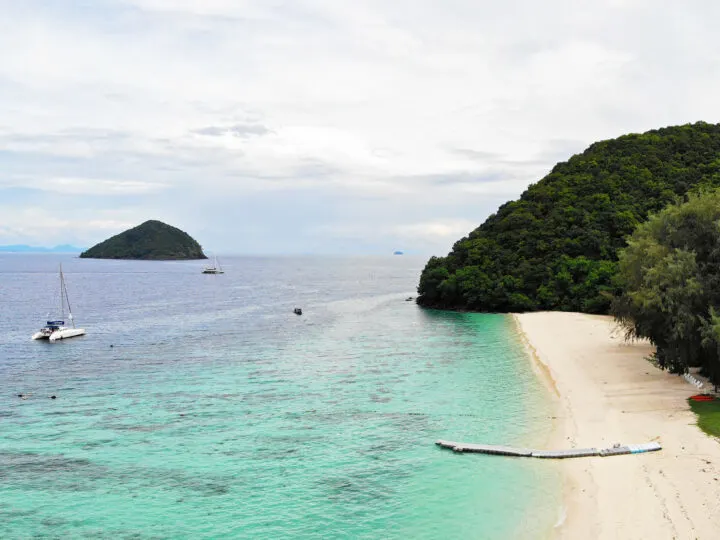 Coral Island Phuket, is a beautiful island perfect for sitting on the beach and enjoying the water. Equipped with multiple beaches, a restaurant, bar and restrooms, can you think of a better way to spend the day?
This beautiful island welcomes visitors daily – sometimes hundreds of them, so if you can, opt for a full day trip. This will give you ample time to lounge on the beach and enjoy the various water activities offered on the island.
Kahung Beach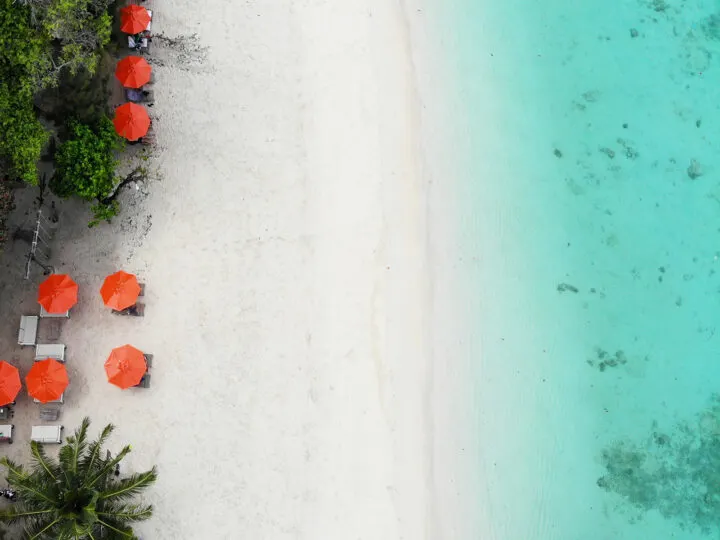 Kahung Beach is the island's main beach with the most amenities.
You'll arrive and disembark on a floating pier to the sand on Kahung Beach. This is potentially the trickiest part of the whole day, as the pier definitely rocks and sways with the waves and other passengers walking on the plastic pier.
Note: there may be a small entrance fee at The Coral Beach Club, if your tour doesn't cover it. Bring your cash with you in case.
Kahung Beach on Coral Island has incredibly soft, white sand that's so popular for vacations in Thailand. Grab a lounge chair and enjoy the views!
Part of the beach is reserved for swimming, snorkeling and water activities. The end of the beach area is for boat parking.
On-site food and drink options are pretty simple, with traditional Thai food but it's been seasoned for international travelers, for sure. Hey Island Restaurant has a basic menu to choose from.
Near the beach are 2 bars where you can order cocktails and fruit smoothies.
Along the beach are multiple spots to get the perfect Instagram or TikTok shot. Lots of swings and seats made that look like the famous birds nest in Bali.
Banana Beach Phuket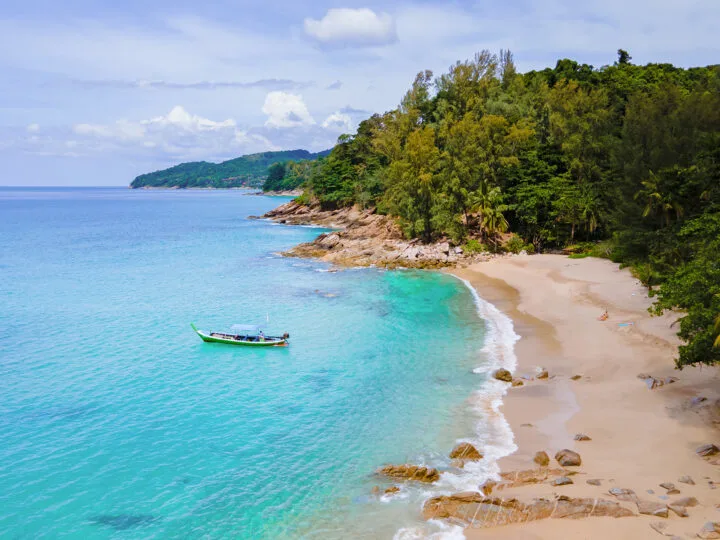 Another cove on Coral Island is the popular Banana Beach Thailand. Some tours will take you to Kahung Beach, others to Banana Beach. If you hire a private tour, you could visit both.
Note: there may be a small fee to use the services at Banana Beach Coral Island to use the deckchairs and restrooms. Be sure to bring some cash.
Similar to Kahung Beach, there's a restaurant and bar, plenty of places to lounge and enjoy the day.
Banana Beach Phuket is a smaller beach compared to Kahung Beach, and based on weekend entertainment, it's more of a party beach.
You can definitely book tours to both locations, it just depends what you're looking for! Both have white sand and plenty of activities to keep you busy for the day.
Activities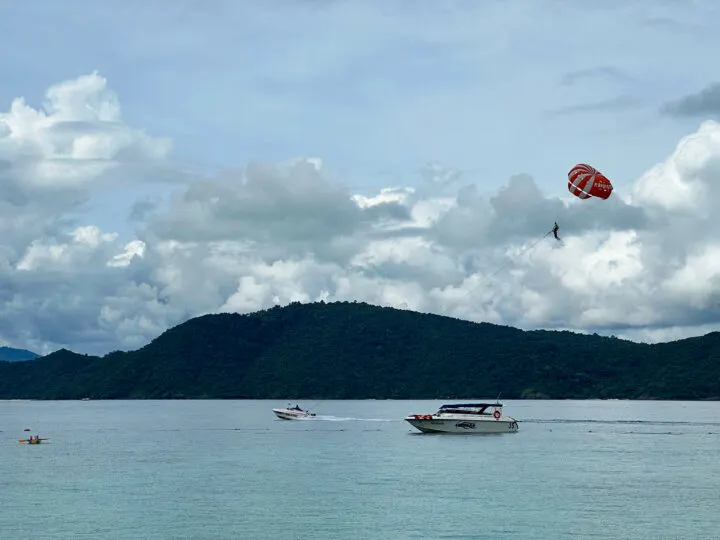 Speaking of activities, the vendors that operate on Coral Island in Thailand really cater to tourism. Here are a list of some of the things you'll find to do.
Be sure to check with your tour company to determine which activities are included and which are an extra fee.
Phuket Coral Island activities
Clear bottom kayaking
Paddleboarding
Sea walking
Snorkeling
Parasailing
Banana boat ride
Food and drink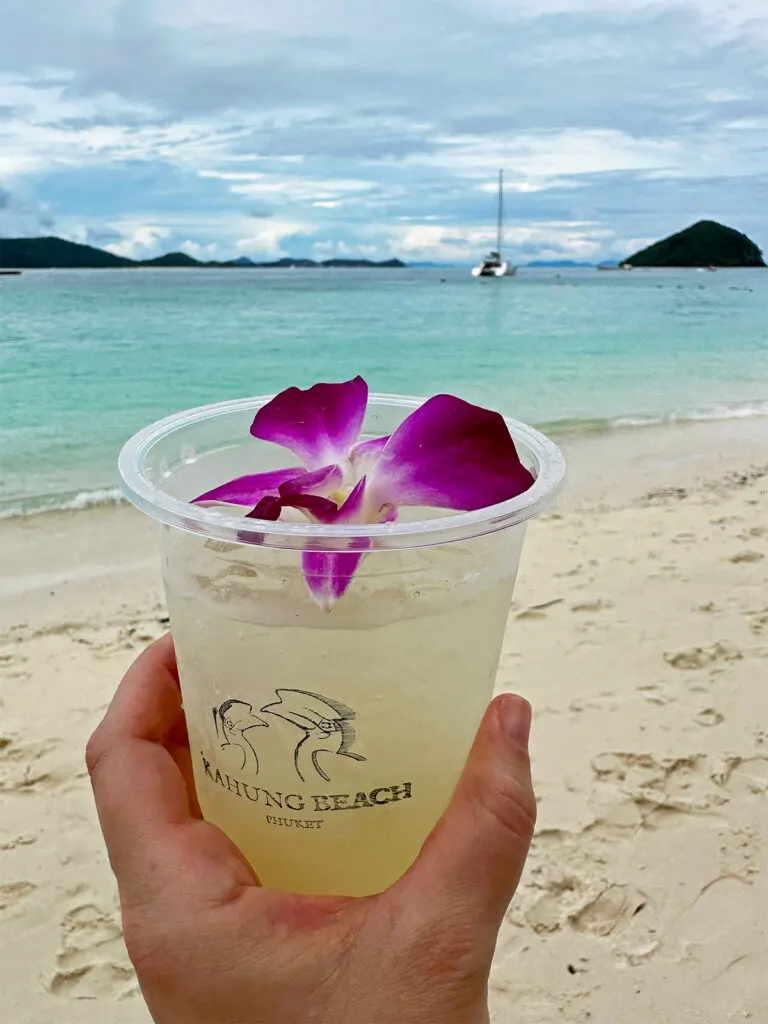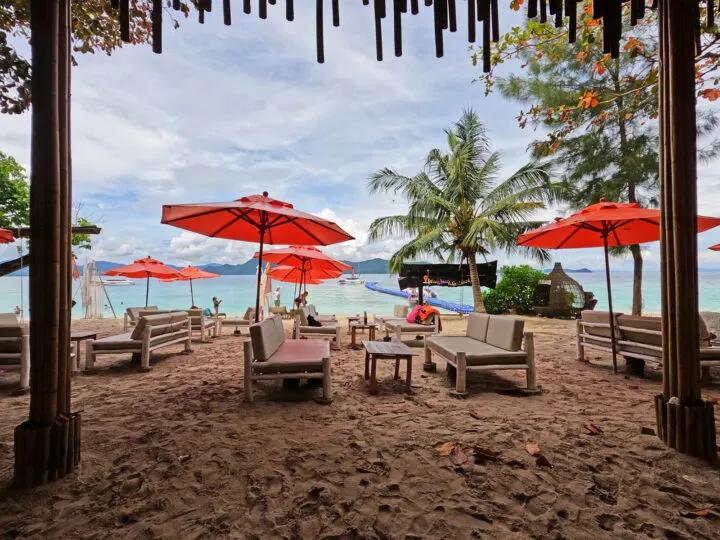 The food and drink options on Coral Island Thailand are really great – for a tiny island in the Andaman Sea!
If you have food allergies or need to avoid food groups (gluten, dairy, etc.) then either take food with you in a collapsible cooler or coordinate with your tour company ahead of time.
Some of the food choices you may have include Thai foods like Tom Kia Seafood (seafood coconut soup), Chicken Satay, Vegetable Spring Rolls or Stir Fried Chicken with Cashews. Not bad, right?!
The drink and smoothie bar will likely have what you need as well. Water, cocktails, fruit smoothies – just the essentials for spending a day on a tropical island. 😉
Tips for this gorgeous island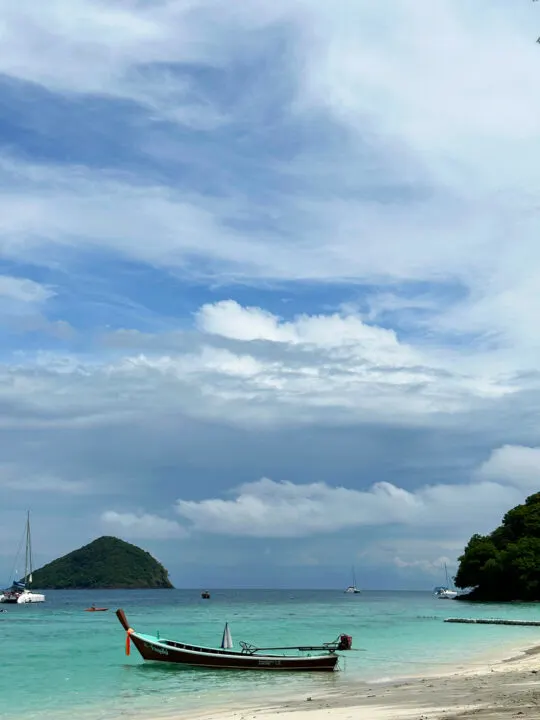 Before wrapping up this Coral Island review, let's go over a few more tips for your time here.
Take motion sickness medication. If you get queasy on a rocking boat, grab your motion sickness remedy for the ride!

Bring a cash tip for your tour crew. A 10% tip is customary in Thailand for these types of services.
Things to do near Coral Island Thailand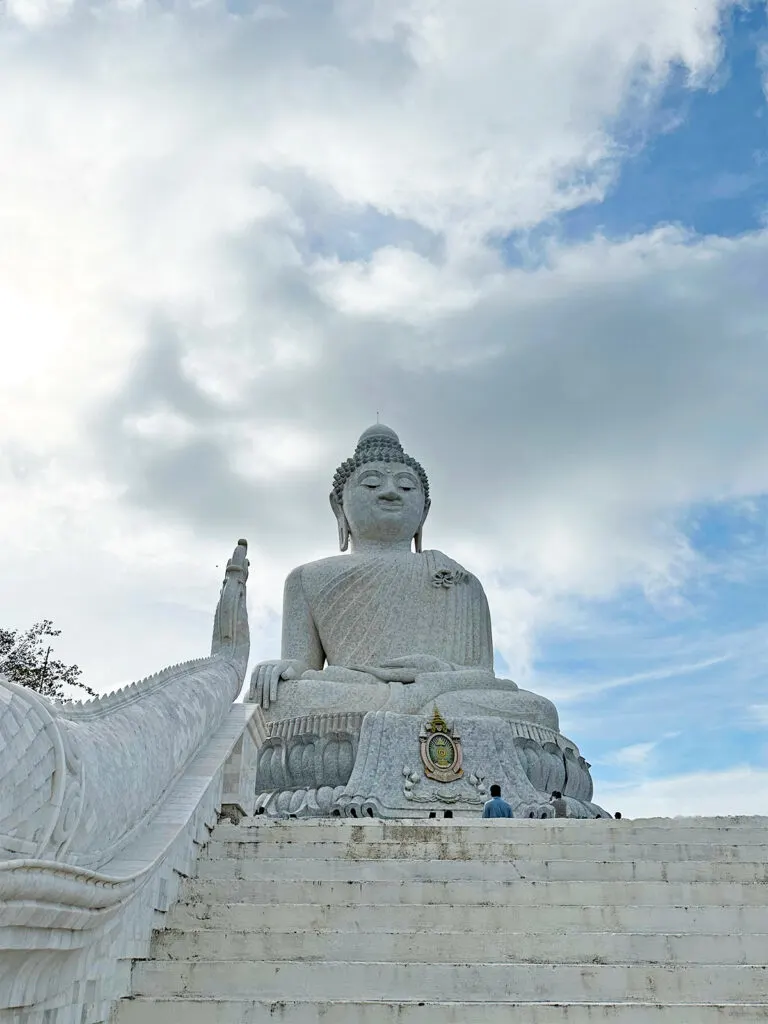 There's so many things to do in and around Phuket! It's such a busy area in Thailand, you certainly won't get bored!
Some activities close to Chalong Pier and Thailand Coral Island include…
Snorkeling at Maiton Island or Racha Island
Exploring Koh Phi Phi and Maya Bay
Wat Chalong Temple
The Big Buddha
Aquaria Phuket
Kata Beach
Nearby accommodations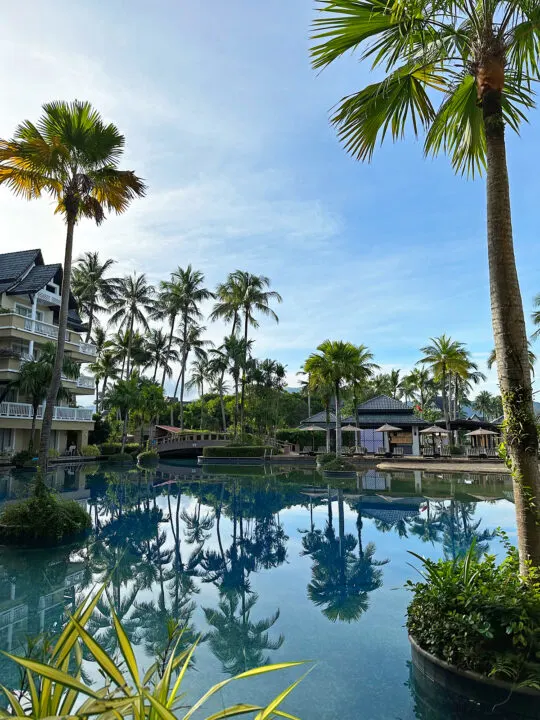 If you don't have your accommodations booked yet for Phuket, I've got a great list of options for you.
The traffic in Phuket can be intense – like taking an hour or two to get across the island. You could stay close to the Chalong Pier on the south side of the island if you're just planning a few days in Phuket.
Coral Island Phuket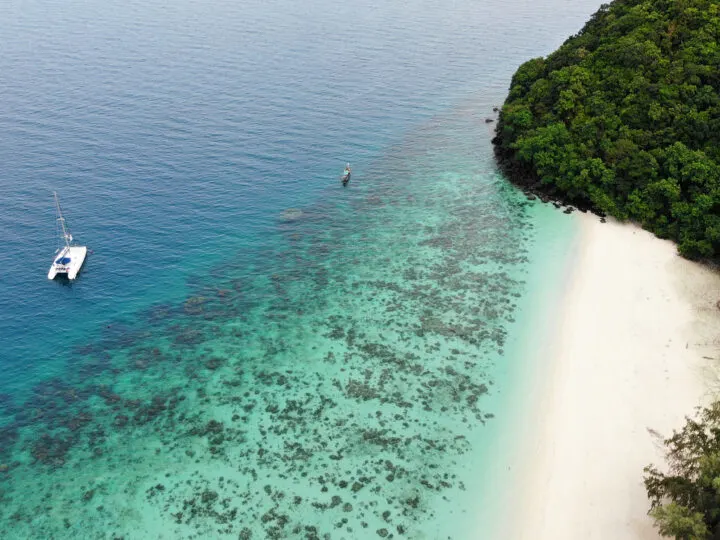 This beautiful adventure to Coral Island in Thailand is a great day trip from Phuket! Offering water activities, food, drink and white sandy beaches, you're sure to have a good time!
Swimming and kayaking, snorkeling or sea walking, this is an excursion you won't soon forget. Enjoy your time on the island!
Related content to read next:
21 Incredible Things to Do in Phi Phi Islands Thailand You Can't Miss
Khao Lak, Phang Nga, Thailand: 21 Fun Things to Do (You'll Love this Underrated Coast)
STUNNING Similan Islands Thailand: Ultimate Guide to Beaches, Snorkeling & More
Find this post helpful? Save it for later or share it on social media!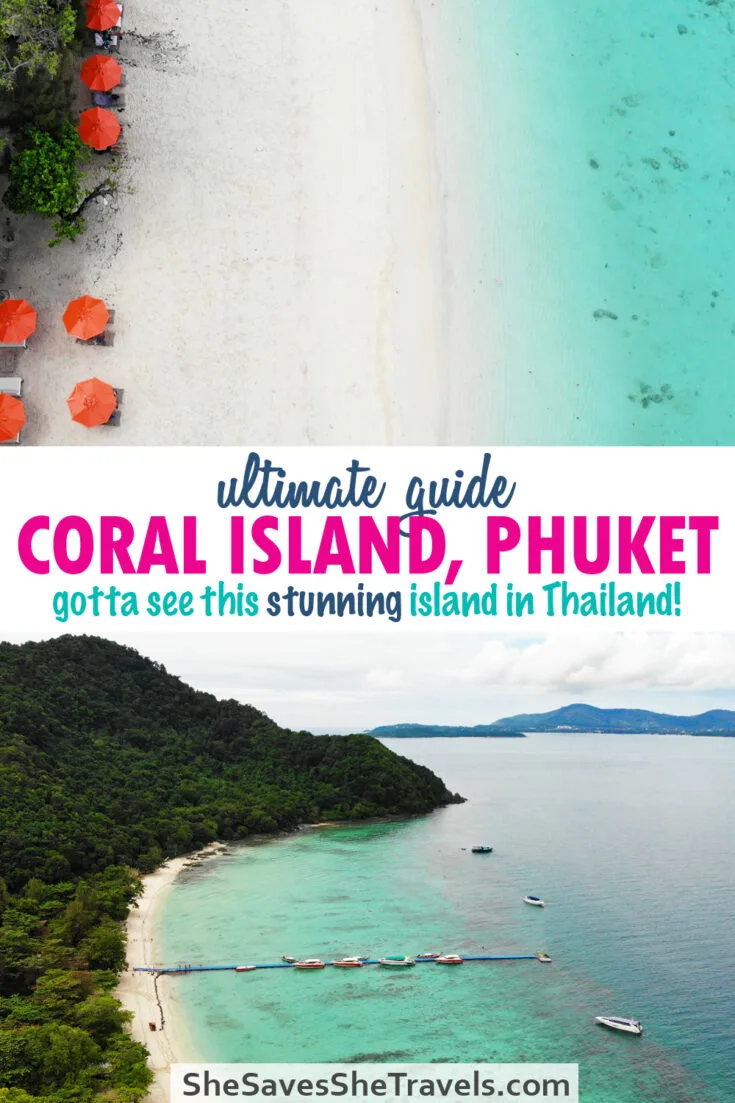 Thank you to the Tourism Authority of Thailand for hosting me! As always, all opinions are my own.