Are you ready for it? This gorgeous archipelago in the Andaman Sea is going to take your breath away! Exploring these stunning islands off the coast of Thailand is an adventure. This is the ultimate guide to the Similan Islands Thailand!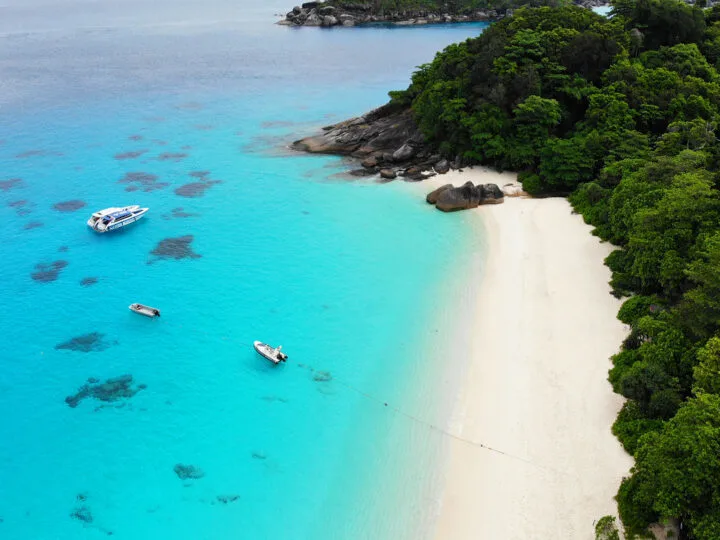 This post may contain affiliate links. For more info, see my disclosures.
Similan Islands National Park has some of the most incredible beaches you'll ever step foot on. Receiving accolades from travelers around the world, Princess Beach on Koh Miang (Island 4) is an absolutely amazing beach!
Having traveled to some of the best beaches in the world, including Flamenco Beach in Culebra, Puerto Rico, I can truly say you're in for a treat!
Note: it's illegal to take drone footage of the national parks in Thailand. I traveled with the Tourism Authority of Thailand and received special permission to fly my drone via group license on Nov 20, 2022.
Similan Islands Thailand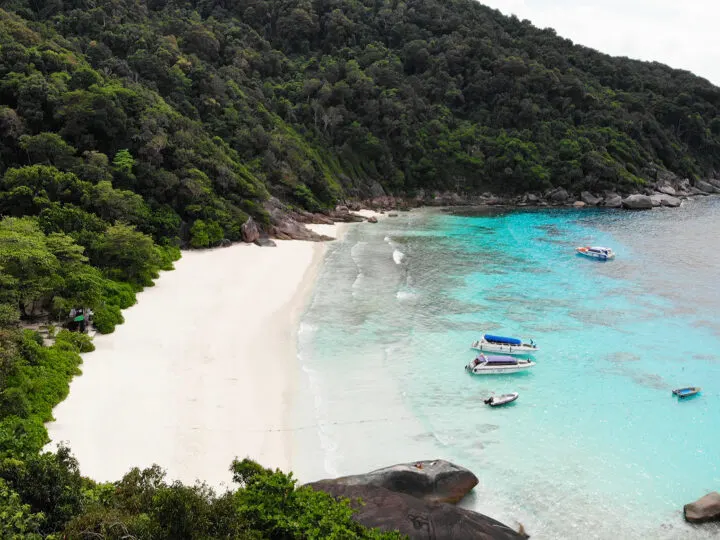 The Similan Islands is a set of 9 islands and are seemingly impossibly beautiful. Even compared to the likes of Phang Nga Bay, Railay Beach and the Phi Phi Islands, it's absolutely one of the top places for natural beauty in Thailand.
Similan Islands National Park is one of the shining stars in Thailand, and one you won't want to miss!
On a day trip to Similan Islands, you'll enjoy beautiful scenery, beaching and snorkeling. This is a popular activity from Southern Thailand and one of the best things to do near Khao Lak, Phang Nga, Thailand.
Let's dive into everything you'll need to know about these islands before you go.
How to get to Similan Islands National Park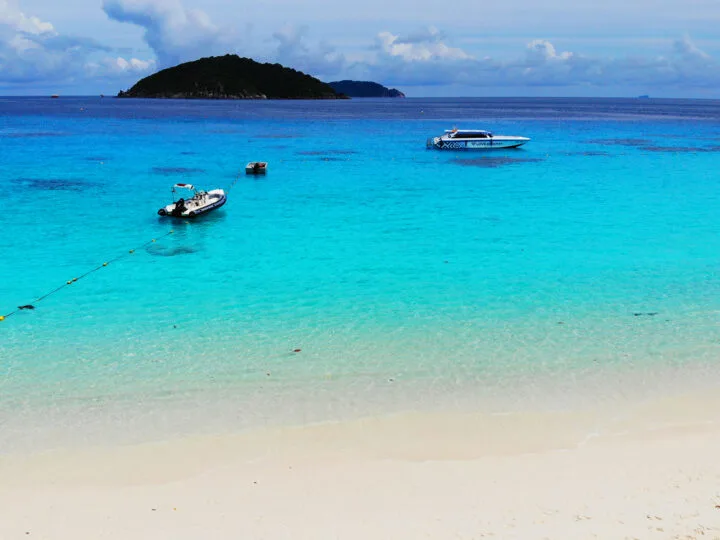 Located in the Andaman Sea off the coast of southern Thailand near the province of Phang Nga, this gorgeous island chain is well protected and beautifully natural.
To see the Similan Islands, you'll take a day trip from nearby Khoa Lak or Phuket. It can be an hour or more from the mainland of Thailand.
Booking the Similan Island tour in advance will ensure there's space on the day you want to go. Tours can sell out, especially during peak travel season, which is December through March.
Similan Islands map
If you're a visual person like I am, here's a map to help you plan your trip to the Thailand Similan Islands.
Pinch and zoom to view the islands up close. The yellow icons are Khao Lak and Phuket; orange is the pier to the boat that gets you there. Purple icons on the map are the main features of the national park. Continue below for details!
Similan Island from Phuket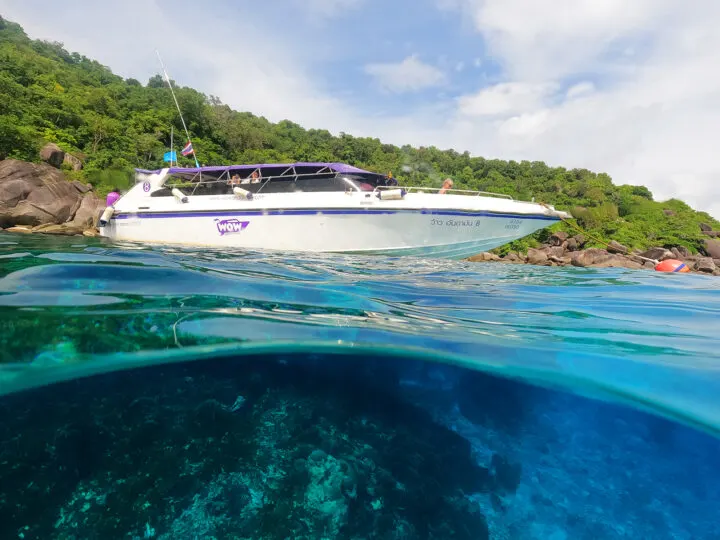 Phuket is a hub for many travelers in Thailand. Abundant in hotels and convenient to the airport, it's obvious why so many people call this a base while on vacation in Thailand.
To get to the Similan Islands from Phuket, you'll take a similar tour as if you're leaving from Khao Lak, but you'll transfer via van from Phuket to Khao Lak. The drive from Phuket to Khao Lak takes about 1.5 hours (ore more) each direction.
Then it's about an hour each way to and from the national park via boat.
Book it now: Similan Islands from Phuket
Similan Islands tour from Khao Lak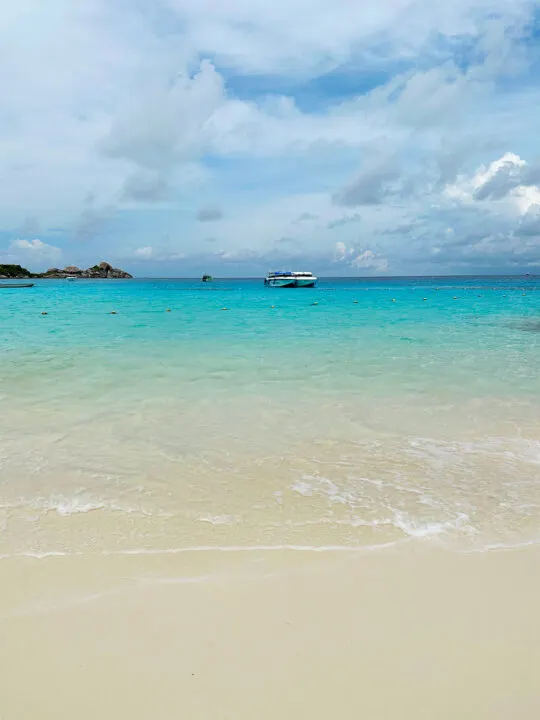 I'd actually recommend to stay in Khao Lak and take a Similan Islands tour, because it makes for a shorter day.
Bonus: if you stay at La Flora, the boat dock is literally on the beach at the hotel, making it super convenient!
Once in the boat at Khao Lak, it takes just about an hour to get to Similan Islands National Park, depending on sea conditions of course.
Book it now: Similan Islands from Khao Lak
Best time to visit the Thailand Similan Islands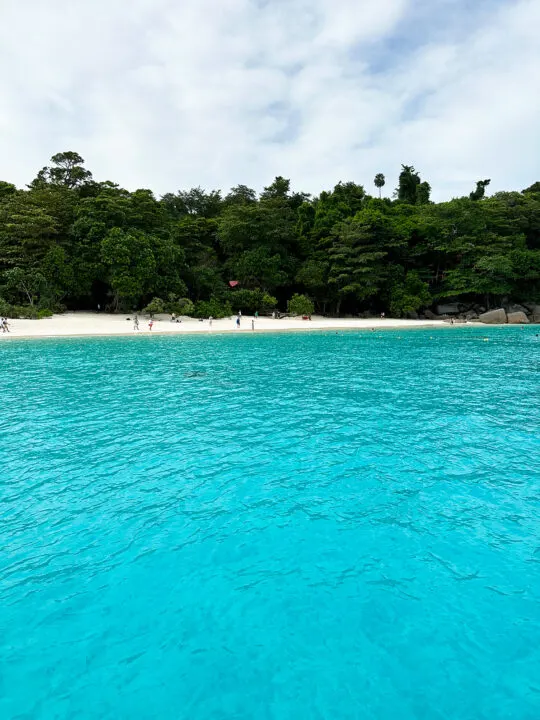 Similan Islands National Park and tours to the islands are only available from October 15 to May 15 each year. The summer is monsoon season, meaning too much rain and rough seas, so the park isn't even open those months and tours aren't operating.
If you're looking to avoid the crowds, try visiting during late October/early November and late April/early May, as this is the shoulder season and less tourists are visiting. This means you'll likely see the beaches more on the empty side than full.
For the best weather (less chance of rain), visit the Similan Islands during the peak season, December through March. Those sunny skies really light up the turquoise water!😍
What to pack for your trip to the islands
Prepare to get wet during this incredible day trip! Packing beach gear is obvious, but there may just be something you haven't thought of in this list, so here ya go!
Reef safe sunblock. Keeping our oceans healthy is critical, and the chemicals in traditional sunscreens are devastating to coral reefs and marine life. Use mineral sunscreen only. This is the mineral sunscreen I used in Thailand and it works great.

Rash guard. Helps reduce the amount of sunscreen you use, and avoid sunburn on those tricky places like your back. There are so many super cute options, like this one-piece swimming suit-rash guard combo.

Sunglasses and beach hat. Keeping on with the sun protection theme, here. Grab your beach hat and sunglasses to protect your face from the powerful sun.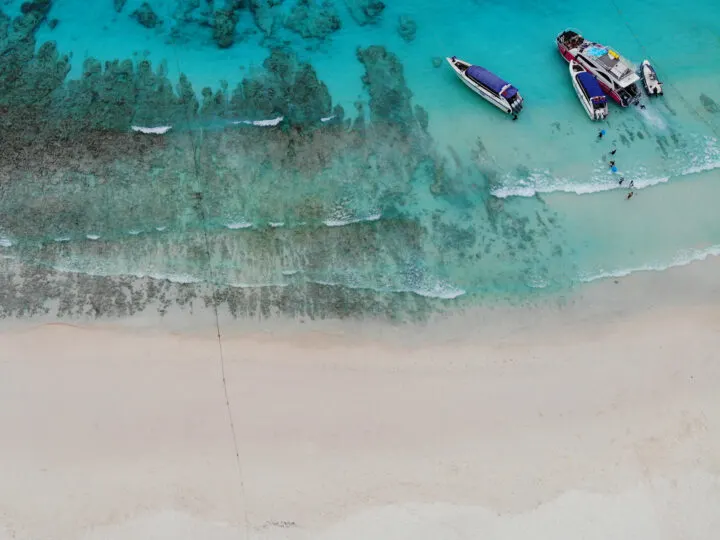 Underwater camera. You'll want to capture photos of you and/or your loved ones in the water, not to mention the amazing fish and reef! This is the GoPro I used at the Similan Islands, and so many other places, like a beach trip to Maui with kids. Don't forget the float strap accessory!

Dry bag. You're going to a wet environment, so if you want to take your phone, a power bank or even extra GoPro batteries. I have this dry bag in orange and it's the perfect size to carry by itself or to place inside a beach bag.
Similan Islands National Park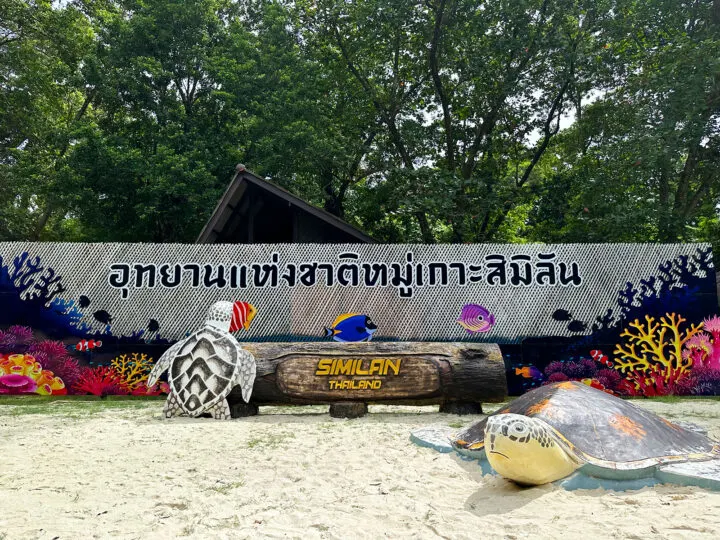 Your boat will likely stop at all the main spots in the Similan Islands Thailand. Please check out the signs when you enter each island, as there's important info on what's prohibited, which is critical to preserving the islands.
Here are the Similan National Park highlights…
Similan Islands 1-3
These islands are the perfect conditions for mama sea turtles to lay eggs. Because of this, they're reserved for marine life and cannot be accessed by people.
The only way to step foot on the Thailand Similan Islands 1-3 are for clean-up efforts by locals, like collecting trash that washes up on shore after a storm. Otherwise, it's off limits.
Fun fact: "koh" translates to "island" which is why you'll see local signage with "Koh Similan" or other islands in Thailand, like Koh Phi Phi.
Similan Islands 1-3
Koh 1 is Huyong
Koh 2 is Payang
Koh 3 is Payan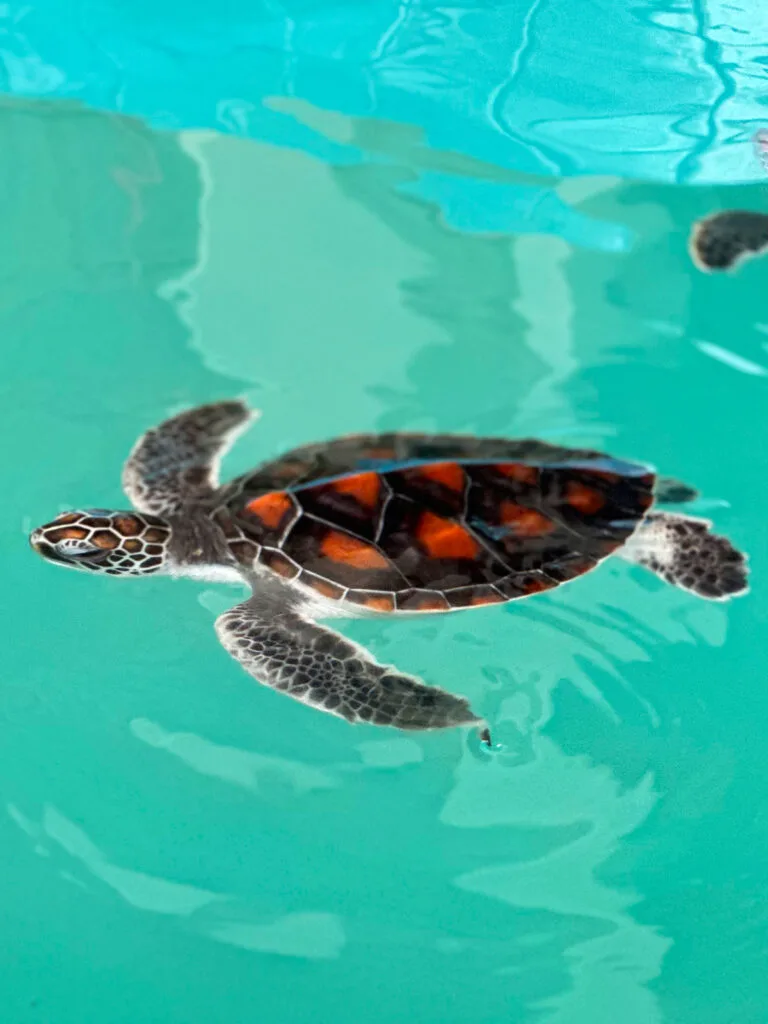 By the way, you can actually see the sea turtles that will live on the island through a conservation effort at the Royal Thai Navy Sea Turtle Conservation Center. Check out a cute video of the release of the sea turtles.😍
Koh Miang, Island 4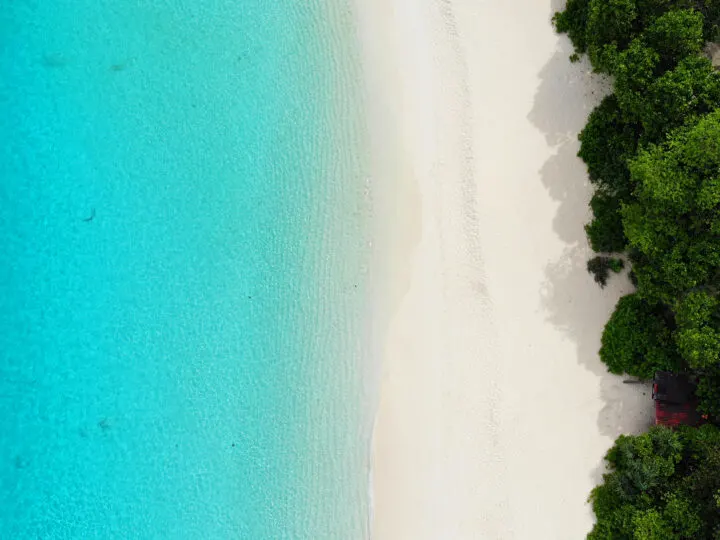 Seeing this fabulous island is one of the best things to in Similan Island National Park. It's one of the main stops for tourists and one of the largest islands in the chain.
When you first arrive, be sure to check out the sign at the entrance just off the beach for important info and a map of the island.
There's a restaurant, gift shop, visitor center, restrooms and national park office on Island 4. If your Similan Islands tour is serving lunch, you likely won't need to stop at the restaurant, but it's certainly a good option!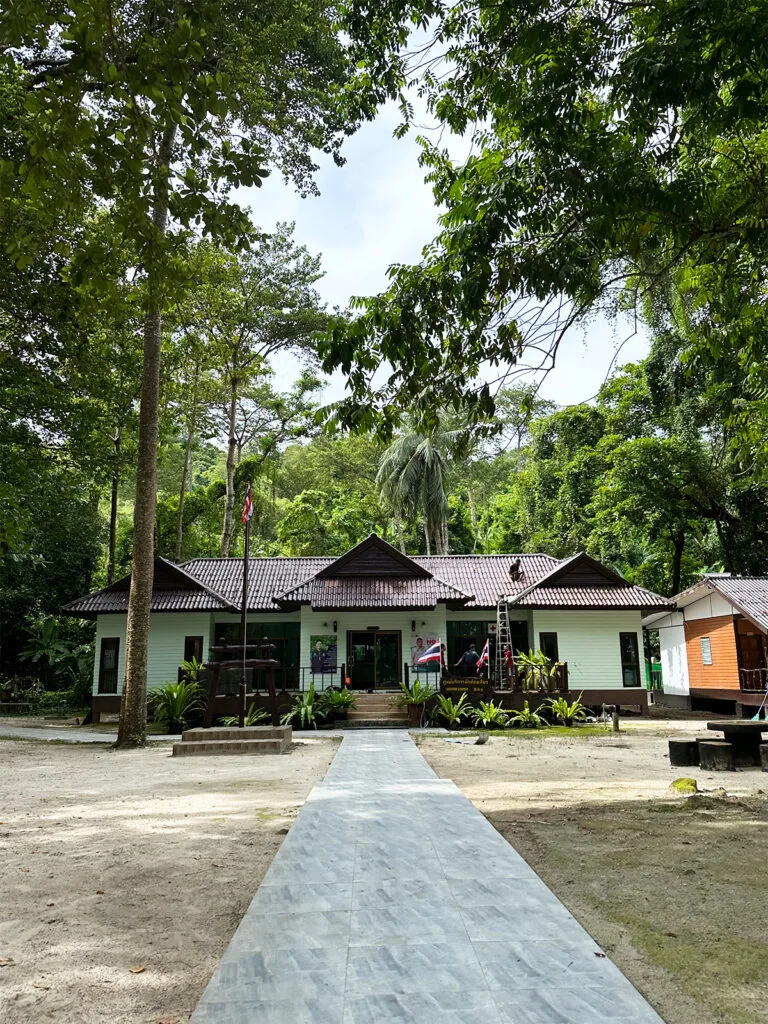 The gift shop has snacks and souvenirs, too. Be sure to check out the Similan Islands National Park sign for a cute photo op, too!
Princess Beach, Koh Miang, Similan Islands Thailand
Located on Koh Miang, this is one of the shining stars of the park! Princess Beach is likely where you'll disembark from your boat tour.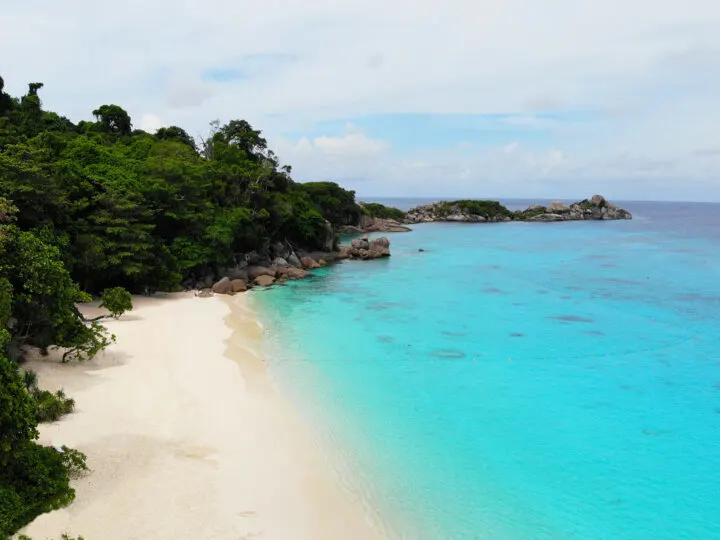 The incredibly soft sand at Princess Beach is one of the best features of the park, and all of Thailand if I'm being honest!
With a flour-like softness, the sand at Princess beach is the result of seaweed and coral eroding over millions of years. It's truly amazing under foot! The natural beauty of the surrounding landscape and turquoise water is simply stunning!
Be sure to walk to the overlook on the east part of the island and climb the big rocks to the overlook. To be safe, you could use water shoes as extra grip on the smooth rocks. It's possible to walk up there barefoot if you're careful.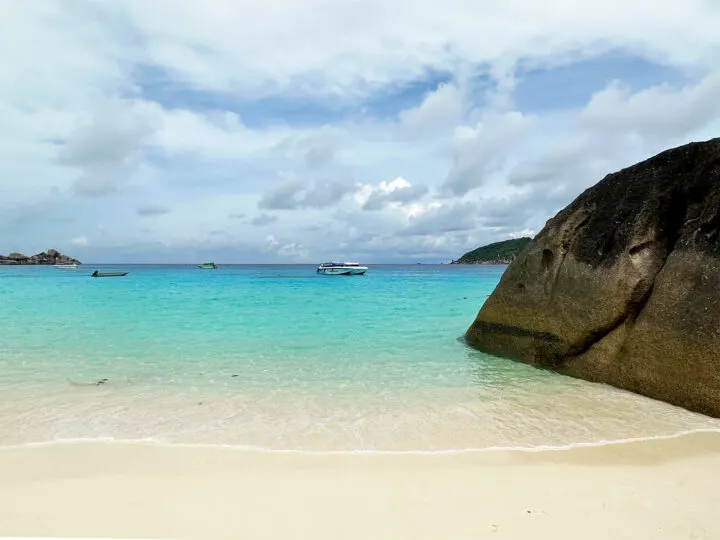 Similan Islands accommodations
Island 4 (Koh Miang) has the most variety of accommodations in the Similan Islands, traditionally offering tent camping and bungalow stays. Although the last few years the national park has shut down camping and overnight stays on the islands to help protect and preserve the park.
If you're looking for accommodations within close proximity to the Similan Islands, check out the La Flora Hotel in Khao Lak.
Even just for a day trip, you'll absolutely love your time on Princess Beach and Koh Miang!
Similan Islands 5 (Ha), 6 (Hok), 7 (Payu) and 9 (Ba-Ngu)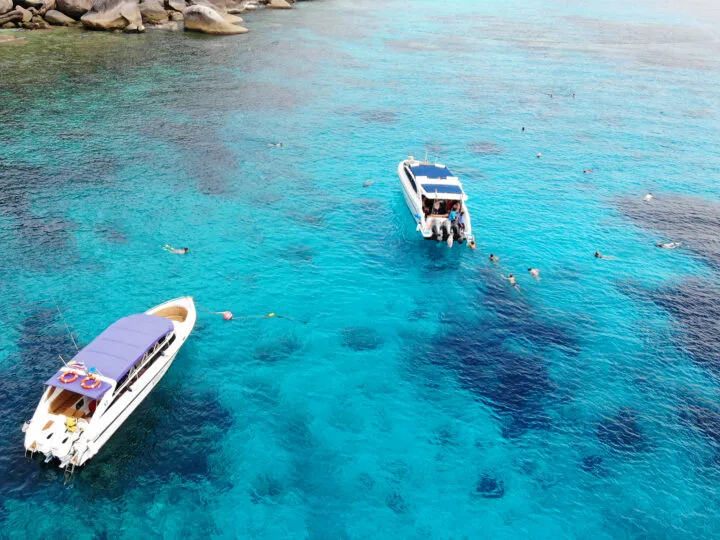 Ha and Hok are situated between the Turtle Conservation Area (Islands 1-3) and Island 4. Payu is between Miang and Similan. Ba-Ngu is just to the north of Similan Island.
These islands are not accessible to tourism to actually step foot on the islands. However, some Similan Island tours will stop near Islands 6, 7, or 9 for snorkeling.
Expect to see some pretty awesome marine life while snorkeling the Similan Islands Thailand, including but not limited to Royal Angelfish, Schooling Bannerfish, Black Tip Shark, Green Turtle, Blue fin Unicorn and so much more!
Similan Island Thailand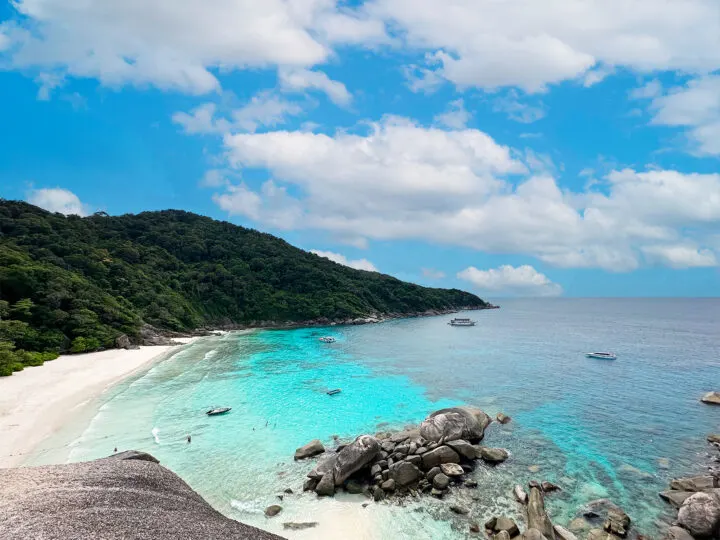 Perhaps the most popular island, and the namesake for this national park, is Similan Island. Also numbered as 8, Similan is the largest within the archipelago.
Similan Island Thailand has a restaurant, restrooms and national park office.
The beach on Similan Island is phenomenal! Although depending on when your tour arrives, the beach may be busy.
Fun fact: the main beach is called Ao Kuerk Bay, or Donald Duck Bay. It's named after the famous character because a rock looks like the head and beak of Donald Duck.🤣
Pro tip: to find a more secluded spot, walk to the southwest end of the beach, furthest from the boats.
Sail Rock, Similan Islands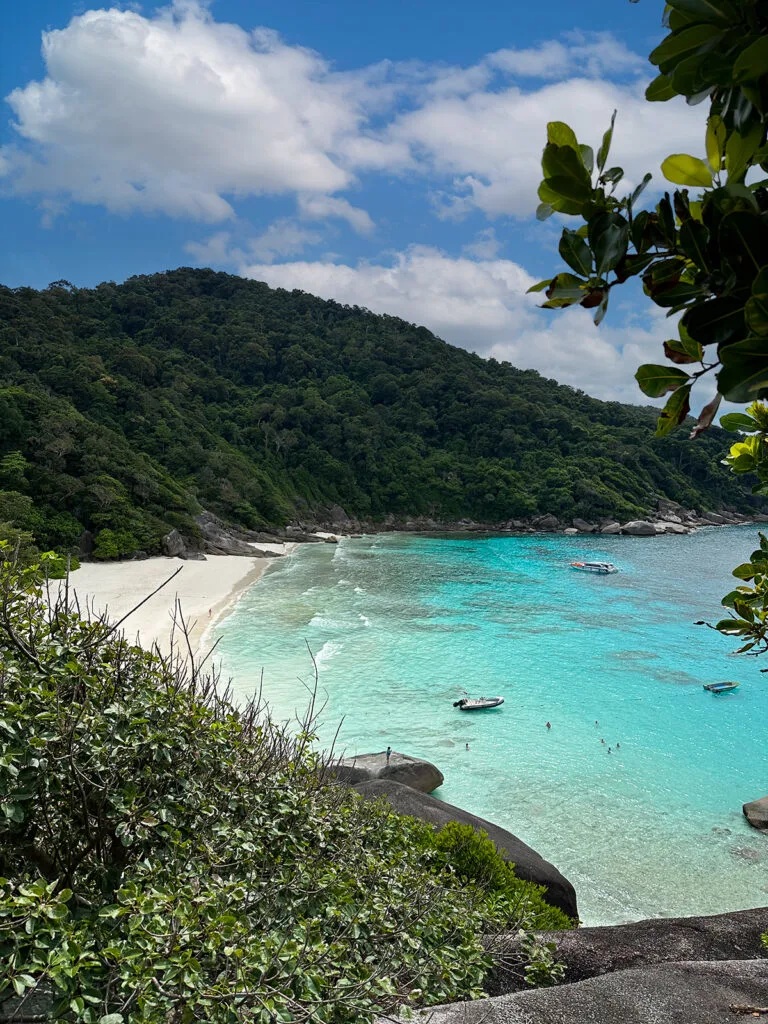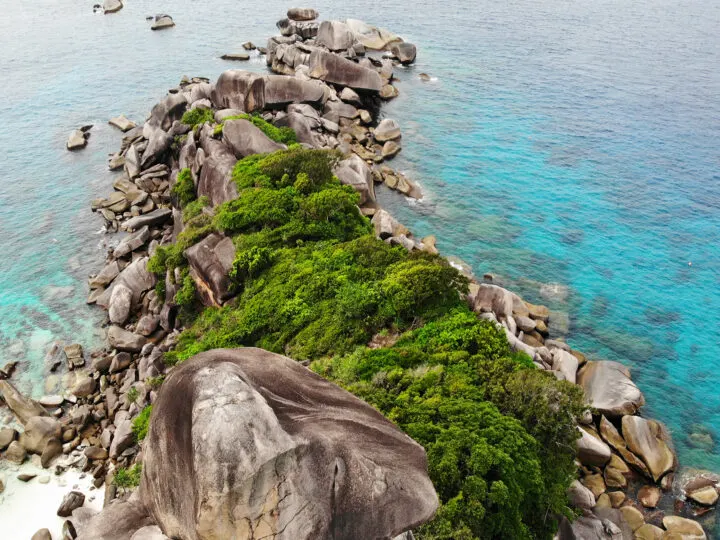 One of the best things to do in Similan Islands National Park is to hike to the view point on Island 8, known as Sail Rock.
Pro tip: hiking to Sail Rock is not for those with a fear of heights, as it has steep cliffs throughout. But the views are spectacular once you're up there!
The hike up to the top of Sail Rock will take you about 10-15 minutes. You'll go over a variety of terrain, including wooden boardwalk and steps, slick rock and dirt. You may have to get on hands and knees to scramble through some sections as well!
Scrambling on these rocks reminds me of scrambling with my kids on the Calico Tanks Trail near Las Vegas, Nevada. Except here you can hear the ocean.😉
Anyway, you can definitely use water shoes with grip on this hike, as it can get a bit treacherous. Otherwise just go really slow and you should be ok. Once you're at the top, you'll see why it was so worth it!
There's a few viewpoints. Be sure to go all the way to the end for the best views!
This is a great spot to get out a beach towel or blanket and sit for awhile. Soak in the views while catching that island breeze and scent of the ocean air. Such a perfect day on an island in Thailand. 🙂
Similan Islands snorkeling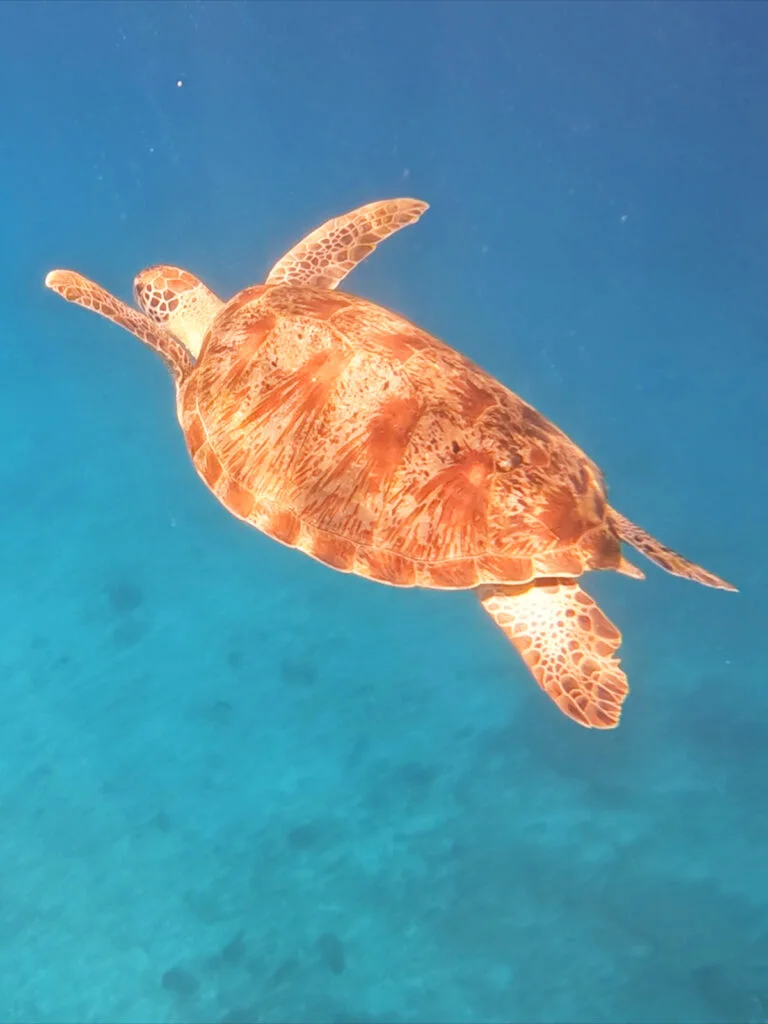 As mentioned earlier, most Similan Island tours will stop at a snorkeling spot (or 2!). Be sure to wear reef-safe sunscreen while swimming, diving and snorkeling in the Similan Islands (or anywhere else) to protect marine life.
Similan Islands snorkeling means seeing a variety of marine life! Here are some of the most common sea creatures you'll likely encounter.
Marine life while snorkeling and diving at Similan Islands Thailand
Green Sea Turtle
Blacktip Shark
Clownfish
Yellowtail Fusilier
Parrotfish
Clark's Anemonefish (Yellow Tail Clownfish)
Royal Angelfish
Moray Eel
Emperor Angelfish
Tiera Batfish (Longfin Batfish)
Lionfish
Schooling Bannerfish
Powder Blue Tang
Bluespine Unicornfish (Unicorn Tang)
Similan Island hotels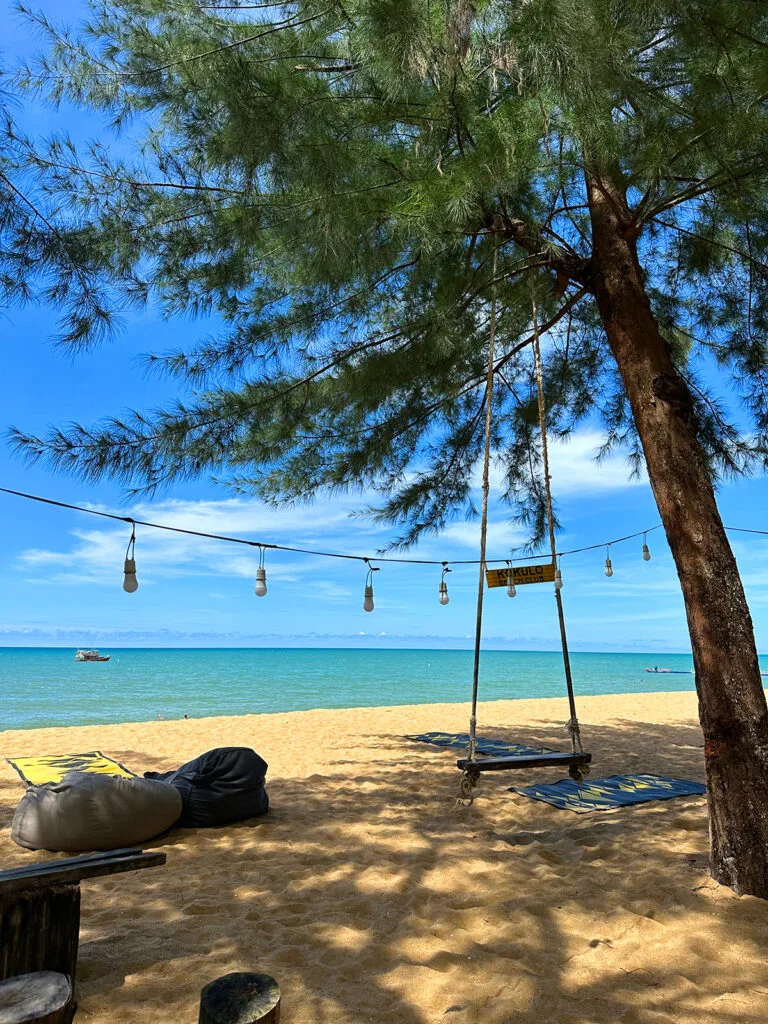 Because Similan Islands accommodations are limited within the national park, consider this list a great alternative!
Tips for these gorgeous islands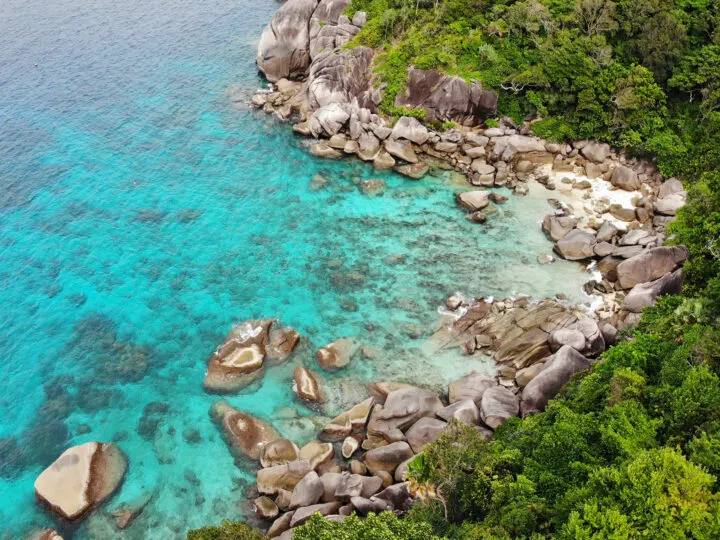 Before wrapping up this guide to the Similan Islands, let's review a few more tips that will make your time better – and less impactful on the environment.
Motion sickness medication is your friend. If you get queasy while boating or snorkeling, then grab your wrist bracelets, motion sickness remedy or whatever you need to help you feel your best while on this trip!

Bring your island essentials. Beach bag or dry bag, reef-safe sunscreen and rash guard, underwater camera, towel, etc.

Leave no trace. It's often used in hiking and outdoorsy travel, but it's so imperative to leave these islands with zero evidence that you were there. Don't bring back sand or rocks, don't disturb vegetation or marine life and absolutely no littering.
Don't touch or stand on coral. One single fingerprint can kill coral from the oils on your hands. This fragile ecosystem has a lot to contend with already. Don't touch or step on coral here, or anywhere in the world's oceans.

Bring a cash tip for the crew. A 10% tip for services like these are customary in Thailand.
Things to do nearby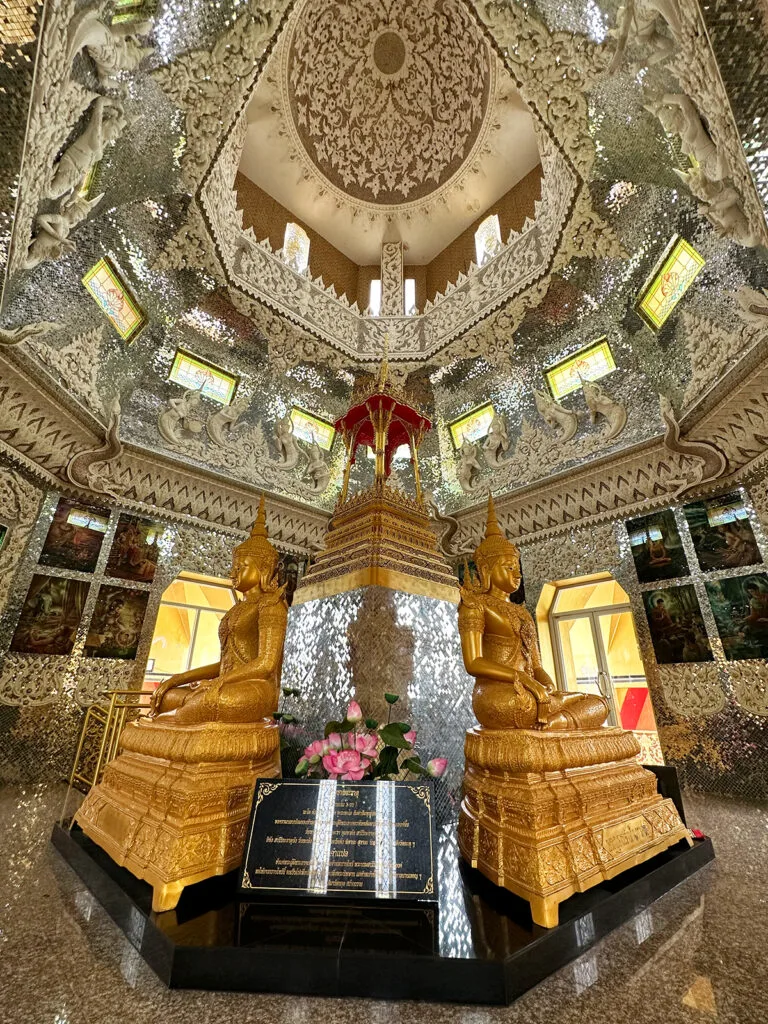 If you're staying in Khao Lak while you visit the Similan Islands, you're in luck! There's so many things to do in this area. It's such an underrated region in Thailand, and worth exploring for a few days!
Near the departure for Similan Islands Thailand are…
International Tsunami Museum
Wat Khongkha Phimuk
And so much more! Check out the full guide on Khao Lak, Thailand for more info.
Similan Islands Thailand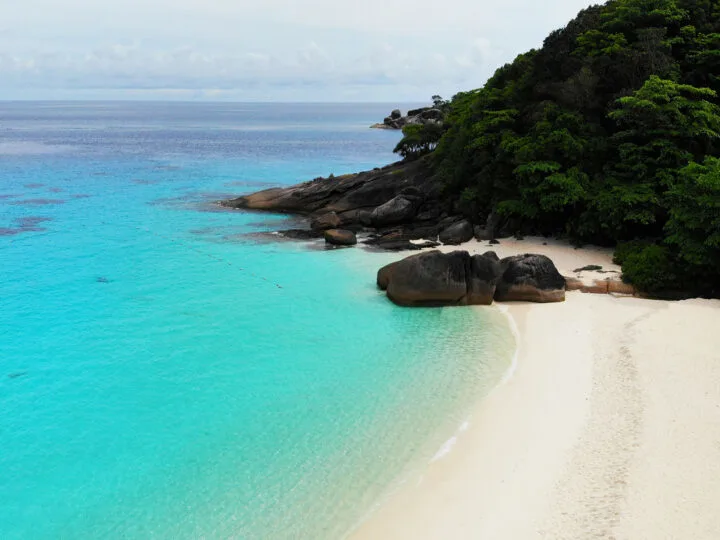 The Similan Islands in the Andaman Sea are beautiful – no, stunning! You'll have a fabulous time on these islands. They're truly like no where else in the world!
Snorkel these amazing reefs, climb to Sail Rock for epic views, or simply enjoy the powder-fine sandy beaches that make up the Similan Islands in Thailand. You're gonna love it!!
Related content to read next:
Khao Lak, Phang Nga, Thailand: 21 Fun Things to Do (You'll Love this Underrated Coast)
21 Incredible Things to Do in Phi Phi Islands Thailand You Can't Miss
Ultimate Guide to Coral Island Phuket (GORGEOUS Thailand Spot You'll Love)
Find this guide helpful? Save it for later or share it on social media!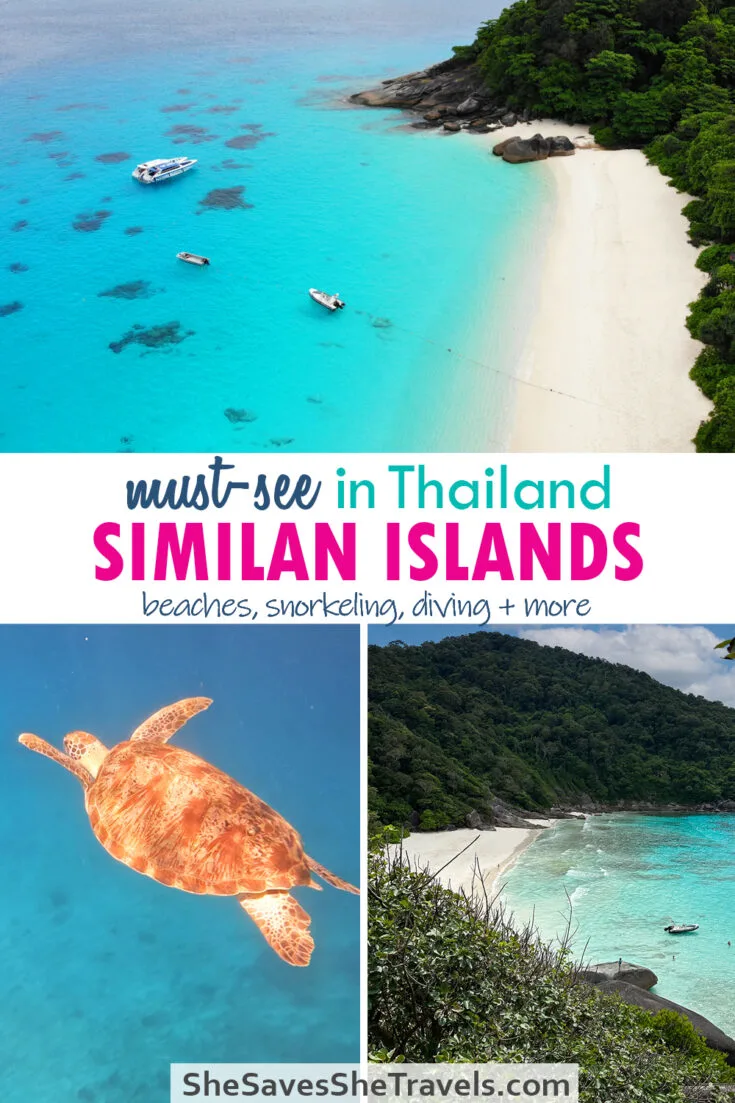 Thank you to the Tourism Authority of Thailand for hosting me! As always, all opinions are my own.