This absolutely stunning set of islands in southern Thailand will amaze you! Whether you're coming for a day trip from Phuket to Koh Phi Phi or you're staying for a longer getaway, these islands are impressive. Here's your guide to the best things to do in Phi Phi Islands.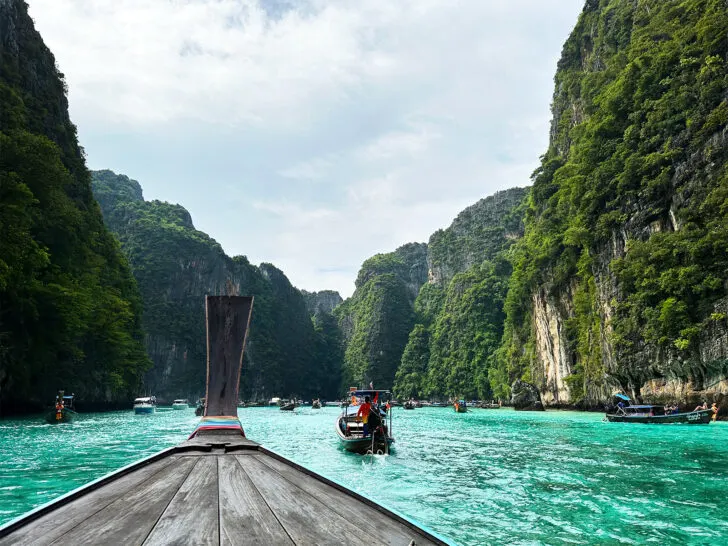 This post may contain affiliate links. For more info, see my disclosures.
Known in the local language as Koh Phi Phi ("Koh" and "Ko" means island in Thai), this beautiful set of islands is going to blow you away! Koh Phi Phi Don is the largest of the islands within the archipelago, and where the pier and many of the activities on this list are located.
These islands have been beautiful for decades, serving the locals to Phuket, Krabi and the surrounding areas a fantastic getaway in the Andaman Sea.
But perhaps the greatest rise to fame was in 2000 when the movie, The Beach, starring Leonardo DiCaprio was released. Part of it was filmed on these stunning islands and since then, it's been a world-wide sensation!
Just one visit and you'll fall in love with the Phi Phi Islands! Let's dive into how to get there, what to bring and the best things to do in Phi Phi Islands, Thailand!
Best time to visit Koh Phi Phi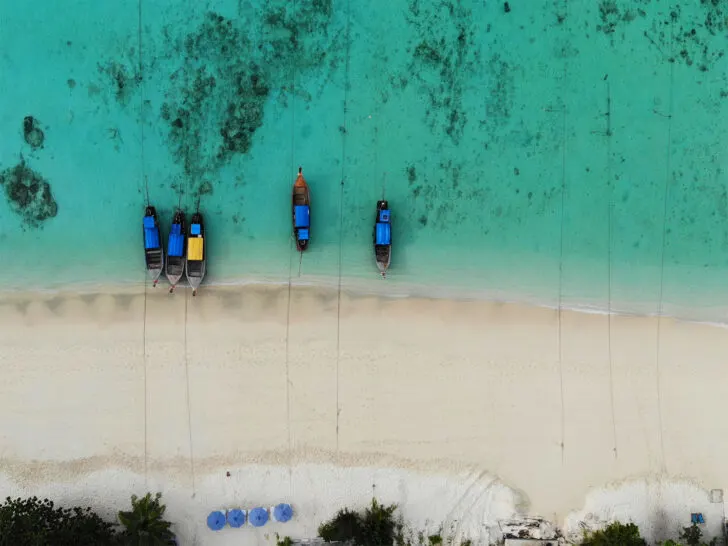 The summer is monsoon season in southern Thailand, meaning too much rain and rough seas, so this is definitely a time to avoid. Many tours, shops and restaurants are closed during the off-season. You'll find this throughout many touristy spots in Thailand, including the Similan Islands, Coral Island Phuket and more.
The best time to visit the Phi Phi Islands is October through May.
If you'd like to avoid the crowds, try visiting the islands during late October or early November and late April or early May. This is considered the shoulder season and less tourists are typically visiting. By visiting during the shoulder season, beaches should be more empty and there should be less crowds and wait times.
For the best weather, visit the Similan Islands during the peak season, which runs December through March.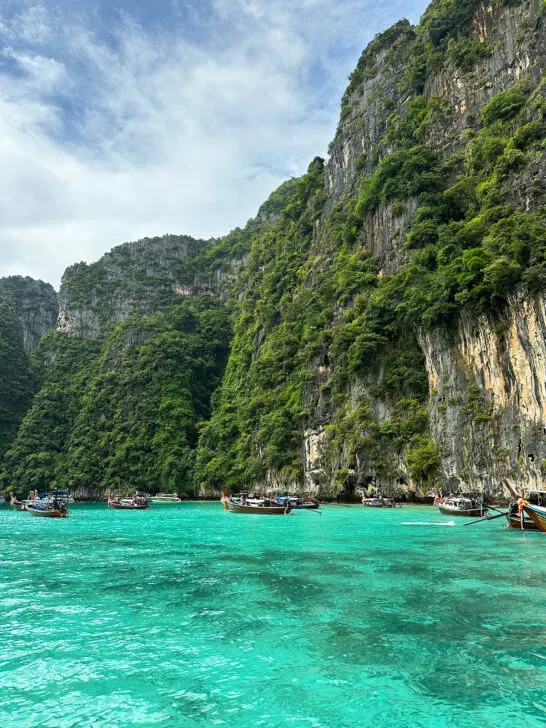 Phi Phi Islands Thailand – map of things to do in Phi Phi Islands
Before diving into the list of the best things to do in Phi Phi Islands, let's review a map of the area. Pinch and zoom to see the surrounding area. This will help if you're still working on tour or transfer information to the islands.
How to get to Phi Phi Islands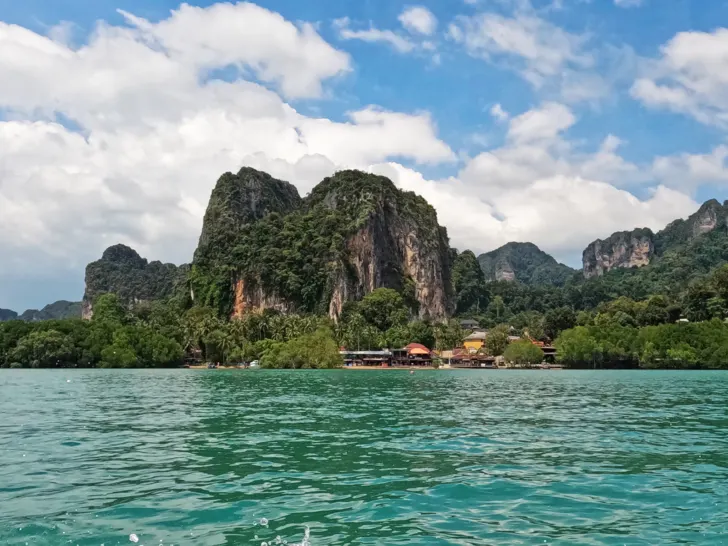 While you're vacationing in Thailand, you'll have a few options for getting to the Phi Phi Islands. It really just depends on the other destinations on your Thailand itinerary and where you're coming from.
Krabi to Phi Phi Islands
One best ways to visit the islands is to go from Krabi to Koh Phi Phi. You can do this multiple ways. This generally takes 1-2 hours, depending on the type of boat and pier location.
Krabi to Phi Phi Islands tour. This day trip will take you sightseeing, snorkeling and give you some free time on the islands.

Krabi to Koh Phi Phi via speedboat. A great choice if you're planning to stay on the islands for a night (or more). 12Go Asia has the best options for setting up transfers, depending on which pier you're closest to. Ao Nang is the most common.

Railay Beach to Koh Phi Phi. This gives you a chance to spend some time in one of the best beaches in Thailand – Railay Beach. Leaving from the Floating Pier East Railay, it's a quick and easy trip to the Phi Phi Islands.
Pro tip: take motion sickness medication if you're prone to sea sickness for your journey from Krabi to the Phi Phi Islands.
Phi Phi Islands from Phuket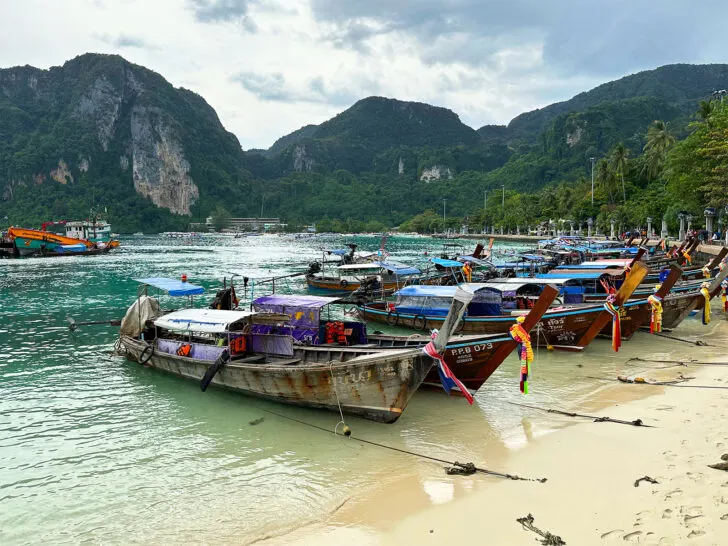 A really popular option, many travelers to Thailand base at least a portion of their stay in Phuket. There are many options for getting from Phuket to Phi Phi Islands.
Phuket to Phi Phi ferry
This is a fabulous option to take advantage of all the things to do in Phi Phi Islands. Staying a night or more on the islands, you'll be able to truly see and experience this magical place!
The ferry or speed boat from Phuket to the Phi Phi Islands will take 1.5 – 2 hours, depending on sea conditions and boat type.
Pro tip: make sure to get to the pier early! You'll need to check in 15-30 minutes before your boat leaves.
Also, take motion sickness medication for this journey as needed. 🙂
Phi Phi Islands tour from Phuket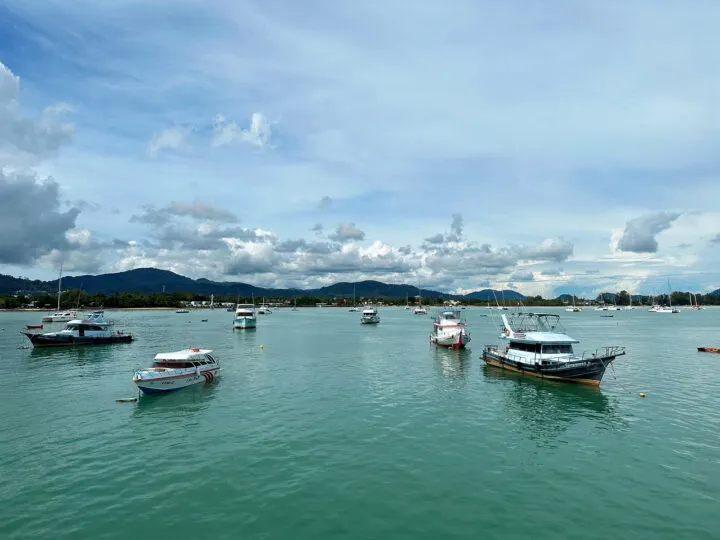 If you have just a short time in Phuket, then experiencing the Phi Phi Islands for a day tour might be your only option. You'll be able to experience some of the things to do in Phi Phi Islands, but really won't have time for a whole lot.
Most of these tours include at least lunch, and others offer more food throughout the day. Choose the Phi Phi Islands from Phuket tour that makes the most sense for you and your traveling companion(s).
Accommodations Phi Phi Islands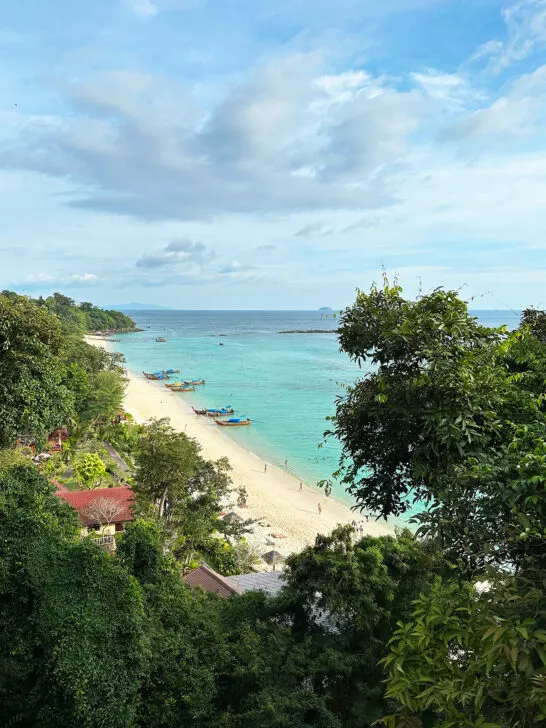 Planning an overnight stay on the islands, it will be on Koh Phi Phi Don. But you won't find big, name-brand hotel chains here, which is part of the island's appeal!
Instead, you'll find charming accommodations on the Phi Phi Islands that are locally run and perfect for a getaway.
The center of the island near the pier, Ton Sai Beach and Loh Dalum Beach are going to be the busiest and noisiest. This is great if you're looking for great nightlife (see #8) below.
If you want to get away from the crowds, look a little further out. This will often require a water taxi to get there though!
My husband and I absolutely loved our stay at the Viking Nature Resort. About a 10 minute walk to town and direct access to 3 different beaches, it was a phenomenal location! Highly recommend.
Book it now: Viking Nature Resort
How to get around Koh Phi Phi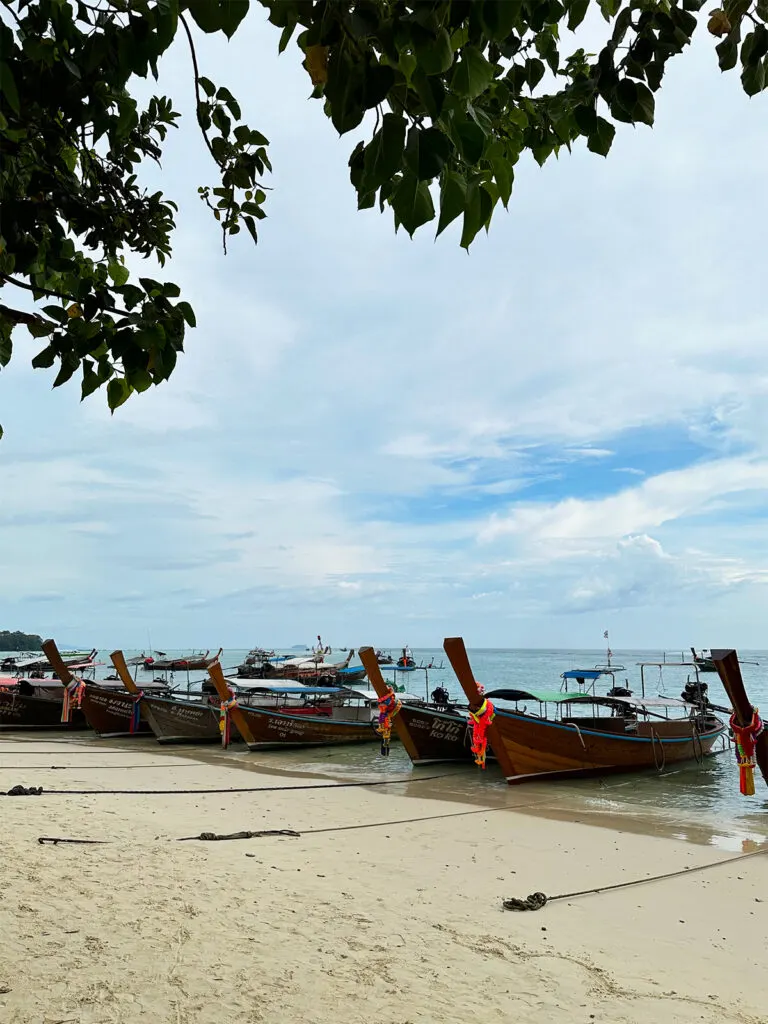 There's no transportation on Koh Phi Phi Don. You'll need to walk to beaches, restaurants, shops and more. Alternatively, you can rent a water taxi if you're traveling from one side of the Phi Phi Islands Thailand to another.
Pro tip: always carry cash in Thailand. Taxis here certainly don't take cards!
What to pack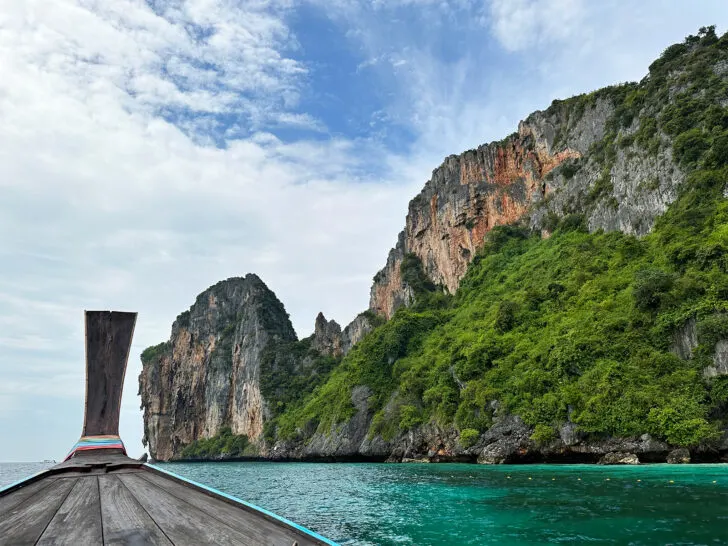 If you're still planning your trip and wondering what to pack, I got you! You'll really just need beach attire and gear for this trip. Consider which activities and tours you'll take into consideration when packing for Thailand.
Here are some items that will certainly come in handy!
Reef-safe sunscreen. This is an absolute must for any traveler near any ocean or body of water in the world. The chemicals in traditional sunscreens have been killing our oceans for decades. I literally saw proof of it while snorkeling in Thailand. At the most popular spots, the coral is bleaching; meanwhile the lesser-known snorkeling areas, the coral is vibrant. Always, always, always wear mineral sunscreen when swimming in the ocean.

Dry bag. You're going to visit the beach which likely means you'll be getting wet and need to keep some things dry. I have a larger and smaller dry bag that I travel with, depending on the situation. Keep your phone, back-up battery, wallet and more dry while you're on a speedboat, long tail boat or at the beach.

Towel with hidden zipper pocket. This is my go-to travel accessory and goes with me on every trip! It allows you to put your hotel key, cash or phone in a zipper pocket which is well out of sight while you're swimming! I've taken this beach towel with me all around Thailand, on the beaches of Manuel Antonio Costa Rica, some of the best beaches in Florida, and many more destinations.
Underwater GoPro. This underwater camera will be one of your favorite ways to capture amazing vacation footage! Go snorkeling and see the amazing underwater world on your phone or computer for years to come! This is the GoPro I used in Thailand, and many other destinations for that matter.

Water shoes. Most of the beaches in the Phi Phi Islands Thailand are super soft under toe. However, those sea urchins seem to pop out of nowhere! Get a sturdy pair of water shoes and you'll be able to double them up for hiking, like #6. Also, if you plan to take a water taxi anywhere on the island, you'll need to enter and exit from knee-height (or taller) water, so water shoes are helpful.

Rash guard and beach hat. Protect your skin from sunburn and look cute in Thailand. They're making long sleeve rash guards that are so adorable. Plus protect your face with a sun hat.

Cash and more cash. It's one of the most important things on a Thailand packing list! You'll want some cash for tipping (10% on tours is customary), taxi's, attractions and even some restaurants. There is a currency exchange near the pier, but you'll want some type of cash to exchange to Thai Baht.
Ok without further ado, let's dive into this list already!!
Things to do in Phi Phi Islands
Gah! You're going to absolutely love this island chain. Full of amazing scenery and adventure…here we go!
1. Maya Bay Phi Phi Islands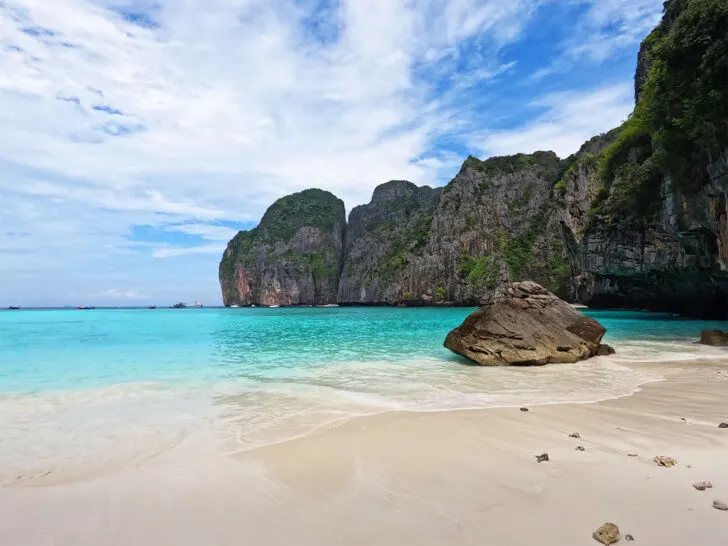 Likely you're going to the Phi Phi Islands to see Maya Bay. It's absolutely stunning and worthy of a visit!
Considering it's in a national park, visiting Maya Bay is hopefully smooth and easy for you. I say this because the park's main goal is preservation, and because it suffered from over-tourism, the coral reef and wildlife suffered immensely.
The beach was shut down for 4 years, and reopened in 2022. Let's hope people are respectful when visiting and Maya Bay Phi Phi Islands continues to stay open!
Getting to Maya Bay Phi Phi Islands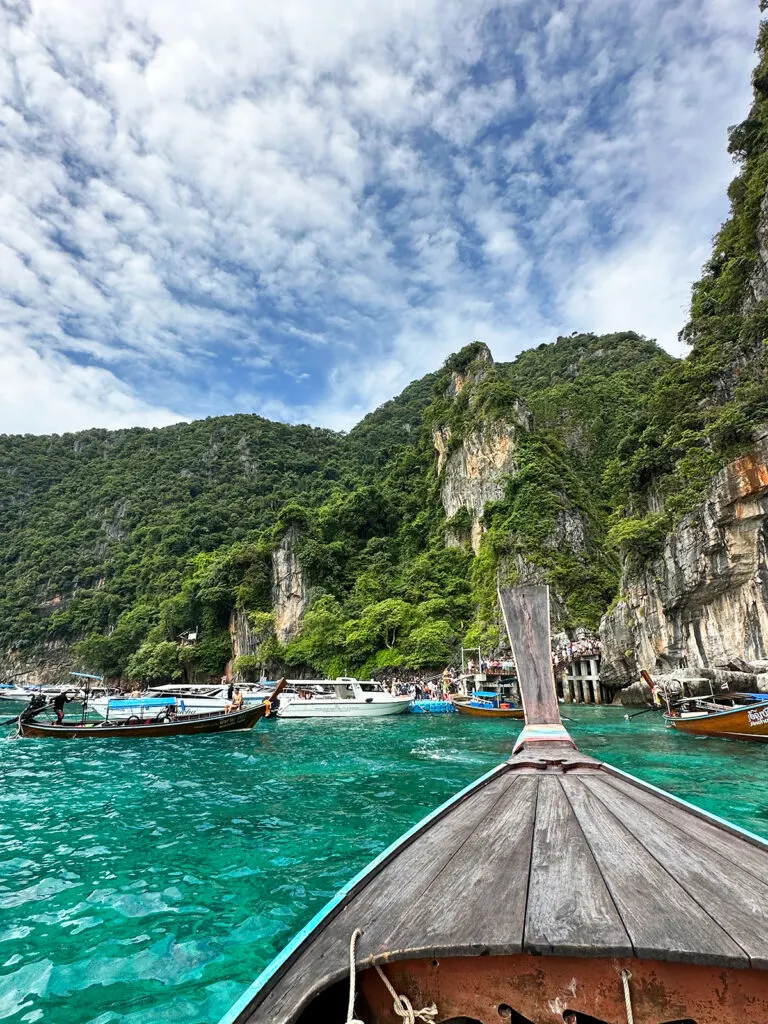 Located on Phi Phi Leh, Maya Bay is 15-20 minutes via long tail boat from Phi Phi Don. To visit, you'll need a Phi Phi Islands tour, private boat ride or as part of a tour from Phuket, Krabi, etc.
There's an entrance fee of 400 Baht (about $12 USD) to visit Maya Bay and the national park. Some tours will cover this cost, others will not. Be sure to carry cash with you and confirm with your tour company.
After you enter the park, you'll walk a (mostly) paved path around this incredible island to the shining star – Maya Bay. Be sure to stop at the overlook just before the beach to get a unique view of the entire bay!
There's also a snack shop, visitor center and restrooms within the park.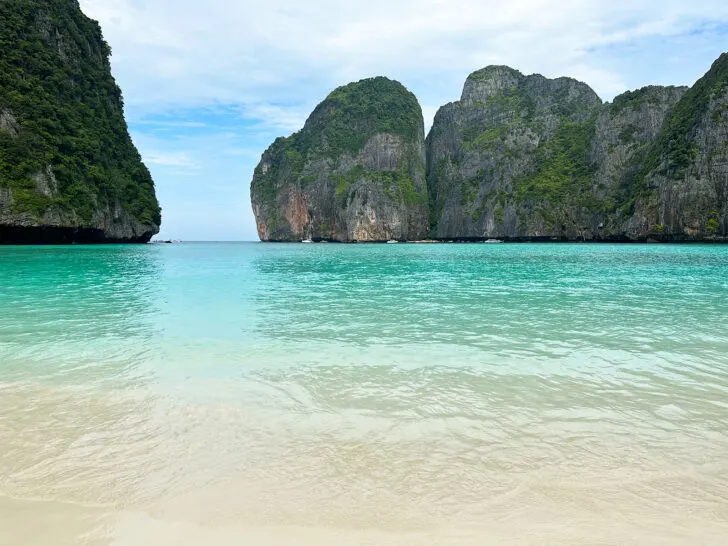 Note: since the destruction of the reef system and wildlife from human impact, there's no swimming in Maya Bay Koh Phi Phi. Lifeguards policing the area will whistle if you get much more than ankle deep. Please be respectful and stick to the rules – they apply to everyone.
Thus, you'll probably only spend about an hour or two at the national park. Soak in the views, take some photos and enjoy this gorgeous beach – Maya Bay Phi Phi Islands!
2. Island hopping (a favorite on this list of things to do in Phi Phi Islands)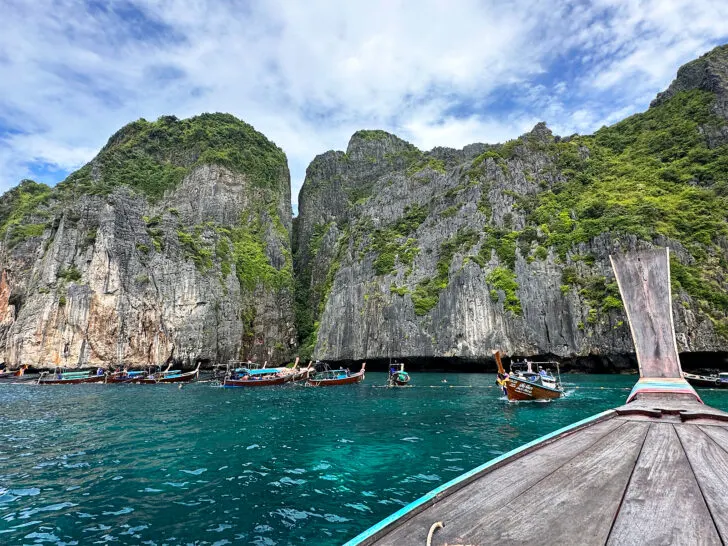 The next best thing to do in Koh Phi Phi is to visit more islands! The Phi Phi Islands are comprised of 6 land masses. Koh Phi Phi Don and Phi Phi Leh (and Maya Bay) are the largest two.
Beyond Phi Phi Don, the other islands are all uninhabited, and it's even illegal to camp overnight on any other island. However, these islands make for fabulous day trips! Two of them are awesome enough to get their own sections, below.
Seeing this incredible archipelago from a boat is amazing. The massive karsts (unique limestone formations) that line these islands is so unbelievable. It's dream-worthy, really. 🙂
3. Viking Cave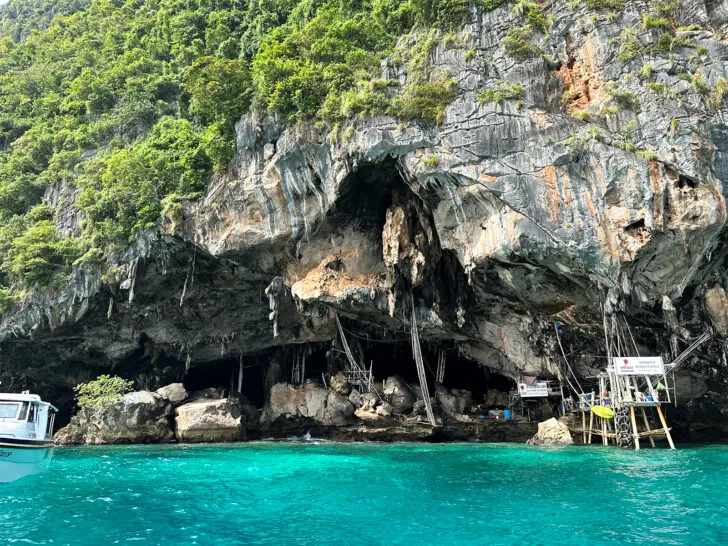 This cave has such a unique history, it's worthy to be on this list when considering what to do in Phi Phi Islands.
First, it's worthy to note that tourists are not allowed in the cave. However, your boat that's taking you on a tour of Maya Bay or island hopping can stop by the cave enough for you to take a peek inside.
The cave itself is rather large – 3.2 square kilometers (1.9 square miles) in size.
It's thought to have been used by vikings or even pirates, based on cave drawings on the walls inside the cave. It certainly would have been a great hideout for boats during the monsoon season!
At the entrance of the cave today you'll see bamboo scaffolding. This scaffolding is up to help the locals harvest a rare delicacy from the Pacific Swifts and Black-Nest Swiftlets that occupy the cave – their nests.
You see, the adult birds actually create their nests by secreting saliva, which hardens when it's exposed to the air. It's collected for it's iron, calcium, potassium and magnesium and is the main ingredient in the Chinese delicacy, Bird's Nest Soup.
Bet ya didn't see that coming! Anyhow, it's an interesting stop while on a boat tour of the Phi Phi Islands.
4. Long beach (one of the most underrated things to do in Phi Phi Islands Thailand)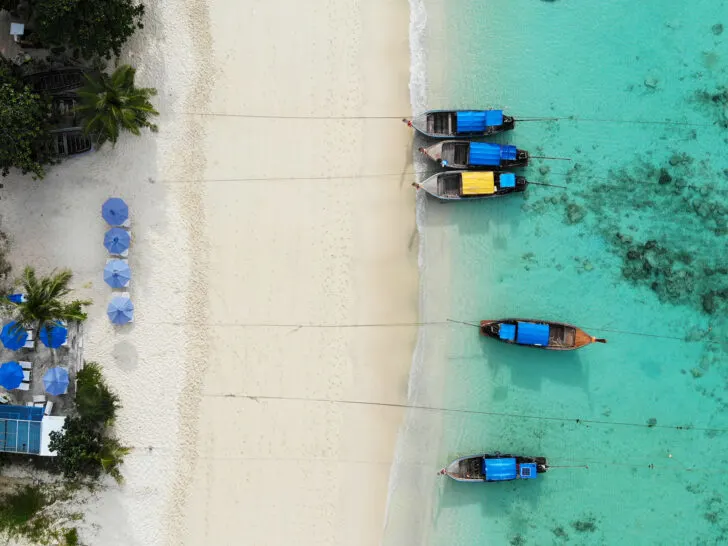 One of the best spots in the Phi Phi Islands Thailand, Long Beach is located on Phi Phi Don. To get to it, you'll need to take a long tail taxi from the Ao Ton Sai Pier, the main pier in town.
Long Beach is basically a great spot to spend a beach day. It's relatively quiet, with mostly just nearby hotel guests visiting the beach. There's just a couple of restaurants and bars along the beach, so it's not necessarily a party scene or spot where you'll find lots of people coming and going.
Near the west end of the beach is most quiet and secluded, and you'll find exceptionally soft sand. The eastern side of Long Beach is where boats dock are more rocky with more coral and traffic.
5. Shark Point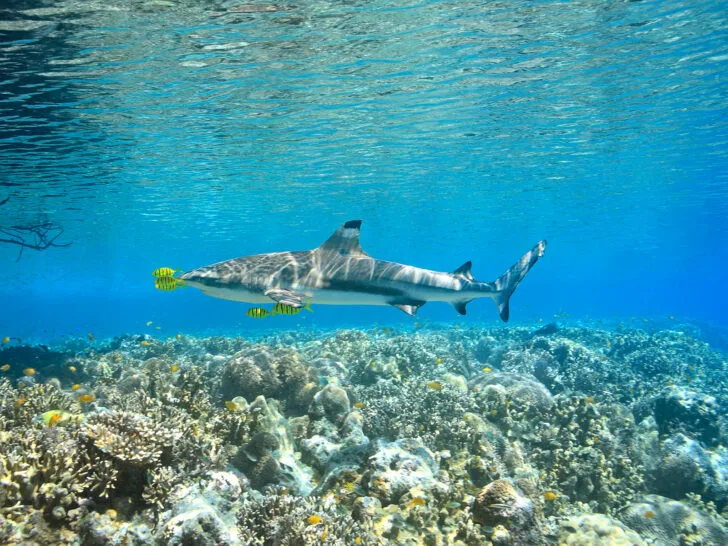 One of the best things to do Phi Phi Islands if you love marine life is to snorkel Shark Point, which is just off the eastern end of Long Beach.
If you're weary of snorkeling to see sharks, keep in mind this area is known to attract Black Tip Reef Sharks, which are typically less than 6 feet long and not known to be aggressive to humans.
You don't need a tour for this activity, as long as you can find snorkel gear! You can pack your own snorkel gear or ask your hotel or rent them on Long Beach for 50 Baht per person.
Note: watch out for sea urchins as you make your way to Shark Point!
To get to Shark Point, walk to the far east end of the beach. Swim past the ropes that block off the swimming area and head towards the rocks you see popping up out of the water off shore. Sharks like to hang out on the east side of those rocks (left side when looking out from the beach).
Pro tip: sharks are most active in the morning and evening. I'd recommend going between 7:00am and 9:00am for the most shark activity and best visibility.
6. Phi Phi Viewpoint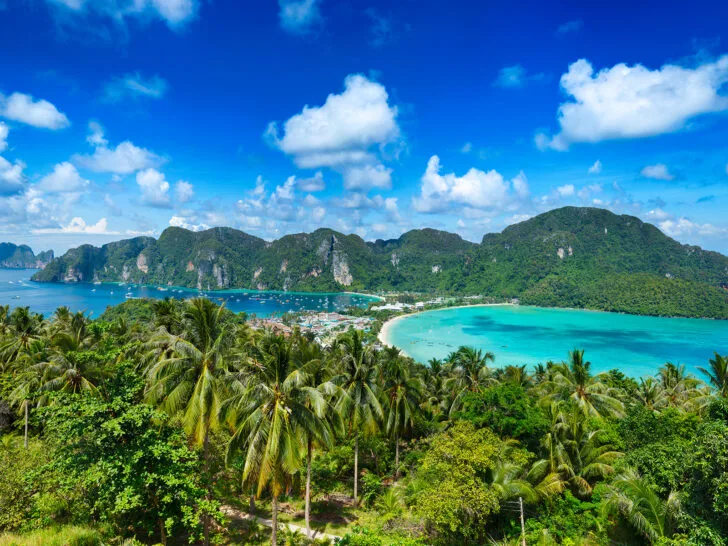 Hike to the highest point on the island to see this iconic view of the two crescents and the karsts that create Phi Phi Don!
It takes a bit of an effort, but the views are worth it! Start by climbing 343 steps up to the entrance. At the time of publication, you'll pay 30 THB per person to enter.
The view will is breathtaking! There's also a restaurant and coffee shop to enjoy the view. 🙂
After viewpoint 1, you can actually keep going to viewpoint 2 and 3, just a little further each time. The Ton Sai Beach, Loh Dalum Beach and the mountains really shine from the viewpoints!
Pro tip: bring water! These islands are humid and hot, and this climb is no joke.
7. Viking Beach and swing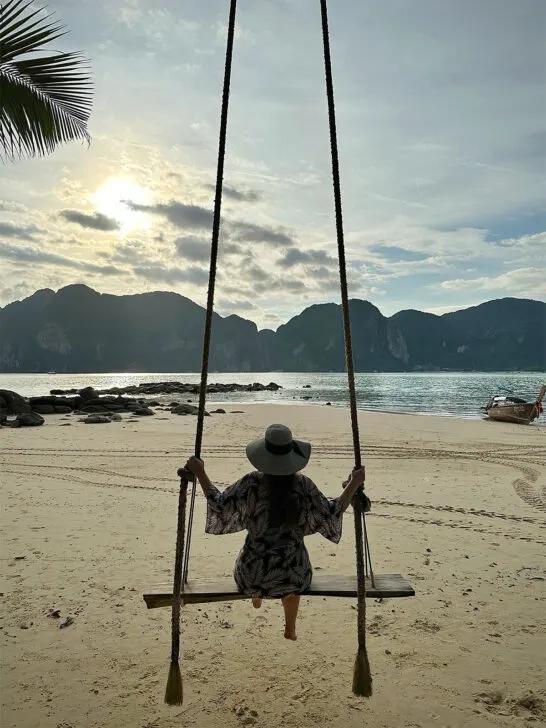 This little hidden gem is a fun spot to relax for a bit! Located to the east of town, about a 5-10 minute walk is Viking Beach. It's a small cove that's totally underrated and absolutely beautiful!
There's a picturesque swing right on the beach, hanging from one of the oversized trees on the coastline. Sit in the swing and overlook the gorgeous limestone karsts that make up the other side of Phi Phi Don.
It's the kind of moment you soak in and feel surreal. You're in the stunning Phi Phi Islands!!
What to do in Phi Phi Islands Thailand
Only 1/3 of the way through this incredible list of things to do in Phi Phi Islands, I'm sure you're already collecting ideas for your adventure. Let's keep going!
8. Nightlife at Loh Dalum Beach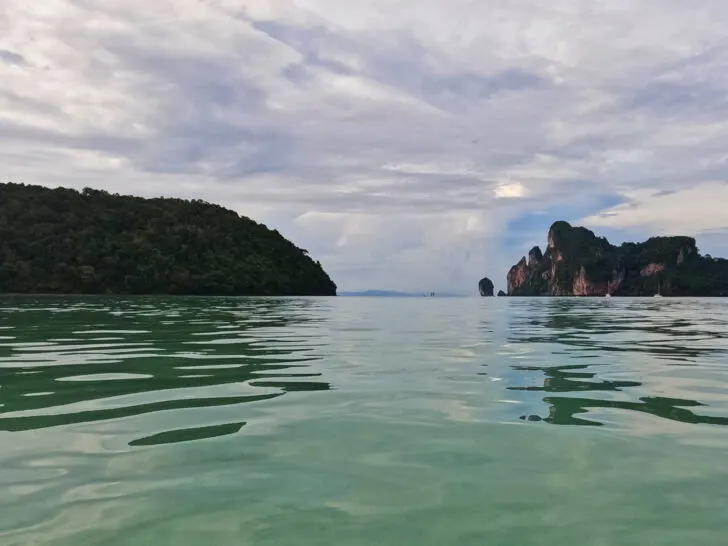 A really fun spot on these tropical islands is Loh Dalum Beach. Across the island, past the shops and restaurants from the pier is the crescent-shaped beach.
It also happens to be where the best nightlife is on Phi Phi Don! The party scene on Loh Dalum Beach is full of backpackers and vacation goers looking for a good time. With the infamous beach party, you'll find plenty of cocktails, loud music, fluorescent paint, plus open air dance clubs at bars along the beach.
Officially the music must end at 2:00am, but the party certainly doesn't stop there!
9. Kayaking or paddleboarding
Speaking of Loh Dalum Beach, it makes its way back on this list of the best things to do in Phi Phi Islands for water sports.
Specifically kayaking and paddleboarding, this beach is perfect for it. Even if you're a beginner level on either sport, you really can't find a better spot!
Surround yourself with incredible views of the bay and beautiful coastline. The water is extremely shallow for more than 100 yards from the shore. The reef breaks way out by the karsts, creating very minimal waves.
It makes balancing on a paddle board and rowing on a kayak super easy!
If you happen to be traveling to Koh Phi Phi with kids, this would be a great spot for young kids to play in the water considering it's so shallow.
10. Snorkeling (typically included on Phi Phi Islands tours)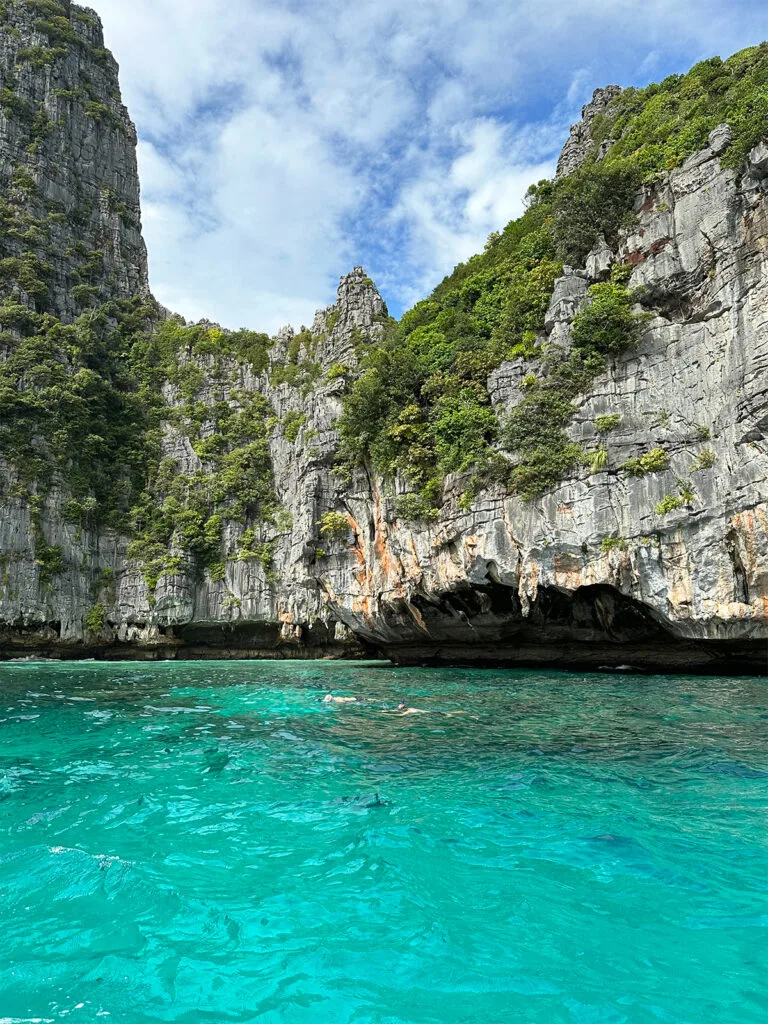 This will likely be included in any Phi Phi Islands tour you decide to take. But the snorkeling is so phenomenal in many areas around the islands, that it's worth mentioning in its own spot!
Note: it's imperative that all visitors wear mineral sunscreen to protect the coral reefs in Thailand and elsewhere. Coral reefs are dying across the world and it's largely due to human impact. Traditional sunscreens bleach the reefs. Please keep this in mind in Thailand and everywhere else!
Back to snorkeling in the Phi Phi Islands… there's so many places to explore underwater!
Best snorkeling Phi Phi Islands Thailand
Phi Phi Leh (unnamed cove to the north of Viking Cave)
Near Maya Bay Phi Phi Islands (unnamed cove across from the bay, outside of the conservation boundary)
Mosquito Island
Shark Point
Laem Tong Beach
Monkey Beach
Note: it's extremely important to not touch marine life or coral while snorkeling. Oils from human fingers can damage sea turtles, coral reefs, etc. very easily.
11. Laem Tong Beach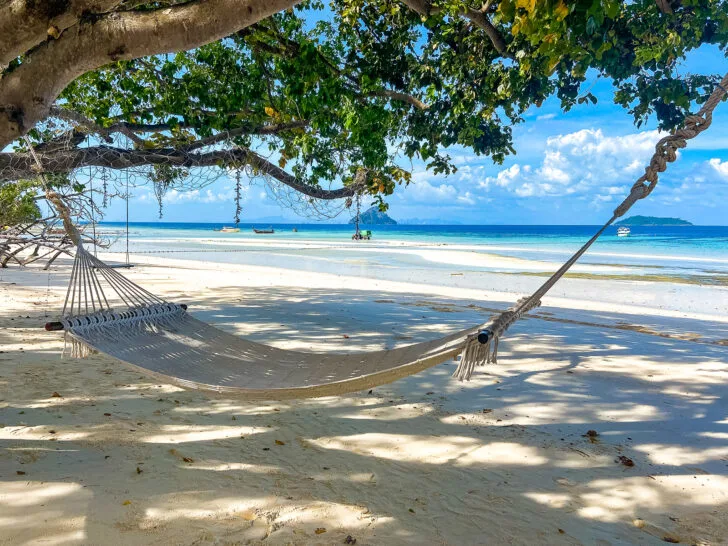 Alright let's talk about a few other spots around Phi Phi Don that are on the outskirts. First, Laem Tong Beach is on the northern part of the island, along the east coast. To get there, it's about 30 minutes via long tail boat from Ao Ton Sai Pier.
That means, there's hardly any visitors. And it's one of the best activities if you're wondering what to do in Phi Phi Islands that's off the beaten path.
This beautifully sparse beach is home to a few hotels and restaurants, and not much else! The palm-tree lined beach will make you swoon and fall in love with the Phi Phi Islands.
To make the most of this area, you can book a night (or more) at the Zeavola Resort. This beautiful property has a spa and swimming pool to round out your relaxing adventure to this remote beach!
12. Monkey Beach, (one of the most fun things to do on Koh Phi Phi)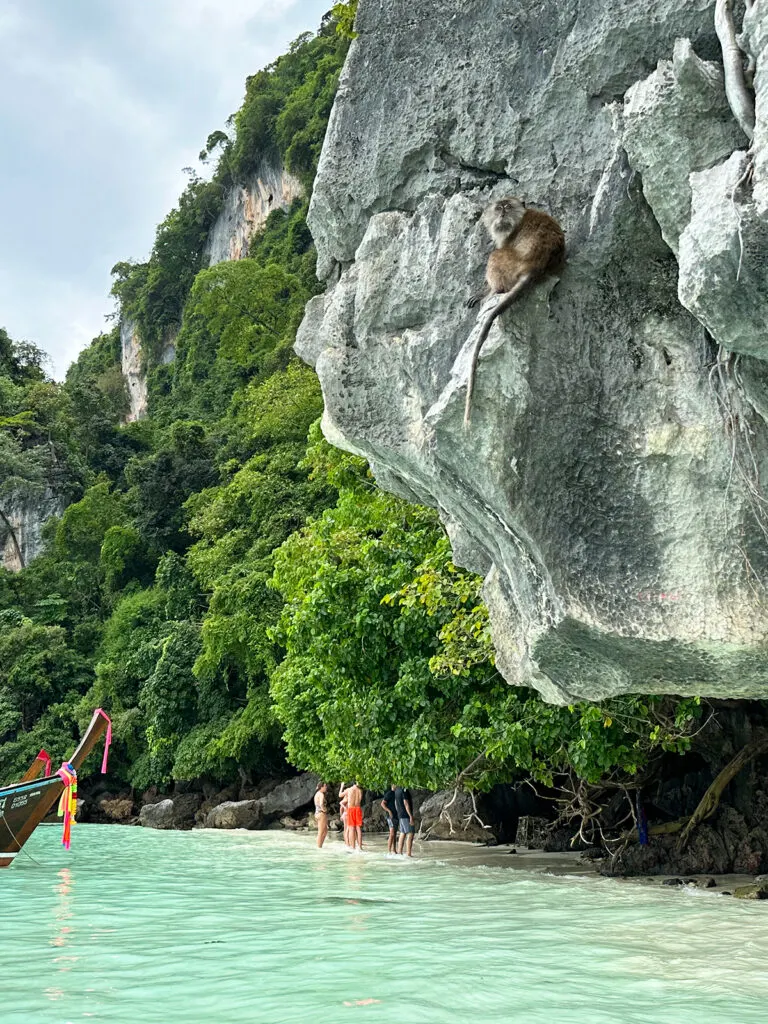 There's a good chance that the best Phi Phi Islands tours will make a stop at Monkey Beach. However, since there are so many tour options, let's review some important details about this must-see location in the Phi Phi Islands!
Monkey Beach and Monkey Bay are actually two different areas on Phi Phi Don. The beach is larger than the bay. The adorable Long-Tailed Macaques live on both areas of the island, right on the shore.
There's a larger swimming area at Monkey Beach. So if you're hoping to swim near the monkeys, make sure you get to the beach, and not the bay. The bay only has a small part far enough out of the water for sunbathing.
Monkey Bay is a convenient stop on your way from Maya Bay Phi Phi Island to the Ao Ton Sai Pier, so many boats stop here because it's a similar experience.
Note: don't get too close to the monkeys. They're wild animals, after all! We actually saw a woman trying to get a photo of a baby monkey, when her mama reached out and scratched the woman on the cheek. Ouch!
These monkeys are really cool to see in their natural environment. Remember not to feed them and observe from a distance. It's such a unique experience – be sure to capture great photos while you're there!
13. Day trip to Railay Beach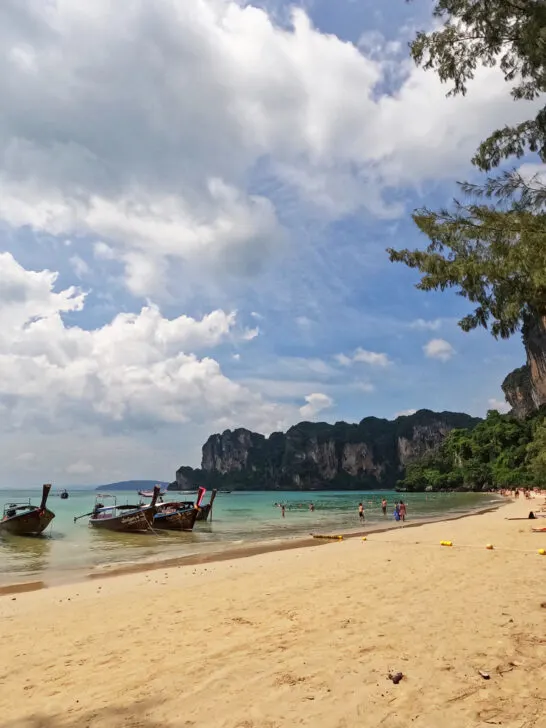 If you're not planning to spend any time in Krabi or Railay Beach and you're as close as the Phi Phi Islands, then spend a day at Railay Beach while you're nearby!
There's not a lot of options online in advance for a tour from Koh Phi Phi to Railay Beach. So I'd recommend to set up a transfer via 12Go Asia. You can book a speedboat (about an hour away) there and back the same day.
Alternatively, you could hire a private transfer via long tail boat to Railay Beach once you're on Phi Phi Don. For the right price, someone would likely take you there and bring you back. Keep in mind long tail boats take roughly twice as long to travel as speed boats.
While on Railay Beach, soak in the incredible scenery of this bucket-list beach! The views of the bay and karsts are just as stunning as anything else in this guide.
Railay Beach is very touristy and gets quite busy. But it's also fun to sit by the beach and enjoy a cocktail with such astonishing views.
For a unique adventure during this day trip, try a rock climbing adventure on the karsts with views of the beach. Talk about an amazing experience!
14. Tattoo souvenir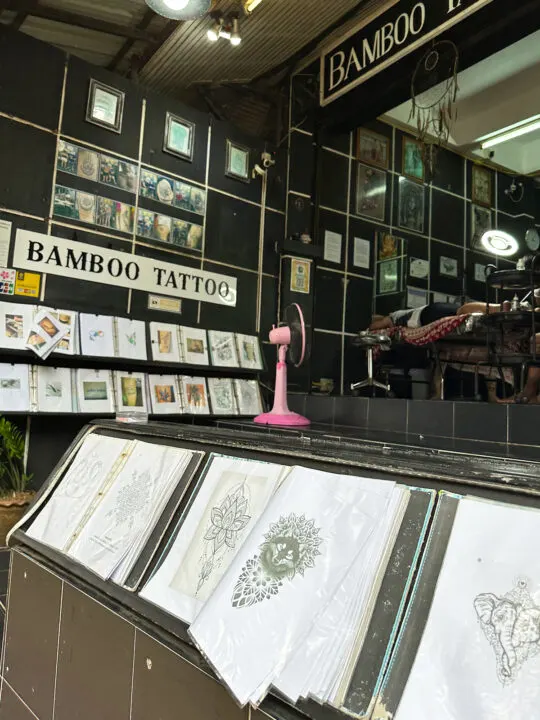 Admittedly not for everyone, but a tattoo souvenir would really seal the deal on how much you fell in love with the Phi Phi Islands! Try your hand at a traditional Thai tattoo via bamboo method, too.
Located in the heart of downtown, you'll find a few tattoo shops willing to give some fresh new ink. Pick our your favorite Thai symbol or find something else you love for this permanent souvenir.
More amazing things to do in Phi Phi Islands
Can you believe this list?! There's so many adventures on these gorgeous islands in the Andaman Sea. Let's keep going! One of my favorites is up next.
15. Bamboo Island (stunning spot in Koh Phi Phi)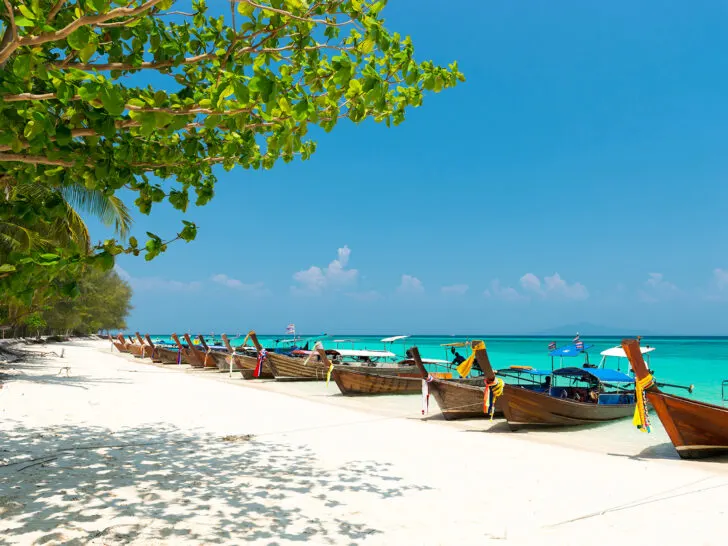 This uninhabited island is like a little slice of paradise!
Bamboo Island, or Koh Mai Phai got its name from the bamboo that grew on the island before the 2004 tsunami wiped it out. Unlike the other spots in the Phi Phi Islands Thailand, this one is flat without mountains or karsts.
Located north of Phi Phi Don (Phi Phi Leh and Maya Bay are south of the main island), it is sometimes included in a tour of the islands, especially if you're taking a speedboat tour.
However, it's also possible to hire a private long tail boat trip to Bamboo Island. And my goodness, it's sooo worth it!
A tiny paradise where there's no amenities, be sure to be prepared for any time you're spending on the island.
Bring a towel and sunblock, and yes, you'll want water shoes for this one as well. Parts of the island have impeccably smooth sand, and other parts have more coral-like sand which isn't very comfortable to walk on barefoot.
Bamboo Island Thailand is a great spot to hang out, swim and even snorkel for a few hours. There's no food or drink vendors, so be sure that it's included with your tour or bring your own food and water.
Note: there is an entrance fee, as this island is part of the Hat Noppharat Thara – Mu Ko Phi Phi National Park. The fee is 400 Thai Baht, ($12 USD).
Bamboo Island gets really crowded during high season (December through March), so prepare for lots of tourists and crowds. Try for an early morning visit to the island before the crowds arrive to enjoy the island in peace. 🙂
16. Shopping in Tonsai Village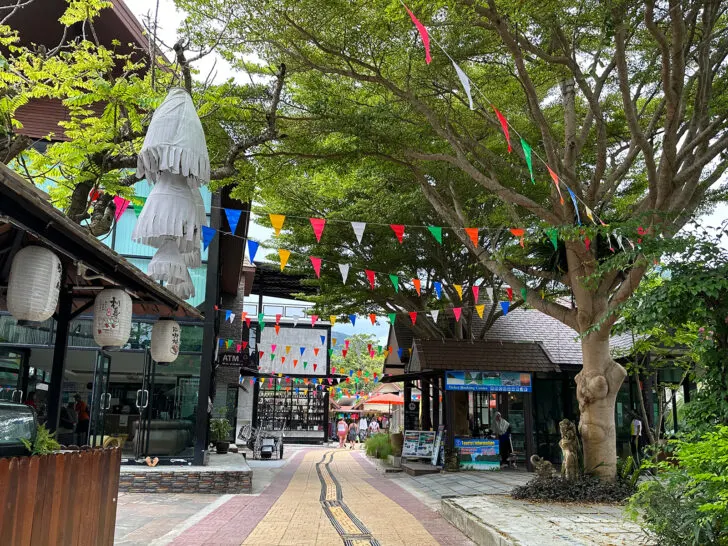 If all that beaching has you wishing to be in dry clothes, on dry land, maybe it's time to take a walk around town. Whether you just like to look at what the locals offer, or you buy souvenirs for yourself or loved ones back home, there's quite a bit of options in town!
The Tonsai Pier Shops at Tonsai Village in downtown have clothing, jewelry, artwork, handbags, home decor, kids items and so much more! Shopping and dining in town is a great rainy day activity, as an alternative to beach activities.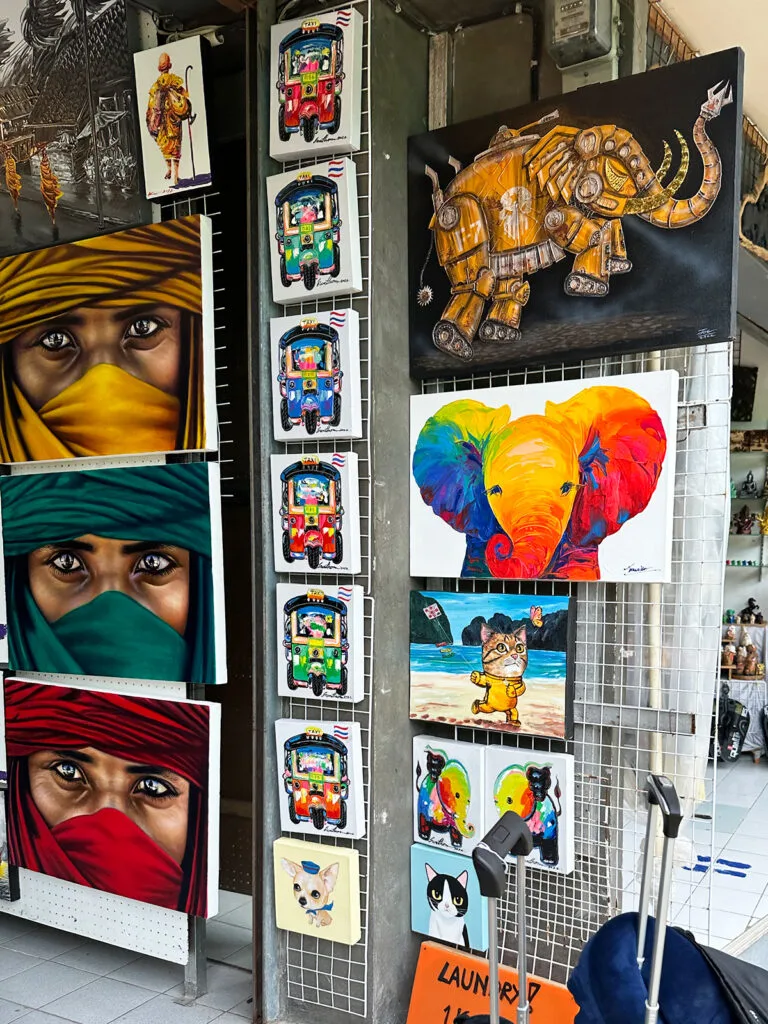 17. Traditional Thai massage (another favorite on this list of things to do in Phi Phi Islands)
After exploring the town, shopping and dining, you might just be in the mood for a massage. There are several massage spots in downtown, and a few more at the resorts around the island.
Many of the in-town spots don't require a reservation, however, if you want a specific time you should make one in advance.
I absolutely loved experiencing a traditional Thai massage! It's a combination of massaging and stretching the muscles that feels simply divine!
And the best part? If you're from the states, the price of a quality Thai massage doesn't even come close to what you'll pay in the US.
18. Fire show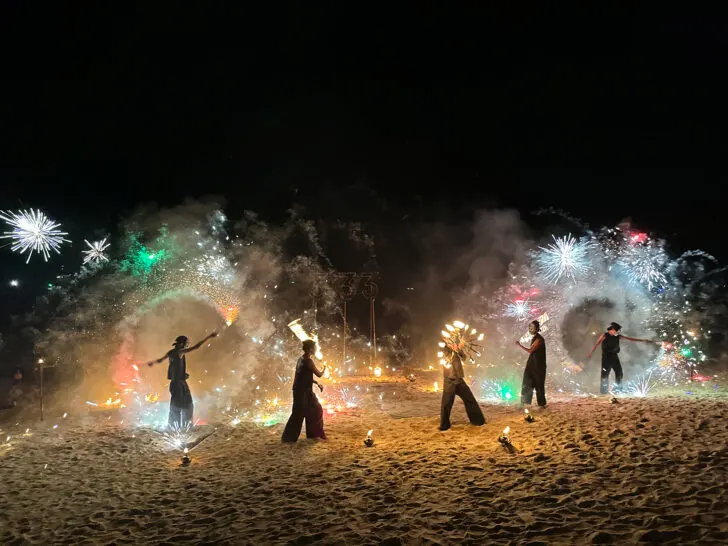 Well, if you're in Thailand and you haven't seen a fire show (or even if you have😆), watching a fire show is one of the best things to do in the Phi Phi Islands!
If you're staying at a hotel, you can check with them to see if they host a fire show. Some are weekly or a few nights a week. Alternatively, you can head on over to the party at Loh Dalum Beach, where there's almost always a fire show at night!
You'll marvel at the fact that these performers can swirl fire through the air like it's nothing! With different fire stunts throughout the performance, fire shows in Thailand are always a good time!
19. Mosquito Island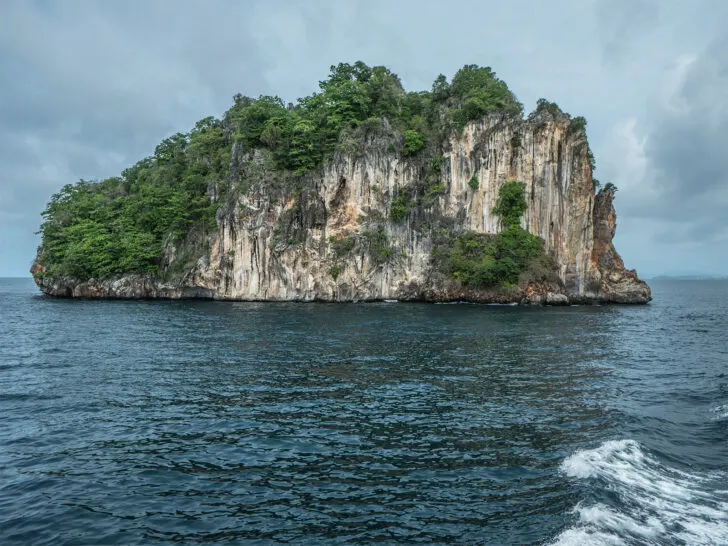 Also known as Ko Yung, Mosquito island is an uninhabited island in this archipelago. Located near Bamboo Island, this island has literally zero amenities, and is really just a great spot for snorkeling!
The incredible reef system is an amazing spot for snorkeling in Thailand. The awesome coral reef at Mosquito Island is home a variety of fish, including Yellowtail Fusilier, Parrotfish, Emperor Angelfish, Lionfish, Powder Blue Tang and more!
Many Phi Phi Islands tours include a snorkeling stop at Mosquito Island!
20. Sunrise cruise (one of the most unique things to do in Phi Phi Islands Thailand)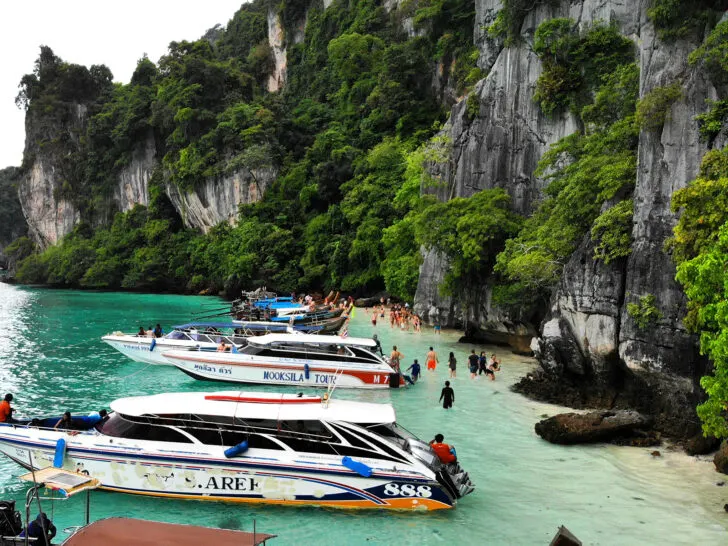 A beautiful way to start the day – without the crowds on a sunrise cruise! Start your day early and see the sunrise over the horizon in the Andaman Sea. Perfection!
See the incredible limestone karsts early in the morning as you make your away around the Phi Phi Islands Thailand.
Most sunrise cruise options could stop at some of the other places listed above – like Phi Phi Leh, Maya Beach or Bamboo Island. Enjoy a meal (or two) on the boat between stops. Expect some snorkeling and sightseeing during a sunrise cruise.
21. Beach day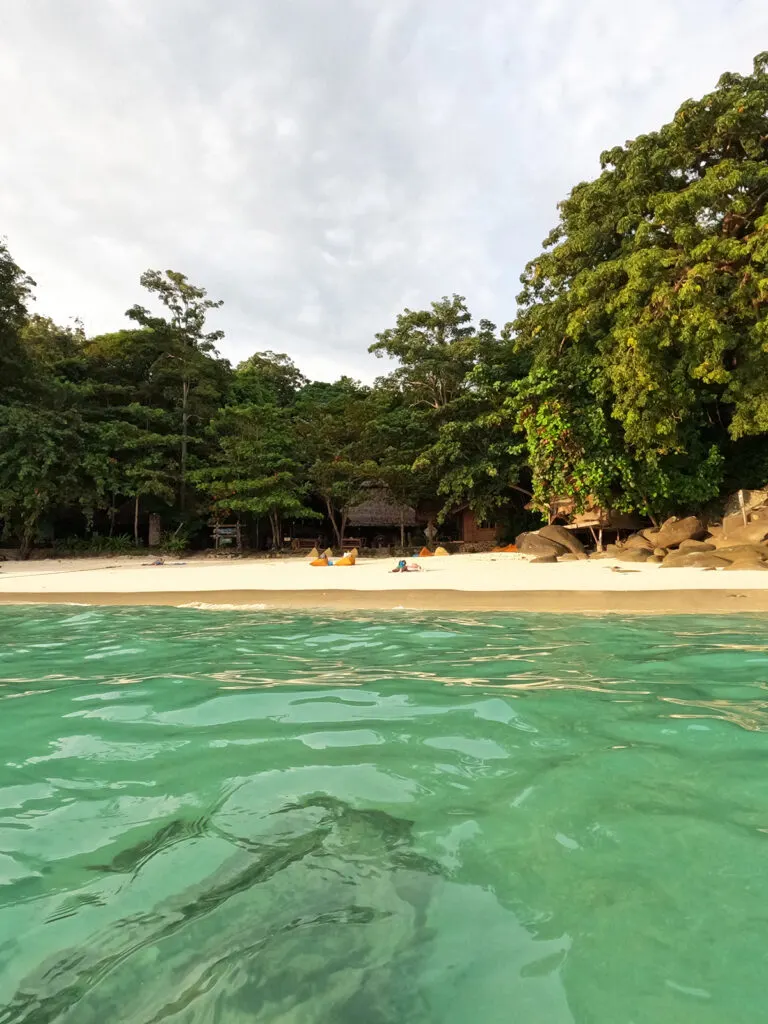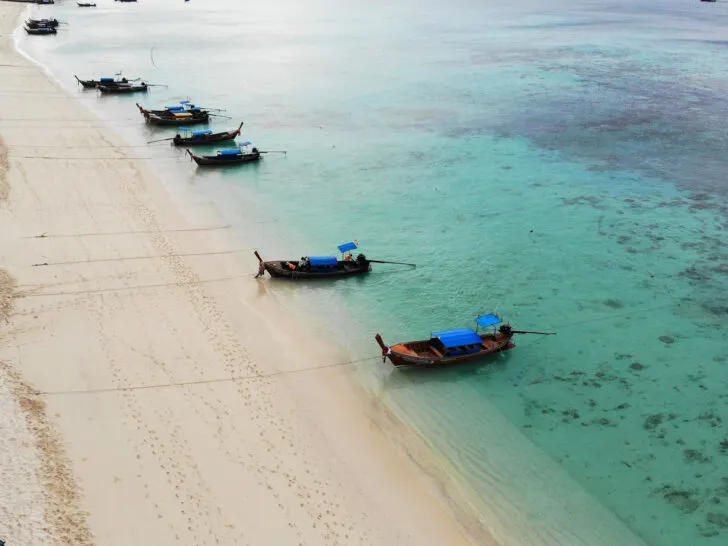 Did this guide of the best things to do in Phi Phi Islands cover lots of beaches? Sure. BUT considering this island paradise, there's time for one last thing!
Definitely don't plan every minute of your time on the Phi Phi Islands. It's the perfect place to relax and unwind a bit. It's like going to Maui with kids – plan a beach day (or afternoon, at least)!
There are so many beaches around the islands – even more than made this list! Whether you're looking for a romantic beach away from the crowds, or want to see the sights that everyone comes to the islands for – definitely plan some time to soak in all that island vibe!
Things to do in Phi Phi Islands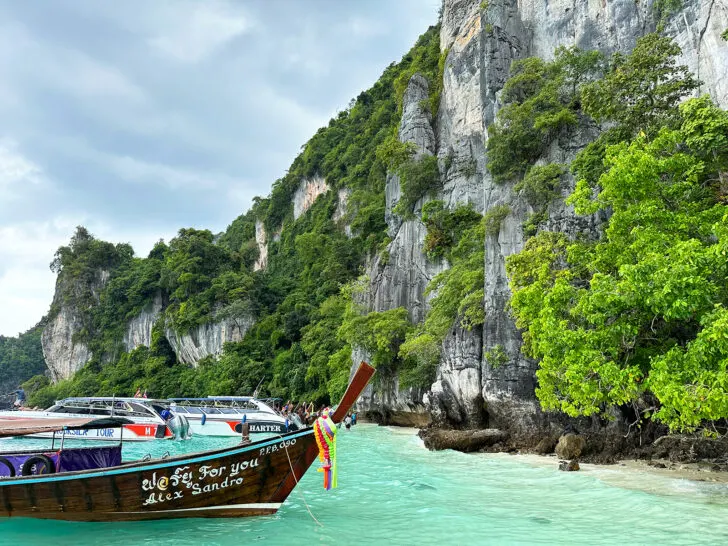 Whew! What a list!! Are you soooo ready for your trip to the Phi Phi Islands?!
With stunning scenery and adventures around every (sometimes hidden) cove, these islands are truly paradise and ones worth exploring.
Let's recap the list one more time, in a more succinct manner….
What to do in Phi Phi Islands
Maya Bay Phi Phi Islands
Island hopping
Viking Cave
Long Beach
Shark Point
Phi Phi Viewpoint
Viking Beach and swing
Nightlife at Loh Dalum Beach
Kayaking or paddleboarding
Snorkeling
Laem Tong Beach
Monkey Beach
Day trip to Railay Beach
Tattoo souvenir
Bamboo Island
Shopping in Tonsai Village
Traditional Thai massage
Fire show
Mosquito Island
Sunrise cruise
Beach day
Related content to read next:
Ultimate Guide to Coral Island Phuket (GORGEOUS Thailand Spot You'll Love)
STUNNING Similan Islands Thailand: Ultimate Guide to Beaches, Snorkeling & More
Khao Lak, Phang Nga, Thailand: 21 Fun Things to Do (You'll Love this Underrated Coast)
Find this post helpful? Save it for later or share it on social media!