Gah! What's better than a beach vacation? If you're looking for the perfect spot for a getaway, this list of beaches on the Gulf Coast is exactly what you need. The crisp, white sand beaches of Florida, the high-adventure beaches in Texas or anything in between, this list has your next vacation destination!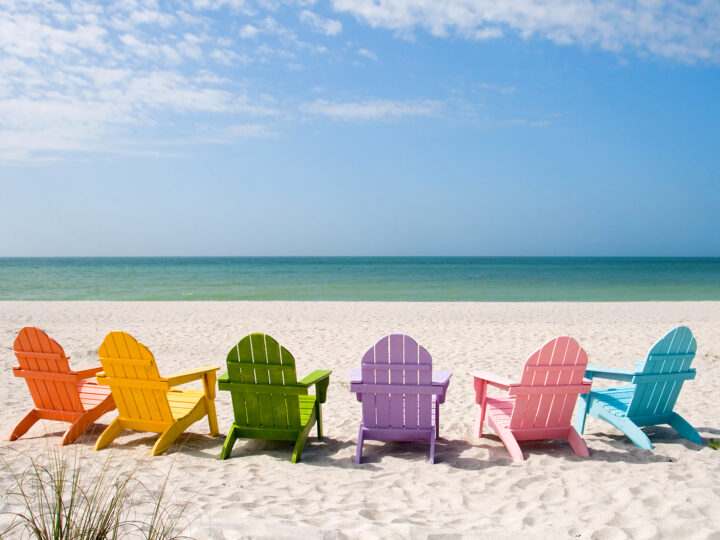 This post may contain affiliate links. For more info, see my disclosures.
The Gulf Coast is known for it's stunning beaches. These emerald waters are perfect for swimming, sunning, fishing, boating, jet skiing….should I continue? Whether your perfect vacation is a small-town feel with laid-back island life or bustling beaches and tons of nightlife, you'll be booking your next getaway in no time.
Real quick though, as a beach lover who's continually checking off travel bucket list locations, I haven't been everywhere yet. So I called in a few travel blogger friends to help create this epic list. Enjoy!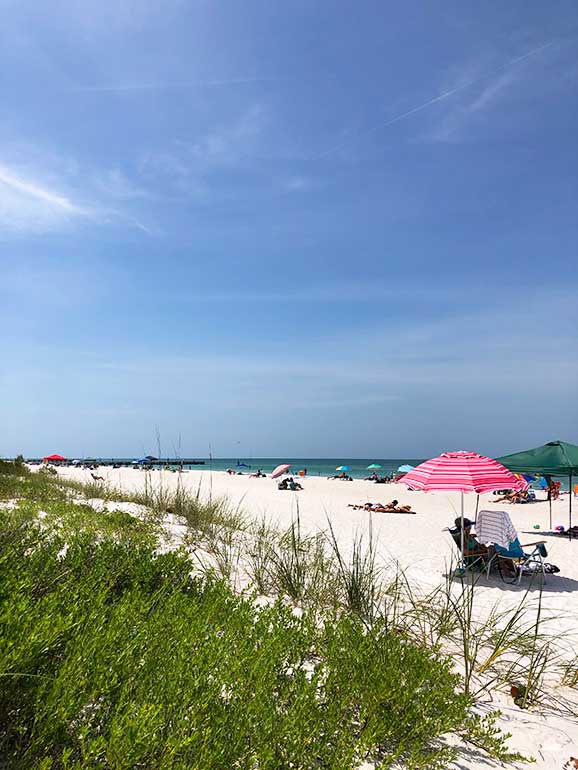 Beaches on the Gulf Coast map
First let's see them on the map. If you're a visual person (like I am), this may be helpful for planning purposes.

Then be sure to download this beach packing list so you know exactly what to take on your trip, too!

Alright, let's get to the list!
Best beaches on the Gulf Coast
So I won't say which beach is my favorite, but let's start this list off with a bang!
1. Siesta Key Beach, Florida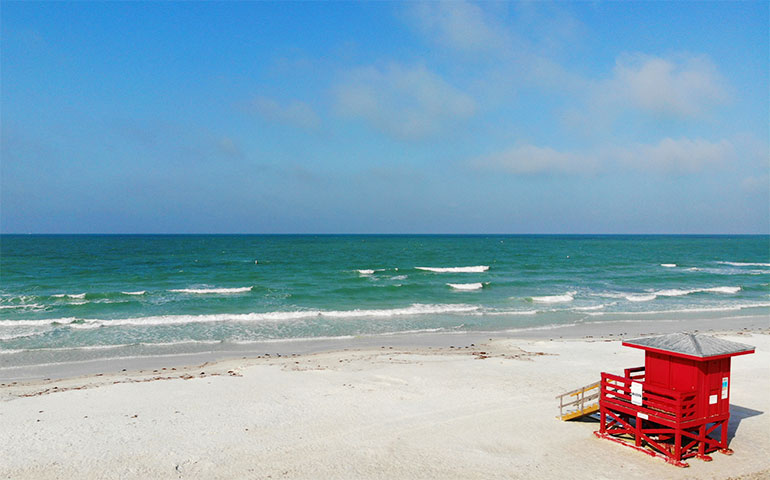 Best known for: impeccable white quartz sand
Address: 948 Beach Rd, Sarasota, FL 34242
Rated the #1 beach in the USA by TripAdvisor's Traveler's Choice Awards™, Siesta Key beach on the western coast of Florida has it all.
The attraction? The gorgeous, white sand that doesn't get hot! It's made up of over 99% quartz, where most other beaches are a mixture of quartz and other rock. It feels powdery to the touch, almost like you're walking on flour instead of sand.
The cooling effect of the quartz is a welcome characteristic of this beach, even on the hottest of summer days. There are plenty of things to do in Siesta Beach, too. The beach complex includes multiple restaurants, playgrounds, sand volleyball courts and more.
As a bonus, the surrounding landscape isn't filled with high-rise hotels. Instead, the local hotels, condos, restaurants, etc. are lower to the ground, creating a more natural look to the beach. Siesta Key Beach is family friendly, but the Village on Siesta Key has decent nightlife.
Pro tip: although the parking lot is large and the beach is wide, come early to snag a spot closest to the water. The weekends fill up especially fast!
Recommended by me! Nikki of She Saves She Travels
2. Cape San Blas, Florida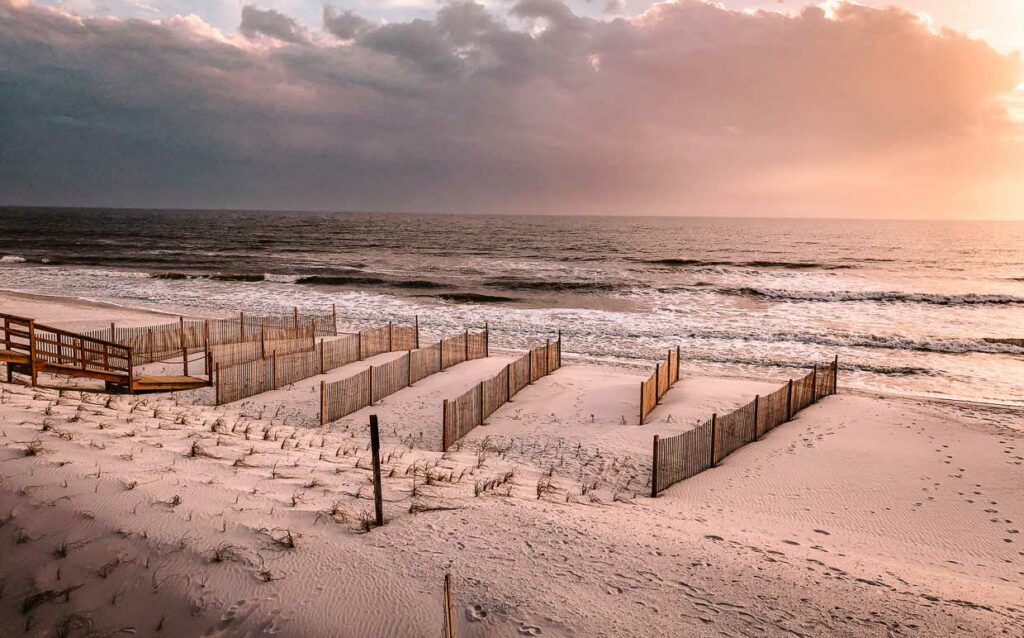 Best known for: a quiet getaway
Address: Cape San Blas, FL 32456
Cape San Blas is tucked away in the Florida panhandle just an hour from Destin and 2 from Tallahassee, right on the coast. In 2018 it was hit pretty hard by Hurricane Michael and is still recovering but that doesn't mean it's lost any joy to visit.
This is the perfect beach getaway because of how quiet it is. If you want a party beach, look elsewhere. This is great for anyone looking to relax, do some shelling and maybe read on the beach.
While there aren't any hotels on the peninsula, there are tons of vacation home available to rent on the beach or bayside or just in between. The best time to go just depends on what you're interested in. For swimming, summer is best. For just relaxing and avoiding Florida crowds, it's the perfect warm winter vacation in the USA.
There isn't much when it comes to restaurants on the Cape but a short drive into Port St. Joe gives you more variety. Provisions and Joe Mama's Wood Fired Pizza are both delicious.
Make sure to do some shelling on the beach, visit the St. Joseph Peninsula State Park, walk the boardwalk at the bayside park, take a day trip to Apalachicola and just relax on the beach, enjoying the waves away from all the South Florida visitors.
Recommended by Megan of Red Around the World
3. Gulf Shores, Alabama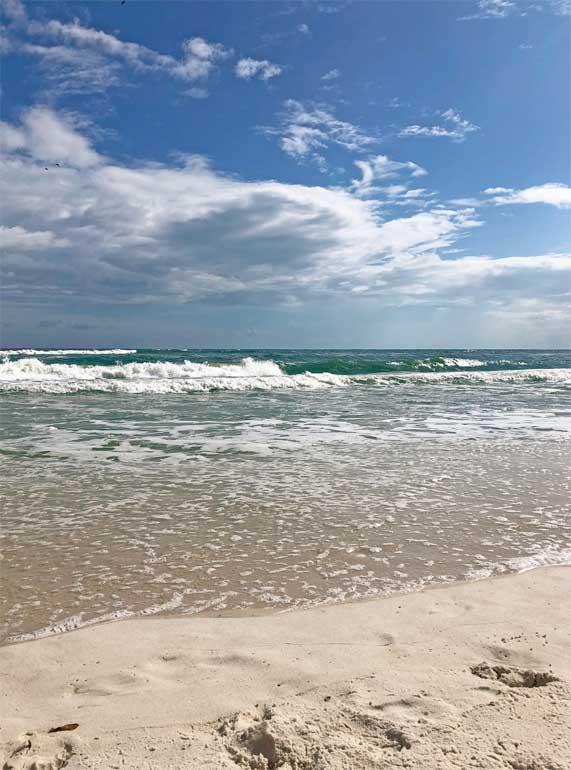 Best known for: white sand and gorgeous sunsets
Address: 101 Gulf Shores Pkwy, Gulf Shores, AL 36542
One of my favorite beaches in all of the US also happens to be one of the best vacation spots in the Gulf Coast! A visit to Gulf Shores, Alabama is the perfect getaway for families, couples or a girls' trip (hello bachelorette parties!)
Between the plethora of activities, restaurants and of course, beaches, you won't get bored in Gulf Shores! Build sand castles, go on dolphin cruises, fish from the pier at Gulf State Park or even bike the Hugh S. Branyon Backcountry Trails. Here's a list of more exciting things to do in Gulf Shores with kids.
And if you're looking for a quiet weekend away, this beachy spot is one of the best for that, too. Rent a hotel with ocean-front views right on the beach. Or stay a bit further inland in a vacation rental for a more affordable vacation style.
You can fly into Pensacola, Florida and drive about an hour west to get to Gulf Shores. The area is a must-see for sure!
Recommended by me! Nikki of She Saves She Travels
Related: 12 fun places to eat in Gulf Shores that any foodie will love
4. Indian Rocks Beach, Florida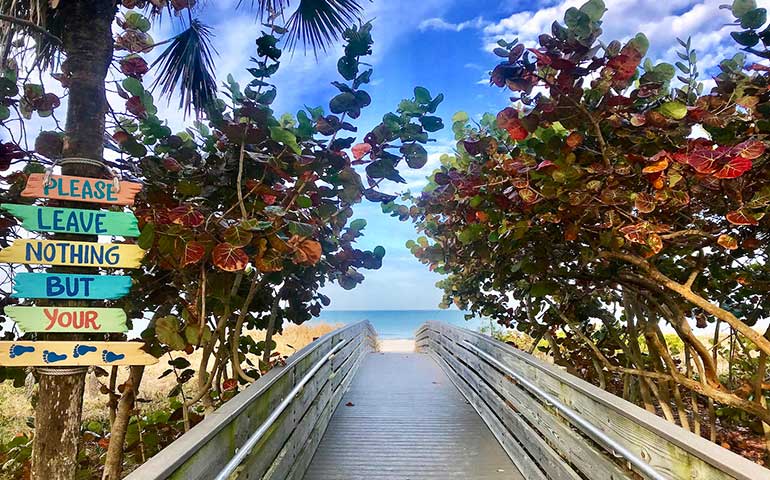 Best known for: white sand and gorgeous sunsets
Address: 1700 Gulf Blvd, Indian Rocks Beach, FL 33785
Indian Rocks Beach is one of my favorite US Gulf Coast beaches because commercial development has mostly bypassed it. The famous neighbors – Clearwater Beach to the north and St Pete Beach to the south – are lined with giant buildings, and Indian Rocks Beach remains one of the few Florida Gulf beaches with an Old Florida vibe.
Things to do in Indian Rocks Beach include relaxing on the beaches, celebrating nightly sunsets and enjoying fresh Florida Gulf cuisine. Walking, bicycling and paddling in the ocean or calmer intracoastal waters are common activities.
Nature lovers will enjoy the Indian Rocks Beach Nature Preserve with a half-mile boardwalk trail over mangroves. Kolb Park has a skateboard park and courts (basketball, tennis, pickleball). Check the small public library across the street for $1 paperbacks and free magazines to read on the beach.
The relative quaintness of Indian Rocks Beach makes it an ideal vacation destination for families, couples, or anyone wanting to relax, savor nature, or enjoy quieter beaches.
Like most Florida Gulf Coast beaches, Indian Rocks Beach is a year-round destination, with peak season in February through Spring Break. Most years, October through November are excellent times to visit, because the weather is amazing and not as many people are visiting.
A few free parking spots are at several of the 27 beach entrances. Arrive early and read the signs (some require a permit). Smart locals and savvy visitors skip driving and use the Suncoast Beach Trolley, which covers from Clearwater Beach down to St. Pete Beach. Download the app and efficiently time arrivals and not wait too long.
Recommended by Charles of McCool Travel
5. Miramar Beach, Florida (one of my favorite beaches on the Gulf Coast of Florida)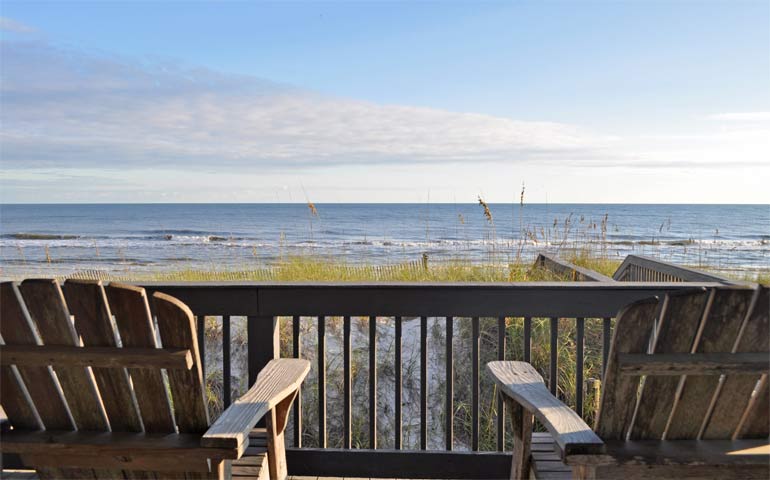 Best known for: Perfect sand and laid-back atmosphere
Address: 2396 Scenic Hwy 98, Miramar Beach, FL 32550
Florida's panhandle has some pretty spectacular beaches! One of my favorites is just east of the bustling city of Destin, called Miramar Beach. The gorgeous white sand and turquoise water combination draws you in and will make you want to stay forever!
Whether your beach style is to lay out and soak up the sun or rent jet skis or kayaks and explore the coast, there's a little bit of everything at Miramar Beach. I've vacationed in Miramar Beach several times and I've seen dolphins from the beach during each visit!
One of the best parts of visiting this beach is that the water is crystal clear and warm. It's actually one of the best beaches in Florida for families because of the calm waves and great sand, too. The best time of year to vacation at Miramar Beach is May through September for warm weather and sunshine.
And if you're into shopping, one of the largest outlet malls in the country is right down the street, Silver Sands Premium Outlets. It's so big you can seriously get lost there!
Pro tip: stay near the beach. Because of it's proximity to Destin, the traffic in the area can be intense.
Recommended by me! Nikki of She Saves She Travels
6. Galveston, Texas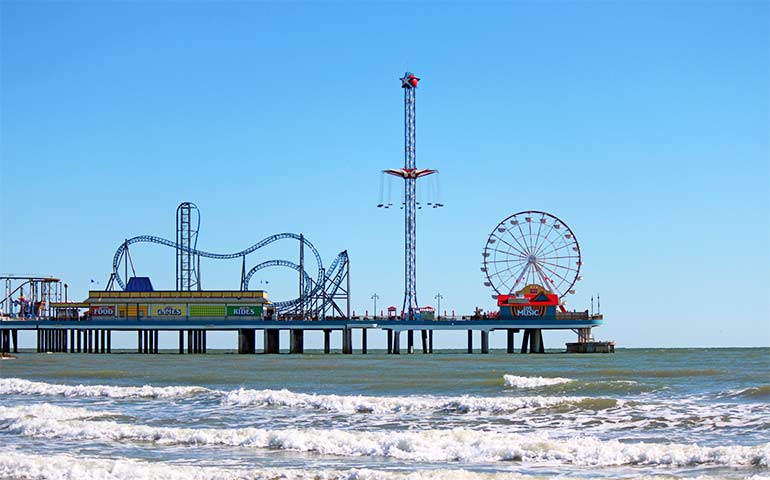 Best known for: family-friendly beaches
Address: Galveston Beach: 6285 Seawall Blvd, Galveston, TX 77551
Located just south of Houston on the Gulf of Mexico, Galveston is among the most classic beach destinations in the Lone Star State, and a fantastic Gulf Coast getaway!
While Galveston is known for its family-friendly beaches and fishing trips, there is plenty more to discover about Galveston off the sand.
As a popular destination for wealthy Texans during the Victorian era, Galveston's historic East End district is perfect for discovering gorgeous homes, including some–like Bishop's Palace and Moody Mansion–that are now open to the public.
For another reminder of Galveston's wealthy past, check out the Strand. Today, the district is known for its shopping and restaurants, but dial back a century or so, and this area was known as the "Wall Street of the Southwest".
More fun things to do in Galveston include birdwatching at Galveston Island State Park, exploring Moody Gardens with your favorite kids, renting bikes to ride along the seawall and visiting the Galveston Pleasure Pier.
The Galveston Pleasure Pier is one of Galveston's most iconic sights, and after being closed since 1961, reopened in 2012 to entertain a new generation of visitors.
Whether you're looking for a weekend of shopping and house museums, a family-friendly amusement park to enjoy, or simply a relaxing place to stick your toes in the sand, Galveston has what you're looking for on Texas' Gulf Coast.
Recommended by Kate of Lone Star Travel Guide
7. Clearwater Beach, Florida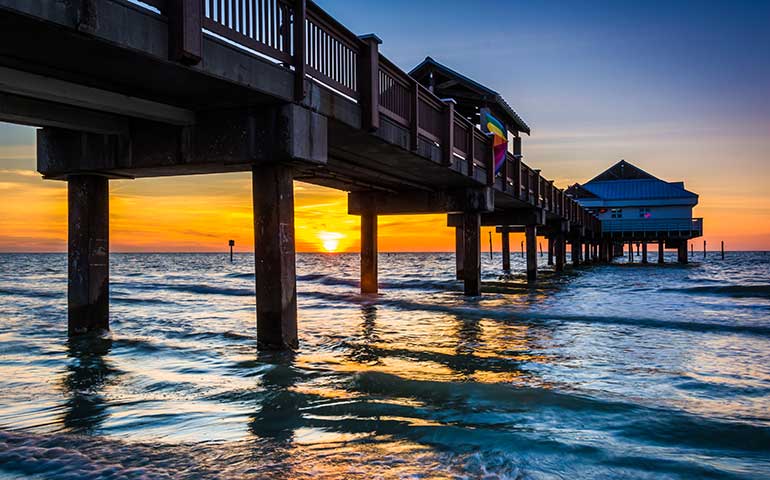 Best known for: clear, shallow water and white sand
Address: Clearwater, FL
Another Florida beauty makes list of the best beaches on the Gulf Coast!
Because Clearwater Beach is one of the more popular beaches in Florida, it does get busy so expect to see lots of people. But that also means plenty of amenities! Rent beach chairs and umbrellas right on the beach…one of my favorite ways to spend a beach day – in comfort!
While you're at the beach, be sure to check out the iconic Pier 60 Park. It's a fun spot for fishing, catching sunsets, watching pelicans and it's really the hot spot along the beach. Home to a daily festival of entertainers and artisans, there's never a dull moment!
On the water, take a pirate cruise, deep sea fishing adventure or sunset cruise. And of course the city itself has a ton of activities like the Clearwater Aquarium, Sand Key Bridge and the Celebration Station Entertainment Complex (including go-karts!). The possibilities are endless in Clearwater!
Recommended by me! Nikki of She Saves She Travels
Gulf Coast beaches (continued)
There's been some really beautiful spots already mentioned…but we're only a fraction of the way there. Let's keep reviewing the best spots for Gulf Coast vacations!
8. Beaches in Naples, Florida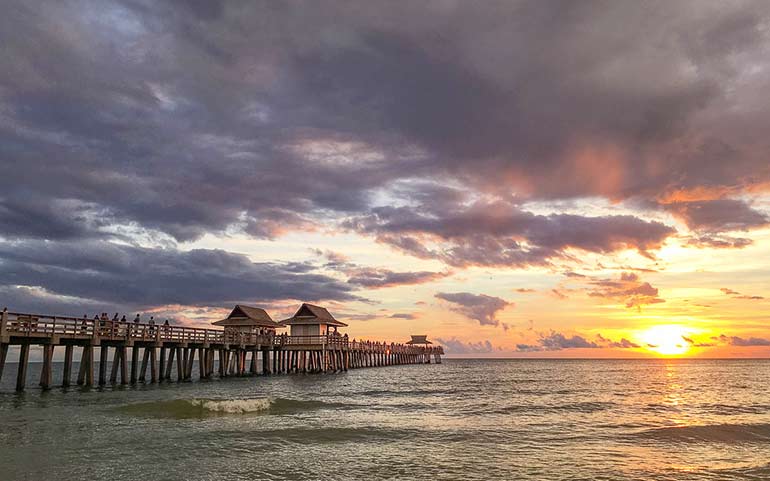 Best known for: shelling and sunsets
Beach address: Barefoot Beach: 505 Barefoot Beach Blvd, Bonita Springs, FL 34134
When you're looking for the best Gulf Coast spots for a great beach vacation, look no further than the beaches of Naples, Florida on southwest Florida's Gulf Coast.
Consistently ranked as some of the top beaches in Florida, the beaches in Naples are almost tropical with powdery white sand, gentle surf, clear warm water, and an amazing number of seashells. And there's almost a dozen gorgeous beaches to choose from!
The Naples Municipal Beach at the iconic Naples Pier is excellent and within walking distance of most downtown restaurants and accommodations. The beach at Lowdermilk Park in central Naples has a concession, bath houses, paddle board and kayak rentals so it's perfect for families.
Just a short distance up the coast Delnor-Wiggens Pass State Park is secluded with amazing beaches and a walking trail with an observation tower. Walk the long boardwalk through the mangroves at Clam Pass Beach Park or take the free tram to arrive at the beachside concession.
To watch fiery sunsets over the Gulf after a quieter day in the sun, Barefoot Beach is one of the very best. You'll find plenty of parking, places to eat and a pristine beach.
Without question the best time to visit Naples is late Spring into early Fall. This is when the water is warmest, shelling is excellent, and the beaches are not crowded.
Recommended by Lori of Naples Florida Travel Guide
9. Rutherford Beach, Louisiana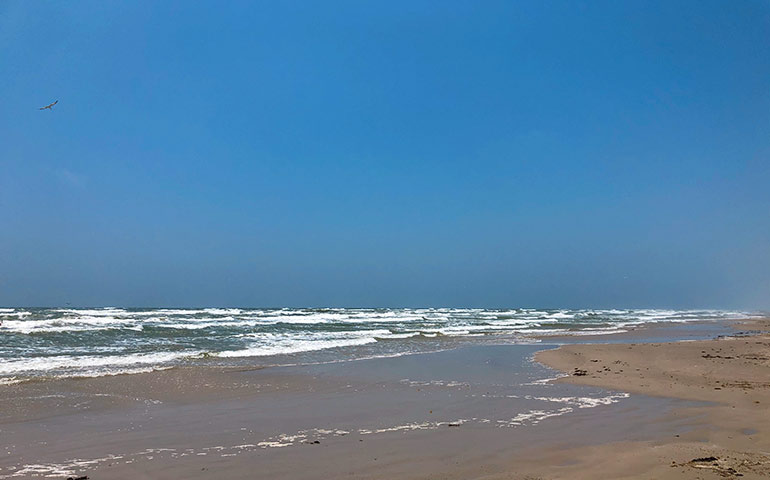 Best known for: wide open spaces and camping on the beach
Beach address: Gulf of Mexico, Creole, LA 70632
The one and only Louisiana beach on this list is a must-see if you're searching for peace and quiet, or simply love vacationing off the grid. Rutherford Beach, Louisiana is near Creole and is a gem for rustic beach vacations.
Because of it's remote location, there aren't many services available, but it's a perfect day trip or camping adventure. The area's most popular activity is kayaking. Since the beach sits on the mouth of the Mermentau River, you can rent kayaks and float down the river to the Gulf outlet.
Nearby accommodations can be found in the town of Cameron, just a few miles up the road. Other things to do in the are are visit nearby Holly Beach, or take the Creole Nature Trail to see Louisiana's untamed wilderness along Highway 27, also known as Louisiana's Outback.
This is a destination for those looking for a remote beach location. Because of the low number of tourists to the area, it's also one of the cheap Gulf Coast beach vacations on the list.
Recommended by me! Nikki of She Saves She Travels
10. Madeira Beach, Florida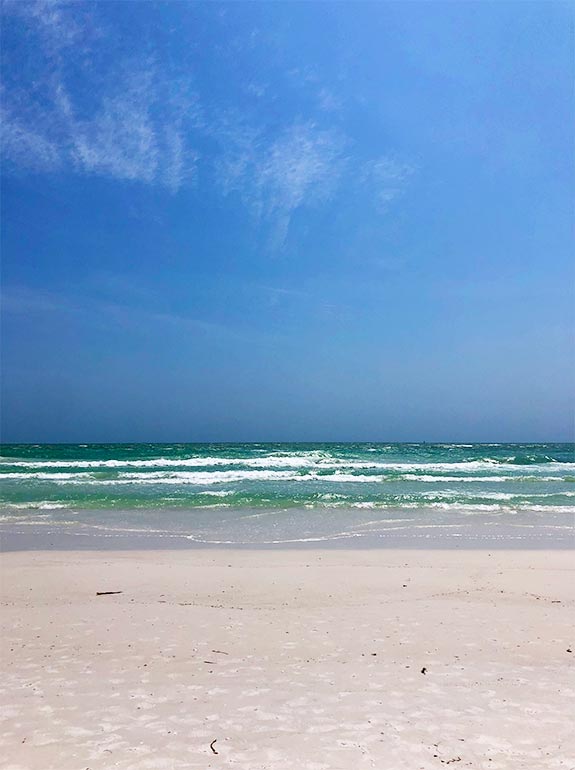 Best known for: small-town vibes and spectacular fishing
Beach address: 14400 Gulf Blvd, Madeira Beach, FL 33708
Locals call it Mad beach, the Madeira Beach along the Gulf Coast in Florida is another underrated beach destination. One of the smaller beaches on this list, with only 2.5 miles long, it's definitely worth a visit!
The beach is beautiful white sand that we've seen so many times on this list, but one of the main attractions in this area is the fresh seafood. Madeira Beach is known as the grouper capital of the world, with an annual seafood festival unlike any other.
Off the water, one of the area's biggest draws is the historic Saint John's Pass Village. More than 100 restaurants and shops plus a boardwalk provides visitors plenty of entertainment. There you'll find art and crafts made by locals, boutique clothing shops and jewelry and a bunch of other activities making it one of the best things to do at Madeira beach.
Pro tip: book your accommodations early. This is a small island with limited options!
Madeira Beach is one of the best beaches on the Gulf Coast of Florida, and it's a fabulous vacation destination for a beachy getaway.
Recommended by me! Nikki of She Saves She Travels
11. Dauphin Island, Alabama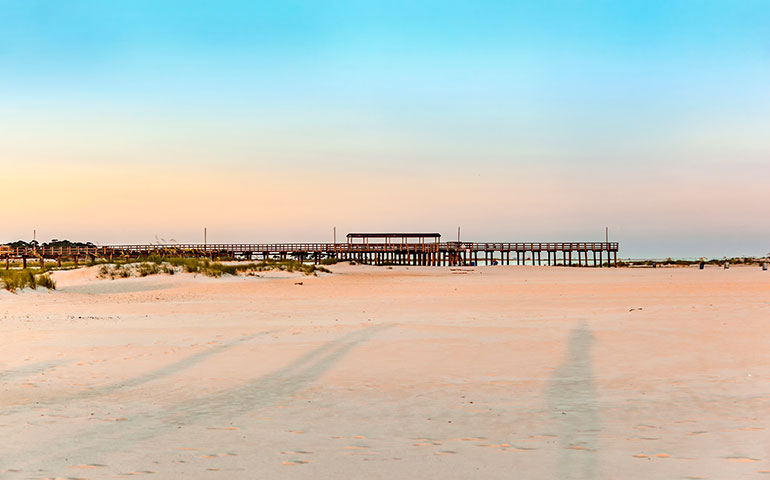 Best known for: small-town feel and civil war history
Address: 109 Bienville Blvd, Dauphin Island, AL 36528
The barrier island of Dauphin Island is in the Gulf of Mexico off the coast of Mobile, Alabama. This island that you've likely never heard of offers white powdery sand, clear blue water, huge live oak trees, and a fun and laid-back island feel.
Dauphin Island is a popular destination for beach-lovers, history-lovers and birders alike. Visit Dauphin Island Public Beach to dip your toes in the hot sand and appreciate the tranquility of the area. And added bonus—this beach is also dog friendly.
If you love history, visit Fort Gaines, front-and-center in the Battle of Mobile Bay fought during the Civil War. Shell Mound Park is an homage to the Native American history on the island.
Birders will love the island as it's on the migration path for birds that fly south for the winter. If you want to learn more about local plants and animals, check out the popular Sea Lab Estuarium.
Summers are hot and humid, so the most popular times to visit are in the spring and fall. However, there are some big festivals in the summer including a 4th of July festival and the Alabama Deep Sea Fishing Rodeo that draw crowds. With the beautiful beaches and cool waters, you'll find tourists and locals alike enjoying the island from spring to fall.
Dauphin Island is a popular destination for its beautiful beaches, history, and its proximity to the lovely small city of Mobile. So, cross the bridges to Dauphin Island, grab a golf cart for transportation, and see all of the magic this small island offers for a perfect beach trip.
Recommended by Sam of My Flying Leap
12. Beaches of Key West, Florida (one of the most fun Gulf Coast vacations)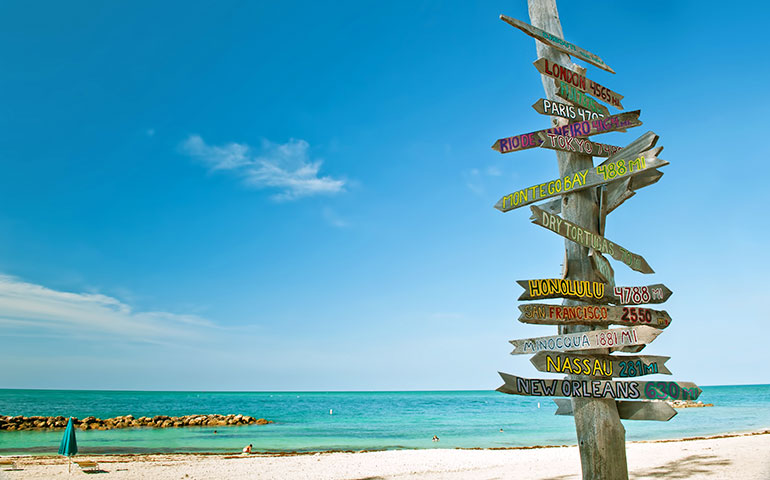 Best known for: sunshine and culture
Address: Smathers Beach: 2601 S Roosevelt Blvd, Key West, FL 33040
This tiny island at the tip of the Florida Keys sure packs a punch! With a total of 11 beaches and a bazillion restaurants and bars, this island is a lot of fun!
Grab your beach towel and head to Smathers Beach. At over 3000 feet long, this is the island's largest beach. It's also located near the Southernmost point of the Continental US, which is a fun tourist attraction to see.
I visited this lovely island as a part of a Miami to Key West road trip, which is an unforgettable drive that includes many more beaches and will seriously make you fall in love with the Florida Keys!
Anyway, the beaches on Key West are a little rougher under toe, but nothing a good pair of water shoes won't fix! The allure of the beaches on Key West is all the water activities, like jet skiing, snorkeling and parasailing (my favorite!) And after a long day, hit some of the best restaurants and bars in the US!
Recommended by me! Nikki of She Saves She Travels
13. Marco Island, Florida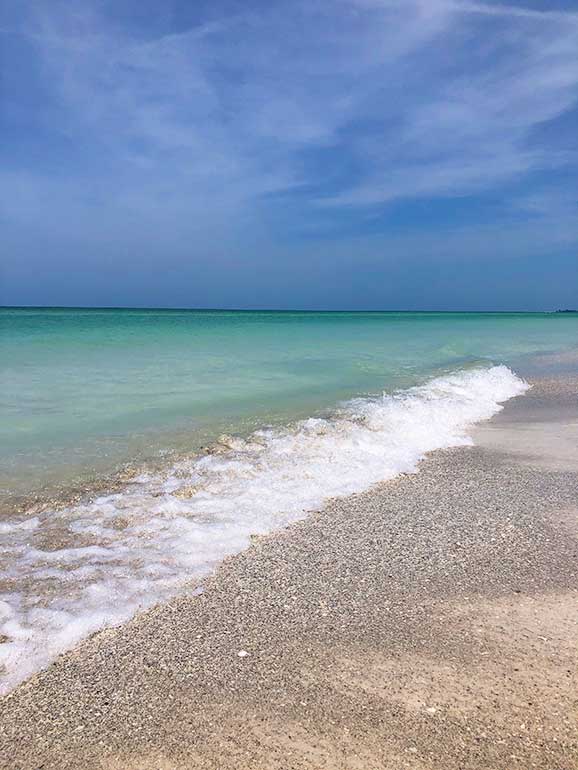 Best known for: shelling, kayaking and nature
Address: Tigertail Beach: 430 Hernando Dr, Marco Island, FL 34145
Found in the chain of Florida's Ten Thousand Islands, Marco Island sits in the Gulch of Mexico and boasts miles of sandy beaches and beautiful water. If you're looking to get out on the water there are a bunch of fun opportunities through fishing, looking for dolphins, kayaking, shelling and boating.
The beaches around Marco Island are home to some of the best shells in the world like whelks, olive shells and scallops. Along with the famous beaches on Marco Island, the island is known for world-class golf courses, shopping, and nearby Everglades National Park.
If you're looking for an adventure, head out in a canoe or kayak to the Ten Thousand Islands National Wildlife Refuge. In the winter, you can spot manatees along with otters, alligators and a variety of birds. The best part is there is no entry fee!
The best months to go to Marco Island are January through May and October through December. The summer months are incredibly hot on Marco Island and are often the rainiest. During the spring, the temperatures are in the perfect mid-70s and there is little chance for rain. With the best weather does come the highest prices. If you are on a budget, the best time to visit Marco Island is in July.
Recommended by Candice of CS Ginger
14. Gulfport, Mississippi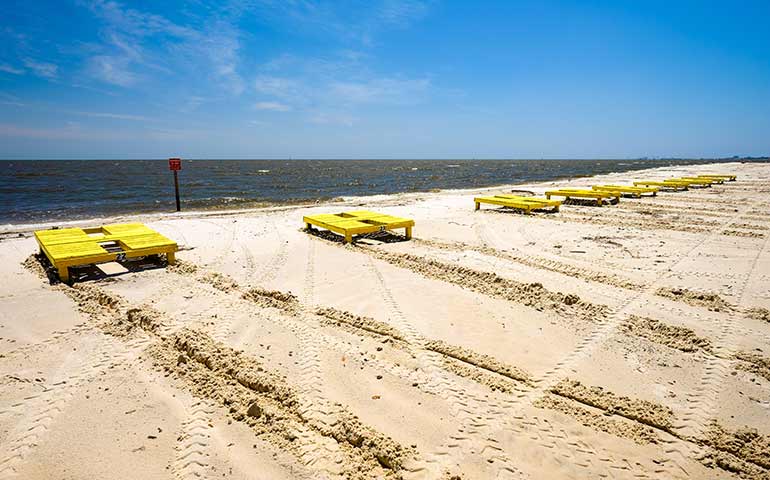 Best known for: shallow, calm water
Beach address: W Beach BlvdGulfport, MS 39501
The oversized beach of Gulfport, Mississippi is the perfect getaway for families or couples looking for a relaxing getaway. Gulfport Beach is rarely crowded because of it's size and the parking is free! That's a win-win! The soft, white sand is perfect under toe, making you never want to leave this fabulous vacation spot.
Gulfport Beach has a ton of amenities on the beach and nearby. Rent chairs and umbrellas to make your beach day comfortable. Or get active with beach-side rentals like kayaks, paddle boards and jet skis.
On land, explore all the amazing seafood restaurants, ride the rides at the adventure park or visit the Institute for Marine Mammal Research. This is one of the most underrated beaches on the Gulf Coast, and one you'll want to check out for sure!
Recommended by me! Nikki of She Saves She Travels

15. Honeymoon Island, Dunedin, Florida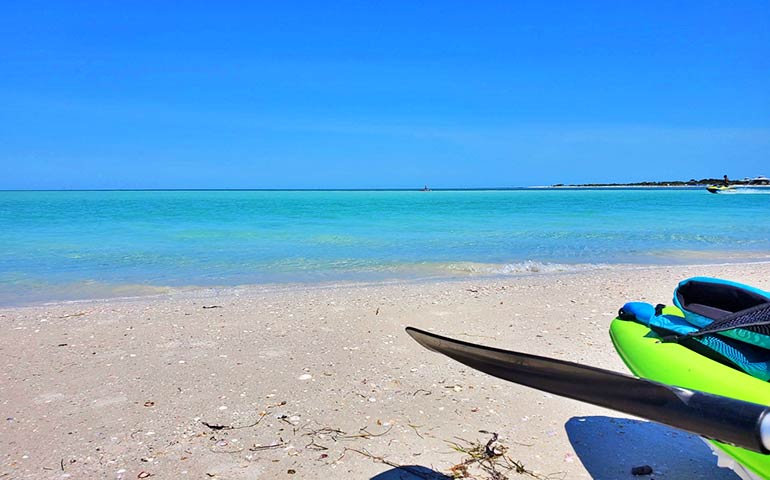 Best known for: small town vibes and natural beaches
Beach address: Honeymoon Island, Dunedin, FL 3469
If you're looking for a low-key beach vacation spot on the Gulf Coast which offers more than just the beach, look to Dunedin, Florida. With a quaint small town vibe, this town north of Clearwater offers not one but two amazing state park beaches to visit – Honeymoon Island State Park and Caladesi Island State Park.
Before the 1920s, these two barrier islands formed one large island known as Hog Island. In 1921, a hurricane split the island in two, opening an inlet now called Hurricane Pass.
Honeymoon Island is accessible by car, bicycle and boat and has more than 3 miles of white sand beach including a doggie beach. Visitors to the park can also enjoy several miles of nature trails, a nature center, and a café.
Across Hurricane Pass, Caladesi Island can only be accessed by boat or a ferry from Honeymoon Island. This state park often lands on Dr. Beach's Top Ten Beaches list because of its pristine white sand and calm turquoise waters. Visitors here can also enjoy the concessions, a nature trail, or even spend the night in the marina if you own a boat.
Of course, all great beach vacation destinations should offer more than a great beach. In Dunedin, take a day away from the beach to shop in the franchise-free downtown area.
Visit one the Dunedin Fine Arts Center or one of the many art galleries, enjoy a craft IPA at one of the nine craft breweries (including Florida's oldest), or satiate your hunger at one of Dunedin's award-winning restaurants.
Recommended by Chris of Wander Florida
16. Panama City Beach, Florida (one of the best Gulf beaches for nightlife)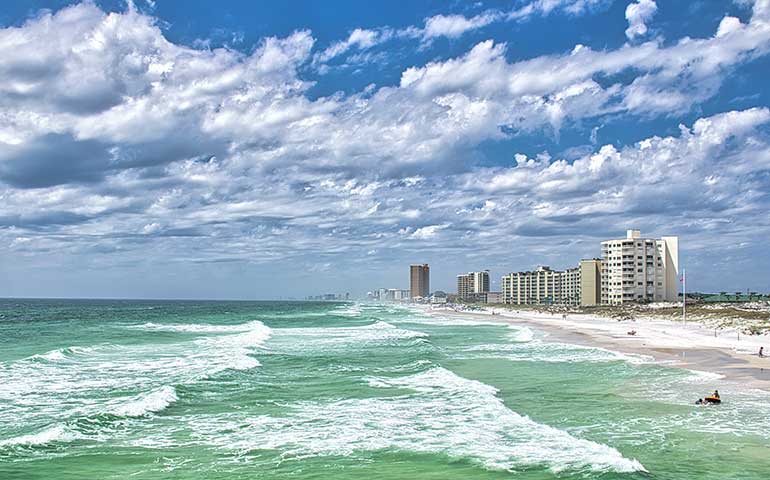 Best known for: crystal clear water, vibrant nightlife
Beach address: 17053-17001 Front Beach Rd, Panama City Beach, FL 32413
With 27 miles of coastline in the area, Panama City Beach will wow hearts and make you want to book a return trip. With top-notch entertainment, scenery, restaurants and adventure, Panama City Beach is the perfect vacation spot along the Gulf.
My time in Panama City Beach was mostly enjoyed sitting on the gorgeous white sand beach. But off the water, a whole other world awaits. Whether you're looking for the best vacation spots in the Gulf Coast for a couples getaway, girls' trip or family vacation, this beach town has it all!
Water adventures include airboat tours, sunset cruises, dolphin tours, snorkeling adventures and more. Oh, and don't forget about relaxing on the gorgeous beach!
Off the water, ride go carts, visit amusement parks or Ripley's Believe It or Not, check out the city pier, visit a waterpark or even the Gulf World Marine Park – there's so much to do in Panama City.
The nightlife never ends, either. With legendary karaoke, live music, bars, dance clubs and restaurants, this vibrant city comes alive when the sun goes down.
Recommended by me! Nikki of She Saves She Travels
17. Mustang Island, Texas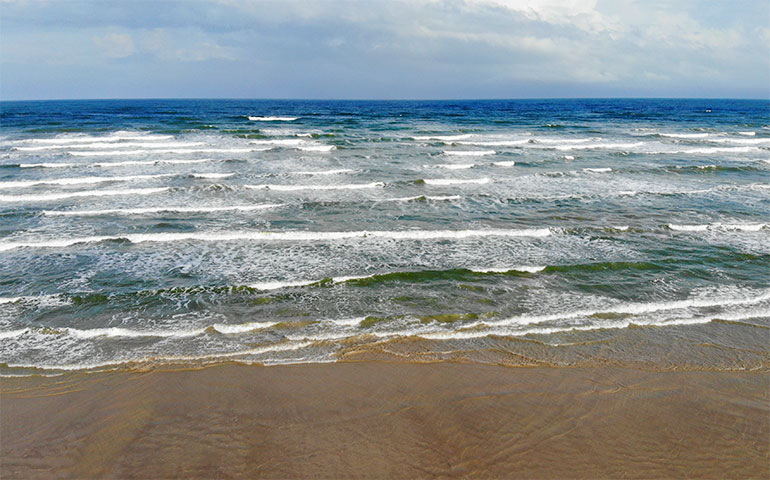 Best known for: empty beaches, family friendly
Beach address: Mustang Beach: Access Rd No 3, Corpus Christi, TX 78418
Just a quick 20 minute drive from Corpus Christi, Mustang Island is home to one of the most fabulous beaches on the Gulf Coast. It's the kind you can sit and watch waves crashing on the shore all day.
In this part of coastal Texas, one of the most popular beach activities is driving on the beach. Drive till you find the perfect spot to stop and then enjoy the water, sunshine and sound of the ocean. The sand in this part of the Gulf Coast isn't the bright white sand along other parts of the coast – instead it's firmer tan sand that is perfect for beach walks, volleyball and driving.
Pro tip: rent a 4×4 vehicle for maximum entertainment!
The nearby Port Aransas and Corpus Christi offer plenty of things to do when you need a break from the beach. Port Aransas has a fun fishing pier, delicious ice cream shop and shopping. Corpus Christi has amazing seafood, waterfront sea wall and the USS Lexington – a war ship.
The best time to visit is April – May and September – October to avoid crowds and to find the best prices. Come to Mustang Island Texas for a mix of relaxation, casual entertainment and excellent food.
Recommended by me! Nikki of She Saves She Travels
More beaches on the Gulf Coast
Can you believe there's still more to see? Some of the best beaches in Florida, Alabama, Texas and Mississippi are up next…
18. Anna Maria Island, Florida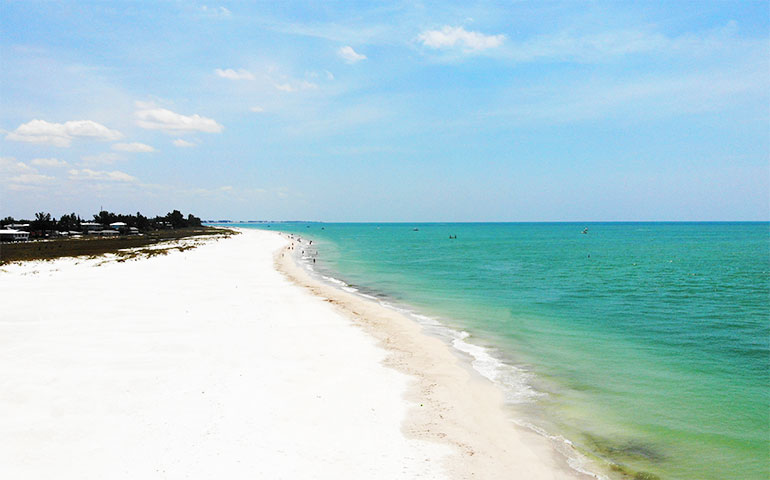 Best known for: small town feel, bright white sand
Beach address: Holmes Beach: 4000 State Road 64 and Gulf Drive, Holmes Beach, FL 34217
No longer a secret, this little island just west of Sarasota, Florida is one of the best Gulf Coast vacations! It's small-town vibe welcomes visitors with white sand beaches, shops and restaurants owned by the locals and memories to last a lifetime.
If you're looking for a quiet getaway, this is the island for you. This cute island gives all the vacation vibes you're looking for, and most visitors (myself included!) fall in love with AMI.
Even though it's a small island, there's still quite a bit of things to do in Anna Maria Island.
Spend your time lounging on the beach, building sandcastles, fishing from the pier or watching wildlife. Dolphins, sting rays and manatees are all common sights on the island. Oh, and make sure you try the tacos at Poppo's Taqueria – so good!
Pro tip: You'll want to book your accommodations early though, as lodging is extremely limited.
Recommended by me! Nikki of She Saves She Travels
19. St. George Island, Florida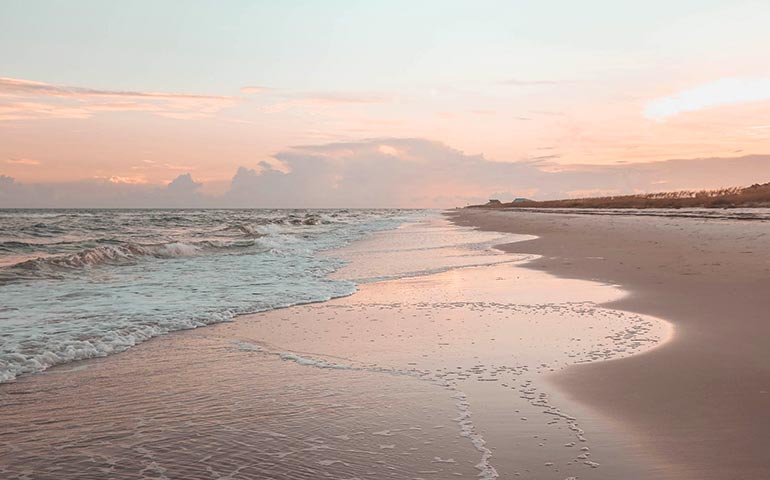 Best known for: remote island, gorgeous beaches
Beach address: St. George Island State Park Beach: 1900 E Gulf Beach Dr, St George Island, FL 32328
St. George Island is unlike many other beach vacation spots in Florida, as this expanse of shoreline on the Gulf Coast is untouched by mass tourism. You won't find any high-rise hotels or popular restaurant chains in this relaxed coastal town.
Instead, you'll enjoy the small-town atmosphere and the panoramic views of the coast the moment you cross the St. George Island Bridge. Upon arriving on the island, you'll see the iconic lighthouse that soars above the main beach right ahead.
St. George Island is a perfect vacation spot for those looking to go a bit off-the-beaten-path and experience slow travel. You'll be absorbed into the local laidback life and fall in love with the vast and uncrowded miles of beach. The best time to visit is at the beginning of summer before sweltering days arrive so you can enjoy exploring the island.
This unique barrier island is home to two protected areas, including the Cape St. George Island State Reserve to the west and St. George Island State Park to the east.
With 28 miles of shore that is virtually untouched, you can relax on the beach in any spot.
While it may be convenient to stay near the lighthouse and town center, venture off into the St. George Island State Park to experience serene views over the sand dunes, the peaceful brushing sounds of the grasses, and be sure to stay until sunset to see the sky turn hues of pink and orange reflecting off the ebbing water.
Recommended by Michela of She Goes the Distance
20. Orange Beach, Alabama (one of the most underrated beaches on the Gulf Coast)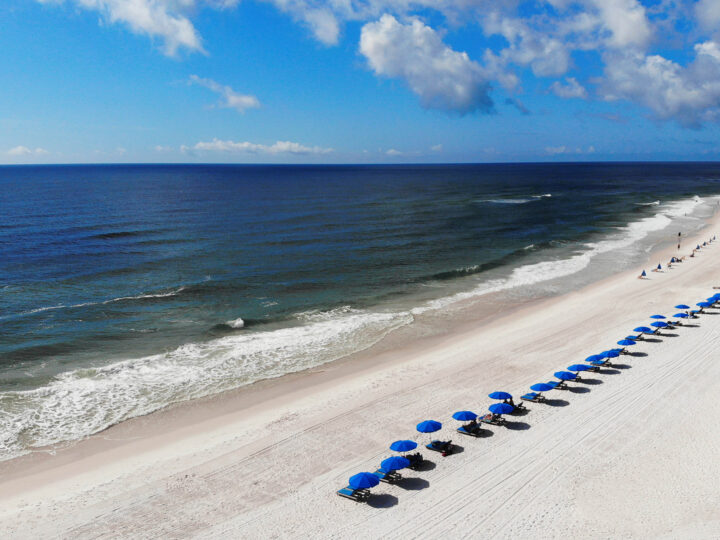 Best known for: pristine beaches and quiet town
Beach address: 28273 Perdido Beach Blvd, Orange Beach, AL 36561
The sister town to Gulf Shores, Orange Beach, Alabama is one of the most beautiful Gulf Coast beaches. With 32 miles of gorgeous, white sand beaches, this is a premier vacation spot along the Gulf. And potentially one you hadn't considered before reading this list!
The highlight of Orange Beach is definitely time on or near the water. Sun bathing, dolphin cruising, sand-castle building, jet skiing…the list goes on! And when it's time for a break from that gorgeous teal water and white sand, the Orange Beach area has a ton of activities.
You've got to visit the Wharf at Orange Beach. It's a perfect spot for shopping, dining and riding a Ferris wheel.
It's family friendly during the day, and the whole area comes alive at night, too. Or, if you're artistic and want to try something new, take a glass-blowing class at the Coastal Arts Center of Orange Beach. So fun!
Recommended by me! Nikki of She Saves She Travels
21. Sarasota, Florida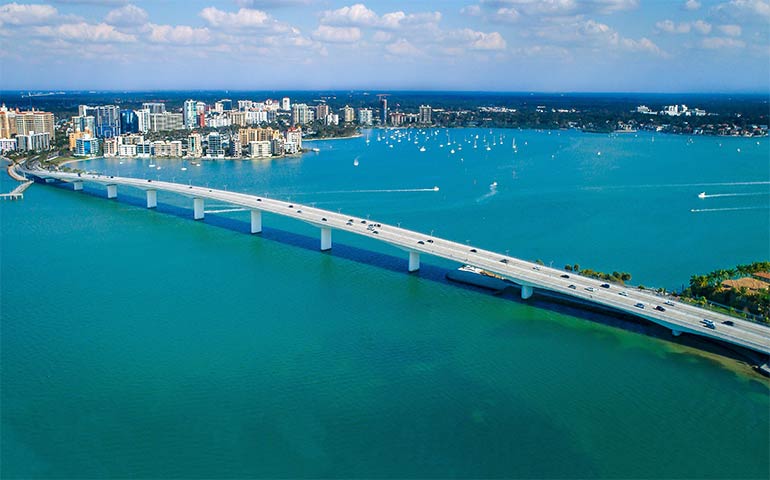 Best known for: island-hopping opportunities for gorgeous beaches
Beach address: Lido Key Beach: 400 Benjamin Franklin Dr, Sarasota, FL 34236
Sarasota, FL is nestled along the Gulf Coast about an hour from Tampa. With multiple breathtakingly beautiful beaches, each with its unique vibe, Sarasota is the perfect Gulf Coast vacation town.
Sarasota county is on the larger side for a beach town. There is a neighborhood that could fit everyone's needs – from the traditional beach vibe of Siesta Key to the higher end feel of Lido Key and Longboat Key.
In fact, several celebrities live in Sarasota with beautiful, multi-million dollar homes. These homes can be viewed while dolphin watching on a boat excursion.
If learning about marine life is your cup of tea, Sarasota is a must visit location. Venice Beach is known as the shark tooth capital of the world where beachgoers can hunt for fossilized teeth.
Similarly, Longboat Key is known for turtle sightings while Lido Key Beach is a short distance from St. Armands Circle. St. Armands Circle is the perfect place for people watching, complete with boutiques, restaurants, bars, and more.
For the young, or the young at heart that have a love for animals, Sarasota will keep you entertained and educated with the Mote Marine Laboratory and Aquarium, Jungle Garden, and Big Cat Habitat Gulf Coast Sanctuary.
There's so many things to do in Sarasota with kids, it's a perfect family-friendly beach destination.
Recommended by Marquita of Marquitas Travels
22. Pensacola, Florida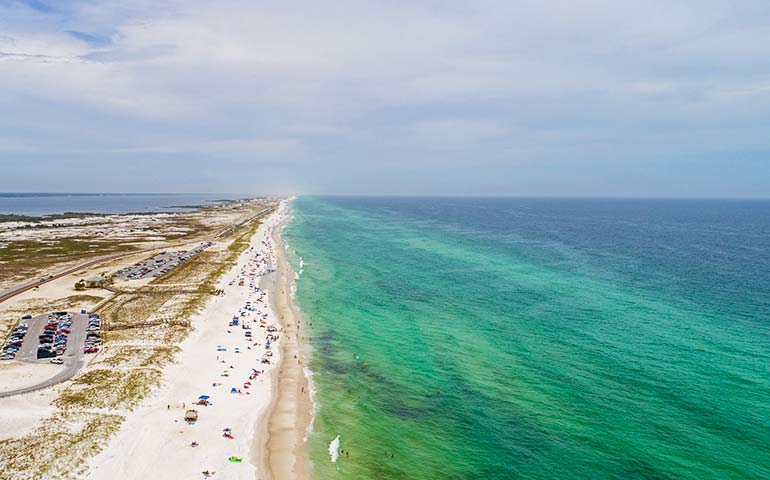 Best known for: beautiful beaches, history
Beach address: 41 Fort Pickens Rd, Pensacola Beach, FL 32561
The powdery white sand of Florida's Gulf Coast beaches has been mentioned many times on this list, however the emerald waters of this area of Florida in the impeccably soft white sand puts Pensacola Beach, Florida, a must see on this list.
Both times I've vacationed in the area, I found so much to do in Pensacola. The beaches are amazing and allow families and friends to create lasting memories of a lifetime. Grab your cooler, beach chairs and umbrella and make a day of it on the sand.
Away from the water, head for a hike at Bay Bluffs park, dinner and shopping in downtown Pensacola, brush up on your history ast Fort Barranacas, check out the uncle sandy's macabre bird park, or even watch the famous Blue Angels fly!
Pro tip: The best time of year to travel to Pensacola is May and September. These are the months when the water is warm enough to swim but it's not peak tourism season, either so pricing is more affordable.
Recommended by me! Nikki of She Saves She Travels
23. South Padre Island, Texas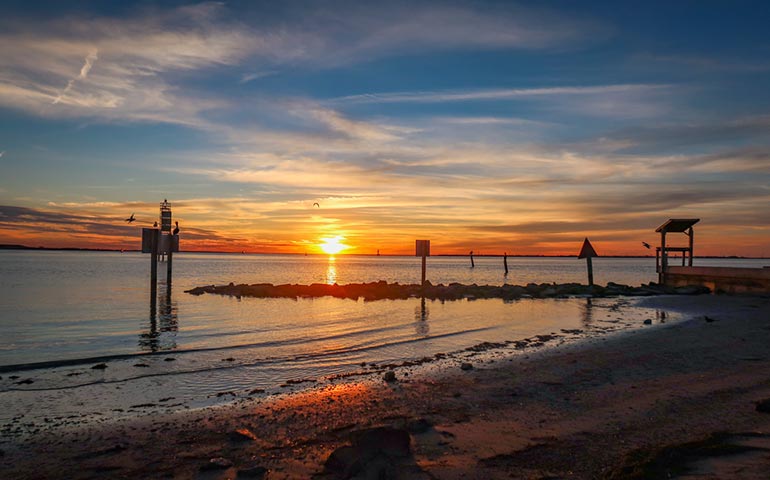 Best known for: vibrant nightlife and scenic beaches
Beach address: South Padre Island, TX 78597
Enjoy a relaxing beach vacation in the resort community of South Padre Island. Located off the southern coast of Texas on the world's longest barrier island, the town of South Padre Island is known for its calm waters and scenic beaches. Since the island is only a half-mile wide, spectacular ocean views are always only minutes away.
There are plenty of opportunities to enjoy the beach on South Padre Island. Favorite activities include fishing, surfing, kiteboarding, dolphin watching and beach strolling. A watchtower at the Island Birding and Nature Center provides birders with unparalleled views of migratory flocks.
While there are many great beach spots on the island, Isla Blanca Park is particularly nice. Located on the southernmost tip of the island, the park offers large beachfront pavilions with food and beach rental concessions.
It is also a great location from which to watch a SpaceX Starship launch if you happen to be there during a test flight.
The best time to visit South Padre Island is from September to February. While the beach community can be visited year-round, the island is more crowded in the summer months – and is also more at risk for hurricane weather. South Padre Island is a popular spring break destination so avoid visiting in March to miss the spring break crowd.
Recommended by Katy of A Rambling Unicorn
24. Fort Myers Beach, Florida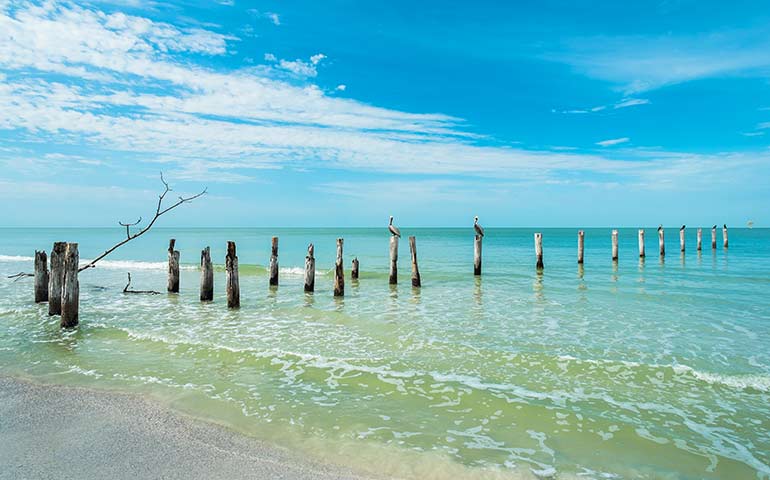 Best known for: shelling and relaxing beaches
Beach address: 4150 Estero Blvd, Fort Myers Beach, FL 33931
With 7 miles of pristine beachfront, Fort Myers Beach deserves to be on your short list for the best Gulf Coast vacation spots! On Estero Island, the beaches give way to perfectly white sand, plus adventures like kayaking, stand up paddleboarding, parasailing, fishing, dolphin tours… the list goes on!!
The Fort Myers Beach area is especially perfect for seeing dolphins. If spotting them from the shore is too far for you, there are many dolphin tours in the area which are perfect for seeing the fun-loving marine creatures.
The shelling possibilities are endless in Fort Myers Beach too! You'll see random shells spread throughout the beach daily, and it will be difficult to resist collecting them all and putting them on a display in your home. Of course, be sure to eat plenty of seafood as this area has some of the best along the Gulf Coast!
While there's plenty of memories to be made for couples and families, keep in mind there's not a lot going for nightlife in the area, so large friends groups or bachelor/bachelorette parties should look at other options on this list of best beaches on the Gulf Coast.
Recommended by me! Nikki of She Saves She Travels
25. Biloxi, Mississippi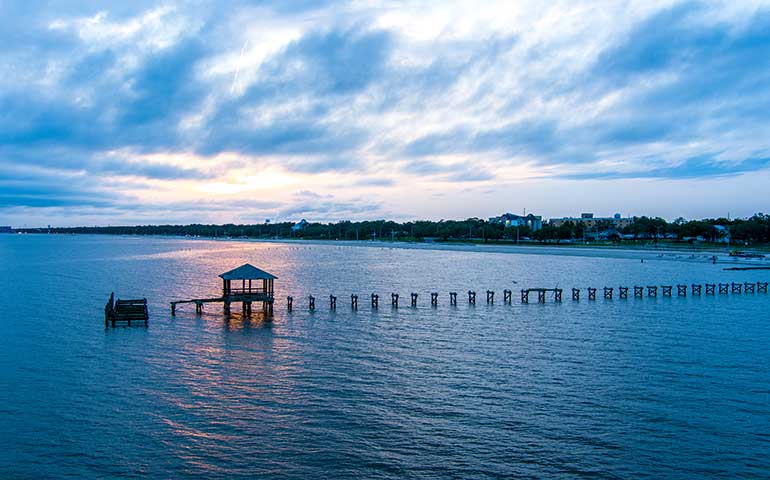 Best known for: nightlife, seafood and calm water
Beach address: 1027-1031 Beach Blvd, Biloxi, MS 39530
You may not think of Mississippi when you think of Gulf Coast vacations, but this is one of the best beaches on the Gulf Coast for entertainment. Beaches, casinos and seafood bring most visitors to Biloxi, Mississippi.
Biloxi Beach is the perfect beach for a vacation to the Gulf Coast where you want to swim. The water is warm and the barrier islands help to keep the water calm at the beach. One of the most popular things to do in this area is ride aqua bikes, which are basically just bikes that you can ride that float above the water dash what a unique experience!
On land, be sure to check out the Biloxi Lighthouse, the beautiful Ship Island, historic Beauvoir, Hurricane Katrina memorial and the Mardi Gras Museum.
There's no shortage of places to stay and casinos in Biloxi. If you're looking for a Gulf Coast vacation spot with lots of entertainment and nightlife this is the place for you.
Recommended by me! Nikki of She Saves She Travels
26. Perdido Key Beach, Florida (one of the prettiest beaches on the Gulf Coast)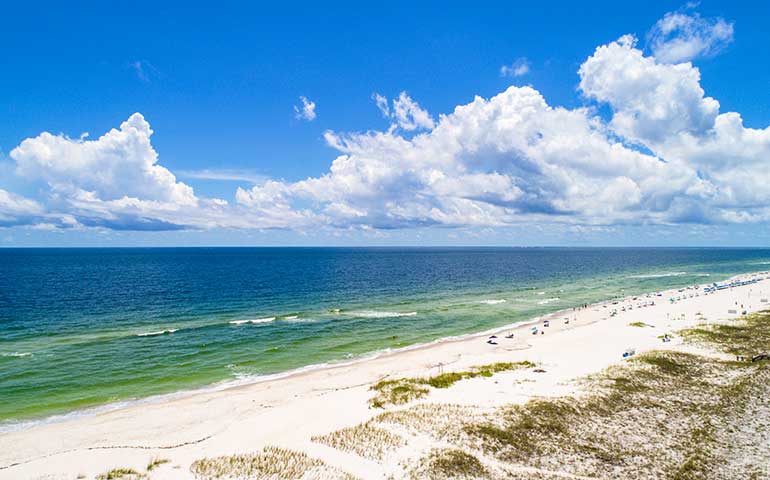 Best known for: natural landscape, gorgeous sandy beaches
Beach address: 14767 Perdido Key Dr, Pensacola, FL 32507
Yes this one is near Pensacola which was #22 above, but Perdido Key Beach is so spectacular it deserves its own spot on the list of best beaches on the Gulf Coast! This low-key vacation spot vacation spot is in the very western side of Florida as you enter Alabama. Shared with the Perdido Key State Park, its beauty is in the white sand dunes an amazing views of the goals Gulf Coast turquoise blues.
This location's main draw is simple island life. Sit back, relax and enjoy dipping your toes in this gorgeous white sand. Of course there's water activities such as fishing, parasailing and dolphin cruising. But the best way to spend your time at Peridido Key is to do nothing!
There are a few bars and restaurants on Perdido Key, or you can venture over to Pensacola or Orange Beach for a lot more options.
Pro tip: be sure to book your reservations for Perdido Key early! This tiny island only has a few options that fill up fast, but the nice thing is that many of them are beachfront!
Recommended by me! Nikki of She Saves She Travels
Beaches on the Gulf Coast – that's a wrap!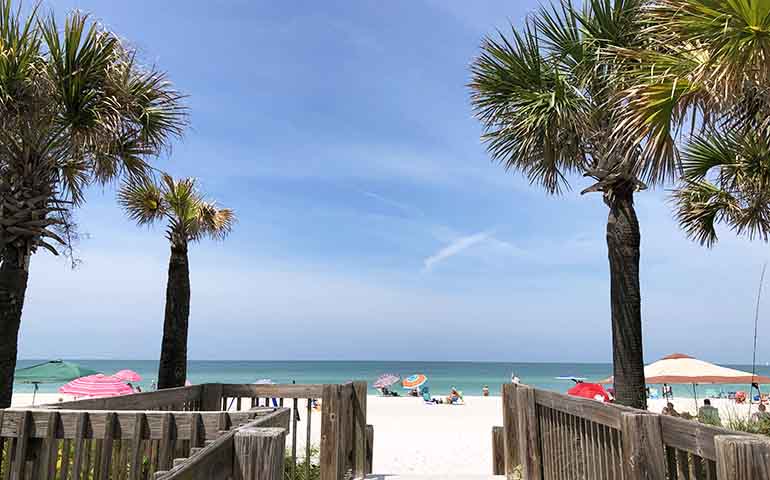 Whew! What a list! So…do you know where you're heading yet? Whether you're planning an epic road trip or you're flying to the Gulf Coast, you really can't go wrong with any of these fabulous vacation spots.
The right spot for you likely depends on your vacation style, time of year you're planning the trip and your vacation budget. Drop your favorites in the comments below – I'd love to hear them!
In the meantime, let's recap this mega list, in a quicker format:
26 best beaches on the Gulf Coast
Siesta Key Beach, Florida
Cape San Blas, Florida
Gulf Shores, Alabama
Indian Rocks Beach, Florida
Miramar Beach, Florida
Galveston, Texas
Clearwater Beach, Florida
Beaches in Naples, Florida
Rutherford Beach, Louisiana
Madeira Beach, Florida
Dauphin Island, Alabama
Beaches of Key West, Florida
Marco Island, Florida
Gulfport, Mississippi
Honeymoon Island, Dunedin, Florida
Panama City Beach, Florida
Mustang Island, Texas
Anna Maria Island, Florida
St. George Island, Florida
Orange Beach, Alabama
Sarasota, Florida
Pensacola, Florida
South Padre Island, Texas
Fort Myers Beach, Florida
Biloxi, Mississippi
Perdido Key Beach, Florida

And if you're still looking for more, here's related beach content for you…
21 Best Beaches for Kids in Florida You Need to See
Florida Keys Road Trip
25 Awesome Things to Do in Anna Maria Island You'll Love
Destin vs Gulf Shores: Which is Your Perfect Vacation Spot?
21 Amazing Things to Do in Siesta Key You Can't Miss
12 Fun Places to Eat in Gulf Shores, AL
21 Exciting Things to Do in Gulf Shores with Kids
35 Cheap Swoon-worthy Beach Destinations You Need to See
Best Island in Hawaii: Take the Hawaiian Island Quiz
Find this post helpful? Save it for later or share it on social media!