Gahhh! You're going to Hawaii! But how do you possibly decide which island is the best vacation destination for you?! In an epic battle of Maui vs Kauai, let's compare these islands so you can choose.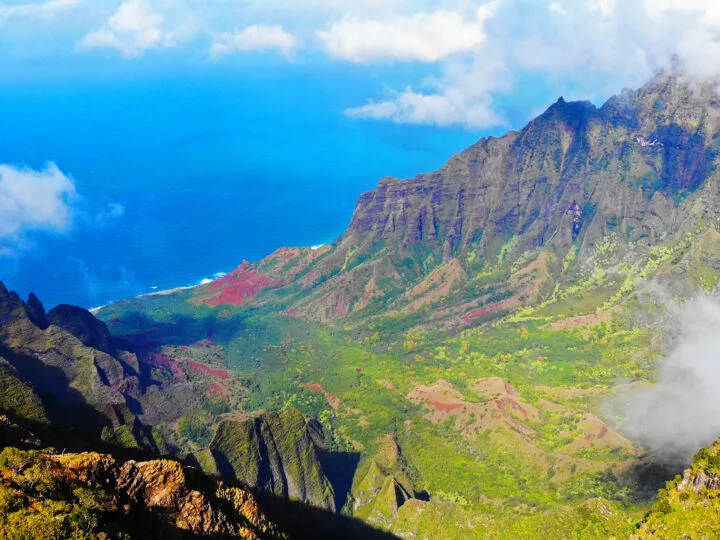 This post may contain affiliate links. For more info, see my disclosures.
Gorgeous beaches, lush rainforests and adventures to last a lifetime, Hawaii is home to amazing islands with swoon-worthy views. From the stunning NaPali coastline in Kauai to the infamous sunrises and sunsets on Haleakala, these islands have so much offer visitors.
But how do you ever choose: Kauai vs. Maui?
Well, this guide walks you through the reasons you might select a vacation on Kauai, or the reasons you'd opt for a Maui getaway. Having visited both islands more times than I can count, I can say with certainty they both have a lot going for them!
Editor note: the fires of 2023 that devastated Lahaina are absolutely heartbreaking to the residents of Maui. Please know that the local government and Maui residents who rely on tourism to sustain their way of life are still encouraging visitors to come and support the local economy. Just be respectful; avoid Lahaina and some western parts of Maui. And of course, tip generously!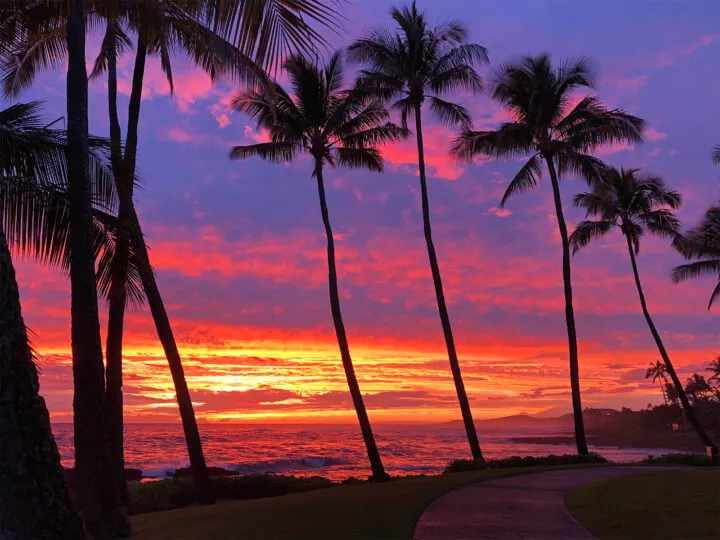 And if you need any more ideas for Hawaii, check out this Hawaiian Island quiz to see how all 4 major islands compare to one another.
Maui vs Kauai
To help you decide, let's compare each island based on category. Each section will have a clear winner 🤞 which will help you choose Maui or Kauai – where to vacation in Hawaii based on what's most important to you.
First, here's a brief intro of each island….
What is Maui known for?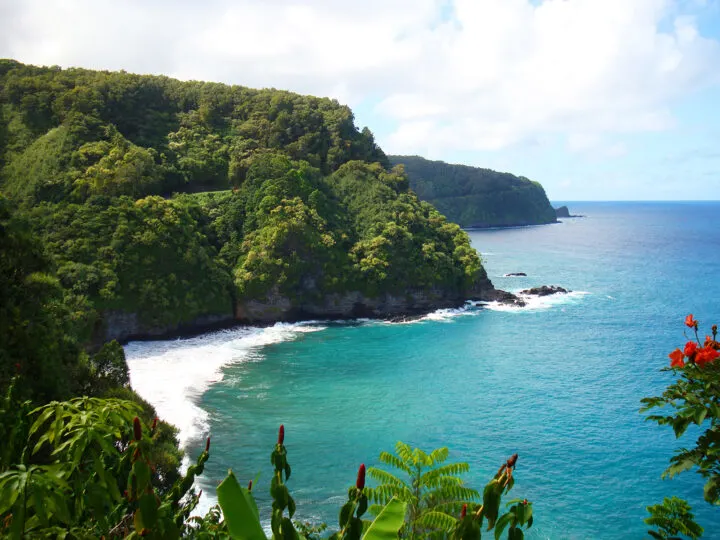 Nicknamed "The Valley Isle," this is island gets about 25% of Hawaii's total visitors. (Oahu takes the lead with more than 45%!) It was formed by 2 distinct volcanoes, Puu Kukui and Haleakala, and a valley in between them.
The most popular areas for accommodations are Kaanapali and Lahaina on the southwest side and Kihei in central/south. The sunniest and driest side of the island is Kaanapali.
Some of the most popular activities are driving the Road to Hana, visiting Haleakala National Park and Kaanapali Beach. This guide will review many more adventures and tips about why you may want to choose Maui for your trip to Hawaii!
What is Kauai known for?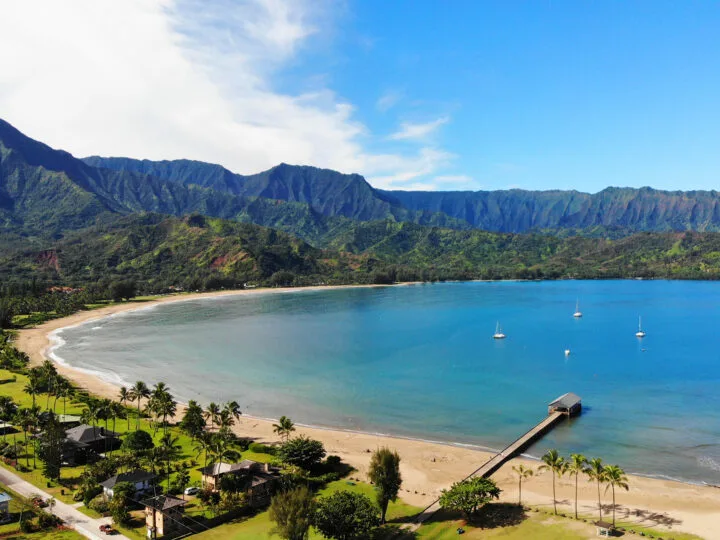 Nicknamed "The Garden Isle" for its lush foliage, this island gets about 12% of Hawaii's total visitors. About 5 million years ago Kauai was created by a large shield volcano, which collapsed some time ago, creating this incredible canyon in the middle of the island – the Waimea Canyon.
Poipu, on the south (sunnier) side of the island and Princeville, on the north side of the island are two of the main areas for accommodations. With more hotels and condos located in the south, it can be easier to find options in Poipu.
The natural, rugged beauty of the NaPali Coast is what brings so many visitors to Kauai. With only 20% of the island accessible via car, this is truly an island of adventure. Hiking, boat tours and helicopter tours are a common way to experience Kauai.
This guide is full of more reasons you may want to choose Kauai for your next vacation!
Epic island showdown: Maui or Kauai
There are sooo many good reasons why you'd love a vacation to both Kauai or Maui. But if you only have time for one, then the best one for you can vary depending on a variety of factors.
Let's dive into the comparison of Maui vs. Kauai!
Best beaches
You simply cannot talk about a vacation to Hawaii without going over beaches. And to be honest, this category seems really impossible select a winner! Let's just try though…
Amazing Kauai beaches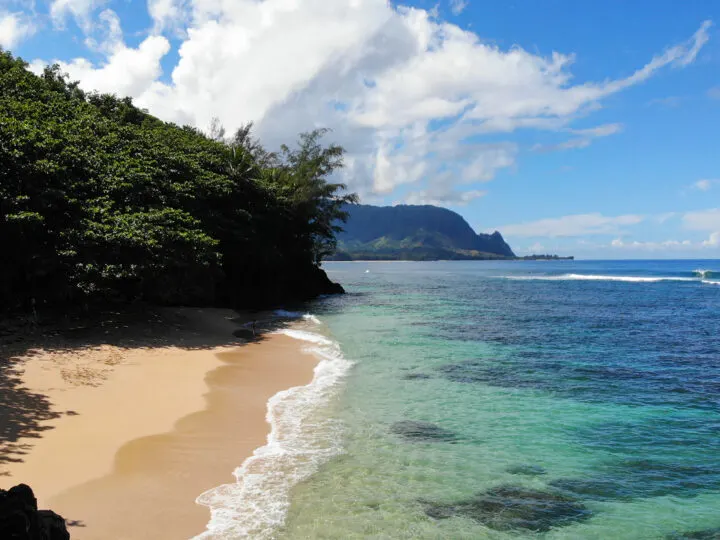 The best Kauai, Hawaii beaches are sprinkled all around the island. Perhaps 2 of the most famous beaches are Hanalei Beach on the north shore, and Poipu Beach on the south side of Kauai.
Hanalei Beach is a big cove with often gentle waves, perfect for swimming. With its picturesque pier and famous north shore mountain ridges, it's difficult to get a more beautiful scene!😳
Poipu Beach on the south shore is equally as popular for visitors. This beach often sees more sunshine since it's on the southern – less rainy – side of the island. With the perfect waves for swimming and playing in the water, it's a great way to spend the day.
Beautiful Maui beaches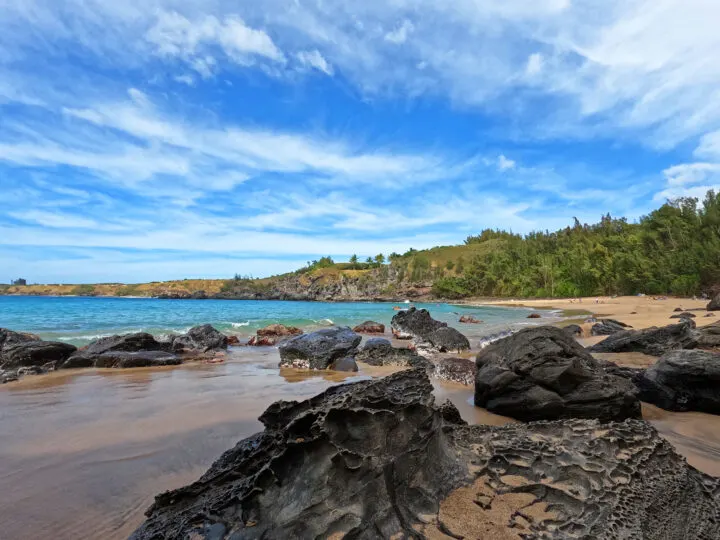 Home to some of the most famous beaches in the world, Maui has some pretty spectacular beaches! In general, Maui is busier than Kauai so that means more people to flood the beaches. However, there also seems to be more sand to enjoy.
Kaanapali Beach on Maui is one of the main hubs on the island. It's full of Maui resorts and restaurants, is a departure point for many sea excursions, and offers excellent snorkeling at Black Rock, near the end of Kaanapali Beach.
At the opposite end of the island, the black sand beach at Waiʻānapanapa State Park is another famous landmark. Its unique black sand has been drawing visitors for decades, so much so that you actually need a reservation to get to the beach, considering it's in a state park.
🏆In the battle of Maui vs Kauai for beaches, it's a tie. It really depends on what you want to see in a beach.
Is snorkeling better on Maui or Kauai?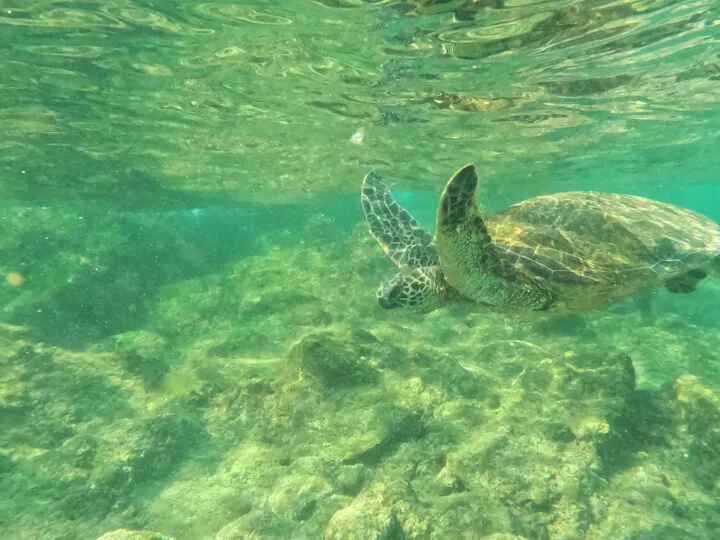 Beaches and snorkeling go hand-in-hand, so let's keep going! Having visited each island multiple times and throughout different seasons of the year, I give this Maui vs. Kauai showdown to Maui, without a doubt. But let's review!
First I have to say that the reefs on both islands (and around the world in places like Phi Phi Islands Thailand, beaches in Manuel Antonio, Costa Rica and elsewhere) are dying. 😭Some of this is from natural causes, but more is from the effects of humans.
🐠Always, always, always wear mineral sunscreen.
Search for 'reef safe' not just 'reef friendly' sunscreen to wear in the ocean. The chemicals in traditional sunscreen has bleached the coral reefs over decades of use, and is having a major impact on marine life across the globe. This is the sunscreen I wear in Hawaii and it works great (just apply a small amount and rub it in well).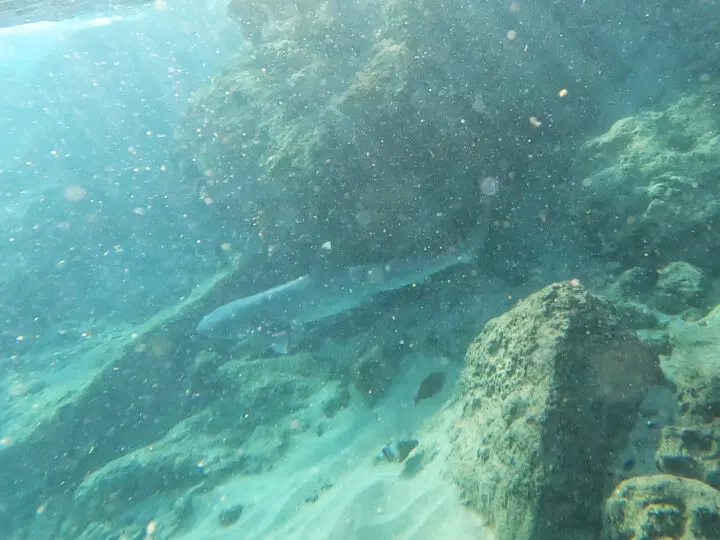 The best snorkeling Kauai beaches are Tunnels Beach and Anini Beach on the north shore and Lawai Beach on the southern part of Kauai. Of course this depends on the season, too. In the winter months, the north shore typically gets massive waves which are too dangerous for snorkeling.
The snorkeling is superior on Maui. It seems like there is more marine life and the reef systems are more complex. Note that the reefs are still extremely bleached (wear mineral sunscreen) but there seems to be more fish, sea turtles and reef sharks.
My first time visiting Maui with kids my daughter even saw a reef shark on Kaanapali Beach near Black Rock. So cool! The best snorkeling in Maui are Honolua Bay, Kaanapali Beach and Big Beach.
Pro tip: bring your own snorkeling gear to snorkel when a where you want! This is the snorkel set I use and here's my kids' snorkeling set. Of course, there are snorkeling tours on Maui and snorkeling tours from Kauai as well.
🏆In the snorkeling category of Kauai vs Maui, the island of Maui wins!
Best scenery – Maui vs. Kauai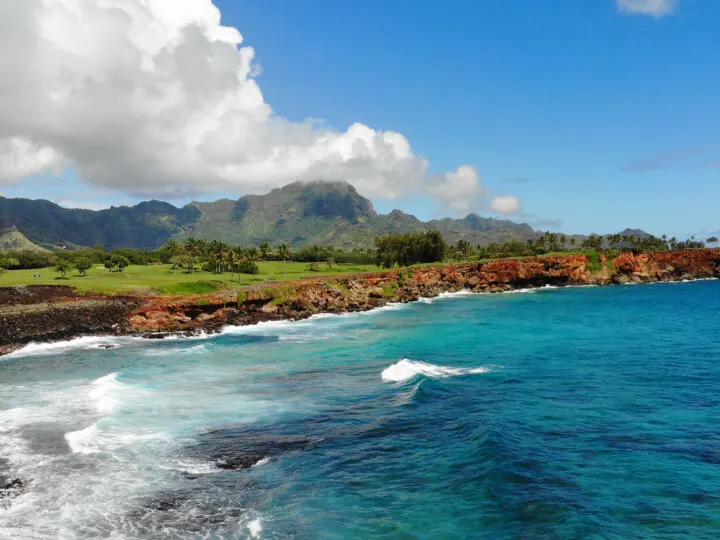 This category is incredibly difficult to compare! Here are just a few highlights of the islands – how they're similar yet vastly different.
Picturesque palm trees on Maui's Kaanapali Beach are just as beautiful as the epic sunsets on Kauai's Poipu Beach.
The stunning NaPali Coast in Kauai is world-famous for it's rugged, untouched landscape.
Likewise, there's no place on earth like Haleakala National Park on Maui at 10,023 feet above sea level.
On Kauai, the Waimea Canyon is known as the Grand Canyon of the Pacific, it's massive and so colorful.
Maui's famous Road to Hana is any adventurer's dream, with lush waterfalls and hidden beaches to explore.
There's so many more places on each island we could consider for this category….it's a tough one to rate.
But because one island needs to take a lead, let's go with Kauai. With 80% of the island untouchable except on foot, this beautiful landscape is so stunning and naturally beautiful.
🏆In this category, Kauai wins!
Hiking and outdoor adventures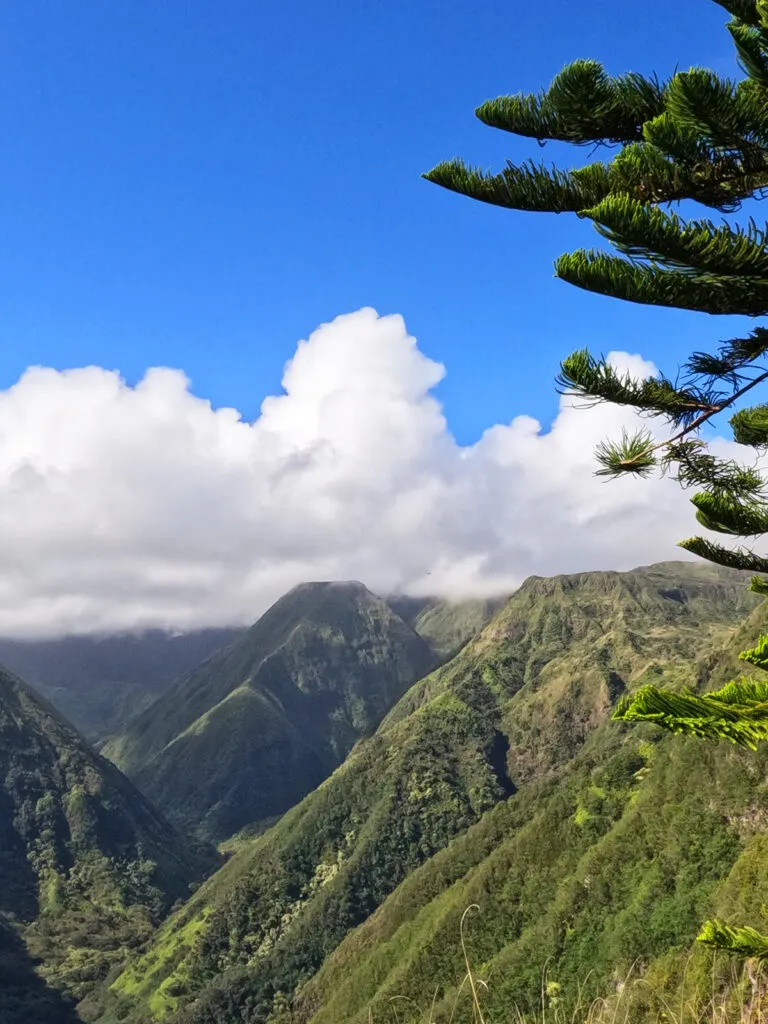 How do you even compare Maui and Kauai when considering hiking trails and other adventures?
Whether it's ziplining with views of the mountains and ocean at the same time or taking an epic helicopter tour to see the island's pure, natural beauty, there's so much adrenaline-pumping adventure on both islands!
Let's review Maui's hiking and outdoor adventures first. Known for the Road to Hana, there's waterfalls to see and beaches to find.
Fun fact: the Road to Hana is one of the best things to do in Maui on a budget because aside from gas and food, you can see so much without paying for a single thing!
If you're into hiking, be sure to check out the stunning Waihee Ridge Trail on Maui. You'll want hiking shoes and trekking poles for this one as you'll climb up the ridges on Maui to spectacular mountain and ocean views!
Head over to Kauai to experience more epic adventures. Go mountain tubing through quite literally a scene straight out of Jurassic Park – part of the first movie was filmed here!
For incredible hiking views, be sure to hike the Waimea Canyon Trail to see the canyon from the inside. And if you can get a reservation, hike the Kalalau Trail – the first 2 miles to Hanakapiai Beach. It's absolutely stunning!
While both islands are pretty amazing the winner goes to…
🏆Kauai wins! If you're looking for adventure, Kauai is the island for you!
Kauai vs. Maui: restaurants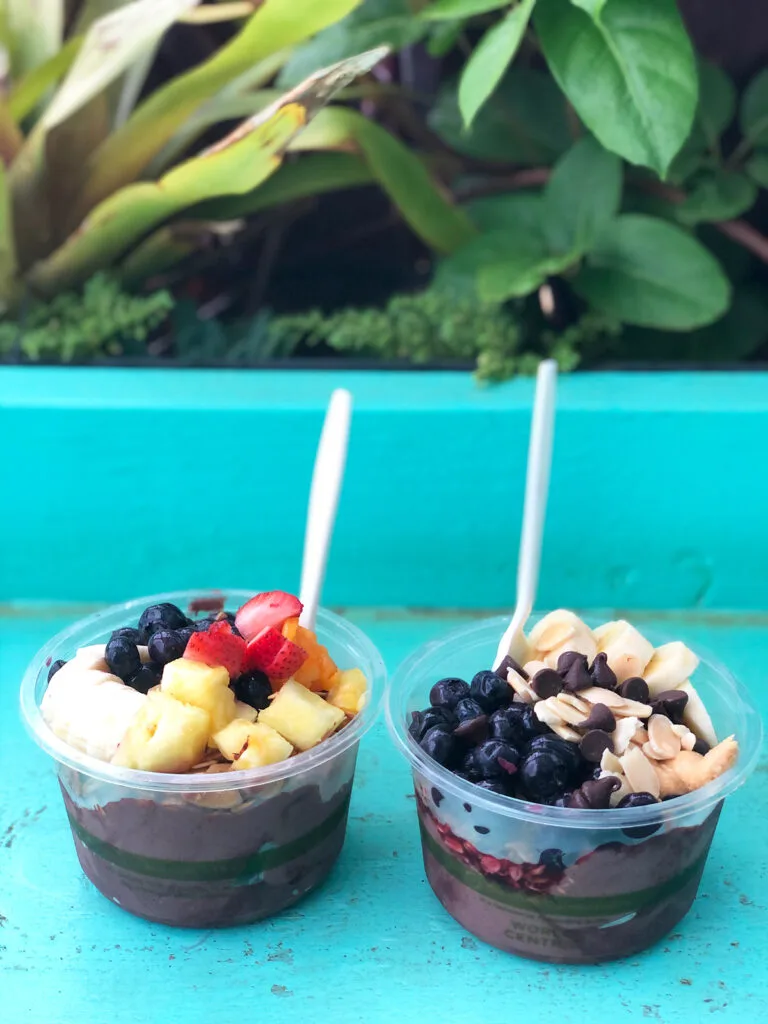 Amazing food will greet you on both islands! My second trip to Maui, I fell in love with the fish tacos from Leilani's. And when visiting Kauai for the first time, I fell in love with the acai bowls at Little Fish Coffee, which is one of the very best places to eat in Kauai.
But the fact is, there are great places to eat on both islands. Because Maui is larger and more commercially developed, there are more options for food.
Pro tip: on either island, you'll want to get the Hula Pie, a staple in Hawaii. This delightful ice cream dessert is found at Duke's local chain restaurants.
In Maui, find Hula Pie at Hula Grill and Leilani's, both ini Kaanapali. On Kauai, grab a slice at Keoki's Paradise in Koloa or Duke's in Kalapaki Beach near Lihue. There's also a few of these restaurants offering Hula Pie in Southern California, and it's a must-do on this 2 days in San Diego itinerary.
🏆In this category, Maui wins! This is based on the larger variety of restaurants and slightly expanded restaurant hours versus Kauai.
Kauai or Maui whale watching tours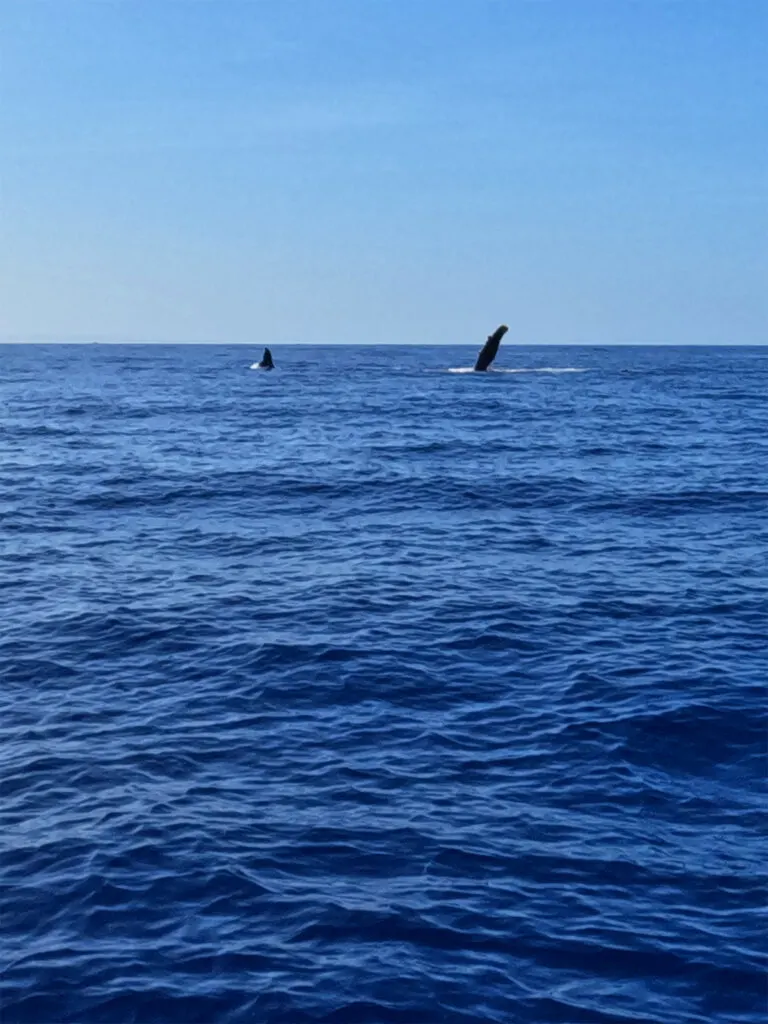 December through March is whale season in Hawaii! You may see some in November or April, and the most whale sightings typically happen mid-January through February.
Fun fact: Humpback whales migrate from Alaska each winter to mate and have pups in the warm Hawaiian waters. An estimated 12,000 whales migrate each year to Hawaii!
There are plenty of whale watching tours on Kauai and Maui whale tours. It's possible to see whales on both Kauai or Maui.
However, more whales are typically available in the waters of Maui than Kauai. Specifically, the Maui Nui Basin, which is the channel of water between the islands of Maui, Lanai and Kaho'olawe.
The whales love this channel because it's warm and shelters newborn pups, making it easy to teach them all the life lessons of how to be a great whale!
Having done whale tours from both islands, I'd recommend Maui. During peak whale season, it's even easy to see whales from the beach or the balcony of an ocean-front hotel in Kaanapali.
🏆Maui wins this category of Maui vs Kauai!
Scenic drives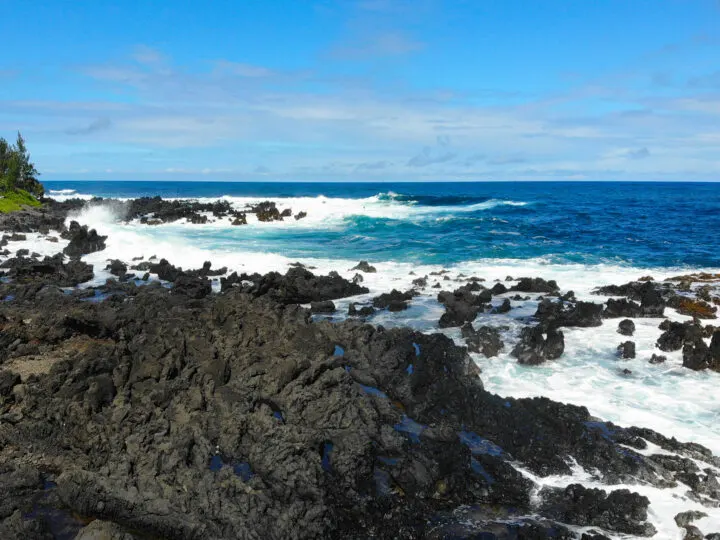 Lush, tropical forests and dry, arid climates plus coastal views are all prevalent on both Maui and Kauai. However, there is a much bigger difference in these 2 islands when it comes to scenic drives.
Let's break it down… Maui vs. Kauai – day trip style!
Kauai scenic drives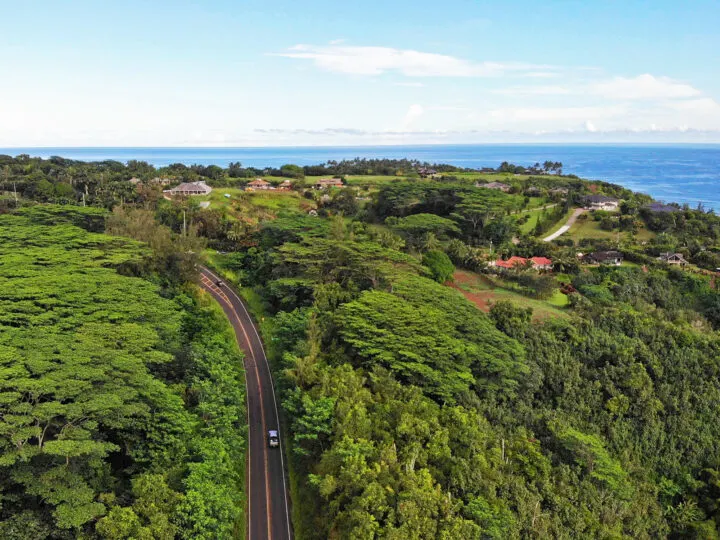 Highway 550. This is probably the most scenic route through the mountains of Kauai. The main features are the Waimea Canyon State Park and Kokee State Park. See the Red Dirt Waterfall, Waimea Canyon and Kalalau Lookout, amongst others.

Kapaa to Hanalei on Kuhio Highway. This is as much a scenic route as it is a commuter route. However, there are areas along the highway that are absolutely stunning. Stop at Anahola Beach Park, Kilauea Lighthouse and the Hanalei Valley Lookout.
Maui scenic drives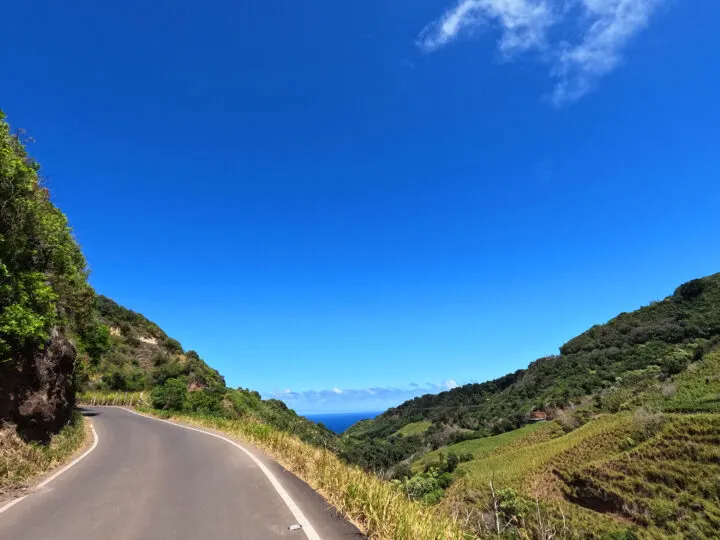 Road to Hana. It's been drawing visitors to Maui for decades, and one of the best US road trips! Spend a full day doing the route out-and-back, visiting waterfalls and the famous black sand beach. Or stay a night in Hana and wrap back around through Haleakala National Park, hiking the Pipiwai Trail.

Kahekili Highway. This narrow stretch of road on the northwest side of Maui is for the experienced driver, but a great alternative to Road to Hana. Along the Kahekili Highway, see the Nakalele Blowhole, hike the Ohai Loop Trail or Waihee Ridge Trail.
Kauai offers spectacular scenery, and the road trips on Maui are incredible. In this battle of Maui vs Kauai, both islands offer visitors the ability to explore the island in a rental car, on their own time.
🏆In this category, Maui wins! This is based on the fact that the Maui scenic drives are main feature of the day. It's the thing to do, instead of a road to get you where you want to do something else.
Maui vs Kauai honeymoon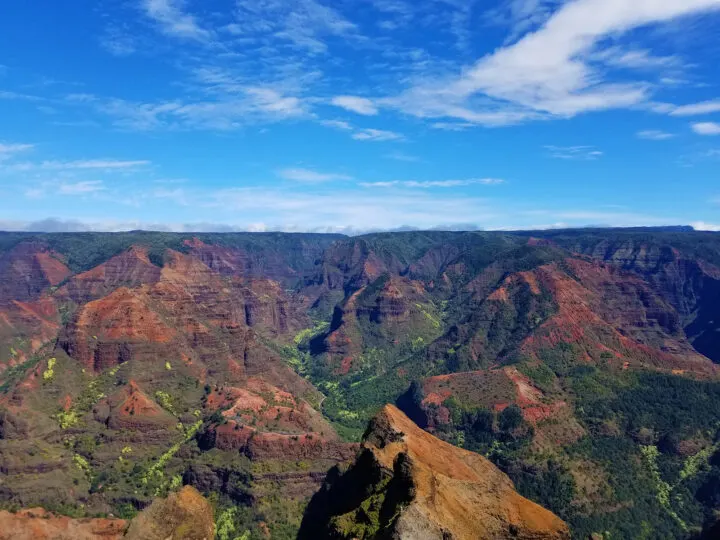 Alright let's move onto your celebration, and the reason you're taking this trip in the first place!
To be honest, couples, families, friends trip or even solo travelers would all find a perfect trip in either island – Kauai or Maui. It depends what you actually want to do on your trip to determine which island is better for you.
For active couples, Kauai is a great choice. Hike one of the many incredible trails along the island, like the Mahaulepu Heritage Trail, which offers phenomenal coastal views, and easy for most skill levels.
Or for the most incredible views, splurge on a helicopter tour to see the rugged NaPali Coast, and the literally hundreds of waterfalls in this untamed region of the island.
On Maui, honeymooners can enjoy a traditional Hawaiian luau, take a tour to Molokini Crater to snorkel. Of course active vacationers can also go ziplining, take a scenic drive or enjoy one of the many beaches on the island.
🏆In this category, Kauai wins. The island itself is more quiet and overall has less children, plus more adventures perfect for couples.
Maui vs Kauai: which island is more family-friendly?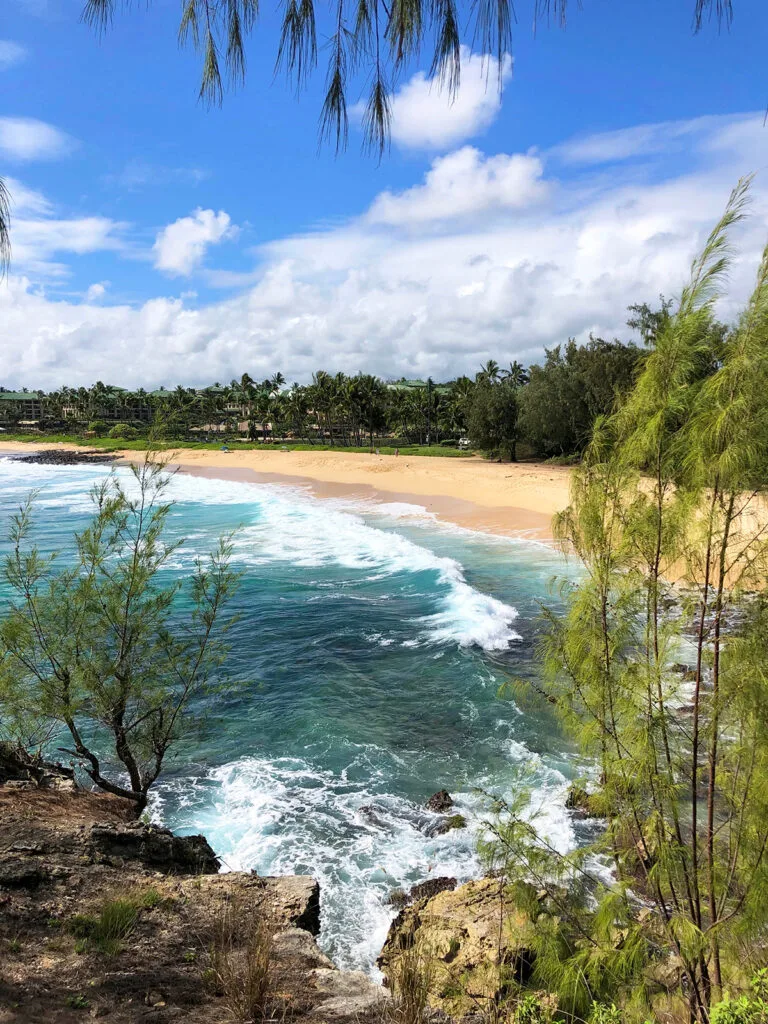 If you're looking for a family-friendly getaway, just know that both islands are fabulous vacation destinations. Let's consider each carefully in this battle of Maui vs Kauai…
There are so many things to do with kids in Maui. Lavender farms, hanging out under the larger-than-life Lahaina Banyan Tree, or take a submarine tour. Of course, kids young and old will love the beaches on Maui, too. Rent boogie boards, take surfing lessons or play in the ocean waves.
Kauai offers families a lot as well. Take a train ride through an old sugar plantation, go tubing through tunnels or check out Wailea Falls. There's plenty of beaches to hang out on the sand, too. A favorite in my family is Kiahuna Beach.
🏆Maui wins in this category! Overall it's more commercialized and offers families plenty of options.
Kauai vs Maui – which is cheaper?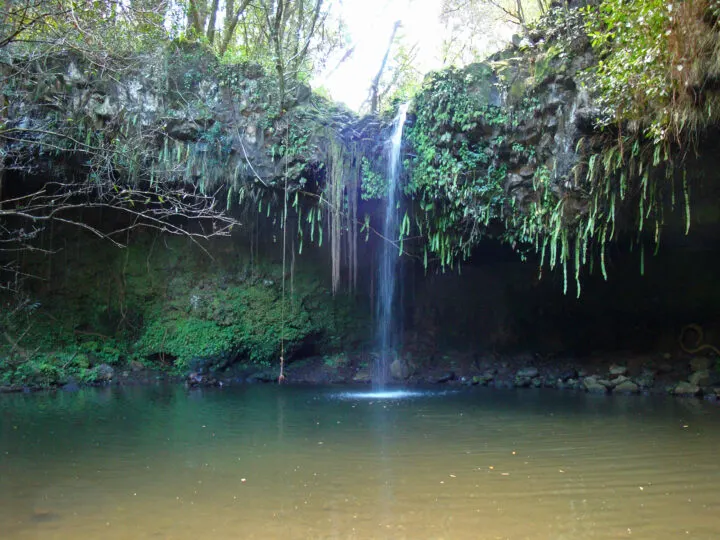 This is such a tough category! The price of your vacation comes down to a few different factors:
Flights (and departure airport), and if you can find a good deal or use points and miles for free flights. Generally, there are more flights to Maui than Kauai, so you may have better luck with flights to Maui.

Type of preferred accommodation. Looking at luxury, ocean-front hotels? Or prefer a cozy vacation rental away from the water? Both islands can be pricey in this category.

Time of year you're traveling. The season matters on this one. The cheapest time of year is typically April – May and September – October.
Of course, you can always look for deals. Maui and Kauai are both on this list of the best places to visit in November USA, as the first week can be a bargain!
I've done both Kauai and Maui on a budget, largely using points and miles for free flights and hotels. I've gone all out on a 10-year anniversary trip to luxury hotels, paid pennies on the dollar for a condo on the beach (with no A/C) and planned far in advance for a family-friendly, beach-front condo.
🏆It's a tie in this category! Depending on how you plan and your preferences, either island can be inexpensive or pricey.
Fewer crowds: Kauai vs. Maui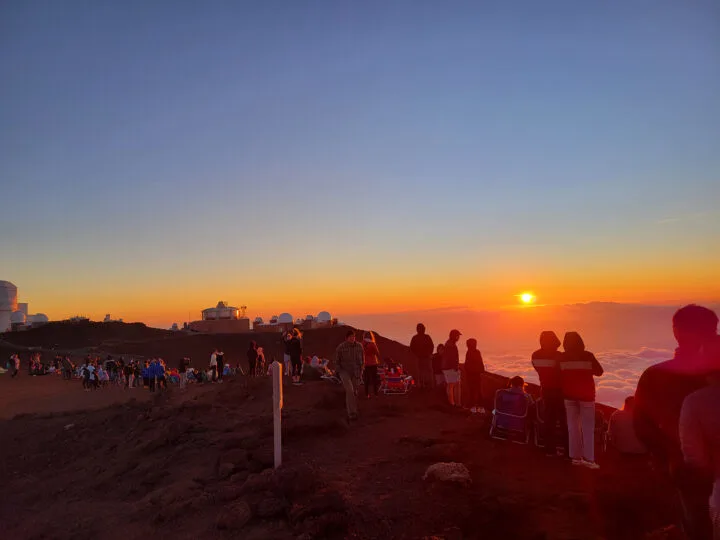 The previously-mentioned season plays a roll in this category, for sure! Spring break and winter break are chaos on the islands as thousands of visitors vacation during this time of year.
Summer is also a busy time in Maui and Kauai, and pretty much everywhere else for that matter. Crowds are a problem in this other epic battle: Sequoia vs Kings Canyon National Park, too. Traveling in the off-season helps significantly.
But to some degree, it's Hawaii, and it's a fabulous vacation destination so others will be enjoying paradise, too.
How to avoid crowds in Hawaii:
Visit in April, May, September or October for the lightest crowds.
Arrive at your destination early. Think hiking trails, beaches, or other activities that could be full. Get there before the crowds do!
Make restaurant reservations if you want to eat at a specific place or time.
Arrive at the airport to depart back home extra early. The world is short-staffed and Hawaii is no different.
Bring your patience! Things are not always going to go your way. Be kind, always.💛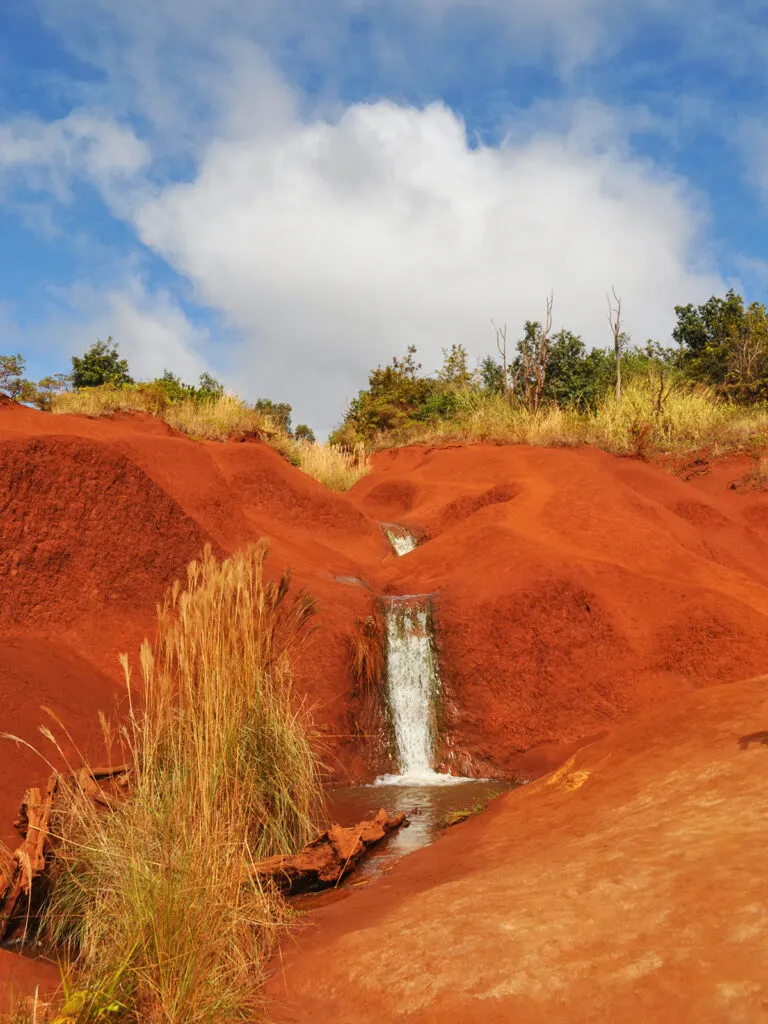 Generally speaking, Maui is more popular because it's been on travelers' radars for so long. It's more commercialized, has more accommodations options and more flights. Therefore Maui is typically more crowded.
🏆In this category, of Maui or Kauai, the island of Kauai wins!
Tips for traveling to Hawaii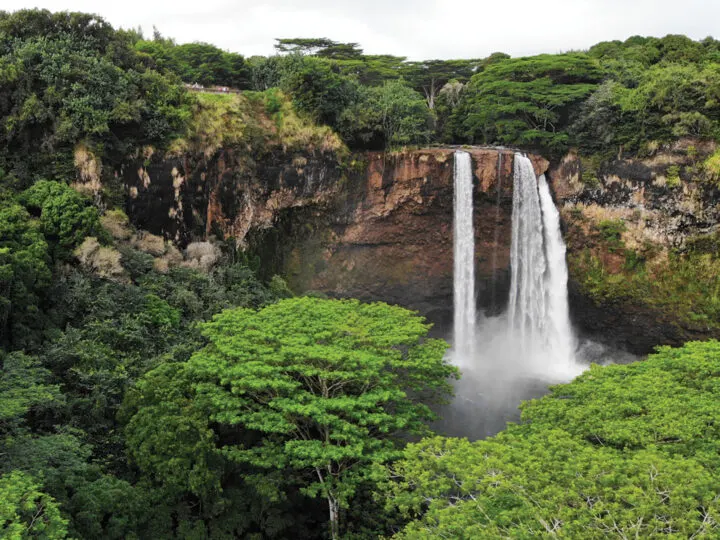 Before wrapping up this guide, let's go over a few more important reminders about traveling to Hawaii. It's unlike any other place in the world, so take extra care while visiting!
Don't disturb marine life. Not only is it against the law, but you can damage sea turtles "Honu" and the endangered Hawaiian Monk Seal.

Don't touch the coral or step on it. Natural oils from our skin kill coral easily, and stepping on it will most certainly damage it.

Wear mineral sunscreen to protect the reefs. Traditional sunblock has harsh chemicals that have been bleaching our oceans for years. Wear only ocean-safe sunscreen anytime you're in the ocean.

Go green! 🌿These small islands are challenged with waste disposal and drought. Preserve water, don't buy single use plastics and recycle what you can. Bring your reusable water bottles and refill them at restaurants or your hotel to cut down on purchasing bottled water.

Don't overpack. You don't want to waste precious vacation time on carrying around your stuff or packing it up. Here's a checklist on what to pack for Hawaii. My top items are water shoes, beach hat and breathable layers for a variety of activities! And of course, don't forget to use packing cubes to maximize your space!
Kauai vs Maui – which island is right for you?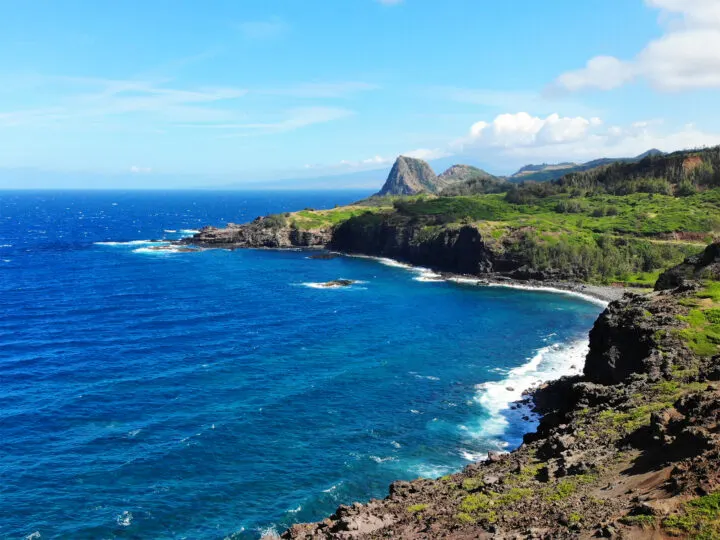 Well, there you have it! Have you decided which island is perfect for your next trip to Hawaii? In the battle of Maui vs. Kauai, it's sooo hard to choose!
As someone who's been to each island multiple times, I can truly say that you'll have a completely different set of experiences, but both are absolutely spectacular vacation destinations. Whether you're traveling as a couple, solo or with family, you really can't go wrong with Maui or Kauai!
Related content you might like:
Best Island in Hawaii: Take the Hawaiian Island Quiz
36 Incredible Things to Do with Kids in Maui (Ideas for Never-ending Fun)
20 Best Places to Eat in Kauai (Amazing Restaurants You Can't Miss)
Things to do in Maui on a Budget: 20 Cheap or Free Activities that Don't Suck
Best Things to do in Kauai: Your Guide to 7 Days in Hawaii
20 Best Kauai, Hawaii Beaches that Promise Amazing Views
What to Pack for Hawaii: Unique and Practical Items You Need to Bring
10 Easy Oahu Hikes that Promise Awe-inspiring Views
Find this post helpful? Save it for later or share it on social media!