Oahu is a phenomenal spot for beaches, luaus and traditional Hawaiian culture. It's also known for its gorgeous views, and what a better way to see the island than to hike it? Here are 10 easy Oahu hikes that you won't want to miss!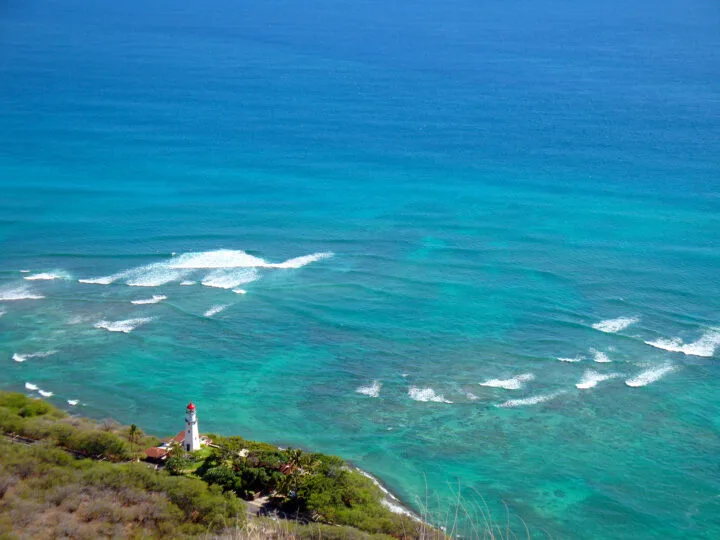 This post may contain affiliate links. For more info, see my disclosures.
If you're on vacation, maybe you don't want a crazy intense workout. These trails are all rated easy or moderate and won't take you more than an hour or two. In fact, hiking in Oahu is the perfect way to spend a morning or afternoon in Hawaii, especially if you're looking for a break from the beach.
Whether you're spending 5 days in Oahu, taking a longer vacation or making it short to visit the other neighboring islands you're going to want to do one – or more – of these hikes.
Be sure to stay until the end of this post – there's one bonus hike that you won't believe!
Oh by the way, as many times as I've vacationed and hiked in Hawaii, I haven't done every Oahu hiking trail, so I asked a few other travel bloggers to help me out. Together we've created this list to help you plan your perfect Oahu vacation!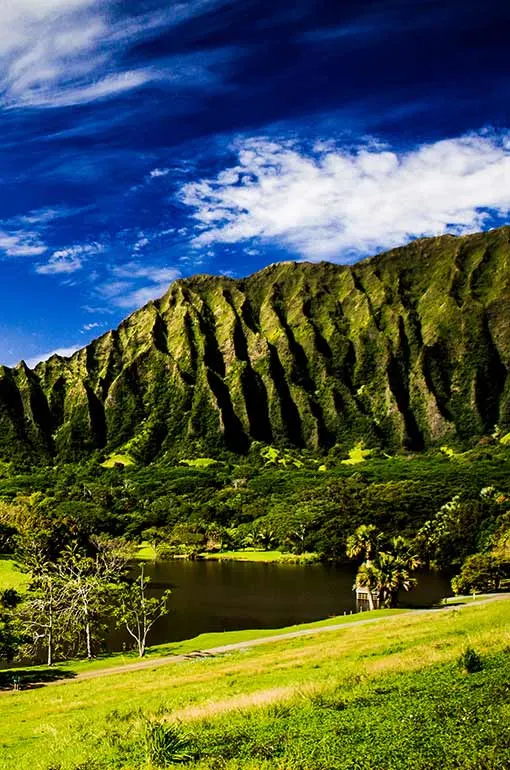 Map of these easy hikes in Oahu
Here is a map of each hike on the list. Use it to decide which hike to do based on where you're staying or other places you're planning to explore while on the island.

Also be sure to check out the list of things to take hiking in Hawaii at the bottom of this post.
Read next: Exactly What to Pack for Hawaii
Easy Oahu hikes
Gah! I'm so excited for you! Hawaii is my favorite place on the planet and once you hit these Oahu hiking trails, you'll know why! Let's dive in.
1. Diamond Head Trail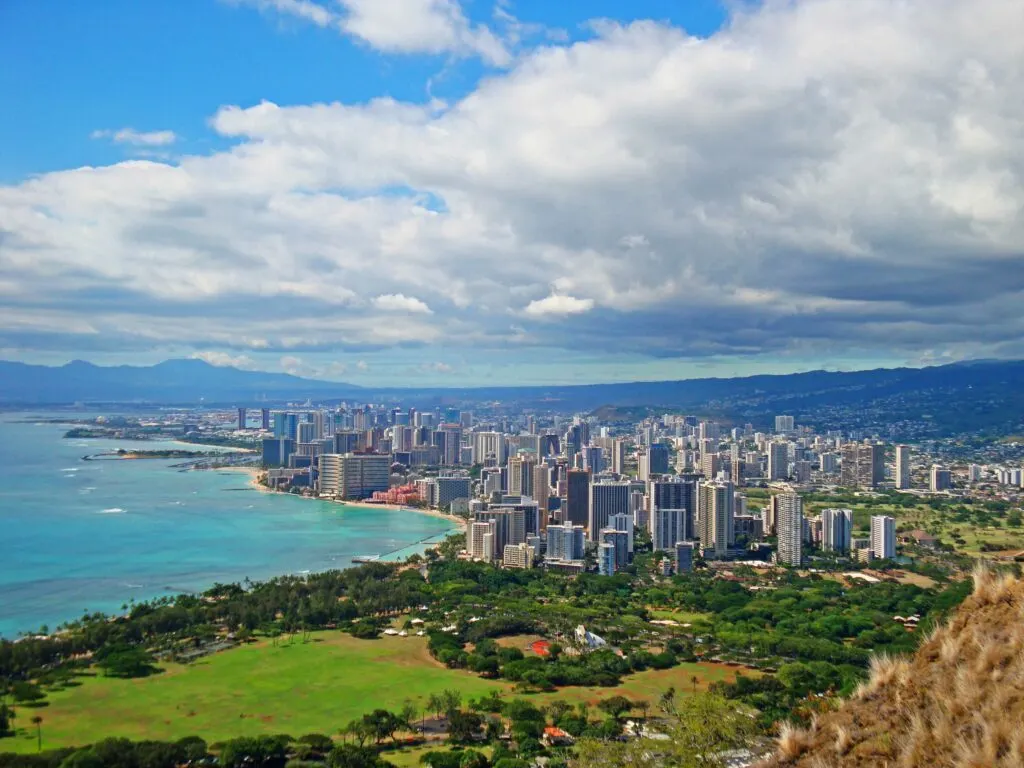 Hike distance: 1.8 miles
Hike time: 1.5 to 2 hours, depending how long you stay at the lookout
Difficulty rating: moderate
Best time to hike: morning, before the heat of the day
Starting this list with the best hike in Oahu! The trail at Diamond Head Crater is a popular spot, and for good reason. It's a unique experience to start a hike inside a crater, and with views of Waikiki Beach and the gorgeous Oahu coast, it's on any Hawaii bucket list.
The trail is actually inside the Diamond Head State Monument so there are entrance fees for this hike. Look at current prices and hours here.
The hike is rated as moderate because you're climbing to the summit over 500 feet in elevation. Luckily there's stairs built in and plenty of spots to stop and rest. The trail is honestly doable for most people, including being one of the best kid friendly hikes in Oahu.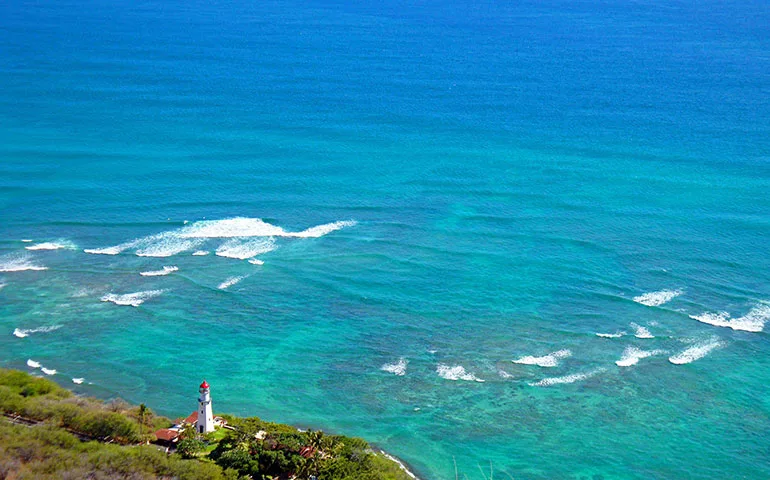 Once at the top, be sure to soak in those views and take plenty of photos!
Pro tip: make certain to use reef-safe sunblock or sun cover as there's no shade on this trail.
Recommended by me – Nikki of She Saves She Travels
2. Makapu'u Point Lighthouse Trail (one of the best easy Oahu hikes)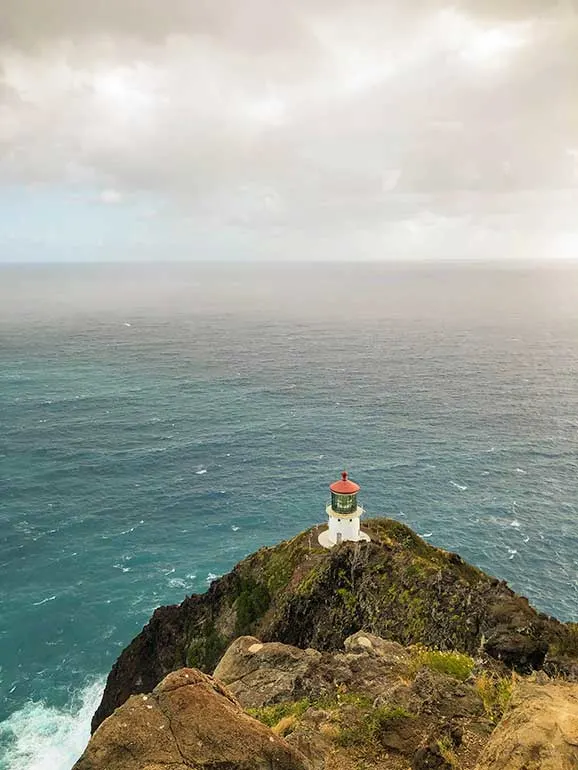 Hike distance: 2 miles
Hike time: 1 to 1.5 hours
Difficulty rating: easy
Best time to hike: anytime
If you're looking for an easy hike on Oahu with gorgeous views, look no further than the Makapu'u Point Lighthouse Trail.
The Makapu'u Point Lighthouse Trail is located on the southeastern tip of Oahu, just a half hour drive from Honolulu. The trail is mostly gradual with a 505-foot elevation gain and it's entirely paved. It's a relatively easy trail for hikers of all skill levels, or even those with strollers.
Free parking is available at the trailhead; space is pretty limited, but spots open up pretty frequently. After you're parked and ready to go, begin hiking up the trail. The first section is a pretty steep incline, but after that section, the incline is mostly gradual. There are plenty of spots to rest and enjoy the views along the way. If you're lucky, you might even get to spot a whale or two!
Once you've made it to the top, you'll be rewarded with stunning views of the Oahu coastline. You'll also be able to spot the red and white Makapu'u Lighthouse, one of the most famous lighthouses on the island.
Though the trail is pretty easy, there is very little shade. Make sure to bring plenty of water, sunscreen, and a hat. If you're an early bird, start your hike at 7:00am when the trail opens for cooler temperatures and to beat the crowds.
Recommended by Sydney of A World in Reach

3. Friendship Garden Trail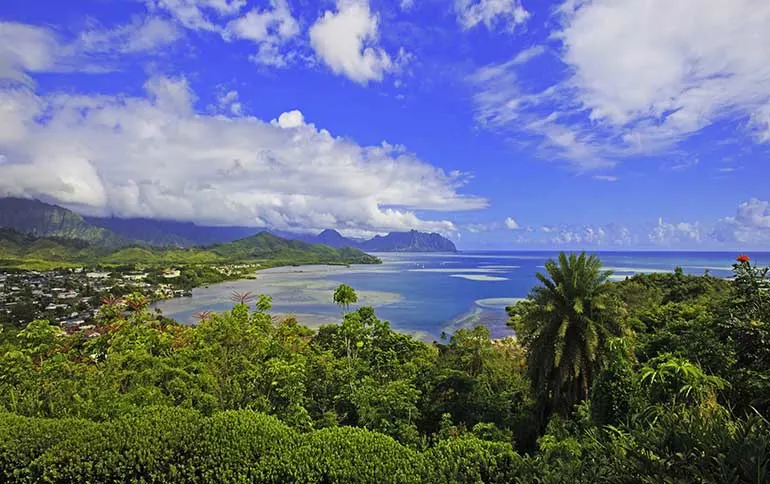 Hike distance: 0.5 miles
Hike time: less than 1 hour
Difficulty rating: easy
Best time to hike: anytime
Nested above Kaneohe Bay is a gorgeous, lush garden trail. It's been called 'enchanted' and it seems by stepping onto the trail, that you've transported to a fairytale. The Friendship Garden is on the Hawaii Register of Historic Places, built in 1927. This trail is truly a gem!
It's also one of the best, easy hikes in Oahu for those looking for less crowds. Surround yourself in nature on the Friendship Garden Trail. While on the trail, you'll pass various kinds of exotic and native plant life including bamboo, macadamia nut trees, yellow lima flowers and a whole lot more.
And even on this short trail, the lookouts are impressive! Views of the Ko'olau Mountains, Makapu'u, Kaneohe Bay, Kailua and Lanikai can all be seen from the trail.
Pro tip: if it's recently rained, be sure to wear hiking shoes with good traction to avoid slipping on the mud.
Recommended by me – Nikki of She Saves She Travels
4. Crouching Lion Hike Oahu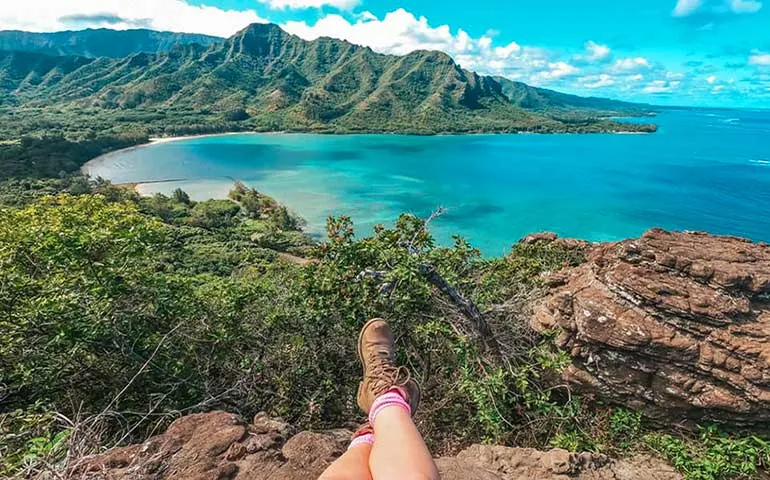 Hike distance: .4 miles
Hike time: 1 hour
Difficulty rating: moderate
Best time to hike: morning or early afternoon
Crouching Lion is sure to become one of your favorite hikes while on Oahu! The hike is a .4 mile out and back trail. While it's a shorter hike in distance, it's a bit steep. You will most likely be able to reach the top in 30 minutes or less, where you will be greeted by the most amazing panoramic views.
Make sure to wear appropriate hiking shoes and don't go after a rain. This hike can get very muddy and slippery. There are some ropes to help you along the way. This hike can be dangerous, as there are steep drop offs at the top, however as long as you are careful and aware you should be fine.
You can find parking at Swanzy Beach Park. Finding the trail head may be a little bit difficult— it's between a 'Do Not Pass' sign and a telephone pole.
Crouching Lion is about a 45 minute drive from Waikiki, 30 minutes from North Shore, and a 25 minute drive from Kaneohe. For the perfect refreshment after completing Crouching Lion, check out Coconut Girl and Guys just up the road for a fresh cold coconut water!
Recommended by Destiny of Guided by Destiny
5. Manoa Falls Trail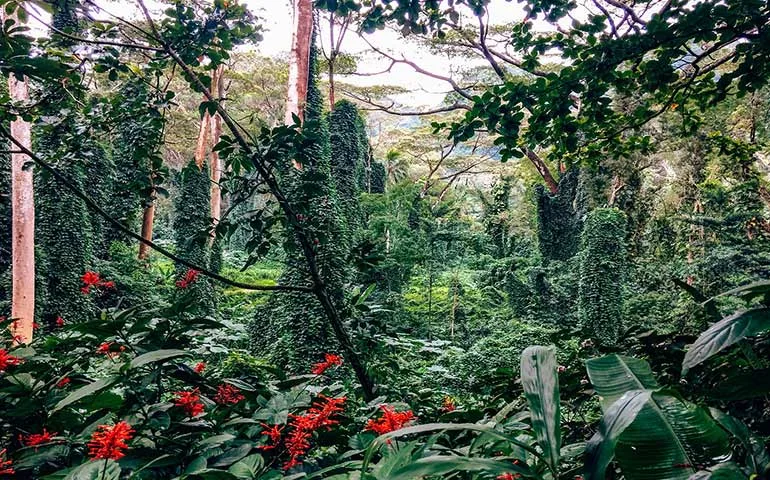 Hike distance: 1.7 miles
Hike time: 1.5 to 2 hours
Difficulty rating: moderate
Best time to hike: morning to avoid the crowds
Located in Manoa, just outside of busy Honolulu, is one of Oahu's must-do hiking trails called Manoa Falls Trail. It's an easy, 1.7 mile out-and-back hiking trail that has an elevation gain of 633 ft.

Along the trail you'll be surrounded by the lush rainforest where popular TV shows and movies such as Lost and Jurassic Park were also filmed.

As you walk through the mixture of eucalyptus, banyan trees and a bamboo grove, surrounded by views of the breath-taking Manoa Valley, you'll definitely feel like you're on a different planet. The vibrant tropical flowers will add a pop of colour to the lush green rainforest just to complete the iconic image of Hawaii. At the end of the trail you'll have the chance to admire the 150 ft high Manoa Falls.

Many people enjoy a dip in the pool in front of Manoa Falls; however, due to rock falls and the high chance of catching Leptospirosis the signs advise you against it.

You are hiking in a rainforest, so the chances of you getting caught in a shower are high. You might want to pack a rain jacket and wear supportive hiking shoes if you don't want to get wet or slip on the muddy path after a downpour.

Depending on your pace and how long you are spending at the waterfall, you can complete this trail in less than 2 hours. It's truly one of the best easy Oahu hikes and worth the trip.

If you have a car, then the trailhead is only about a 20-minute drive from the centre of Honolulu. However, even if you're in Oahu without a car,you can still easily get to the trailhead by public transport.

Recommended by Kitti of Kitti Around the World
More easy Oahu hikes
These are such fun hiking trails, right? This list is only half way done. Don't forget to stay for the bonus Oahu hiking trail and what to bring with you as you hike in Hawaii.
Let's keep going….
6. Lanikai Pillbox Hike (a popular easy hike in Oahu)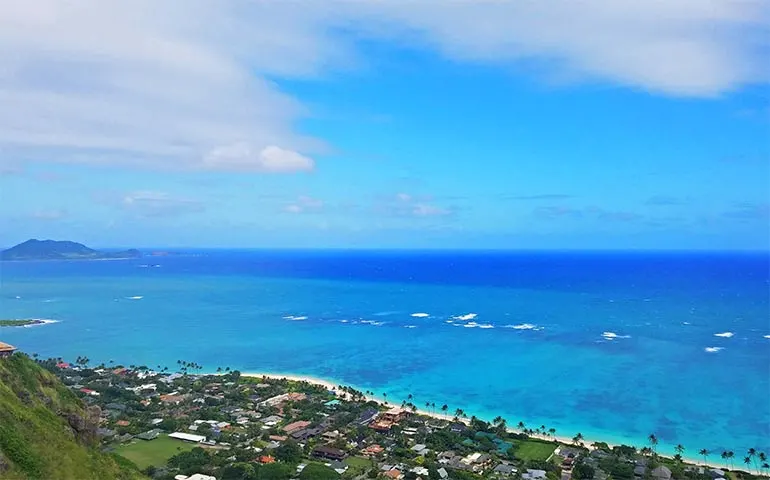 Hike distance: 1.8 miles
Hike time: 1.5 to 2 hours
Difficulty rating: moderate
Best time to hike: sunrise
The Lanikai Pillbox Hike traces a ridge with old military bunkers on the windward coast of Oahu above the town of Kailua. Also called the Kaiwa Ridge Trail, it offers incredible views of the Lanikai Beach shoreline and the Moku Islands.
The trailhead is just off of Kaelepulu Drive across from the Mid-Pacific Country Club. It starts near a residential area, but there is a sign marking where to begin as well as notices to not drive into the private neighborhood.
The moderately difficult path is undeveloped, so you'll be winding your way through trees and muddy spots as you climb up toward the ridge, where the views then open toward both sides.
It's only about half a mile to the second bunker, where most hikers stop, but you can continue on beyond that to get away from the crowds and find the highest point at about 600-feet up. The total trail length out and back is just under 2 miles.
Aside from the first short forested section, the entire trail is exposed, so wear eco-sunscreen and bring water, especially for mid-day hikes. With views toward the east, a sunrise hike here belongs on your Oahu bucket list.
Recommended by Michelle of Harbors and Havens
7. Maunawili Falls Trail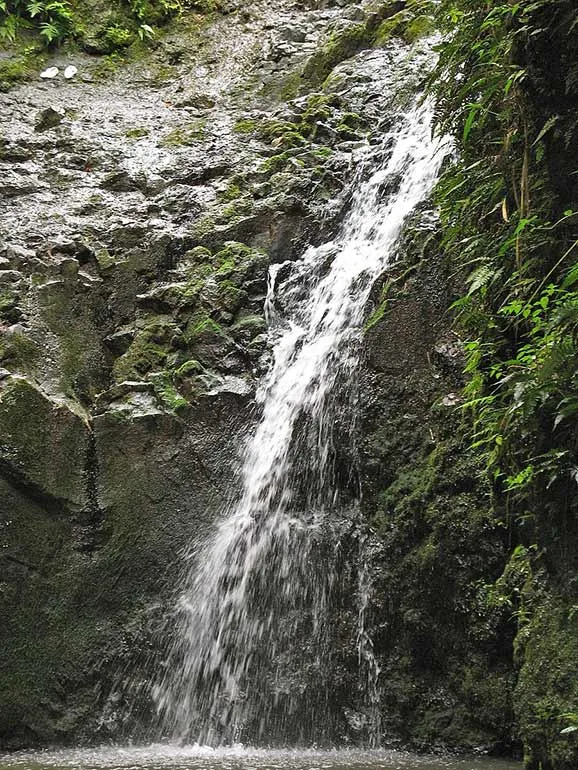 Hike distance: 2.8 miles
Hike time: 2 hours
Difficulty rating: moderate
Best time to hike: anytime except after a recent rain
The Maunawili Falls Trail is one of the best, easy Oahu hikes for the simple fact you can swim in the falls! This fun hike takes you through a dense forested area before reaching a lush waterfall. You'll also get beautiful views of Kailua and the Bay while on this trail.
The trail starts in a neighborhood, so be sure to watch for the trailhead sign. On a good day the trail is dirty and easy, just avoid the tree roots and rocky parts. When it's recently rained, the trail is very muddy and reminds me of the Kalalau Trail – hiking the first 2 miles of one of the most popular trails on Kauai.
The incline isn't too steep and when you meet up with the stream, the trail becomes more flat. You'll cross a couple of streams so be sure to bring good, waterproof hiking shoes with traction or even comfortable water shoes for this hike!
When you get to the falls, you can swim at the base of the falls. Some people choose to cliff dive into the pool, but there are warning signs posted against it. This waterfall hike is rewarding and one of the lesser known hikes in Oahu.
Recommended by me – Nikki of She Saves She Travels
8. Ho'omaluhia Botanical Gardens Oahu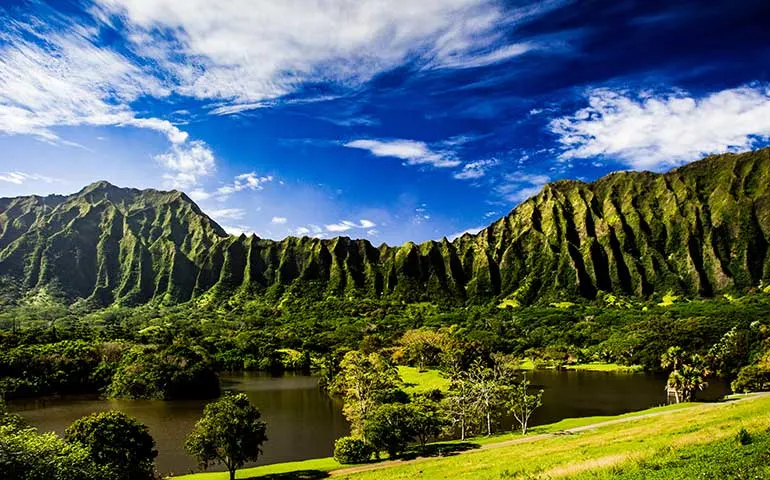 Hike distance: 2.2 miles
Hike time: 1 to 1.5 hours
Difficulty rating: easy
Best time to hike: anytime
Ho'omaluhia Botanical Garden offers an easy hike with incredible views on the island of Oahu. Located on the windward side of the island in the sweet town of Kaneohe, this lush garden paradise has 400 acres and several miles of paved and unpaved trails to explore.
The main road into the garden can be walked or partially driven to the end of the road. A round trip hike to this point is about 2 miles and is relatively flat. This is by far one of the most kid friendly hikes on Oahu based on how easy the trail is!
While staying on the main road will allow you to experience the greatness of the mountains around you, the short path loops that are sprinkled around the area will allow you to increase your hiking distance and also see the gems off the beaten path.
The fishing pond can be accessed via the lake trail just past the Visitor's Center. This center also provides maps so that you can identify each of the several different species of plant life on the trails. The Kilonani Mauka Overlook is also well worth the detour on the right side of the main road about halfway through and rewards you with the most beautiful birds eye view of the cliffs and Ko'olau Mountain Range.
As of the time of this publication, the Ho'omaluhia Botanical Garden is open from 9:00am to 4:00pm daily and is free for all visitors. No matter when you visit, it is surely to be one of your new favorite hikes on the entire island!
Recommended by Sierra of Island and Alpine
9. Makiki Valley Loop Trail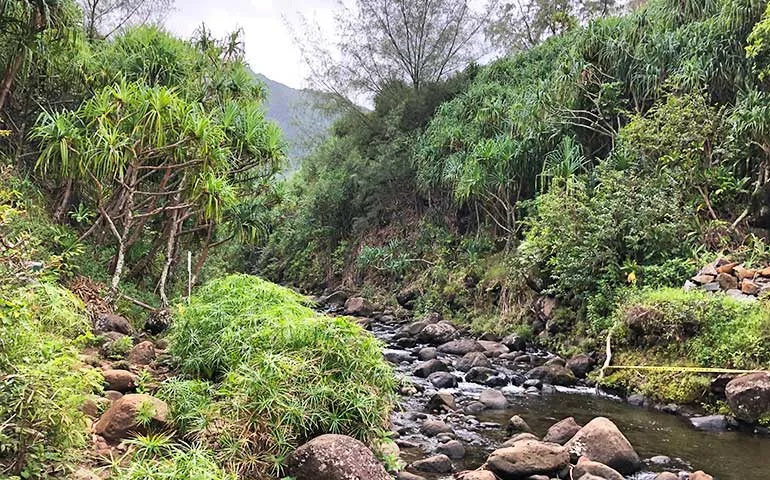 Hike distance: 3.2 miles
Hike time: 2-3 hours
Difficulty rating: moderate
Best time to hike: anytime
An easy to moderate trail just north of Honolulu, the Makiki Valley Trail shows you the lush, dense forest of Oahu. With a few scenic overlooks and several mini waterfalls and streams, it's a great trail for those looking for a shaded hike.
This jungle trail provides a unique experience and opportunities to venture off to see more. There are many different trails that shoot off this one, providing more hiking – and more views! One of the great things about the Makiki Valley Trail is that it's one of the lesser-known trails on Oahu, meaning it won't be overcrowded.
With recent rains, this trail can get muddy so good shoes are a must. Try hiking shoes with good traction for the best experience on the trail. Also, be sure to pack the bug spray for this trail in the jungle!
Pro tip: hike this loop counter-clockwise. You'll get the best views and the inclines will the easier!
Recommended by me – Nikki of She Saves She Travels
10. Waimea Valley Trail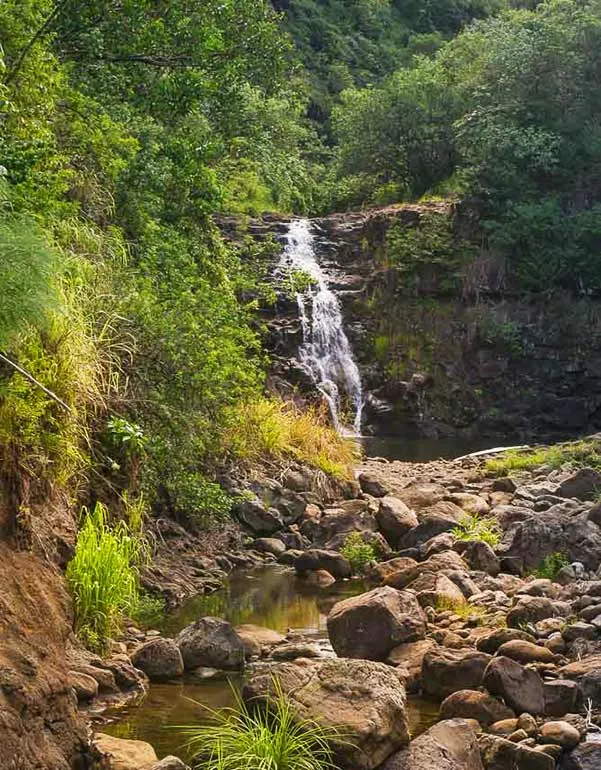 Hike distance: 1.9 miles
Hike time: 1 to 1.5 hours
Difficulty rating: easy
Best time to hike: anytime
A fun, easy Oahu hike is at the North Shore to beautiful Waimea Falls. Located in the Waimea Valley Botanical Garden, this hike includes a swim in the waterfall. You'll also see replicated ancient Hawaiian villages and what they would have looked like in ancient Hawaiian civilization.
The hike and swim at Waimea Falls is family friendly with an actual station at the falls to check into and find a life vest which is required for swimming in the waterfall area. There is an attendant on site to help you and also watch the swimmers on site.
The water is brisk but fun to enter especially after a hot trek to the falls. It's actually more of an easy walk up a gentle paved slope and some gravel areas close to the base until you see the falls. You can get there in no time!
There is an entrance fee to the botanical garden and falls, however it's free if you purchase the luau experience and you an go before the luau starts at dusk. Find out fees and hours of the Waimea Valley Gardens here.
Recommended by Noel of This Hawaii Life
11. Stairway to Heaven (Haiku Stairs)
This is one of the most famous Oahu hiking trails but it's not easy! Here's this bonus hike you need to see to believe!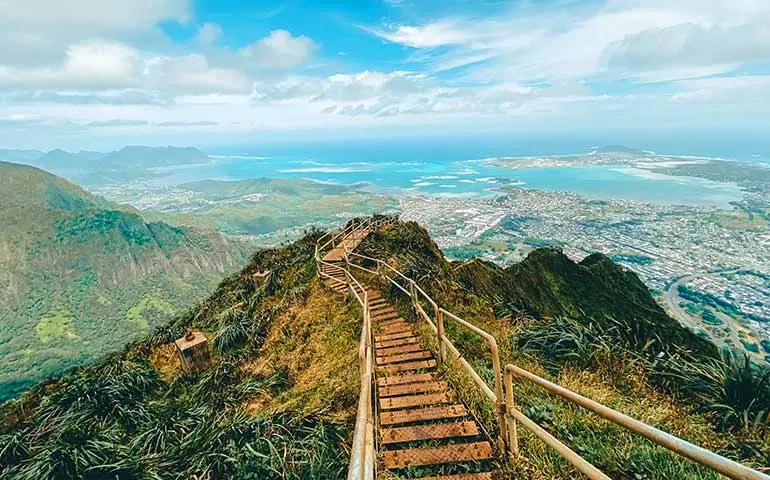 Hike distance: 10.5 miles
Hike time: 4+ hours
Difficulty rating: hard
Best time to hike: get an early start!
Chances are you have heard of the Stairway to Heaven (aka Haiku Stairs) hike in Hawaii. Unfortunately, over concerns of safety as well as privacy of the neighborhood where the trailhead is located, this hike has been closed with significant ($1000+) fines.
However, there is a back way to access the Stairway to Heaven. This will allow you to access the Haiku Stairs legally.
In order to legally access the Stairway to Heaven hike, take the Moanalua Trail which is an approximately 10-mile round trip hike. This hike has some near vertical, rope and muddy sections since you climb over 2600 feet in elevation. As you will find when hiking in Oahu in general, caution is required as this is a steep and sometimes muddy hike that has had injuries and fatalities. Going the back/legal way is also more difficult than going up the stairs themselves.
This route is longer than if you were to go up the actual stairs themselves and you don't actually see the stairs until you reach the very top. Once you are at the top, note that being on the stairs themselves is illegal and there are occasionally ticketing officers at the top. However, the stairs themselves are incredibly unique and worth a visit.
Recommended by Andrea of Our Beautahful World
Oahu hiking trails – what you'll need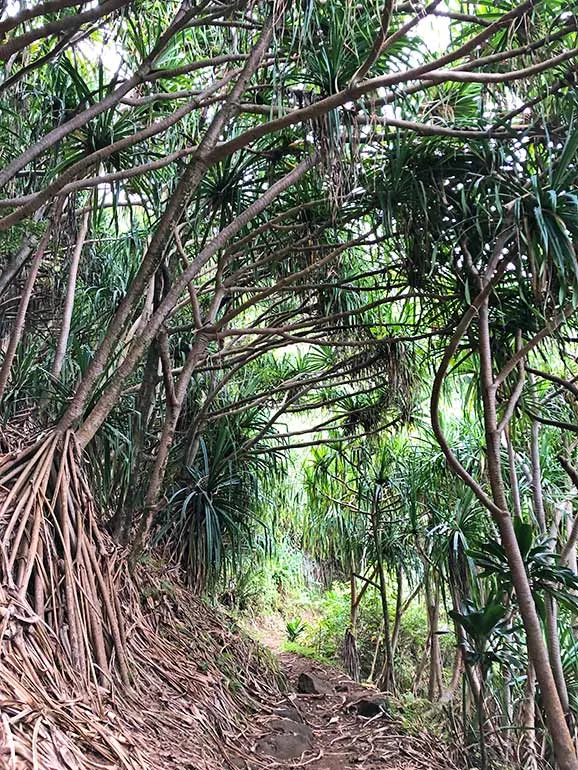 Before I wrap this list of these easy Oahu hiking trails, let's go over some of the things you'll want to take with you. Skipping the sunscreen and wearing flip flops simply won't work on most of these trails. With the terrain in Hawaii and the chances of rain especially in the dense rainforest areas, you'll want better gear!
What to bring hiking in Oahu
Good hiking shoes with traction. These are the hiking boots I've used in Hawaii and they're perfect for muddy trails or unexpected rain.
Water shoes. A few of these hikes include waterfalls or crossing streams, and a good pair of water shoes with plenty of tread will help make your hike go smoother. I have these water shoes in gray and I absolutely love them!
Rain gear. In the lush rainforests of Hawaii the rain can come and go quickly. This is the lightweight rain jacket I used in Hawaii and it was perfect.
Hiking poles. Some of these trails are extra muddy and the stability is important, especially during inclines. These are the hiking poles I used in Hawaii and they're perfect for travel.
Sunblock, sun hat or sleeves. The sun in Hawaii is intense!
Water, water, water! Between the sun and the humidity in Hawaii, you'll need water to fuel your hike! Pack protein for longer hikes, too.
For more items to consider, here's a complete list of things to pack for a day hike.
Easy Oahu hikes – that's a wrap!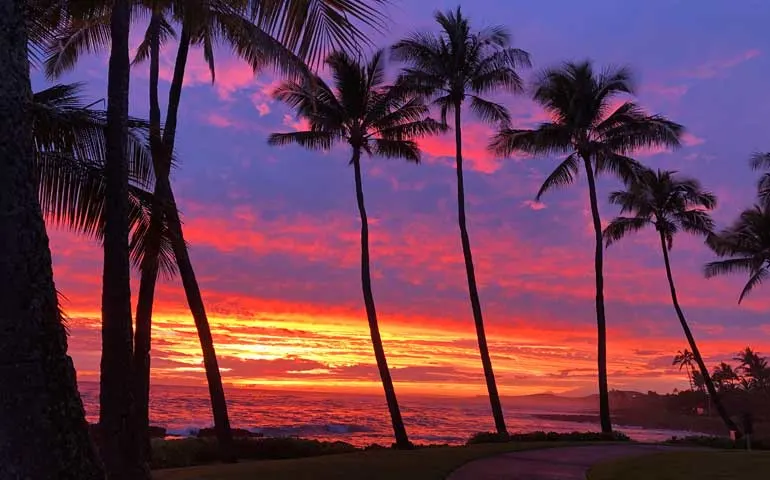 Well, which Oahu hiking trail are you going to start with? Diamond Head, Crouching Lion and Pillbox are all very popular, and it's easy to see why!
So whether you're staying in Honolulu and looking for a hike close by, or are willing to venture a little further out, you'll love each hike on this list.
If you're island-hopping in Hawaii, be sure to check out these other posts:
Things to do in Maui on a Budget: 20 Cheap or Free Activities that Don't Suck
Maha'ulepu Heritage Trail – the Underrated Hike on Kauai You Need to See
20 Best Kauai, Hawaii Beaches that Promise Amazing Views
Hiking Waimea Canyon Trail in Kauai: Everything You Need to Know

Find this post helpful? Save it for later or share it on social media!