If you're asking yourself…what is there to do in Estherville, Iowa? Well your answer is a lot! Estherville is a charming Midwestern town, filled with family-friendly activities for all who visit.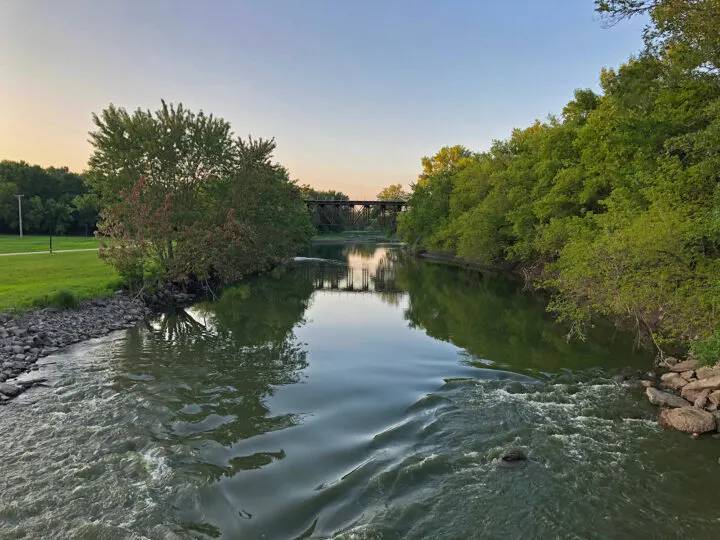 This post may contain affiliate links. For more info, see my disclosures.
Estherville is an unknown secret in Iowa. It's the kind of town perfect for a stroll down picturesque main street. And perfect to catch an adventure – if you're up for it!
There's a surprising amount to do for a town of Estherville's size. With enough accommodations to fit comfortably in town, it's a great destination for a weekend getaway or as a stop on your next vacation.
Where is Estherville, Iowa? It's in Northwest Iowa, located about a 3 hour drive from Minneapolis, 3 hours from Des Moines, 4 hours from Omaha, 2 hours from Souix Falls and just 20 minutes east of the Iowa great lakes (like Lake Okoboji and Spirit Lake).
Here are 15 of my favorite things to do in Estherville, Iowa:
Outdoor adventures in and around Estherville
Bike riding, kayaking, canoeing, stand up paddle boarding, motorcycle riding or hiking up a hill that literally takes your breath away. You'll find it in Estherville, Iowa.
Go hiking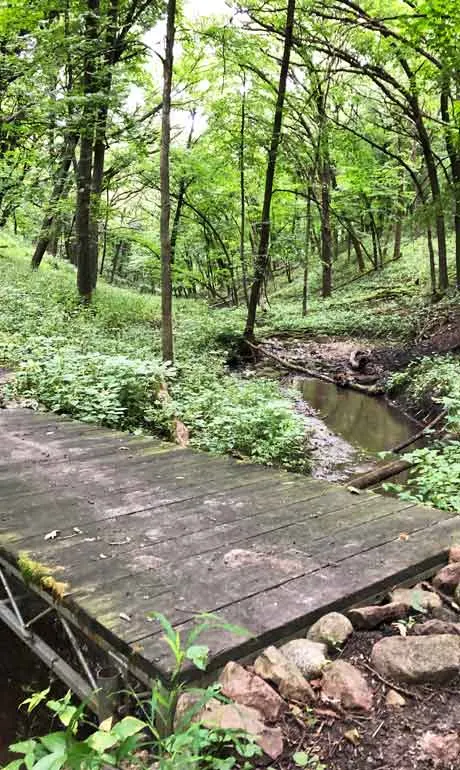 I'm assuming when you think about the Midwest you think there's a lot of flat ground, and you're probably right much of the time. But right outside of Estherville is Fort Defiance State Park.
There's over 300 acres in the park with plenty of stroller-friendly hiking trails, tougher trails (the kind that make you question your leg strength) and some in between. Stop along a trail to view a field of wild flowers or a babbling brook. There's a path for everyone at the park!
Cost: free! Admission to state parks in Iowa is always free
Location: 175th St, Estherville, IA 51334 More info here.
Related article: Best Hiking Trails in Austin
Kayaking in Iowa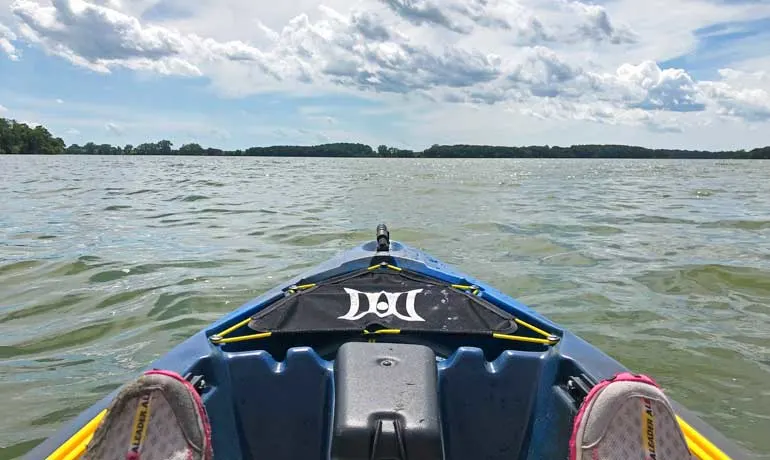 Northwestern Iowa is known for it's popular lake communities. But the lakes surrounding Estherville are a great alternative. They're family friendly for boating, fishing, paddle boating and kayaking (my favorite).
The lakes are so calm that you can paddle board and kayak on them without meeting another soul. You'll find many lakes that offer tranquil views and peaceful moments. Find your zen!
And bonus – you can do it for free! Renting kayaks and paddle boards through the Emmet County Nature Center is absolutely free. Hang out with the pelicans on High Lake on a quiet afternoon. (Call to reserve your rentals, here)
Hit the road: bike Estherville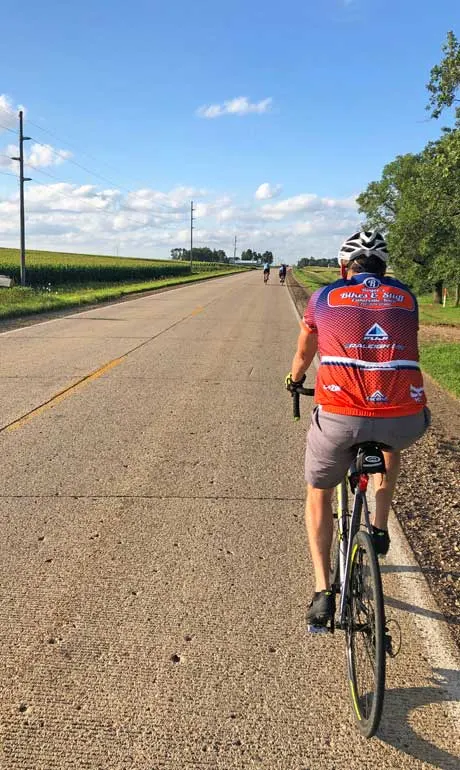 If you want a serious work out, grab your bike and hit the road for an epic 18 mile bike ride with 20 or 30 of your closest friends. Bike uphill past farms and marshland as you burn some serious calories heading out of Estherville and to the town of Superior, Iowa.
You'll hit the half way point in Superior and stop in at a bar to refuel with some free popcorn. Or grab a refreshing beer or lemonade before you hit the road back to Estherville.
Cost: free!
Location: route starts at Woody's Pizza, 9 W N 1st St, Estherville, IA 51334 More info here
Enjoy scenic views of Northwest Iowa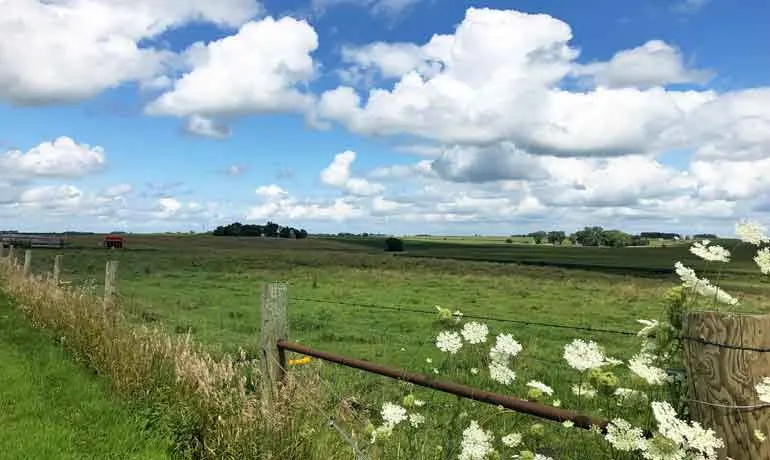 Think you need to go to Italy to find rolling hills? Wrong! The rolling plains of Northwestern Iowa are beautiful. Just take a quick jaunt out to the country which is about 5 minutes from downtown and you'll find some pretty cool views.
You might also like: Most Instagrammable Spots in Omaha
More of Estherville: the hidden gem in Northwest Iowa
Hang out on the town square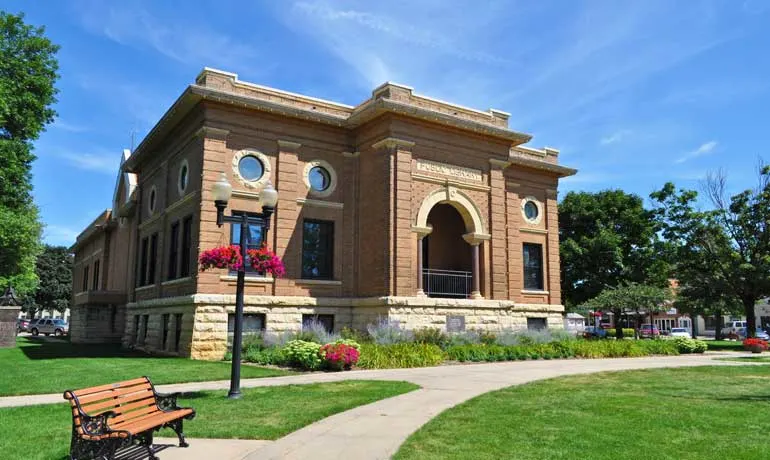 It's a beautiful part of town and the first thing you think of when you think of an old-fashioned town square. The public library the center of the town square. It's the place to be in town for group events like Pinterest classes for adults or story time for kids.
The town square hosts events and festivals – see more on that below!
Location: 613 E Central Ave, Estherville, IA 51334
Hit up the local farmer's market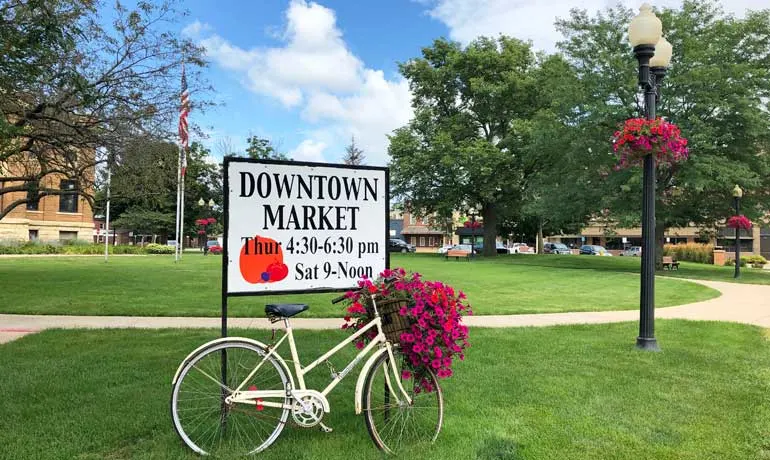 More than just produce, twice a week you can chat with the local farmers and artisans at the Estherville downtown market. You'll find baked goods, handmade jewelry and craft items, plants and of course plenty of produce!
The market pops up on the beautiful town square, near the library.
You might also like: 28 Underrated Travel Destinations in the US You Need to See
Shopping in Estherville, Iowa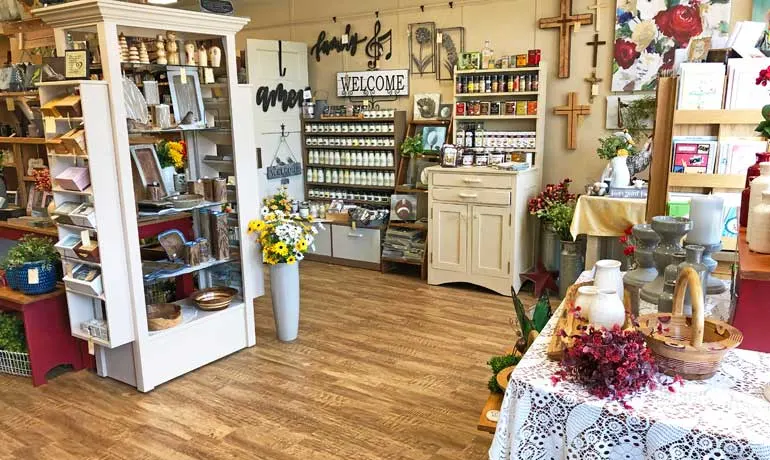 Small-town shopping means finding authentic treasures. You won't find any chain stores or big-name fashion retailers. What you'll find is unique, home-town items. Much of it from local artists and entrepreneurs.
From handmade jewelry to local honey spread, homemade candles and purses made of leather. Find gifts or furniture, home decor, clothing, antiques and so much more. There's even 2 thrift shops in town.
Swing on a bridge over 80 years old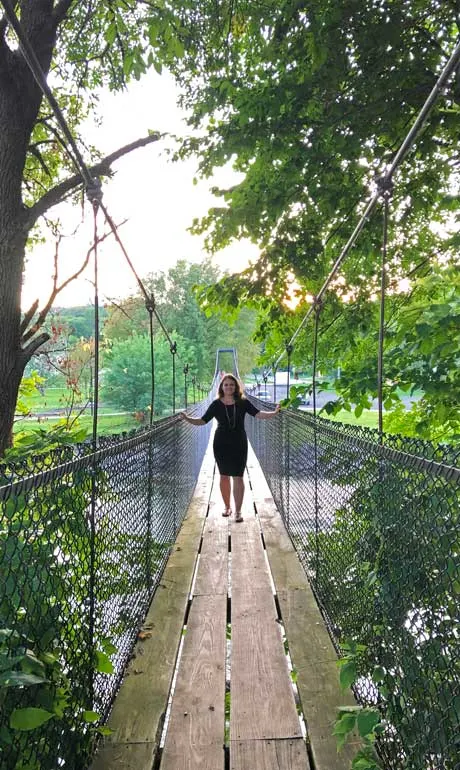 Hang out (quite literally) over the Des Moines River on a historic swinging bridge. It's a suspension cable swinging bridge, built in the 1930's that's been reinforced. The bridge is right off the perfect path for biking and walking along the river.
Cost: free!
Location: 150 W 1st St N, Estherville, IA 51334
Skip to the article: 15 Things to Do Right Now to Save Money for Your Next Trip
Museums in Estherville. Yes, there's 2!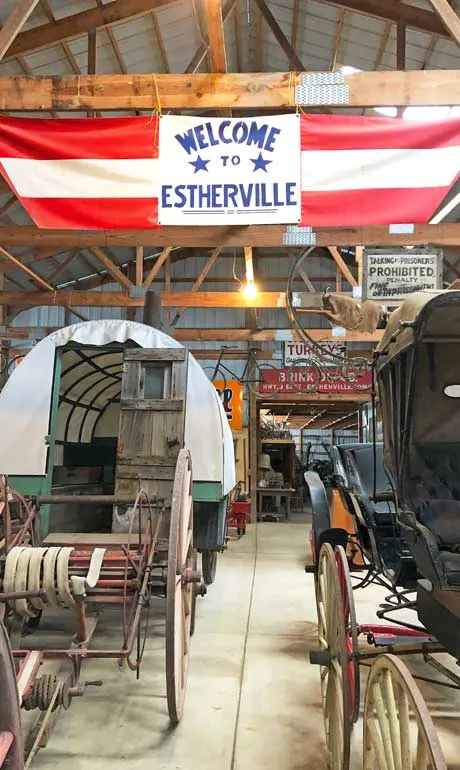 In Estherville is the Emmet County Historical Museum which is a complex of several buildings that have been relocated to for historical display. Walk through 1800's farmhouse, an old school house, or a 1920's era house still in it's nearly original condition, including furniture!
Imagine looking at a covered wagon, you know the kind that took travelers across America? Yep, you can find one in Estherville. There's old farm equipment, hats from every era and entire vintage rooms that will take you back into time.
Cost: free! Museum is open June – August with free admission.
Location: 1720 3rd Ave S, Estherville, IA 51334 More info here
Estherville Iowa meteorite and museum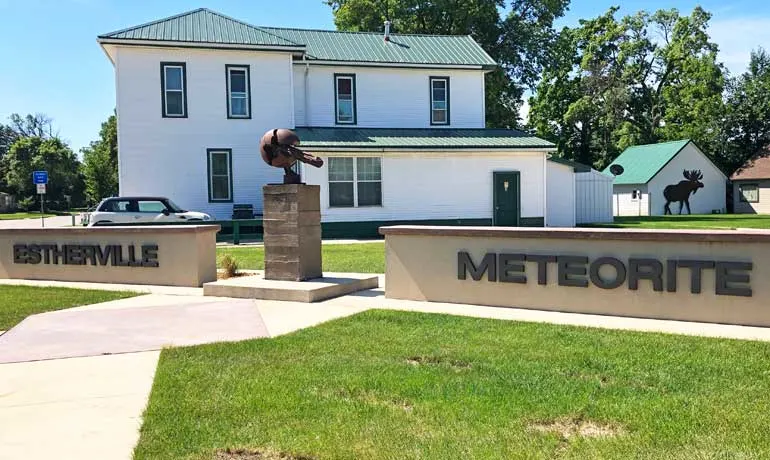 Visit the site of the largest known meteorite seen crashing into North America. In 1879 the people of Estherville saw – and felt – the meteorite crash into the ground. The story behind it is pretty unique. Check it out here.
In downtown Estherville a small museum and dedicated marker signals the crashing of the meteorite. A large piece of it is on display for all to see 24/7 from the road.
The meteorite kind of resembles a piece of granite. The unique mix of metals within the meteorite has not been found in any other meteorite in all of history. It's about the circumference of a basketball. It's truly a gem and a unique experience in Iowa.
Cost: free!
Location: 814 E Central Ave, Estherville, IA 51334. The museum is in the building nearest the outdoor display, next to the insurance business.
Enjoy coffee with friends at Central Perk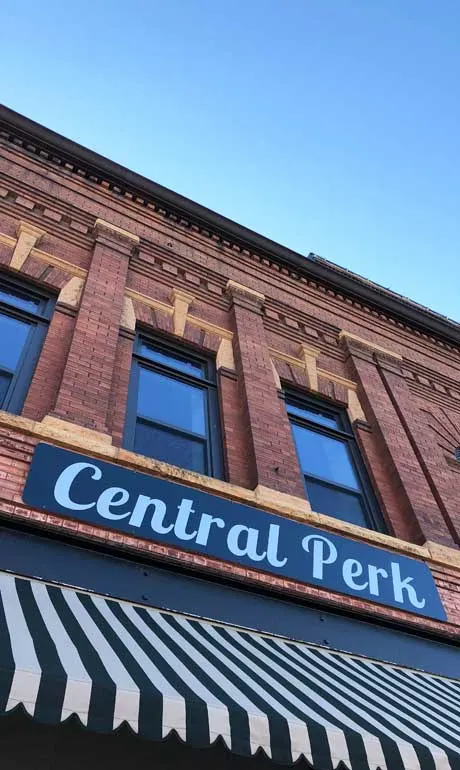 Central Perk is the one and only coffee shop in town. Stop in for breakfast pastries, a full lunch, ice cream or anything in between. It's large enough to get a good lunch crowd and offers a convenient drive-through option. Make sure to check out their baked goods – you won't regret it!
Central Perk is located in a historic building in town that's been refurbished to resemble it's glory days. More info here.
Cost: varies
Location: 12 S 6th St A, Estherville, IA 51334
Related reads:
15 Things to Pack on a Road trip with Kids
10 Tips for Your Best Vacation Ever
45 Signs You Need a Vacation
Classic drive-in movie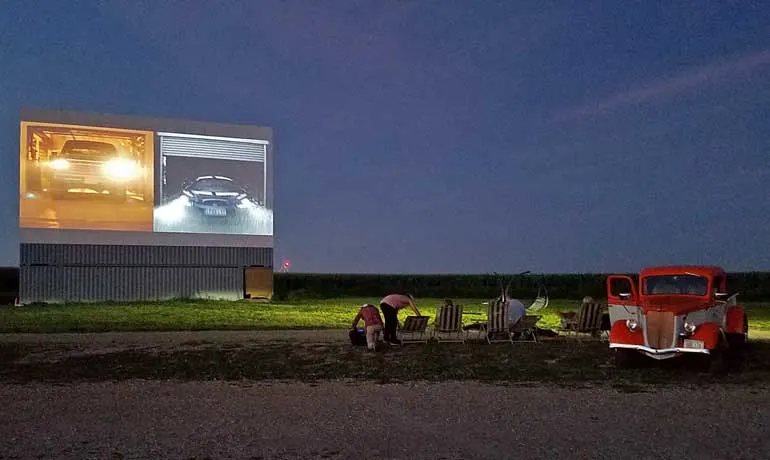 Drive-in movies are making a comeback! Near Esterville, Iowa is an outdoor movie theater with not 1 but 2 large screens. And bonus – they're playing new movies!
Pick a night in the summer and hang out at the drive-in movie theater. Grab the family or your date and a seat under the stars. Bonus: their outdoor concession stand has a good selection when you get hungry.
Cost: Adults and teens, $8. Kids 5-12, $4. Kids 4 and under are free
Location: 1482 300th Ave, Spirit Lake, IA 51360 More info here
Bed and breakfast (and winery)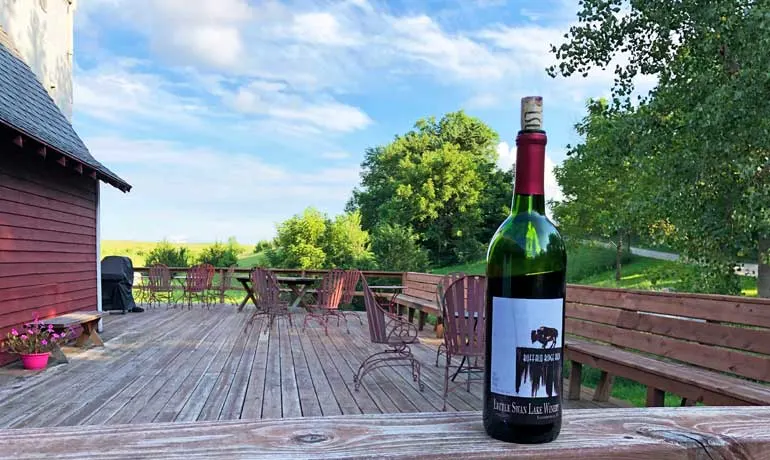 Built on a farm right outside of Estherville is Little Swan Lake Winery. Prepare yourself! This cute, rustic location is a barn where the owner literally had to build a new home for his horse to make room for the wine. #priorities
They also have live music on a Thursday night, Saturday night and Sunday afternoons. The acoustics in the barn are phenomenal!
You can rent various packages at the bed-and-breakfast at Little Swan Lake Winery. You'll be able to wake up in the morning and have coffee on your balcony overlooking Little Swan Lake and farmland. Including buffalo! You'll be able to go to sleep at night, hearing the sound of nature and really nothing else.
Cost: varies
Location: 1350 320th Ave Superior, Iowa More info here
Read next: Best Iowa Bed and Breakfast (a hidden treasure in the Midwest)
More things to do in Estherville, Iowa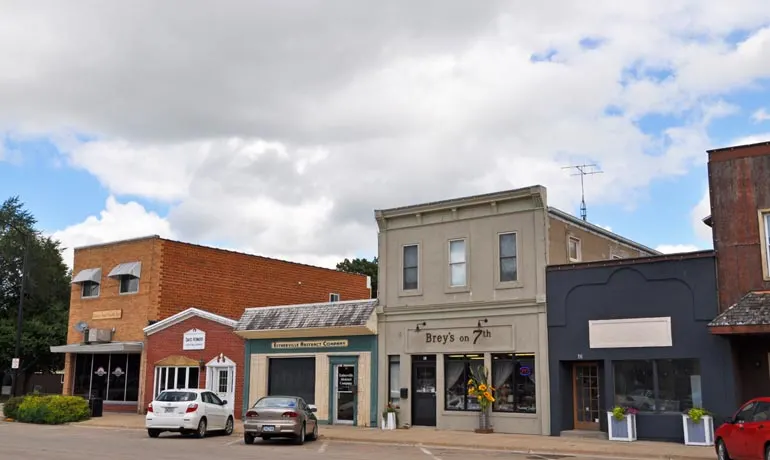 Visit during their annual Sweet Corn Days
Yes, it's a festival all about sweet corn! You might not be able to get more Midwestern than that, but it's a corny good time. (Sorry, had to!)
The whole town comes out to celebrate during a 3-day festival. Highlights include: burning of the cobs, a sweet cars cruise, corn dog races, live music, sweet corn days parade and of course, feast on free sweet corn.
The festival is usually held at the end of summer. More info here.
Cost: most activities are free!
Location: varies
Fright Hike is a scary-good time
That's right! The city of Estherville hosts a Fright Hike at Fort Defiance State Park. The woods are transformed to a haunted forest with dozens of volunteers just waiting to scare everyone who dares to pass by.
There's a kid-friendly hour before it gets dark where younger kids can have a similar experience without the pitch black terror that ensues at night time. Over 1,100 people go out to the spooky woods to enjoy a good time the Saturday before Halloween.
Cost: $5 per person
Location: Fort Defiance State Park, 175th St, Estherville, IA 51334 More info here
Estherville, Iowa: small-town vibe, big adventures
Before I wrap this up I have to say that the people of Estherville were some of the kindest people I've ever met. They are thoughtful, funny and genuine. I was welcomed with a friendly smile pretty much everywhere.
So usually you don't think of the Midwest as adventure destination, but have you been surprised by Estherville? Comment below. 🙂
If you enjoyed this article, share it with a friend or pin it for later!
Thank you to the Estherville Chamber of Commerce for hosting me! As always, all opinions are my own.