It's a place that's truly indescribable. These Glacier National Park hikes will take your breath away in the best way possible.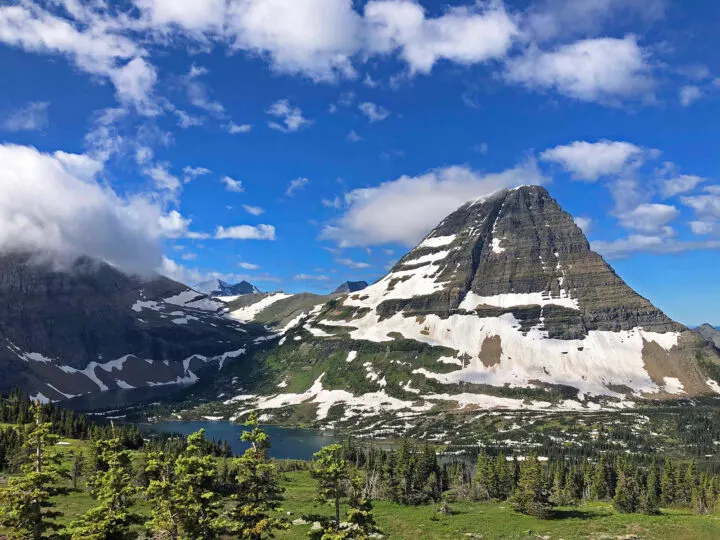 This post may contain affiliate links. For more info, see my disclosures.
Nicknamed the Crown of the Continent, it's a place unlike any other. Alpine lakes meet rugged mountains soaring up to the sky. Every hiking trail in Glacier National Park is unique and offers a whole new way to experience the park.
Choosing the best hikes in Glacier National Park
With dozens of trails to explore in Glacier National Park in northern Montana, this guide will get right down to the best ones. These hiking trails all promise spectacular views!
The list of trails below are all in the easy or moderate category, according to the National Park Service. I did have 2 young – but tough – kids with me so all these hiking trails are 5 miles or less.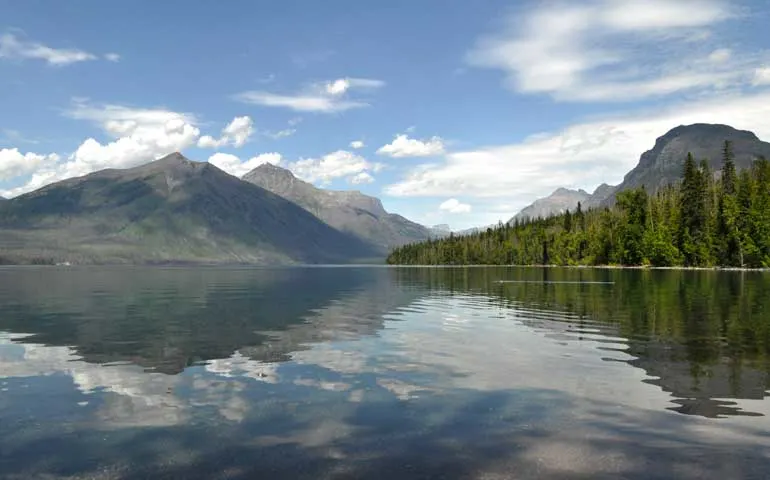 Tips for hiking Glacier National Park:
Carry bear spray. And a bear bell. And be on the lookout at all times. Read more about bear safety here.
Check Glacier's official website for when the Going-to-the-Sun road fully opens. Most hikes are along this road, and your best trip to Glacier includes this road being open! (It's usually mid-July before the road opens.)
Get a park map when you enter the park and stop by the visitor center to see which trails are closed. It can vary by the day!
Pack your water shoes! There's many lakes, streams and waterfalls you can dip your toes into and enjoy the refreshing water. These are my favorite water shoes and they work perfectly for Glacier!
Take plenty of food, water and bug spray with you. Services are limited in the park.
Okay, okay. I could go on with the tips but let's get to the trails!
Note: all trail distances below are round trip.
Best hikes in Glacier National Park
Hiking is one of the top things to do in Glacier National Park! It's a surreal experience to see Mother Nature at her finest. Let's dive in…
Avalanche Lake Trail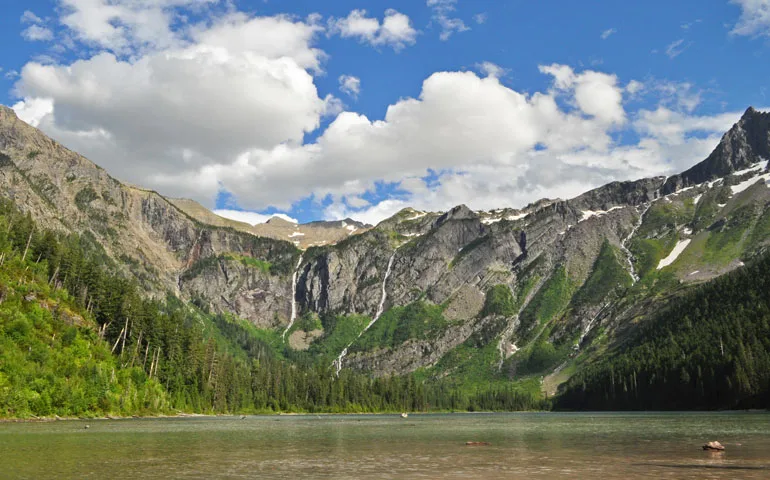 Hiking distance: 4.6 miles
Difficulty rating: moderate
Recommended shoes: hiking shoes (+ pack water shoes)
Starting with one of most popular hikes first – because it's that spectacular! The trail to Avalanche Lake in Glacier National Park starts out flat and then starts to climb. You'll walk along a beautiful stream of turquoise water for a good chunk of the trail, which is fun for photo ops.
Avalanche Lake Trail in Glacier is the perfect trail for hot days, as almost 100% of the time you're in the shade. The terrain is mostly dirt, tree roots and some rocks. Good hiking shoes will support your ankles as you navigate over the tree roots and rocks. These are the ones I wore, from Amazon.
It seems like it takes forever to reach the lake, but when you finally do you'll be rewarded with a stunning scene. Lush waterfalls cascade down a backdrop of picturesque mountains.
The teal water is inviting and refreshing. There's plenty of places along the shore to sit, relax and have a snack.
You'll want to hang out for awhile and enjoy the views. Put your water shoes on and enjoy the lake, too!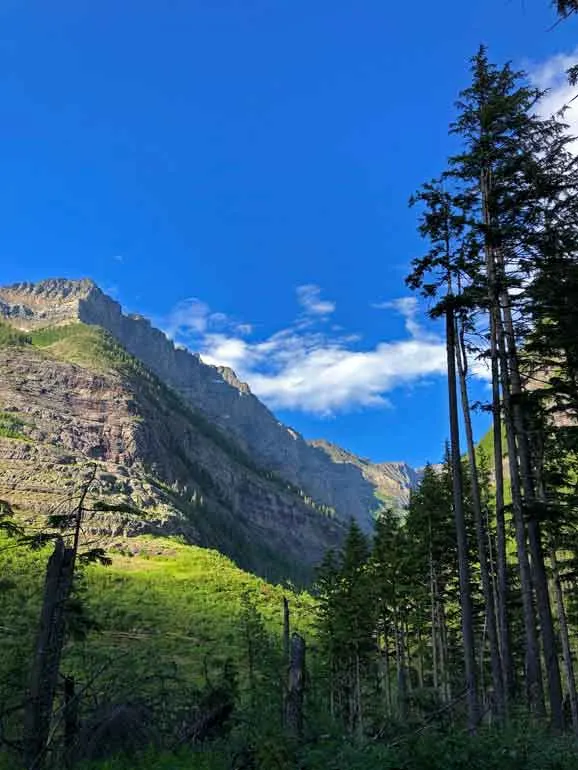 Avalanche Lake in Glacier National Park was definitely one of my favorites hikes! If you only have time to do a couple of trails in Glacier National Park, make sure this one is on your list!
Pro tip: the parking areas around Avalanche Lake Trail fill up early during peak travel season. Plan to arrive at the trailhead by 7:30 am or after noon. We did this as an afternoon hike, and despite lots of signs saying the parking lot was full, we managed to find a spot by taking a few laps.
Related: 28 Absolute Best National Parks to Visit in Summer
Trail of the Cedars (easiest hiking Glacier National Park)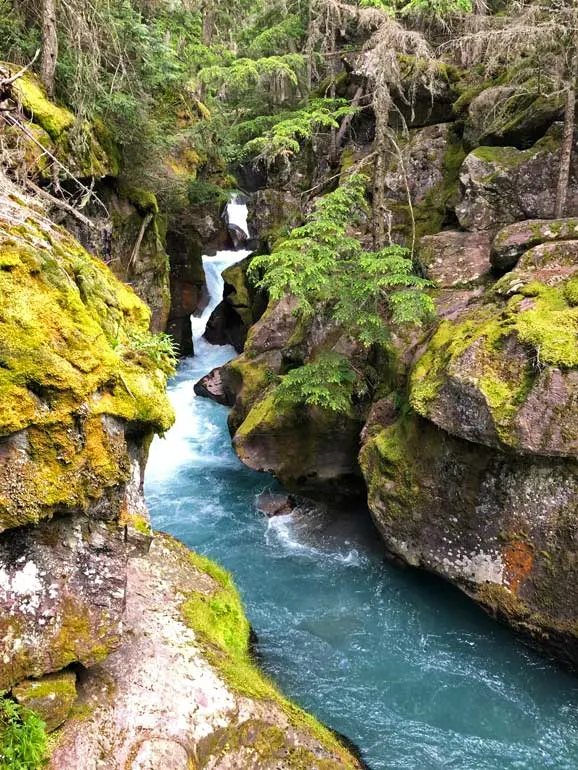 Trail distance: .9 miles
Difficulty rating: easy
Recommended shoes: athletic shoes or hiking shoes
Trail of the Cedars in Glacier National Park is an easy trail that's accessible for most anyone. It's a relatively flat trail that meanders through tall cedar trees along a dirt and boardwalk path.
The trees above are tall and mighty – until they're not! There's downed trees along this trail, one of which is on display for a closer look. It's cool to see the underside of tree roots, which was a sight my kids were fascinated with.
The feature of this trail is the most vibrant and colorful stream I've ever seen in my life. The contrast of the teal water against the mossy riverbed is one you absolutely cannot miss!
This trail is a loop, and if you veer off the loop near the stream you'll connect up with the Avalanche Lake Trail.
Sun Point Glacier National Park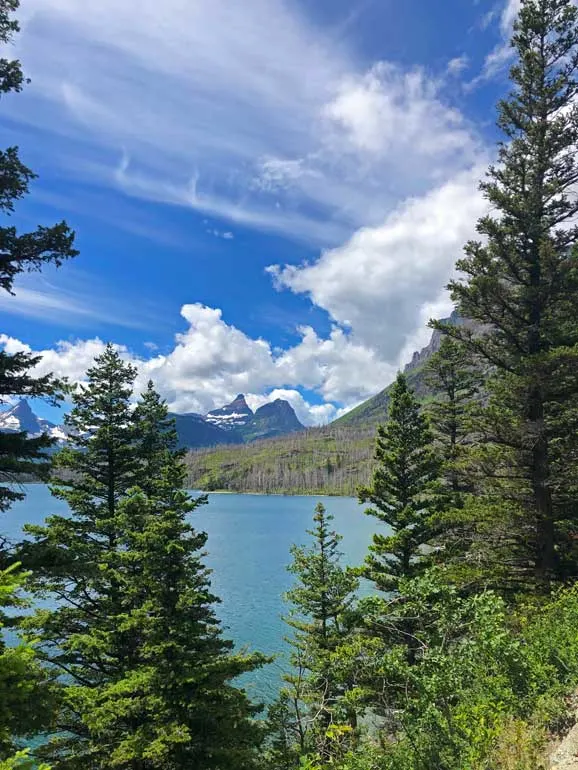 Trail distance: .4 miles
Difficulty rating: easy
Recommended shoes: athletic shoes or hiking shoes
Sun Point surprised me in a good way! It's a great spot for a picnic and a short hike to see 360 degree views of Glacier National Park.
The hike from the parking area is somewhat steep but pretty short, making it a good addition to a hiking day or a great stop while driving the Going-to-the-Sun road.
The terrain on the trail to Sun Point is mostly dirt and some rock. The mosquitoes are thick on this trail! Good thing it's short. 😉
Reach the top of the summit and capture unforgettable views of Saint Mary Lake! The teal water is stunning and almost surrounds you. It's a gorgeous view of the park.
Pro tip: Park here and plan to hike to Sun Point and Baring Falls (up next). The trails are connected and it's a beautiful walk.
You might also like: 10 Best Hikes in Canyonlands National Park that Promise Incredible Views
Baring Falls Glacier National Park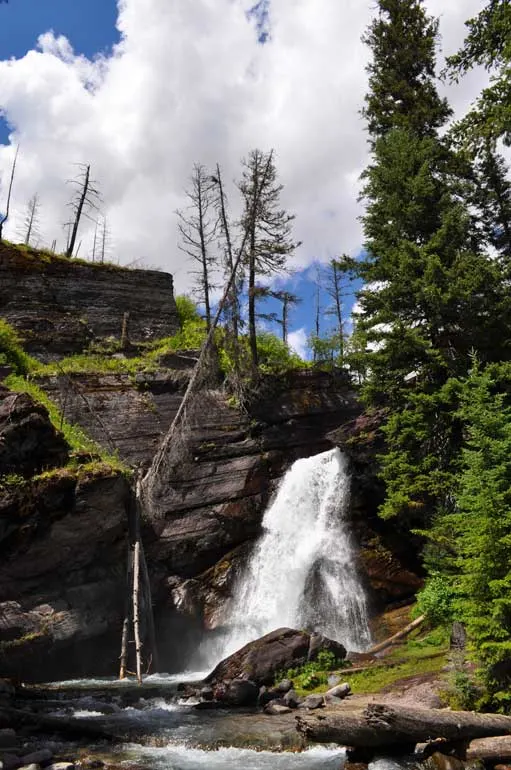 Trail distance: .6 or 2.4 miles, depending on where you park
Difficulty rating: easy
Recommended shoes: athletic shoes or hiking shoes (+ pack water shoes)
Baring Falls hike in Glacier National Park was one I'll always remember! We actually hiked this from the parking lot near Sun Point, which was 2.4 miles round trip. If you park at Sunrift Gorge it's significantly shorter.
However, some of my favorite photos of this majestic park were walking Sun Point to Baring Falls. The trail goes alongside Saint Mary Lake almost the entire way and the views are endless. It's definitely one of the best hiking trails for beginner hikers.
The teal color of the water contrasting against the mountains was beautiful, but then add in the white and black burnt trees from a forest fire and the new, blooming life on the forest floor was simply gorgeous!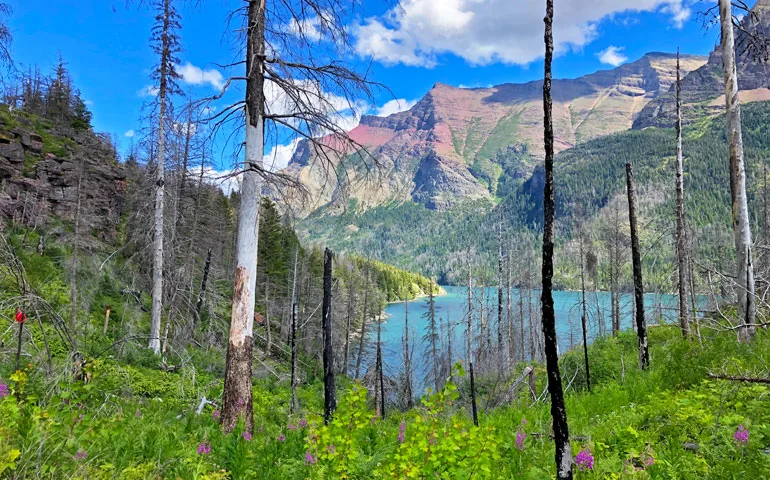 The trail along the lake is a bit narrow at times and a little tricky to navigate passing others. However, once the trail goes more inland as you reach Baring Falls, it gets a little smoother.
Once you arrive at the falls, grab a seat and enjoy it for a bit! These falls are powerful and fast. Go close to the falls to grab a photo or enjoy the cool air coming off the falls from a distance.
Pro tip: Go slightly past the falls and arrive at Saint Mary Lake. Bring your water shoes and take a cool dip in the water!
Saint Mary Falls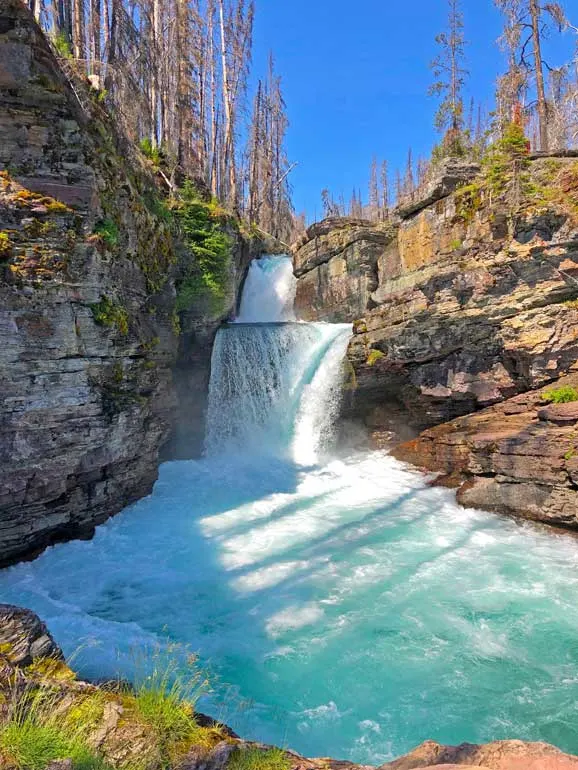 Trail distance: 2.2 miles
Difficulty rating: easy
Recommended shoes: athletic shoes or hiking shoes
Get ready for some eye candy at this one! Saint Mary Falls is the purest teal color I witnessed in all of Glacier National Park.
The trail to the falls is a narrow dirt path with limited views. It's honestly pretty uneventful, yet beautiful at the same time. This part of the forest was burned in recent years so it's experiencing new growth. The wild flowers are really pretty against the stark burnt trees and blue sky.
As you approach the falls you'll see the river coming from the falls and if you stop before you reach the bridge you'll get a good vantage point of the Saint Mary Falls. Continue closer for the vibrant blues, similar to what you'd see at my favorite Caribbean island chain!
There's shady spots on the cliffs near the falls – perfect spot for lunch or a snack. Descend on the rocks next to the bridge for a unique angle of the falls, and a breath of fresh cool air!
My family did see people jumping from the bridge down into the water to swim. I'm not sure I'd be brave enough but it looked like they were having fun!
Related: Packing for a Day Hike: 20+ Essentials You Don't Want to Forget
Virginia Falls Trail (my favorite Glacier National Park hikes)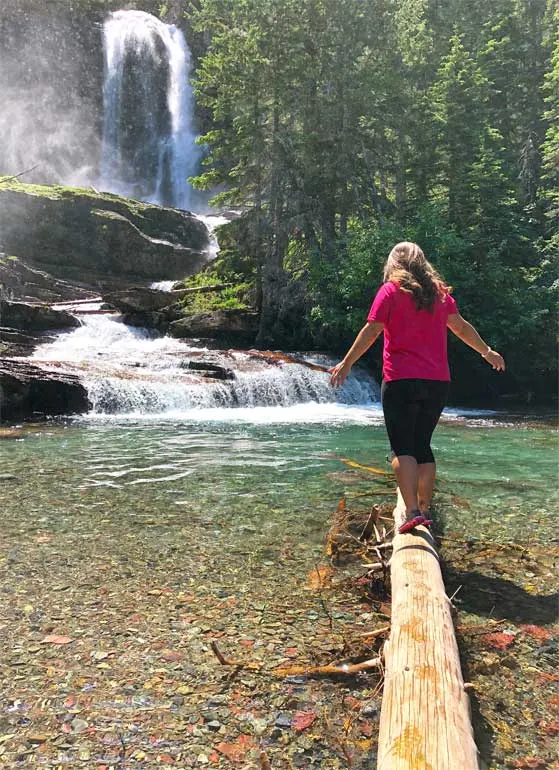 Trail distance: 3.6 miles
Difficulty rating: moderate
Recommended shoes: hiking shoes (+ pack water shoes)
This trail actually continues on after Saint Mary Falls. I'm considering it a separate hike based on the difficulty and accessibility. After you pass Saint Mary Falls, the path becomes steeper and more challenging.
Various tree roots, rocks and even a couple of small streams are obstacles along the trail. Sturdy hiking shoes are definitely recommended on this trail.
The hike has an upper Virginia Falls and a lower Virginia Falls – which is a bonus! Some of the best waterfalls in Glacier National Park are in this area, so you're in for a real treat!
This part of the forest was really dense and lush with greenery. We didn't experience as many mosquitos on this hike – but instead traded them in for large flies! They were a nuisance during the trail but the hike was 100% worth it.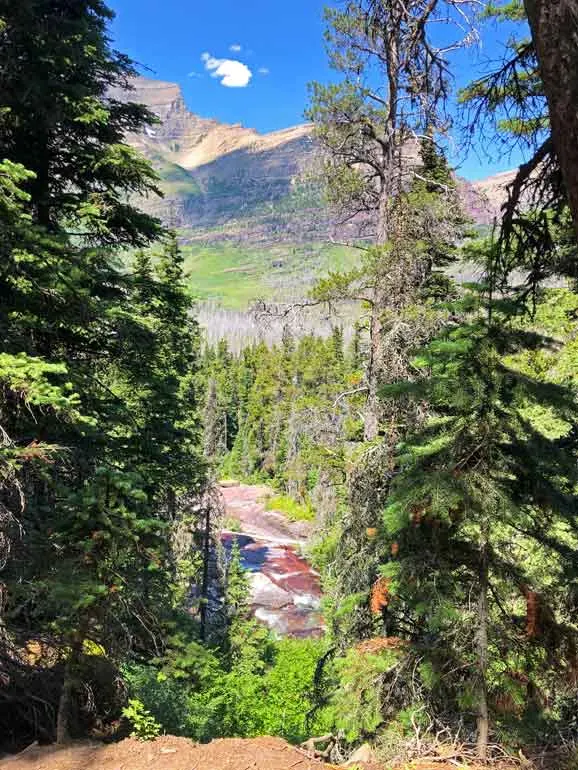 Once we got to upper falls, the fun really began! There's a section you can climb to stand close to grab a pic a and get drenched from the frigid mist!
Or take a seat a bit lower and have a snack or lunch. Listen to the roar of the water and the power of the falls.
A bit lower yet (back on the trail) go down to the pool and swap out the hiking shoes for water shoes! Take a swim or dip your feet in. It's a great spot to skip rocks or climb logs in the water.
This is a great spot for a fun afternoon in the water – and a nice reward for the hike up! There's just something about dipping your feet in fresh mountain water that cools your whole body down, ya know?
Carry your water shoes in your backpack with a light towel. These are the water shoes I swear by and this lightweight towel is super absorbent and even has a hidden pocket for valuables.
Several other people dipped their bare feet in the water but couldn't walk around much. Water shoes are a must on while on hikes in Glacier National Park!
Upper McDonald Falls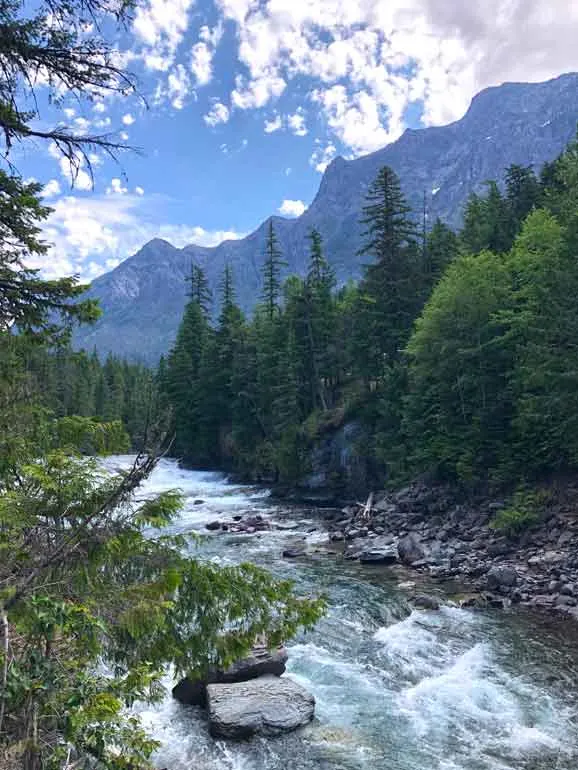 Trail distance: about a mile
Difficulty rating: easy
Recommended shoes: athletic shoes or hiking shoes
Upper McDonald Falls was a little tricky to find based on the map we received from the park service when we arrived at Glacier NP. McDonald Creek Trail was marked at the falls but it wasn't on the map.
We parked at the Sacred Dancing Cascade, walked the path down to the bridge over the river and hopped on the trial at that point. The Upper McDonald Falls trail walks along the river through dense forest.
At various points you'll be able to see the flowing water as it rushes down the valley. There's plenty of spots to stop and grab a pic or just enjoy the sound of the fresh mountain water.
The highlight of this hike is the McDonald Falls. Shortly thereafter the trail veers off the river and leads you to a parking lot. So just turn back after you see the big falls.
Pro tip: slather yourself in bug spray! My kids nicknamed this trail mosquito forest because we were eaten alive! We had applied bug spray before we hopped on the trail and multiple times during this short hike.
Another epic hiking adventure: Hiking Waimea Canyon Trail in Kauai (a complete guide)
Hidden Lake Glacier National Park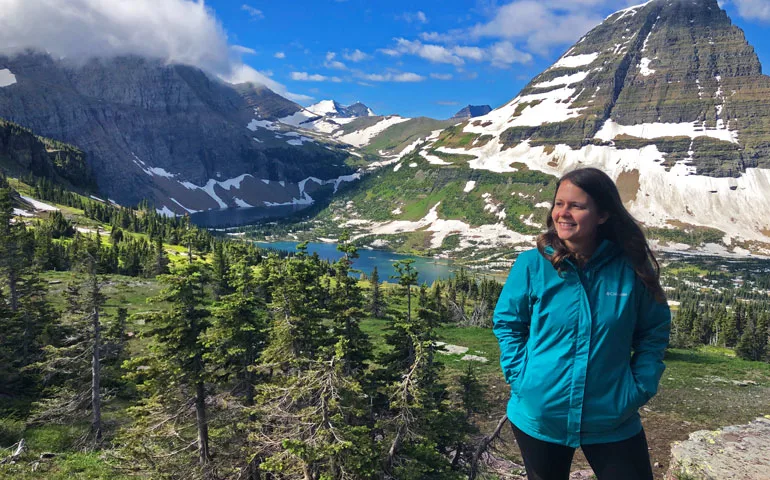 Trail distance: to overlook – 2.6, full trail – 5.0 miles
Difficulty rating: moderate to overlook, difficult to the lake
Recommended shoes: hiking shoes – 100%
Saved the best for last! Okay, I can't say it was the BEST because they were really all awesome. But this was my husband's favorite trail.
Starting from the visitor center at Logan Pass, this trail climbs! It's one of the highest elevations in the park and it's stunning!
Because of the high elevation, it's very likely that you'll have to walk through snow. The melting snow lasts through July and often August, so plan ahead and wear your best, waterproof hiking shoes. This is one of the paths I wish we would have brought trekking poles as well.
The snow is slippery and steep, which is part of the fun of the hike. It's quite rewarding to get to the Hidden Lake overlook. This was also one of the only trails we saw mountain goats on. We saw several goats, some of which were very close and others we used binoculars to see.
About 1.3 miles from the visitor center is the overlook. We wanted to hike all the way down to the lake but the trail past the overlook was closed due to heavy bear activity.
The overlook is fantastic! The lake and backdrop looks like a picture from a storybook, or maybe even a movie set.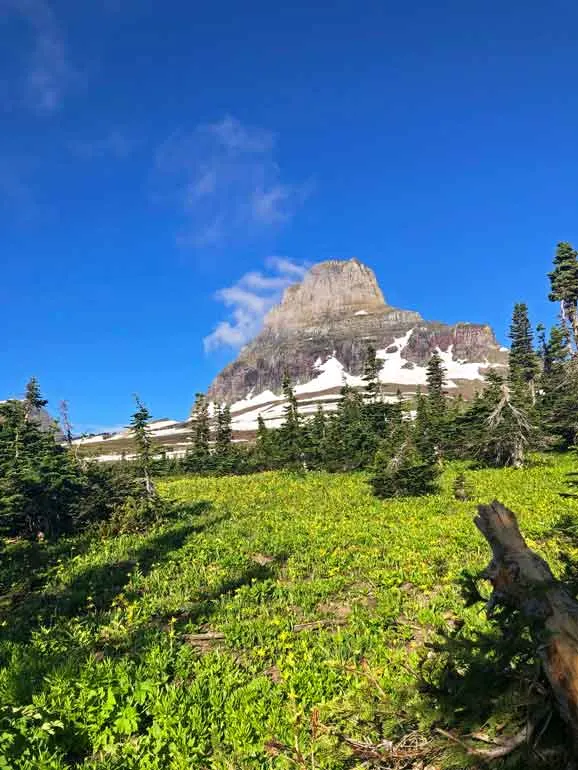 This was one of the busier trails we hiked, and the overlook can get a bit crowded. But if you go a little further down the hill you can find a good spot to sit and enjoy the view. It's the perfect spot for a snack or to watch the wildlife.
Pro tip: pack layers for this hike! My whole family was various levels of hot and cold based on the altitude, activity, sun and wind, even in the hottest months of summer.
There you have it – 8 stunning hikes in Glacier National Park
I'm so glad you're planning (or considering!) a trip to this magical place. I've traveled many places all over the world, and this is seriously one of the most stunning landscapes I've ever seen.
I'm already planning a return trip to Glacier NP!
Alright I want to know – which hike would you start with? Comment below!
Find this post helpful? Save it for later or share it on social media now.