It's as incredible as it looks in photos! Arches National Park is one of the most unique places in the USA and the best way to see it is on foot! After spending a week on these trails, I've seen nearly the entire park. These are the very best Arches National Park hikes.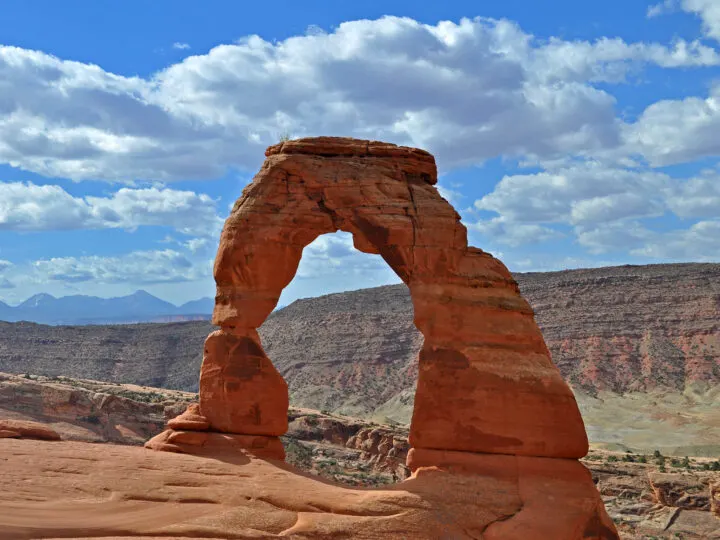 This post may contain affiliate links. For more info, see my disclosures.
With 1.5 million visitors to this park each year, it's definitely a bucket list check for many of Americans, and visitors around the world! Hiking this spectacular site is fun, challenging (at times) and extremely rewarding.
I'm excited for your adventure to begin!
But first, let's go over a few things that will make your trip more enjoyable.
Tips for Hiking in Arches National Park
Get to the park early! From 10am to 4pm seemed to be the peak hours for the park. You'll appreciate less crowds if you get to the park early – before 8:00am during the summer. The weather will be cooler, too!
It's free after 5pm. If you decide to do a sunset tour of the park, it's free to enter. I found there were less visitors and really enjoyed evening hikes.
Water, water, water. Especially if you're visiting between April to September, when the desert heat and sun can get really intense. Bring lots of water and store some in a cooler in your car and refill before each hike.
Sunblock and a sun hat. There's very little shade at Arches National Park so do your best to protect yourself from the sun.
Follow the cairns, which are stacked rocks. For the trails that aren't paved or super obvious, follow the rocks to lead the way.
Expect people. So many people that when the parking lots are full, the park service closes the entrance. Some trails are always busy so you could try to time those in off-peak hours.
Alright already, let's get to it!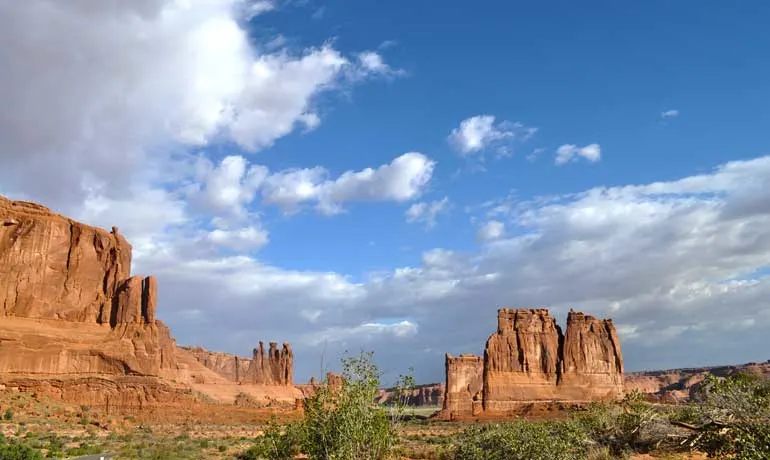 Aches National Park Hikes
Some of the hiking trails below take you past several arches, while others are more spaced out. With over 2,000 arches in Arches National Park, you'll likely get a glimpse of bonus arches on your route to the featured arches.
Delicate Arch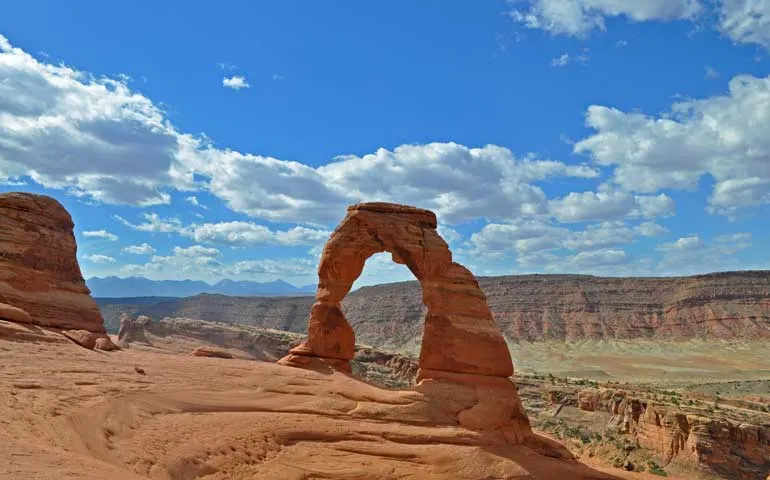 Hike distance: 3.0 miles
Hike time: 1.5-2 hours
Difficulty rating: difficult
Best time to hike: sunrise is spectacular!
By far the most popular of the Arches National Park hikes, this one is one of the most challenging on this list, surprisingly! It's the arch that's on the Utah license plate, and one of the most visited arches in the world.
The trail is steep and much of it is going over slick rock, making it impossible when snowy or wet. Plus the very last bit of the hike the path is very narrow with a steep drop-off. I honestly wouldn't recommend it with young children.
Hiking shoes with good traction are recommended on this hike! I saw lots of people in sandals and the 3-mile trek would have been even more difficult. These are the hiking boots I wore and worked fantastic! Super grippy. 🙂
But when you finally arrive at the dome it's 100% worth the climb! The views of this arch are stunning and the dome it's in is quite dramatic, too.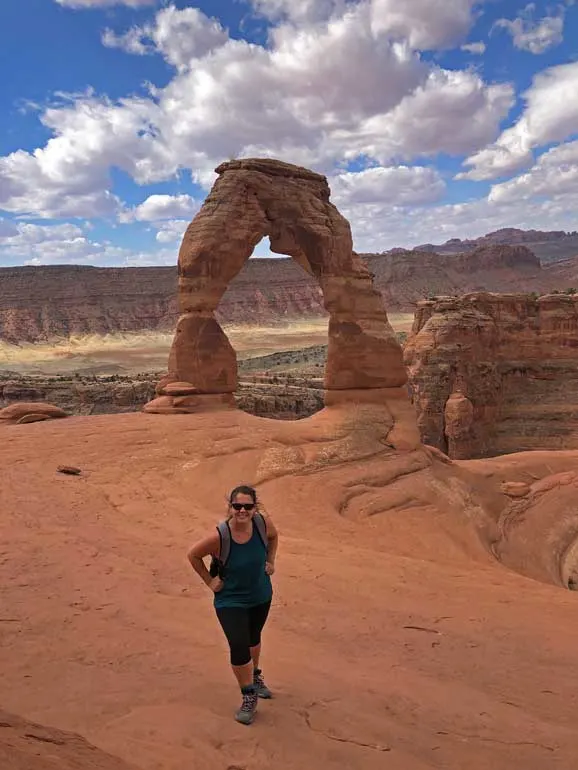 Most people are pretty good about being patient taking photos under the arch, giving each person or family a chance to have their moment. The arch is sort of on a cliff, so just use caution and hold onto kids. 🙂
Pro tip: there's a smaller arch that sits up high alongside the cliff just before you get to Delicate Arch. If you can climb up to it, the views from that arch to Delicate are really cool. (Pic above!)
Read next: 30 Things to Do in Moab, Utah That Are Actually Cool
Broken Arch (one of my favorite Arches National Park hikes)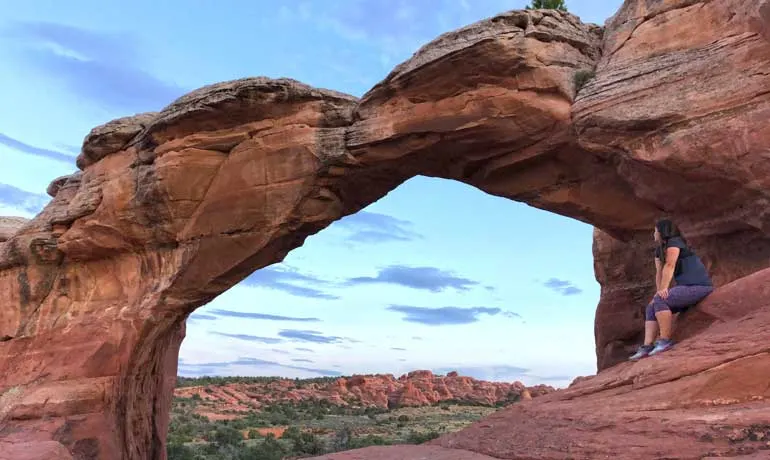 Hike distance: 1.3 miles
Hike time: 30 minutes – 1 hour
Difficulty rating: easy
Best time to hike: anytime
I chose this as a sunset hike and couldn't have timed it better. I was the only one on the trail and had the arch all to myself!
Broken Arch is unique for a couple reasons. The first is the split at the top of the arch gives this arch it's name. It's also a very wide arch and the trail goes right through it.
Who doesn't like hiking through an arch?
Anyway, the trail to this arch is relatively flat and easy-going. There's stunning rock formations along the path, which makes the hike more interesting than most other trails.
Sand Dune Arch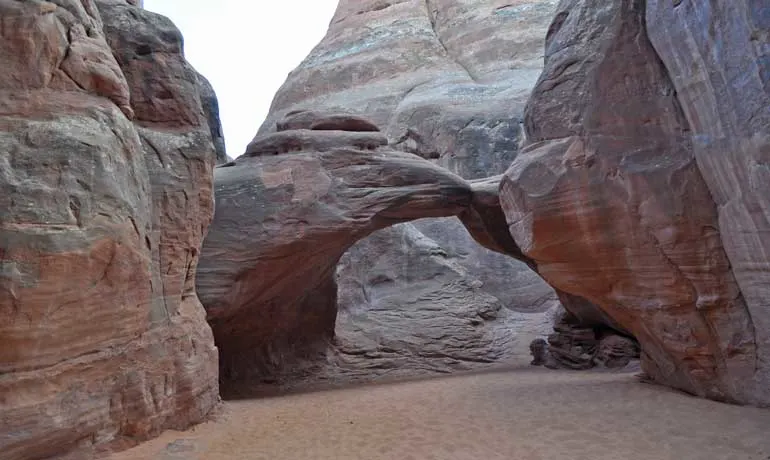 Hike distance: .3 miles
Hike time: 15 – 30 minutes
Difficulty rating: easy
Best time to hike: anytime
I'd actually consider this more of a short walk than a hike, but it's an easy enough one. This trail is perfect for mid-day heat. It's stuffed inside a canyon and well shaded.
Just like it's name indicates, the base of the arch – and the surrounding area – is all sand. So if it's perfect for little kids to play in, too. The walk to the arch is sandy too and the trail is kind of tight at times. But it feels very adventurous!
If you're the type that enjoys scrambling rock, venture on past the arch and climb the large rocks. You'll find a cool cove with excellent views of the park. Use caution though: it requires skill to get up and down from there!
(Let's talk about how I got stuck on a boulder another time, okay?)
The Windows Arches and Trail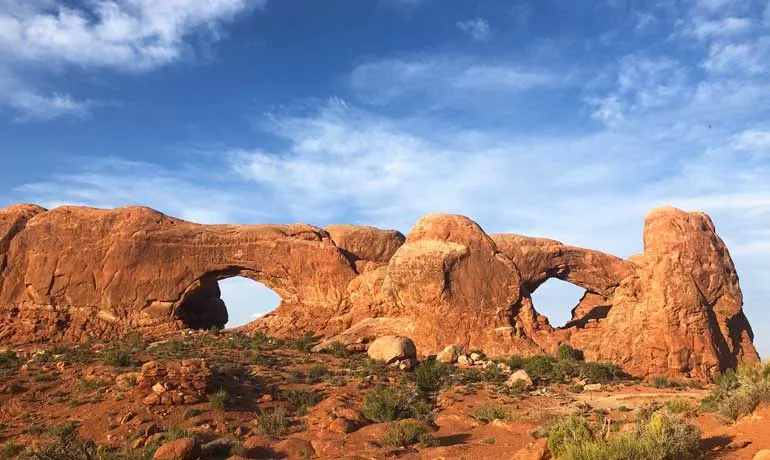 Hike distance: 1 mile
Hike time: 30 minutes to 1.5 hours
Difficulty rating: easy
Best time to hike: anytime
This was actually my favorite section of the park because it was packed with arches. If you only have one day in Arches National Park, be sure to include this on your list!
The trail to these arches are pretty structured and well marked. Concrete and easy steps make it a pretty smooth walk.
North Window Arch and Turret Arch are both fun and somewhat easy to climb. If you go under the arch and through them, you'll get a different perspective of the arches than by just standing at the base.
Take your time at this area of the park – there's so much to see! The middle of the arches are often quite windy so use caution as you climb through them, but it's super fun to explore the insides of the arches.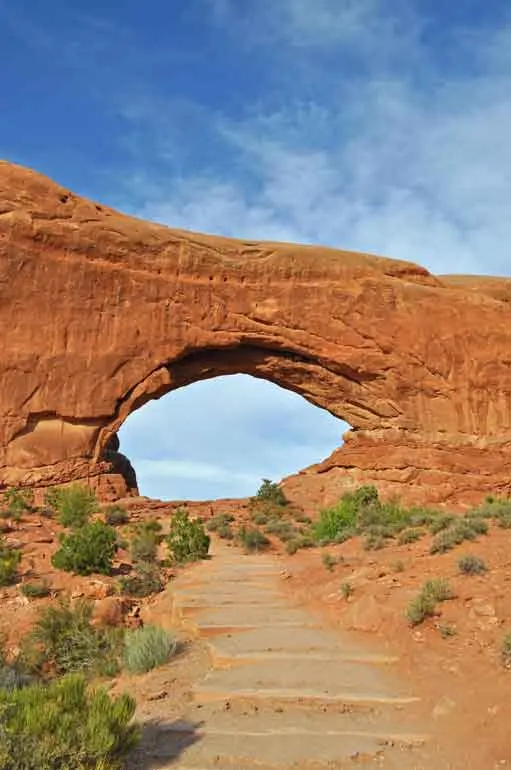 Each arch is unique: North Window was wide and mighty. South window was taller and in a cove. Turrets was connected to other magnificent rocks, like a trail leading straight to it.
Pro tip: If you have limited time at the park, make sure The Windows is one of your stops. It's worth it!
Double Arch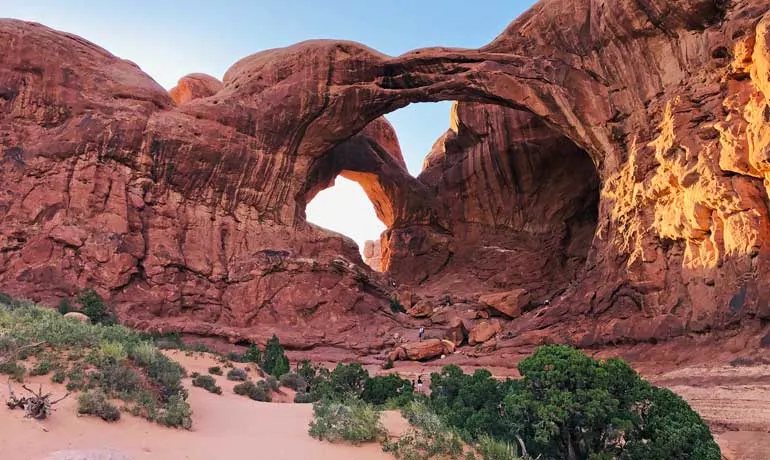 Hike distance: .5
Hike time: 15 – 30 minutes
Difficulty rating: easy
Best time to hike: anytime
Double Arch is one of the most impressive arches in the park. One of the largest you can climb through and explore, this massive set of arches is a must-see.
Located near the windows section of the park, this is one of the easiest Arches National Park hikes and adds to the fun of seeing the North Window, South Window and Turret Arch.
This hike is easy with a concrete and dirt trail, accessible for most anyone. Because of the large rock formations surrounding double arch, if you go in the evening there's lots of shade to enjoy as well.
Related read: Best Hikes in Canyonlands National Park that Promise Incredible Views
Best Hikes in Arches National Park: Landscape Arch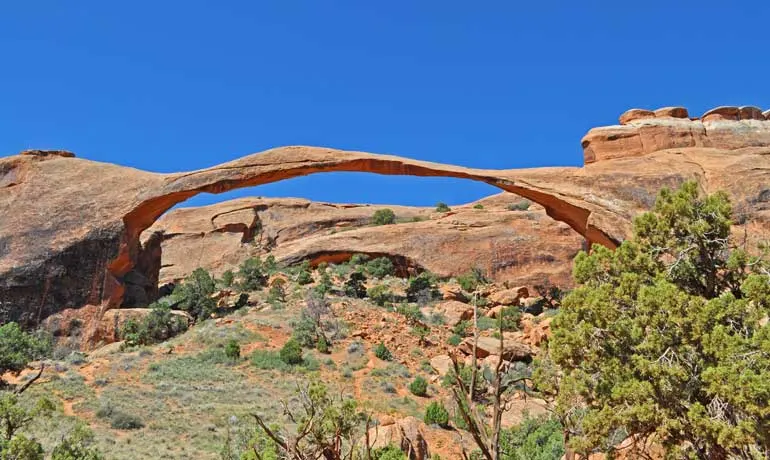 Hike distance: 1.8
Hike time: 30 – 60 minutes
Difficulty rating: easy
Best time to hike: anytime
It's the largest arch in Arches National Park, and honestly you'll wonder how it's still standing. Landscape Arch is one of the most spectacular, defying gravity with it's unique length and size.
It's 306 feet wide and only 11 feet thick, so it's a wonder it's still standing! This is one of the trails that you can't actually walk under the arch, because it's not stable. Part of the arch collapsed in 1991 so it's now closed to visitors.
The trail to Landscape Arch is flat, wide and paved, then the pavement turns to sand as you near the arch. This is an easy hike you won't forget on your visit to Arches National Park!
Devils Garden Loop with 6 arches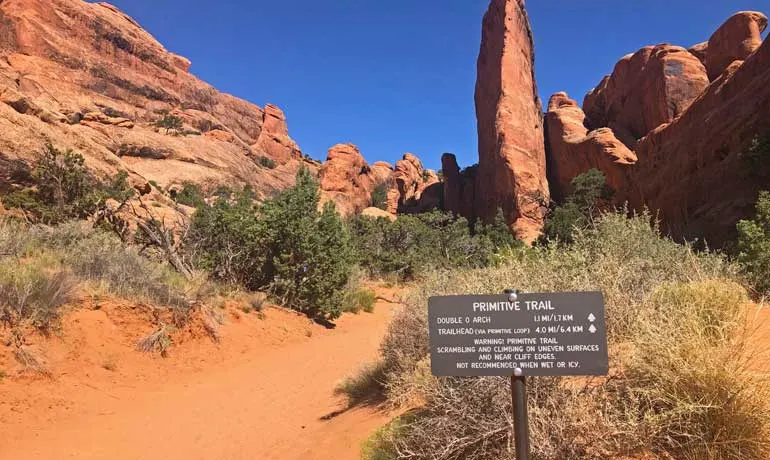 Hike distance: 7.9 miles
Hike time: 3.5 – 4.5 hours
Difficulty rating: difficult
Best time to hike: avoid in snow or rain
Devils Garden trail is a well-known trail in the park, and the longest hike in Arches NP. It's also one of the most difficult. The trail actually starts with an easy hike to Landscape Arch before transitioning to a primitive trail.
You'll need excellent hiking shoes with traction, as scrambling up slick rock is required. You'll go along ledges with steep drop-offs, so it's not for faint of heart!
The loop takes you through incredible scenery while gaining over 1100 feet in elevation! Watch for the stacked rocks (called cairns) as you hike.
The payoff for the difficult hike? Jaw-dropping views and several arches! You'll pass Landscape Arch, Navajo and Partition Arches, Double O Arch, Black Arch (the overlook) and the Dark Angel Arch.
Pro tip: The full Devil's Garden Loop is not for inexperienced hikers or young kids. Make sure you have the right gear with you, and plenty of water.
Hiking the Trail to Pine Tree and Tunnel Arches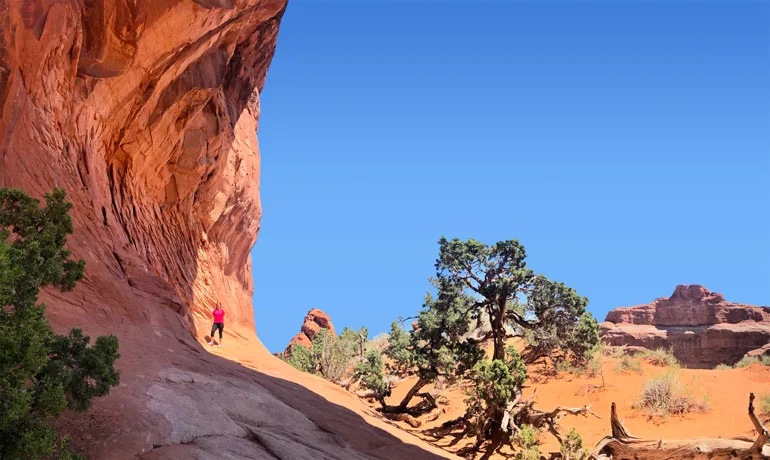 Hike distance: 1.0 miles
Hike time: 30 – 60 minutes
Difficulty rating: easy
Best time to hike: anytime
Okay so this was actually one of my favorite arches! The Pine Tree Arch and Tunnel Arch trail is a spur off the Devil's Garden Trail. You'll hit the turn about 1/2 way to the Landscape Arch.
The trail itself is pretty easy-going, with only an incline after seeing both arches on your way back up to the main trail. It's also highly trafficked so expect lots of people!
Tunnel Arch isn't super interactive – it's high up within the rock and the trial doesn't lead all the way to it. But the stripes in the rock were unique!
My favorite of the 2 is Pine Tree Arch. It's pretty deep so it offers quite a bit of shade – a welcome relief on a hot day!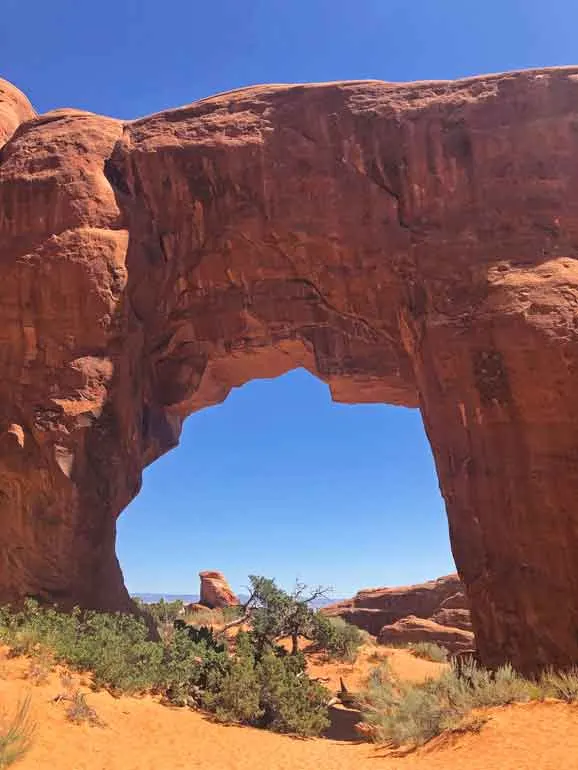 When I arrived at Pine Tree Arch there were about 30 people under and around the arch. But patience is key to achieving a sense of connection with nature at the park, so after waiting about 15 minutes, it cleared out.
If you're hiking to Landscape Arch, this extra trail is well worth your time!
Related: Packing for a Day Hike: 20+ Items Not to Forget!
Skyline Arch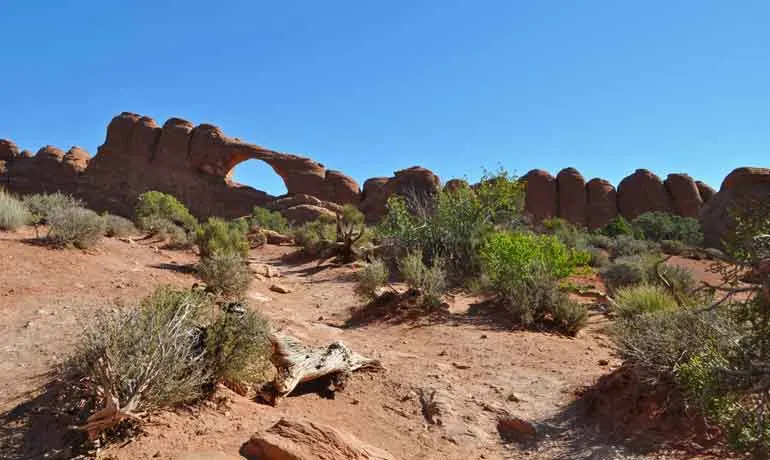 Hike distance: .4 miles
Hike time: 10 – 20 minutes
Difficulty rating: easy
Best time to hike: anytime
The hike to Skyline Arch is more like a short walk. It's easy enough to do in athletic shoes or sandals and doesn't require a lot of effort.
Just like it's name says, the Skyline Arch is above the horizon, and is taller than it looks in this pic above. The slanted arch has a unique history.
Typically arches form over time – thousands of years based on rain and wind. This arch actually changed dramatically and suddenly. In 1940 a gigantic boulder fell out of the left side of Skyline Arch, making the opening about twice the size!
Anyway, a fun little walk to break up a day of hiking!
Fiery Furnace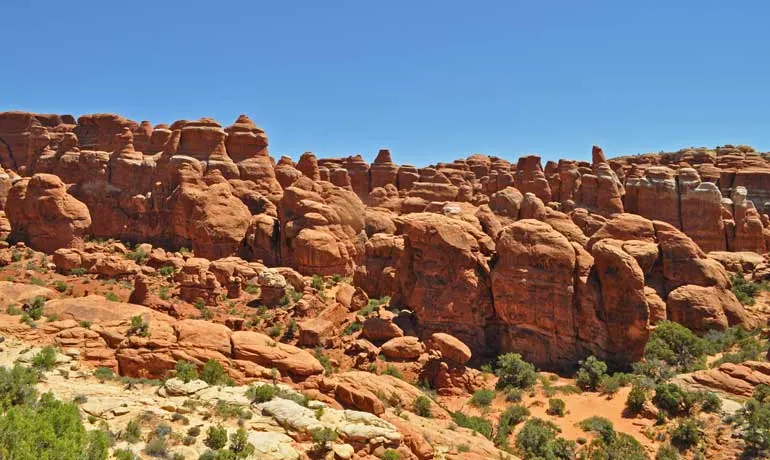 Hike distance: about 2 miles
Hike time: 3-4 hours
Difficulty rating: moderate to difficult
Best time to hike: avoid snow, rain and extremely hot temperatures
Fiery Furnace is an incredible hike, one that many experienced hikers rate as their favorite trail – and not just in Arches National Park! Think narrow sandstone canyons, steep ledges, slick rock, sandy terrain and a maze you'll have to navigate through.
You can hike Fiery Furnace 2 ways: either a permit, reserved in advance. Or via a ranger-led tour.
Permits are sold out weeks in advance to schedule early! I went to Arches National Park on a socially-distanced vacation when services were limited due to COVID-19, so there was no access to Fiery Furnace. Via permit or ranger tour.
But, here's what I learned about hiking Fiery Furnace:
It's a really fun and challenging hike. Be honest with yourself about your skill level before committing to hiking here.
The maze can be extremely disorienting. Go with a group or a ranger-led tour to avoid really getting lost.
White and orange arrows guide the way, but they can be challenging to find.
There are narrow passageways that may require you to squeeze into tight spots.
Finding the Surprise Arch is one of the highlights so be sure not to miss it!
Here's the link to the official site for more info about permits. Good luck!!
Balanced Rock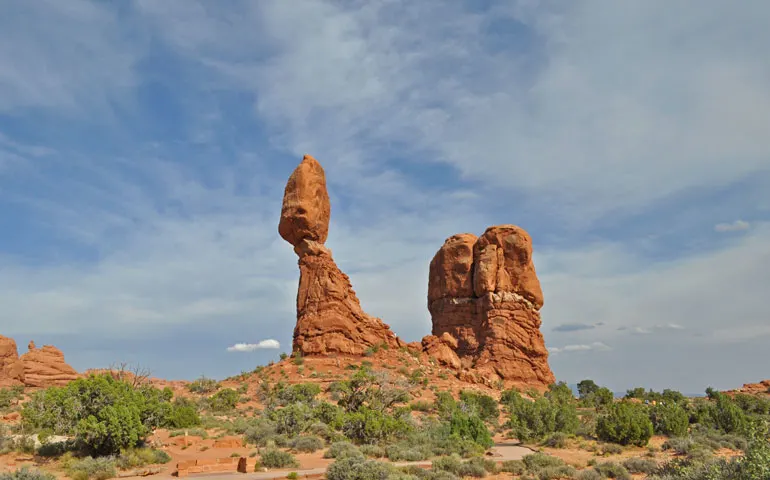 Hike distance: .3 miles
Hike time: 15 – 30 minutes
Difficulty rating: easy
Best time to hike: anytime
You really can't miss Balanced Rock if you're on the scenic drive in Arches National Park. It's right near the road, making it a quick little stop! The trail is paved with very little steps and obstructions, making it perfect for kids, seniors or anyone in a time crunch to see the park.
Balanced Rock is massive in person, and literally looks like it could fall at any moment. Perhaps in the next thousand years, it will! There's a path around the rock to see it from all sides, which is pretty cool.
Park Avenue Trail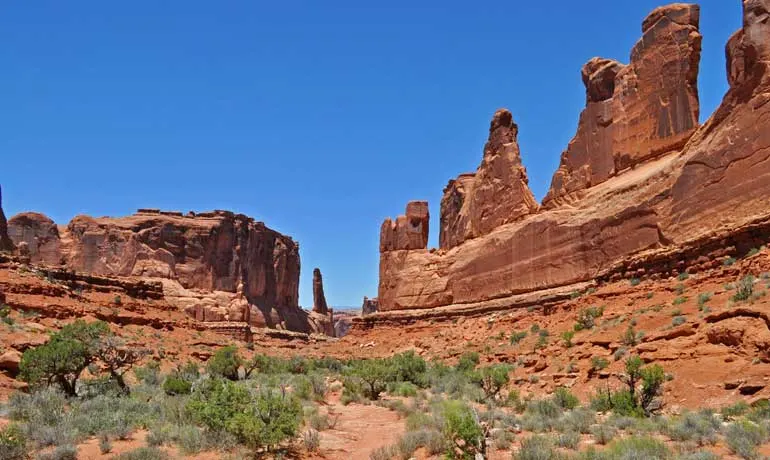 Hike distance: 2 miles
Hike time: 45 minutes – 1 hour
Difficulty rating: moderate
Best time to hike: anytime
I saved the best for last – in my opinion! When looking at all the Arches National Park hikes I got to do during my visit, this one was my favorite. The scenery truly feels out of this world.
There's 2 ways to access this trail: from the Park Avenue Trailhead and from the Courthouse Towers Viewpoint. I thought the views were better descending into the canyon from the Park Avenue Viewpoint, so that's what I'd recommend.
Park Avenue Trail is marked by cairns, and one of the few in Arches National Park that's not at least partially paved. It's more of a true desert hiking experience, similar to what I found to the hikes at Canyonlands National Park.
As you walk through the trail, you'll see the rock 'fins' along the top of the canyon (right side in the pic above). Those fins could turn into arches in time, as a fin is an initial part of the process of an arch forming.
The trail is up-and-back and when you arrive at the 1/2 way point, you'll hit the road and the Courthouse Towers.
Pro tip: pack lots of water (and snacks) on this one if you're hiking in any season but winter. The canyon shields you from the wind to cool you down and there's no shade.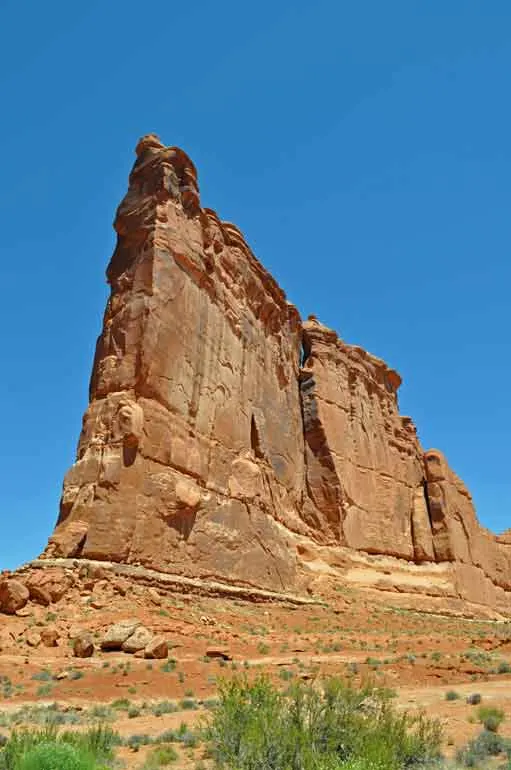 Top Arches National Park Hikes
Well there you have it! There's nothing like hiking and catching amazing views along the way! Hiking in Arches National Park is an adventure. With a new, fun arch to explore along the trails, it really never gets old!
Which arch do you think you'd start with? Comment below!
Related content:
1 Day Itinerary Arches National Park
Discover this Hidden Waterfall: Faux Falls, Moab
28 Absolute Best National Parks to See in Summer
101 Healthy & Fun Road Trip Snacks You'll Love
30 Hiking Trails for Beginners: Top USA Hikes that are Actually Easy
Find this post helpful? Save it for later or share it on social media now.