The United States has some pretty amazing places to visit. Without a doubt, some of the best are within its beloved park system. Let's look at the best national parks to visit in summer!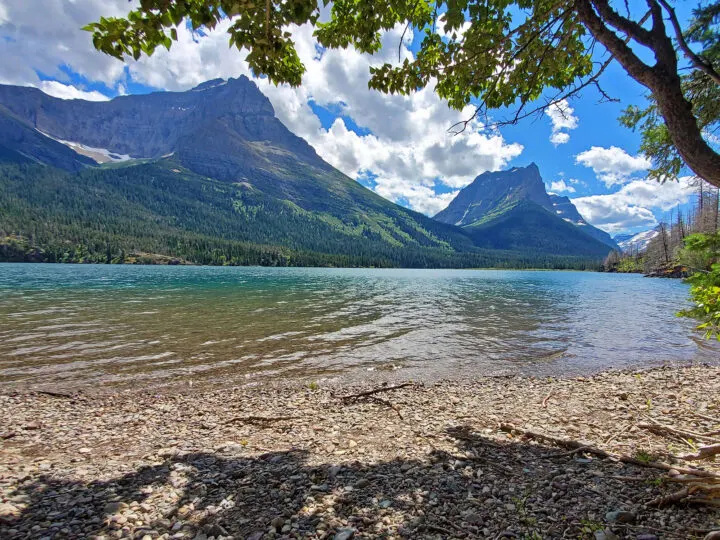 This post may contain affiliate links. For more info, see my disclosures.
Summertime is an awesome time to travel in general. But it's especially a great time to travel to some of the national parks that are closed or impossible to see at other points in the year.
For any outdoor enthusiast, you'll see the best of the best at US national parks. From hiking to sight-seeing, you'll be exploring ancient territories and some of nature's most magnificent creations.
I'll be honest – I've been to a lot of national parks. But I wanted to create a robust list for you, so I asked some of my travel blogging friends to help me compile this mega list.
I hope you enjoy it and find the perfect vacation for you!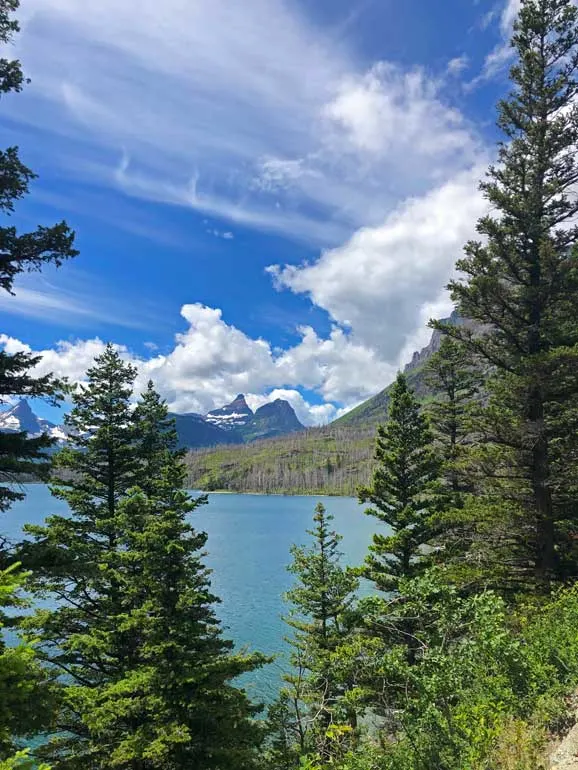 Map of the best national parks to visit in summer
To help you plan your trip, here's a map with all the national parks on this list.

Tips for visiting National Parks in Summer
Real quick, before we get to the list. Here's a guide to what to pack for a day hike, which will come in handy for hiking at any of the parks on this list.
Next, make sure to price out your accommodations early. Summer is a popular time to visit many of the parks on the list, and hotels, vacation rentals and camping sites can sell out quickly.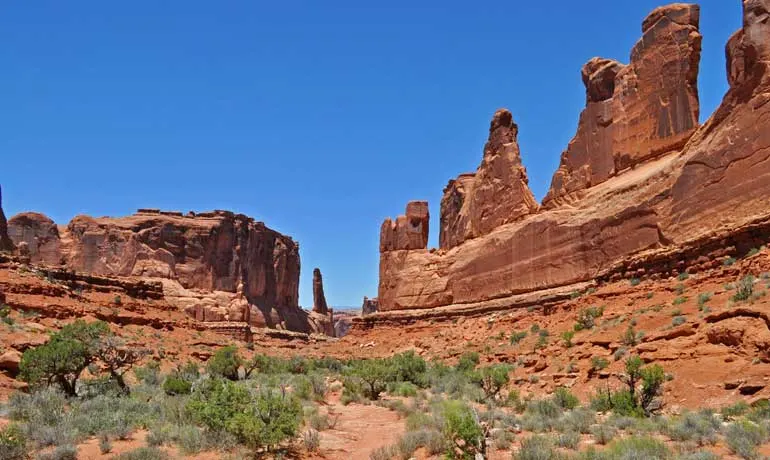 Best National parks to visit during summer
Eeeek! I'm so excited for you. Okay, let's get to the list!
1. Glacier National Park, Montana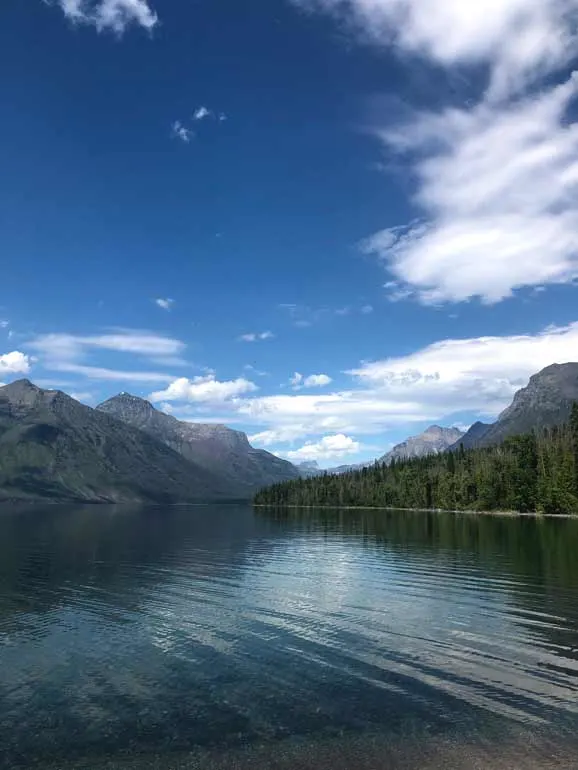 It's been called the crown of the continent for good reason. Glacier National Park in northern Montana is stunning, to put it mildly. With one of the most impressive scenic drives in all of the country, the Going-to-the-Sun Road is a phenomenal drive offering beautiful sights the entire way.
Add in gorgeous alpine lakes and hiking trails for all skill levels, you've got yourself an amazing national park to visit in summer! Because of heavy snowfall, the park doesn't completely open until mid-July, so a trip later summer or even until September is best to see it all.
While I believe every part of Glacier National Park is magical, make sure you get to these top spots:
Hike to Avalanche Lake
Dip your toes in the famous Lake McDonald
Hike the Hidden Lake Trail to the overlook
Check out all the top things to do in Glacier National Park, and the 8 stunning hikes at Glacier National Park.
Recommended by me – Nikki of She Saves She Travels
2. Mount Rainier National Park, Washington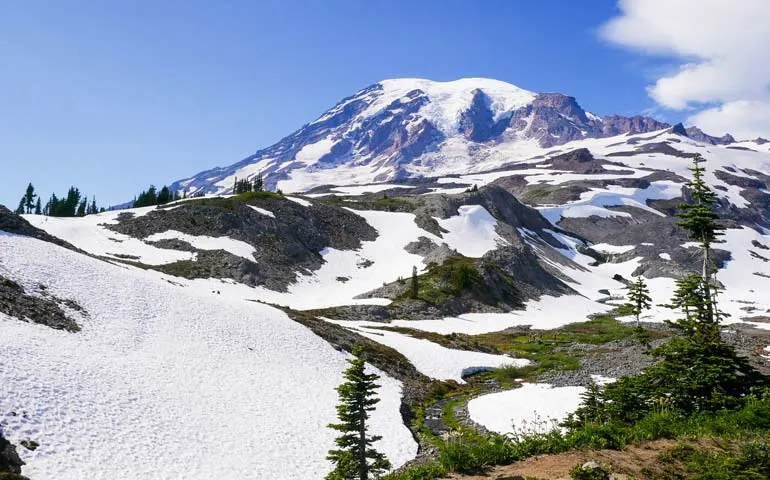 Mount Rainier National Park lies in the heart of Washington State's Cascade Range. Its main feature is an eponymous mountain that towers 14,410 feet over the surrounding landscape. The iconic peak is the tallest in the Pacific Northwest.
In summertime, when snow begins to melt and sunny skies are in abundance, the mountain showcases flower-carpeted meadows and breathtaking vistas.
Sunrise and Paradise are the 2 main areas to visit within Mount Rainier National Park. Unfortunately, they can get quite crowded during peak season. To best avoid the crowds, you should try to visit the best hikes in Mt Rainier in the middle of the week.
If you're visiting on a weekend, consider exploring lesser-known areas of the park. The Mowich Lake Entrance, for example, boasts similarly beguiling views with only a fraction of the crowds.
Recommended by Erika of Erika's Travels
3. Channel Islands National Park, California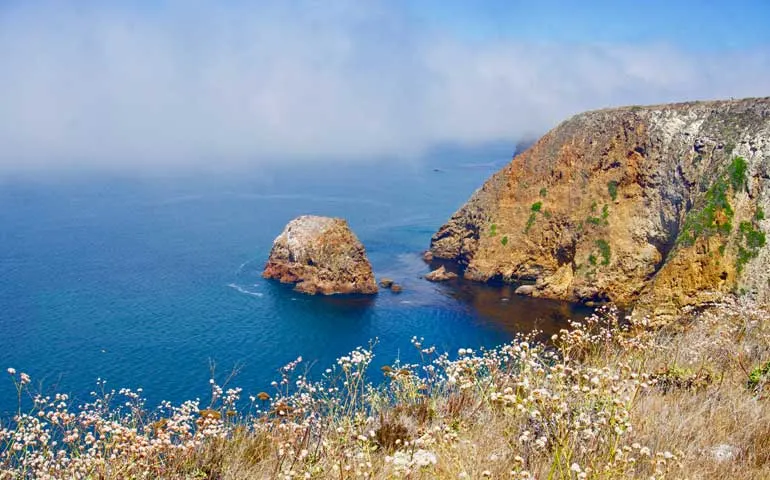 Channel Islands National Park is located off the coast of California, about an hour ferry ride from Ventura or Oxnard Harbors. Comprising 5 islands; Anacapa, Santa Cruz, Santa Barbara, San Miguel and Santa Rosa, this is one of the least visited national parks in the U.S.
With a temperate climate, the weather never gets too hot, so it's an ideal summer destination. In addition to the land being protected by the National Park Service, the ocean waters surrounding the islands are a National Marine Sanctuary.
The opportunities to enjoy marine life are excellent and visitors should spend some time in the water either kayaking, snorkeling or diving.
Hiking is among the most popular activities with trails available on all the islands. Distances and levels of difficulty vary, so consult with the volunteers at the Visitors Center in Ventura Harbor for maps and guidance. On some islands, short, guided nature hikes are available and a great introduction to the flora and fauna.
The Channel Island National Park ferry should be reserved in advance through Island Packers. There are no services on the islands so be sure to bring all food and water needed for the day, and to bring trash back to the mainland.
Recommended by Wendy of Empty Nesters Hit the Road
4. Theodore Roosevelt National Park, North Dakota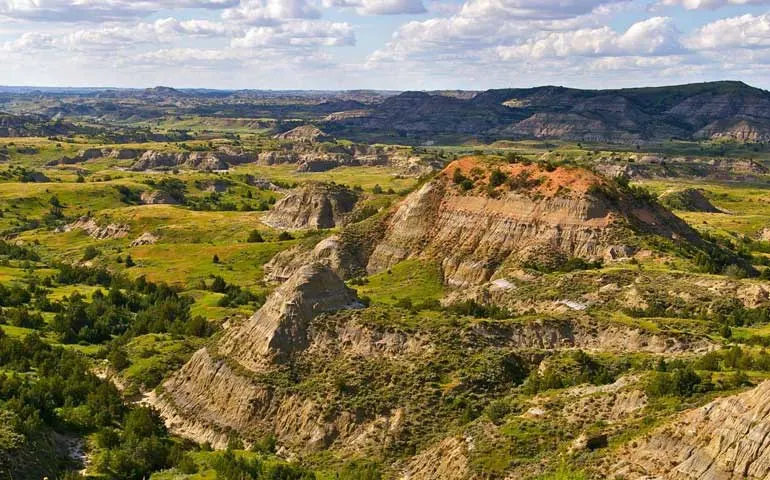 Theodore Roosevelt is the only national park in North Dakota and a great option to visit in June, July and August as temperatures are rather cold most of the year. If you are looking for a national park to visit with very low crowds, this is the one!
For those looking to plan a visit to the more popular South Dakota parks, driving north towards Theodore Roosevelt makes for a nice extension of a trip with much fewer people.
Theodore Roosevelt National Park has two units, North and South. Both units have scenic drive loops to view the landscape, bison, wild horses, and prairie dogs that live in the area.
The majority of people will visit the South Unit as it is where the town of Medora is located. Medora is the small western gateway town where most people stay when visiting the park. It has a small walkable downtown area with some tasty food options and a popular dinner show called "The Medora Musical".
If you're looking for hiking trails, check out Painted Canyon Nature Trail, Wind Canyon Trail and the Big Plateau Trail. Add a visit to the North Unit and take the scenic loop, visit the cannonball concretions, and enjoy the views from the Oxbow Overlook.
While not as popular as other national parks out West, Theodore Roosevelt National Park is one of the best national parks to visit in the summer because you can escape the crowds and still enjoy some grand views.
Recommended by Margie of DQ Family Travel
5. North Cascades National Park, Washington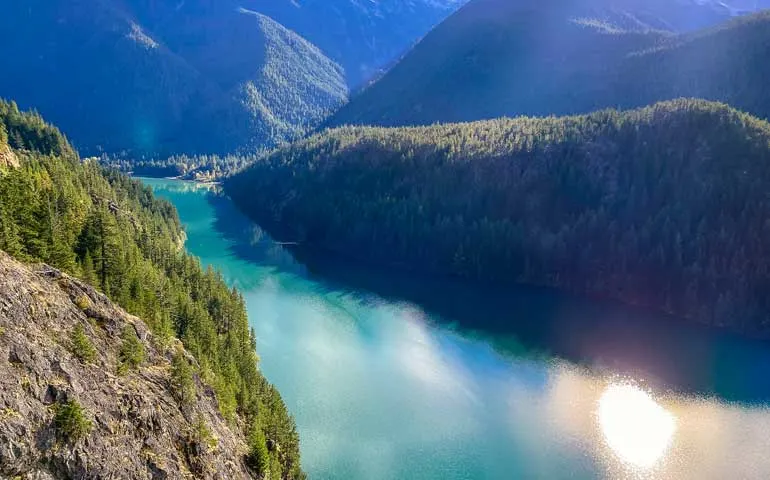 One of the best National Parks to visit in summer is North Cascades National Park in northern Washington State.
The park is only open from May until October, but the sheer beauty of it makes up for it. You'll want to put the stunning Diablo Lake on your North Cascades National Park itinerary, which you can view from above or hike around.
If you love hiking, check out one of the easier trails, Blue Lake, or if you're up for a challenge, embark on Heather-Maple Pass Loop. You'll have a good chance of seeing colorful wildflowers all around. To avoid crowds, start your day as early as possible and go during the weekdays if you can.
Recommended by Marissa of Postcards to Seattle
Related: A Day in Seattle – What to See, Do and Eat in Just 24 Hours
6. Great Smoky Mountains National Park, Tennessee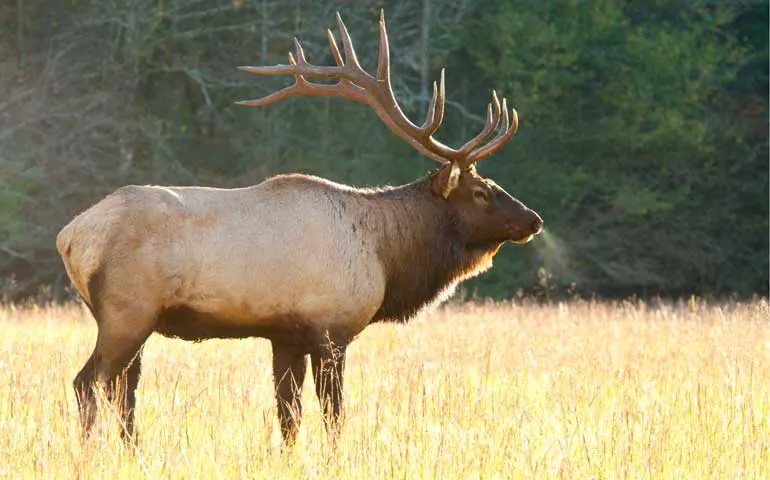 Located in the heart of the Blue Ridge Mountains, straddling the border of Tennessee and North Carolina is Great Smoky Mountains National Park. It's the most visited of the US National Parks, with than 10 million visitors each year.
Created in 1934 and encompassing more than 522,000 acres, this protected UNESCO World Heritage Site is a haven for anyone who loves nature, wildlife and exploring the great outdoors.
The Great Smoky Mountains are packed with stunningly scenic mountain landscapes, wondrous waterfalls, trout-filled streams, and the largest intact forest ecosystem in the southeastern US.
Spend endless days exploring the park's picturesque highlights, such as Cade's Cove, Clingman's Dome and Newfound Gap Road. The Blue Ridge Parkway begins at the Great Smoky Mountains National Park (GSMNP) entrance, stretching 469 miles to Shenandoah National Park in Virginia.
Popular summertime activities include camping, fishing, hiking the Appalachian Trail and watching for wildlife. GSMNP is home to 1300 vascular plant species and animals including Black Bears, White-tailed Deer and the world's greatest diversity of Salamander species.
But, for serious animal lovers, the park's highlight – the last herd of wild Elk in North Carolina – found in the eastern section of the park.
Early summer is a great time to see the Cataloochee Valley Elk, whose babies are typically born from mid-May to early June. But please do remember that mamas can be very aggressive if they sense any impending threat to their young, so keep a respectful distance.
Recommended by Bret & Mary of Blue Ridge Mountains Travel Guide
7. Arches National Park, Utah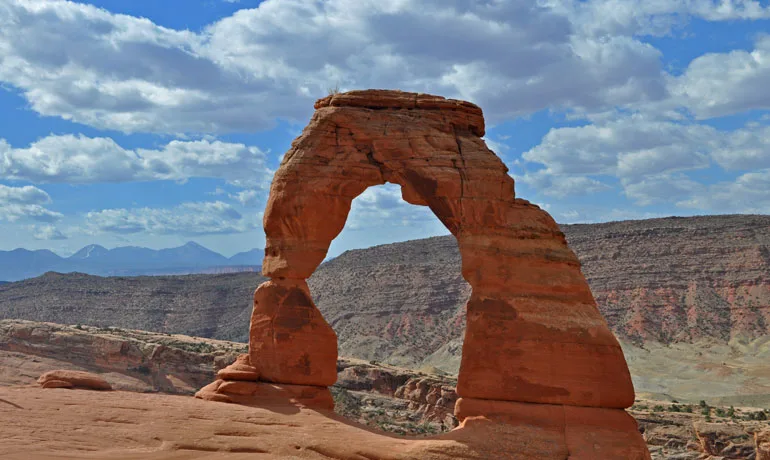 Perhaps one of the most well-known National Parks in all of the USA for it's unique landscape, Arches National Park in southwestern Utah simply has to be on your bucket list! It's truly a unique park and the natural wonders of the arches are really fun to explore.
It's a perfect summertime vacation for families or people with all skill level or accessibility needs. Most of the park is walkable with plenty of paths to get to a majority of the arches.
The most famous arch, Delicate Arch is an icon for the state of Utah. It requires a strenuous hike to get to, but it's well worth it to marvel at it's incredible natural beauty.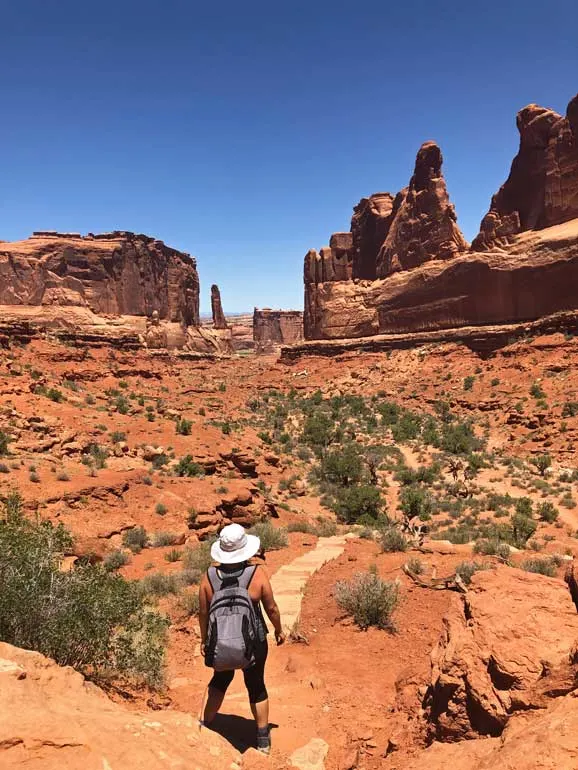 I'd also recommend to see the windows area of the park where you can view multiple arches in one stop. Arches National Park is one of the top things to do in Moab, Utah and part of Utah's "Mighty 5" parks in the state.
Recommended by me – Nikki of She Saves She Travels
Related: Best Hikes in Arches National Park – 12 Top-Rated Trails You'll Love
8. Redwood National Park, California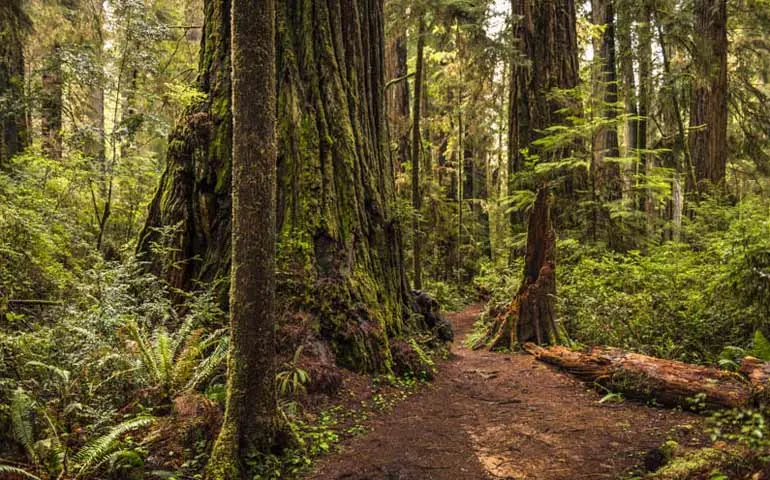 The dry warm weather of summer, and long daylight hours, make summer the perfect time to explore Redwood National and State Parks on the northern California coast.
The parks are famous for their redwood trails, and hiking is one of the best things to do in Redwood National Park. In summer you can hike earlier and later in the day without it being overly dark among the towering trees. Hike the Fern Canyon trail, famous for its lush green feel – it's been featured in many movies!
Do some scenic drives in the parks, and look for Roosevelt elk and other wildlife. You'll also find wildflowers in the early summer. The parks also have some coastlines you can explore in your vehicle or on foot.
June and July are popular months to visit Redwood National Park, but it is easy to leave the crowds behind once you hike any but the shortest trails. Visit the most popular spots early or late for a more peaceful experience.
Recommended by Dhara of Roadtripping California
9. Olympic National Park, Washington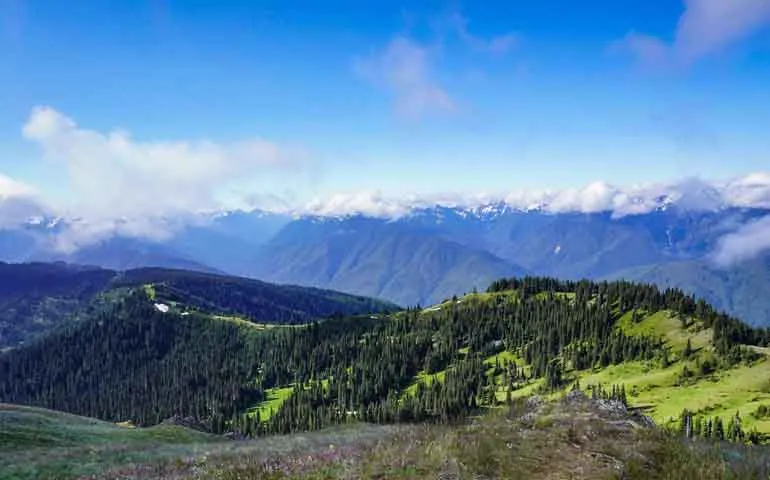 Olympic National Park in the northwestern tip of Washington state is great to visit year round, but is especially magical in the summertime.
While the area is known for overcast, rainy skies most of the year, the weather is spectacular in the summer months. With pleasant temperatures and blue skies, it's the perfect environment to explore the park's lush rainforests and soaring mountains.
Hurricane Ridge is one of the most popular hikes in the park and for good reason! Perched along a mountain ridge, it provides panoramic views of the Olympic Mountains and vibrant wildflowers along a three-mile, mostly flat trail.
If you're trying to escape the crowds, try out a trail slightly off-the-beaten-path, like the 9-mile Deer Park to Maiden Peak hike. This trail provides similar jaw-dropping views of the surrounding mountains as Hurricane Ridge, but with a fraction of the crowds.
Recommended by Jessica of Uprooted Traveler
10. Sequoia National Park, California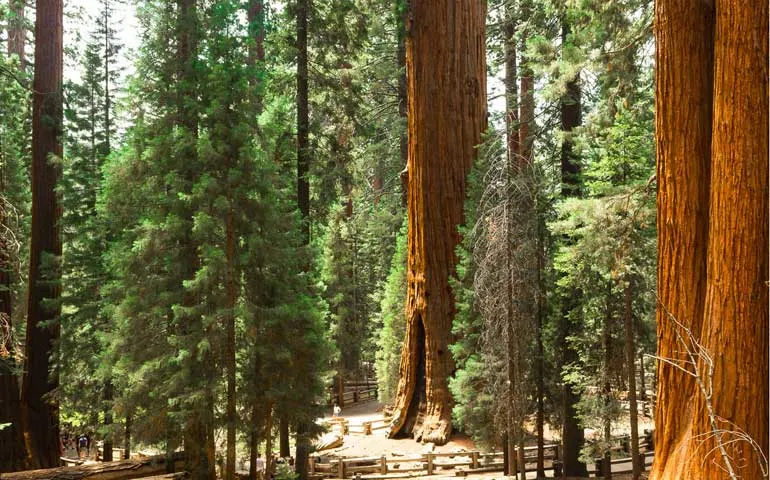 Tucked away in eastern California you'll find Sequoia National Park, home to the largest trees in the world. Sequoia is made up of endless vistas and huge forests.
Summers aren't blazing hot here, but you'll find refuge from the sun among the giant sequoia groves. The snowmelt in spring translates to full rivers, waterfalls and lush meadows in the summer.
There's plenty to do, even if you only have one day in Sequoia National Park. Do the short hike to General Grant to see the largest tree in the world – it doesn't disappoint! For some of the best views, do the short (but steep) climb to the top of Moro Rock. Afterward, have a picnic in one of the many meadows.
Recommended by Ale Leon of Sea Salt & Fog
Best of the USA: National Parks to visit in summer
Getting excited to travel to a national park this summer? Yeah, me too. Let's keep going with the list – more fun places ahead!
11. Zion National Park, Utah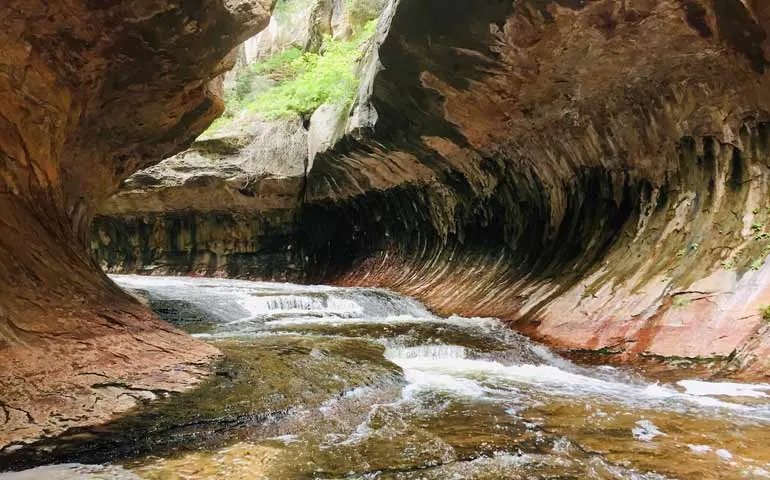 The red rock canyons of Zion National Park is a magnificent destination in the summer. Temperatures will be hot and dry so plan your hikes with that in mind. Hiking early in the morning or later in the day will be cooler and also avoid the crowds.
The Kolob Canyons area of Zion is at a higher elevation so tends to be colder than the main canyon. There is also a better chance of solitude in these colorful canyons.
In the summer, a hike up a river with steep canyon walls is refreshing. Popular river hikes are the Zion Narrows and the Subway bottom-up hikes. You'll need a permit for the Subway hike so apply early for it.
The Narrows is the iconic Zion hike. You can hike up the river as far as you like then turn back, enjoying the sculptured canyon walls surrounding you on the return trip.
Recommended by Karen of Outdoor Adventure Sampler
12. Haleakala National Park, Hawaii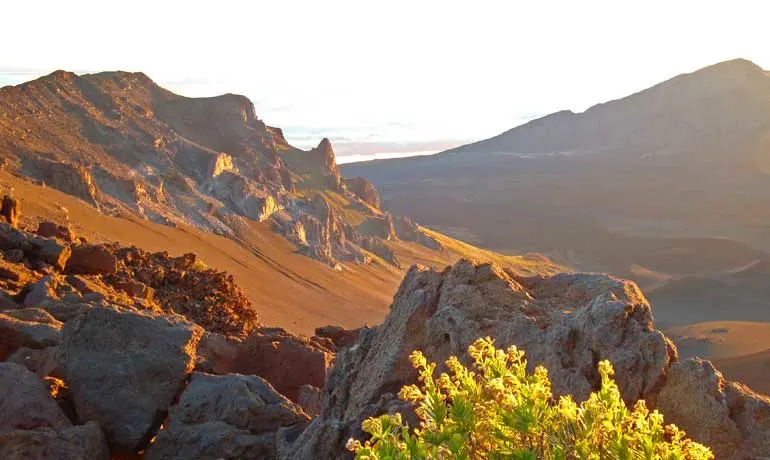 While you may not immediately think of visiting a national park when you think about vacationing in Hawaii, but it's actually one of the most affordable and fun things to do in Maui, Hawaii.
Watching the sunrise over the Haleakala summit at over 10,000 feet is a surreal experience. To see the sunrise over the clouds – then watch as the peak creates a singular shadow – is incredible. To top the experience, you can hop on bikes with really good brakes and bike down to the beach at sea level. A truly once-in-a-lifetime experience!
The mornings are a bit challenging with the NPS requiring reservations since it's such a popular activity. Alternatively, you can do Haleakala at sunset with less hassle, and it's still an incredible experience.
Pro tip: pack your layers! While most of Hawaii is warm, the temperates at that elevation are very cold.
Recommended by me – Nikki of She Saves She Travels
Related: What to Pack for Hawaii (Complete Packing Checklist)
13. Yellowstone National Park, Wyoming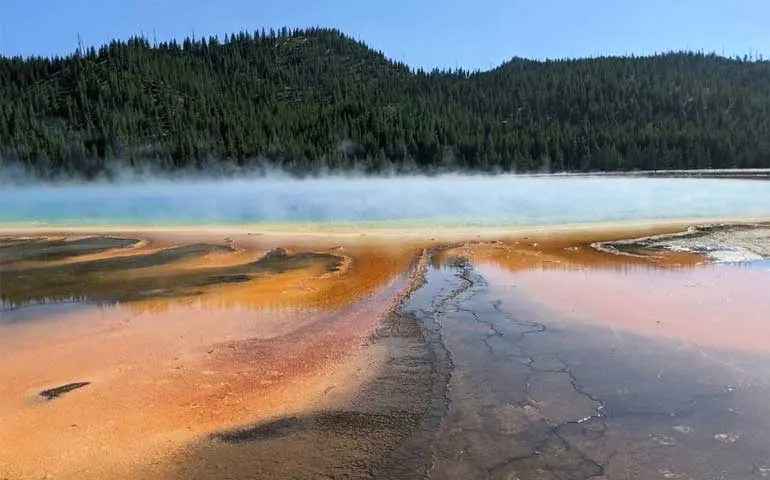 The best national parks to visit in June or July is definitely Yellowstone. With the snow melting in the spring, the hiking trails are fully prepped for eager visitors to explore during June and July.
In summertime, you can expect temperatures between 68 – 80℉ during the daytime. While it can still freeze at higher elevations within the park, most of Yellowstone's hiking paths sit below the mountains, out of the colder climates.
There are plenty of activities to enjoy in Yellowstone, which include discovering Old Faithful, the Grand Prismatic Spring, and the unique wildlife found throughout the park.
The best way to avoid the crowds is to start your day early. Most tour groups are up and running by 10 am, so make sure to check out all the major landmarks before the park becomes crowded.
Recommended by Ellie of Ellie's Travel Tips
14. Denali National Park, Alaska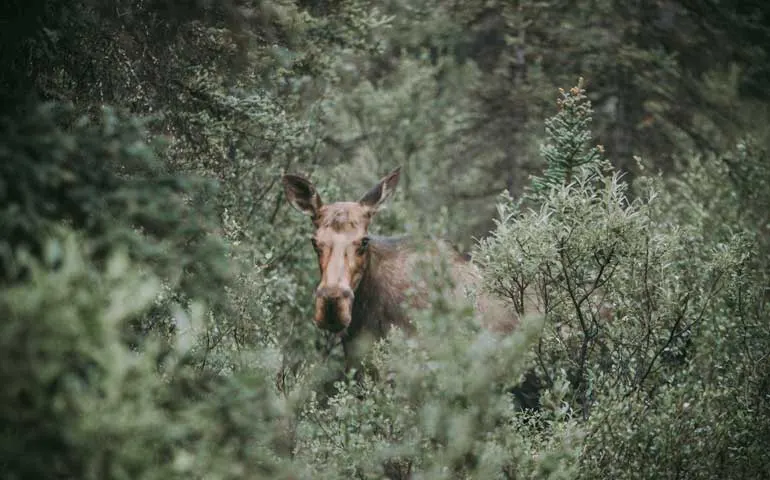 Denali National Park in Alaska is one of the best national parks to visit in summer. Denali National Park is famous for its wildlife and hiking opportunities.
In fact, the famous "Into the Wild" bus was abandoned in Denali! While visiting, you have the opportunity to see grizzly bears, wolves, deer, and moose in Denali National Park.
The park itself has 90 miles of driving, but only the first 16 can be done as a self-drive. The rest are amazing guided tours throughout the park that take you along the winding road to see the mountains and wildlife.. The hiking opportunities are endless and the weather is perfect in the summer.
Because Alaska is so close to the north pole, in the summertime there is roughly 20 hours of sunshine a day. This means that you can spend all day exploring and not have to worry about it getting dark. Denali is the best place to visit, especially if you love seeing wildlife in their natural habitat.
Combine this with one of the greatest road trips in America: Seward to Denali National Park.
Recommended by Shannon of Adventuring with Shannon
15. Grand Canyon National Park, Arizona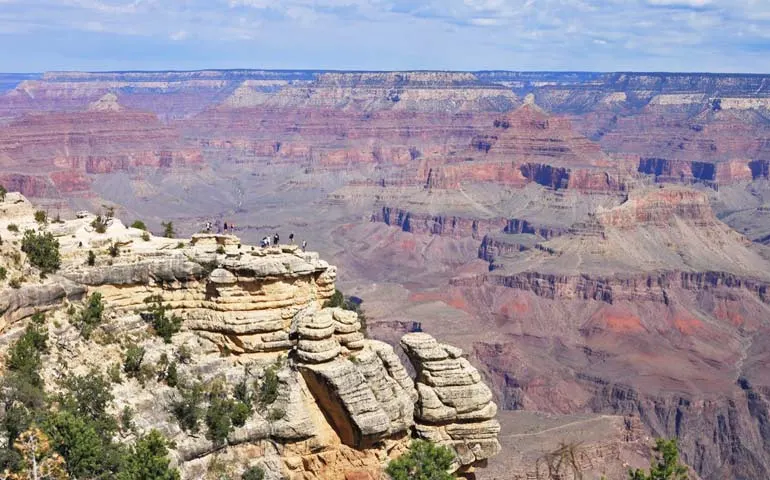 Grand Canyon National Park is one of the most famous natural attractions in the United States. The classic way to visit the Grand Canyon is on a road trip to the national parks!
Visitors to the South Rim can camp or stay in lodges at Grand Canyon Village, or in hotels in Tusayan. If you are visiting in the summer time book accommodations well ahead of time!
The South Rim Trail is an easy, mostly flat trail, and offers multiple view points. You can even hike into the Grand Canyon, but do not attempt reach the river and back in one day, as it takes longer than you think.
Alternatively, visit the less touristed North Rim, a 4.5 hour drive from the South Rim. Grand Canyon West, features the Skywalk, a clear walkway over the canyon. There are also helicopter tours from Las Vegas to Grand Canyon West.
Recommended by Daphna of A Tiny Trip
16. Canyonlands National Park, Utah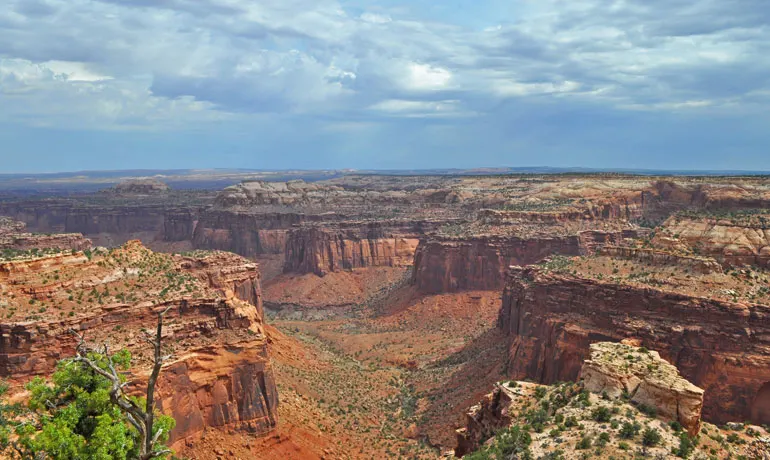 This national park in southeastern Utah honestly surprised me. Think of it as a smaller version of the the Grand Canyon, but with way less crowds! The park is massive with 4 distinct districts: Needles, Island in the Sky, Maze and Rivers. The most popular area is the Island in the Sky.
It's an amazing park to visit with sights that will literally take your breath away. You can visit the park and drive the scenic route, stopping at overlooks. However, Canyonlands National Park is truly a hiker's paradise!
From easy trails to extremely difficult terrain, there's truly something for every hiker! My favorite hikes in the Island in the Sky District are:
Grand View Point
Mesa Arch
Aztec Butte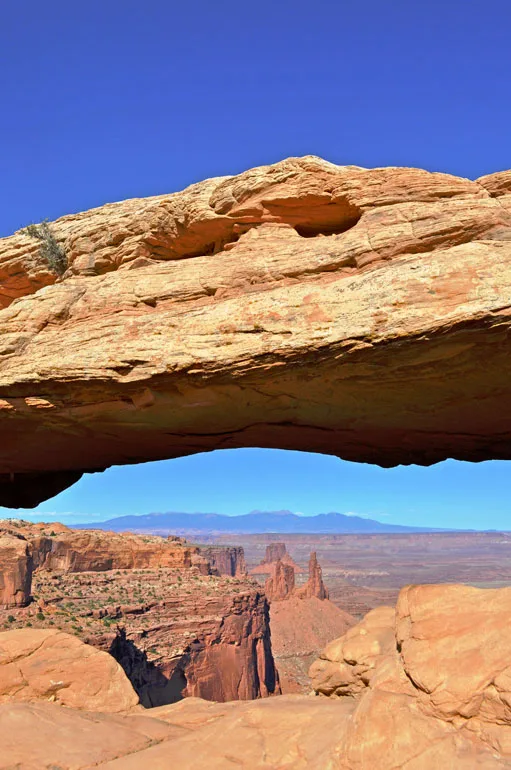 Here's a guide to the top 10 hikes in Canyonlands National Park that will leave you speechless!
Recommended by me – Nikki of She Saves She Travels
17. Grand Teton National Park, Wyoming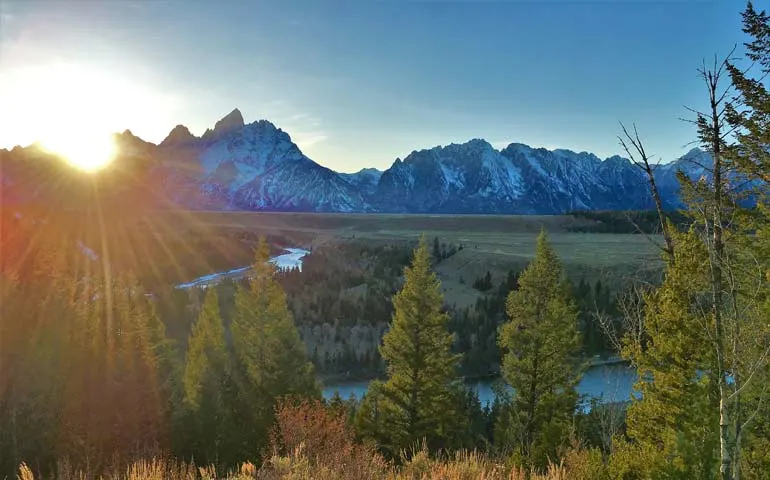 Grand Teton National Park is one of the most stunning parks in the US. Spend your days hiking over 200 miles of trails through the Teton Mountains! Other things you must see Grand Teton National Park are floating down the meandering Snake River, fishing for trout in the alpine lakes or admiring the wide variety of wildlife.
Due to its northern location and mountainous landscape, summer is when you'll encounter the best weather at Grand Teton National Park with temperatures averaging 80 degrees Fahrenheit during the day and high 30s at night.
Other times of the year bring higher chances of snow which can limit accessibility to parts of the park. And, as a bonus, the park never seems to get too crowded!
Whether Grand Teton National Park is your main destination or is a stop on a bigger trip, like a national parks road trip, you'll love this untouched wonderland.
Recommended by Julia of The Cure for Curiosity
Related: 101 Road Trip Foods: Best Fun and Healthy Snack Ideas
18. Bryce Canyon National Park, Utah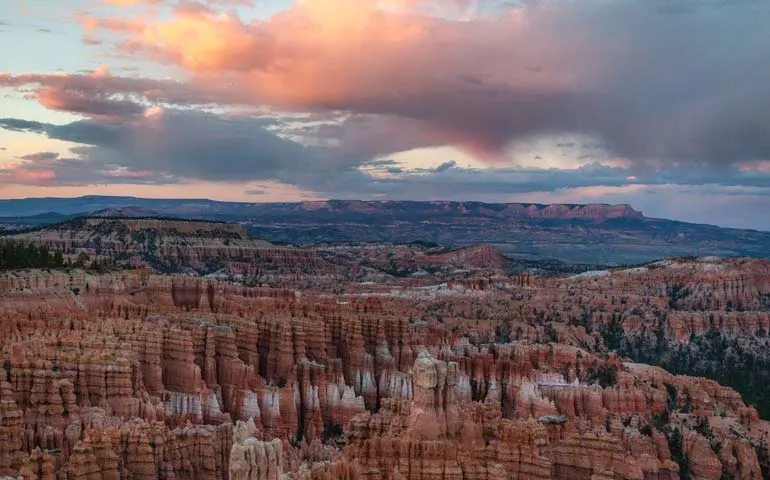 It's one of the most unique national parks because it's home to incredible rock structures called hoodoos – Bryce Canyon National Park in Utah.
Although it's open year-round, summer is the best time to visit because the weather is beautiful, and the trails and facilities are open, allowing you to explore everything it has to offer. Summer is also one of the most popular times to visit, so I highly recommend using the free park shuttle and exploring the popular attractions in the early morning or late afternoon!
The best thing about Bryce Canyon National Park is it has something for everyone. If you don't want to hike, you can take in the incredible views from overlooks, including Bryce Point, Natural Bridge, Yovimpa Point, and Rainbow Point.
If you want to hike, you can get an up-close and personal experience with the hoodoos from fun trails, including Peek-A-Boo Loop, Navajo Loop, and Fairyland Loop.
No matter how you want to experience Bryce Canyon National Park, you will be in awe of its beauty and won't regret adding it to your bucket list!
Recommended by Nichole of Nichole the Nomad
19. Acadia National Park, Maine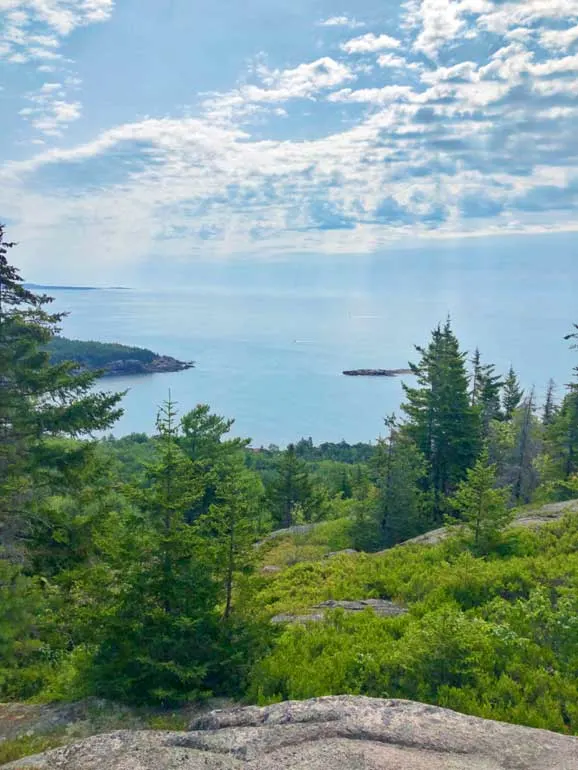 With a mix of rocky mountains and blue ocean views, Acadia National Park in Maine leaves an impression on all who visit.
Located on Mount Desert Island, Acadia offers a variety of outdoor adventures. Popular activities include bike riding along the scenic carriage roads, hiking to stunning summit views on a variety of mountain trails, and witnessing the thunderous waves crash at Thunder Hole.
Summer is the perfect time to go for a swim in the warmer freshwater of Echo Lake or the cooler ocean water at Sand Beach. Venture to Acadia's Cadillac Mountain to be among the first people in the entire country to see the sunrise and discover the park's beautiful hidden gems.
Acadia National Park is one of the top 7 most visited national parks in the country, so you'll want to get an early start to your day to avoid crowds.
Recommended by Deanne of Scenic and Savvy
20. Crater Lake National Park, Oregon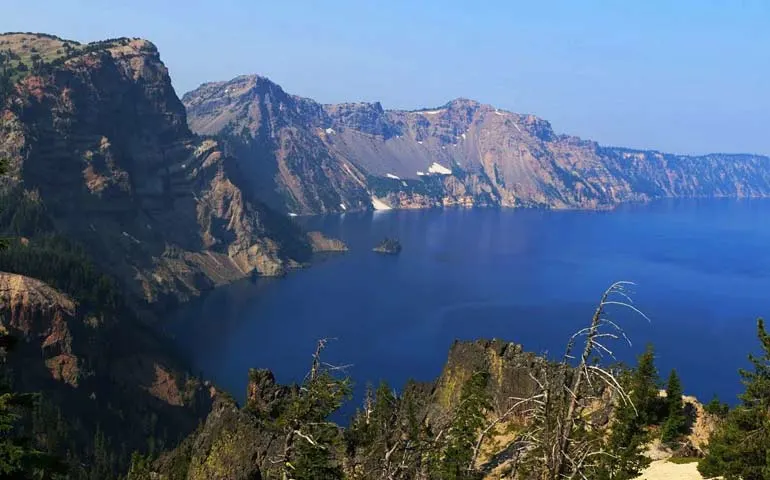 Located in the Cascade Mountains of southern Oregon, Crater Lake is known for its namesake lake that was formed 7,700 years ago, with the collapse of the peak of Mount Mazama, a 12,000-foot high volcano.
The 33-mile Rim Road drive is full of spectacular scenery and is one of the most scenic byways in America. With more than 30 scenic pullouts, it is an activity you cannot miss when you visit Crater Lake. The many viewpoints are sure to make your jaw drop while you admire all the brilliant shades of blue and the park's volcanic formations.
It's by far one of the best national parks to visit in summer, and perfect for a trip to Oregon with kids.
While you cannot take a private boat or other flotation devices out on the water, you can swim in the crystal clear lake in designated areas, fish, or take a boat tour of the lake. There are also over 90 miles of hiking trails, and mesmerizing waterfalls to explore.
Recommended by Debbie of World Adventurists
National Parks to visit in summer – more ahead
Can you believe this beautiful country? From desert landscapes to majestic mountains, out-of-this-world scenery and peaceful lakes, there's truly something for everyone. Let's keep going…
21. Rocky Mountain National Park, Colorado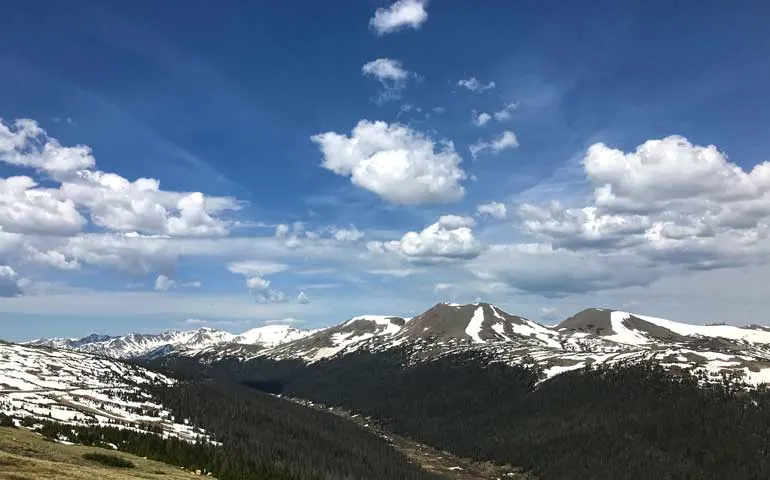 One of the coolest National Parks I've been to in the summertime is Rocky Mountain National Park in Colorado. You could spend an entire week visiting the park, or put it on your Colorado road trip itinerary for an epic road trip through the state.
Located near Estes Park, Colorado, it's a perfect spot to stay while visiting Rocky Mountain National Park. Top activities in the park are hiking, swimming, camping or simply sight-seeing. Make sure to drive Highway 34 through the park to see the most gorgeous views from the Alpine Visitor Center.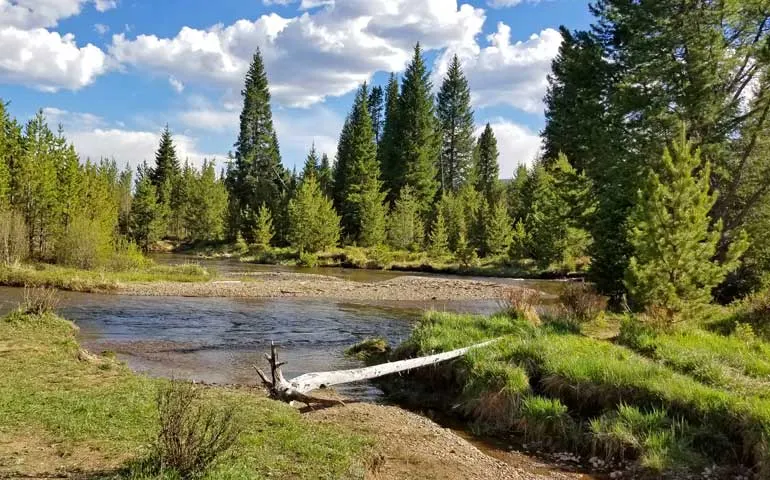 If you're hiking, don't forget bear spray as this park has a ton of wildlife, including bears. One of my kids' favorite memories from this park is all the wildlife we saw. Moose, elk and mountain goats are really common. Just don't forget to stay your distance and respect their space!
Recommended by me – Nikki of She Saves She Travels
22. Volcanoes National Park, Hawaii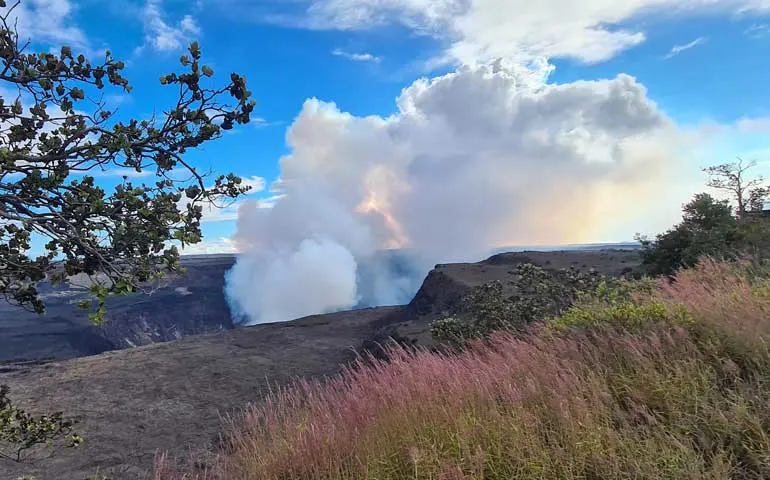 A visit to Volcanoes National Park on the Big Island of Hawaii is one of the top attractions on the island and it delivers! History, culture and the active lava on the crater located in the vast and impressive caldera in the middle of the park really gives you an amazing experience.
Not only is the eruption active and real, you can see it from all the lookout points. It's even better at night when the skies are lit a fiery red from the ash, lava and steam from the crater in a vivid display that shares this fantastic natural phenomena.
The park has so many wonderful places to discover with lava tubes, nature hikes, ancient petroglyphs, lush forests and of course the canyon like caldera in the center of the park that showcases the lava eruption.
Be prepared to visit the park in layers since weather is always changing – even in the summertime! At the cooler elevation you can get warm to really cold climate all around the park, especially at night time when you visit to see the ash plumes.
A visit to the park is one of the highlights on the island. Combine it with seeing the southeastern side of the island, Volcano village and Hilo area if you plan on staying overnight. It's definitely worth more time to stay a few days to absorb the history and nature combining this impressive national park in Hawaii.
Recommended by Noel of This Hawaii Life
23. Glacier Bay National Park, Alaska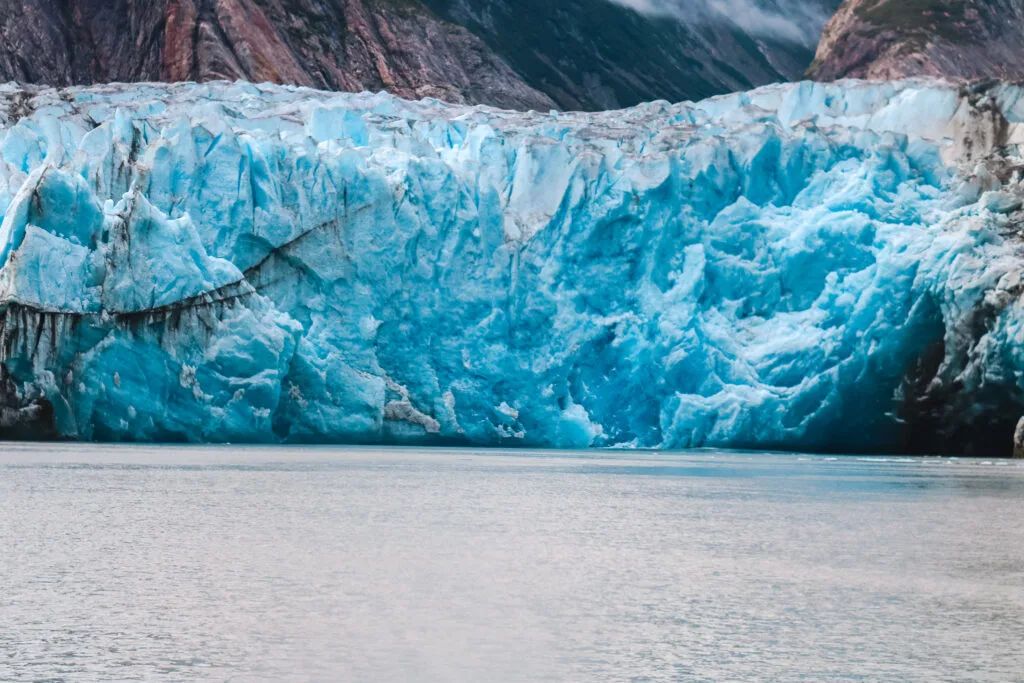 One of the best National Parks to visit in summer is Glacier Bay National Park in Alaska. It's hands down one of the most visually stunning places you will ever visit and equally as peaceful. This has been a top USA bucket list destination for many for decades. Just being able to see the glaciers so close up is pure magic.
The best way to see Glacier Bay National Park is on a cruise. If you go with a big cruise line, they typically bring a park ranger on the boat for the day to broadcast over the intercom throughout the day. You will learn about the area, see multiple glaciers and even stop at one and get relatively close. So close, you can hear it calve.
Summer is the best time to visit because you get sunlight and much warmer days. You can see high of 70 degrees Fahrenheit during this time, making it more enjoyable.
Recommended by Nicole of Bucket List Lists
24. Mesa Verde National Park, Colorado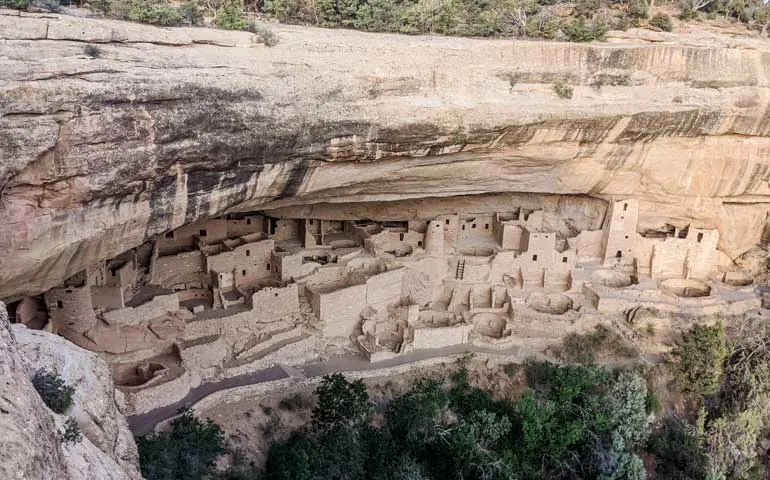 Mesa Verde is one of the most culturally significant national parks in the United States. The park in southwestern Colorado has more than 5,000 archeological sites, including petroglyphs, Indian ruins and well-preserved dwellings of the indigenous people who originally settled the corner of Colorado in the 1300s.
The most remarkable site in the park is The Cliff Palace, a cliff dwelling built by the Pueblo Indians more than 600 years ago. As an archeological preserve, Mesa Verde is a fascinating history lesson for adults and children alike and a great look back at the early settlements in North America.
It's an easy and worthwhile stop on a road trip around Colorado, New Mexico or a southwest USA road trip.
Although June and July is the peak tourism season and the hottest time of the year, Mesa Verde rarely feels too crowded or too hot. With a dry, arid climate summer temperatures peak out around 83 degrees Fahrenheit. And with cool summer nights, it's a great park to camp out under the stars. In fact, the park's remote location makes it the perfect place for stargazing.
Recommended by Melissa of Parenthood and Passports
25. Death Valley National Park, California/Nevada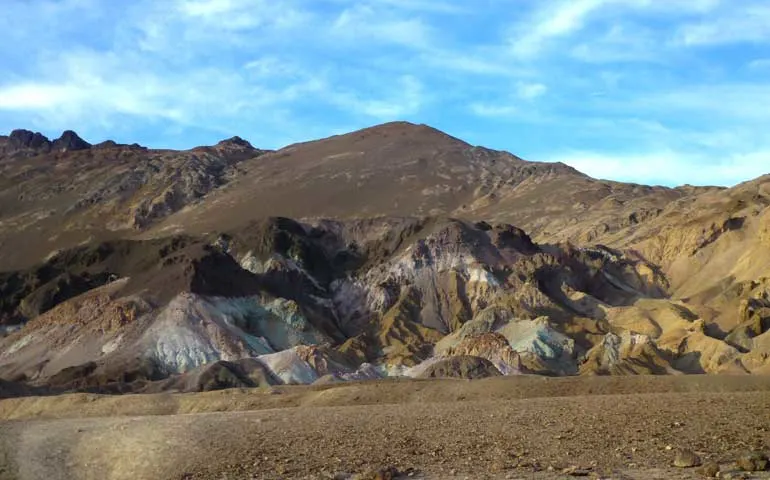 Death Valley in summertime might not sound like the perfect trip because it can be over 100 degrees Fahrenheit and it holds the record for being the hottest place on earth.
However, it's easy to visit I the summertime. It's best to get there early in the morning to avoid the crowds and the hottest part of the day. If the heat is getting to you then take a stroll through Natural Bridge Canyon on the 2.3 mile walk as part of it is in the shade.
Stick to your air conditioned car and do the Artists Drive – a 9 mile scenic drive through multi colored canyons.
Make sure you visit Badwater Basin which is 275 feet below sea level. Walk out along the salt flats and visit the Mesquite Sand Dunes. Be sure to stay to see the sunset, which is especially amazing when viewed from Zabriskie Point.
Recommended by Clare of I Live 4 Travel
26. Badlands National Park, South Dakota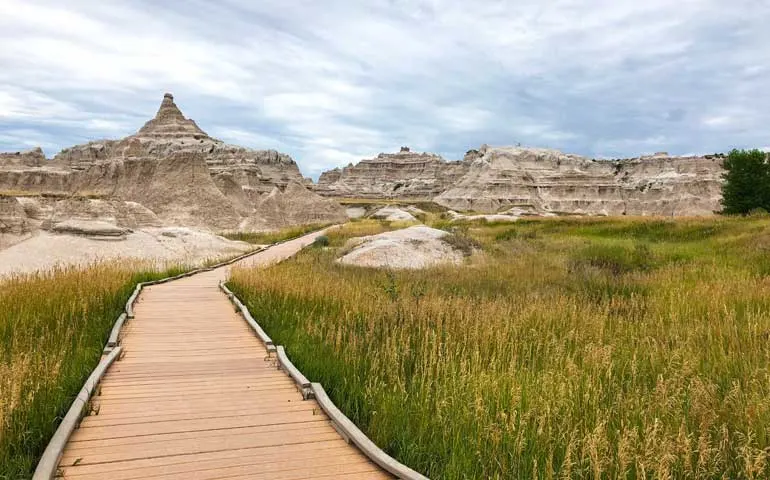 One of the most underrated National Parks in all of the US, Badlands National Park will blow your mind! The rock spires jut out from the ground and multi-colored stripes are disorienting and create a fun, scenic vibe.
The most common activity in Badlands National Park is driving "the loop" or South Dakota Highway 240 just off I-90. There's plenty of stops for scenic overlooks. It's a truly stunning drive that feels out of this world.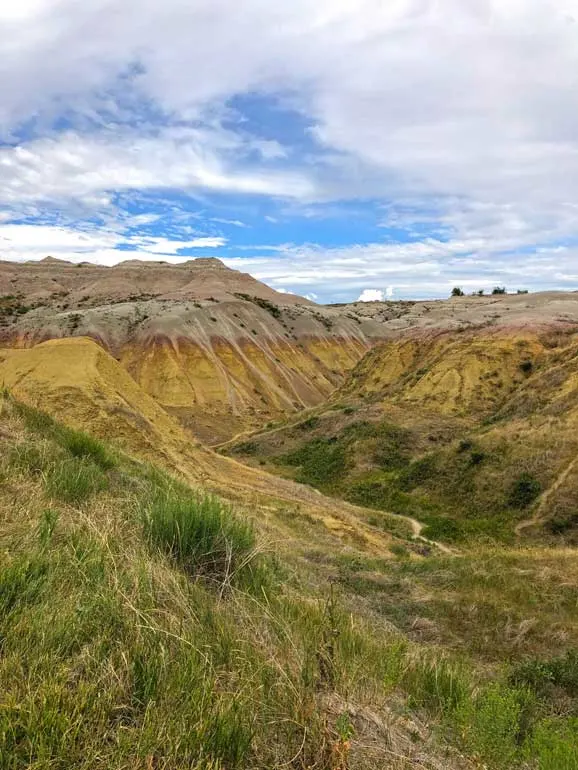 However, the best way to see the park is one of the many hiking trails. My favorites are Notch Trail, Door Trail and Yellow Mounds. One of the best parts of this park is that it's an open-hike park. Meaning you don't have to stick to a trail and you're free to explore any spot in the park on foot!
Recommended by me – Nikki of She Saves She Travels
27. Capitol Reef National Park, Utah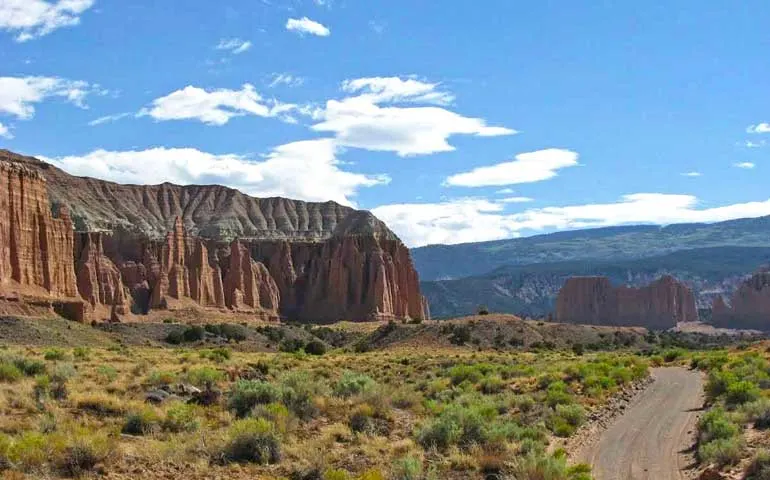 It's an underrated hidden gem in the Southwest United States – CAPITOL Reef National Park. Located in Southeast Utah, most people tend to miss all of its grandness by quickly driving through it. Highway 24 continues to Zion, Bryce Canyon and GrandCanyon National Parks.
However, off the beaten path, Capitol Reef is home to countless natural
gems including incredible backcountry hiking, camping, views of magnificent red rock geology, canyons, and ancient petroglyphs.
To avoid the crowds, the Waterpocket Fold and Capitol Reef National Park extend and meet Fishlake National Forest. This northern area of Capitol Reef is a magical place where the mountains meet the desert.
Quietly tucked away and off the beaten path, take in mountain views of Thousand Lake, Hens Hole, and Geyser Peaks. Look east to the South Desert
Waterpocket Fold and Cathedral Valley.
Be sure to have four-wheel drive as you wander the northern backcountry to see Monoliths, Gypsum Sinkhole, Temple of the Sun, and Temple of the Moon. This area is rarely explored, and mainly accessible seasonally during the summer (weather dependent) by dirt roads. Cathedral Valley Campground hosts quiet primitive camping and incredible vistas,
Here's more about primitive camping in Southeast Utah and how to camp for free on BLM land.
Recommended by Ashlee of The Happiness Function
28. Yosemite National Park, California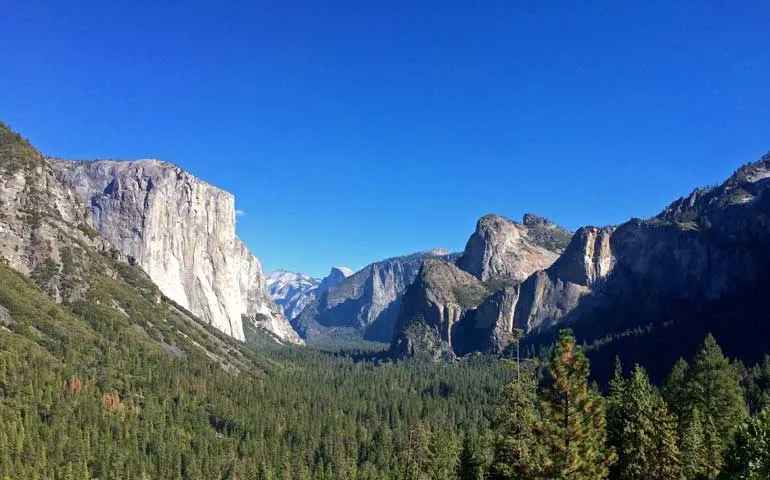 Yosemite is one of the best national parks in all of the United States to see in the summer. It can snow a lot in Yosemite in the fall, winter, and even into late spring so if you're wanting to avoid the cold, snowy weather it's best to visit in the summer.
The best tip for avoiding crowds though is to book an Airbnb in Yosemite so that you don't have to drive the long-distance from your accommodation to the park every day.
If you're already inside the park you'll easily be able to wake up early and get to all the awesome viewpoints and trails before the crowds even arrive! Also be sure to visit the lesser-known areas of Yosemite such as the northwest area of the park.
Of course, one of the main things to do in Yosemite is hike some of the beautiful trails. There are also amazing scenic drives and viewpoints that you can enjoy without having to hike too far.
Recommended by Jessica of Unearth The Voyage
Best National Parks to visit in summer – a recap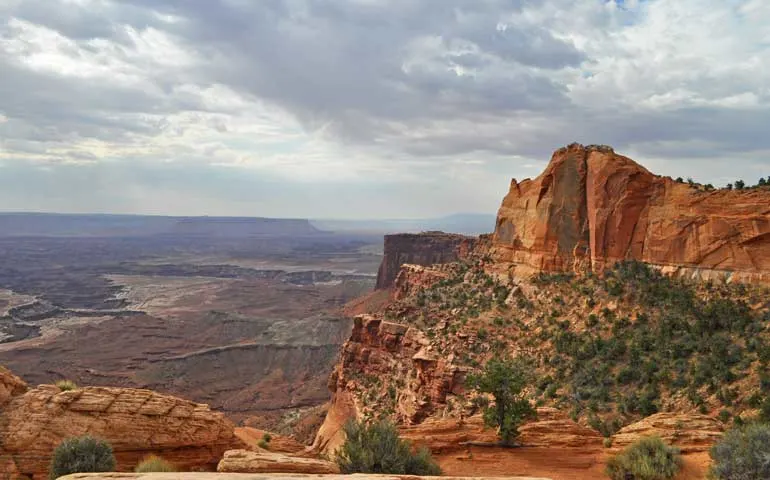 Whew! What a fun and exciting list that was! Some day I hope to make it to every one of these. Here's a condensed list:
Best US National Parks to visit this summer:
Glacier National Park in Montana
Mount Rainier National Park in Washington
Channel Islands National Park in California
Theodore Roosevelt National Park in North Dakota
North Cascades National Park, in Washington
Great Smoky Mountains National Park in Tennessee
Arches National Park in Utah
Redwood National Park in California
Olympic National Park in Washington
Sequoia National Park in California
Zion National Park in Utah
Haleakala National Park in Hawaii
Yellowstone National Park in Wyoming
Denali National Park in Alaska
Grand Canyon National Park in Arizona
Canyonlands National Park in Utah
Grand Teton National Park in Wyoming
Bryce Canyon National Park in Utah
Acadia National Park in Maine
Crater Lake National Park in Oregon
Rocky Mountain National Park in Colorado
Volcanoes National Park in Hawaii
Glacier Bay National Park in Alaska
Mesa Verde National Park in Colorado
Death Valley National Park in California/Nevada
Badlands National Park in South Dakota
Capitol Reef National Park in Utah
Yosemite National Park in California
I definitely have some favorites picked out for this summer – which are yours? Drop them in the comments below. 🙂
Related content:
28 Underrated Travel Destinations in the USA
100 Most Romantic Vacations in the US You'll Love
What to Pack for a Day Hike – Essentials You Need for Hiking
30 Hiking Trails for Beginners – Top USA Hikes that are Actually Easy
101 Incredible Bucket List Destinations (and How to Create a Travel Bucket List)
Find this post helpful? Save it for later or share it on social media!