If you're exploring the Moab area, Faux Falls needs to be on your list! Just on the outskirts of town you'll find this hidden waterfall. Faux Falls, Moab is a refreshing break away from the national parks and other attractions in the area.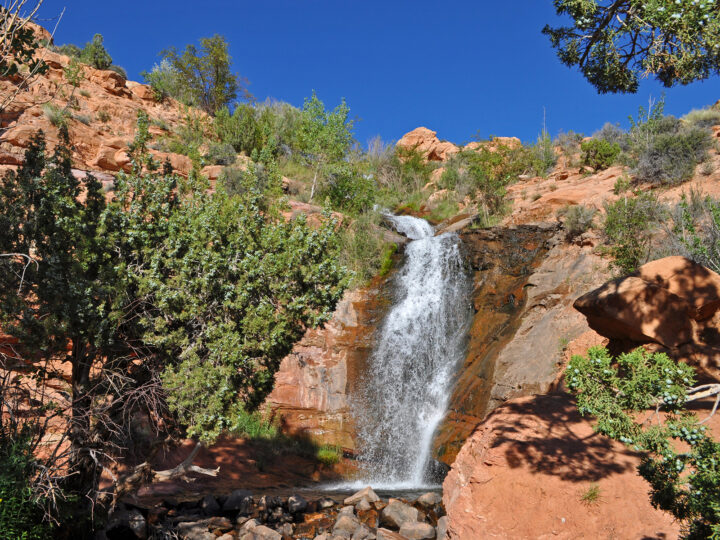 This post may contain affiliate links. For more info, see my disclosures.
Faux Falls is a beautiful waterfall just 10 minutes south of Moab. It's one of my favorite things to do in Moab, as it's an escape from the crowds. Find peace from the sound of the waterfall and creek, while changing up the scenery to green for a bit!
Here's how to get there, trail details and more!
Faux Falls, Moab – all the info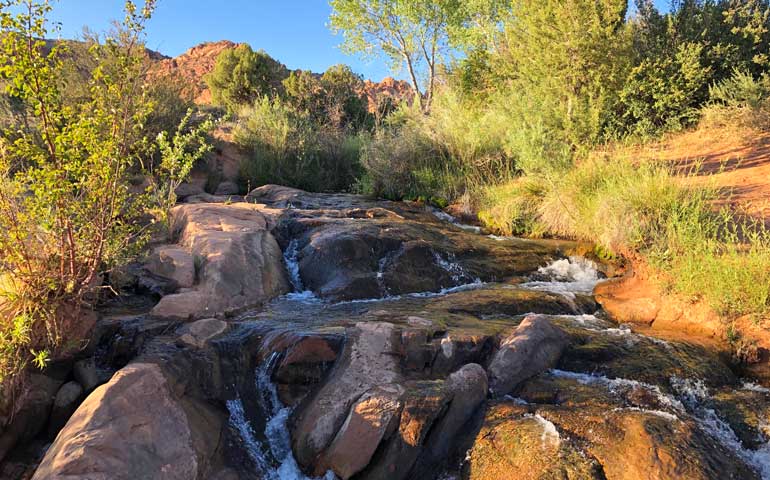 Faux Falls, as you might have guessed, is a man-made waterfall. It connects to Ken's Lake and is truly a unique sight compared to much of southeastern Utah.
Exploring Faux Falls includes taking short hike (1.25 miles round-trip) in order to get to the waterfall. You could combine the Faux Falls waterfall hike with an afternoon on Ken's Lake, or just visit the falls. More about Ken's Lake later on. 🙂
How to get to Faux Falls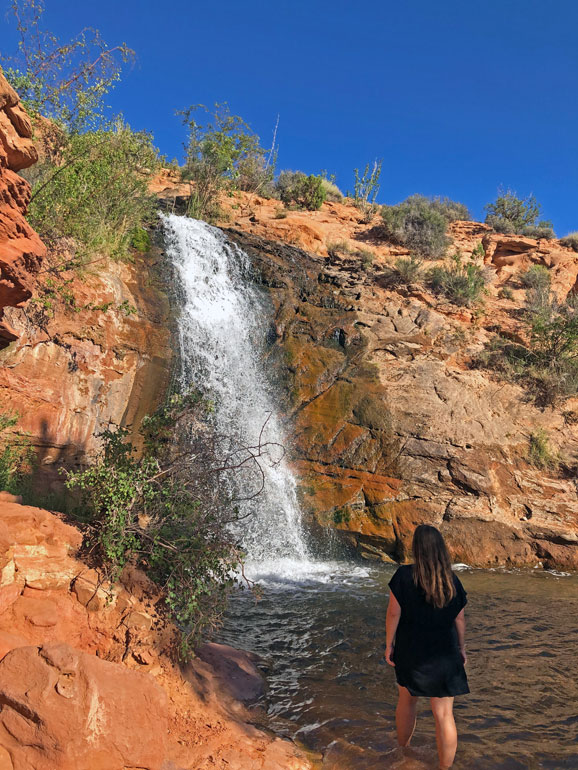 There's multiple ways to actually access the falls. It's a little tricky to get to if you just use navigation, so make sure to read these directions carefully and save the webpage or take a screenshot for later!
If you just use navigation, it will drop you off at the top of the falls, but there's not a way to access the falls from there. Nor is there parking. Don't make the same mistake I did – follow these directions instead. 🙂
Directions to Faux Falls parking
Navigate to the Ken's Lake Campground with your GPS.
Once you're on Steelbender Safari Rte, pass the turn to Ken's Lake.
Turn into Ken's Lake Campground. You'll find a small parking space for about 4-5 cars. Look for this sign structure: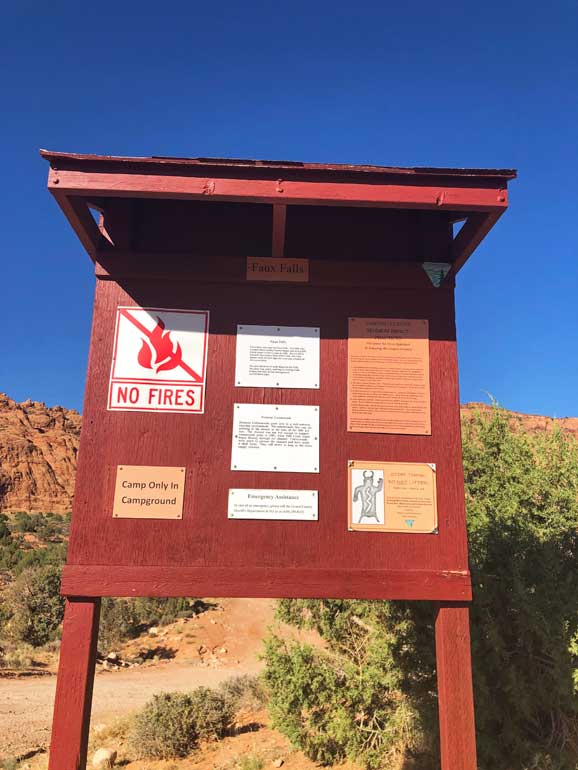 From here, you have a couple of options. If you have 4-wheel drive, you can continue to drive and park really close the the base of the waterfalls.
If you don't have 4-wheel drive or you just want to take the scenic route, you can start to hike. There's 2 ways to do that as well.
Hike to Faux Falls
Once you park in the small parking area near the campground, you'll have 2 options to get to the falls. One is a bit more direct, the other is more scenic.
Walking to Faux Falls, Moab via the path:
You can walk the road directly to the falls. It's about .5 miles from the sign to the base of the falls. The road is sand, which is why it is 4×4 drive only. It's not very scenic but will get you there. This is the way that I initially walked to the falls.
If you follow this road, you'll eventually get to another small parking area right in front of the falls. I think there was only 1 vehicle there the entire time I was at Faux Falls.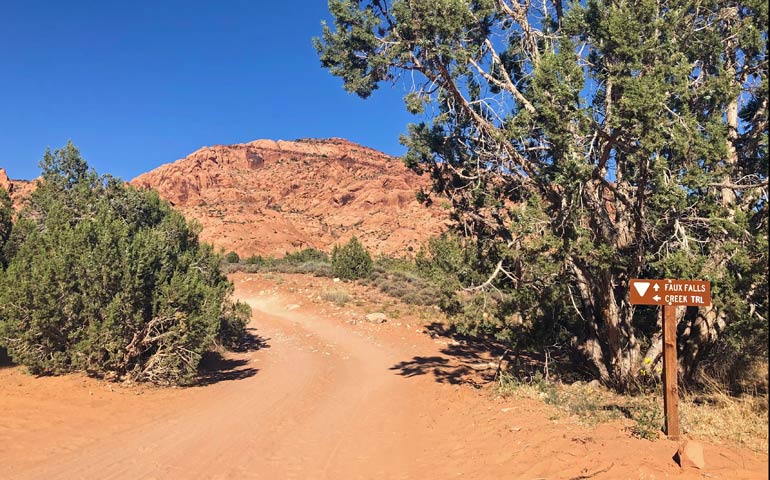 Hiking the Faux Falls creek trail
This is the way that I'd recommend. I returned to my car from the creek trail and it was much more scenic and interesting. There's also a fair amount of shade, so if it's hot out you'll get sun cover.
The Faux Falls creek trail entrance is between 2 campsites and looks like this: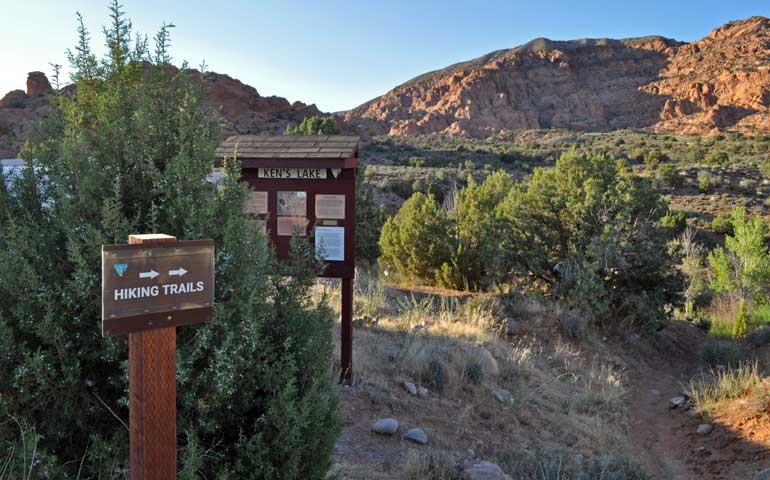 It's also about 1/2 a mile to the lower falls from the trailhead. Considering I had spent most of my week hiking Arches National Park and Canyonlands NP, I was exhausted and ready for some shade!
Along the creek, there's a few spots you could stop to take a rest and listen to the flowing water of the creek. It's so peaceful!
More things to do near Moab, Utah: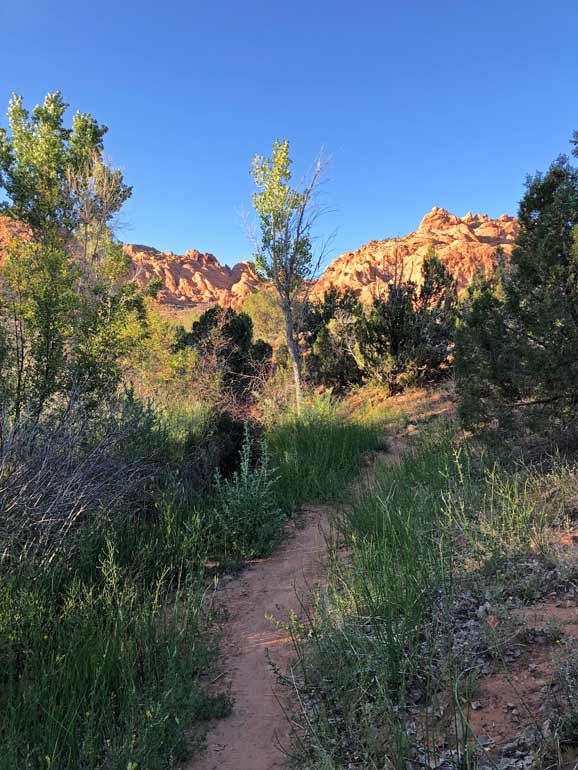 Faux Falls
As you arrive near Faux Falls, you'll see a small pool that you could take a swim in. It's about the size of a small hot tub, but's much cooler! Or, you can continue on to get the the waterfall.
If you want to get to the waterfall itself, you'll need to cross the creek. I don't recommend to walk up the creek because the water is somewhat powerful and the rocks are slippery.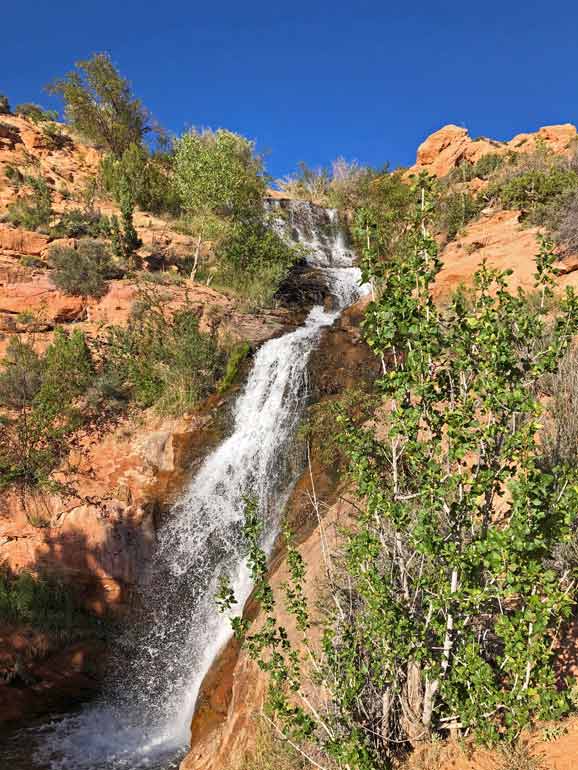 This is where I'll say I highly recommend to bring your water shoes with you! I wore these water shoes from Amazon (that I literally take with me all over the world).
Water shoes were needed on the slick rocks. I saw a group of people without water shoes and they really seemed to struggle crossing the creek and walking in the waterfall.
You can spend some time swimming in the pool at the base of the waterfall. Or just wading in the water and feeling the mist is quite refreshing!
You can also walk in a small area behind the falls. Be prepared to get soaked though!
Faux Falls, Moab – the upper falls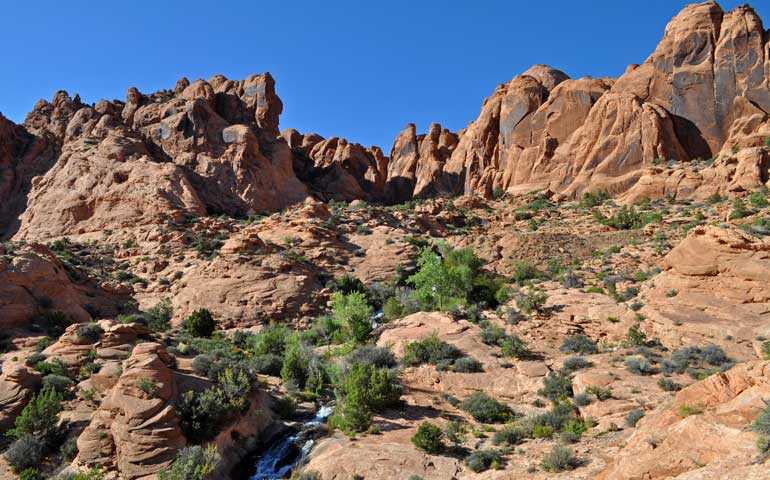 There's a path right next to the falls that you can hike to get to the upper falls. It's not well-marked but relatively easy to make your way as high as you want to go. Be prepared for some scrambling if you want to hike pretty far up!
There's not really another good, safe area to enter the falls, but it's pretty to look at. I actually wrongfully navigated to the top of the falls and started hiking down – which I don't recommend. I got to see the top falls but the best part is the base of the falls where you can enjoy the water.
Love waterfalls? Check out these 15 Spectacular Waterfalls in Glacier National Park, Montana
Ken's Lake Moab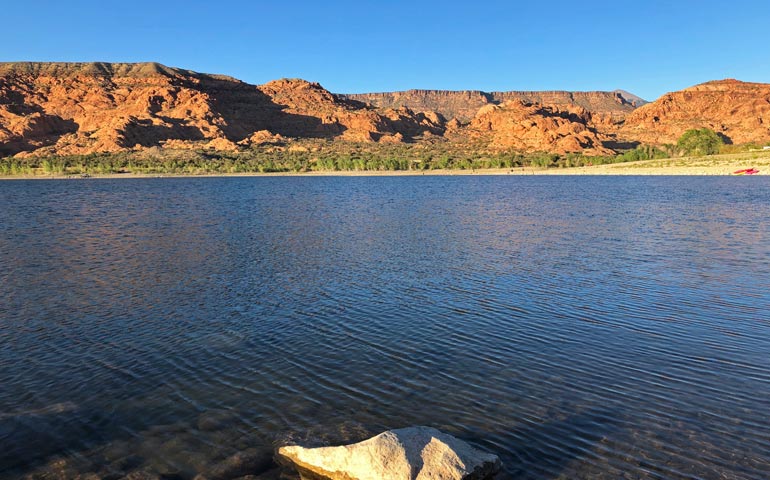 If you're planning to spend an afternoon in the area, Ken's Lake is a great swimming lake. I saw lots of people swimming, paddle boarding, fishing and with inflatables.
The base of the lake is pretty rocky, so again, I'd recommend water shoes.
And obviously with the attached campground, it's an affordable spot to camp during your stay in Moab. Just be sure to make reservations early, especially during peak season. There's not very many spaces available.
Make campground reservations for Ken's Lake here.
Moab waterfalls
Being a desert climate, there's not many natural waterfalls in the area. However, if you're looking for a complete list of Moab waterfalls, this is it:
Mill Creek Falls
MiddleEarth Waterfall
Faux Falls
Told you it was a short list! 🙂 If you're looking for more waterfalls, there's quite a few in central and western Utah. But in this corner of the state, the Moab waterfalls are the 3 listed above!
What to take with you to Faux Falls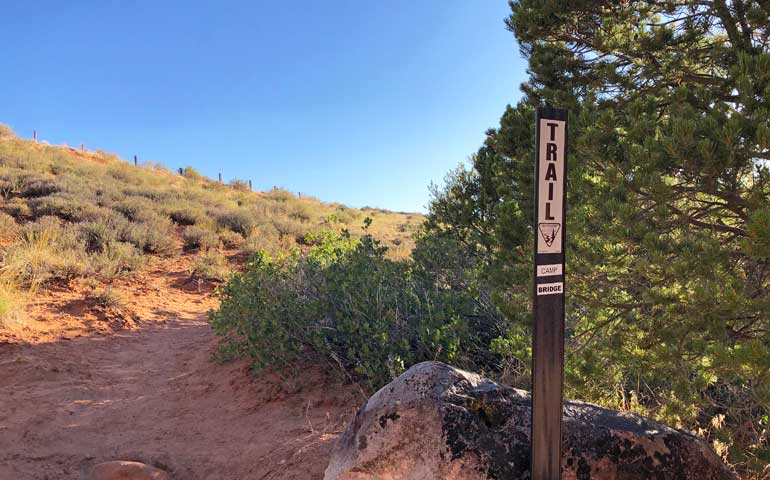 To round out this guide for Faux Falls near Moab, I do recommend to be sure you're adequately prepared for your hike and waterfall adventure.
Here are the things take with you for this short hike:
Swimsuit and lightweight towel if you plan to get in the water
Comfortable shoes with traction, especially on the slick rocks (good water shoes will double as both!)
Drinking water, especially in the summertime
Bug spray (the creek and trees attract the mosquitos)
Sunblock, especially during the peak of the day or if you're walking the road
Here's a complete list of essentials to pack for a day hike. Otherwise, a short trial like this should be pretty simple when it comes to gear.
That's a wrap!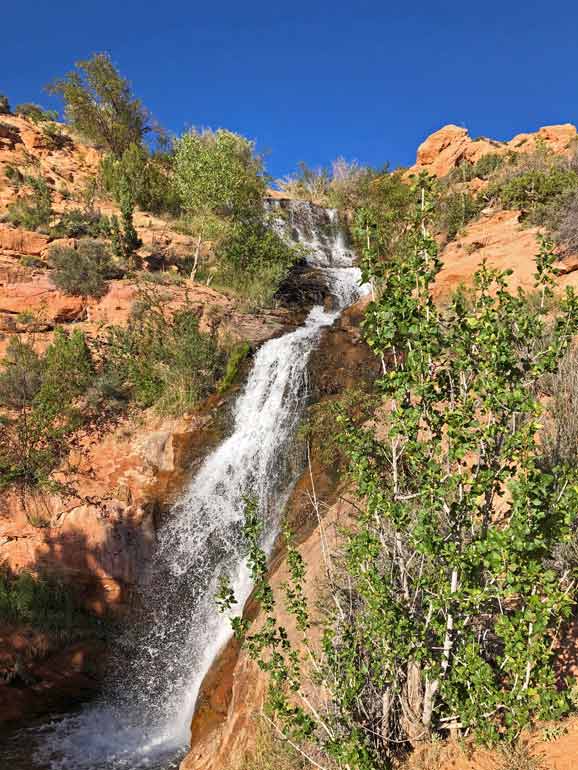 Well, what do you think? Ready to explore this fun waterfall?
I hope this guide has been helpful and that you have a fantastic time!
Related content:
30 Actually Cool Things to Do in Moab, Utah
One Unforgettable Day in Arches National Park (perfect Itinerary)
10 Best Hikes in Canyonlands National Park that Promise Incredible Views
Arches National Park Hikes: 12 Top-Rated Trails You'll Love
More activities you might like:
Find this post helpful? Save it for later or share it on social media!