Badlands National Park is surreal and truly feels like a different planet. Incredible rock spires jut up into the sky with jagged cliffs around every turn. Badlands NP is more than just unbelievable scenery. There's also plenty of things to do in Badlands National Park!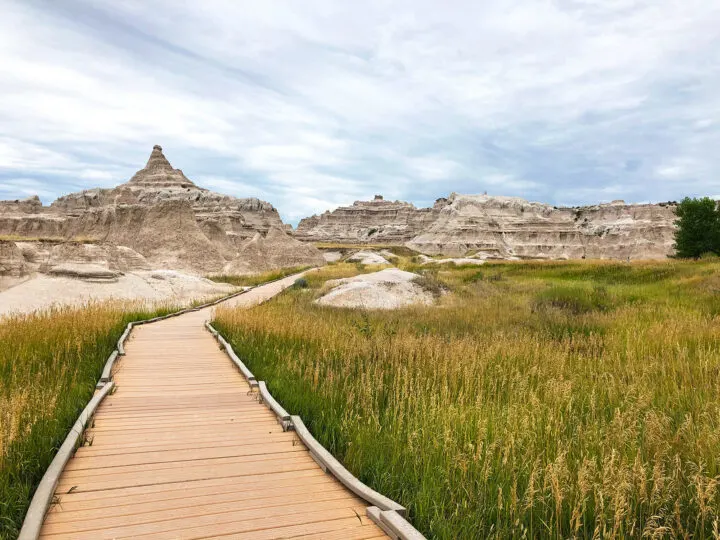 This post may contain affiliate links. For more info, see my disclosures.
Tucked away in the southwest corner of South Dakota, Badlands National Park is a pleasant surprise in the Midwest. It's one of the most impressive and underrated USA National Parks – in my opinion!
With plenty of things to do in Badlands National Park to fill a couple of days, it's an awesome part of any vacation while visiting the Black Hills. Or, if you're limited on time, simply spending an afternoon as you're passing through South Dakota on a road trip is an option too. Badlands will not disappoint!
Ahhh, the scenery, the wildlife, the hiking! So much to do…let's dive in!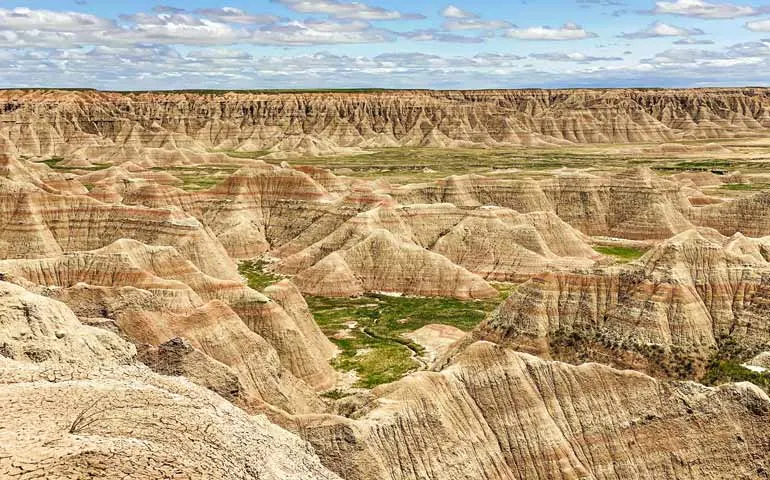 Things to do in Badlands National Park
Drive the loop for incredible scenery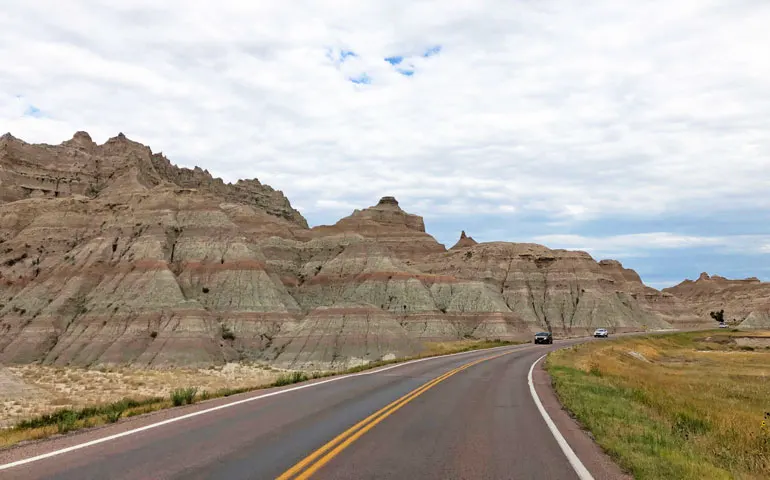 The best way to see what the park has to offer is to drive the loop. The loop is South Dakota Highway 240, and loops south from I-90. It's the perfect way to see the park if you've just got a bit of time.
Plus a lot of the things to do in Badlands National Park are along this popular scenic highway. Driving the loop takes about an hour, without stops.
It's only 39 miles but with 16 scenic overlooks, so driving the loop will take you longer than an hour because you'll want to soak in the sights of the Badlands.
Panorama Point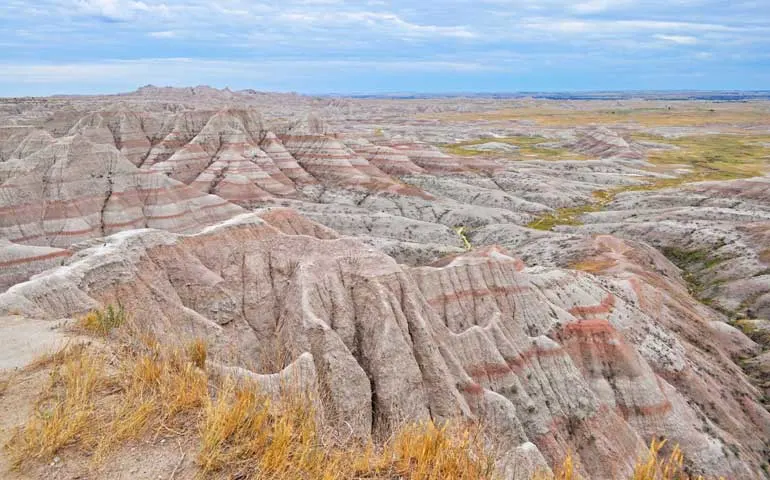 It's in an area of the park where you're standing at the top of the spires and can see the prairie in the distance. Panorama Point is one of the best overlooks in the park. It's really fun to see the jagged spires and valleys that have formed through the rock.
The orange stripes in the rock look almost like a child when through the park with a crayon and made lines on the cliffs. A super cool sight to see in real life. It's difficult the depth of the landscape in photos so they just don't do it justice!
If you drive the loop through Badlands, be sure to check out this overlook.
Visit Roberts Prairie Dog Town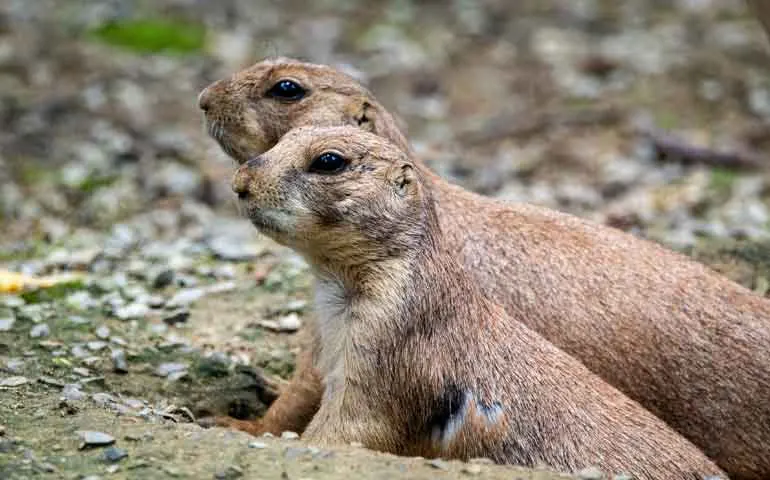 The southwestern part of South Dakota is where a ton of prairie dogs call home. Badlands National Park is no exception! You'll have to drive on a gravel road to get to Roberts Prairie Dog Town, but it's worth the trip.
Kids and animal lovers will love seeing the prairie dogs pop out of their holes, and squeak back and forth as though they're having an in-depth conversation. It's truly a sight to see.
Visitors can walk through the little village – which is more like an open prairie. Just be respectful of their homes and don't feed them. 🙂
Catch some Badlands wildlife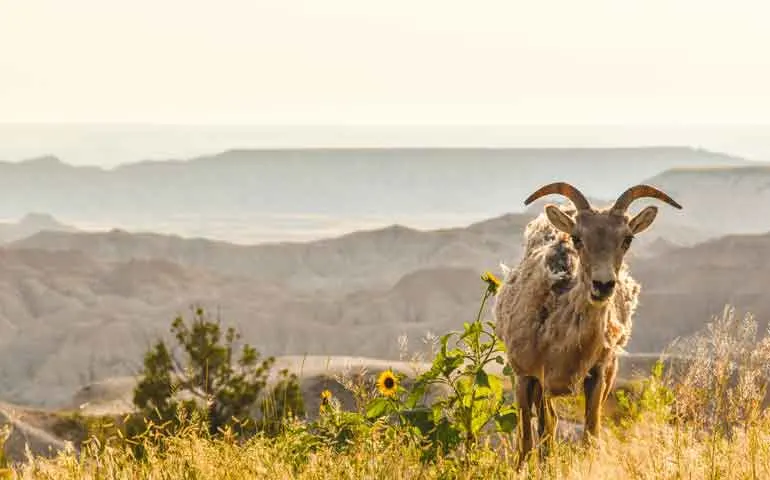 Speaking of wildlife, it's in abundance at Badlands National Park. I mean, it's what we come to expect in our National Park system, right?
It's common to see these animals as you explore the park. Badlands National Park wildlife includes:
Big horn sheep
Bison
Coyotes
Mule deer
Pronghorn (antelope)
Rattlesnakes
Porcupine
Prairie dogs
My family was fortunate enough to see a huge herd of big horn sheep which stopped traffic along the loop for quite a while. So keep your eyes open for Badlands wildlife!
Yellow Mounds Overlook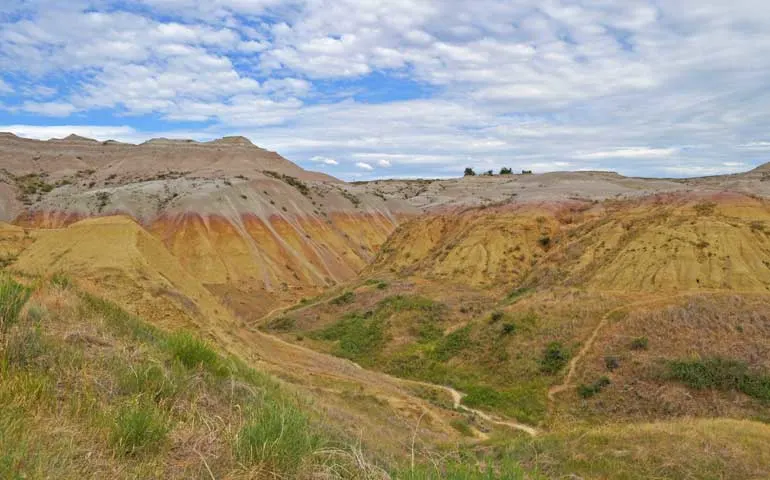 The Yellow Mounds Overlook area was one of my favorite in the park! It's a fun spot to hike and explore different scenery than the spires and cliffs.
Yellow Mounds Overlook is right alongside the road which offers really unique views. If you're feeling more adventurous, there's tons of trails to climb the mounds! As an open-hike park, Badlands is all free to explore! Just pick a trail and go on an adventure.
Hiking at Yellow Mounds Overlook is perfect for kids and adults. Just be sure to pack plenty of water and make sure you stick to a path. Hiking in Badlands National Park can be very disorienting because of the landscape, so use caution!
The Yellow Mounds have a fascinating history, read more here.
Hike the Notch Trail in Badlands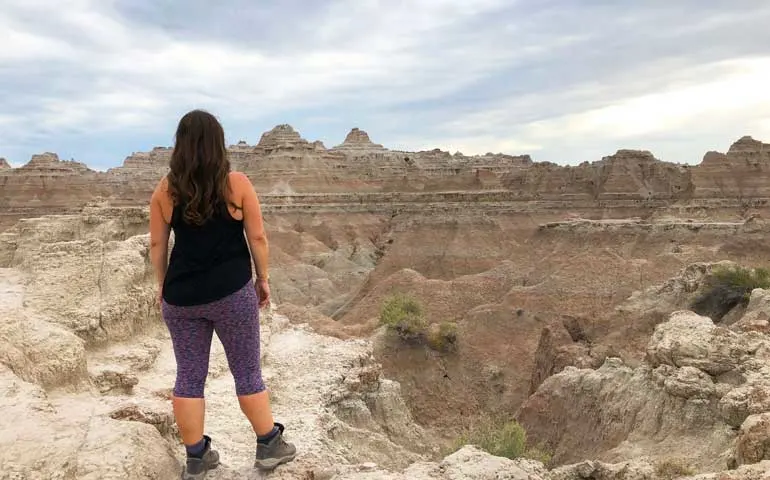 Ahhh, let's get to perhaps the most famous hike in the park – Notch Trail.
Notch Trail in Badlands National Park is a moderate hike – including walking along a cliff's edge and requires ladder climbing to finish the trail. It's just over 1.3 miles, so if you don't have a fear of heights, give it a go!
It may not be suitable for young kids, but it's surely for the adventurous! I also wouldn't recommend it if it's wintry weather or just rained, as it could be slick and dangerous.
Any time of year, I'd recommend good hiking shoes for this trail. These are my favorite hiking shoes from Amazon, which I've worn to many national parks!
Oh, and the view at the end of the hike will make it all worth it!
Looking for more amazing places to hike? Check out these spots:
Pinnacles Overlook (a favorite of the things to do in Badlands National Park)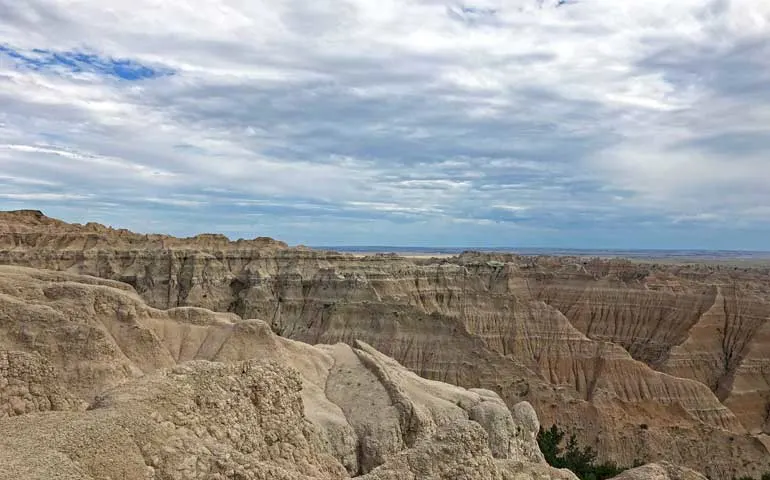 The Pinnacles Overlook is one of the first stops on the loop if you're driving from west to east. It's also one of the most breathtaking! Step off the overlook and walk the tops of the spires further out. It's really cool to see the crevices of the canyon from above.
Pinnacles Overlook has large lookout point and is relatively easy to access, with a short flat path with just a few steps. This lookout could be a brief stop if your time is limited in the Badlands, or you could spend an hour venturing around the area!
Catch a sunset or sunrise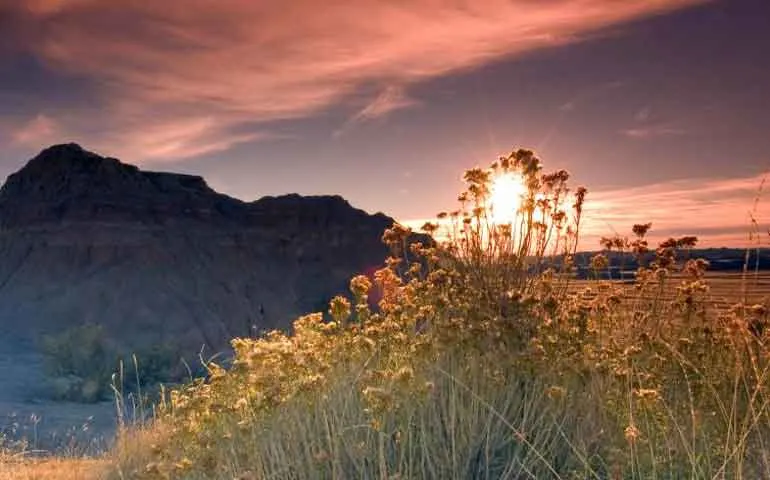 The sunrise and sunset in Badlands National Park is truly spectacular! The colorful layers of rock really come to life in the glow of the morning and evening light.
There's just something about being in a place that took 75 million years to create, that makes you wanna witness a sunset there. I was fortunate enough to see a sunset sky filled with bright pinks and oranges, giving the sculpted spires a whole new look.
If you can plan a sunrise or sunset at Badlands National Park during your visit, it's well worth it!
The Window Trail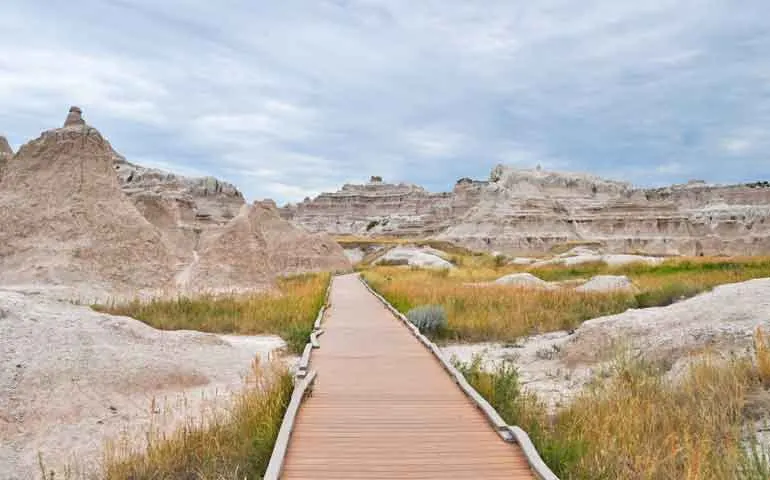 This short boardwalk is accessible for all and a fun stop on the drive through the loop. Take the boardwalk just about .25 miles and you'll see why they call it 'the window.'
There's a large opening in the spires which looks like a window to the jagged cliffs and prairie beyond. This trail is a fun one for kids to poke around.
Just be sure to watch for rattlesnakes! There were posted signs all throughout the park, but several people near us saw one, which sent them running in fear. Which is actually the opposite of how to act! Read more on rattlesnakes in the park, here.
Climb the buttes at Cedar Pass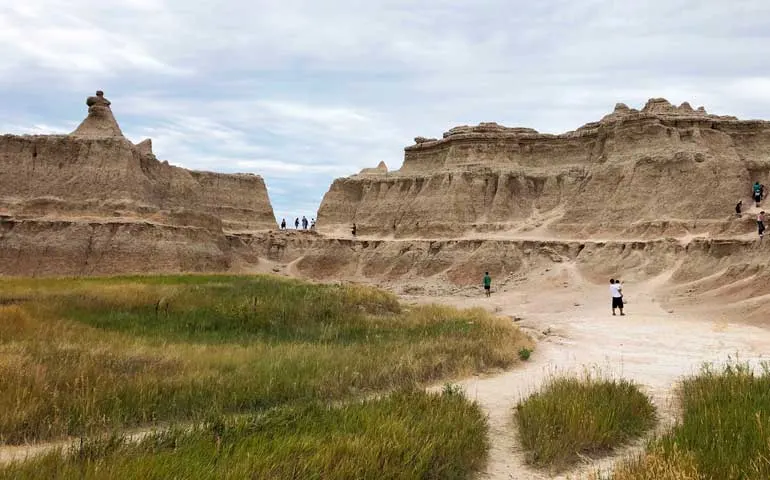 Nestled between the Window Trail and Door Trail is a really fun area to explore. It's perfect for kids or adventurous adults.
The buttes and spires in the Cedar Pass area have been climbed and explored for years, so much so that it's easy to pick out hiking and climbing paths even though there's no designated trails here. Just look for the smooth rock – or not!
Take one of the best hikes in the Badlands – the Door Trail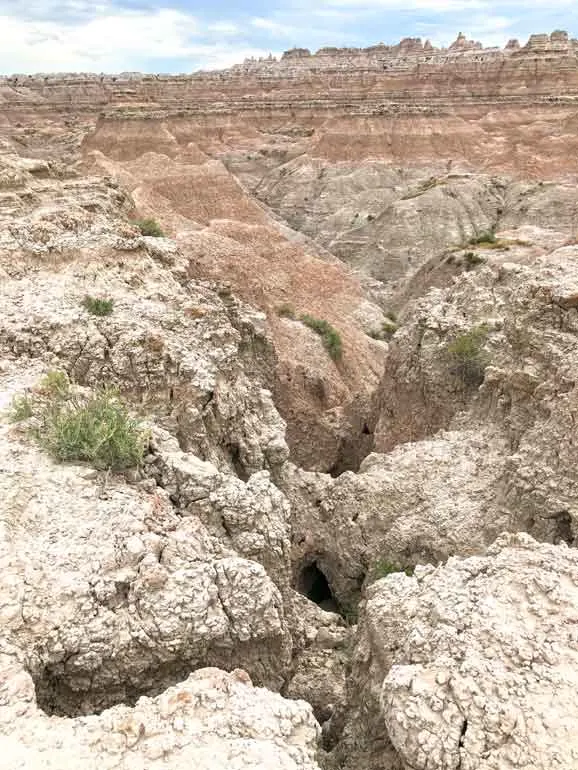 This trail is one of the most unique in the park based on how it's set up, and was one of my family's favorite hikes! It's listed as a moderate hike, but is actually fairly easy as long as you're wearing athletic shoes or hiking shoes.
The Door Trail is located in the Cedar Pass section, and is one of the first stops if you're driving South Dakota 240 from east to west.
The trail starts off with a boardwalk, but go beyond the boardwalk to see the best views! The trail is marked with yellow poles that are numbered. Some of them are tricky to spot, but it's a fun game to see who can spot the next pole first.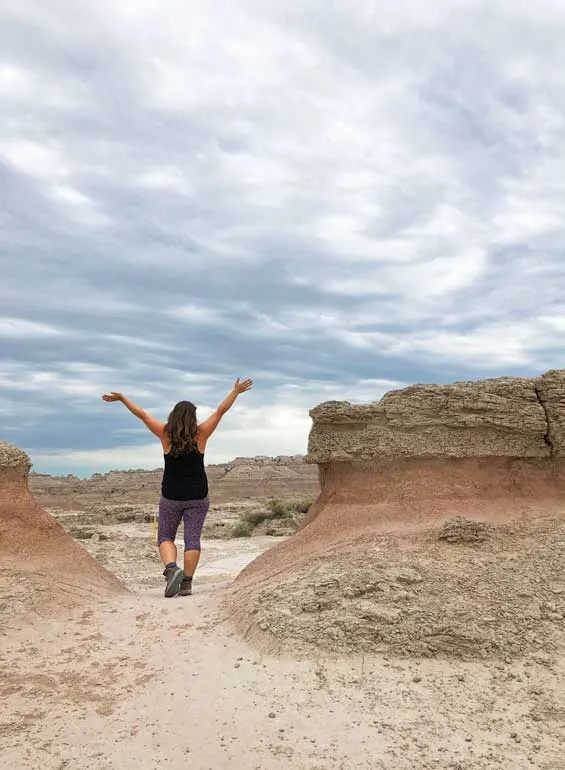 Want to visit more of national parks? Check this out: America's National Parks and How to Visit All of Them
There you have it – tons of things to do in Badlands National Park!
Badlands NP has been one of the most surprising national parks I've been to, and it deserves to be on anyone's bucket list. Plus, it's nice to explore a national park with the option to see most of it in just a day or 2.
So tell me, what do you think you'd see first at Badlands National Park? Hiking trails? Search for wildlife? Epic overlooks? Comment below!
Read next:
28 Absolute Best National Parks to Visit in Summer
100 Most Romantic Vacations in the US You'll Love
33 Amazing Family Destinations on a Budget
Was this post helpful? Save it for later or share it on social media!