It's beach time in Costa Rica! The beaches in Manuel Antonio are all beautiful but vastly different. This guide will walk you through the best beaches in the area for swimming, snorkeling and even some secluded spots.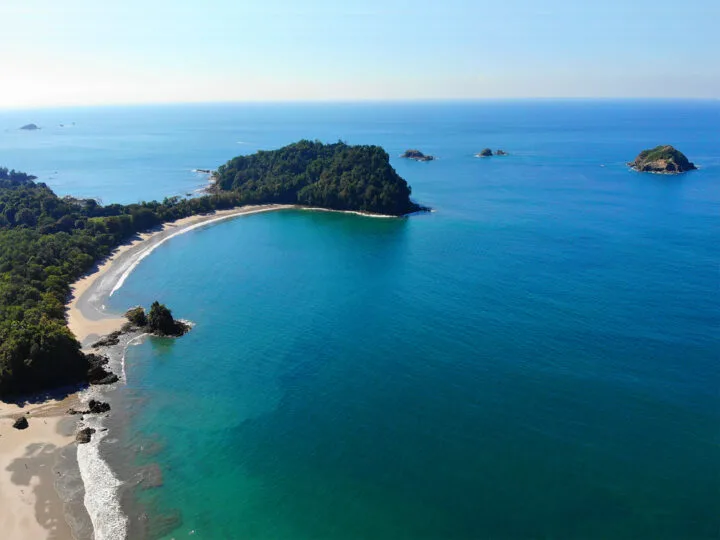 This post may contain affiliate links. For more info, see my disclosures.
Manuel Antonio is a stunning beach destination. With swaying palm trees, beautiful coastlines and unique nature not seen anywhere else in the world, this is a gorgeous part of Costa Rica!
By the way, if this is your first trip to Costa Rica, just know that you'll fall in love with this country! A Costa Rica itinerary is best spent doing the things you enjoy most – like beaching!
From the stunning Arenal Volcano to the Cloud Forest in Monteverde, the laid-back beach towns of the Caribbean Coast and the ultra popular Tamarindo, there's something for everyone in Costa Rica.
Manuel Antonio beaches in Costa Rica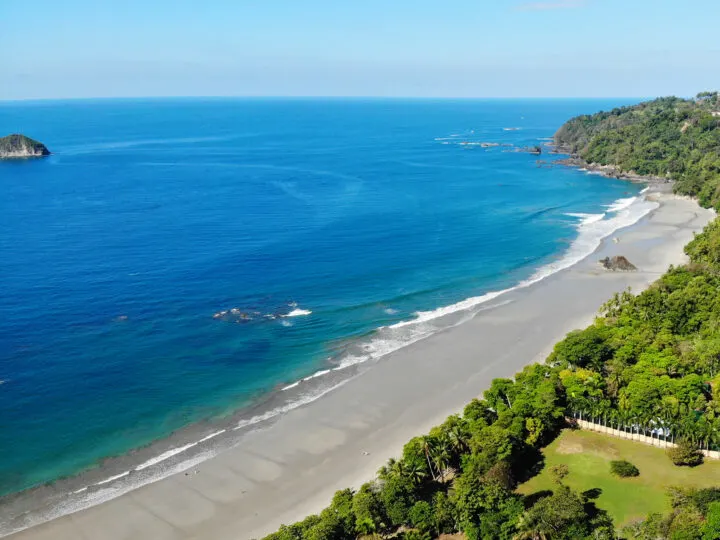 Manuel Antonio is home to some of the best beaches in all of Costa Rica. Visitors flock here to experience the National Park and it's two crescent-shaped gems.
The natural coasts and beaches rival that of world-class beaches like Flamenco Beach in Puerto Rico, but the vibe here is much different! Wildlife is abundant and each beach has a unique mix of what makes it perfect for visiting.
Whether you're in Manuel Antonio for nature, the party scene or just to simply relax on some of Central America's most iconic beaches, these are all an adventure. Inside and out of the national park, each of the beaches on this list has its own appeal.
But before we dive into the list, let's get a better idea on location and how to get there.
Where is Manuel Antonio?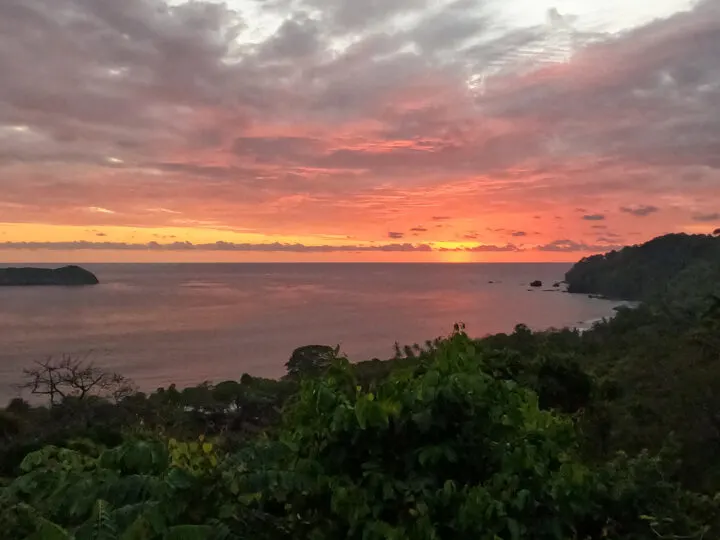 Located on Costa Rica's southwest coast about 3.5 hours drive from San Jose, Manuel Antonio is known for its incredible wildlife, the Manuel Antonio National Park and of course, the beaches in Manuel Antonio.
Here's a map of Manuel Antonio as well as all the beaches on this list. Zoom out to see the town in reference to other popular spots in Costa Rica.
How to get to Manuel Antonio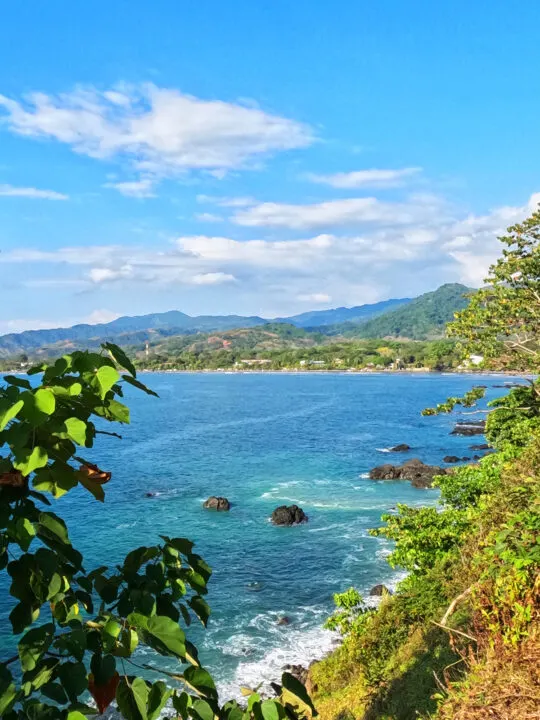 To get to Manuel Antonio from San Jose, you can take the public bus system, hire a private transfer, or rent a car.
I loved renting a car and seeing the beautiful country of Costa Rica at my own pace. If you're from the US, driving is a bit more of an adventure, but so worth it.
For the best price on rental cars, use Discover Cars. It's free to use, and I typically save 10-30%. It finds the best rates on the internet for the most popular providers.
Enough chatting already – let's dive into the list!
Beaches in Manuel Antonio
Starting this list off with a bang! The first 3 beaches are within the national park, and the other 3 are outside of its boundaries.
Note: a beach packing list and nearby accommodations are at the end of this post, so be sure to check out what you'll need to bring!
Check them out 👉
1. Playa Espadilla Sur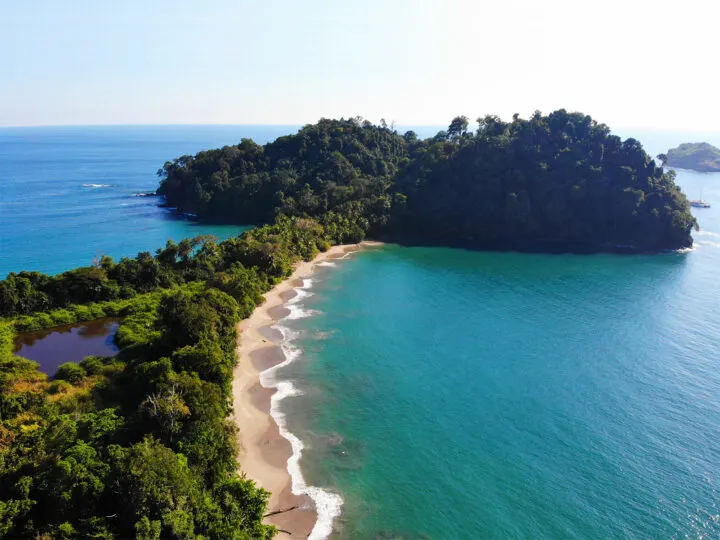 Perfect for: relaxation, swimming, wildlife, snorkeling
Amenities: none 😊
Location: Manuel Antonio National Park
Parking: outside the national park, for $10 USD
You're going to love this beach! One of the best in the area for relaxation, the soft sand of Playa Espadilla Sur welcomes you! It's the most serene setting of all the beaches in Manuel Antonio.
The crescent shaped beach with the palm trees and rainforest create a beautiful coastline. It's a gorgeous place to spend the day, with plenty of space to spread out. In fact, it might just feel like you have the place to yourself!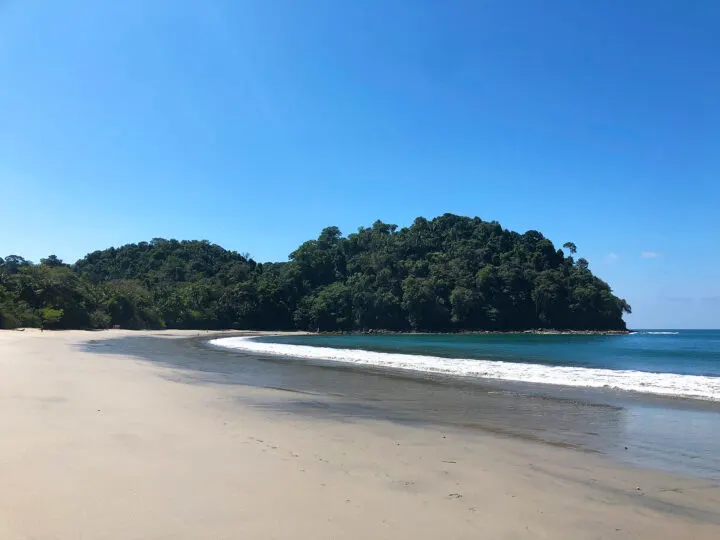 I found this beach to be the softest sand in the entire area. Water shoes are required for all the other beaches, at least for the best experience.
There are waves at Playa Espadilla Sur, but they're really gentle and not the kind that will knock you over. The gray sand is lighter in color than some of the other beaches on this list.
To get to Playa Espadilla Sur you'll need to get passes to the Manuel Antonio National Park. No guide is needed, but tickets must be purchased online in advance.
Once you enter the park, take the main path, past Bahia 8. You can take a right towards Playa Espadilla Sur once you get past Bahia 8. Or if you prefer to walk through the shaded part of the park and towards the other end of the beach, take path 11 past Senedero Perezoso and hang back to the right to enter the beach.
There aren't amenities here, this beach is for relaxation! Bring your beach towel and ocean-safe sunscreen and relax in the most picturesque setting. This is also a great beach for snorkeling Manuel Antonio.
You cannot bring food into the park, but can bring water so keep that in mind.
Pro tip: there is a food and snack shop which can be purchased and brought to the beach. If you take the route past Sendero Perezoso you'll reach the Cafeteria. From there, you can take your snacks to the beach.
2. Playa Manuel Antonio (AKA Manuel Antonio Beach – the most popular on this list!)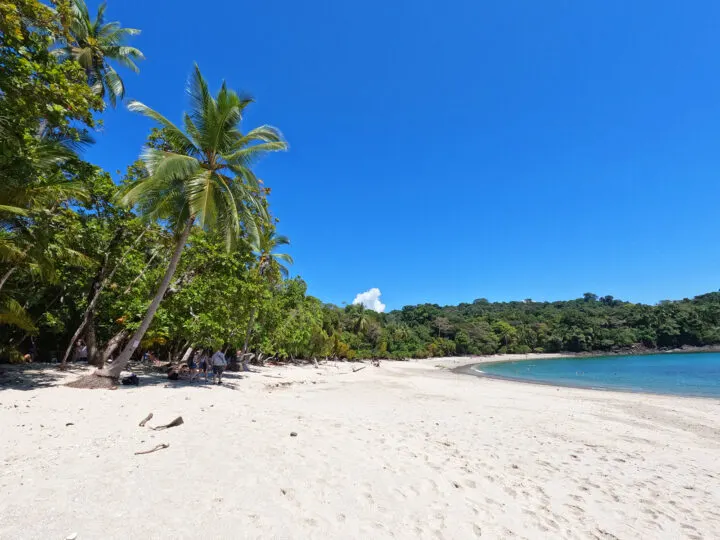 Perfect for: young kids, swimming, snorkeling, wildlife
Amenities: none 😊
Location: Manuel Antonio National Park
Parking: outside the national park, for $10 USD
The shining star of Manuel Antonio, this beach is the most popular in national park, and one of the best things to do in Manuel Antonio!
With sand brighter and whiter than any other beach in the area and waves almost non existent, this beach is quite picturesque. It's the most popular in the area for swimming.
Manuel Antonio Beach Costa Rica is great for families with young kids because the entrance is shallow and the waves are so incredibly calm.
Once you enter the water it's quite rocky, so water shoes are highly recommended. These are the water shoes I took to Playa Manuel Antonio and they work perfectly. I've also worn them traveling all over, like Aruba's beaches, hiking and swimming on the Mahaulepu Heritage Trail in Kauai, chasing waterfalls in Glacier National Park, and so many more adventures.
Anyway, this beach is also great for snorkeling Manuel Antonio. The water isn't super clear, but with the tiny waves you won't be knocked around. See coral and plenty of small fish in the water here.
With zero amenities, you'll want to rent snorkel gear in town or get your own and bring it to Costa Rica. This is the snorkel set I take with me everywhere and love. This snorkeling set was perfect for our adventures to Maui with kids – my children loved it!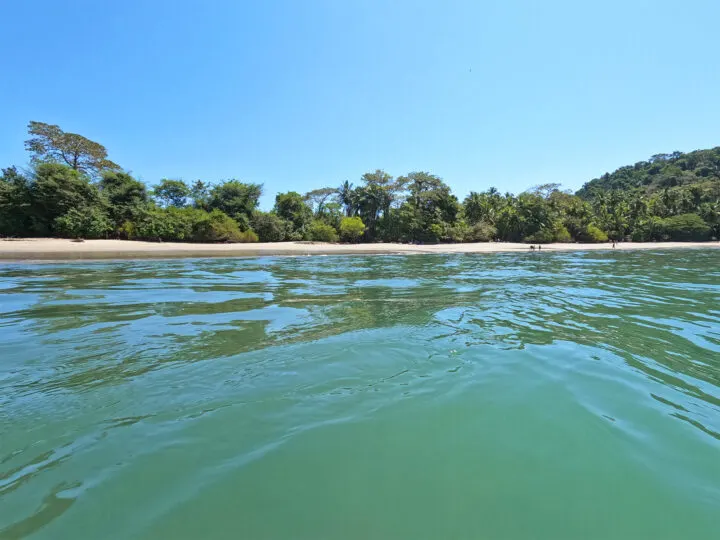 Playa Manuel Antonio is located right across the tiny strip of land from Playa Espadilla Sur.
To get to the beach directly from the park entrance, follow the main path past Bahia 8, Sendero Perezoso and the Cafeteria. You'll go down a steep hill and see the beach entrance.
One of the coolest parts of the beach is at the far southwest end of it. White-face Capuchin Monkeys frequent this area, and are really fun to see in action!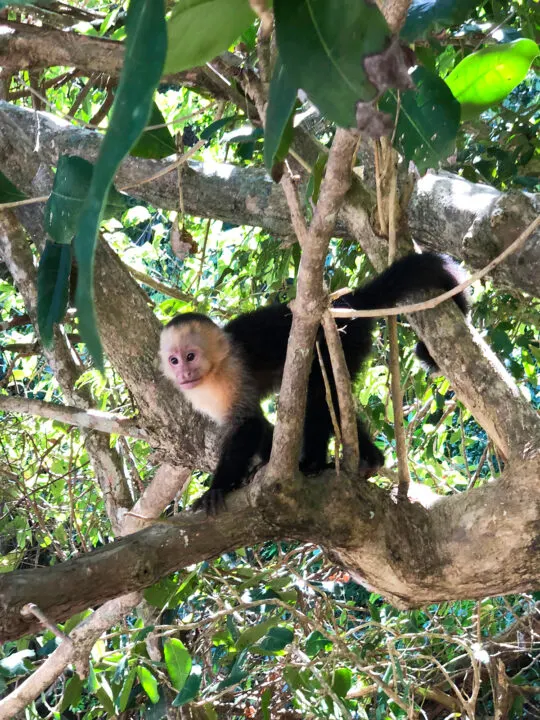 Pro tip: enter the park early to enjoy the quiet of the beach before the crowds come. This beach gets busy!
There's a fun observation tower right between Playa Espadilla Sur and Playa Manuel Antonio. You can climb about 3 stories tall. However, it seems to have been built when the trees are smaller so there's not a whole lot to see from the top.
3. Playa Gemelas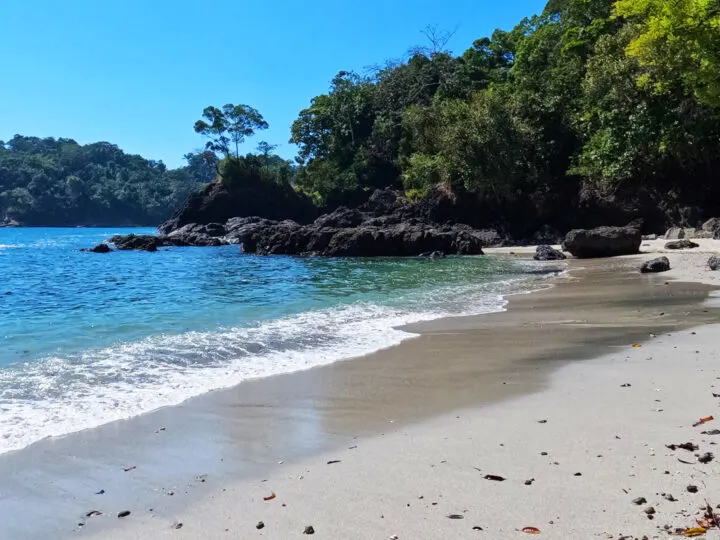 Perfect for: swimming, great views
Amenities: none 😊
Location: Manuel Antonio National Park
Parking: outside the national park, for $10 USD
One of the smallest beaches in Manuel Antonio, this is located within the Manuel Antonio National Park. Nestled in a cove, it's a fun place to just chill. It's further away from the main action of the park, so it's typically less crowded than some of the other spots on this list.
This beach is definitely rockier than the other two beaches, and with more waves, too. The water is a bit more murky and has more leaves and sticks floating in it.
Water shoes are a must at Playa Gemelas!
After a long, hot hike in the jungle of Costa Rica, the water feels quite refreshing!
To get to Playa Gemelas, take the main path once you enter the national park and walk until you get to the cafeteria (about 15-20 minutes). From there, go left on the path towards Playa Gemelas.
Caution: the rocks can be slippery. There's 2 small coves to sit on the beach. If you want to get from one to the other, be careful with the crashing waves, or get there by swimming past the rocks.
4. Playa Espadilla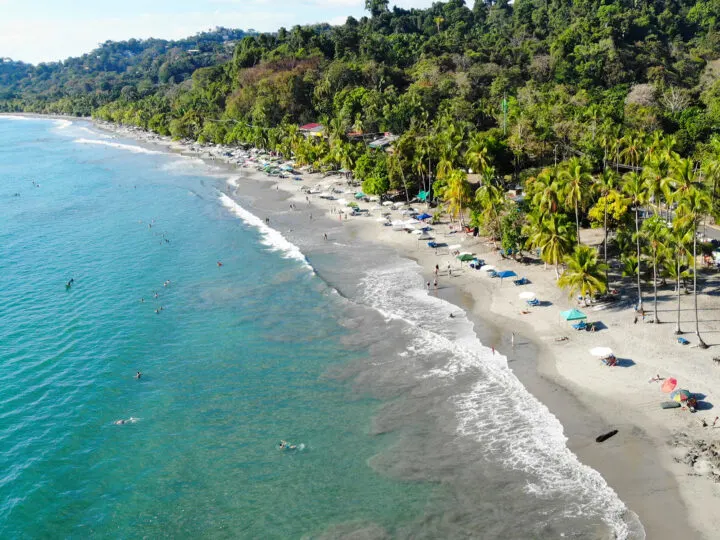 Perfect for: swimming, water activities
Amenities: bathrooms, restaurants, tours, rental gear
Location: downtown Manuel Antonio, near the national park entrance (just navigate to Playa Espadilla)
Parking: in Manuel Antonio, anywhere you can find it (usually $10 USD from the locals)
This is the main beach in the town of Manuel Antonio! You'll sometimes also see it referred to as Espadilla Norte.
The palm trees will make you swoon and the sound of the waves crashing on the shore is absolutely delightful. You'll find tons of amenities here and great views of the Pacific Ocean.
There's plenty of chairs and umbrellas for rent, too. You'll pay a few bucks, but well worth it to sit comfortably in the shade.
The water is great for swimming, with the waves larger than the other beaches on this list. Watch for rip currents and keep track closely for young swimmers!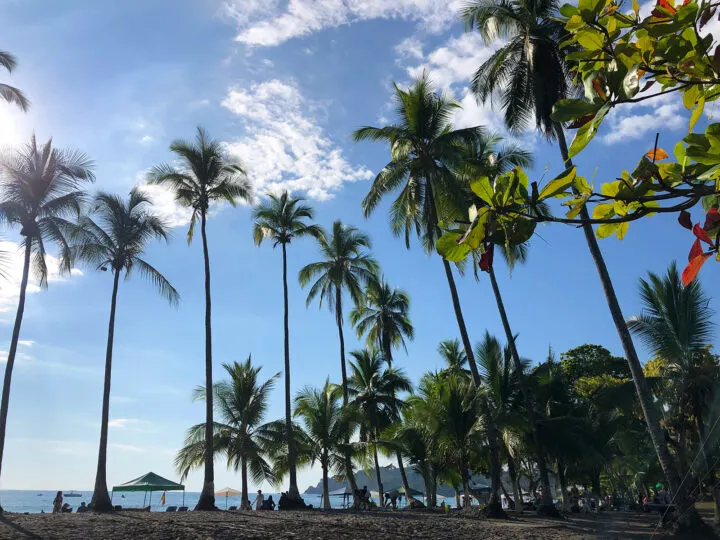 The locals here create a unique experience on the beach. Artisans selling crafts, families offering horseback rides, and of course, cold drink carts where you'll be happy to quench your thirst after swimming and sunning on the beach.
If you're staying at a nearby hotel or vacation rental, walking is an option. Parking can be a bit challenging, and you'll end up paying about $10 USD for the day. Taxis are also available from your hotel if you don't have a rental car and it's too far to walk.
Pro tip: there are a lot of people on this beach. To keep valuables like keys and cell phones safe, I recommend this beach towel with hidden pocket. I've used it in beaches from Placencia Belize to the best beaches on the Gulf Coast. Highly recommend!
5. Playa Biesanz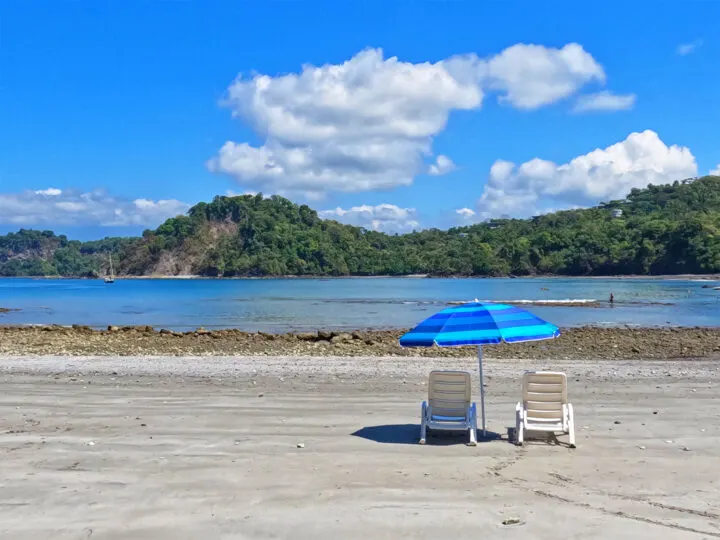 Perfect for: wildlife, swimming, kayaking, shelling
Amenities: bathrooms, drinks and snacks, rentals
Location: navigate to Puntarenas Province, Quepos, Costa Rica (near Shana By the Beach Resort)
Parking: near the entrance to the beach trail, for $4 USD
One of the hidden gems, and the best beaches in Manuel Antonio is Playa Biesanz. The locals are super friendly and helpful here, providing anything you want for a few bucks!
The beach itself is quite large, but the ocean access is small due to a rocky shoreline. With plenty of natural shade, you can bring towels and enjoy from under a tree.
There are chairs and umbrellas to rent too if you prefer to be a bit closer to the water.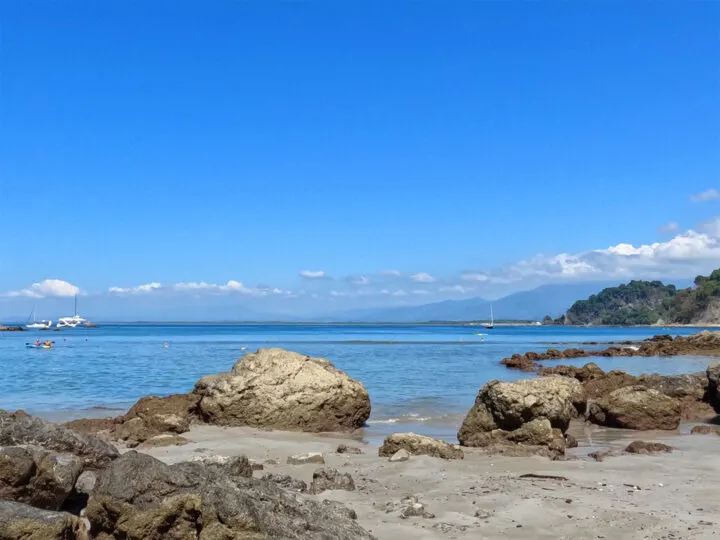 One of my favorite draws of this beach is the sloths! Sightings are common here. If you ask a local to help you find some, it will cost a few dollars but they typically know where there sloths hang out.
There are capuchin monkeys and howler monkeys that play in the treetops along the edge of the beach, too. This is a very exciting beach!
With very shallow water and extremely calm waves, this beach is perfect for swimming, and especially perfect for families. It's also a bit rocky, which is perfect for seashell hunting!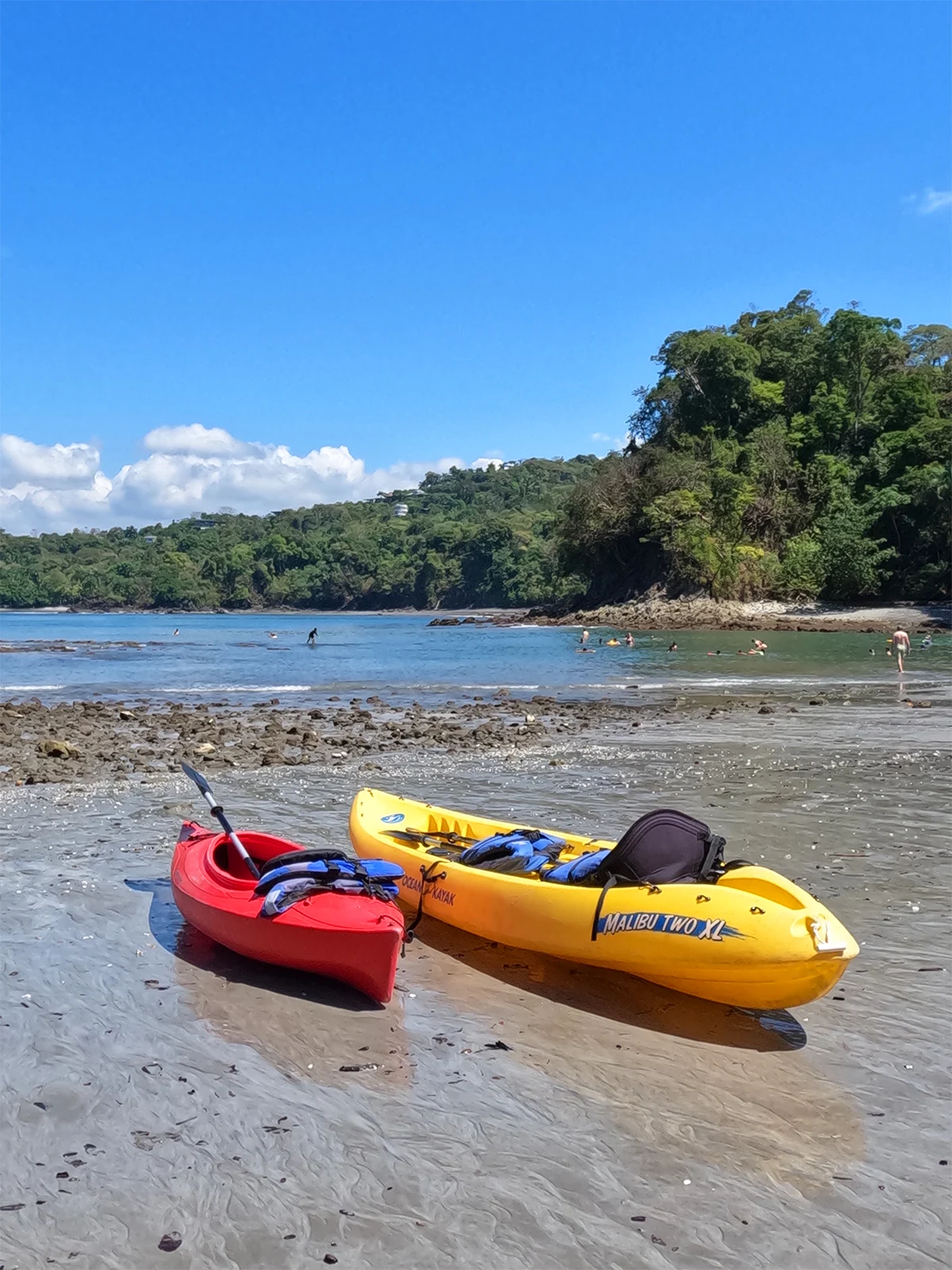 Quick note: the 10 minute hike down to the beach is a bit steep. Water shoes or athletic shoes are recommended, especially if it's recently rained.
Pro tip: to get a bit away from the crowds, walk towards the right, past the entrance to the water. There is more soft sand and places to sit on the other side of the black rocks.
Parking here costs $4 USD. Technically it's just a local saying they'll 'watch your vehicle' but might as well pay so it doesn't get vandalized.
6. Playa La Macha (the most secluded on this list of beaches in Manuel Antonio)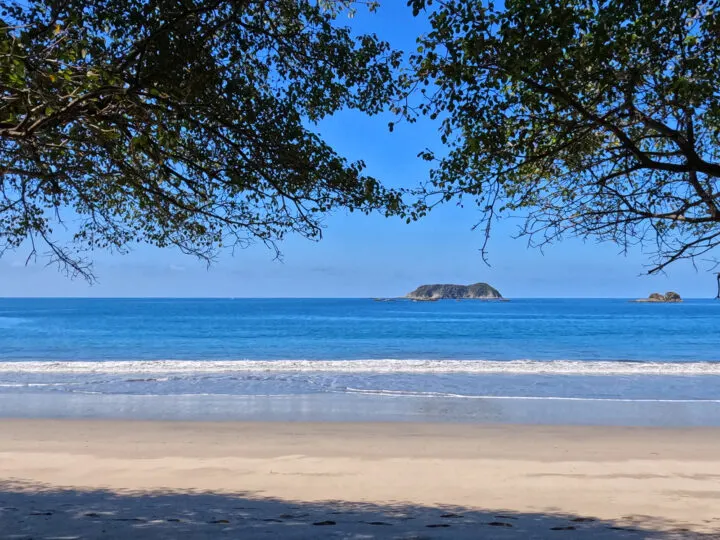 Perfect for: swimming, sunbathing
Amenities: none 😊
Location: Unnamed Rd, Quepos,, Provincia de Puntarenas, Quepos, Costa Rica (near Hotel Bongo)
Parking: limited parking at trail entrance
This beach is made for the adventurer! And even more interesting, it's clothing optional!
Playa La Macha is a small beautifully secluded beach on the northern end of Manuel Antonio. It's more difficult to get to, which also means you'll encounter far less crowds! There are no services at the beach, so grab some water and snacks so you can stay awhile!
To get to Playa La Macha, navigate to Hotel Bongo, where you'll see a sign for the beach. If it's not too muddy and you have 4×4 vehicle, you can drive down the dirt road towards the beach until you see a sign that says "no vehicles beyond this point" as it will save you 10 or so minutes of walking.
However, if it's muddy or you don't have a high clearance vehicle, leave your car at Hotel Bongo to ensure you don't get stuck in this remote location.
Next comes the adventurous part – the hike down to the beach. It's an intermediate level hike, about 15-20 minutes with slippery and rocky terrain. Shoes are a must – flip flops would be a disaster on this trail! At the very least bring a good pair of water shoes that can double as hiking shoes.
The beach itself is great for swimming! The waves aren't as large as some of the others in the area, and it's a great place to enjoy the water.
Note: during high tide the waves come all the way up to the tree line and there's not a dry place to set down your stuff. You can check out the tide times for the beaches in Manuel Antonio for the best experience.
Packing for Manuel Antonio Beach Costa Rica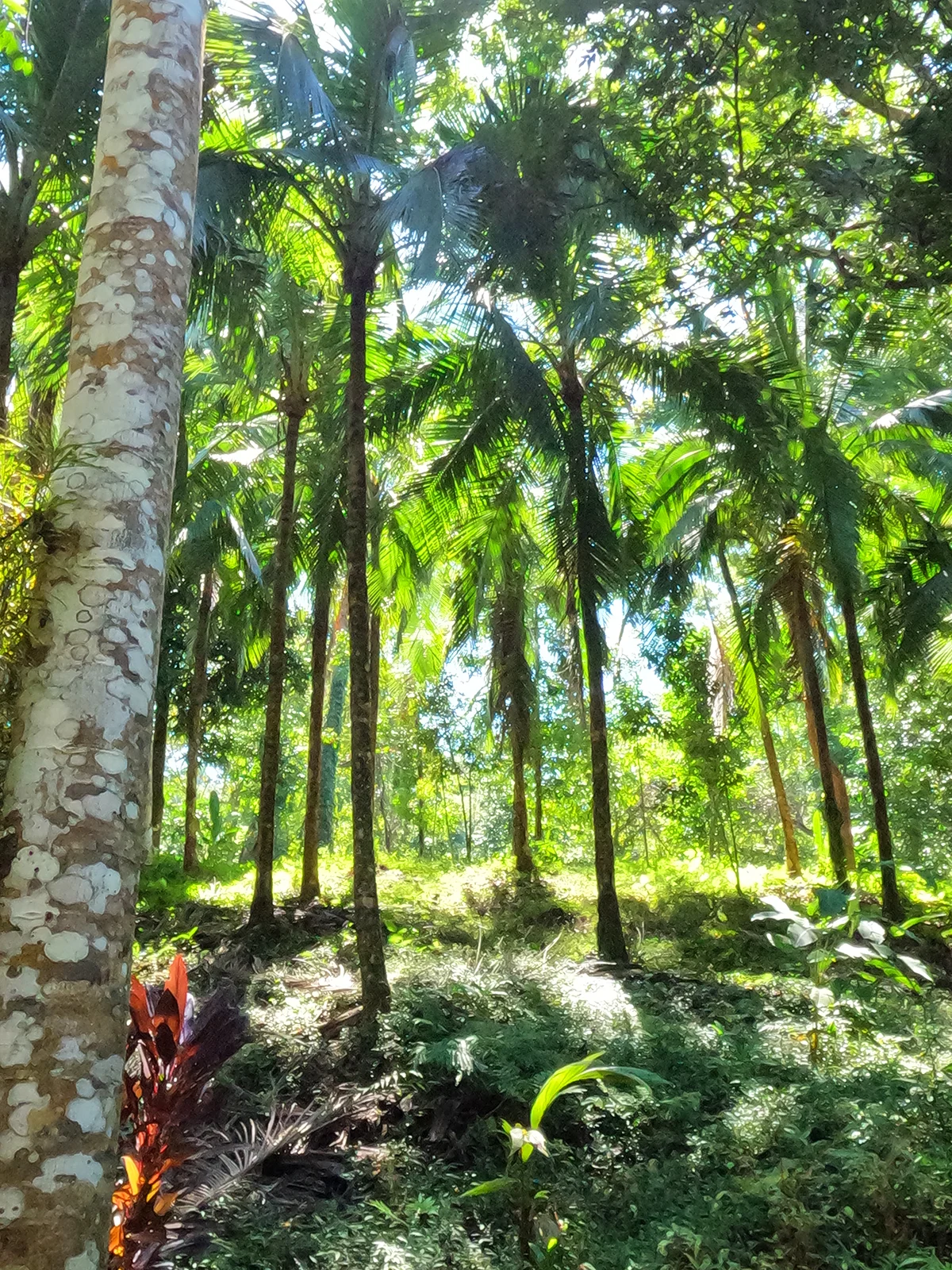 If you're wondering what to pack for the best experience in Manuel Antonio, here are the items you need.
Of course you can also bring rash guards, a beach bag, snorkel gear, collapsable cooler and other items that will round out your trip!
For a full beach packing list, check out this guide: Exactly What to Pack for a Beach Vacation
Tips for the beach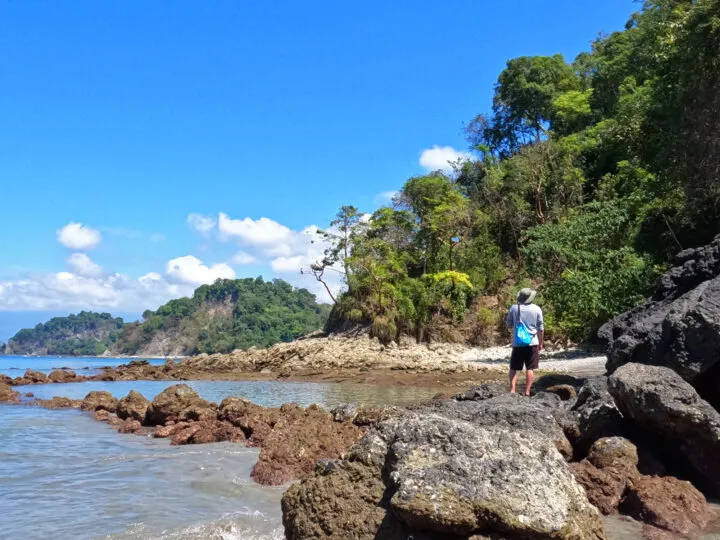 Visiting the beaches in Manuel Antonio is quite memorable! Here are a few helpful tips to make your time more enjoyable.
All the street vendors, restaurants and tours take US Dollars and Costa Rica Colon. Some take cards.
Bring a full, reusable water bottle with you. Some areas you'll be able to buy drinks, but not all. Don't get dehydrated!
The national park doesn't allow outside food, but you can bring food to the other beaches on this list. You might find that more affordable than buying snacks right at the beach.
The water temperature varies depending on where you are on the coast. It's refreshing and even in winter not too cold for swimming, but some areas are cooler than others.
Where to stay in Manuel Antonio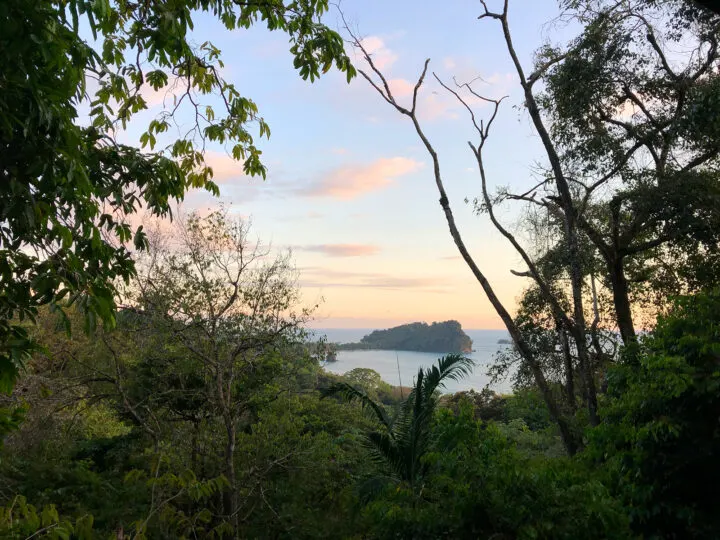 If you're trying to decide where to stay in Manuel Antonio to take advantage of all the beautiful beaches, I got you!
The city of Manuel Antonio is pretty linear with many properties offering great views. You can choose to stay close to the national park, and the downtown action, or a little further away from the crowds, but still with plenty of accommodations and accessibility.
Places to stay in Manuel Antonio:
I personally loved staying at the Hotel Costa Verde, where they had an amazing platform built on the side of the hillside perfect for watching the sunset. Oh, and the pool was spectacular!
I typically like using Booking.com to find accommodations. With excellent rates, they have hotel and private vacation home options. Truly the best of both worlds!
Best beaches in Manuel Antonio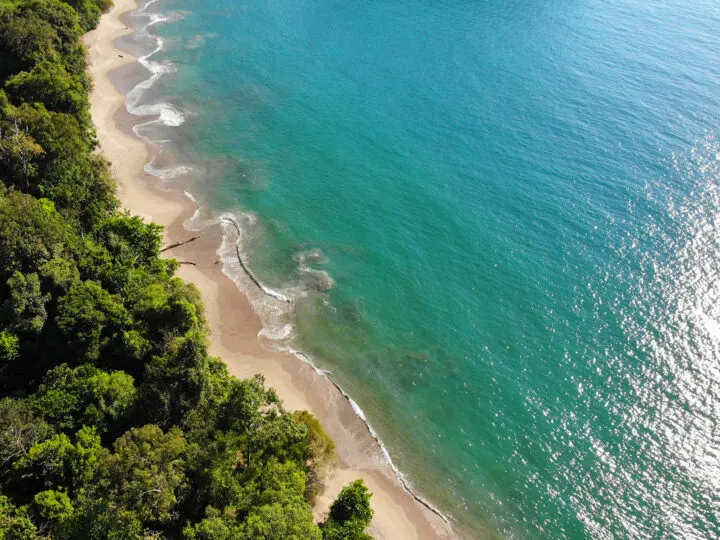 That's a wrap! This is one of the most popular areas of Costa Rica, and for good reason! The beaches are picturesque and there's plenty of sand and surf for everyone to enjoy. From secluded to bustling, these are the best beaches in Manuel Antonio.
Let's recap that list again in a quicker fashion…
Manuel Antonio Beaches Costa Rica
Playa Espadilla Sur
Playa Manuel Antonio
Playa Gemelas
Playa Espadilla
Playa Biesanz
Playa La Macha
Related content to read next:
26 Incredibly Fun Things to Do in Manuel Antonio Costa Rica You Gotta See to Believe
7 Days Costa Rica Itinerary: Top Sights for First Timers
26 Fun and Unique Things to Do in Monteverde Costa Rica You Can't Miss
Epic Things to Do in Belize for an Amazing Vacation
Visiting Tikal in Guatemala – Everything You Need to Know Before You Go
26 Best Beaches in Aruba (and one to miss)
Find this post helpful? Save it for later or share it on social media!