There's nothing quite like a fall vacation. The hustle and bustle of the summer is gone. Most tourist destinations are like sleepy ghost towns waiting for the rush of holiday travelers. So if you've ever wondered where's the best places to visit in October in the USA – here's your list.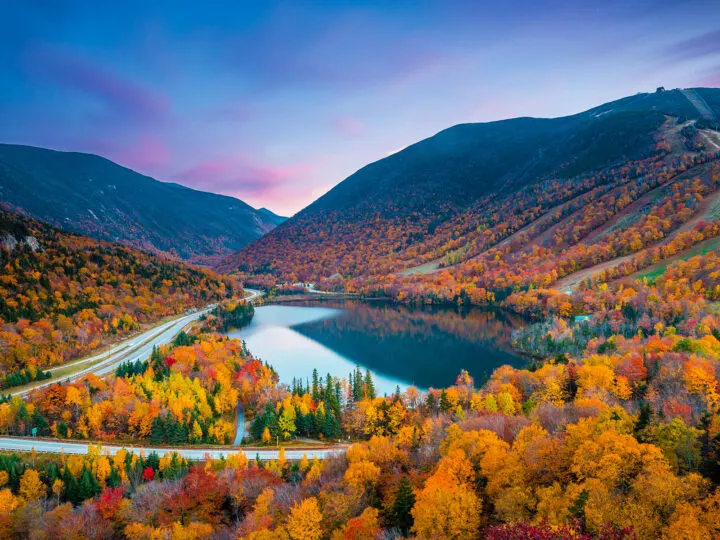 This post may contain affiliate links. For more info, see my disclosures.
Traveling in the fall, and more specifically, October cannot be beat. It's the shoulder season for many destinations across the states. That means less crowds and affordable prices. And bonus – beautiful fall colors across much of the USA!
Traveling in the fall is one of the best times to take a vacation. But not every spot is equally as great. That's why this list of the best fall vacations in the US is highlighting cool spots you've seen before, and even better destinations you haven't heard of.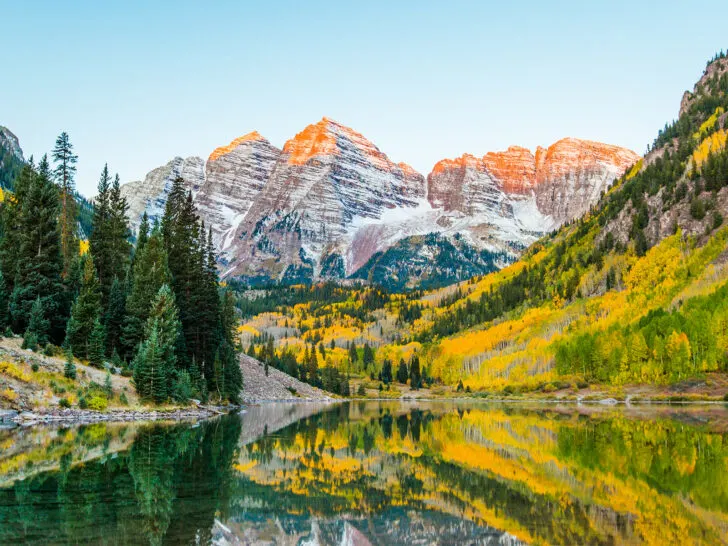 And by the way…I'm continually checking places off my travel bucket list. However, I haven't been everywhere yet (working on it!) so I enlisted some travel blogger friends for help creating this epic list.
Map of the best fall vacations in the US
This list is covering a lot of the country! From the west coast to the east coast and some spots in between, this map shows a visual, which can be useful when planning your fall getaway.
Best places to visit in October in USA
October is a fabulous time to travel, and these are some of the most ideal spots in these gorgeous United States to see. From popular fall foliage spots to destinations you've never heard of, let's dive into the list!
1. The Blue Ridge Parkway, North Carolina to Virginia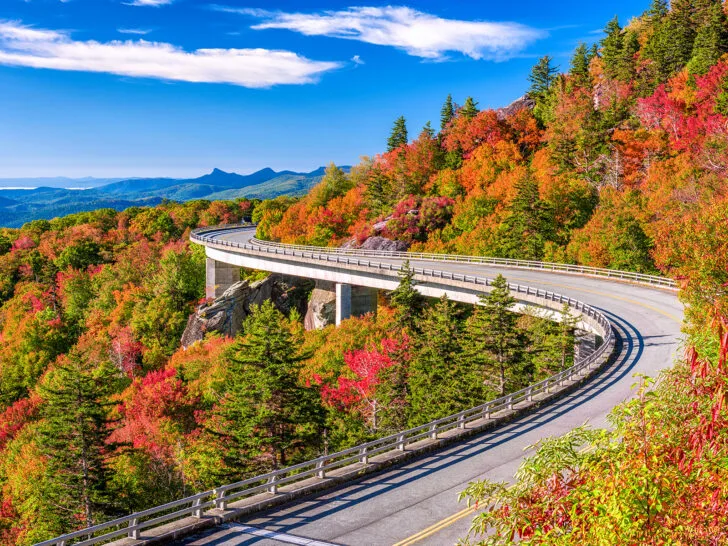 Average temp: high 62, low 41
Stretching 469 miles from the entrance to Great Smoky Mountains National Park in North Carolina to the entrance to Shenandoah National Park in Virginia (where it turns into the equally scenic Skyline Drive), the Blue Ridge Parkway is widely regarded as one of America's most scenic roads.
More than 15 million people using the Blue Ridge Parkway (BRP) each year, making it the most visited of all the national park units in the United States. So it's also arguably the most popular!
The BRP's origins date back to 1935, when President Franklin Delano Roosevelt made the historic initiative part of his New Deal. It was designed to improve American infrastructure and create jobs as a means to accelerate the nation's economic recovery after the Great Depression.
It took until 1966 to construct the majority of the road, and another 21 years to finish the picturesque stretch from the Linn Cove Viaduct to Grandfather Mountain in North Carolina.
The result is an epic and iconic road trip that dazzles with spectacular colors in the fall, when the leaves turn to sun-speckled gems in red, orange, and golden hues. It's by far one of the most scenic fall drives in the US!!
An autumn drive along the Blue Ridge Parkway takes you through the Jefferson, George Washington, Nantahala, and Pisgah National Forests; numerous impressive state parks (including NC's Mount Mitchell State Park, the highest peak east of the Mississippi); and countless hiking trails, waterfalls, rivers, lakes and streams.
There are also some 200 breathtaking BRP overlooks as well as charming mountain towns such as Banner Elk, Boone, and Little Switzerland.
The best of the parkway's landmarks include Grandfather Mountain State Park, the Linville Gorge Wilderness, Looking Glass Rock, and Julian Price Memorial Park. Each offers opportunities to savor the splendor of America's wilderness at its most pristine, preserved by FDR for future generations.
Recommended by Bret Love and Mary Gabbett of Blue Ridge Mountains Travel Guide
2. Bend, Oregon (one of the most underrated and best places to visit in October USA)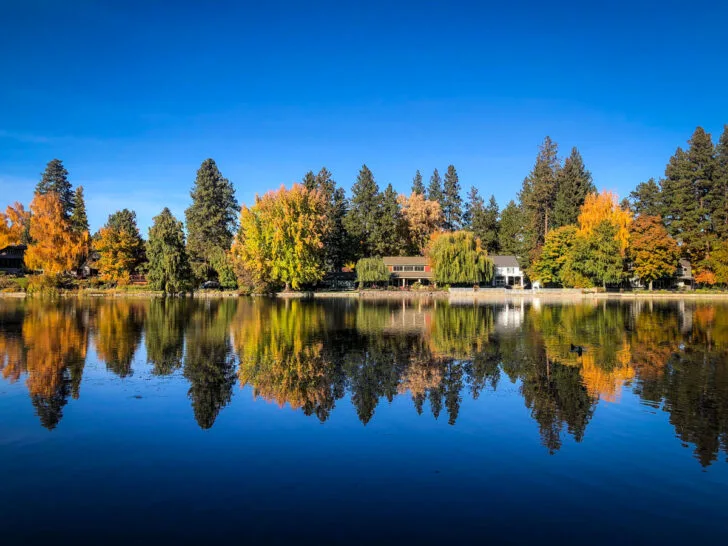 Average temp: high 62, low 33
While Bend, Oregon is a fantastic destination year-round, the fall is a great time to visit this Central Oregon town. You'll find far fewer crowds than in the summer months and the crisp autumn air is perfect for many outdoor adventures.
Bend is an outdoor enthusiast's dream, and October is a great time to experience Oregon's high desert. Cooler autumn temperatures make it the perfect time of year to hit the nearby trails.
There are a variety of hikes in Bend, Oregon for all skill levels and in a diverse range of settings, from pine forests to snowcapped peaks to juniper and sage dotted deserts. You can also get out onto the water on a SUP or kayak or cruise through some of the famed Bend mountain biking trails.
A fun fall activity is to head to nearby Smith Rock State Park for beautiful views and a lovely riverside walk. Once you've had your fill, head to the ranch just outside the park that has a large pumpkin patch, food trucks and festive games for all ages.
October is the perfect time of year to hop around the different breweries around town to sample the local brews. If you're a real craft beer enthusiast, you may want to participate in the Bend Ale Trail, which is run by the local tourism board. Collect stamps at each brewery you visit for a prize!
Recommended by Katie Diederichs of Go Wander Wild
3. Mammoth Lakes, California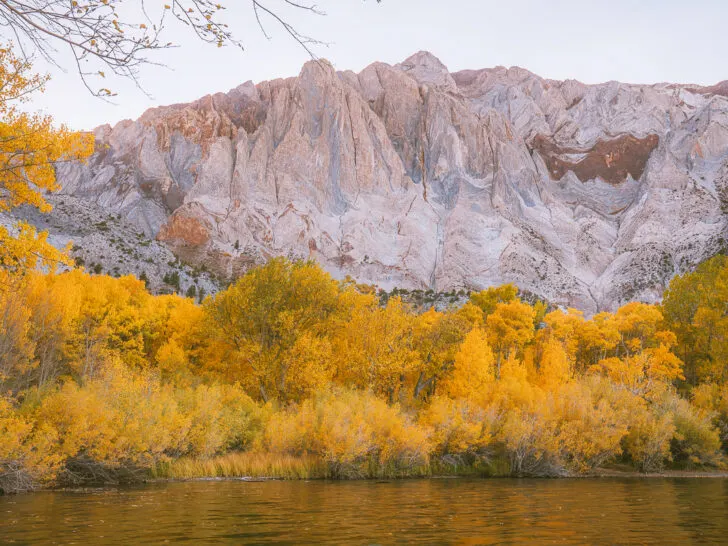 Average temp: high 60, low 30
One of the best places to visit in October in USA is Mammoth Lakes. It's located in Eastern California and is one of the most underrated places to visit in the USA in the fall. The beautiful colorful trees with the mountains in the background make this a wonderful place to stay in October.
June Lake Loop is one of the best spots to experience the fall colors. There are many lakes to explore on the loop like Silver Lake, June Lake, Gull Lake, and Grant Lake.
The whole loop is filled with stunning yellow Aspen trees, and there are many spots to explore with these beautiful trees. Make sure to stop by Silver Lake Cafe for lunch and watch the stunning views of Silver Lake while you eat.
Another great spot to see fall colors is Convict Lake which is located southeast of Mammoth Lakes. The yellow Aspens are situated at the mountain base, so it is best to walk the whole loop.
You can also visit many of the lakes that are located in Mammoth Lakes Basin. They include lakes like Twin Lakes, Lake Mamie, Horseshoe Lake, Lake Mary and Lake George. It's a magical area to explore in the early cool fall morning.
There are so many yellow colors in Mammoth Lakes. It is probably one of the most underrated areas to experience fall foliage, and one of the best places to visit in the US in October!
Recommended by Michelle of The Wandering Queen
4. Rocky Mountain National Park, Colorado (one of the best October vacation destinations)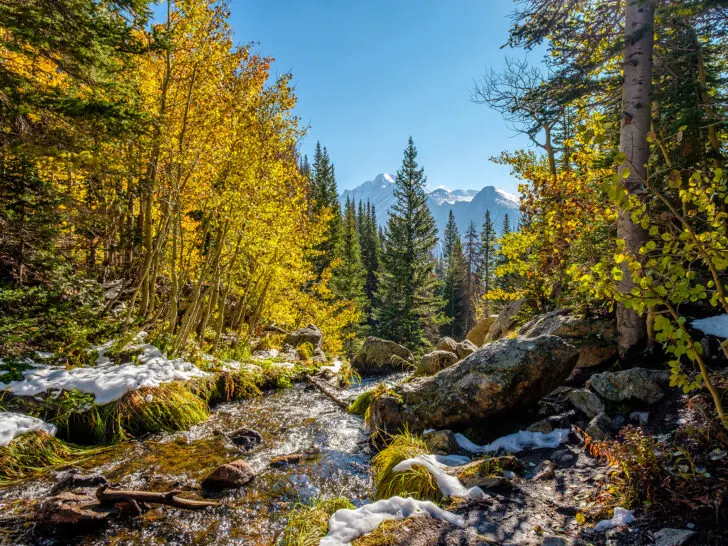 Average temp: high 46, low 29
Colorado's Rocky Mountain is one of the most beautiful (and popular) national parks in the country.
Located about 2 hours away from Denver, this park takes time ans effort to explore with countless trails, waterfalls and even one of Colorado's most popular "fourteeners" Longs Peak.
Rocky Mountain National Park is pure magic during fall, when the incredible golden colors come out in full display. The best time to see them is from mid-September through early October.
Another thing you should know about visiting RMNP during the fall is that weekends still might be busy, as more people come to take pictures and see thousands of amazing golden-hue Aspen trees. Crowds begin to dissipate in the fall, and if you want the ultimate experience, try to plan your visit for weekday.
To see the fall colors in their full glory, take a drive along the Trail Ridge Road that is open from Memorial Day until late October. The alpine highway is a perfect way to enjoy the the fall scenery at RMNP without getting out of the car. In fact, the Trail Ridge Road is one of the top Colorado bucket list activity!
Still, try to explore some trails. Take a hike or two to enjoy the fall colors, and if you plan on doing a more challenging trail at a higher altitude, make sure to bring some layers. Temperatures begin to drop in the fall, and it's a good idea to bring a jacket with you, especially if you plan on camping here.
Note: through most of October, the park requires a timed entry permit. Plan your trip in advance and grab your permit here.
Recommended by Daria of The Discovery Nut
5. Door County, Wisconsin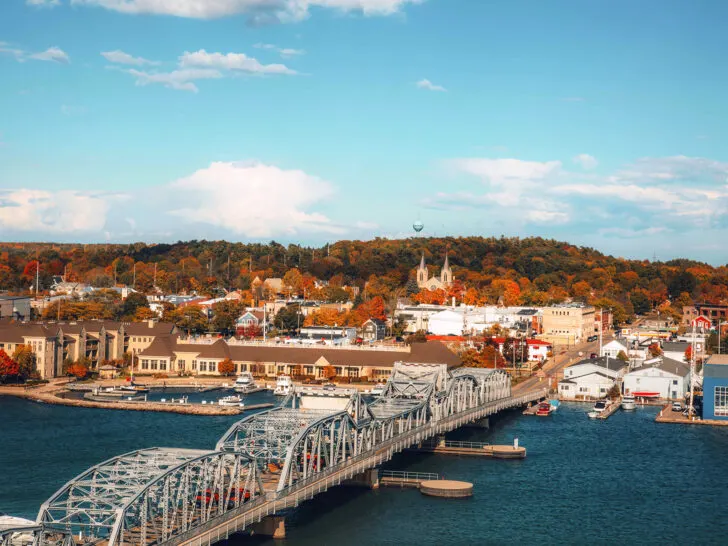 Average temp: high 56, low 41
Door County, Wisconsin likely isn't the first spot to come to mind when thinking of amazing fall colors in the United States. However, the colors here are breathtaking, and there are many wonderful activities to enjoy in Door County during fall!
The colors begin changing during the end of September, and visitors hoping to see the leaves during their peak color should plan to visit the area in mid-October.
To see some of the best fall colors in Door County, try hiking in Peninsula State Park, Whitefish Dunes State Park, Cave Point County Park and The Ridges Sanctuary, just to name a few spots.
For those looking for a less active leaf-peeping experience, be sure to take a drive along Highway 42. You can also see the leaves from above at viewing platforms, such as the newly constructed Sturgeon Bay Maritime Museum Lighthouse Tower.
Fall is also a great time to visit the apple orchards in Door County. Be sure to stop by Wood Orchard Market, where you can get awesome seasonal products such as their special apple cider donuts!
With the cooler fall temperatures, cozying up to a fire during a traditional Door County fish boil is one of the best things to do in Wisconsin at this time of year. Fish Boils are fun to watch and delicious. Each boil master makes theirs a little differently but, you can count on all recipes using white fish and various vegetables and spices boiled in a large kettle over an open fire.
Door County is an underrated destination, and definitely one of the best places to visit in October USA!
Recommended by Lindsey of Have Clothes, Will Travel
6. San Diego, California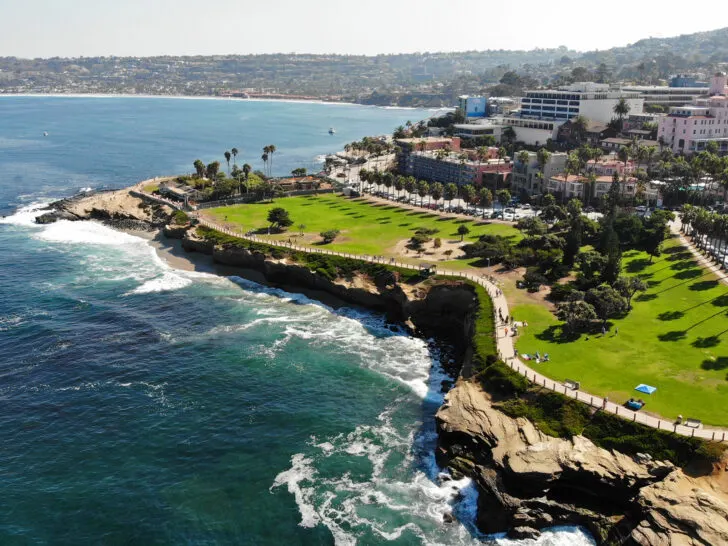 Average temp: high 74, low 61
Listen, San Diego has amazing temperatures most of the year, so there's not really a 'bad' time to go. However, as someone who's traveled to San Diego many times in the fall, I can truly say that October is a fantastic time to visit this amazing city!
Less tourists visit San Diego in the fall, so there's not as many limitations to amazing activities because of overcrowding. For instance, the San Diego Zoo is a fantastic spot to explore. It's really enjoyable in the fall when you can see what you're there to see, instead of waiting all the time.
An amazing activity in the San Diego area is kayaking in La Jolla Cove in October. Other top things to do include Balboa Park, Old Town San Diego and Coronado Island.
By the way, here's an idea of how to spend a weekend in San Diego if it's on your short list!
Recommended by me – Nikki of She Saves She Travels
7. Oahu, Hawaii (top of the list for warm places to visit in October in USA)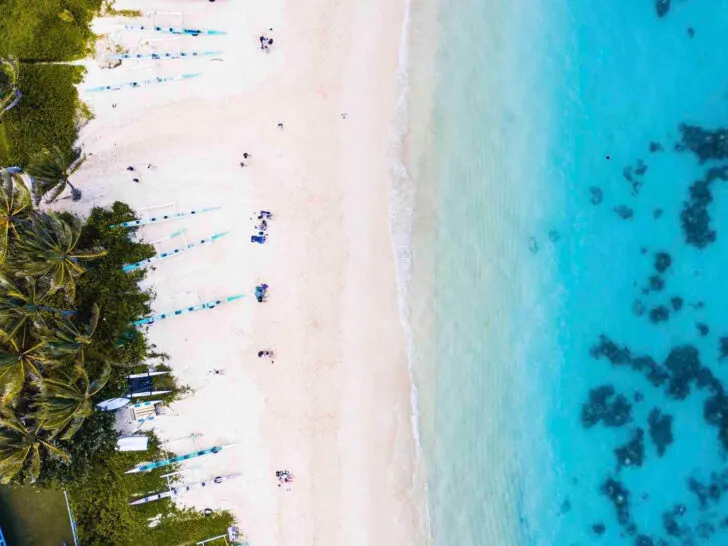 Average temp: high 84, low 69
The island of Oahu has beautiful weather throughout the year but fall is one of the best times to visit. At this time of year, you can expect fewer crowds around the island, plenty of days with clear blue skies and the island is still really warm so you can spend your time lying on the beach.
While it may be hotter in the summer months, the fall actually offers a more enjoyable temperature so you can get out and explore the island.
One of the highlights of any visit to Oahu is exploring the many beaches dotted around the island. The most beautiful beach on Oahu is Lanikai Beach, which is a palm tree lined stretch of brilliant white sand and crystal-clear blue water.
As it's on the east side of the island the water is usually quite calm so it is ideal for swimming, kayaking and stand-up paddle boarding. If you are feeling energetic you can kayak out to the Mokalua Islands which are just a few hundred metres from shore.
Another great activity is to explore Kualoa Regional Park, which is where scenes from Jurassic Park were filmed. You can explore the park on foot or take a quad bike tour. The mountains here are unique with their deep ridges and tropical green coverings.
During a visit to Oahu you can also snorkel, surf, hike, visit local farms to try fresh fruit and so much more. It's an amazing island and the weather in particular makes this a perfect fall getaway.
Recommended by Luke of Wild About BC
8. Acadia National Park, Maine (a top choice on this list of best places to visit in October in USA)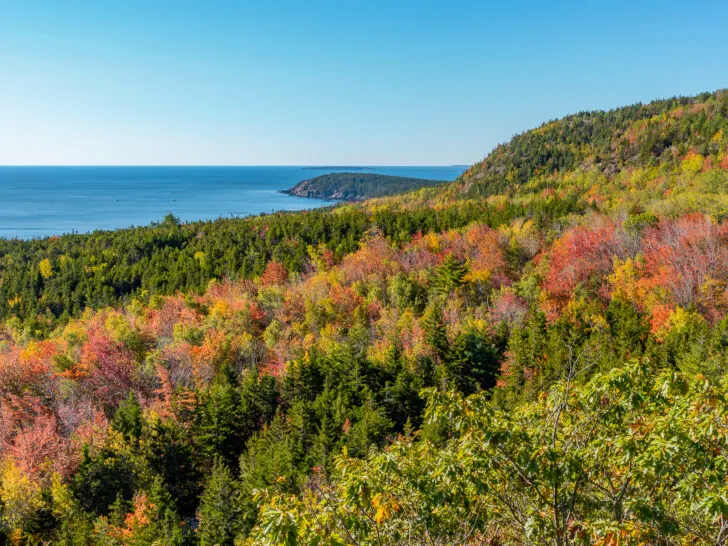 Average temp: high 55, low 38
Acadia is among a very small group of US national parks with two genuine 'peak' seasons. Summer is naturally congested in Acadia, but fall is equally as busy and because of the spectacularly beautiful Autumnal foliage lighting up the park.
But striking colors aren't everything and the fall season is loaded with other benefits in Acadia National Park.
Hiking conditions are cooler in September and October, which comes in particularly handy when climbing both of Acadia's adrenaline pumping hikes – Beehive Trail and Precipice Trail.
Beehive and Precipice are the two outstanding hikes but there are a dozen other trails without ladder climbing elements. All of which summit with remarkable views over the Gulf of Maine, gorgeous lakes, tiny islands and of course mountain sides covered in vibrant orange, yellow, red and green trees.
Epic sunrises are one of Acadia's greatest assets and from the summit of ultra-popular Cadillac Mountain, you can be among the first people in the US to see the sun rise over the eastern horizon. In fall, sunrise is over an hour later than in summer, which means a slightly less agonizing alarm time.
To see the richest and most vivid colors, simply get stuck into all of the best things to do in Acadia National Park, including hikes, lakes and carriage roads.
Pro tip: Be sure to book Bar Harbor accommodation a long way in advance to avoid missing out and always be out in the park early, parking spaces are limited and fill quickly each day.
Without a doubt, Acadia National Park is one of the best places to visit in October in USA.
Recommended by Mark and Kristen of Where Are Those Morgans?
9. Moab, Utah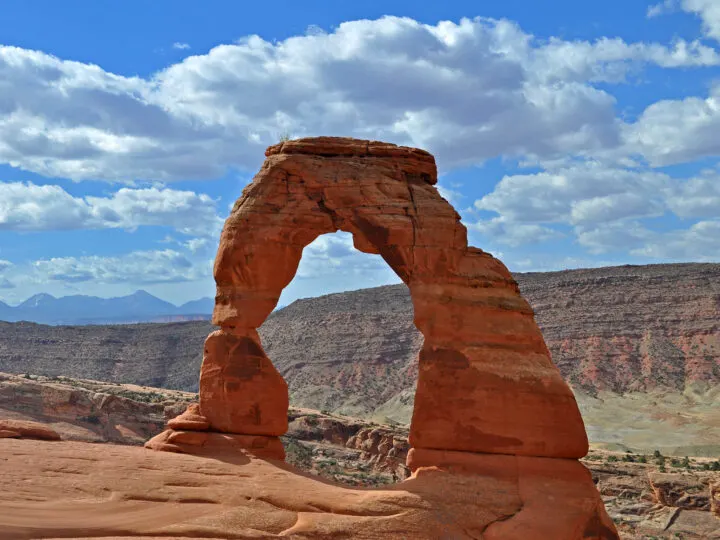 Average temp: high 74, low 41
Moab, Utah is an adventure city in the Southwest USA. With countless national parks, state parks and recreation areas surrounding Moab, it's truly an amazing place to vacation.
It makes this list of the best places to visit in October in the USA because the weather usually hasn't turned too wintry yet to enjoy the outdoors. And in the summer, Moab is packed with tourism!
If you love hiking, October is the perfect time to explore Arches National Park by foot or hike Canyonlands National Park. There's also white water rafting, canyoneering, wineries and breweries and so much more.
Visitors should still book accommodations as far out as possible to get the best pricing. And be sure to book any tours in advance since Moab is a hot spot!
Recommended by me – Nikki of She Saves She Travels
Related: 30 Cool Things to Do in Moab, Utah
Best October vacation destinations
Some amazing spots have already been covered, but some of the best fall foliage in USA continues…
10. Asheville, North Carolina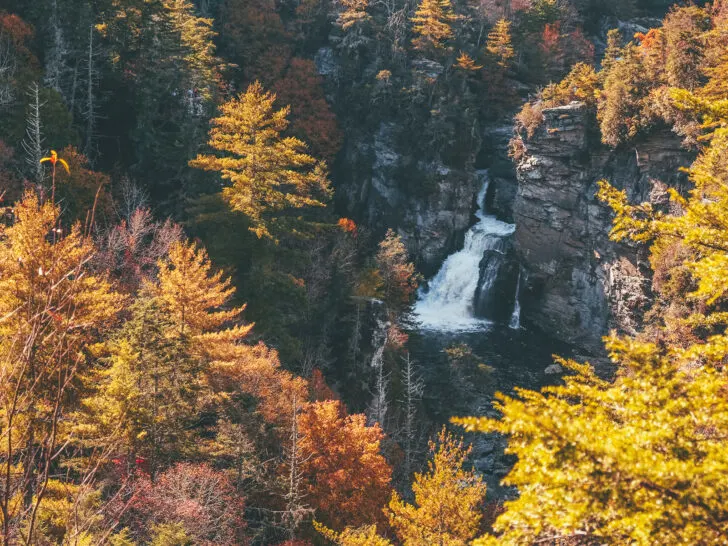 Average temp: high 68, low 46
Asheville, North Carolina is one of the best places in the US to experience fall. The mountains are blazing with red, orange, and yellow leaves, the weather is perfect and the orchards are open.
While it may be the busiest time of year, it's well worth the visit, but try to time it for a weekday visit instead of the weekends.
Be sure to spend some time walking around downtown Asheville and wandering the shops of the hip West Asheville area. Visiting the Biltmore Estate is also a must-do.
There are so many amazing places to eat in Asheville, you'll be able to try new, delicious food for every meal. Tupelo Honey and Gan Shan West are great options.
One of the best things to do in Asheville is driving part of the 469-mile Blue Ridge Parkway and the best time to drive the Blue Ridge Parkway is fall. There are tons of hikes to waterfalls nearby like Linville Falls, Looking Glass Falls, or Moore Cove Falls.
Visiting Asheville in the fall makes all of these things even better than they normally are because you get to see them surrounded by stunning fall foliage, and who doesn't love that?
Recommended by Megan of Red Around the World
11. Mount Rainier National Park, Washington (a PNW fave on this list of best places to visit in October in USA)
Average temp: high 47, low 33
Within the Pacific Northwest, Mount Rainier National Park boasts vibrant autumnal colors not only on the leaves of its famously grand trees, but also from the wildflowers, succulents, and other fauna carpeting the park's rolling valleys.
If you're looking for some of the best spots to see the fall colors, head to the Skyline Trail Mount Rainier, a 5.5 mile hike that takes you up close-and-personal with Mount Rainier and meanders through meadows aflame with autumnal foliage, from the vibrant red of scarlet paintbrush to the flaming orange of elderberries.
Alternatively, check out Naches Peak Loop, a part of the Pacific Crest Trail that traverses colorful subalpine valleys bursting with autumnal colors while snowy Mount Rainier looms overhead.
For a lower impact way to enjoy the fall foliage, take a scenic drive through the Chinook Scenic Byway. It's a 107 mile road that will take you through both Mount Rainier National Park and Mount Baker – Snoqualmie National Forest.
This drive provides a gorgeous tour of rushing waterfalls, snow-capped mountains, and of course, panoramic views of the Cascade Mountains' beautiful fall colors.
With stunning autumnal foliage, world-class hiking, and a variety of activities for all types of travelers, Mount Rainier in the fall is a fantastic place to explore.
Recommended by Jessica of Uprooted Traveler
12. Boston, Massachusetts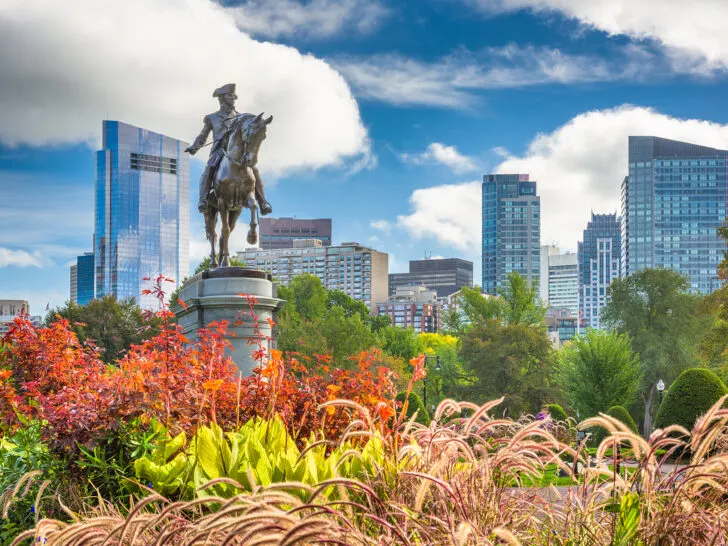 Average temp: high 62, low 47
Fall is the ultimate time to visit New England. From "leaf-peeping" in parks to crisp weather and apple-picking, it's no wonder that visitors flock to the region from all over the world. If you're seeking a combination of a city break and a fantastic fall destination, consider Boston.
Boston is teeming with history, green spaces, restaurants, and quaint neighborhoods to charm any visitor. Known as the "Cradle of the American Revolution," don't miss the Freedom Trail.
It's a 2-mile, largely flat walking path that traces various sites of historical importance, such as the site of the Boston Massacre, the beginning of Paul Revere's Midnight Ride, and the Battle of Bunker Hill in Charlestown.
The Trail kicks off at the beautiful Boston Common, the oldest city park in the U.S., dating back to 1634! As you walk, you will also discover other lovely fall destinations, such as the Beacon Hill neighborhood, with its cobbled streets and romantic buildings. Be sure to stop at Acorn Street, said to be the most-photographed street in the U.S.
For some Victorian splendor, visit Copley Square and the Back Bay, gazing up at its two beautiful churches and the Boston Public Library – certainly one of the city's most picturesque places. In particular, the Library's Bates Room, with its glowing lamps and vintage books, will give you major "back-to-school season" vibes.
Nearby, the Commonwealth Avenue Mall has gorgeous trees in blazing fall colors – one of the best places to check out fall foliage in town. There are also a variety of parks to discover if foliage is what you seek, including the Fens, the Emerald Necklace parks system and the Public Garden.
Boston is certainly one of the best places to travel in October in USA, especially if you love history!
Recommended by Tegan and Alex of Why Not Walk Travel Guides
13. Napa Valley, California (a favorite of these fall vacation ideas)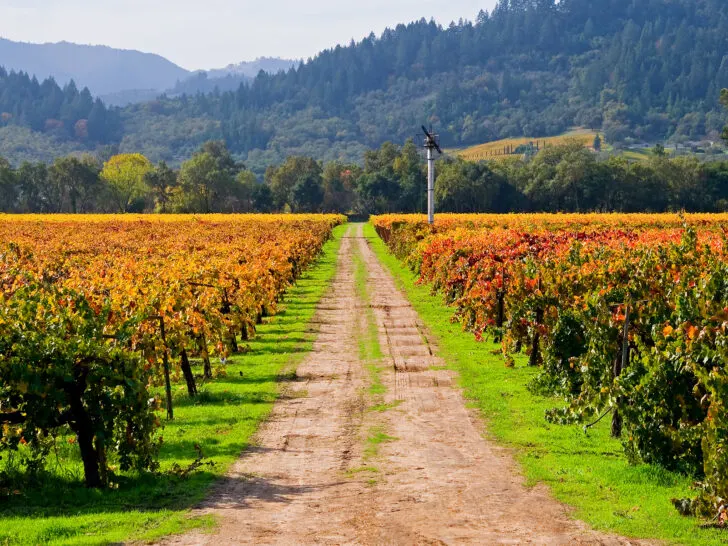 Average temp: high 77, low 47
It's without question that the beautiful Napa Valley region in California is one of the most beautiful fall travel destinations in the USA. The normally vibrant green of the grapevines turns to shades of yellow, gold and orange in Napa Valley. And as the weather cools, the leaves start to fall, leaving a carpet of orangey gold underfoot.
Napa Valley is actually a region featuring a collection of towns in between the vineyards and rolling hills. The area is a really easy drive from the best things to do in San Francisco, and will take around 1.5 hours. Having a car is a great idea in Napa Valley so that you are able to hop between wine tastings and towns at your leisure.
For a spectacular view, Artesa Wines is a great choice for a wine tasting as the large-windowed cellar door sits stop a hill providing great panoramic views of the surrounding valley.
Auburn James, just outside St Helena, is also a beautiful winery to stop in at, with a gorgeous tasting room. It is worth noting that booking in advance for your tastings is always a good idea and usually involves a small payment.
Once you've finished your wine tastings, head into the township of St Helena for dinner at the Farmstead – a stellar farm to plate restaurant pairing local wines with delicious food.
Recommended by Emma of Emma Jane Explores
14. Chicago, Illinois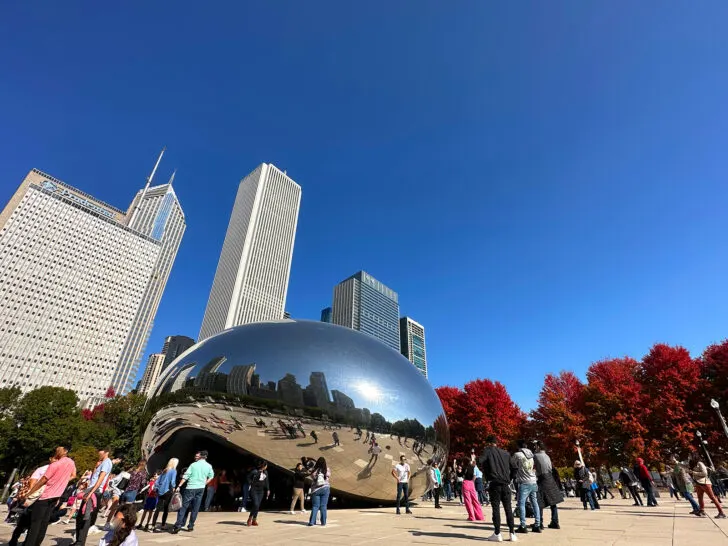 Average temp: high 62, low 50
If you're looking for the best place to visit in October USA, look no further than Chicago! This fun city is vibrant and full of fall foliage! Plus, there's a ton of things to do, indoor and out.
While you could spend a week in the city, a Chicago 3 day itinerary would be just about perfect.
A must-see is Millennium Park and the world-famous "Bean." October is the perfect time to witness the ever changing colors of autumn against the Chicago skyline. The Bean is sort of like the cherry on top of that whole experience!
If you're into museums, Chicago has so many options to choose from. The Art Institute of Chicago is located downtown within walking distance of many other main attractions. Enjoy works by Picasso, Vincent van Gogh and so many others!
You can visit the Willis Tower Skydeck, where you can walk out on a ledge over 100 stories up (indoor, don't worry!) and see the city below. Another perfect activity is the Navy Pier, where you can walk, dine and even join in on fun activities like a mirror maze or giant Ferris wheel!
With typically mild weather conditions in Chicago, it's one of the best US cities to visit in October! Daytime averages in the 60s and nightly about 50 degrees, layers will be your friend!
Pro tip: stay near downtown or within a short metro ride to the city center. It's a relatively walkable city so be prepared with your cute walking shoes!
Recommended by me – Nikki of She Saves She Travels
15. Kauai, Hawaii (another favorite on this list of best places to visit in the US in October)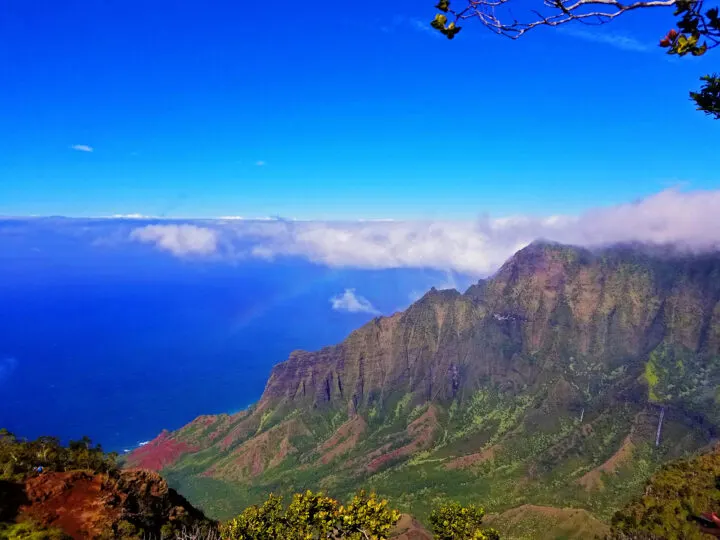 Average temp: high 76, low 60
It sounds cliché, but Hawaii is such a gorgeous destination that it's always worth the visit! However, as someone who has been to this beautiful island chain many times, visiting in the fall is one of my very favorite times to go.
Kauai is one of the best places to visit in October in the USA because it's the shoulder season so it's more affordable. Hiking trails and parking lots are generally less full, making it a great time to vacation on this island.
Highlights in Kauai in October
See the Waimea Canyon and NaPali Coast. It's absolutely stunning!
Helicopter tour of the island. Since 80% of it isn't drivable, this is the best way to see this gorgeous place.
Hike the first 2 miles of the Kalalau Trail. You'll have to get advanced reservations to enter the park, but it's a breathtaking experience!
Hike the Mahaulepu Heritage Trail in southern Kauai near Poipu. This is and easy walk and offers ocean views nearly the entire way.
Snorkel on Anini Beach. It's one of the most calm spots on the island and a great spot to see sea turtles! (Just be sure to respect Hawaiian culture, keeping your distance from sea turtles and not walk on the coral.)
For the best places to eat in Kauai, it's easier to get reservations for restaurants (which is recommended for Kauai since it's a smaller island) in October.
Hands down, Hawaii is one of the very best states to visit in October, and Kauai is phenomenal!
Recommended by me – Nikki of She Saves She Travels
16. Lutsen, Minnesota (an underrated and absolute best fall vacations in the US)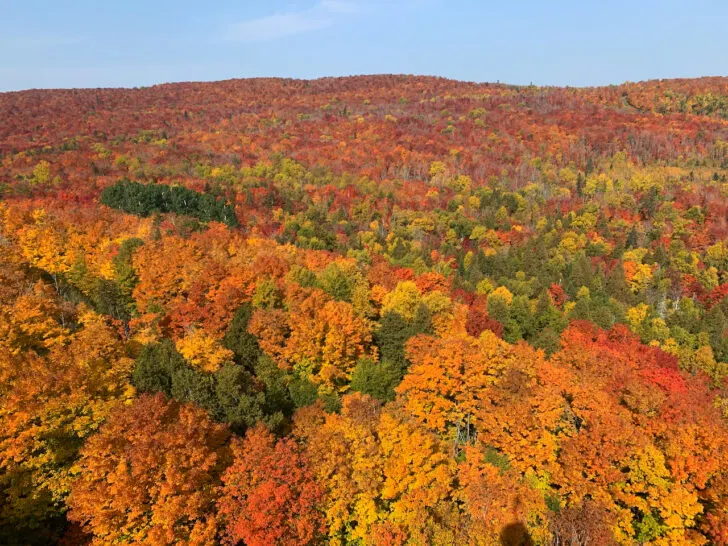 Average temp: high 52, low 34
A fabulous, unknown place to many for enjoying fall leaf color and waterfalls can be found on the North Shore along Lake Superior in Minnesota. The North Shore is a special place and is only 2 hours north of Minneapolis-St Paul airport.
Duluth is where the journey begins, but for the full experience continue northward two more hours to Lutsen, Minnesota. It's truly one of the best places to visit in October in USA!
Let's go! Start the adventure in Canal Park in Duluth, MN with the iconic Aerial Lift Bridge in the backdrop, while you explore the lighthouse pier and the newly renovated Lakewalk. Your drive will continue with must-see stops at Gooseberry Falls, Splitrock Lighthouse and Temperance River State Park.
Great accommodations can be found in Lutsen or Grand Marais, which are centralized for hiking and lots of activities in the area. An aerial gondola ride over the Poplar River and up the Moose Mountain is an experience not to miss to see the best fall leaf colors!
The window for peak fall color on the north shore varies anywhere from mid-September to early-October. However, the fall colors continue to be stunning in different types of forests at times beyond that window.
If you haven't yet experienced the North Shore of Minnesota in the fall it's one to add to your list! There are so many things to do and places to stay, it's easy to find hotels on the North Shore MN as well.
Recommended by Michelle of Almost There Adventures
17. Portsmouth, New Hampshire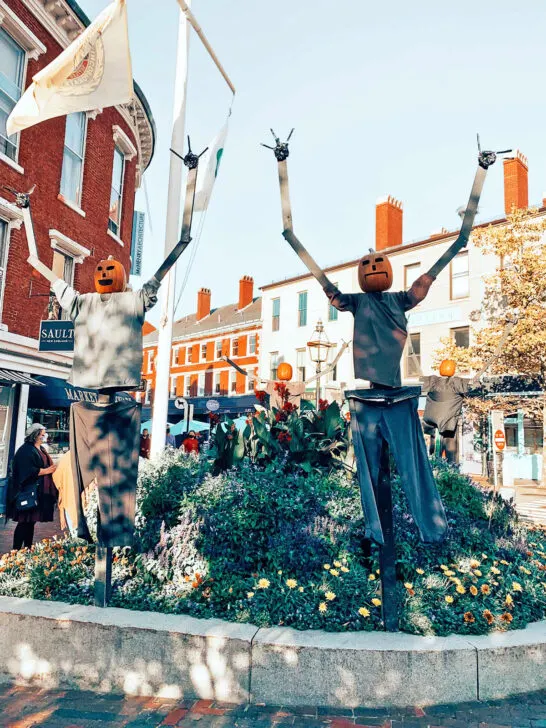 Average temp: high 58, low 46
Welcome to Portsmouth, New Hampshire, the town National Geographic Travel has crowned "America's Greatest Small Town."
Portsmouth is the crown jewel of New Hampshire's Seacoast and is perfectly situated within an hour from the White Mountains and an hour from Boston. Its location makes it the perfect New England destination for leaf peeping.
Downtown historical Portsmouth is very unique as it has colonial homes dating back to the 17th century. The most famous historical portion of the city is located in the south end. Strawbery Banke, an outdoor history museum, is New Hampshire's oldest neighborhood to be settled by Europeans.
When visiting Portsmouth, be sure to check out all the small businesses downtown in an area of the city known as Market Square.
Portsmouth has more restaurants per capita than any other small town in the United States and is also home to dozens of charming boutiques. These boutiques come to life during the autumn with their seasonal decor and gift offerings.
Be sure to swing by Cup of Joe cafe for a cozy cup of salted caramel hot chocolate or their signature pumpkin spice latte. Lastly, the best thing about Portsmouth, NH is it's a very walkable town, meaning no car is needed to explore this charming downtown this upcoming autumn season!
Recommended by Nicole of The Abroad Blog
18. Eastern Sierra, California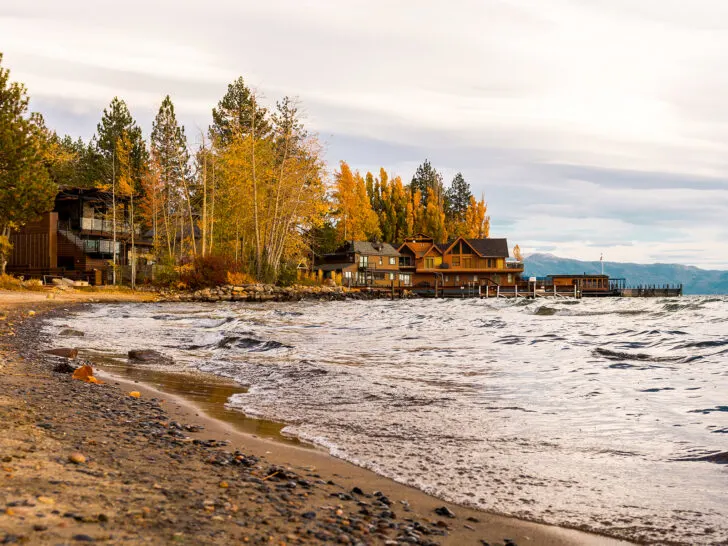 Average temp: high 62, low 38 (varies)
The Eastern Sierra of California is a fabulous fall getaway destination in the USA. Fall color here is considered second only to New England, so you know you are in for a visual treat if you visit when the colors are at their peak!
From Lake Tahoe in the north to Bishop and Lone Pine in the south, the region is ablaze with foliage colors in the fall. You'll be mesmerized by the show of yellow, oranges, and reds put on by aspens, willows and cottonwoods.
Taking a Highway 395 road trip is a great way to enjoy fall in the Eastern Sierra. If you prefer to have a base, Mammoth Lakes and Bishop are the largest towns in the area, and make for good bases from which to explore the beauty of the fall foliage all around you.
Doing scenic drives to enjoy the colors is the top thing to do in the fall. There are numerous paved and dirt roads you can drive. Both Inyo and Mono Counties offer the most beautiful drives. If you plan to drive the dirt roads, bring an appropriate vehicle.
The region is also known for its numerous spectacular lakes, so get out onto the water to enjoy the colors on the banks. Boating or kayaking is offered at many lakes. You can also go hiking, to view the colors up close: there are many legendary Eastern Sierra hikes from which to choose.
The Eastern Sierras are certainly one of the beset October vacations USA for lakes, mountains and hiking.
Recommended by Dhara of Roadtripping California
19. Shenandoah National Park, Virginia (another underrated destination on this list of beset places to travel in October in USA)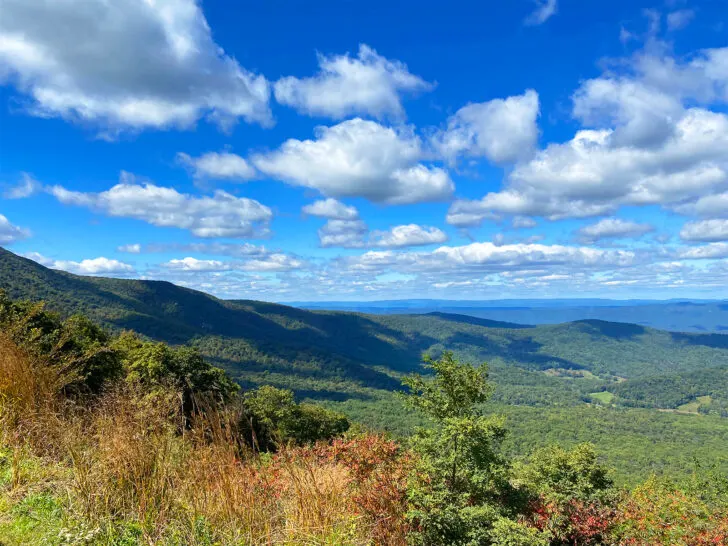 Average temp: high 58, low 39
You'll hit gold if you visit Shenandoah National Park during the autumn . . . plus orange, red and burgundy.
Shenandoah's trees shed their green attire. Autumn's palette paints the forest rusty orange, reddish yellow, and burgundy. Woodland creatures abound, including black bears, deer, wild turkeys and bats.
Located less than two hours from Washington DC, Shenandoah National Park attracts hikers and drivers. It's also a favorite for singles and families to spend a weekend. But book your reservations early for either the park campgrounds or the Skyland Resorts and Big Meadows hotels, as they routinely sell out for the weekend.
The best time to visit is Monday through Thursday as the 105-mile Skyline Drive can turn into a traffic jam in October at peak foliage times. Skyline Drive weaves its way across western Virginia. Speed limit is 35 mph.
Your best bet is to enter the enter at the Front Royal Entrance, stop at the Dickey Ridge Visitors Center to get a panoramic family portrait and then head down the road. Stop at a convenient parking lot so you can hike through forests, scale rocky ledges, explore Appalachian Trail stops and watch waterfalls.
Or you can spend 3 hours traveling the entire length of the park on Skyline Drive. It ends at Rockfish Gap Entrance Station, which is also the northern entrance to the Blue Ridge Parkway. Shenandoah National Park features 200,000 acres of protected land. Stony Man and Hawksbill peaks exceed 4,000 feet.
This beautiful fall destination is the perfect getaway for families, couples, solos or even a friends' trip!
Recommended by By Terri of Female Solo Trek
Fall vacation ideas
From big cities to wide open spaces, there's still plenty more places to see on this mega list of the best place to visit in October in the US!
20. Austin, Texas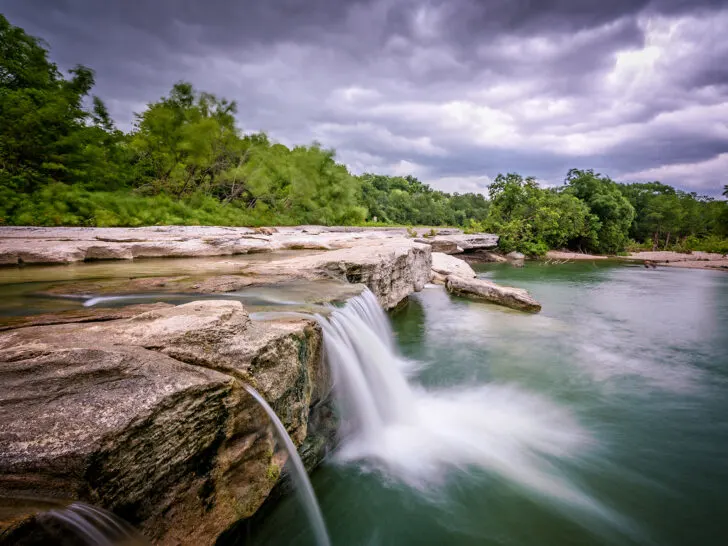 Average temp: high 82, low 60
What a perfect city for a fall getaway! As someone who's visited Austin a few times, I can honestly say October was my favorite! The weather is way better (i.e. way less hot) than during peak travel season.
Visiting Austin in the fall is the perfect time for outdoor adventures. There's so much hiking in Austin, plus fall festivals, outdoor drive-in movies, pumpkin patches and more.
If you love being on the water, Lady Bird Lake is a great spot for kayaking or stand up paddle boarding. For easy hiking in Austin, consider McKinney Falls State Park, Barton Creek Greenbelt or the popular Mount Bonnell.
Of course there's live music all over Austin, and let's not forget the mural hunting, either. Whether you're going for Insta-worthy shots or just happen to walk by them on your way to get epic cone at Amy's Ice Cream, you're bound to find some fun artwork in the downtown area.
October is the perfect time of year to spend a weekend in Austin.
Recommended by me – Nikki of She Saves She Travels
21. Newport, Rhode Island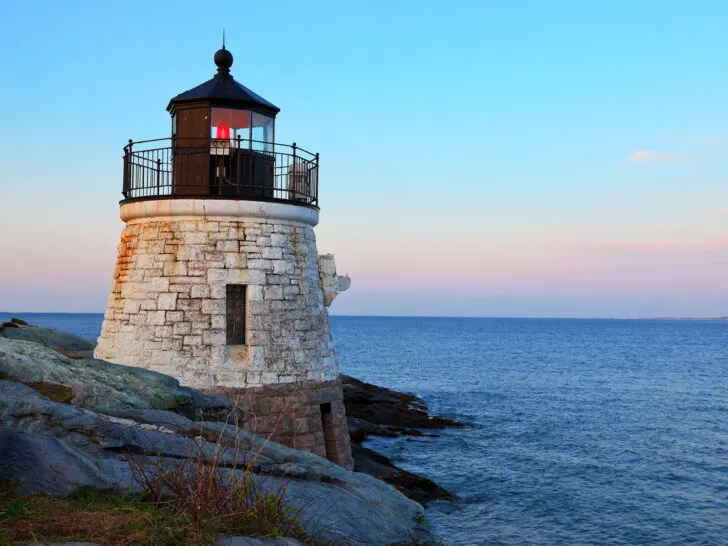 Average temp: high 62, low 53
One of the best fall vacations in the US is definitely Newport, Rhode Island. The area has peak fall foliage throughout October.
It's a small town located on Aquidneck Island and is surrounded by beautiful beaches and sea cliffs. During the fall, you can walk around and enjoy outdoor activities without the crowds.
The majority of people drive to Newport from somewhere on the east coast. If you're visiting from further away, you can fly into Providence, Rhode Island, only 45 minutes away.
One of the best things to do in Newport is see the history of the area on the Cliff Walk. You can walk 3.5 miles past the Breakers, one of the Newport mansions, around sea cliffs, and past a few beaches.
Newport's mansions are renowned for their architecture and history. Some of the mansions were constructed in the early 19th century. Walk around the Wharves (Bannister's and Bowen's) in the evening for a variety of food and shopping.
Newport has lots of delicious places to eat. For breakfast, head to Cru Cafe near the Audobain Museum – a great way to start the day is with their blueberry stuffed French toast!
Your New England vacation wouldn't be complete without some seafood. At the Lobster Shack, you can find fresh seafood. You can stay at the Marriott Newport if you want to stay in the heart of Newport. The hotel is within walking distance of the wharves.
Recommended by Pamela of The Directionally Challenged Traveler
22. Aspen, Colorado (a top choice for best places to visit in October in the US)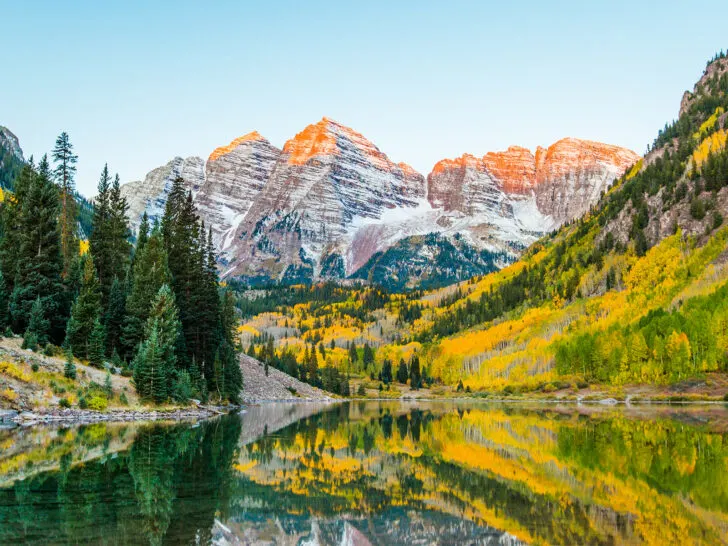 Average temp: high 58, low 31
Perhaps one of the most beautiful fall foliage settings is in Colorado's Rocky Mountains. The town of Aspen is perfect for a fall getaway because it's surrounded by mountains and gorgeous aspen trees. I'm convinced it's the among the best places to visit in October in USA.
Unlike some other destinations on this list which get vibrant reds and oranges during the fall, aspen trees turn a gorgeous yellow color. And when you get a mountainside full of them, it's like eye candy!
A gorgeous day trip from Aspen is Maroon Bells Park. The feature is the mountain peak of Maroon Bells, which are surrounded by a lake and gorgeous aspen trees in the fall.
You could spend the day hiking the trails near the Maroon Bells if you love hiking and exploring the outdoors on foot. Note: you'll want to plan ahead for this one, as reservations are now required to visit. Get your Maroon Bells reservations here.
Other things to do in Aspen include the Silver Queen Gondola, drive Independence Pass, visit the Ashcroft Ghost Town, and of course, shopping and dining in Aspen.
So whether you're making the fall foliage in Aspen the focus of your trip or you're combining it with an epic Colorado road trip, Aspen will surely be a highlight for a fall vacation!
Recommended by me – Nikki of She Saves She Travels
23. New York City, New York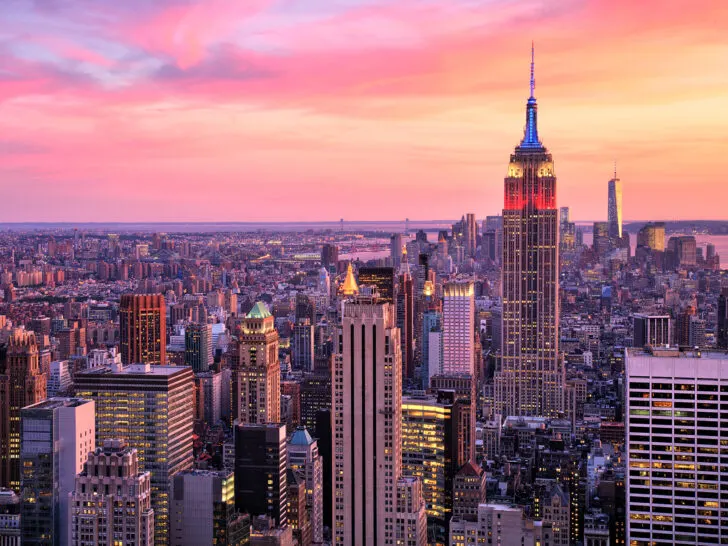 Average temp: high 64, low 50
New York City is amongst the best places to spend fall in the United States. The city is known for its beautiful fall colors and even a bit of Indian summer if you're lucky.
New York can get very hot during the summer so the fall is the perfect time to enjoy the city without the heat. Fall is a lot more comfortable for sightseeing and you'll love the views of the city.
If you're traveling with older kids, this New York weekend itinerary with teens is the perfect mix of activities.
Head to the Highline Park which is a former elevated railroad track that has been converted into a walkway. It's the perfect way to see the city without having to deal with the traffic and busy streets!
For an even better view of the city, you need to go all the way to the top of the One World Trade Center. This modern skyscraper is a must-see and truly the best place to take pictures of the city.
Afterward, head to the river for an evening cruise. There are tourist boats that will take you around the Hudson and East River.
However, for a more affordable option just take the ferry to Jersey or Staten Island. The ride won't be as long but tickets only cost a few dollars and you'll get to avoid the tourist crowds.
A trip to New York City is one of the best October vacations USA and one you'll remember for a lifetime!
Recommended by Victoria of Guide Your Travel
24. Zion National Park, Utah (another favorite on this list of best places to travel in October in USA)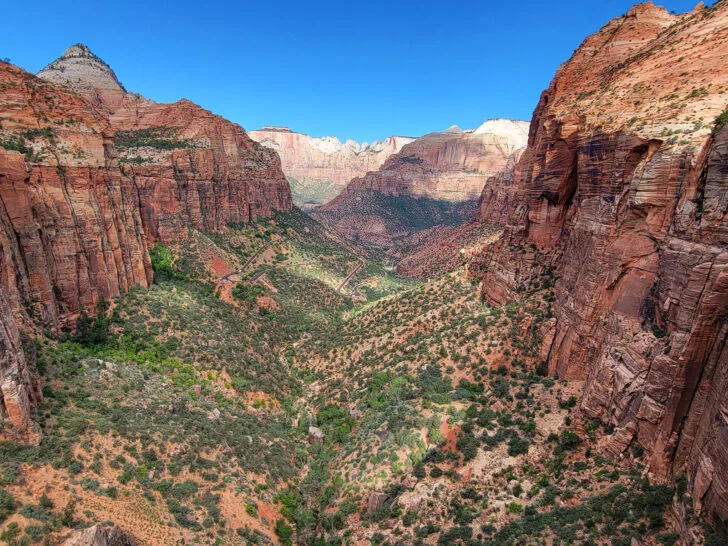 Average temp: high 66, low 39
Zion National Park is simply stunning any time of year. However, it's especially amazing to visit this national park in the fall. With dwindled crowds and less intense weather to worry about, Zion is a great idea for a fall vacation!
If you want to hike the infamous Angels Landing, advanced planning is required, as the permit application process is during the summer. But, if you happen to get a permit for the hike, October is a phenomenal time to do it!
Of course, there are many things to do in Zion without hiking this challenging trail. The much easier and yet equally rewarding Canyon Overlook Trail is a fun one, and can be completed for most fitness levels. At just a mile, this trail offers absolutely incredible views of the park!
A place for all ages, this park is magnificent for those young and old. An itinerary for Zion with kids includes other simple hikes like the Riverside Walk. Go further into the canyon by hiking The Narrows!
If you're looking for a scenic drive in October, the Zion Mt. Carmel Highway Scenic Drive is incredible. You won't get the traditional vivid colors like some of the other destinations on this list of the best places to visit in October in US, but instead you'll get amazing desert landscape and massive canyon views. So fun!
Be sure to pack plenty of water, layers for varying weather, hiking snacks and hiking gear like grippy hiking shoes, trekking poles and a hiking backpack.
Zion is absolutely one of the best places to go in October in USA, and a spot you'll love!
Recommended by Nikki of Inspired Routes
25. Las Vegas, Nevada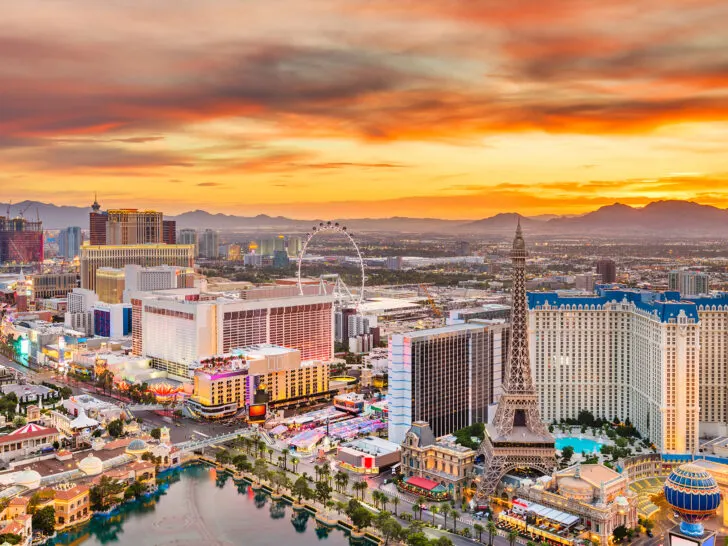 Average temp: high 83, low 46
Las Vegas is the perfect destination to visit all year round but fall is a great time to visit. Temperatures begin to cool after the summer and so do the crowds. Plus, visiting mid-week will get you cheaper hotel rates, too.
Because temperatures are cooler, it means you can take advantage of some of the best outdoor attractions in the city, perfect for those visiting Las Vegas for the first time.
Enjoy a Gondola ride at The Venetian, watch the Bellagio fountains or watch the volcano erupt outside The Mirage.
Rent a car or join a tour to visit the nearby national parks; Grand Canyon is the most popular day trip option from Las Vegas but October is a fantastic time to visit Death Valley, Red Rock Canyon and Bryce Canyon.
Alternatively, head to the unusual Magic Mountains or explore 'The Neon Museum', a gallery of old signage from Vegas hotels of the past.
In the Bellagio hotel, you'll find the gorgeous Conservatory and Botanical Gardens. This is one of the best free things to do in Las Vegas and a great indoor activity to enjoy.
Each season, the gardens get transformed and the fall display is the most breathtaking. Expect oversized pumpkins, woodland creatures and tall, entertaining trees.
For more natural fall colours, head to one of the nearby parks; Floyd Lamb Park at Tule Springs, Paseo Verde Park and Gilcrease Orchard are top choices for this time of the year.
We recommend staying at The Cosmopolitan; it's an elegant, stunning hotel and rates are normally super high but drop during the Autumn time.
Recommended by Katie of Creative Travel Guide
26. Washington DC (Rock Creek Park)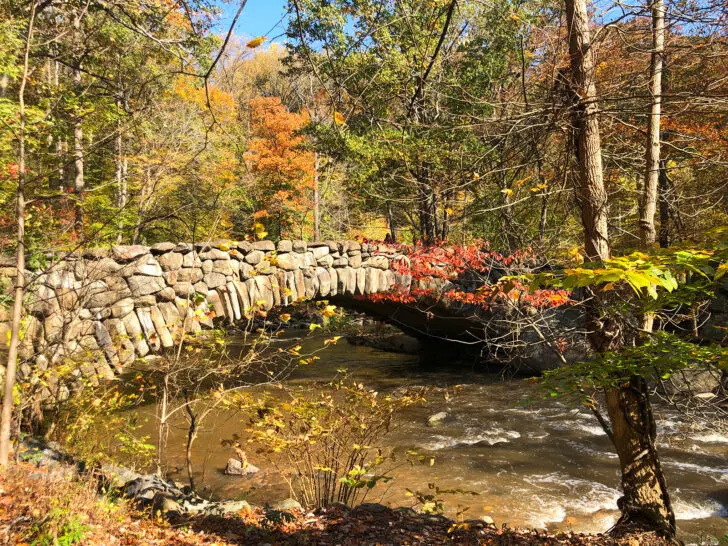 Average temp: high 69, low 46
Washingtonians and visitors don't even have to hop in a car to enjoy peak fall foliage in a forest. Rock Creek Park is situated in the nation's capital.
It's the nation's third oldest national park. Rock Creek Park was authorized in 1890.
Come October, the oaks, American beech and tulip trees suddenly change into the colors of the sunset—golden, orange and red. The 1,754-acre park features hikes for the hardcore as well as weekend adventurer.
If time permits, hike the two primary trails – Western Ridge Trail and Valley Trail. They run side by side. Imagine walking along a ladder laid on the ground.
Half-day hikes include Boulder Bridge, Milkhouse Ford, Rapids Bridge and Chestnut Oak/Mountain Laurels.
Or, devote a fall weekend to exploring Rock Creek Park. Tramp around the Civil War fortifications, watch interpreters at the Peirce Mill and Barn and visit the horses.
Bring a carrot or pull on your boots to ride a horse at the Rock Creek Park Horse Center, which is the only public riding facility in Washington DC.
Families will definitely want to visit the Nature Center and Planetarium. There are picnic areas scattered across Rock Creek Park, so fill a basket with ciders, sandwiches and apples.
Recommended by Terri of Female Solo Trek
27. Siesta Key, Florida (another favorite warm place to visit in October in USA)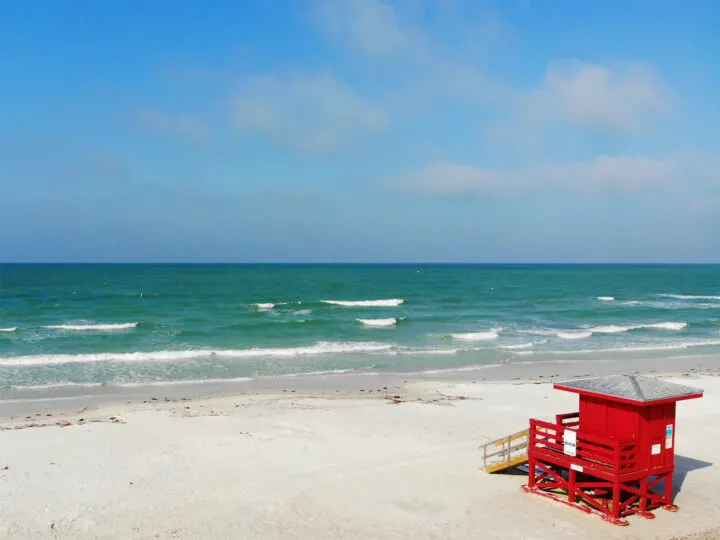 Average temp: high 85, low 67
A Florida beach may not come to the top of mind when thinking about the best October vacation destinations. However, it's the perfect time to go! And what better way to end this list than one of the top-ranked beaches in the USA!
Siesta Key, Florida is home to turquoise water and some of the finest white powder sand you'll ever step foot on. While you won't see much fall foliage here, you'll see wide open beaches and affordable prices, compared to the peak summer season and those looking for a winter escape.
Fall is the ideal time to visit Siesta Key. The weather is very comfortable and the water is still warm enough to enjoy.
From excellent restaurants, shopping, kayaking and beaching, there's seriously so many things to do in Siesta Key. Whether you're looking for a fall getaway as a couple, family, solo or friends trip, you'll love spending time in Siesta Key!
While a bit unconventional in terms of fall colors, this is still one of the best places to visit in October in the USA.
Recommended by me – Nikki of She Saves She Travels
28. New Orleans, Louisiana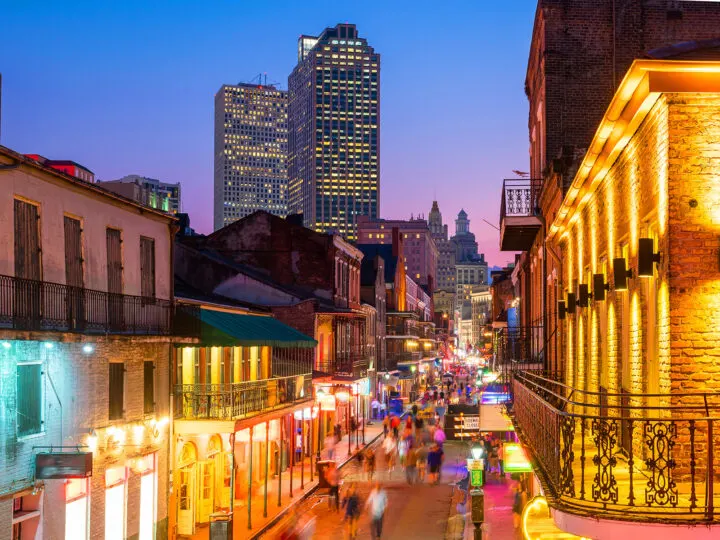 Average temp: high 81, low 62
New Orleans is one of the top warm places to visit in October in USA. It's a fantastic walking city so it's an ideal location to visit in the fall when the summer weather has cooled a bit and the crowds have left.
New Orleans is a very family friendly city, even in the French Quarter, or a great destination for a romantic getaway or a fun girls' or boy's weekend.
A trip to New Orleans wouldn't be complete without exploring the French Quarter. Here you can aimlessly walk along cobblestone streets, poking your head into cute shops, or eating your way through delicious food.
One of the must-try treats is a beignet, a cross between a french pastry and a doughnut. They are easily found in the French Quarter.
If you're curious about the history of this area, take one of the many walking tours that will ultimately take you to St. Louis Cemetery No. 1. Here you will learn all about the ghosts, the after-life and even voodoo, themes found all over New Orleans.
A fantastic experience is visiting the National WWII Museum, a short walk from the French Quarter.
This is an exceptional interactive museum that focuses on the United States' role in Asia and Europe during WWII. It's a thrilling experience that will grab the attention of anyone even those that aren't normally interested in history or wars.
There are countless exciting activities to do within a short drive of New Orleans. You can visit a plantation, like Oak Alley Plantation, and learn about slavery and a difficult part of US history. The drive there is beautiful and exploring the grounds is a lovely thing to do in the fall.
In addition, you can take a swamp tour which is a lot of fun. You hop on a bayou boat and explore some of the many surrounding swamps filled with crocodiles and other wild creatures.
October is the perfect time of year to visit New Orleans due to the cooling weather and reasonable crowds.
Recommended by Nicole of Go Far Grow Close
Best places to visit in October in the USA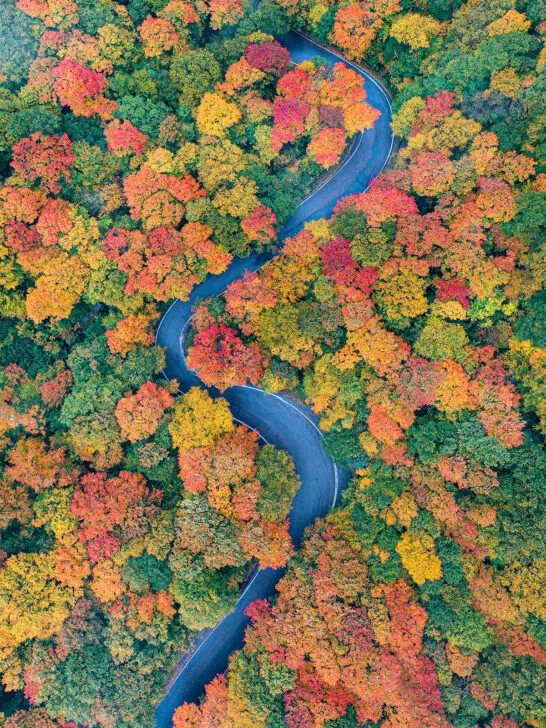 Whew! What a list. I hope you've found enough inspiration for your fall getaway – or 2! With so many amazing spots in the USA to choose from, I'm sure you can't go wrong!
Let's recap those destinations again, in a much more condensed list…
Best fall vacations in US
Blue Ridge Parkway, NC to VA
Bend, Oregon
Mammoth Lakes, California
Rocky Mountain National Park, Colorado
Door County, Wisconsin
San Diego, California
Oahu, Hawaii
Acadia National Park, Maine
Moab, Utah
Asheville, North Carolina
Mount Rainier National Park, Washington
Boston, Massachusetts
Napa Valley, California
Chicago, Illinois
Kauai, Hawaii
Lutsen, Minnesota
Portsmouth, New Hampshire
Eastern Sierra, California
Shenandoah National Park, Virginia
Austin, Texas
Newport, Rhode Island
Aspen, Colorado
New York City, New York
Zion National Park, Utah
Las Vegas, Nevada
Washington DC (Rock Creek Park)
Siesta Key, Florida
New Orleans, Louisiana
So, have you decided? Comment below with your fall vacation plans!
By the way, if you're planning to rent a car for your fall getaway, check out the discounted rates on Discover Cars. I routinely save 10% – 30% on rentals. They search top car carriers to find the best deal, at no extra price to you! Here's that link again to search rental cars.
Related content:
28 Underrated Destinations in the USA
32 Best Places to Visit in September in USA (Unique and Cool Ideas You'll Love)
30 Incredible Warm Winter Vacation Spots in the USA
35 Swoon-worthy Beach Vacations
26 Best Beaches on the Gulf Coast
100 Romantic Vacations in the United States
Find this post helpful? Save it for later or share it on social media!