Epic biodiversity meets amazing adventure in Monteverde! This stunning, damp landscape is the perfect escape to nature in Costa Rica's Cloud Forest. From hanging bridges and ziplining to sloths and night walks, here are the best things to do in Monteverde.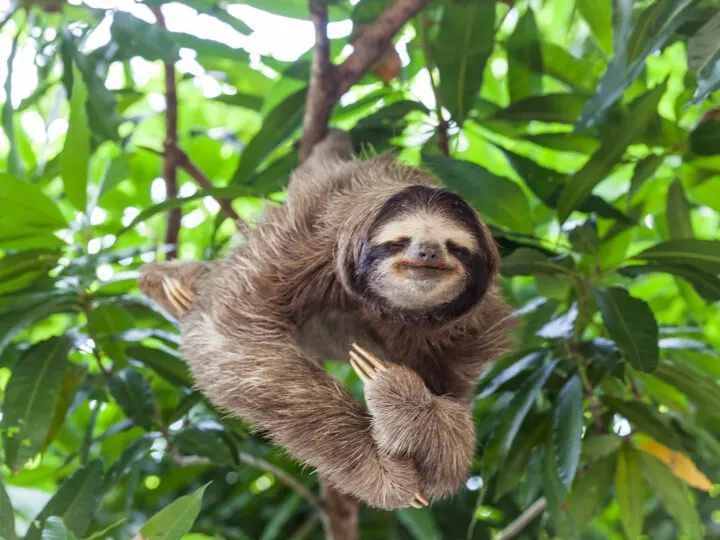 This post may contain affiliate links. For more info, see my disclosures.
When planning your perfect Costa Rica itinerary, Monteverde should be at the top of your list! The Monteverde Cloud Forest is internationally known for its unique flora and fauna, and a bucket list spot for sure. But perhaps more intriguing are the other things to do in Monteverde! There's so much to explore in the area.
If you're still setting up your Costa Rica vacation plans, I'd recommend at least 2 full days in Monteverde. More is better because this area is phenomenal! 🌿
Before diving into the list of the best things to do in Monteverde, let's go over some details that help in planning your adventure.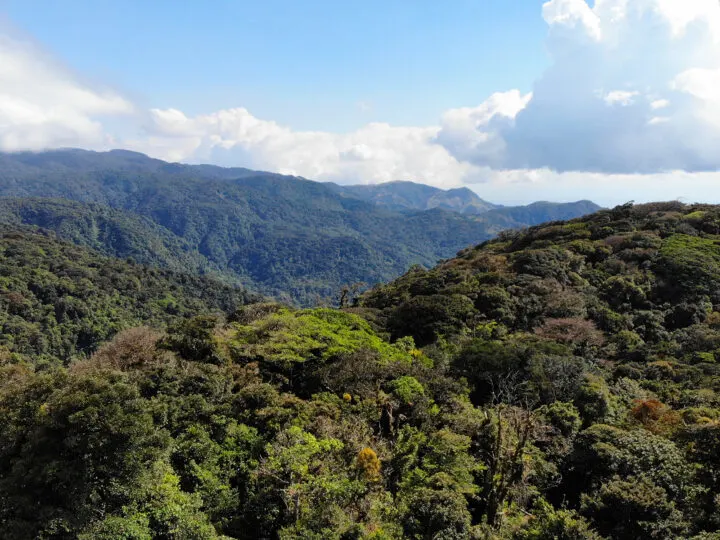 How to get to Monteverde Costa Rica
Located in the northwest region of Costa Rica, Monteverde is about 3 hours northwest of San Jose, 2.5 hours south of Liberia, 3 hours southwest of La Fortuna and 3 hours east of Tamarindo.
Closest airport to Monteverde
It's often easiest to fly into Juan Santamaria Costa Rica Airport in San Jose or Lir-Liberia International Airport in Liberia, especially if Monteverde is your first destination in Costa Rica.
To get to Monteverde from San Jose, you can take Highway 27 and 23 west to El Roble, then the Pan American Highway (1) north. That links up with Highway 606 and that will take you there.
From Liberia to Monteverde, take the Pan American Highway (1) southeast until you hit Highway 605, which leads you into town.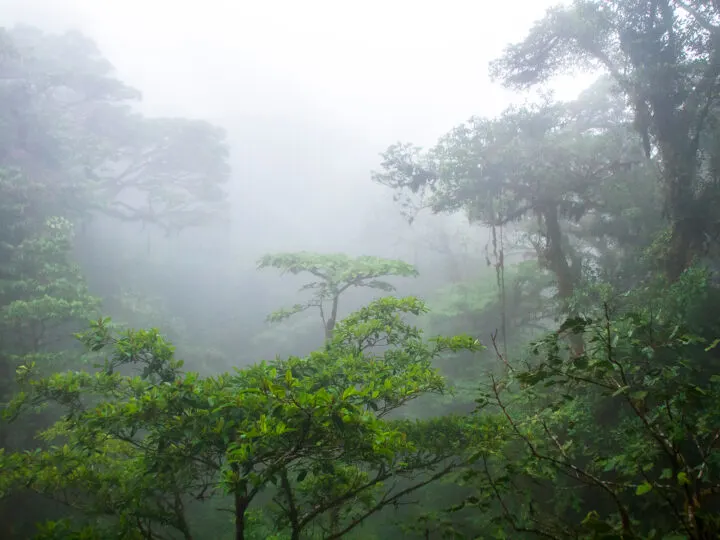 La Fortuna to Monteverde
The incredible La Fortuna is a popular destination for those visiting Costa Rica. Although the two cities look close on the map, there's no road between them so you'll have to go for a scenic drive – which is also fun when you're in Costa Rica!
If you're coming from La Fortuna to Monteverde, you'll take Highway 142 west and south until you hit Highways 145, then onto Highway 606.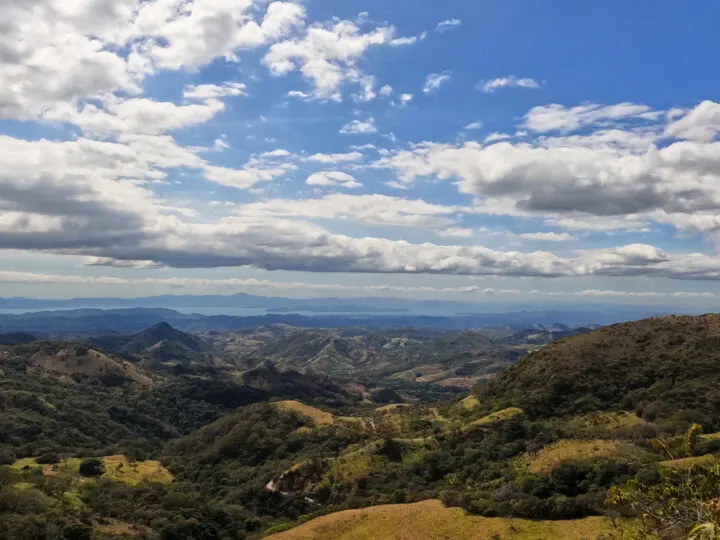 Best way to get around Monteverde Costa Rica
The best way to get around in Costa Rica is by renting a car. It will provide you the most flexibility to explore all the things to do in Monteverde on this list!
Public transportation isn't always possible in remote areas. If you're staying at a hotel, they can help you arrange a local taxi service.
To get from area to area, a rental car is best. If you prefer not to drive in Costa Rica, then you can set up a transfer service in advance, which will take you from region to region.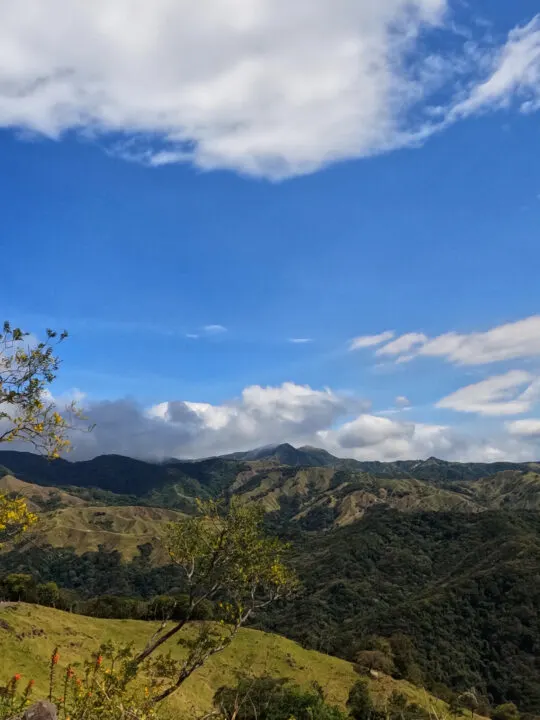 Map of the best things to do in Monteverde
If you're a visual person, take a peek at this map. Zoom out to see where Monteverde is in comparison to other popular Costa Rican destinations.
This map can also help you plan your time in the area, as it has all the best things to do in Monteverde!
Quick note: Monteverde is an area in Costa Rica. The heart of Monteverde is the town of Santa Elena. The activities in this post are in Santa Elena and Monteverde, Puntarenas Province.
Best places to stay in Monteverde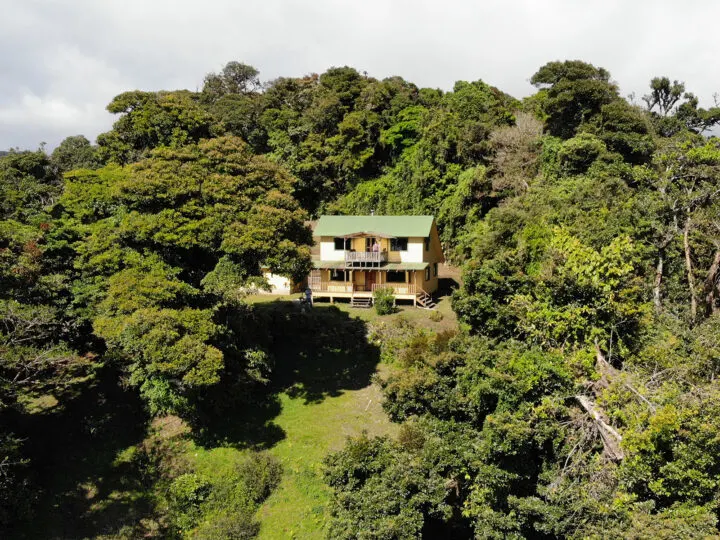 Whether your vacation style is a bougie hotel, a unique vacation rental or budget-friendly accommodations, there's a bit of everything.
By the way, I love using Booking.com when searching for accommodations. The site has hotels and vacation rental properties all in one place, and for affordable prices.
Packing list for Monteverde Costa Rica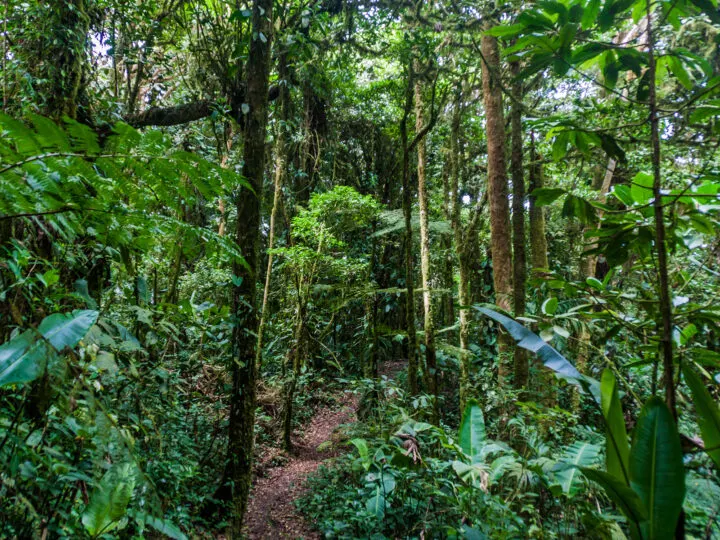 When you think of Costa Rica, beaches may come to mind. And if you're visiting Tamarindo or Manuel Antonio, you'll need to pack for warm weather. But coming to this Cloud Forest region, it's a cooler, wet climate so here are a few essentials you'll want to consider.
Things to do in Monteverde
Visiting this area is a vacation you won't soon forget! From treetop adventures to the best food, here's the list of the best Monteverde attractions.
1. Monteverde zipline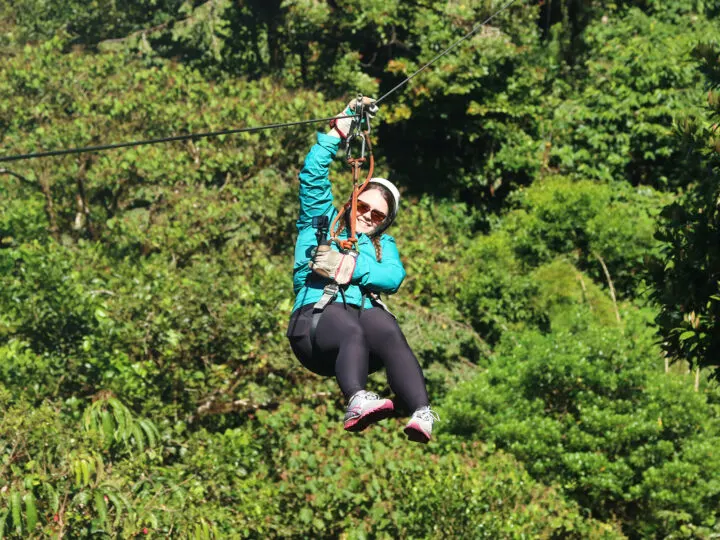 Starting this list off with a bang! One of the most thrilling things to do in Monteverde is ziplining. Swing from the treetops in the Cloud Forest is mind-blowing!
Yes, it's a touristy thing to do. But it's also one of the most fun adventures in Costa Rica!
Soar through the sky, looking at phenomenal views along the way. The cloud forest is breathtaking, and your adrenaline will be pumping as you experience the gorgeous Costa Rica landscape.
Monteverde ziplining options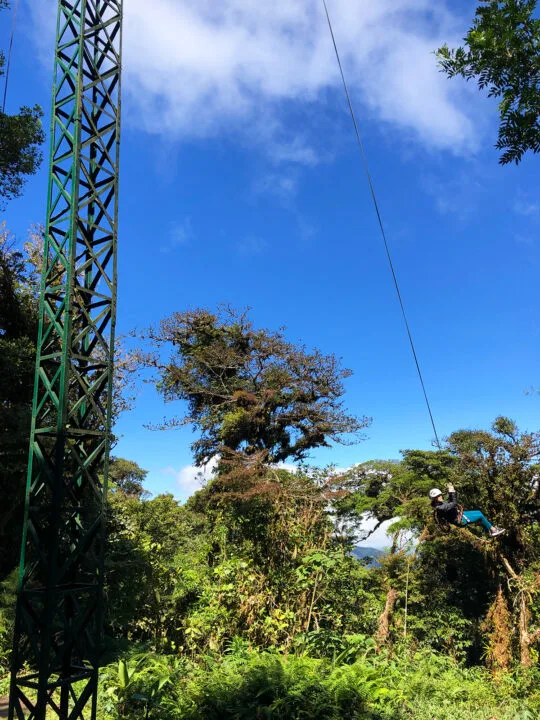 There are several options to choose from for ziplining in the area. Some of the most popular are…
Honestly, you'll have fun at all of them!
Sky Adventures is a quicker tour, with less zips and less walking. You'll take an open air tram to the top of the hillside, and zip down. There are 7 zips and the tour lasts about an hour.
Selvatura Park is a more thorough tour, with 13 ziplines and the tour is about 2.5 – 3 hours. You'll also walk 1.9 miles between all the ziplines, which can be fun and challenging. Selvatura also has the option to Superman (lay on your stomach) for the longest zipline in Central America, 1590 meters or 5220 feet (almost a mile)!
The locals we talked to all recommended Selvatura Park, so that's the option in the photos and videos within this post.
Location: navigate to Selvatura Park, Puntarenas Province, Monteverde, Costa Rica
2. Curi Cancha Reserve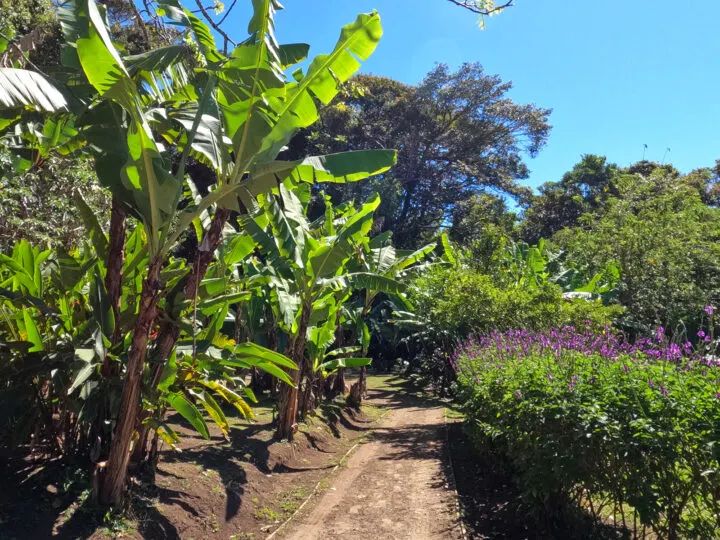 Located just to the east of downtown Santa Elena, the Curi Cancha Reserve is known for its incredible nightlife. You'll find bird tours, historical tours and night tours.
Go hiking through the cloud forest and see nature at it's finest! The tour takes 2 or 2.5 hours, but you can go has slow or quickly as you'd like. You can go through the reserve independently or hire a guide for an additional (small) fee.
Watch for toucans, tarantulas, hummingbirds, white faced capuchin monkeys, armadillo and coatis, and a whole lot more!
Pro tip: take hiking boots or shoes with good traction for this one! The trails are all dirt and can be muddy considering all the rain in the area. These are my favorite hiking boots I take with me on every hiking vacation.
Location: 300 m noroeste Fabrica de Quesos Monteverde, 60109
3. Monteverde Waterfall (Catarata Los Murciélagos)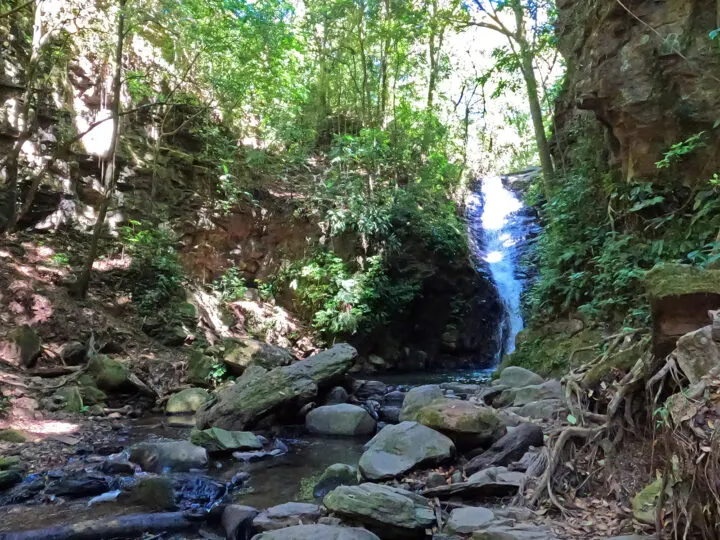 Monteverde's hidden gem, this waterfall is beautiful! Set on private land, it's $6 USD per person to enter. You'll walk 10-15 mintuues down a steep trail to a gorgeous setting.
Located just off the main road in Monteverde, it seems to be hiding from the bustling traffic of the nearby Santa Elana.
From just moments after you enter the trail, you can hear the waterfall rushing. It's incredibly peaceful! You'll even pass a couple of picturesque bridges that are great for stopping and watching (and listening) to the water trickle below you.
The hike is steep and there is railing built most of the time. Still, hiking shoes, athletic shoes or water shoes with good traction are highly recommended.
You can swim at the base of the waterfall too, although the water is very cold! It would be refreshing on a hot day.
Also, watch out for the tiny trails of ants! They're on a mission, carrying their leaves. We saw several of them so beware not to step on them and ruin their fun.
Location: 620 Monteverde Road Monte Verde Puntarenas CR 60109, 620, Provincia de Puntarenas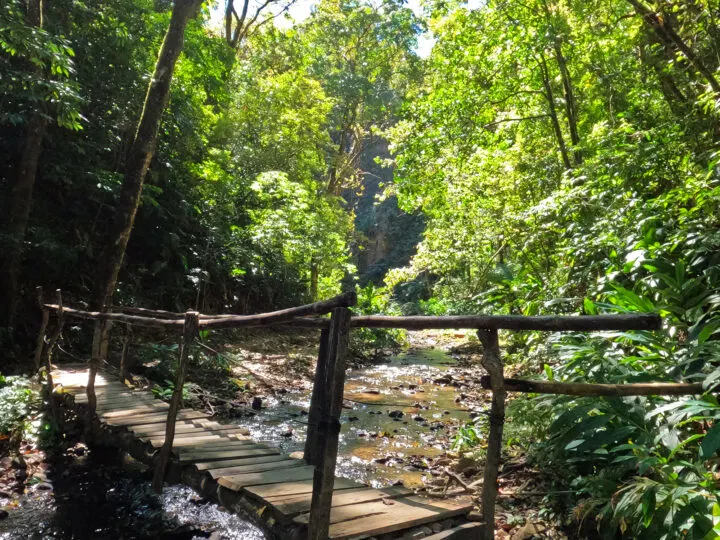 4. Treetop dining experience
For another unique adventure in Monteverde, make reservations at San Lucas Treetop Dining Experience and enjoy fine dining among the trees.
A 7-course meal for dinner is served in private dining environments atop the trees. The tables sit in a glass enclosure suspended from the trees. You'll truly feel like you're in a jungle (and news flash – you are!)
It's a set menu with an amazing assortment of delicious food throughout an evening you won't soon forget. With exquisite detail in each plate, it's easy to see why this unique experience is often sold out weeks in advance.
(Unfortunately, it was sold out during my time in the area, so it's at the top of my list during my next visit!)
Pro tip: this is a pricey experience, at over $85 per person. Be sure to put it in your vacation budget.
Pro tip #2: choose dinner during the sunset hour for the best views!
Location: Chira Glamping hotel, Sapo Dorado, Provincia de Puntarenas, Monteverde, 60109
5. Hanging bridges Monteverde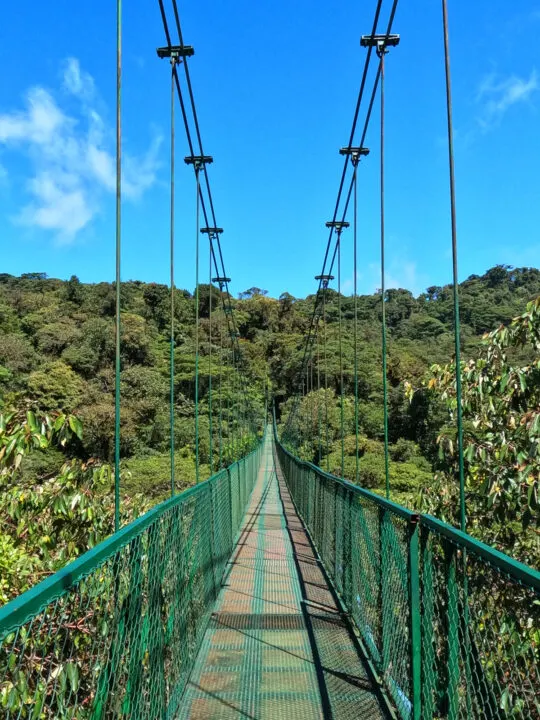 One of the best things to do in Monteverde, and something unique to this area in Costa Rica is to walk the swinging suspension bridges. Because of the popularity, you can actually find them in multiple spots throughout the area.
Walking the suspension bridges gives you the unique opportunity to be connected to nature, view wildlife, waterfalls and incredible views of the Tilaran mountain range in Monteverde.
You'll see a variety of birds, insects and plant life while on the bridges. But most of all, you'll see spectacular views!
Monteverde suspension bridges options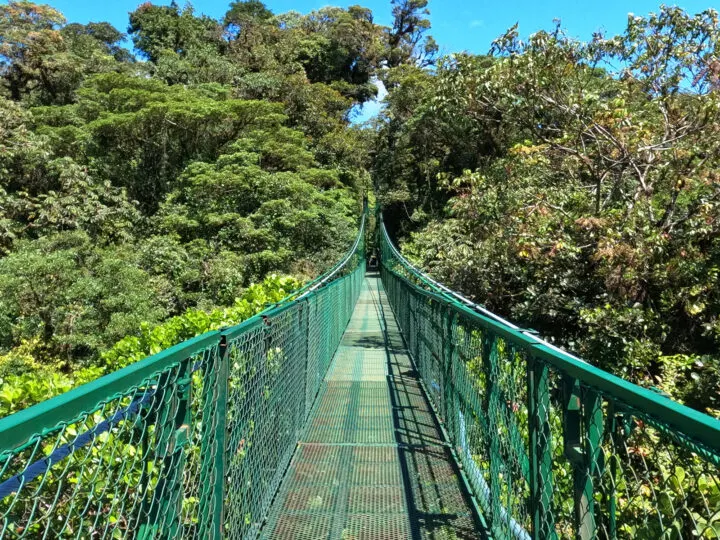 The best spots to explore hanging bridges in Monteverde are…
The Monteverde Cloud Forest Biological Reserve has one hanging bridge, which is a bonus when visiting the reserve but I'd recommend the other options above for multiple hanging bridges and best views.
6. Sloth sanctuary (one of the best things to do in Monteverde)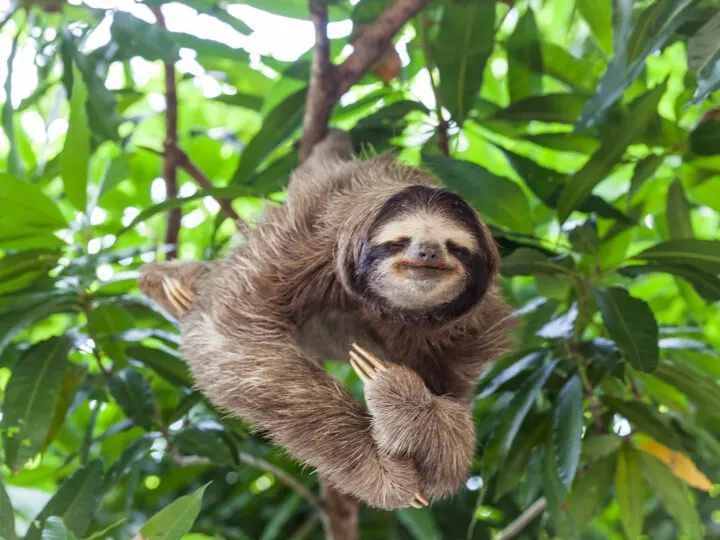 Native to Costa Rica, many travel here in hopes of seeing a sloth in the wild. While it's possible, and one of the best things to do in Manuel Antonio, in the southern part of Costa Rica, in Monteverde you can visit a sloth sanctuary, ensuring you'll see them up close!
At Selvatura Park, they've partnered with the Caribbean Sloth Sanctuary to provide homes for sloths that are no longer able to survive in the wild.
These fun, slow creates roam freely around the sanctuary. You'll be able to see them without disturbing or stressing them out. Remember when you visit places that use animals for tourism to ensure they're treating the animals well 100% of the time, and not taking advantage of them for profit.
Location: navigate to the Selvatura Sloth Sanctuary, Puntarenas Province, Monteverde, Costa Rica
7. Chocolate tour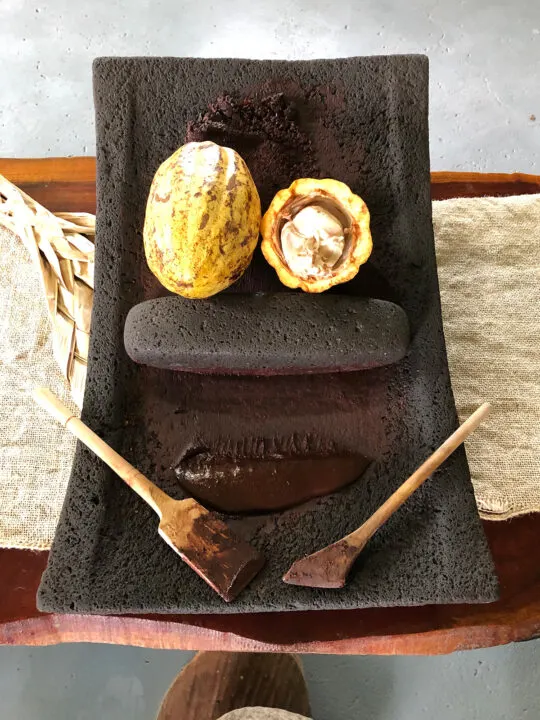 Want to learn how to make chocolate? Of course you do!
Cocoa is grown all throughout Central America, and Costa Rica is a fantastic spot to take a chocolate tour.
On a chocolate tour, you'll see where the cocoa pods are grown and how to make it into delicious chocolate that we all enjoy today.
Fun fact: cocoa is naturally bitter, not sweet. You'll get to taste it along the way! Watch the various stages of chocolate creation, from fermentation to sweetening! This is one of the top things to do in Monteverde, for good reason!
Taking a chocolate tour was also one of my favorite things to do in Placencia Belize, too!
Oh, and don't forget to grab some as a souvenir. You'll be glad you did.😉
Book it now: chocolate tour
Location: 2 km Noroeste de la Plaza de Deportes Santa Elena, Provincia de Puntarenas, Monteverde, 60109
8. Drinks and food at Taco Taco Taqueria (a favorite on this list of activities in Monteverde)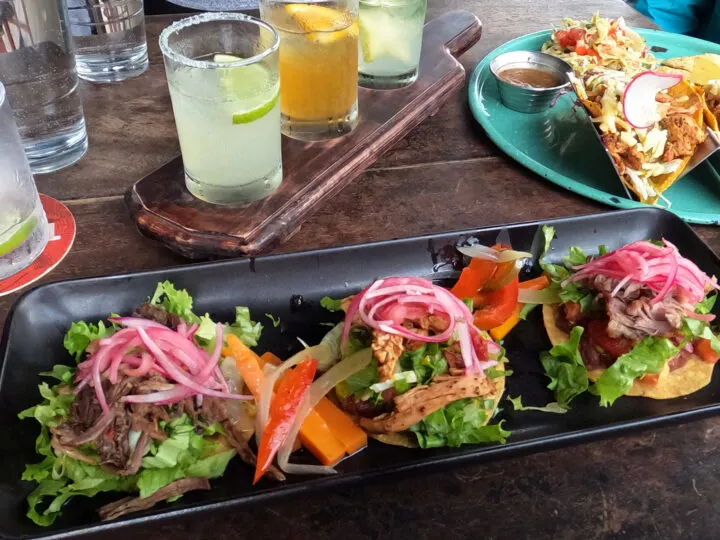 Cocktails and tacos, anyone? Taco Taco Taqueria is a delicious spot to eat in Monteverde, and one you cannot miss. With indoor and outdoor dining, the views on the balcony are best!
The flight of 3 mini cocktails consisting of a Margarita, La Cazuela and Ay Caramba was absolutely fantastic!
Day or night, Taco Taco seems to be busy. The delicious tacos, fajitas, enchiladas and chalupas are a great reason why visitors flock to Taco Taco. 😋
Pro tip: park on the street to the west and immediately below Taco Taco. Other parking in downtown can be really busy!
Location: navigate to Taco Taco Taqueria, Puntarenas Province, Santa Elena, 60109
More unique things to do in Monteverde Costa Rica
Just getting started with this epic list of things to do in Monteverde, and I'm sure you're already collecting ideas for your visit. Let's keep going for more fun activities and attractions…
9. Chilling Giant (one of the hidden gems and best Monteverde activities)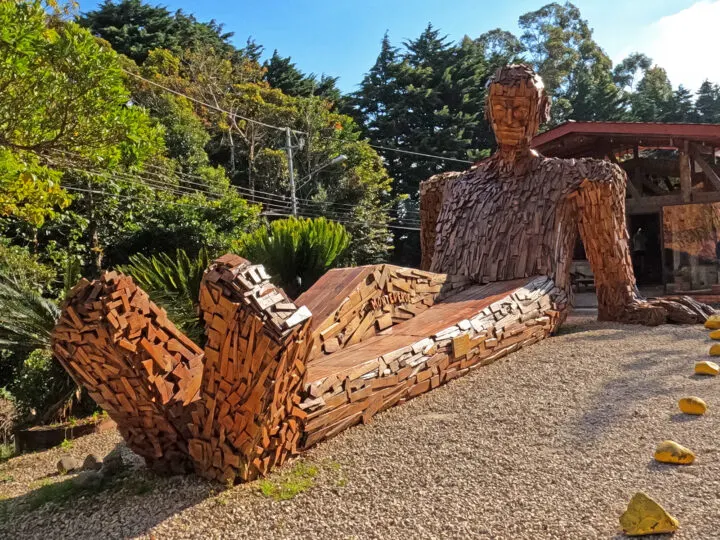 On the outskirts of Santa Elena is the Chilling Giant. It's made out of up cycled wood in a particular fashion that makes him fun to take a picture with! Such a beautiful thing, taking scrap wood and creating this masterpiece from it!
Read how sculptor and artist Gabriel Munoz Ramirez created this art piece for all to see in Monteverde.
It reminds me of the Breckenridge Troll in Colorado, USA, complete with a funny expression and disposition about him.
You can view the Chilling Giant on your way to or from the Cloud Forest Reserve, as it's along the road and easy to spot. It's right in front of the Selina Monteverde.
Location: Carr. a Reserva de Monteverde, Provincia de Puntarenas, Monteverde, 60109
10. Catch a beautiful sunset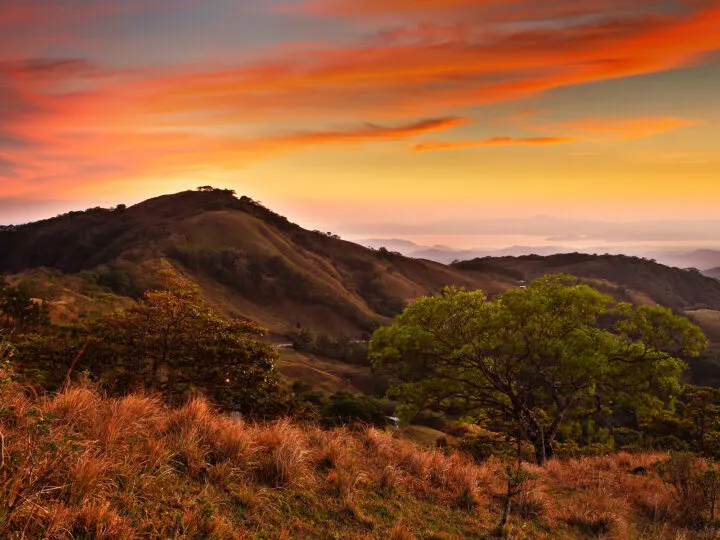 Ok, ok. While I cannot guarantee you'll see a gorgeous sunset while in Monteverde, I certainly hope you will!
The best place to catch a gorgeous sunset is actually an open area near the western edge of town. Because of the hills, it may be tough to see it from your hotel or accommodations, especially with all the trees!
But if you drive towards the west edge of Santa Elena, you can stop along the road to catch a beautiful view. Multiple layers of the mountains of Costa Rica and looking out to the Colorado Gulf is a stunning sight to see!
11. Monteverde Cloud Forest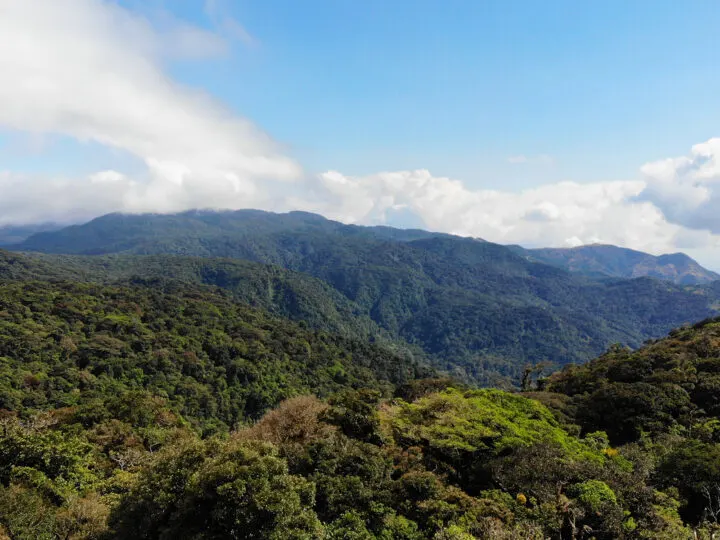 One of the biggest attractions in all of Costa Rica is the Monteverde Cloud Forest Biological Reserve. It's an area just east of downtown Santa Elena, high up in the hilltops of Monteverde.
To get to cloud forest reserve, you can take a tour or drive yourself. The road out of town is mighty bumpy and 4-wheel drive is recommended, especially if it's muddy.
Inside, there are many hiking trails that take you throughout the reserve. As you walk the trails, the flora around you is amazing! Keep your eyes and ears open for critters down low or birds, monkeys or other creatures in the trees.
Guides are available to help provide info about the reserve, and they always seem to know where the creepy crawlies are hiding, providing you with the best views!
Be sure to bring a poncho, rain jacket or umbrella as the weather can change quickly and obviously it's often wet.
Pro tip: the official parking lot for the Cloud Forest Monteverde is about 1.2 km down the hill. Many people park their cars at the entrance on the side of the road. If you prefer a safer spot, you can park in the parking lot and take the free shuttle up to the entrance of the reserve.
Location: 8633+3P3, Carr. a Reserva de Monteverde, Provincia de Puntarenas, Monteverde
12. Eat traditional Costa Rican food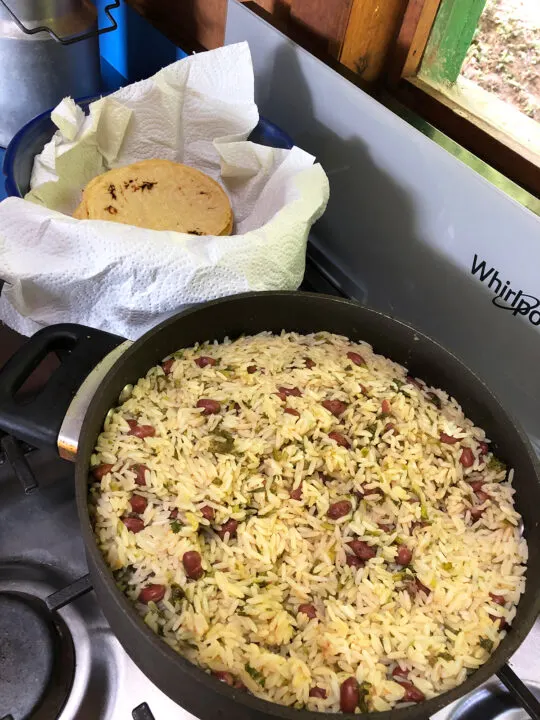 After all that adventure, you're going to want to fill your belly and refuel! Traditional Costa Rican food is using lots of beans and rice and plantains.
Some of the best places for traditional Costa Rican food in Monteverde are…
13. Coffee tour Monteverde (a top recommendation for what to do in Monteverde Costa Rica)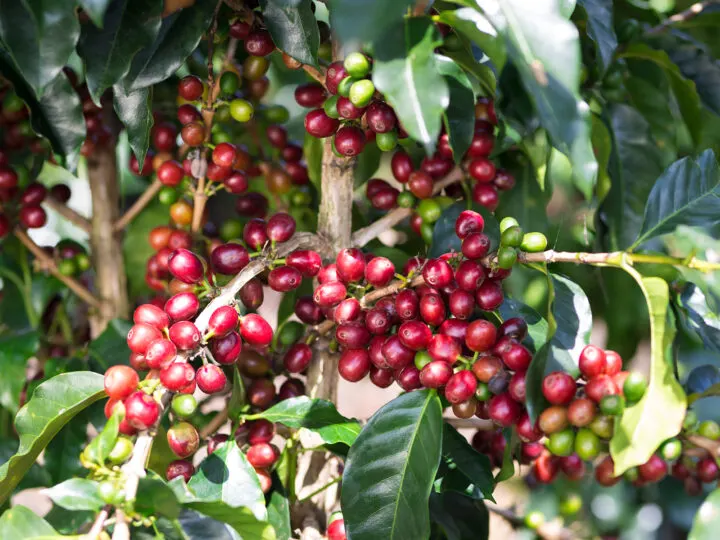 If you drink coffee at all, you cannot miss it in Costa Rica! It's widely known as one of the best places in the world to get coffee.
Fun fact: a law passed in 1989 prohibits the production of crappy coffee! All coffee produced in Costa Rica has to use 100% Arabica – meaning the highest quality coffee beans.
So, what better place to take a coffee tour! You'll learn exactly what it takes to process the perfect cup of coffee, from farm to table. This sustainable farm goes in depth from seed germination to harvesting and roasting, you'll see it all at the coffee farm!
Location: 400m Sur Iglesia Cañitas, Monteverde, Puntarenas
14. Bat Jungle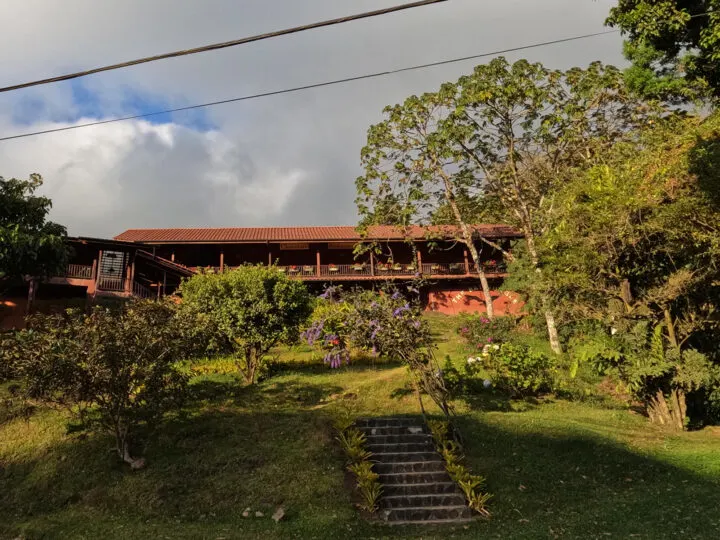 Did you come to Monteverde to see nature? Of course you did!
Fun fact: 6.5% of the worlds biodiversity is in the tiny country of Costa Rica. It's an incredible place!
So anyways, you can check out the Bat Jungle, which teaches you nearly everything you'll want or need to know about bats! With over 80 bats living in the bat habitat, you'll even be able to feed them!
Note: unfortunately the Bat Jungle was closed when I planned to see it, so plan better than me and check out hours ahead of time!
Location: Frente Restaurante Tramonti en, Provincia de Puntarenas, Monteverde, Costa Rica
What to do in Monteverde
Just over half done with the list. Do you have your Monteverde activities picked out yet? Here's more fabulous ideas ahead…
15. Enjoy delicious ice cream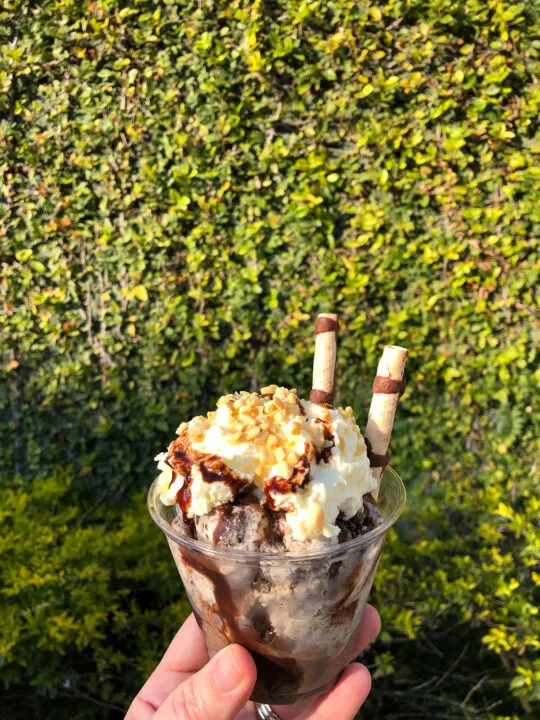 Nothing says vacation like trying the local ice cream, right? At Heladeria y Sala de Ventas Monteverde, you'll be able to pick out your favorite flavor combination to enjoy.
Oh, and Costa Rican ice cream shops love a good sundae, so don't be afraid to go big!
Pro tip: there's usually a line, so bring your patience or go at off-peak times.
Location: 506, Puntarenas Province, Monteverde, Costa Rica
16. Find the Resplendent Quetzal (one of the best things to do in Monteverde)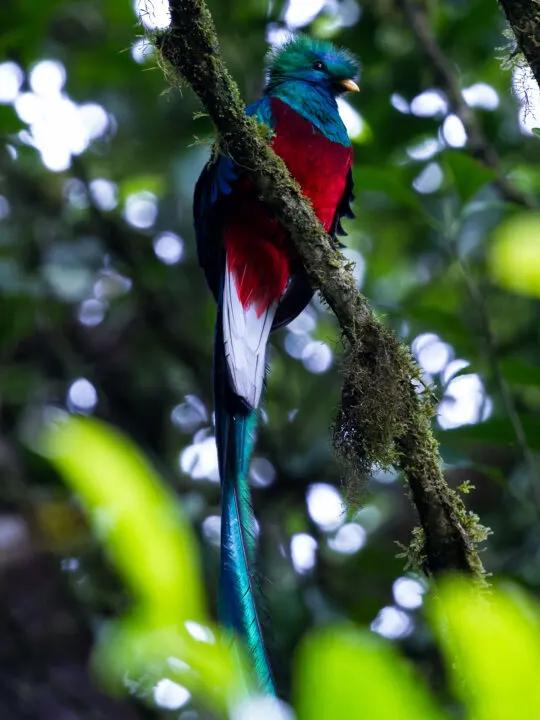 One of the most elusive creatures in the Cloud Forest is the Resplendent Quetzal. A bright blue-green bird with dramatic feathers, it's a gorgeous (and somewhat rare) species in Costa Rica.
According to American Bird Conservancy, the Resplendent Quetzal was considered sacred by the Mayans. It was known as the 'god of the air' which in turn was a symbol of freedom, goodness and wealth.
Likely the best chance to spot one in the wild is in the Monteverde Cloud Forest Biological Reserve. Their breeding season is February through July, so keep your eyes out during that time! Hiring a guide in the Monteverde Cloud Forest will ensure the highest likelihood of seeing one!
Location: 8633+3P3, Carr. a Reserva de Monteverde, Provincia de Puntarenas, Monteverde
17. Monteverde hiking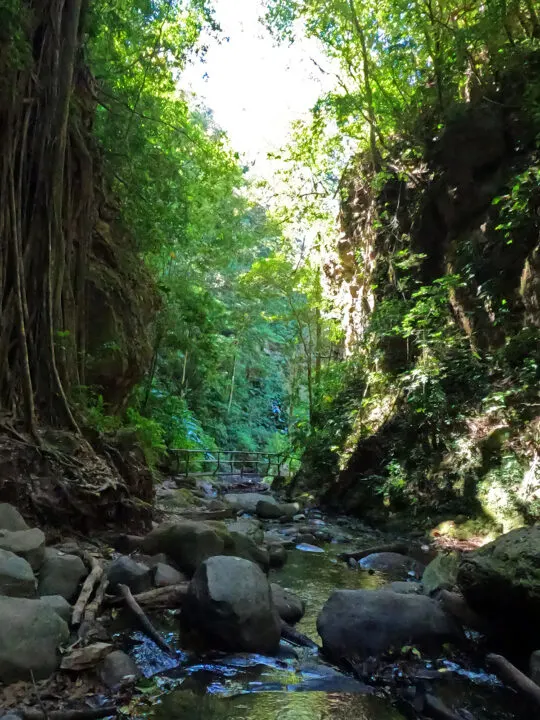 With an area as adventurous as Monteverde, you know there's good hiking trails! Here are some of the best hikes in the area.
18. Horseback riding Monteverde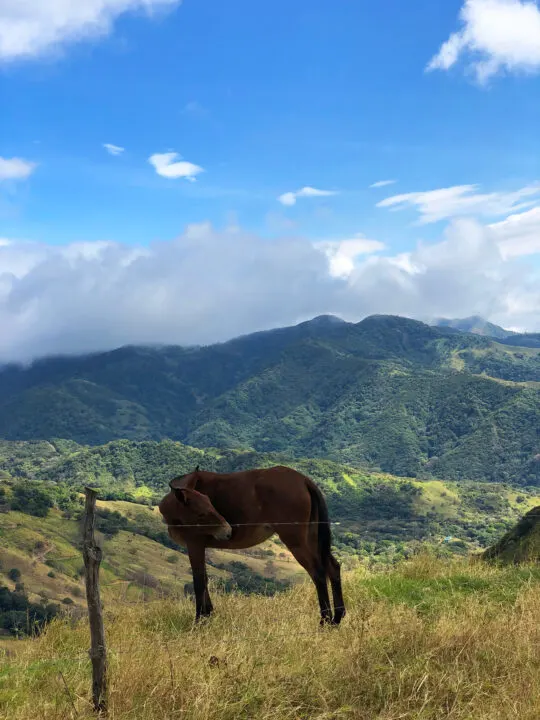 On this epic list of things to do in Monteverde, I could not leave out horseback riding!
The area was once rich with ranchers, and many still operate today. Horseback riding Monteverde will help you explore waterfalls, viewpoints and the biodiversity of the area.
You'll go off-the-beaten path, away from the crowds and see beautiful views, unlike most others will experience!
Book it now: horseback riding Monteverde
19. Eat at the Tree House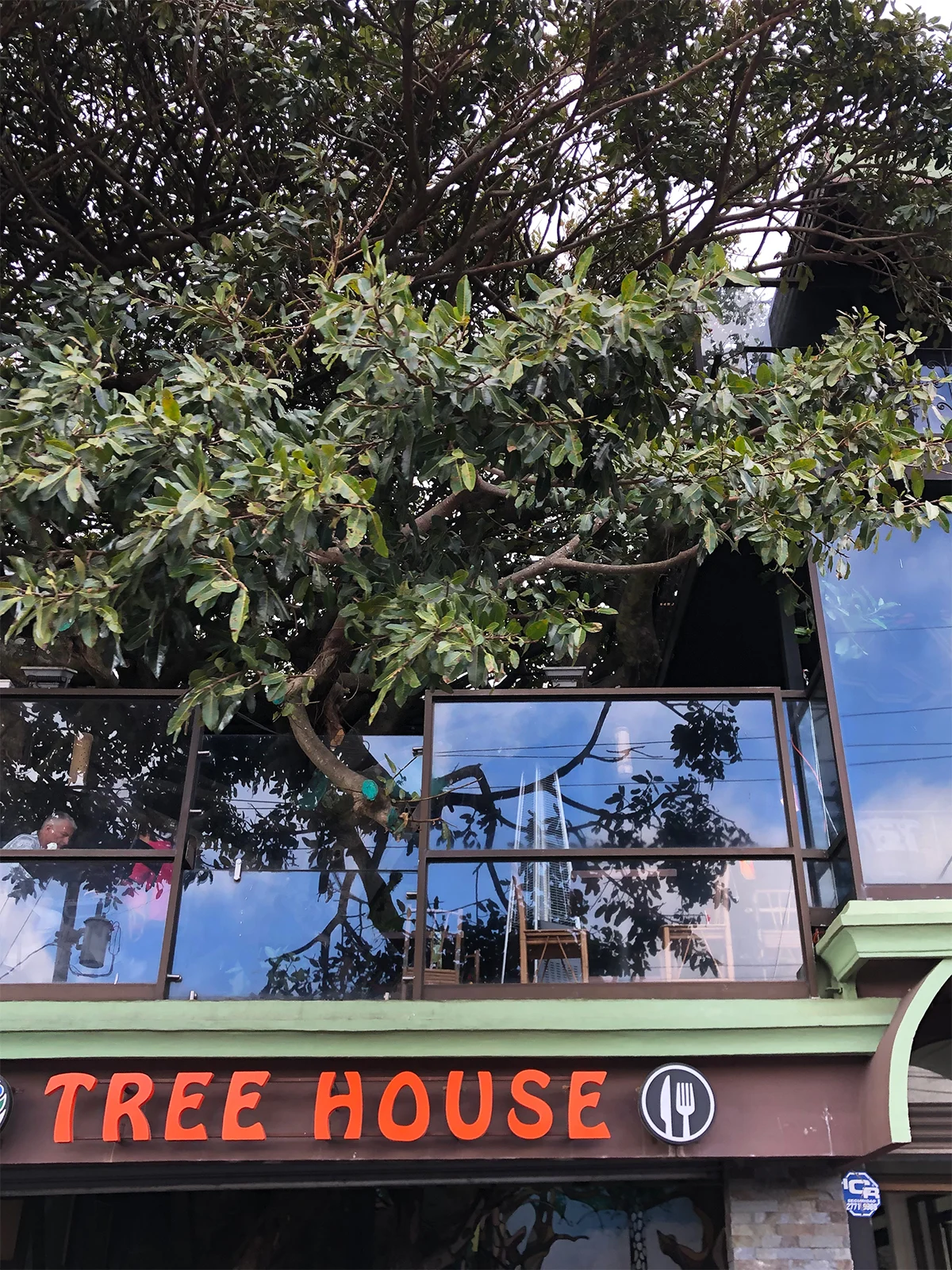 It's the vibe, that's why you're going to the Tree House Restaurante. A restaurant made surrounding a 100 year old tree. And yeah, it's a bit of a tourist trap.
But it's still cool, right? You can see it from the road, and walking in you'll see why it's a fun spot to eat dinner or have drinks.
The food is what you expect as a tourist destination – good fish, pizza, burgers, steak and so on. It's a little on the pricey side so be prepared for that. If you go there at night, you can see the tree all lit up. Such a fun spot while on vacation in Monteverde.
Location: Downtown Santa Elena, Provincia de Puntarenas, Monteverde, 60109
20. Cozy up by the fire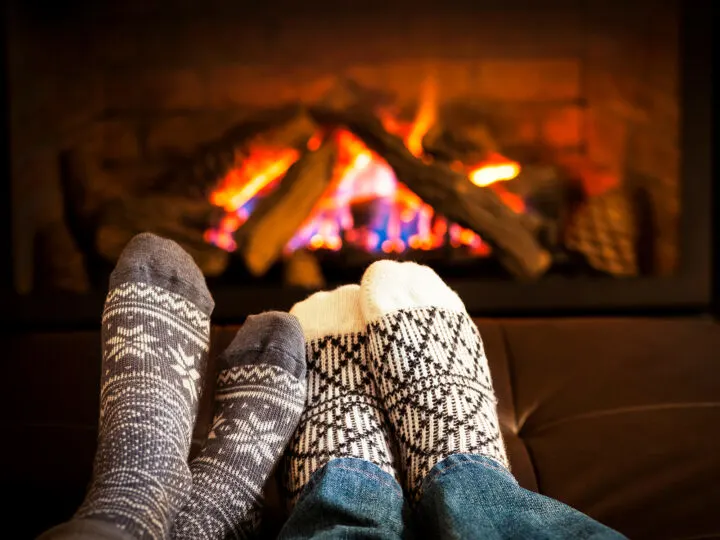 Fun fact: Monteverde can get cold at night! It's actually a really fun area because it can warm up during the day into the 70's, but get cold at night.
And because Costa Rica is so environmentally friendly, most places don't have central heating and air conditioning.
So if you're lucky enough to have a fireplace in your hotel or vacation rental, make that fire and cozy up at night! Grab your cushy socks, a good book and relax by the cozy fireplace.
More things to do in Monteverde Costa Rica
Can you believe this list?! More adventures and relaxation await. Let's keep going!
21. Monteverde Butterfly Gardens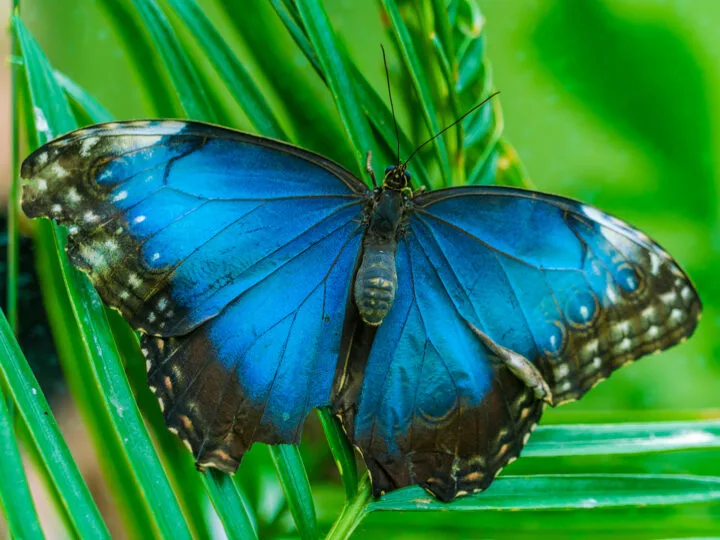 Okay, okay, this list of things to do in Monteverde has a lot of animal encounters, and it's because Costa Rica is so amazing when it comes to biodiversity. This next activity is a fun one for adults and kids alike.
Visiting the Monteverde Butterfly Gardens is a laid-back way to spend an hour seeing some of the most beautiful butterflies. You don't need a reservation and the guides are so knowledgeable about the local butterflies and how they're preserving and protecting them.
Location: 700 m sur del escuela cerro plano, Provincia de Puntarenas, Monteverde
22. Have a milkshake (a favorite on this list of things to do in Monteverde)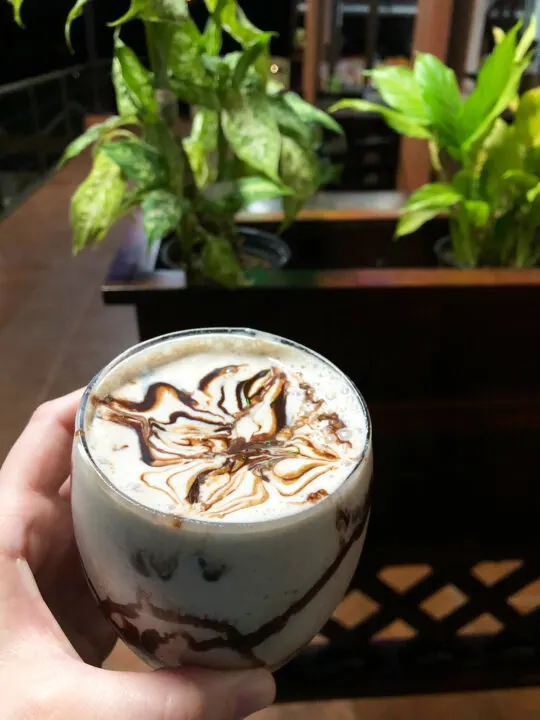 It must be a Costa Rican thing….and I personally love it!
Many restaurants have milkshakes on the menu. Chocolate, strawberry, vanilla are all common to see. So Pura Vida! Have a milkshake!
Location: (varies) The Green Restaurant, Plaza Monteverde local 31, Provincia de Puntarenas, Monteverde
23. Shopping in Monteverde Costa Rica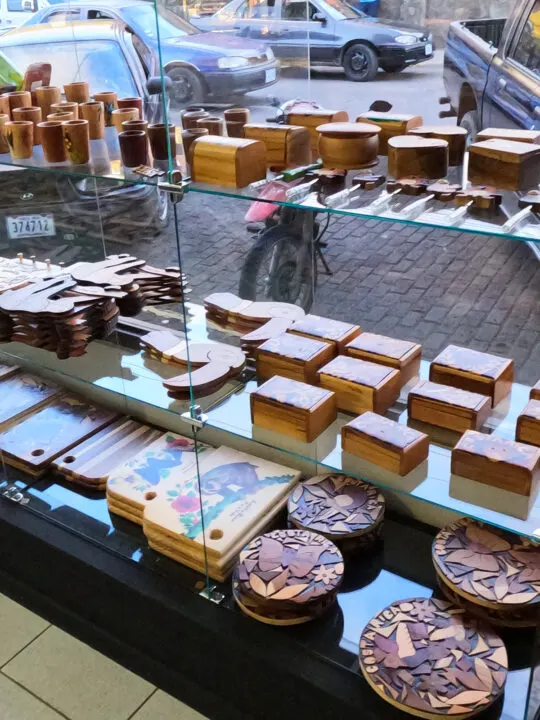 Downtown Santa Elena isn't huge, but it's a fun, walkable area perfect for a casual stroll while on vacation. You have to check out the small shops for souvenirs.
Find something to remember your time in the area, or bring something back for the ones you love. I personally love edible souvenirs, and came home with locally made chocolate!
From mugs to t-shirts, kitchen tools and stuffed monkeys, you'll be sure to find something for anyone in downtown Santa Elena.
24. Street art in Santa Elena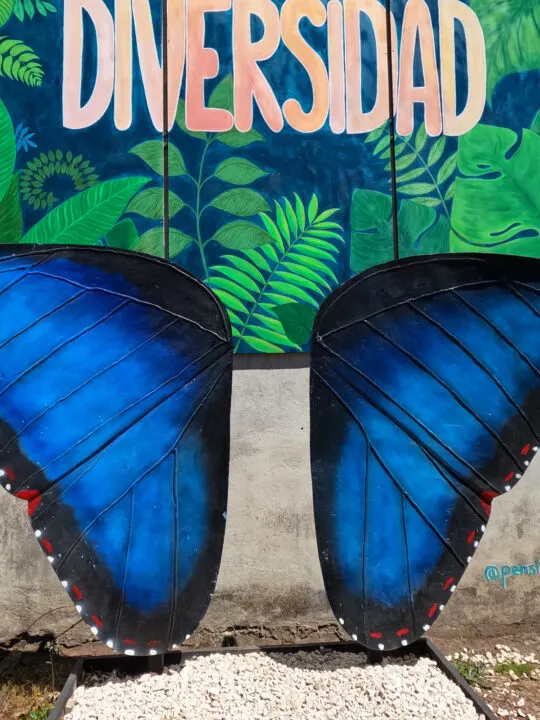 Downtown Santa Elena is a fun spot to be. Filled with shops and restaurants, it's a very walkable area.
Take an afternoon and walk to find the various street art. It reminded me of the weekend in Austin when street art seemed to be around every corner.
Anyway, Santa Elena is a beautiful town, and the art adds a layer of perfection.
25. Get a massage (one of the most relaxing things to do in Monteverde)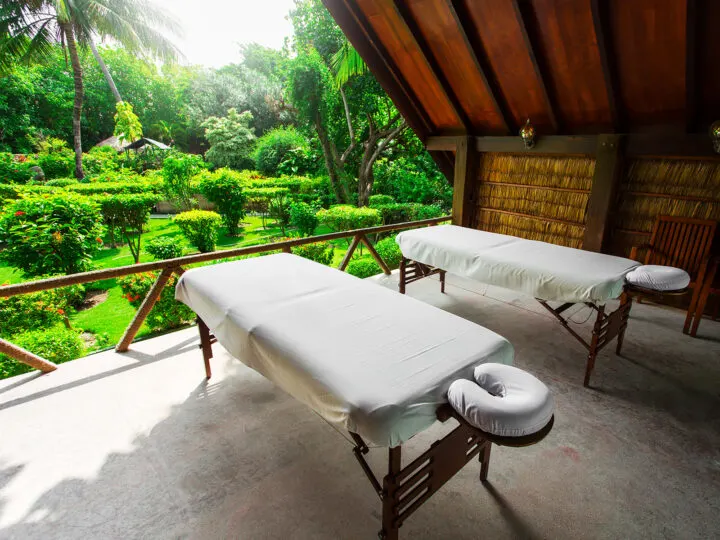 An amazing way to relax on vacation is to get a massage. Whether you're on a solo adventure, girls' trip, couples getaway or even family vacation, do yourself a favor and sign up for a massage!
It's one of my favorite Monteverde activities (as well as my favorite things to do in Khao Lak Thailand and pretty much anywhere else). Here are a few spots to call and find an opening that works in your vacation schedule.
26. Night walk Monteverde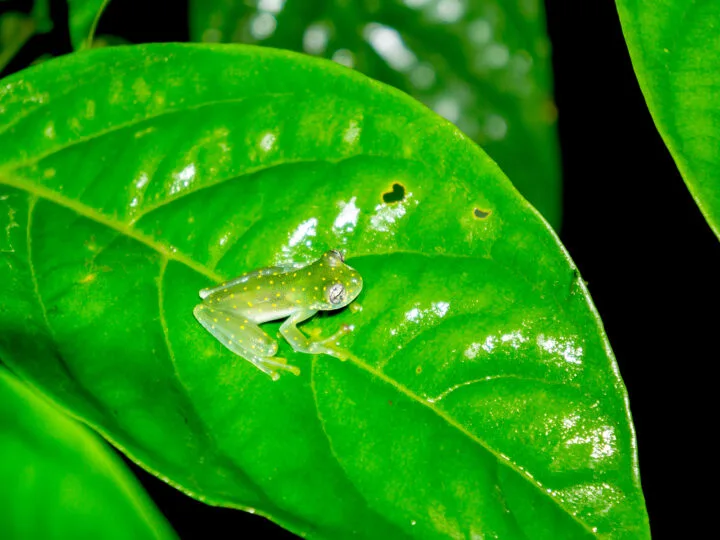 Saved one of the best for last! If you love seeing nature at it's finest, you'll love a night tour in Monteverde.
The creepy crawly things are plentiful in the jungles of Costa Rica! Book a night tour so the guides can help find the coolest nocturnal animals and insects. And of course, keep you safe from the ones you don't want to come in contact with!
From armadillo to frogs, tarantula and kinkajous, you'll be sure to see all the nocturnal animals and insects that come out at night! Be prepared with grippy shoes (hiking boots are best) and a poncho or rain jacket.
Book it now: night walk Monteverde
Location: hotel pickup or Provincia de Puntarenas, Monteverde, Costa Rica
Things to do in Monteverde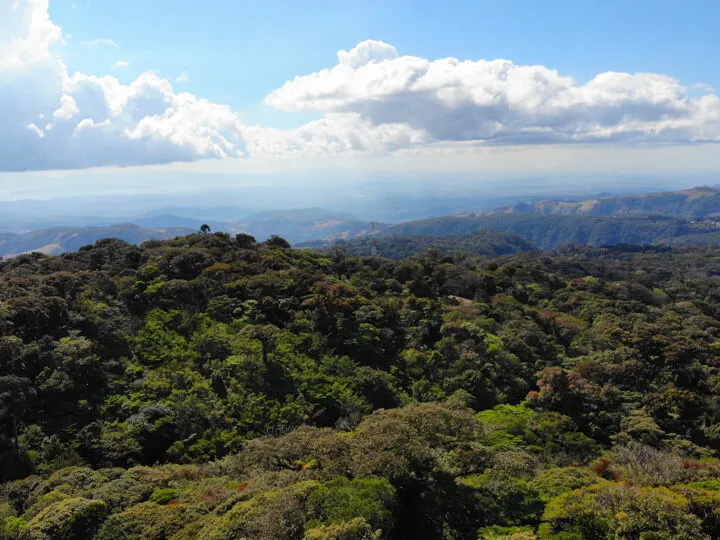 Whew! What a list! From adventures like ziplining and hanging bridges Monteverde to unique animal encounters in the wild, there's so much to discover in the Cloud Forest region.
Monteverde is truly a destination that any nature enthusiast loves to explore. There are exciting opportunities to explore around every corner in Monteverde Costa Rica.
Let's recap that list in a quicker fashion…
What to do in Monteverde Costa Rica
Monteverde zipline
Curi Cancha Reserve
Monteverde Waterfall
Treetop dining experience
Hanging bridges Monteverde
Sloth sanctuary
Chocolate tour
Drinks and food at Taco Taco Taqueria
Chilling Giant
Catch a beautiful sunset
Monteverde Cloud Forest
Eat traditional Costa Rican food
Coffee tour Monteverde
Bat Jungle
Enjoy delicious ice cream
Find the Resplendent Quetzal
Monteverde hiking
Horseback riding Monteverde
Eat at the Tree House
Cozy up by the fire
Monteverde Butterfly Gardens
Have a milkshake
Shopping in Monteverde Costa Rica
Street art in Santa Elena
Get a massage
Night walk Monteverde
Related content to read next:
7 Days Costa Rica Itinerary: Top Sights for First Timers
26 Incredibly Fun Things to Do in Manuel Antonio Costa Rica You Gotta See to Believe
6 Most Breathtaking Beaches in Manuel Antonio You'll Love
How to Visit Belize on a Budget
Visiting Tikal: Everything You Need to Know About the Tikal Ruins in Guatemala
Find this post helpful? Save it for later or share it on social media!