Manuel Antonio, Costa Rica is an incredible destination for wildlife and adventure. With amazing activities and beach views for dayyyyys, you'll love the variety. If you're looking for the best things to do in Manuel Antonio, here's your list!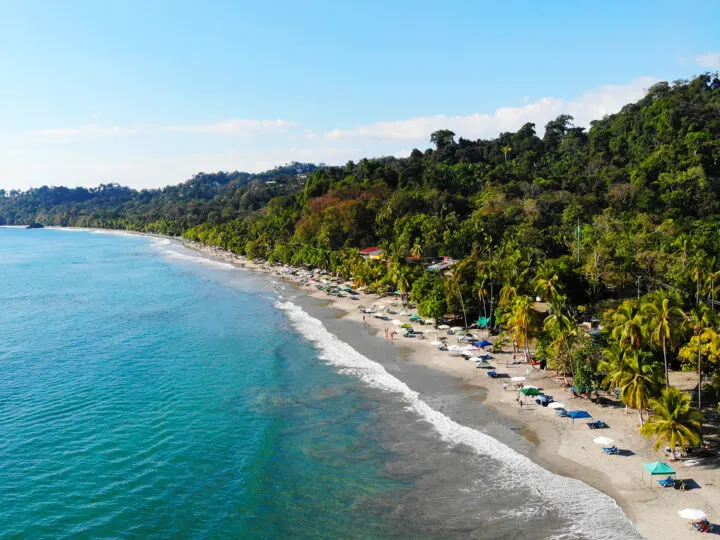 This post may contain affiliate links. For more info, see my disclosures.
With swoon-worthy views around every corner, Manuel Antonio has so much to offer visitors. The gorgeous weather makes this a year-round destination, and one you'll absolutely love.
Fun fact: 6.5% of the worlds biodiversity is in the tiny country of Costa Rica. So, when you're looking for things to do in Manuel Antonio, you bet a lot of them will be wildlife related!
Use this guide to plan your perfect vacation. Of course there's beautiful beaches in Manuel Antonio, but this fun area has so much more to offer.
What you need to know about Manuel Antonio Costa Rica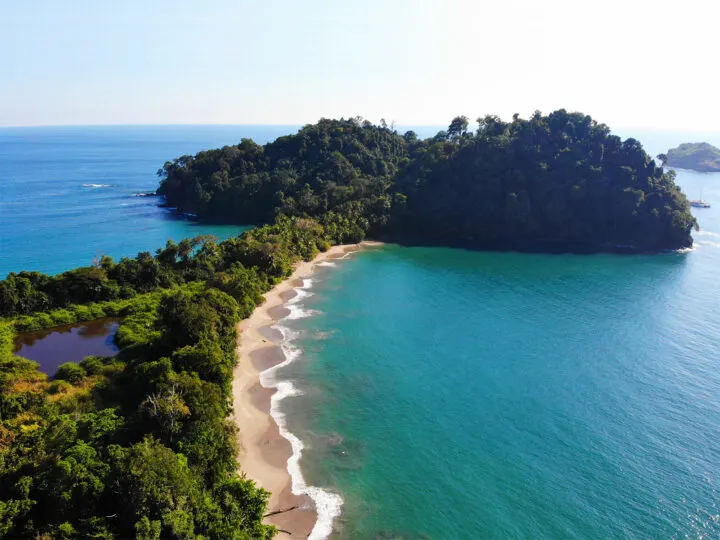 First, let's go over some important info like how to get there, where to stay, etc.
Best time to visit Manuel Antonio
This lush region gets a lot of rain – which is what creates much beauty and biodiversity! However, that means there's a rainy season, which you can either avoid in search of sunshine or do some really cool stuff without the crowds!
The rainy season in Manuel Antonio is May through November, with the most rain in September and October.
Rainy season you'll find lower prices on accommodations and perhaps flights, too. During peak (dry) season you'll find more crowds, so keep that in mind.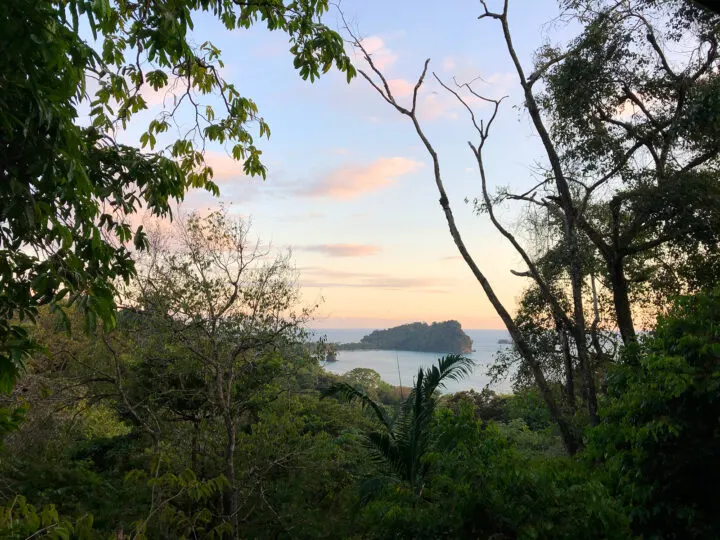 Map of Manuel Antonio things to do
If you're a visual person, this map of the best things to do in Manuel Antonio will help you plan your trip. Pinch and zoom to see the surrounding area.
How to get to to Manuel Antonio Costa Rica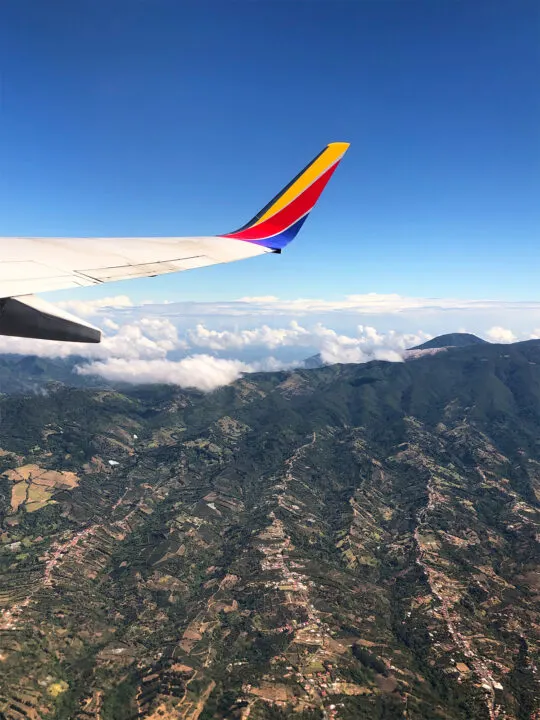 Manuel Antonio is located near Quepos in the Puntarenas province.
The closest large commercial airport to Manuel Antonio is in San Jose, Costa Rica. That's the SJO airport or Juan Santamaría International Airport. Fly into SJO and rent a car or get a transfer via shuttle. It's 3 hour drive from the airport, not counting any major traffic delays.
Alternatively, you could fly into Quepos, which is just 20 minutes away from town. If you're flying internationally, you'll likely need to fly into San Jose then hop a smaller plane to Quepos. That's the XQP airport or Quepos La Managua Airport.
Pro tip: use Google Flights for the lowest price dates!
If you choose to rent a car and drive, my favorite cheap car rental spot is Discover Cars. I usually save 10-30% and it's a completely free service. They search the top rental car carriers to find the best deal. Search cheap car rates now.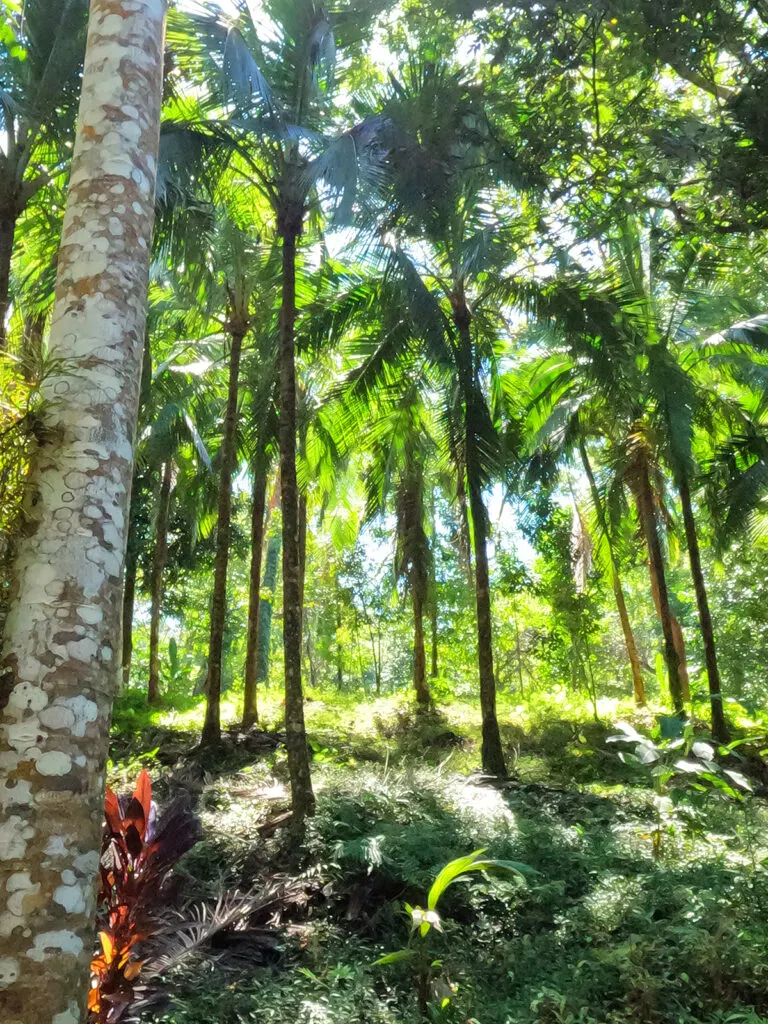 Getting around town
Once you're in Manuel Antonio Costa Rica, you'll have a few options to get around. A rental car is the most convenient way. Also keep in mind driving in Costa Rica is much different than the USA, so be prepared for that.
If you took a shuttle from San Jose or another area, you can use a taxi to take you to beaches, if it's too far to walk. Most tours will pick you up from your hotel or rental property, so that's convenient too.
Best Manuel Antonio hotels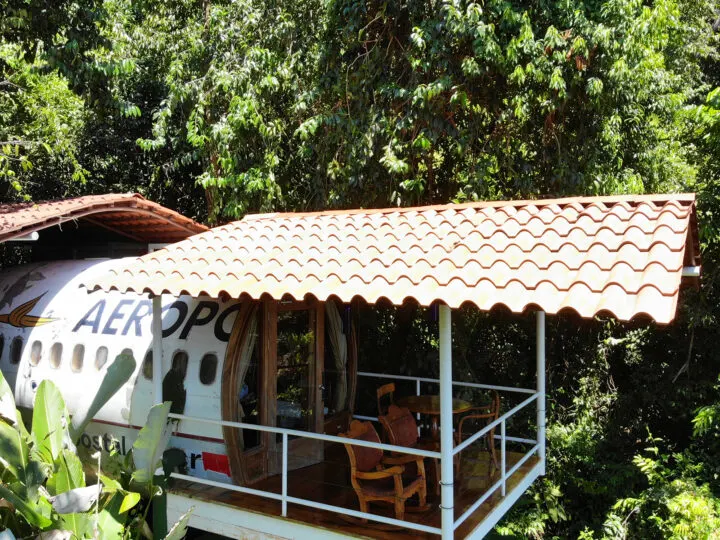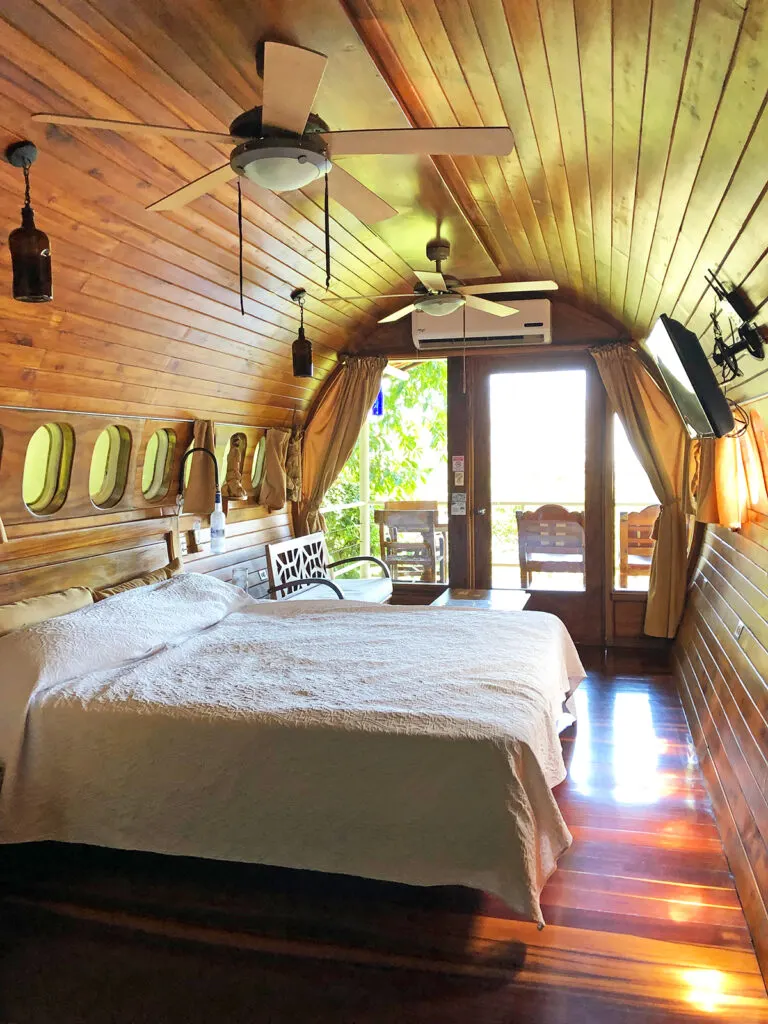 This just might be a highlight of your trip! If you don't have accommodations booked yet, you're in luck.
The town is situated just right so that so many of the hotels and accommodations have fabulous ocean views!
What to pack for Manuel Antonio Costa Rica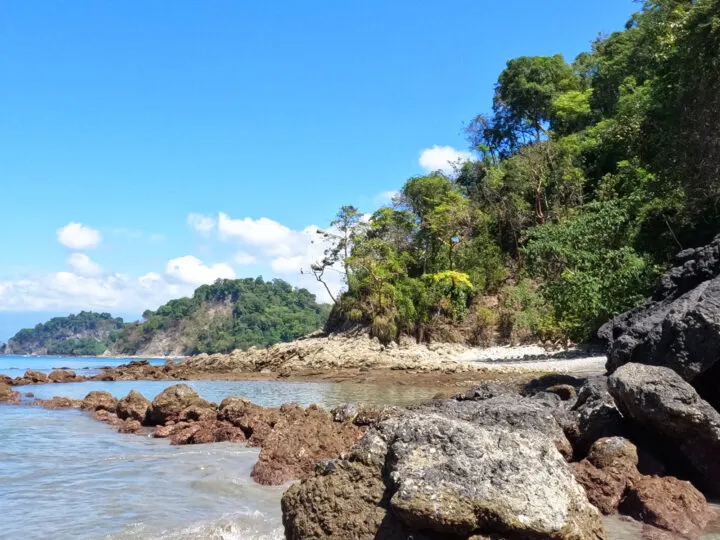 Getting excited yet? There's so much to see and do in Manuel Antonio!
Anyway, here are some items that you may want to bring on your adventures.
Water shoes. Great for some of the rocky beaches in the area, and also for other water activities, exploring waterfalls and more.

GoPro. Take it ziplining, snorkeling, kayaking and more! Savor the memories with awesome photos and videos to share. This is the GoPro I took to Costa Rica, Similan Islands Thailand, Culebra Puerto Rico, and pretty much every other beachy spot!

Bug spray. You'll want to apply this for rainforest activities! Bring the travel size with you for the day and don't forget to reapply. 🙂
Alright enough chatting already! Let's get to what to do in Manuel Antonio.
Things to do in Manuel Antonio
There's so much to see and do in this region. Incredible wildlife, a variety of water activities and so many fun things to do. Whether you're spending a week in the area or you're including it as part of 7 days Costa Rica itinerary, there's so much to explore here.
Let's dive in!
1. Manuel Antonio National Park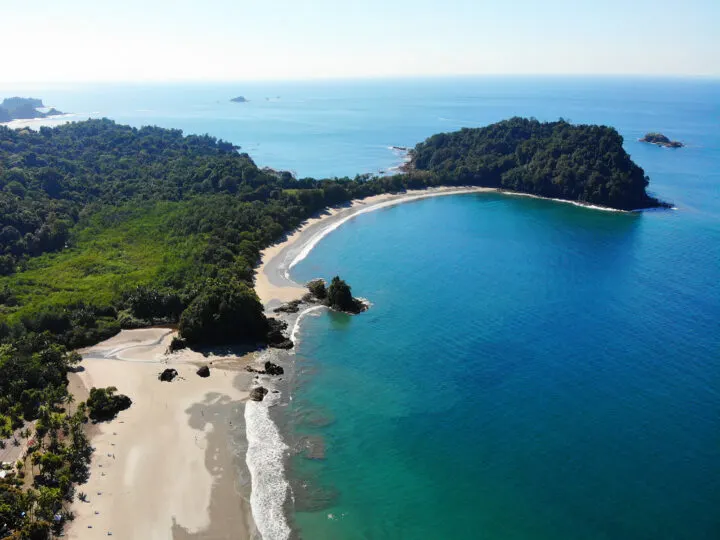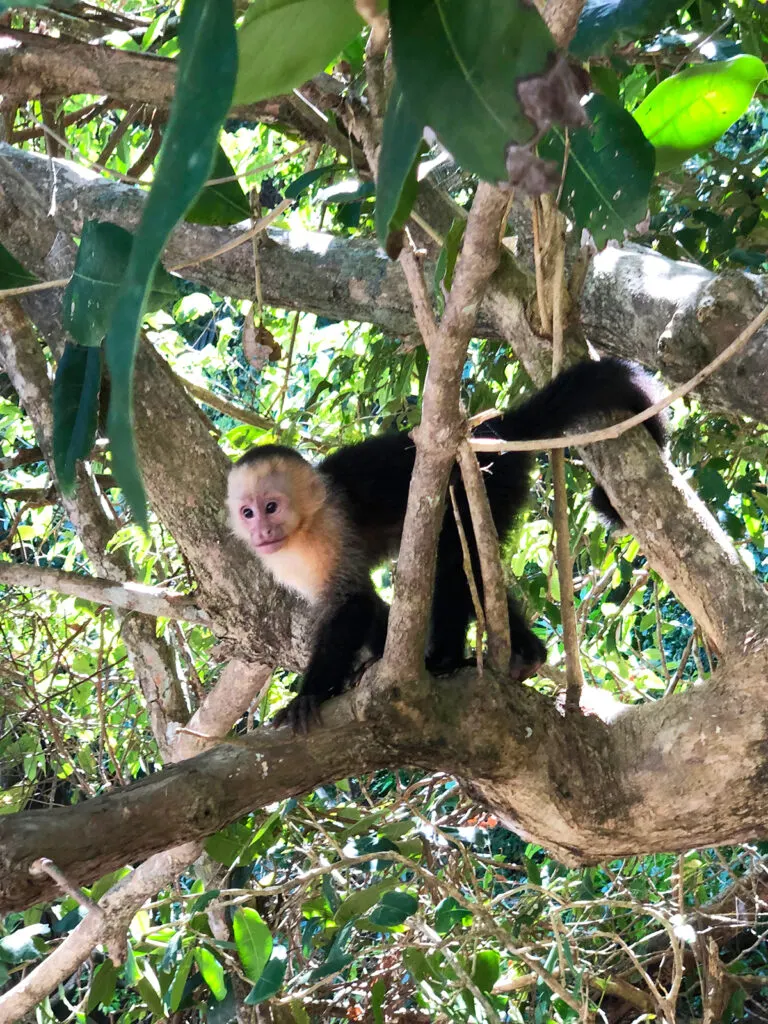 This gem in Costa Rica is what draws most visitors to the area – and for good reason. Incredible nature and wildlife – not to mention beaches!
The shining star of the Puntarenas province, this picturesque park is as much fun as it is beautiful.
Take a Manuel Antonio National Park tour or adventure on your own. The benefit to a tour is that you'll typically see more wildlife because the guides know where to look for the animals.
You'll want to spend at least 1/2 day to a full day in the park. There's several beaches and short hikes to enjoy. The wildlife is second to none so be sure to keep your eyes peeled!
Note: online park tickets for admission are required to be purchased in advance. Tours typically include the admission, though.
2. Go snorkeling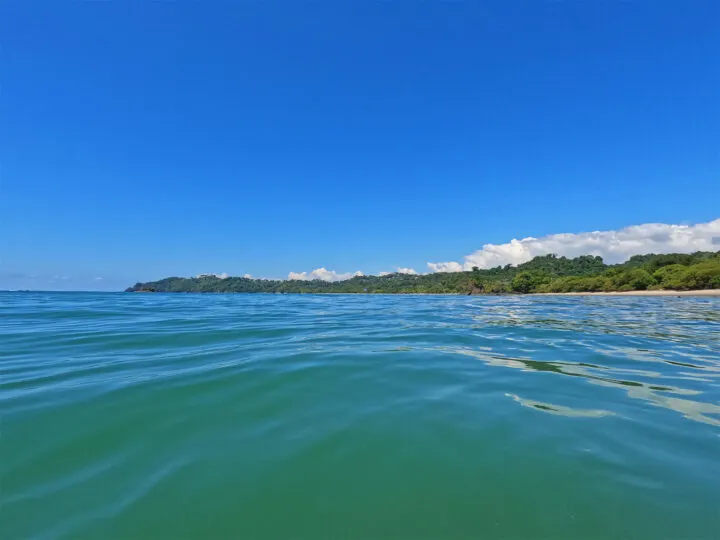 Snorkeling in Manuel Antonio is one of the best ways to experience the diversity this region has to offer.
On this list of the best things to do in Manuel Antonio is a bunch of rainforest activities. But equally as important is the marine life!
Snorkeling in Manuel Antonio National Park is a popular choice. The best spot for snorkeling at the park is on Manuel Antonio Beach.
You'll need your own snorkel gear to do this, as the park does not rent it out. This is the snorkel set my husband and I travel with, and we love it. We've used it at the best snorkeling in Kauai, Hawaii, Culebra, Puerto Rico, on the best beaches in Aruba, and many more places.
Alternatively, you can book a snorkeling tour, which will provide all the right gear for you so you don't have to pack it. Local guides can also help you to spot sea life like sea turtles.
Book it now: snorkeling tour
3. Chocolate tour (one of the most underrated things to do in Manuel Antonio)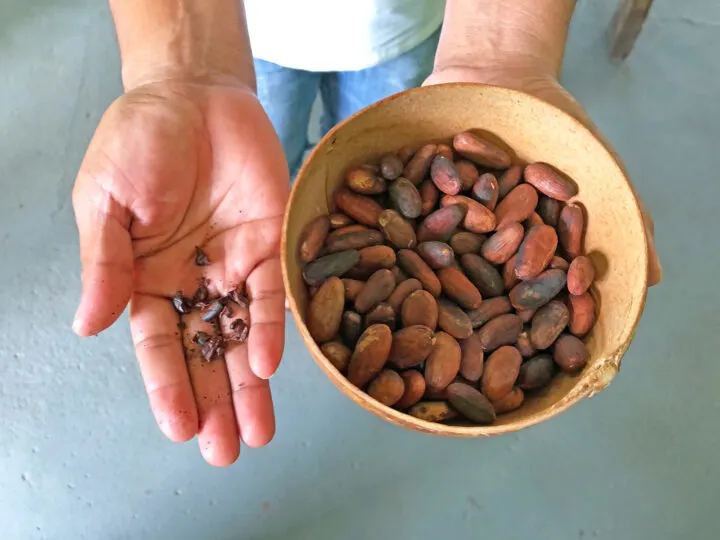 Local farms grow coffee and cacao beans, and you can take a tour to learn the process and get tastings of both. 😋
Take a coffee and chocolate tour to see how both are produced near Manuel Antonio. Learn just how chocolate is made – and make your own! Watching the cacao go from a bitter bean to sweet chocolate is fun and so interesting.
This is one of the top things to do in Manuel Antonio, and one I'd recommend to anyone in Costa Rica!
Book it now: chocolate farm tour
4. Zipline Manuel Antonio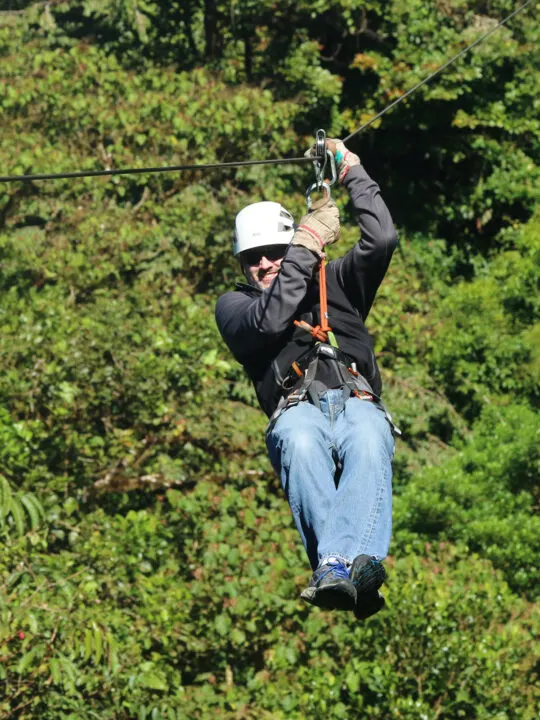 Okay, okay. This is the real deal. My husband (pictured above) and I have ziplined all over the world. From Mazatlan, Mexico to Maui, Hawaii, I'm 100% certain that ziplining in Costa Rica is one of the most fabulous places!
On a zipline canopy tour in Manuel Antonio, you'll take 11 ziplines and 2 hanging bridges through the rainforest. Speaking of awesome hanging bridges – that's one of the best things to do in Monteverde Costa Rica, if you're planning to explore that region, too.
If you're lucky, you'll get to swing through the trees and see monkeys and sloths while submersed in nature. So cool!
Book it now: zipline Manuel Antonio
5. Ocean kayaking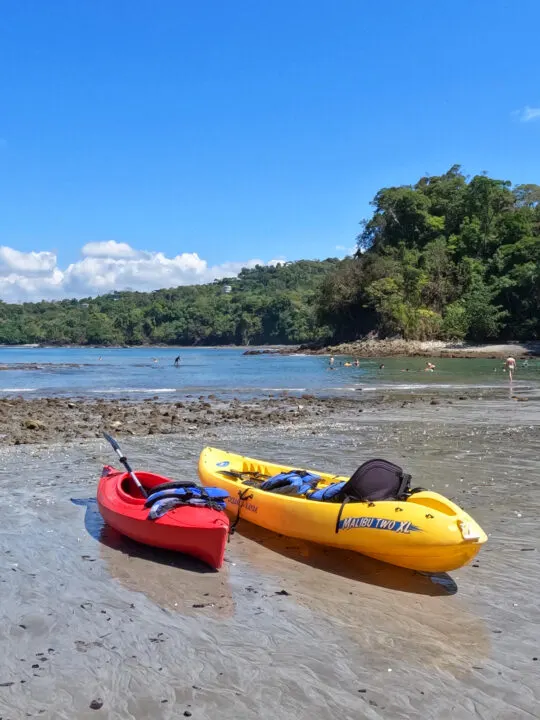 As someone who kayaks at most beach destinations, kayaking is one of my favorite things to do in Phi Phi Islands, Thailand, in Clear Lake Manitoba, in Canada, Anna Maria Island in Florida, as well as Manuel Antonio!
The perfect way to spend an afternoon in Manuel Antonio Costa Rica is on kayaks! Get a different perspective of the coast from the water.
Kayaks are available for rent on the beach at Playa Biesanz. Or you can book an ocean kayak tour and see some of the coast that not many other tourists get to witness. Expert guides know all the best spots for viewing the rainforest, beaches and mountains.
Book it now: ocean kayaking
6. Dine in an old plane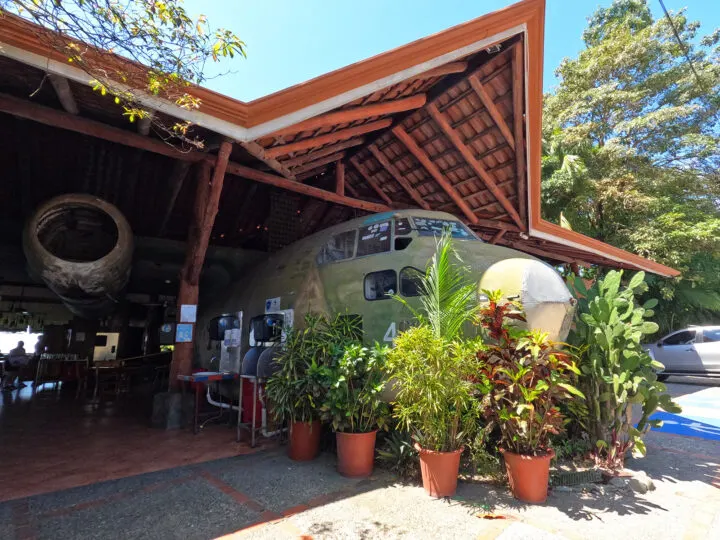 Driving through the streets of town, it's easy to spot El Avion. The airplane-turned restaurant and bar is perched on an ocean bluff along the coast in Manuel Antonio Costa Rica.
With a very interesting past, in short, I'll say this – this very airplane was one of the C-123 cargo planes that operated in the 1980's. It's also part of the larger (true) story behind the movie, American Made.
With an interesting past and spectacular views, dining at El Avion is a must! Enjoy a tropical mango salad, seafood curry, chicken fajitas or an assortment of other tropical foods, all while catching awesome views of the ocean.
7. Manuel Antonio parasailing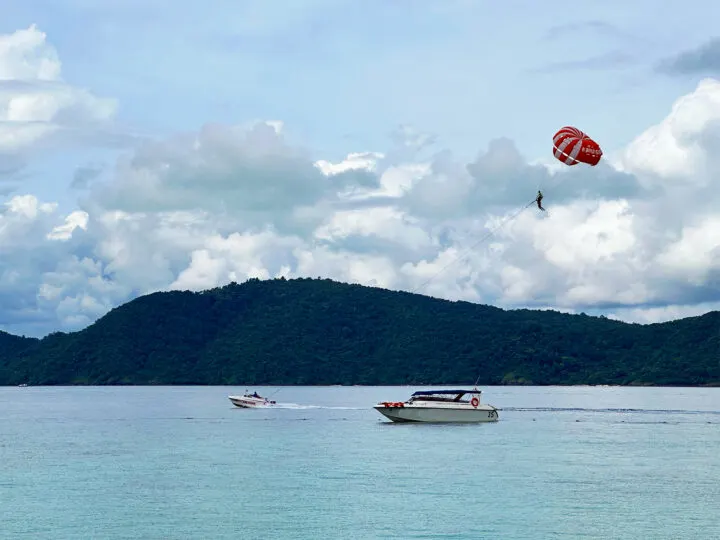 Alright, are you ready for some adventure? The views are second to none as you soar above Manuel Antonio Beach while parasailing!
You'll want to reserve your time in advance so you get the day and time slot that works best with your schedule. It's easy and doesn't require any skill, so even if you've never parasailed before you'll be able to enjoy yourself.
Having parasailed in Cancun, Mexico and in Sandusky on Lake Erie, Ohio, I can tell you this is one of the best days to spend a vacation!
Book it now: Manuel Antonio parasailing
8. Have a beach day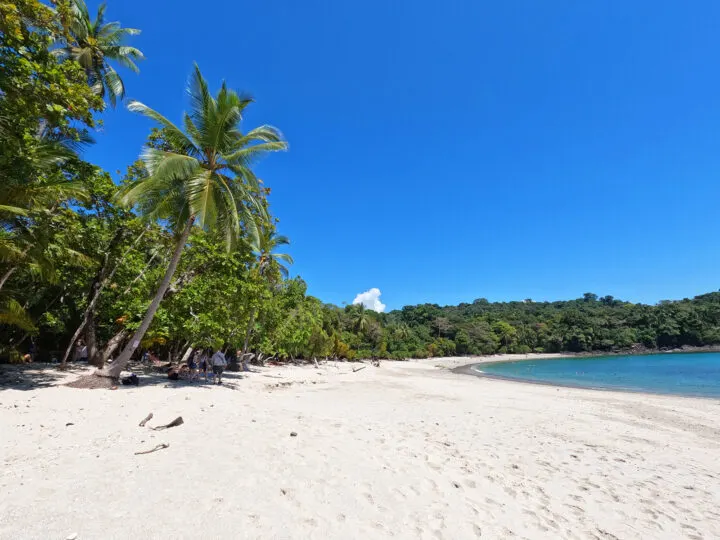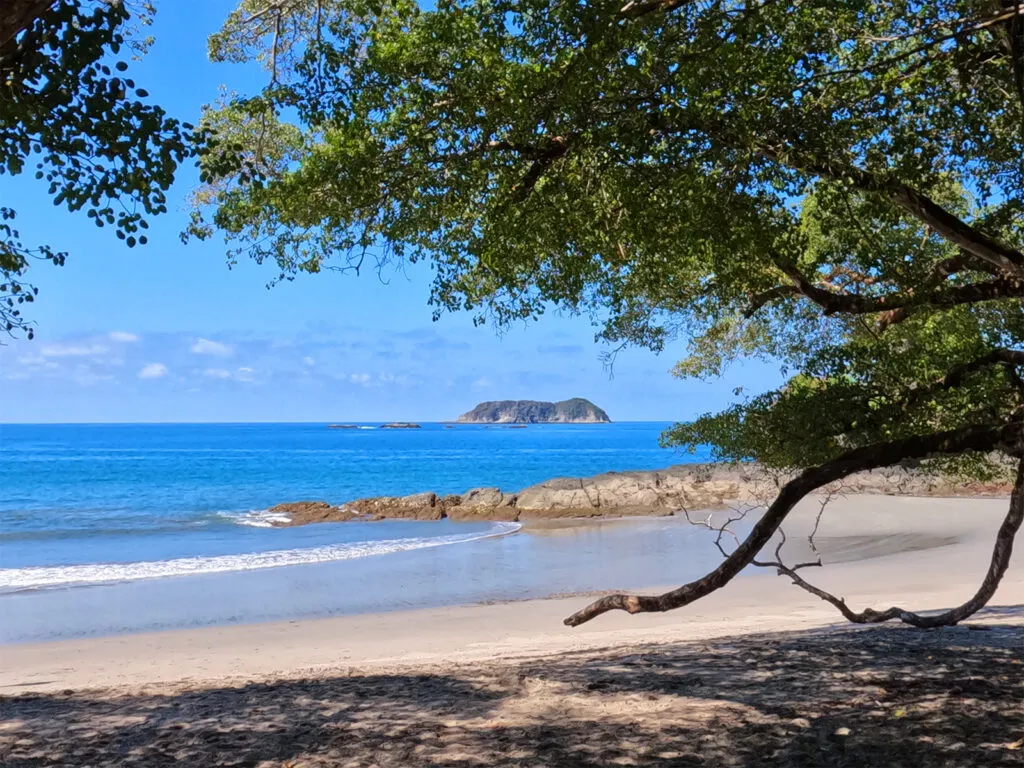 If you're coming to Costa Rica, you absolutely must enjoy the beautiful beaches throughout the country. There are gorgeous beaches in Manuel Antonio for swimming, snorkeling and just enjoying the sand and waves.
Manuel Antonio Beach, within the national park is known for it's iconic white sand and crescent-shaped coastline. It gets pretty busy, but if you want it more to yourself go early in the morning and walk to the end of the beach for more space.
Playa Espadilla which is the main beach in town where you'll find more amenities like restaurants, shade umbrellas and chairs to rent and other water activities.
Another beach worth visiting is Playa Biesanz. It's about a 10 minute hike to get there and it's a bit of a party spot with vendors selling drinks and food.
Pro tip: wear mineral sunscreen while at these beaches to protect marine life! And you'll definitely want water shoes for Playa Biesanz
Manuel Antonio Costa Rica – more things to do
Seriously this whole region is spectacular. We've barely scratched the surface of all the awesome things to do in Manuel Antonio! Let's keep going…
9. Nauyaca Waterfall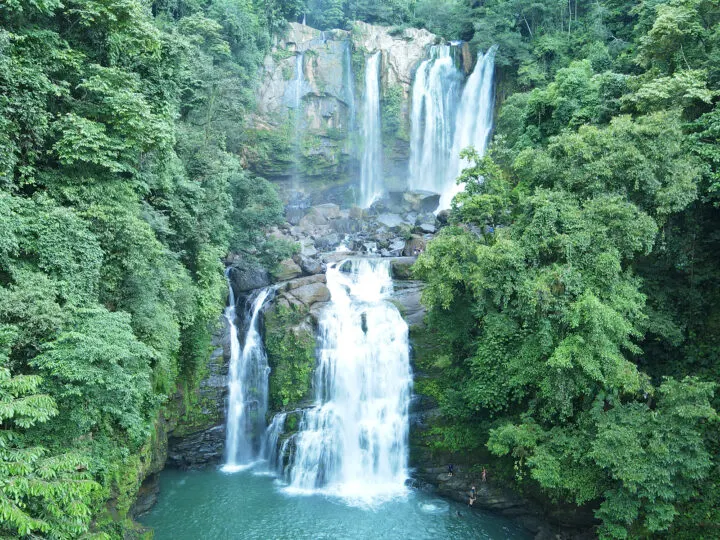 If you're looking for adventurous things to do in Manuel Antonio, look no further than the Nauyaca Waterfall! This half day trip from town will take you to one of the most picturesque waterfalls in all of Central America.
After entering Nauyaca Waterfall Nature Park, you'll take a hike to the waterfall. Swim in the pool at the base of the waterfall, or cliff dive from spots based on expert guides.
Soak in the views of this incredibly beautiful waterfall. But prepare yourself – it does get busy with other tourists.
Pro tip: good water shoes are critical for this adventure! You'll need them for the hike and also because the rocks surrounding the waterfall and at the base of the pool are slippery. These are my favorite water shoes I used in Costa Rica and worked great!
Book it now: Nauyaca Waterfall tour
10. Manuel Antonio catamaran tour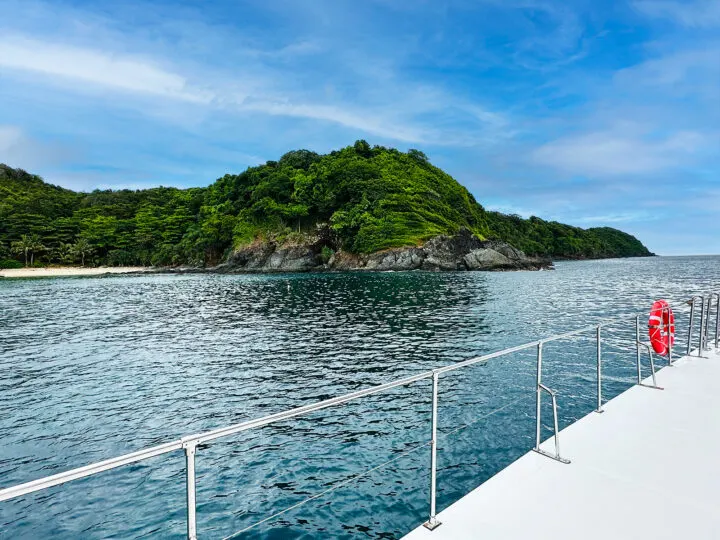 What to do in Manuel Antonio: sail on a luxury catamaran around the beautiful coastline! This catamaran tour is full of fun experiences!
On board, hang out in the jacuzzi, trampolines or rush down the slides straight into the ocean. Enjoy snorkeling at Manuel Antonio National Park and the views from the coast.
Hanging out on a catamaran tour for the day, you can relax with drinks, good food and fun for everyone!
Book it now: Manuel Antonio catamaran tour
11. Bird watching (one of the best Manuel Antonio tours)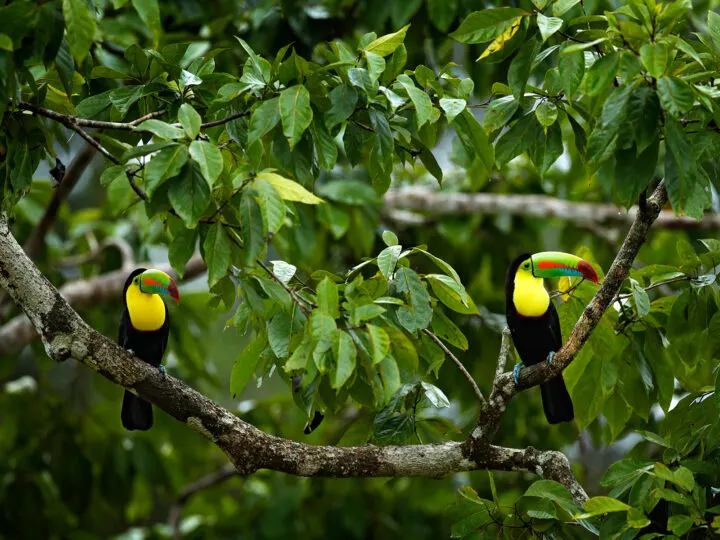 One of the coolest wildlife experiences I had in Costa Rica was seeing toucans and macaws up close, in the wild. It reminded me of the cartoons as a kid or being at the zoo – it was hard to believe I was in their natural habitat!
Anyway, taking a birdwatching tour with experts who know just the right places to go to see them in the wild without disrupting them is a fantastic experience! Book a birdwatching tour, which starts early to see birds when they're most active.
Of course each tour is different depending on the day, but with some luck and your guide you'll see some cool aviary species in the wild!
Book it now: birdwatching tour
12. Catch a beautiful sunset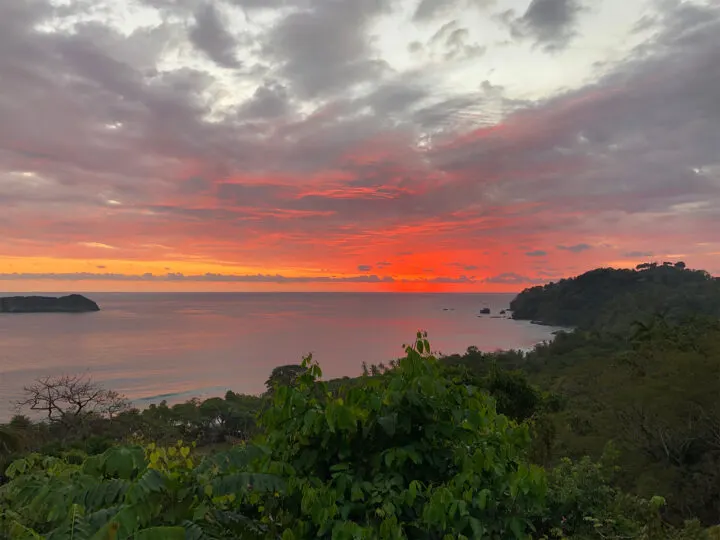 Okay, I can't promise Mother Nature will deliver a perfect sunset for you. But I can say that the position of Manuel Antonio on the Costa Rica coast sets you up for a spectacular one!
Hang out on the beach (my favorite for sunsets is Playa Espadilla) and watch the sun dip below the horizon. Or hang out from the treetops and enjoy the gorgeous coastline view, like from a restaurant (El Avion is perfect for this – see #6 above)
Any way you can see it, Costa Rica has some gorgeous sunsets, that's for sure! This is definitely one of the best things to do in Manuel Antonio if the skies are right.💛
13. Damas Island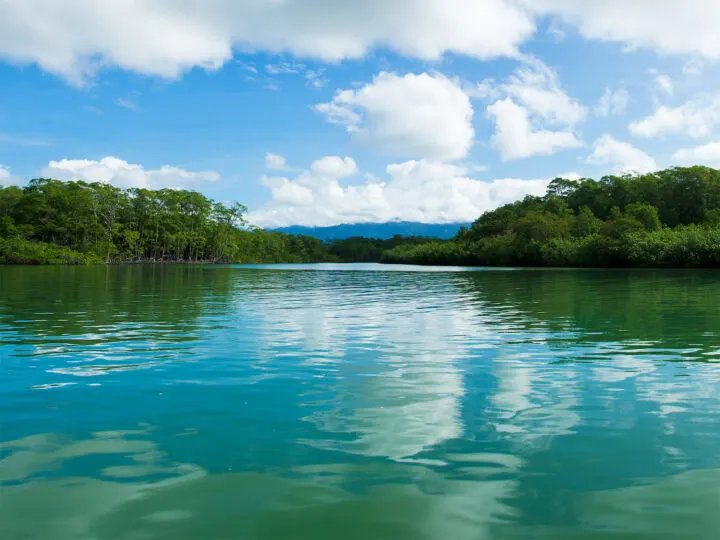 Just about 30 minutes away from Manuel Antonio Costa Rica is Isla Damas. A popular destination for its fabulous mangrove forest ecosystem, this is one of the top Manuel Antonio tours!
To visit Damas Island, you have 2 options. The first is a boat tour of Damas Island. You'll be able to sit back, relax and listen as an experienced guide leads you through the mangrove tunnels, looking for wildlife.
The other way to experience this fun spot is through a kayaking tour of Damas Island. Paddle your way under the mangroves, through the tunnels and spot wildlife up close! I've done kayaking tours through mangrove forests in both Key West and Siesta Key, Florida, so this is the option I'd recommend. 🙂
Keep your eyes out for boa constrictors, anteaters, monkeys, and a large variety of birds and reptiles while exploring Damas Island.
Pro tip: wear water shoes and pack a dry bag so your essential items don't get wet.
Book it now: Damas Island tour
14. Manuel Antonio night tour (one of the most unique things to do in Manuel Antonio)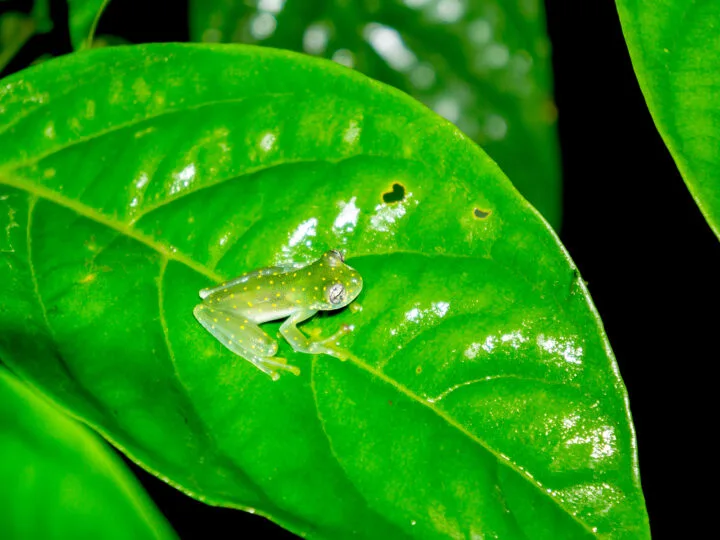 The rainforest of Costa Rica are simply incredible! Seeing them at night gives a whole new perspective of the animals living there versus in the daytime.
If you're up for a true adventure, then one of the best Manuel Antonio tours is a night tour. Expert guides lead you through the area right outside of the National Park in hopes of seeing nocturnal creatures.
Of course each night is different, but you can prepare yourself for seeing frogs, snakes, tarantulas, sloths, kinkajous and more! This Manuel Antonio night tour is not for the faint of heart. Anyone with a fear of creepy crawlies should skip it. But if you're up for seeing some cool nocturnal creatures, then it's for you!
Book it now: night tour
15. ATV tour Manuel Antonio Costa Rica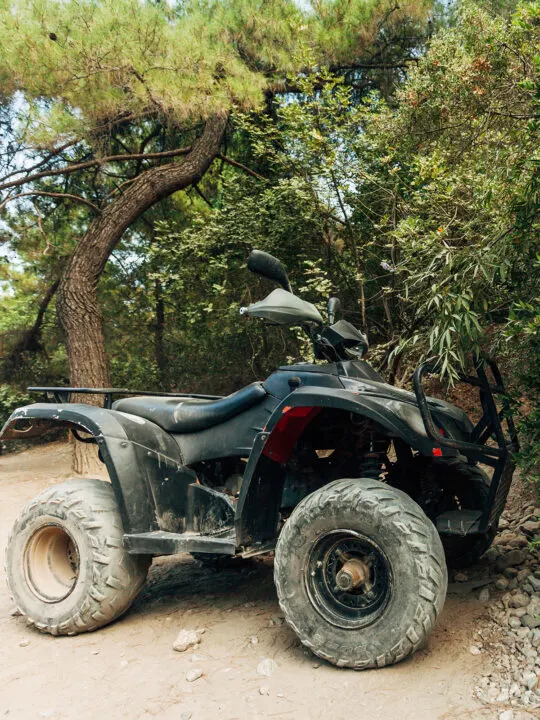 One of the most memorable Manuel Antonio tours might just be riding ATVs! Just minutes away from town, you'll start your adventure. With knowledgeable guides to help even beginner drivers, this ATV excursion is one of the most adventurous things to do in Manuel Antonio!
Ride through dirt trails, along lush, tropical palm trees and the Costa Rican rainforest. Drive up to a stopping point where you'll take a short hike to a lush waterfall. What a day! 🤩
This ATV tour Manuel Antonio is perfect for a half day adventure, including a traditional Central American meal, too.
Pro tip: be sure to wear clothes that you can get muddy. Pack a reusable water bottle and essentials into a backpack or dry bag with strap so you can securely fasten it to the ATV without risk of it getting muddy.
Book it now: Manuel Antonio AVT tour
16. Chill on Playa Biesanz (one of my favorites on this list of things to do in Manuel Antonio Costa Rica)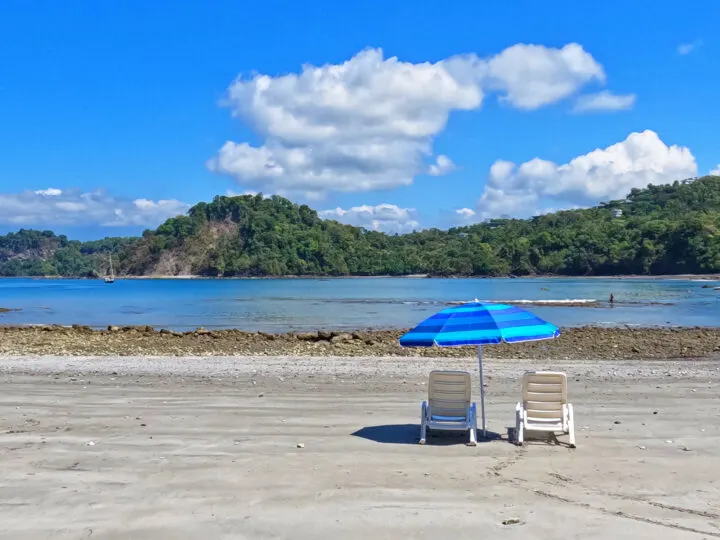 If you just want to lay low for a day and have a good time at the beach, then definitely consider an afternoon at Playa Biesanz. One of the best beaches in Manuel Antonio, Playa Biesanz has plenty to offer visitors.
Just a quick note that the trek down to the beach is not that easy. It's a dirt path that's can be slick from rain, and is steep at parts heading back up hill. Grippy water shoes are recommended for the hike!
Anyway, this beach has a bit of everything – resident sloths, vendors selling food and drinks, kayaks and chairs to rent – it's really a great spot!
You'll need to pay a few dollars to park at the trailhead, but overall it's worth it.
Pro tip: the beach can get busy. If you want to avoid the crowd, walk to the right side of the beach when you arrive and walk around the cove to find a spot away from other people.
17. See the Jaco macaws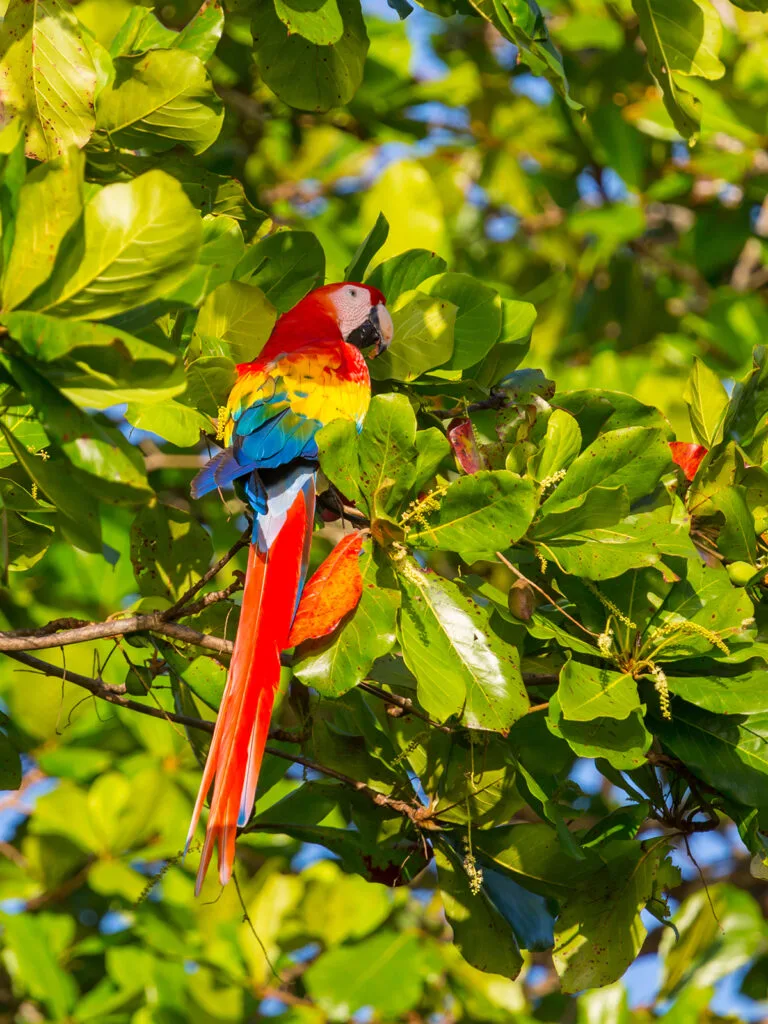 If you're renting a car in Costa Rica and up for a bit of a drive, then hit the road and head to Jaco! This town on the coast about 1.5 hours northwest of Manuel Antonio is such a treat.
Right before you get to town, where you'd park to take photos of the large JACO sign, is a row of tall trees along the coast. Those trees are home to a dozen – or more – macaws. Park and walk along the trees to see the macaws frolicking with one another.
Fun fact: macaws mate for life. We saw a lot of pairs flying and nesting together. So cool!
If you have some time, be sure to grab lunch or dinner at Soda Jacó Rústico and lounge on Jaco Beach; it's one of the best Jaco Costa Rica restaurants. Such a fun, laid back day in Costa Rica!
18. Go white water rafting (one of the best Manuel Antonio tours)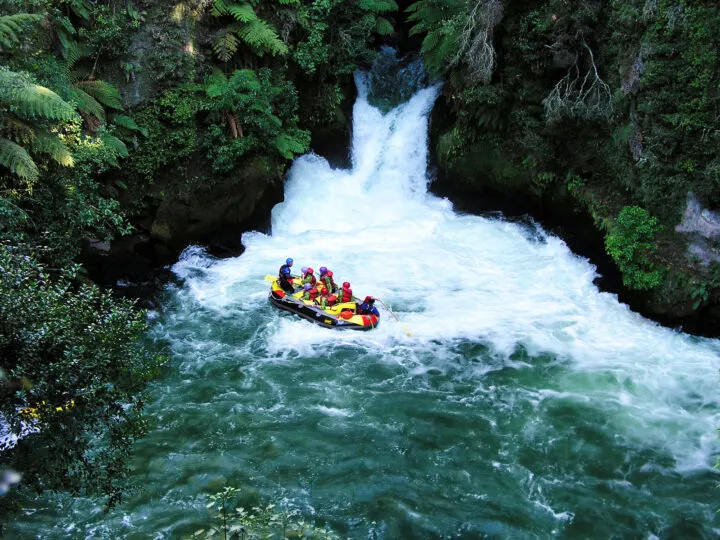 Ready to get that adrenaline pumping? Time to strap on your water shoes and hit the water on this epic white water rafting tour!
Just an hour or so south of Manuel Antonio Costa Rica is the Savegre River, which is perfect for class II and III rapids. Even if you've never white-water rafted before, the tour guides make every skill level comfortable. Kids as young as 6 can even go!
My first time white water rafting was during a Colorado road trip, and after that I was hooked! If you've never been, don't let that sway you. You'll love seeing the Costa Rican rainforest while paddling down the river!
Book it now: white water rafting
19. Learn to surf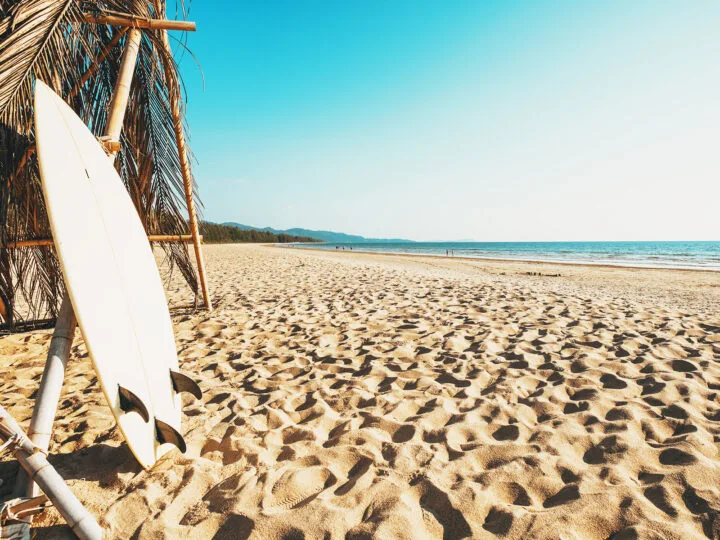 It's such an exhilarating experience! Learning to surf in Costa Rica is definitely a bucket list item! The beaches of Manuel Antonio are excellent for surfing, too.
Learn simple techniques that allow you to get up on the surf board! Dedicated, experienced instructors help make even the most timid surfers feel capable. It's time to get hit the waves!
The picturesque setting on the coast is the perfect spot for such a fun activity, too.
Book it now: surfing lessons
More awesome things to do in Manuel Antonio
Okay, we're on the final stretch here. With so many amazing Manuel Antonio tours and activities, how ever do you choose?!
More favorites are up next…
20. Whale watching tour (another one of the best Manuel Antonio tours)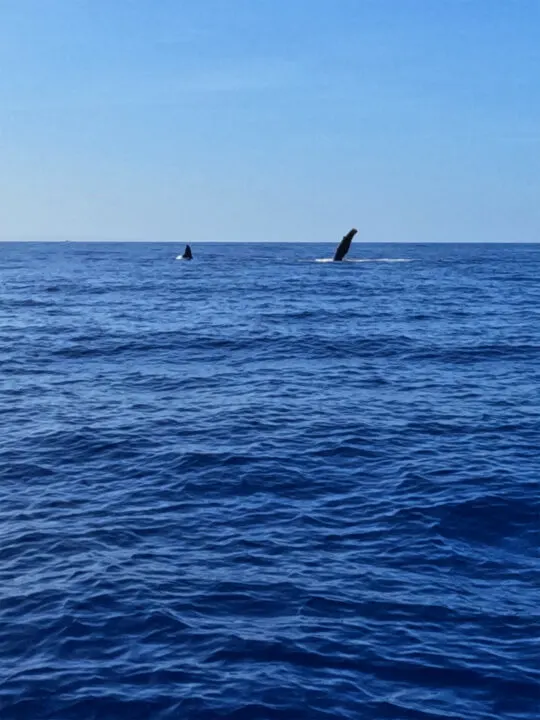 Great news! Costa Rica whale season is most of the year! Two distinct groups of Humpback Whales migrate to the warm waters of Costa Rica during their respective winters.
The North American Humpbacks that live off the coast of Alaska, British Columbia and California migrate through the waters of Costa Rica December through March. The Antarctic Humpback Whales live in the waters of Costa Rica July through September.
So if you're wondering when is the best time to visit Manuel Antonio for whales, it's over 1/2 of the year!
Take an eco adventure catamaran tour during one of these months for your best chance to see whales. As a bonus, dolphins and sea turtles are also common sightings.
Book it now: Manuel Antonio whale watching
21. Go skydiving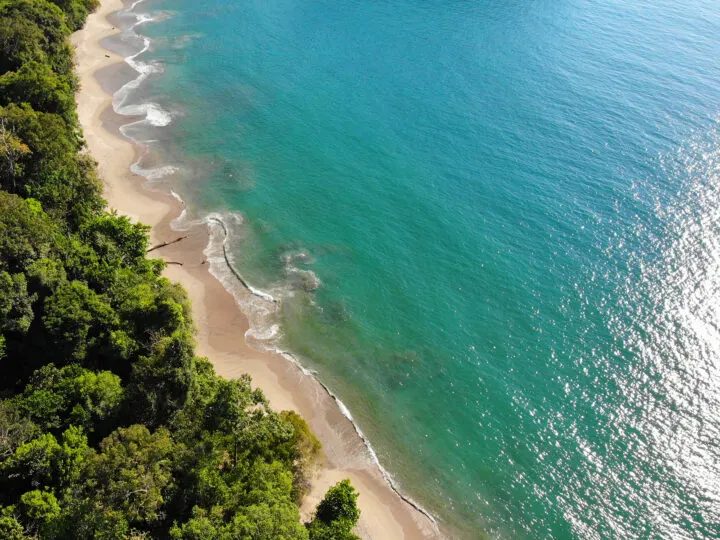 Okay, okay, I'll admit this is not something I've done in Costa Rica…or anywhere else for that manner. While I'm a fan of the other adrenaline-inducing activities in Manuel Antonio, this is where I draw the line.🤣
But if this is your thing, then definitely go for it! Skydive Costa Rica allows you to see the most incredible views while jumping. At least according to their Instagram! Looks stunning and thrilling, to say the least!
Skydiving is definitely one of the best things to do in Manuel Antonio Costa Rica if you have the stomach for it!
22. Spa day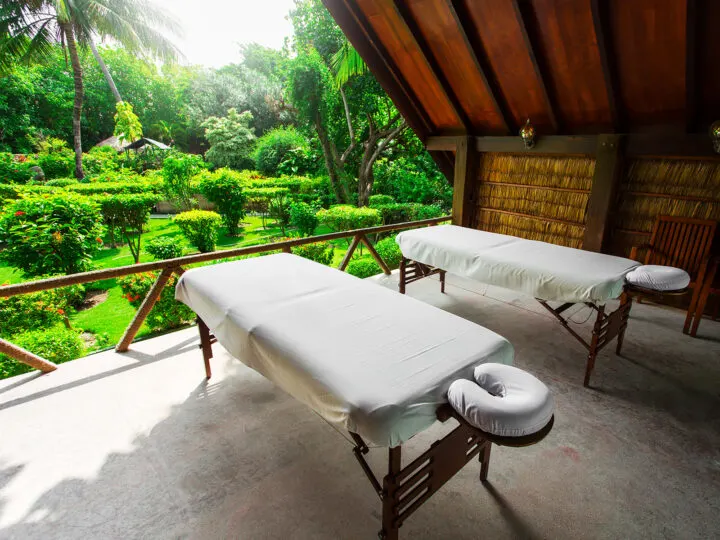 Pura Vida! While most activities on this list of the best things to do in Manuel Antonio are full of adventures or beaching, this is your time to truly relax!
Feel completely rejuvenated during your trip with a spa day. Go for a massage, facial or any other number of spa services designed to help you feel great while in this amazing destination.
Best spa options in Manuel Antonio Costa Rica
23. Horseback riding Manuel Antonio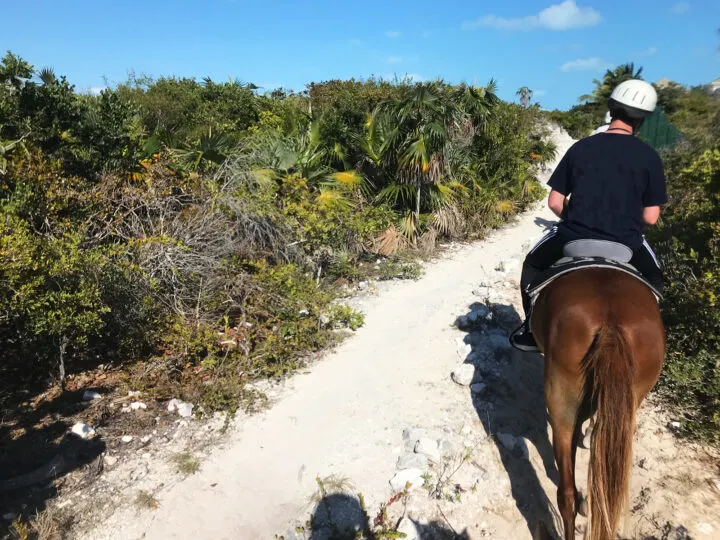 Get out and explore the rainforests in Costa Rica on horse! With epic views of the lush rainforest, nearby Pacific Ocean and a waterfall all on private property, you'll certainly be able to immerse yourself into nature.
This horseback riding tour from Manuel Antonio is a day of fun! Ride through forests, creeks and even swim in the river if you'd like! Learn about the local flora and fauna as you ride to epic views.
This tour reminds me of horseback riding in Turks and Caicos, which was so much fun.
Note: as with all animal encounters four tourism, be sure to only take tours with ethical companies. If there are any red flags once on site, listen to your gut and back out.
24. Find sloths (another favorite on this list of Manuel Antonio things to do)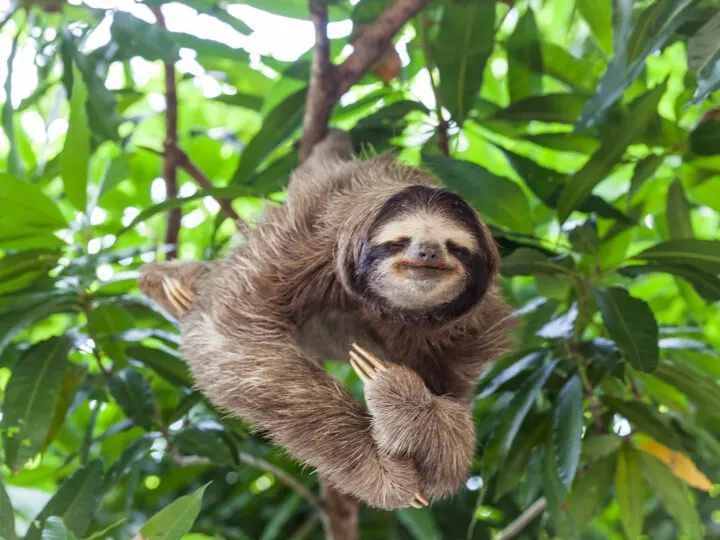 Okay so here's the thing: you just might have the opportunity to see sloths all over Manuel Antonio. They'll sometimes even hang out on power lines in the street!
However, many of them live in Manuel Antonio National Park, and the best way to see them is to hire a guide. This nature guided tour is a great way to experience the park to see all kinds of creatures. Expert guides are there day in and day out, so they know where to look for sloths!
They're tricky to find as they sleep in trees. And obviously they move quite slow, so they're tricky to spot.
Book it now: Manuel Antonio National Park nature guided tour
25. Shopping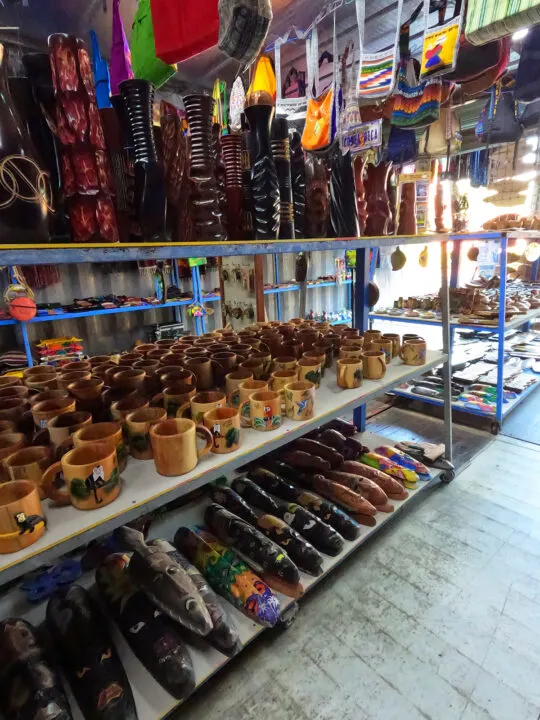 As you go through this list of things to do in Manuel Antonio and experience the town, you'll run across shops full of souvenirs. Some locally made, these artisan crafts are fun to look at.
Of course, you could grab something for a loved one back home. I always enjoy looking more than buying, but these shops are fun to visit either way.
You'll find most shopping opportunities along the main road in town – National Route 618.
26. Mulguri Waterfall
A gorgeous waterfall, swinging bridge and natural pools?! It's like the trifecta of tours in Manuel Antonio! Unfortunately, I didn't get to experience Mulguri Waterfall but it's high on my list for the next time I'm in the area.
The waterfall is a hidden gem that's located in a nature reserve in the area of Quebrada de Arrollo. Only accessible with a 4×4 vehicle and surrounded by mountains and jungles, this sounds like an absolutely incredible experience.
You can swim and hike, so maybe bring some water shoes.
Book it now: Mulguri Waterfall adventure
Things to do in Manuel Antonio Costa Rica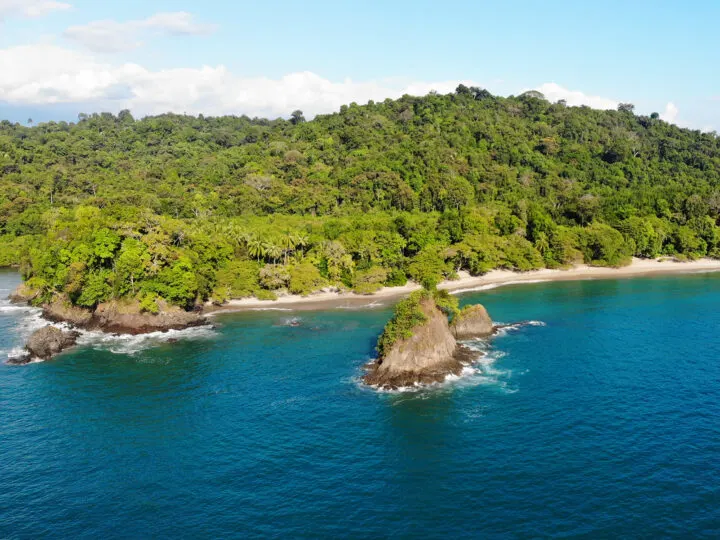 Wow, what a list! From snorkeling and wildlife to extreme adrenaline-pumping activities, there's truly something for everyone in Manuel Antonio! Whether you're traveling with a partner, friend, solo or as a family, there's one thing for certain – you won't get bored here!
Let's recap that list one more time in a quicker fashion…
What to do in Manuel Antonio
Manuel Antonio National Park
Go snorkeling
Chocolate tour
Zipline Manuel Antonio
Ocean kayaking
Dine in an old plane
Manuel Antonio parasailing
Have a beach day
Nauyaca Waterfall
Manuel Antonio catamaran tour
Bird watching
Catch a beautiful sunset
Damas Island
Night tour
ATV tour Manuel Antonio
Chill on Playa Biesanz
See the Jaco macaws
Go white water rafting
Learn to surf
Whale watching tour
Go skydiving
Spa day
Horseback riding Manuel Antonio
Find sloths
Shopping
Mulguri Waterfall
Related content to read next:
6 Most Breathtaking Beaches in Manuel Antonio You'll Love
7 Days Costa Rica Itinerary: Top Sights for First Timers
26 Fun and Unique Things to Do in Monteverde Costa Rica You Can't Miss
35 Cheapest Beach Vacations: Swoon-worthy Destinations You Need to See
Find this post helpful? Save it for later or share it on social media!