Dreaming of a warm winter vacation in the USA? Of course you are!
This guide has 30 of the best (and not to mention genuinely fun) winter destinations in the US that are actually warm! Check out the list below and then get ready to book your trip ASAP.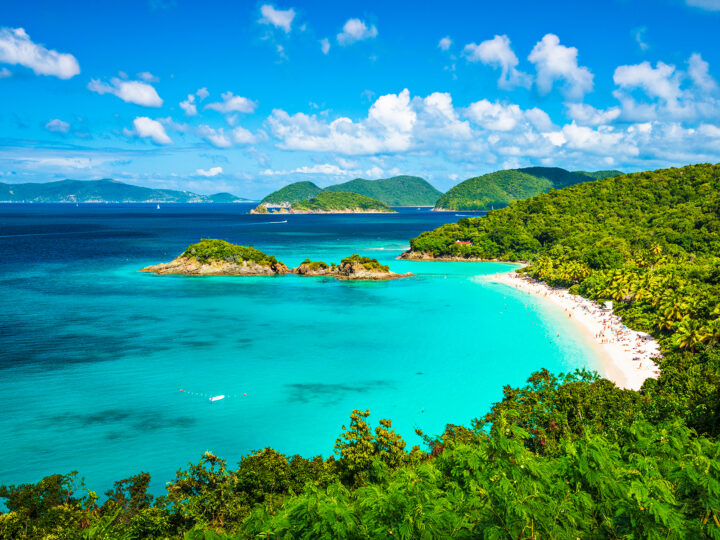 This post may contain affiliate links. For more info, see my disclosures.
From Hawaii to Florida, Texas, California, Arizona plus a bunch of extra destinations thrown in this list of warm winter vacations USA, you'll be digging out your sandals and ready to head to the airport.
It's time to escape the cold and enjoy some nice weather. If you're dreaming of sunshine and high's in the 60's, 70's or even 80's, well here you go!
Warm winter vacations in the US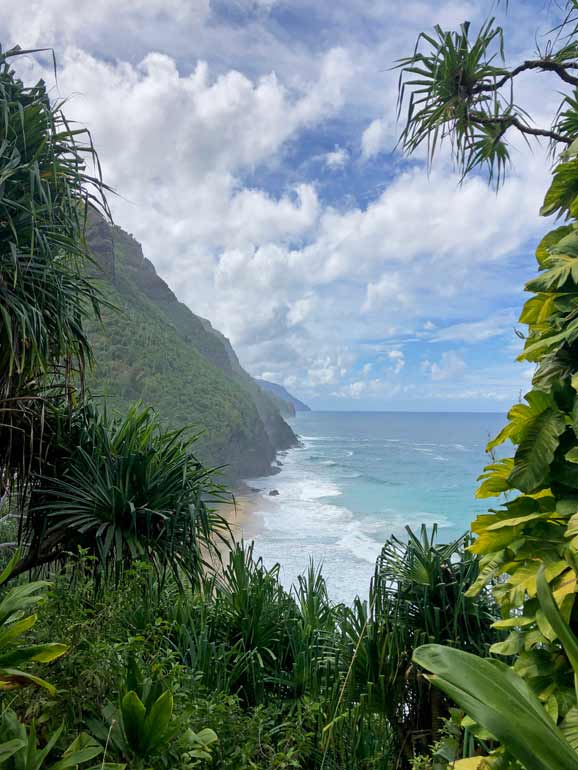 As someone who's actively checking places off my travel bucket list, I can't say I've been everywhere (yet!) So I recruited some of my fellow travel blogging friends to help create this huge list.
You'll love these destinations and just might even wonder how you'll fit more than one trip to a warm weather destination this winter. 😊
Let's dive in!
Map of the best places to visit in the winter in USA
If you're a visual person like I am, this map will help you locate a perfect spot and plan your trip.

Warm winter vacations USA
Starting this list off with a few favorites…but let's be honest, they're all fantastic! From beaches to deserts…here we go!
1. San Diego, California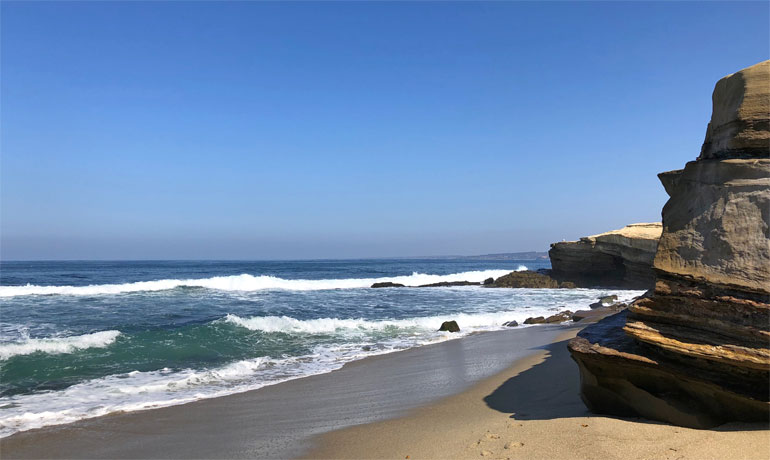 Starting this list off with a bang! San Diego is a delight to visit any time of year, but it's definitely one of the top warm winter vacations in the USA. With temperatures averaging in the mid-60's all winter long, it's a perfect escape from cold weather.
Whether you're planning a weekend in San Diego or a longer vacation, there's plenty of things to do to occupy your time. While the ocean temperature is too cold for most people to enjoy it, watching the waves and enjoying the salty air is the perfect activity.
If you're into Mexican food and culture, be sure to check out Old Town San Diego, which is the birthplace of California. With over a dozen delicious spots to eat, you could literally eat for dayyyyys here. So good!
For a more bougie atmosphere, head on over to La Jolla Cove for an afternoon. Grab dinner and gelato with amazing views of the coast. Downtown San Diego boasts the Gaslamp Quarter, perfect for restaurants and nightlife.
History lovers will enjoy the USS Midway and art fanatics should check out Balboa Park. Of course, beaches are plentiful so be sure to enjoy Pacific Beach, Ocean Beach and Coronado Beach.
Recommended by me – Nikki of She Saves She Travels

2. Sedona, Arizona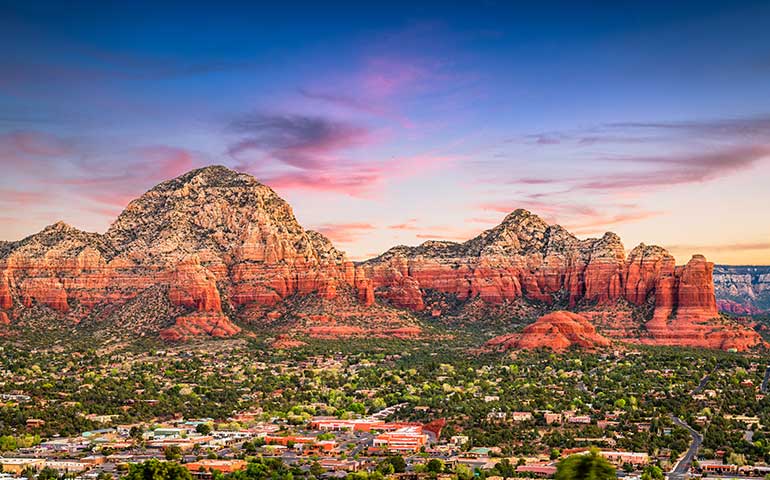 With high temperatures hovering at a comfortable 60 degrees in Sedona, it's one of the best warm winter vacations in the US! The crowds have gone, prices are more affordable and the deep red rock scenes are just as cool.
Sedona is perfect for couples! At night you may want to cozy up by the fire, which many resorts and restaurants have running just for you. During the day, hit the trails! Just make sure to pack your hiking shoes with traction, incase you find any slippery spots on the slick rock surface.
Try the popular Devil's Bridge or Cathedral Rock for excellent hikes with a good amount of challenge, both worth the views! Or take it easy at Fay Canyon Trail or Seven Sacred Pools.
Perhaps one of the coolest things to do in Sedona is stargaze at night. With the stark backdrop of the nearby cliffs, it's a perfect spot for it!
Recommended by me – Nikki of She Saves She Travels

3. Puerto Rico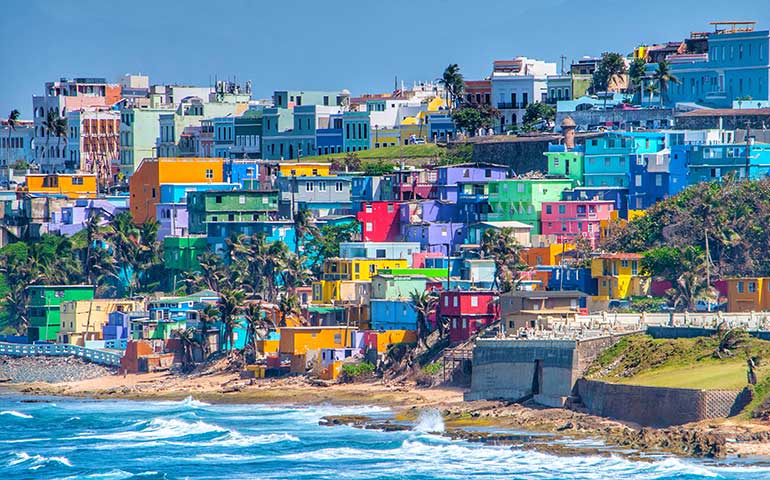 Few destinations within the United States are warmer in the winter than the island territory of Puerto Rico. The island is pleasant all throughout the winter, but January and February tend to have the most consistently pleasant weather, with average highs around 80 degrees and lows around 75 degrees.
Plus, the Atlantic hurricane season has passed by winter, so it's really the perfect time to visit Puerto Rico. Just be aware that these months also coincide with high season, so it's best to reserve your hotels well in advance.
Most visitors to Puerto Rico enter through the capital city of San Juan. If you're just visiting for a shorter getaway, the easiest thing to do is to base yourself out of the historic Old San Juan. Explore the old Spanish fortress, meander the cobblestone streets, and enjoy the many boutique hotels, shops and restaurants.
You can get just about anywhere in Puerto Rico from San Juan, so it's the perfect base for day trips around the island. Chase waterfalls in El Yunque National Rainforest, the only tropical rainforest in the United States. Go surfing at La Pared Beach in Luquillo. Visit Culebra and the stunning Flamenco Beach. Or go night kayaking in one of Puerto Rico's bioluminescent bays.
Whatever you do, you'll soon realize why Puerto Rico is one of the best places to visit in winter in USA!
Recommended by Nathaniel of Travel Lemming
4. Miami, Florida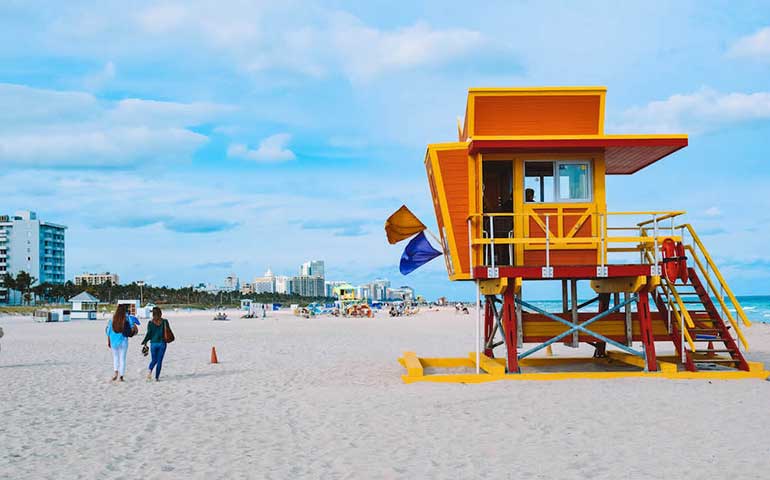 If you're looking for the best warm winter destinations in the USA, you have to add Miami to your list. Located in southeastern Florida, this city is blessed with warm weather and sunshine all year round.
In winter temperatures average around 68°F (ranging from the lowest at 60°F and highest at 73°C) and there are as little as 6 rainfall days per month. It's the perfect warm getaway for the cold December, January and February months.
Miami is ideal also because it has loads to offer. You can spend your days on the beach if you choose to, but there are also lots of exciting things to do in the city. From street art tours to visiting interesting museums… in Miami there is something for everyone.
Discovering the street art of Wynwood is without a doubt one of the highlights in Miami. You can do a guided cycling tour, so as to see as much as possible of the neighbourhood, while learning about the street art from local art fans.
Exploring Little Havana, and learning about the Cuban influence and history in Miami is also an extremely interesting activity.
If you want to try some delicious food you can also head to Espanola Way. Here you will find a lovely pedestrian street, with a distinctive Spanish vibe; with flamenco dancers and cute restaurants offering tasty paella and tapas.
Regardless of whether you're planning to spend a month or weekend in Miami, or whether you plan to relax on the beach or discover the history of this unique city, Miami is the perfect warm getaway for this winter.
Recommended by Greta of Greta's Travels
5. Orange Beach, Alabama (a favorite on this list of warm winter vacations USA)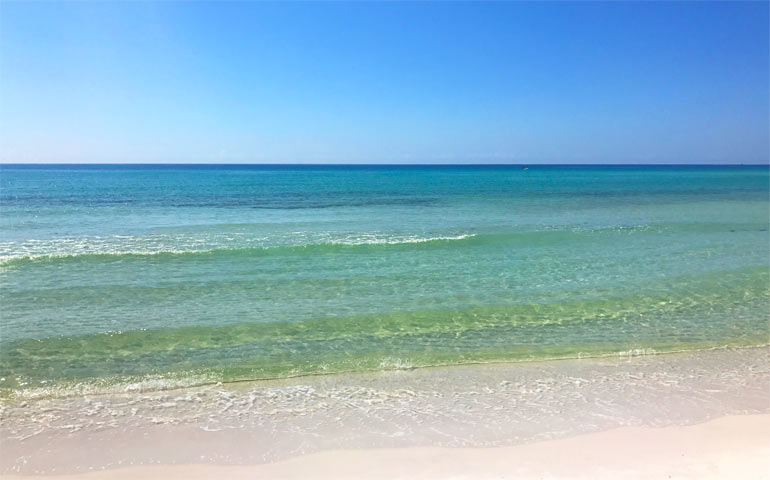 White sand beaches in Alabama? Yessss please! This area of the USA is often underrated, which makes it the perfect spot for a warm winter vacation. With less crowds than it's popular Gulf Coast beach counterparts, Orange Beach is great for families, couples, solos or friends' trips.
Pristine, white sand and temperatures in the upper 50's and lower 60's, it's great for relaxing on the beach. While the water may be a bit too cool to swim, you'll be able to soak up some rays and enjoy the salty air of the Gulf.
Make sure to check out The Wharf at Orange Beach where you'll find tons of shopping, dining and nightlife. If you're feeling active, the biking and hiking trails at Gulf State Park is the perfect spot for you. And before you leave, you'll want to check out the Gulf State Park Pier, too.
Orange Beach, Alabama offers spots to stay right on the beach for the best views or find budget-friendly accommodations a little further inland.
Recommended by me – Nikki of She Saves She Travels
6. Las Vegas, Nevada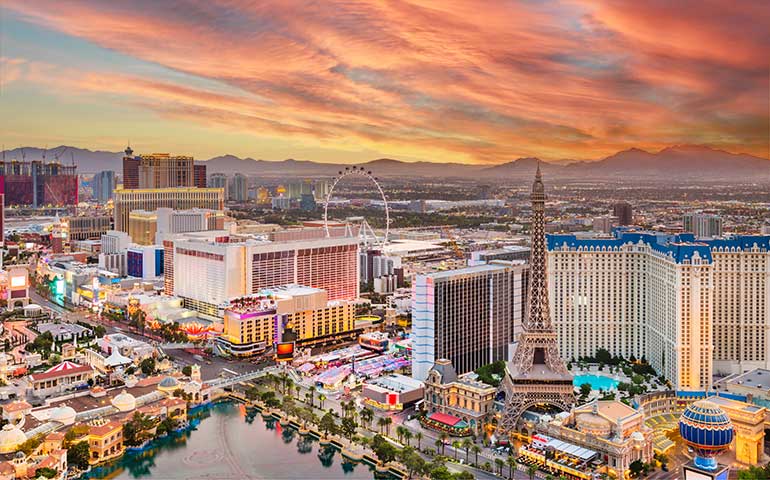 Las Vegas deserves a spot on everyone's bucket list of places to visit. Picture a getaway filled with gambling, shopping, eating, drinking and seeing the world (or at least, miniature replicas of the world's landmarks).
Sin City is a verified inferno during summer months, and your visit is bound to be much more comfortable in the milder winter. Traveling to Vegas in January or February ensures you enjoy moderate hotel rates and temperatures in the mid 60s. But make sure to pack a light jacket for when the desert nights cool off!
Vegas is the ultimate destination for people-watching, and in balmy February weather, you can secure an outdoor table along the Strip to see what all of the city's locals and visitors are up to. The patios at El Segundo Sol or Lavo at the Palazzo are two excellent options for prime people-watching and delicious eats.
Las Vegas has plenty more to offer beyond the air-conditioned casinos and shops. Soak up the sun at one of numerous lush golf courses, or hike along trails in Red Rock Canyon National Conservation Area to check out Nevada's more natural scenery.
From Las Vegas, you can even extend your trip to more sunny destinations – catching a bus from Vegas to Los Angeles can be as cheap as $20. Whether your winter escape is an itinerary of several Southwestern stops or a full week in one lavish resort on the Vegas strip, you'll find a plethora of enticing reasons to head to Las Vegas.
Recommended by Lina of Bucket List Places

7. Anna Maria Island, Florida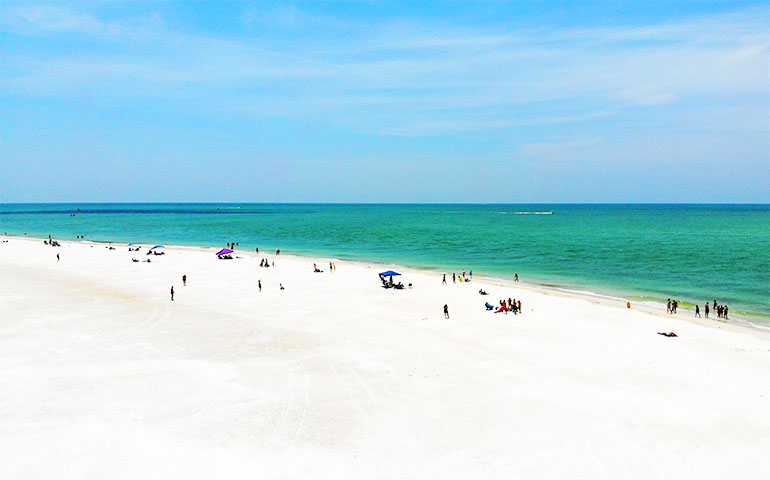 With gorgeous beaches and small-town vibes, this Florida gem is perfect for a winter getaway. Fly into Sarasota for the closest airport, and you'll be at a warm beach within the hour. Anna Maria Island is one of the best places to visit in winter in the USA, just when you need it most!
Spend days at the beaches enjoying the gorgeous views and sunsets that feel oh so magical. Visit the Anna Maria Pier, devour the tacos at Poppo's Taqueria and hit Bradenton Beach for the best shopping on the island.
Spend your days hunting for seashells at Coquina Beach or basking in the sun and white sand at Bean Point. With so many things to do in Anna Maria Island, you'll want to savor every moment before it's time to leave this paradise!
It's best to look at small hotels, condos or vacation rentals here as there aren't big chains on the island. Because of this, book your accommodations in advance for the best rates!
Recommended by me – Nikki of She Saves She Travels
8. Maui, Hawaii – one of the best places to visit in winter (USA)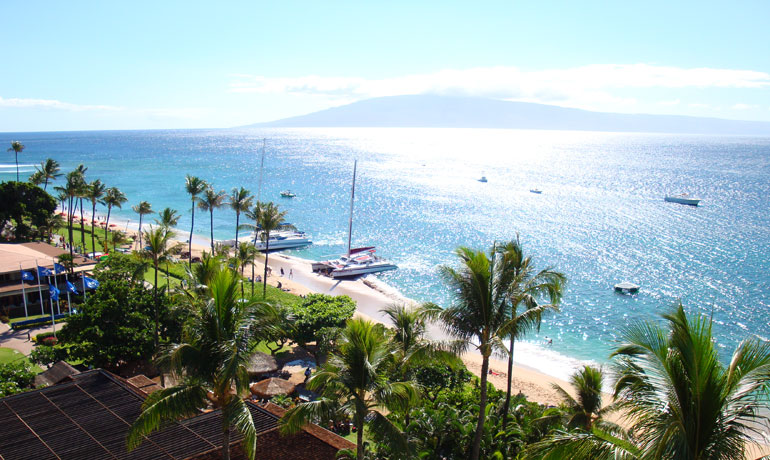 Of course this list of the warm winter vacations USA has to include Hawaii! One of the most popular tourist spots within this gorgeous island chain is Maui. Beautiful sandy beaches and weather nice enough for swimming in the ocean, Maui is a perfect vacation spot for couples, families, solos or even a fun girl's trip!
And bonus: it's more affordable than you think! There's even a ton of things to do in Maui on a budget. Hiking the Waihee Ridge Trail, exploring waterfalls, snorkeling and enjoying the gorgeous beaches are all free!
But perhaps the very best reason to travel to Maui in the winter is because it's whale season! Humpback whales migrate to Hawaii every winter, with February being the peak season. As someone who's been on the island during the peak, I can tell you it's seriously magical! Taking a whale watching tour to see them is a phenomenal experience, too!
Because it's a popular winter destination, be sure to book your accommodations and rental car early for the best pricing. Look at spots on the sunniest and least rainy side of the island, the western side. It's home to the famous Kaanapali Beach and Lahaina, so the western side is typically bustling with tourists.
Recommended by me – Nikki of She Saves She Travels
9. New Orleans, Louisiana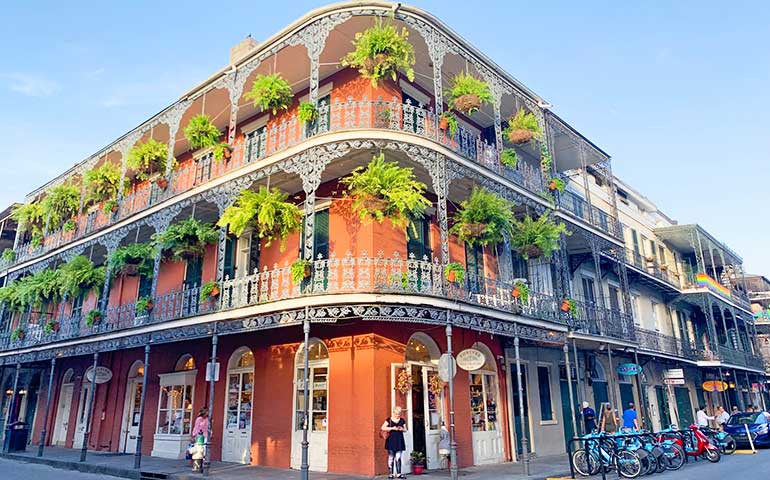 If you are looking for the best places to visit in winter in USA, look no further than New Orleans! First, let's talk weather! If you visit NOLA in summer, you are stuck with scorching heat.
Now, you want a warm destination, but you don't want to be too hot! That is why visiting New Orleans in winter is the perfect time to go. Temperatures range from 60-70's which is a great temperature for exploring outdoors, visiting historic places and dining on balconies.
While there is no bad time to visit in winter, January and February are both great months for different reasons! January is Joan of Arc's birthday and there is a parade each year and Epiphany also falls in January which marks the start of Mardi Gras!
If you choose February, you will be visiting during Black History month. In a city with lots of Black history, what could be a better time to visit and enjoy some of the Black-owned restaurants the city has to offer.
No matter what time of year you choose for your New Orleans itinerary, there is something for everyone and the weather is great. Not scorching hot, but not cold either!
Recommended by Victoria of Southern Trippers
10. Orlando, Florida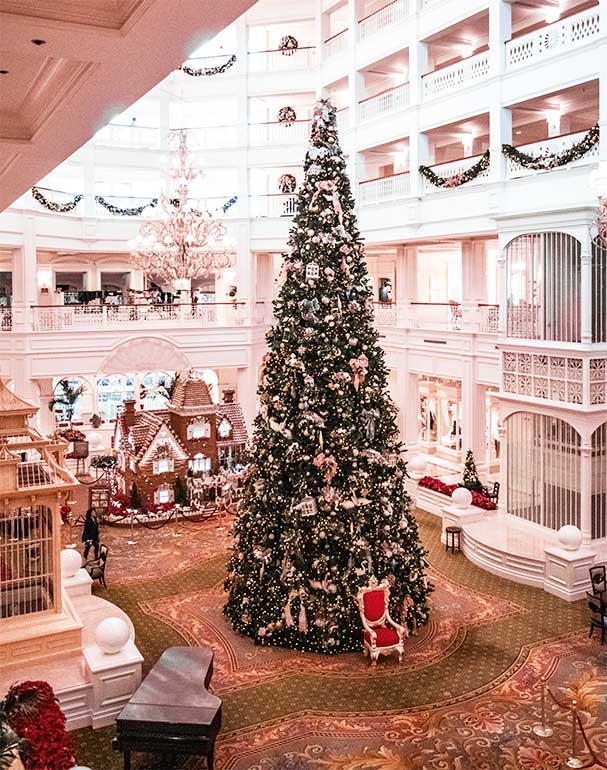 If you are looking for one of the best warm winter vacations in the US, you need to add Orlando, Florida, to your list. December, January and February are 3 of the best months to visit Orlando.
Winter in Orlando means the perfect cooler weather with low humidity, no hurricanes, and less crowds at the theme parks. If you're planning a trip to Orlando during the winter and planning to visit the theme parks, try to avoid holiday weekends and school holidays as the lines get long with everyone wanting to enjoy the nicer weather.
One of the best parts of visiting Orlando in the winter is visiting in December and experiencing all of the amazing things to do in Orlando at Christmas. While the theme parks decorate and have lots of amazing events, you can also find free community events featuring Santa, outdoor ice skating rinks, lots of Christmas lights and even "snow".
If you visit anytime in the winter, make sure to enjoy some of the natural springs in the area. While they feel cold in the hot summer sun, the refreshing 70 degree water doesn't feel so bad when it matches the air temperature. Rent a canoe or paddleboards or just visit one of the local swimming holes such as the one at Wekiwa Springs.
You can't go wrong visiting Orlando in the winter, so add it to your US winter vacation bucket list and start planning your trip to the happiest place on Earth!
Recommended by Christine of Live Love Run Travel
More warm winter vacations in the US
Can you believe this list? And we're only a third of the way done. More underrated spots and you-gotta-see spots are right up ahead…
11. Mustang Island, Texas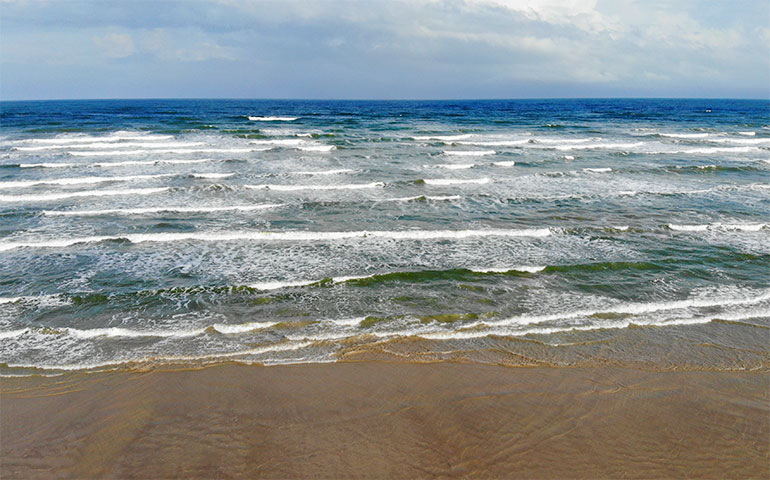 Located near Corpus Christi is the beautiful Mustang Island. Commercial tourism hasn't completely taken over the island, leaving more sand and surf to enjoy. In fact, Mustang Island is one of the most underrated spots on this list of warm winter vacations (USA).
Texas beaches are known for their adventure. Driving on a beach here is welcome – and encouraged! Drive up and down the coast to find a perfect picnic spot for the day.
The best place to stay on Mustang Island is Lively Beach. It's close enough to take a day trip to the Padre Island National Seashore, where you'll find 60+ miles of beaches to drive and roam on.
Or to the north is Port Aransas, or 'Port A' as the locals call it. Check out restaurants and shopping in the quaint downtown area, or the pier for the best views of the coast!
Winter is a perfect time to visit Mustang Island. Expect high's in the 60s and way less crowds than spring break or the middle of summer – which is honestly a bonus when planning a winter getaway!
While many people traveling to Corpus Christi stay in town, venture a little further out to Mustang Island to find one of the best Texas vacation spots.
Recommended by me – Nikki of She Saves She Travels
12. Savannah, Georgia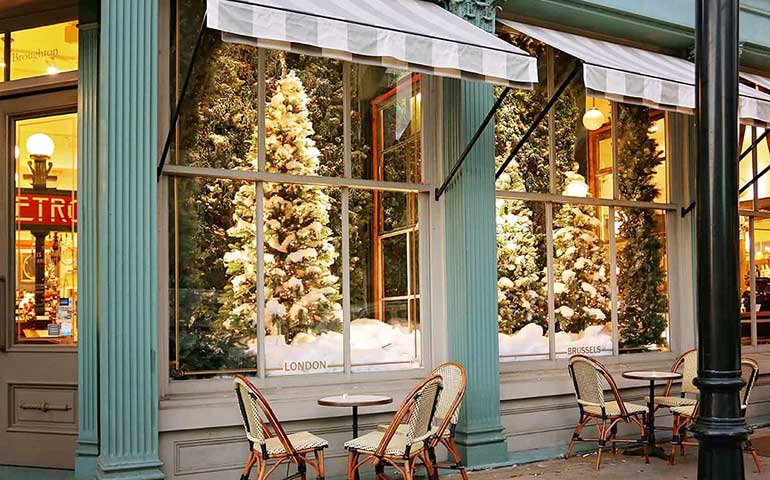 Just off the Georgia coast is the picturesque city of Savannah. Best known for its charming cobblestone streets, massive oaks and stately Southern mansions, it's easy to feel as if you've stepped back in time in Savannah!
The holiday season is a popular time to visit, especially since the Historic District looks like something straight out of a Hallmark movie. The weather is generally mild in December, but pack a light sweater in case the weather cools down at night.
Some of the must-see highlights include Cathedral St. John the Baptist, Bonaventure Cemetery, River Street, Jones Street and the Forsyth Park fountain. This popular one-day Savannah itinerary includes many of the most photogenic spots within the Historic District.
The Olde Pink House restaurant is known for its authentic Southern-style dishes, with mouth-watering menu items like their signature BLT Salad, Pecan Fried Chicken, Mac n' Cheese Poppers, and a Praline Basket for dessert. (TIP: Make reservations six weeks in advance!)
Of course, no trip to Savannah would be complete without a ghost tour! The city is considered one of the most haunted places in America. Tours operate year-round, and the walking ones are usually the scariest options.
The Marshall House is one of the best all-around hotels within the Historic District. It's located on Broughton Street, so it's just steps away from restaurants, bars, shops, and landmarks. The JW Marriott Plant Riverside is another option, and the hotel and adjacent shops host a charming Christmas Market and numerous holiday events.
Recommended by Erin of Savannah First-timer's Guide

13. Key West, Florida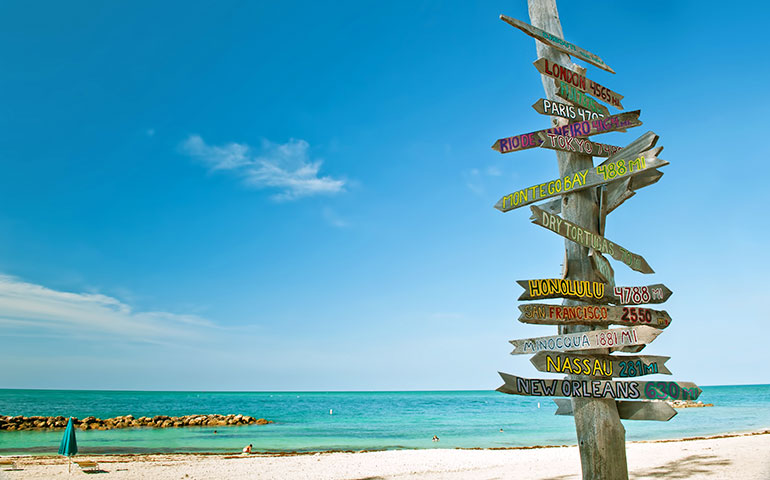 It's the furthest south in the continental USA and it's a perfect destination to solve any wintertime blues! Visiting Key West is a fun stop whether you're planning cruise featuring Key West, a Miami to Key West road trip or a stay at just this island!
Key West has a bit of a reputation for being a party island…and truth be told, it is! There's a ton of shopping, restaurants and bars. The island isn't very heavy on beaches, although Smathers Beach is worth a visit.
And of course, tasting the famous key lime pie while you're on the island. No judgement if you try it at all the restaurants, either…you're on vacation!
Be sure to check out Mallory Square, the Key West Lighthouse, Duval Street and of course, enjoying water activities like a snorkeling tour and jet skiing.
Pro tip: book Key West accommodations and rental car in advance as there's limited options on the island.
Key West is one of the top warm winter vacations USA, and one that should not be missed!
Recommended by me – Nikki of She Saves She Travels
14. Oahu, Hawaii (perhaps the most fun on this list of warm winter vacations USA)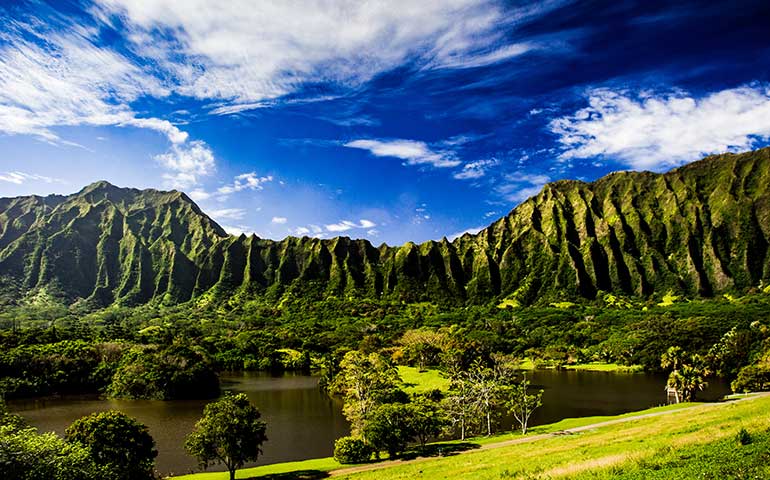 As someone who's traveled to Hawaii many times, I can tell you with certainty that it's one of the top winter vacations in the USA. With less crowds than peak summer season, Oahu is home to beautiful sunshine, gorgeous weather and the Pacific Ocean warm enough to swim in.
If you're up for delicious restaurants and fun nightlife, stay in the popular Waikiki Beach area of Honolulu. If you crave nature and the outdoors to explore, the North Shore sounds right for you.
From visiting icons like Pearl Harbor and Diamond Head, to beaching and Oahu hikes you'll love, you'll be saying Aloha to the warm weather Hawaii offers all winter long.
Pro tip: if it's your first time to Hawaii, I recommend island-hopping to see more! Split your time between multiple islands to see what the others have to offer.
Recommended by me – Nikki of She Saves She Travels
15. Tucson, Arizona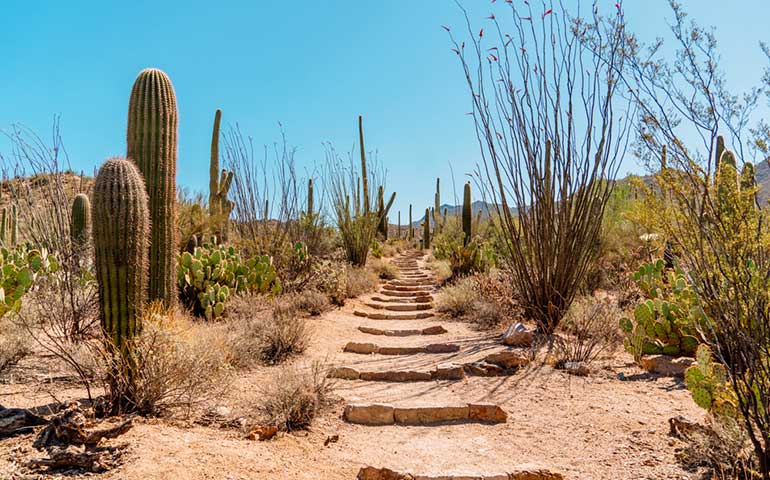 Heading to Tucson, Arizona is one of the best places to visit in winter in USA. It's fantastic to visit in January or February as it is not a very crowded place and the weather is perfect – warm enough to wear jeans and a shirt or light jacket.
There are a ton of cool things to do in Tucson, with the highlight being a visit to Saguaro National Park. This is a perfect place to hang out in the wintertime as it has over 30 different hiking trails through the Saguaro cacti. You can easily spend a day or two just exploring the park.
Other awesome things to do in Tucson include the Arizona Sonora Desert Museum, the Pima Air and Space Museum and the Franklin Auto Museum. Wine lovers will love visiting one of the tasting rooms like Sand-Reckoner or heading to Willcox for wineries.
Food-wise, Agustin Kitchen is one of the best restaurants in Tucson for dinner. Seis Kitchen or Nook are delicious breakfast stops. Also, make sure to pop into La Estrella Bakery for the best pan dulce.
I recommend staying at Hotel Congress as it's in a fantastic location and has adorable rooms. You can also stay by the airport to save money. No matter what, there is a ton of fun things to keep you busy in Tucson.
Recommended by Francesca of Homeroom Travel
16. Los Angeles, California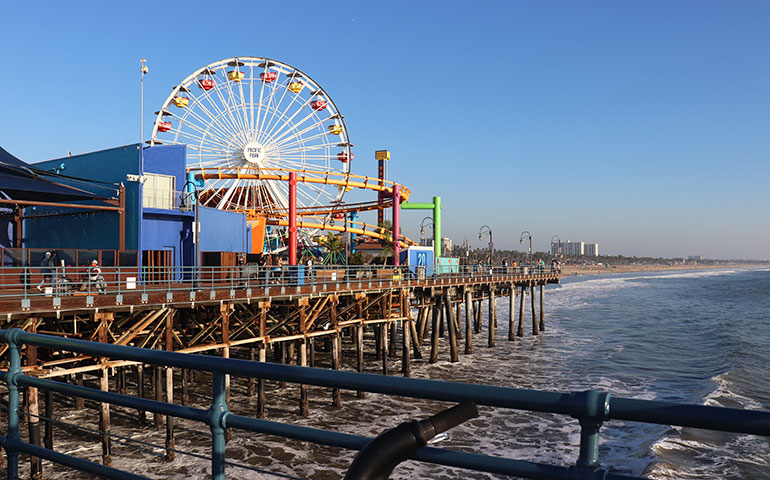 Los Angeles, California is easily one of the best winter getaways in the U.S. You can enjoy average temperatures of 68-70 degrees and above from the months of January, February, and March. During the winter months in Los Angeles, you will also experience fewer crowds!
Because of exceptionally warm winter temperatures, this makes Los Angeles the perfect destination to enjoy hiking and beach-going in California.
Some of the best things to add to your Los Angeles itinerary in the winter include taking a bike ride down the Venice Boardwalk, enjoying a swim at Venice Beach, exploring the Santa Monica Pier, seeing the stars at Hollywood Blvd and taking the famous hike to the Hollywood Sign.
Other popular hikes to enjoy in Los Angles are at Runyon Canyon and around Griffith Observatory. Griffith Observatory also offers the perfect place to experience the sunset over Downtown Los Angeles and star gazing.
If you love theme parks, you can enjoy Disney California Adventure Park and Universal Studios Hollywood without the extreme heat of the summer or the crowds.
Another special experience you can have in Los Angeles is viewing the Grey Whale migration. They migrate from December through April and travel from Alaska to Mexico. The Grey Whale migration is also known as one of the longest annual mammal migrations covering upward of 8,000 plus miles.
Furthermore, the months of February and March in LA are also when many award shows are happening including the Grammy Awards and Golden Globe Awards. So if you love award season or want to try to have a glimpse of the stars, the winter months in LA are for you!
Recommended by Sam of Find Love & Travel

17. Siesta Key, Florida (one of the top places to visit in winter in USA)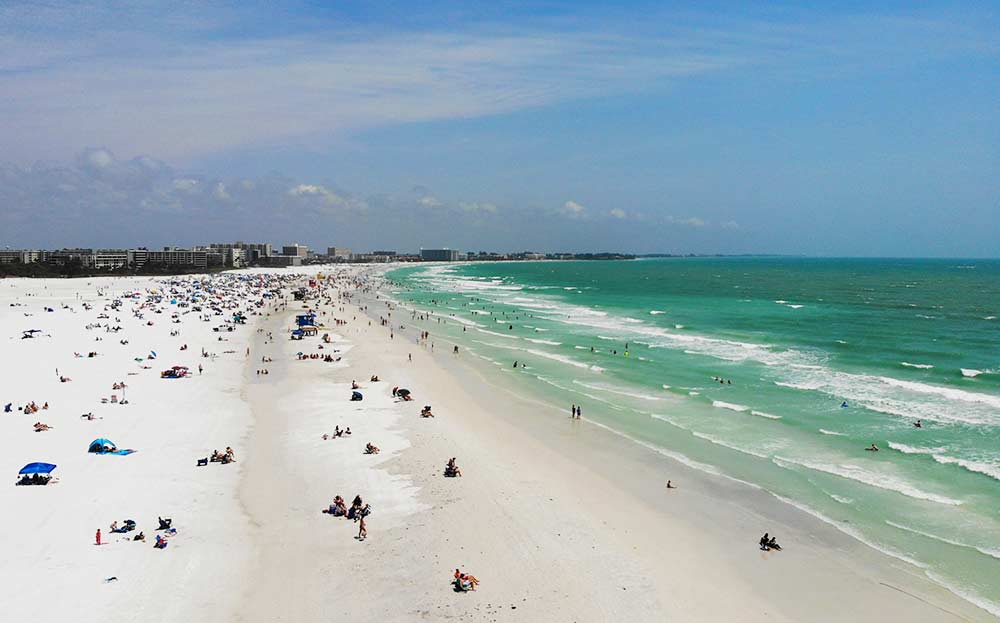 Siesta Key is a strip of land just west of Sarasota, Florida. You won't find high rise hotels here, instead smaller, family-run hotels, condos and vacation rentals.
Rated one of the top beaches in the USA, Siesta Key, Florida is a gorgeous beach any time of year. December, January and February are exceptionally special because it's still warm and you'll get plenty of vitamin D with Florida's sunshine!
Visit Siesta Key Village for the most shopping and dining options. Ride the free trolley to the many gorgeous beaches and restaurants around the strip. Or get your adrenaline pumping with kiteboarding or parasailing!
Aside from beach activities, some of the top things to do in Siesta Key are devouring Meaney's Mini Donuts, biking the island or kayaking through mangrove tunnels.
Visit Siesta Key Florida for a weekend or week-long getaway during winter. You'll be glad you did!
Recommended by me – Nikki of She Saves She Travels
18. Channel Islands National Park, California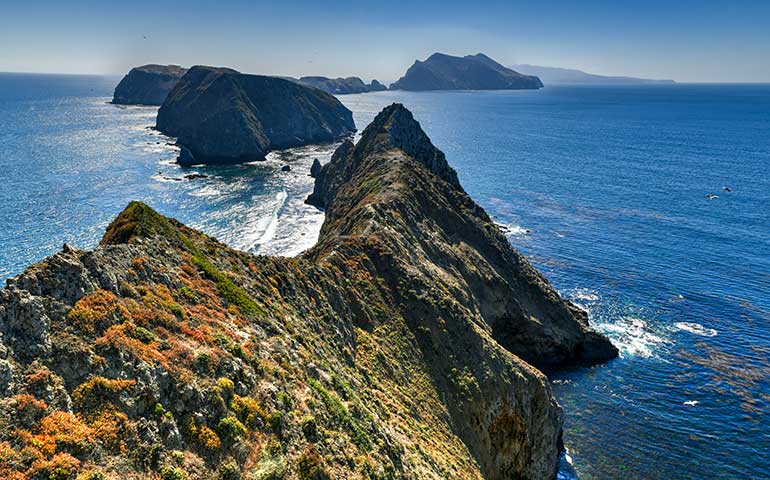 One of my favorites on this list of warm winter vacations USA is also one of the most underrated vacation destinations! The National Park Service refers to Channel Islands NP as "Close to the California Mainland…Yet Worlds Apart." And it's so true!
It's one of America's least visited National Parks, likely because it requires a ferry ride from the mainland. However the 5 uninhabited islands of Santa Cruz, Anacapa, San Miguel, Santa Barbara and Santa Rosa more than make up for the travel there!
You can opt to ride the ferry back and forth for as many days as you'd like, or you can opt to camp on the islands. Just be sure to book your campsite in advance. Spend your days hiking and kayaking (book a tour in advance), and otherwise enjoying the views.
Pro tip: come prepared. There's no services on the island for food, trash, etc. Potable water is available at the campsites.
I'd recommend a hotel in Ventura, as it's the closest to the ferry. With high's in the 60's during winter, this is definitely one of the best warm winter getaways in the USA! Visiting the Channel Islands National park could be part of a larger California Coast road trip, or an off-the-grid national park adventure!
Recommended by me – Nikki of She Saves She Travels
19. South Padre Island, Texas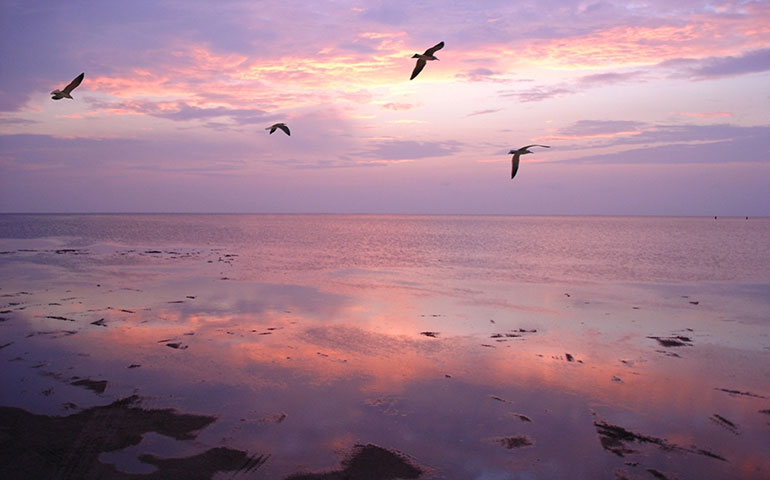 South Padre Island is a popular getaway and one of the best places to go during winter, especially for people who live in the southern part of the US. Situated on the coastal tip of Texas in the Gulf of Mexico, it's the only tropical island in all of Texas.
While spring break is an especially busy time to visit South Padre, December is a popular month for those wanting to get away to someplace warm for Christmas break. Many of the hotels fill up, so you'll want to book accommodations in advance for your vacation there.
While the rest of the country may be experiencing winter weather, South Padre averages a balmy 71℉ and just over an inch of rain for December.
The ocean might be too chilly for some people to enjoy, but there's still plenty to do there. For starters, be sure to check out the results of the annual sandcastle building contest that are kept for viewing year-round.
Sea Turtle, Inc. is one of the top attractions where visitors can see them up close and learn more about what's being done to protect them. South Padre is also a bird watcher's paradise with a 5-story watchtower at the Birding and Nature Center where you'll likely see many of the migrating birds to the area.
Winter is also a great time to book a tour out on the water to see the dolphins or take a sunset dinner cruise. South Padre Island is a warm-weather vacation destination that has attractions for just about everyone!
Recommended by Karee of Our Woven Journey
20. Kauai, Hawaii (an absolute favorite on this list of best places to visit in winter, USA)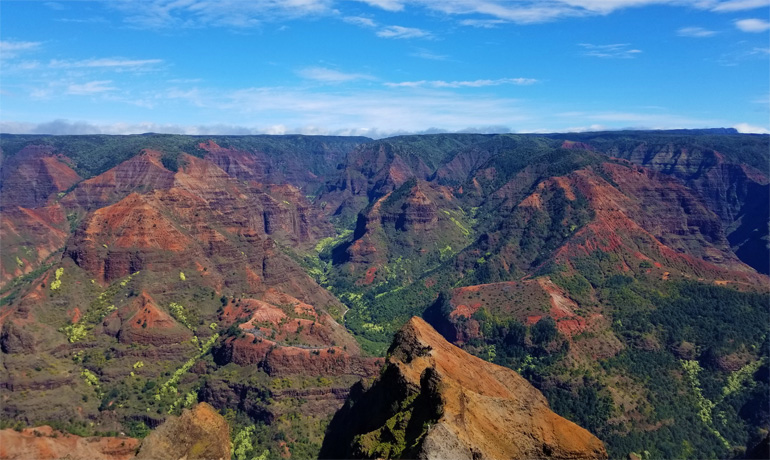 The most lush and impeccably beautiful of the Hawaiian islands (and my personal favorite), Kauai is a perfect retreat from cold weather. Home to the NaPali Coast and Waimea Canyon, this island is meant to be explored! Its stunning scenery is unparalleled by any other spot in the USA, with its lush greenery and gorgeous beaches.
If you're looking to relax on the beach – choose another destination on this list. But if you're up for adventure, try hiking first 2 miles of the the Kalalau Trail, viewing waterfalls up close and personal inside the Waimea Canyon or visiting one of the best snorkeling spots on Kauai.
By far one of my favorite experiences in Kauai was seeing it from the air. Taking a scenic flight through the Waimea Canyon and NaPali Coast is a truly unforgettable experience!
Of course there's plenty of time for rest, too. Hang out at the palm-tree lined beach at Poipu and watch the sunset. Or see some of the best Kauai beaches on the North Shore.
Pro tip: be sure to pack right for Kauai. From water shoes to hiking poles, there's a lot to do here and packing the right gear will make your vacation ultra smooth. Here's a list of what to pack for Hawaii.
One of the best adventure vacations in the US, is Kauai calling your name?
Recommended by me – Nikki of She Saves She Travels
Places to visit in winter in USA (continued)
Ready to pack your bags yet? I've saved some of the favorites for last. Let's keep going with this epic list!
21. St. John, US Virgin Islands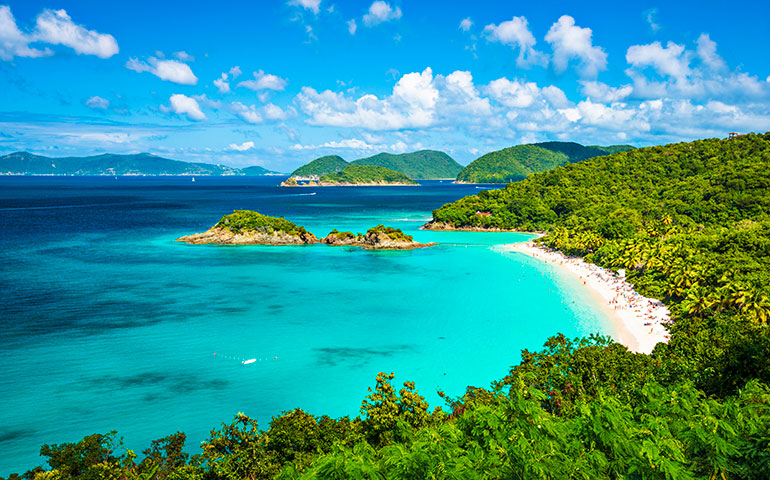 We're taking tropical to a whole other level here! St John is the smallest of the 3 major US Virgin Islands, and an absolutely perfect warm winter getaway. The island is covered by over 60% national park and the rest is gorgeous beaches, hiking trails and just a few businesses.
Expect temperatures in the upper 70's for your stay in the US Virgin Islands over the winter.
Visit the Virgin Islands National Park and check out the ancient petroglyphs and epic hiking trails. Get another look into the island's past by visiting the Annaberg Sugar Plantation Ruins. And when it's time for a drink, check out the local brewery – St. John Brewers.
With gorgeous weather, be sure to visit the beautiful Trunk Bay for its pristine beach and turquoise ocean. If you're up for some snorkeling, check out Watermelon Cay, Maho Bay and Salt Pond.
It can be a little tricky getting to St. John, but it's sooo worth it! You'll want to fly into St. Thomas, USVI. From there, you'll need to take a taxi from the airport to a ferry. The ferries depart every hour, and it's about a 20 minute ride over to St. John.
Because St. John has been really beat up in recent years with hurricanes, there's not very many places to stay until rebuilding is complete. For that reason, accommodations tend to be pricey and they book up fast. So book your hotel early!
Recommended by me – Nikki of She Saves She Travels
22. Huntington Beach, California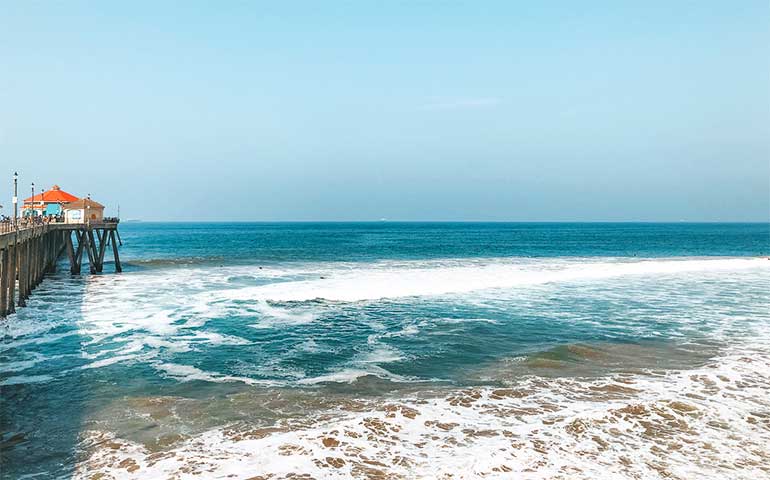 There's nothing better than escaping cold, snowy weather for a balmy beach vacation during the winter. Thankfully, Southern California has plenty of beaches that fit the bill – including Huntington Beach!
Huntington Beach is nicknamed "Surf City USA" because it hosts the largest surfing competition in the world, the Vans US Open of Surfing, each summer.
That said, winter is a great time to visit Huntington Beach – the weather is still warm, with temperatures averaging in the mid-60s, but the summer tourists are gone. This shift leaves the bustling beach town unusually quiet – the perfect time to explore!
During your trip, enjoy some of the best things to do in Huntington Beach, like watching the sunset from the Huntington Beach Pier or biking along the beach's 8.5-mile stretch. When the weather cools off in the evenings, grab a sweater and relax with a beach bonfire at Huntington City Beach.
When you're ready to shake off the sand, peruse the surf shops in Downtown Huntington Beach or shop from brand-name designers and local boutiques in Pacific City.
Plus, you can check out local places to eat, like the Sugar Shack Café for traditional breakfast items and Fred's Mexican Café and Cantina for authentic dishes, like tacos, burritos, and of course, margaritas!
Recommended by Brittany of Travel by Brit
23. Austin, Texas (one of the best winter getaways in USA)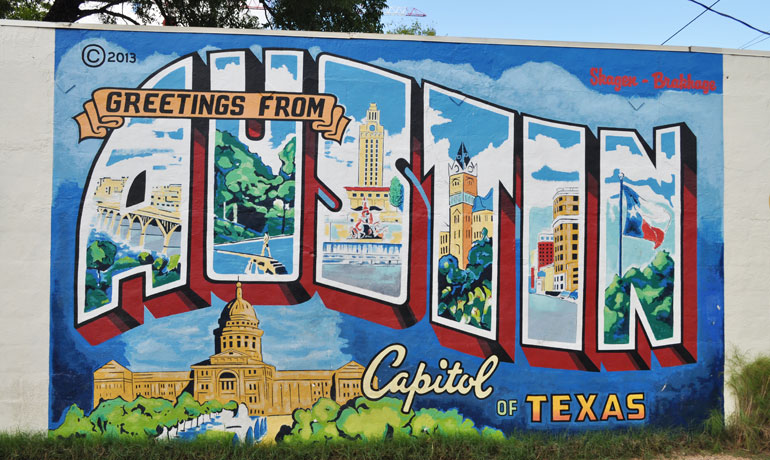 It's a huge music city and one of the top warm winter vacations USA. With relatively moderate temperatures (ave high's in the 60's), this city is a perfect spot for a weekend getaway to Austin.
One of the most fun things Austin is known for is their street art. Go on a mural hunt to see how many you can find! Then hang out in the eclectic SoCo District, check out the botanical gardens and watch the sunset on Mount Bonnell.
There's plenty of outdoor activities for those who crave it! Check out one of Austin's many lakes for picnics or paddle boarding. Lake Austin, Lady Bird Lake, Barton Springs or Lake Travis all offer unique views and water activities.
For socialites who are looking for the party, be sure to visit 6th Street or Rainey Street for live music, dancing, karaoke and as more bars as you could visit in a night.
With great food, excellent nightlife and even a few places to hike near Austin, why wouldn't you want to visit this cool spot?
As far as hotels in Austin, the best place to stay to be close to the action is downtown. Food and amenities are within walking distance. Or, hop on a zippy scooter to make your way around town with a bit of adventure!
Recommended by me – Nikki of She Saves She Travels

24. Palm Springs, California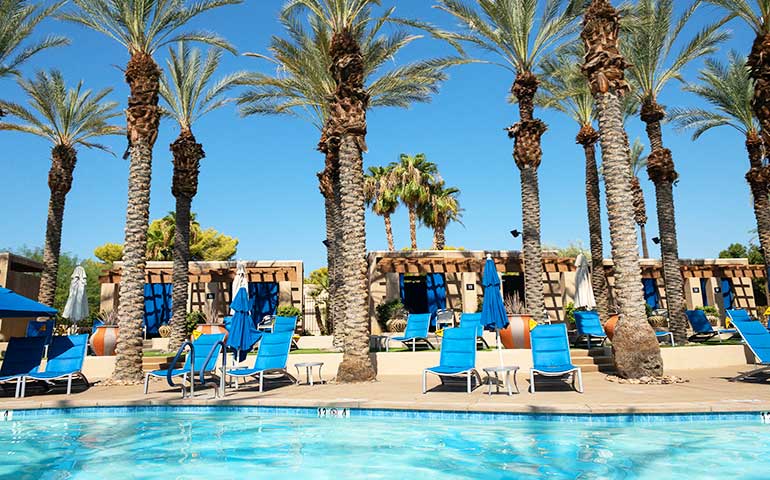 Grab your swimsuit, sunnies, and sandals as you jet off to Palm Springs, California for a relaxing weekend getaway or a family adventure week-long escape. Towering palm trees, thrilling outdoor adventures, luxurious poolside cabanas and trendy restaurants await.
Highs in the mid-70s make spending daytime outside in winter a warm delight. Take a jeep tour, explore Joshua Tree National Park, or ride the Palm Springs Aerial Tramway for spectacular views of the valley from above 8,000 feet. Just pack a jacket for the chilly mountains!
Is luxury more your style? Stay downtown at Kimpton Rowan Palm Springs for modern romantic vibes. Take a dip in the rooftop pool, and splurge on a poolside cabana for a Valentine's trip you and your sweetheart won't forget.
The Hyatt Regency Indian Wells Resort and Spa is perfect for families. Splash around their 7 pools, float down the lazy river and race your kids down the 30-foot dueling water slides. If you want to slow down for a bit, make your way over to a cabana by the adult pool for ultimate privacy.
Regardless of where you stay, explore the renowned restaurants in downtown Palm Springs along South Palm Canyon Drive. Check out Workshop Kitchen + Bar for trendy seasonal food and cocktails, or visit Melvyn's Restuarant & Lounge to immerse yourself in Hollywood history and enjoy live entertainment.
If you're looking for a warm winter vacation with loads of fun and great hotel deals, then Palm Springs is the perfect destination for you!
Recommended by Abby of Worth Every Trip
25. Port Isabel, Texas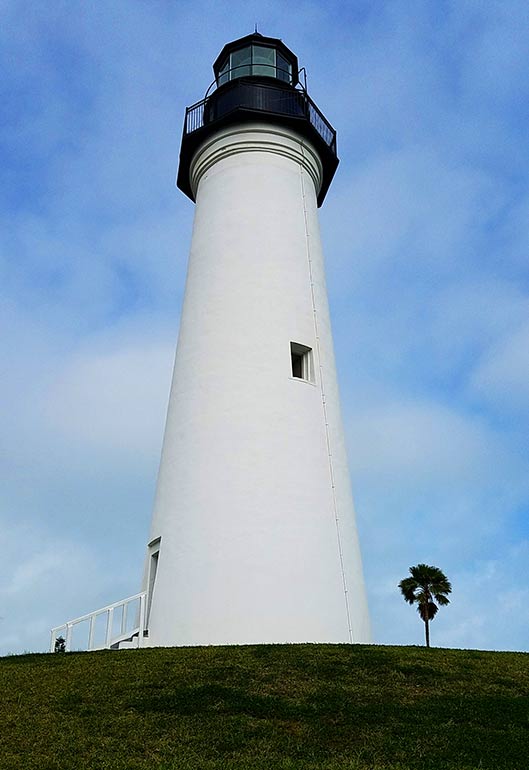 If you're looking for a beautiful warm weather getaway for winter, Port Isabel, Texas, is calling your name. This casual, laid-back Southern Texas town will welcome you with the beautiful Gulf of Mexico and the iconic Port Isabel Lighthouse. With an average daytime temperature of 71.6 degrees F, you cannot go wrong!
Climb the 75 steps to the top of the lighthouse with a fabulous view. Explore the former keeper's cottage after you climb to the top of the lighthouse. Pro tip: wear closed-in shoes to help make the climb safely to the top of the lighthouse. A fun fact is that this is the only lighthouse along the Texas coast that is open to the public.
After you explore the lighthouse and the grounds, take a boat cruise. History buffs will appreciate all that the Port Isabel History Museum has to offer. View the murals and learn about pirates and how the area came to be.
Top-notch Southern hospitality is what you can expect when exploring Port Isabel. The Town Square in Port Isabel, Texas, offers shopping and dining experiences that you will be talking about after your visit. The seafood, tacos and Italian dishes are sure to win you over.
This small town offers incredible Gulf of Mexico experiences. Plan to spend a couple of days in Port Isabel, or stay for a month! Book a stay at a traditional motel or inn in Port Isabel and enjoy the quiet that this community has to offer.
Recommended by Sara of Travel with Sara
26. Clearwater, Florida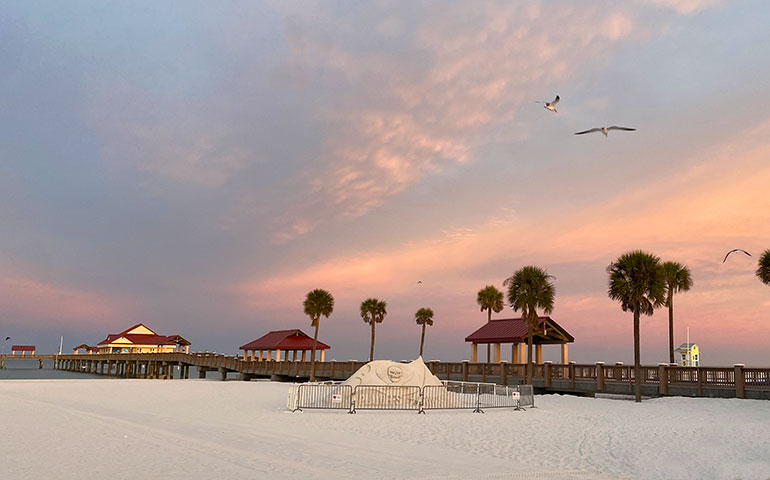 Imagine setting the alarm for 6:30 am back home where it is cold and grey in February. There might be snow piled up in the front yard. But pull on a sweater and head to Clearwater Beach, Florida!
Expect the traveler's spirits to rise who escapes winter to soak up the sun on the Gulf Coast. Join the athletic as they run, bike and walk across the Clearwater Memorial Causeway Bridge. Down below gaze at the yachts, boats and sandy beaches.
For sunbirds, Clearwater is a great place to land. It wins numerous accolades including USA Today's "Top 10 Beach in America." Clearwater is on the path for migratory birds so birdwatchers will delight. Clearwater is a short drive to St. Petersburg or Tampa Bay for dinner in the city.
Choices of entertainment are endless but be sure to visit the Clearwater Marine Aquarium (home of Winter, star of The Dolphin Tale movie).
Spend an afternoon jet-skiing, parasailing or fishing. Clearwater is a perfect destination December through February but the warmest temperatures are in February. The average high temperatures can reach the low 70s.
Best place to stay? If price is not object, then book Pier House 60 Clearwater Beach Resort. It is just a short hop to the Pier to enjoy marvelous sunsets as well as street performers and craft vendors each night. Or if you want to stay on the nearby island, book the Sheraton Sand Key Resort.
Recommended by Terri of Female Solo Trek
27. Scottsdale, Arizona (one of the hottest on this list of warm winter vacations USA)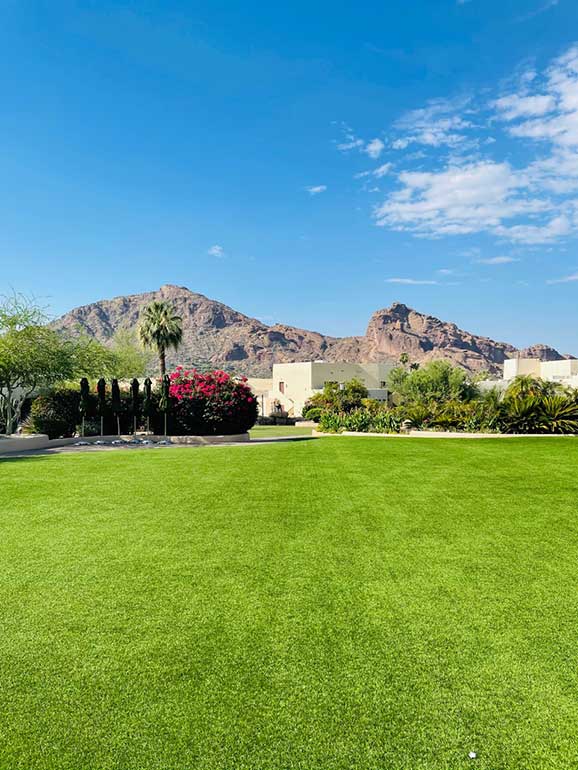 Scottsdale, Arizona is a great choice for a warm getaway in winter. The weather averages in the 60s-70s.
There are so many gorgeous resorts in Scottsdale. With heated pools and luxurious spas, you could spend an entire weekend relaxing. Some resorts offer complimentary bikes for you to explore the resort grounds and surroundings.
Be sure to check out Old Town Scottsdale for restaurants, shops and galleries. If you're a foodie, you're in luck because Scottsdale is known for having some of the best restaurants around. For more delicious local restaurants, head to the Arcadia neighborhood.
For shopping, head to Scottsdale Fashion Square which is the biggest mall in Arizona and full of luxurious high-end shops. Close by the mall is the Scottsdale Waterfront, which is a stylish and upscale community in the middle of downtown Scottsdale.
Golfing is a popular activity as Scottsdale has some of the best golf courses in America! The Waste Management Open at TPC Scottsdale happens annually in February.
If you're not a golfer but wanting to get outdoors, there is a variety of easy to strenuous hiking trails around the valley. If you're feeling adventurous, head to Camelback Mountain or try Scenic Trail for a more kid-friendly hike.
Arizona host 15 MLB professional teams for spring training in stadiums across the valley, including Scottsdale. If you're a baseball fan, visit towards the end of February to see a game!
If you're traveling with the whole family, check out Butterfly Wonderland, the largest butterfly conservatory in America. Nearby, you can also visit the OdySea Aquarium.
As you can see, Scottsdale is the perfect place to visit in the winter in USA with perfect weather and tons of fun activities for all ages.
Recommended by Melissa of Melissa's Travel Addiction
28. Big Island, Hawaii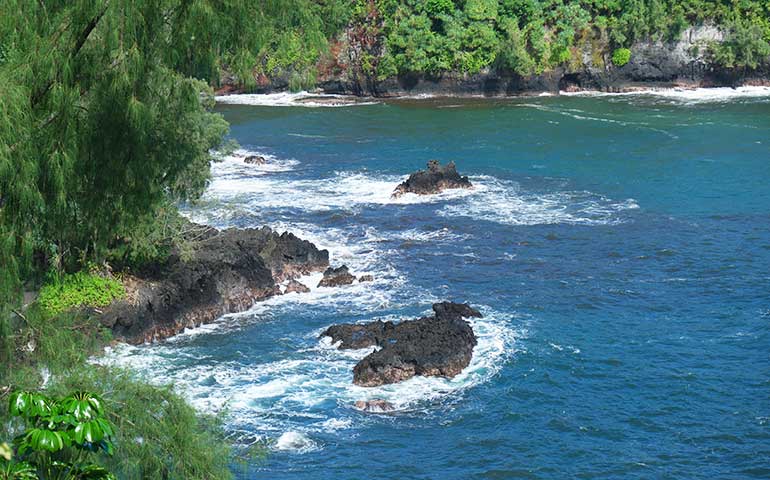 A popular place to visit as a warm winter destination (USA) is the Big Island, Hawaii. In winter the area is active and filled with events and activities to explore around the island.
Even though Hawaii is a year-round destination, visit in December to get a different vibe to include the Christmas holiday. Festivities includes pageants, Christmas fairs, Christmas parades and other popular holiday events and celebrations around the islands.
Other popular activities include visiting the Hilo area attractions if you want to see lush gardens, waterfalls and gorgeous landscapes on the east side of the island.
Doing a fun road trip around the island, visiting the state and national parks or outdoor experience like hiking, snorkeling, scuba diving, horseback riding or sailing. It's truly an open book of adventure depending on your interests and ability to explore around the island!
Definitely keep the Big Island of Hawaii on your list of warm places to visit in winter and you'll never run out of fun things to do and see on the island.
Recommended by Noel of This Hawaii Life

29. Joshua Tree National Park, California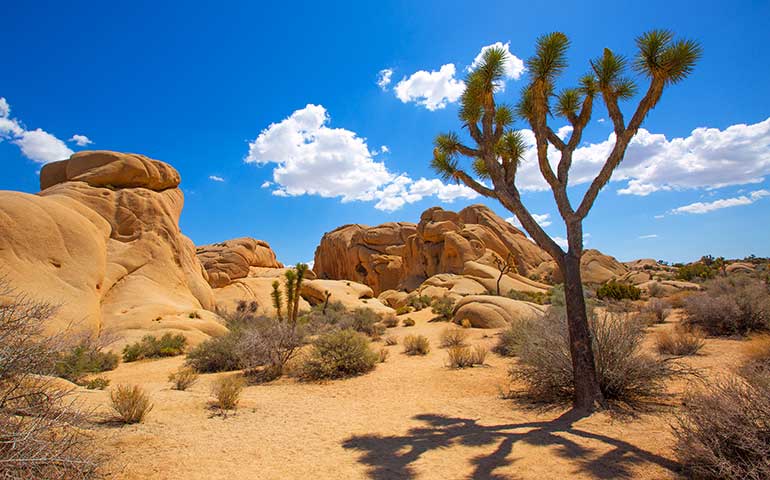 If you're looking for a quick winter getaway one the weekend, this is just the place! Joshua Tree National Park is located in Southern California, near Palm Springs.
With average temps hovering around 60 degrees all winter long, it's going to feel real good to escape the cold! Warm up with plenty of hiking trails in and around the park, as well as many other things to do.
Visit the Keys Ranch to see how families lived in the harsh desert. Hike the Hidden Valley Trail, Arch Rock Trail, Hall of Horrors or Ryan Mountain Trails for fun views of the park.
There are a few other quirky attractions to see while in the area, like the World Famous Crochet Museum, the Glass Outhouse Gallery and the Desert Christ Park.
When looking for places to stay, check into the Sacred Sands or Adobe in the Palms. Be sure to book early because there's not a whole lot of options really close to the park.
Recommended by me – Nikki of She Saves She Travels
30. Destin, Florida (one of my favorite on this list of warm winter vacations USA)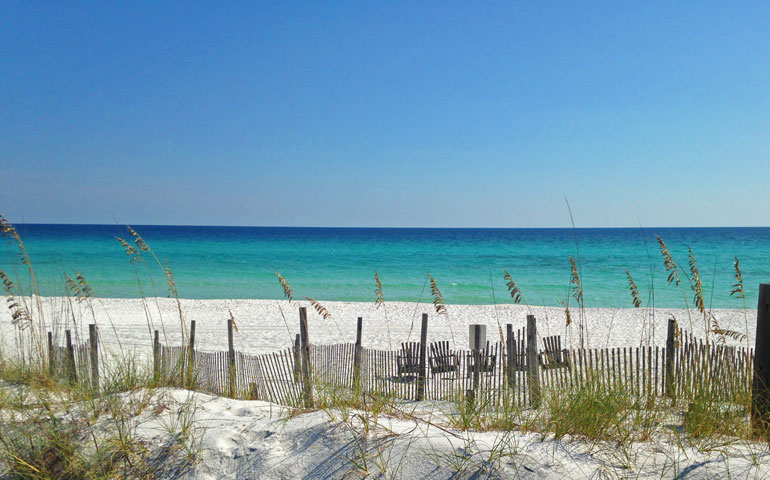 Ending this list with another Florida beach. They're popular for a reason! The crisp, white sand on Florida's panhandle is unbelievably beautiful. And with high's in the 60's during even the harshest winter months, Destin is a great spot for a warm winter vacation.
Aside from spending time on Florida's Emerald Coast, head over to Harbor Walk Village for outdoor activities plus restaurants and shopping. And serious shoppers will want to visit the Silver Sands Outlet mall – it's one of the largest in the Southeast US with over 100 stores.
Destin is a great destination for couples or families, groups or bachelorette parties. Family-friendly activities like go-karts, arcades and mini golf, not to mention the beach! And for adult-only trips, Destin has a fantastic restaurant and nightlife scene.
As far as hotels go, there's plenty of Destin accommodation options right on the beach. Or for budget-friendly places, stay a little further off the main strip. Look at nearby Miramar Beach and Seaside if you're looking to get out of the city a bit.
Recommended by me – Nikki of She Saves She Travels
Warm winter vacations in the USA – a recap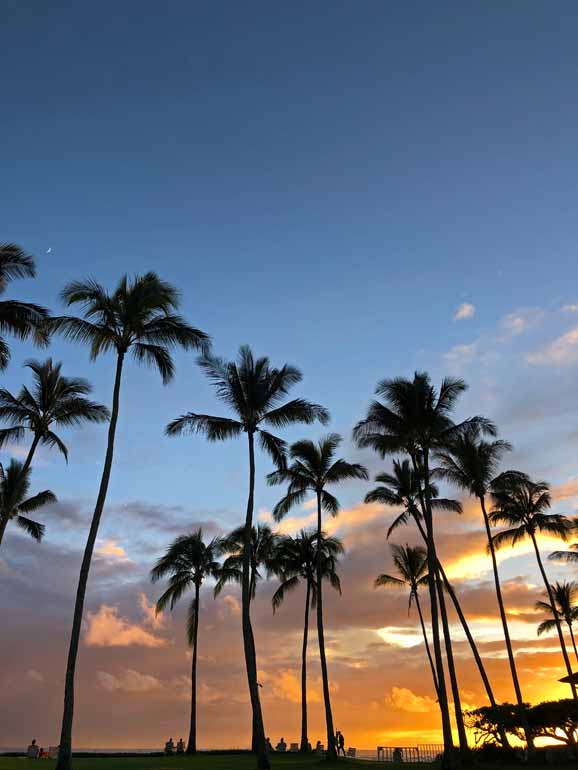 Whew! What a list, right? Whether you love a good beach vacay or love the pace of a city, this list of best places to visit in winter in USA has something for everyone.
From sea to shining sea, the USA has so many places to discover and explore! And you gotta love escaping the cold and heading someplace warm in the middle of winter, too!
Let's recap that list again, in a more condensed fashion…
Best place to visit in winter in the US
San Diego, California
Sedona, Arizona
Puerto Rico
Miami, Florida
Orange Beach, Alabama
Las Vegas, Nevada
Anna Maria Island, Florida
Maui, Hawaii
New Orleans, Louisiana
Orlando, Florida
Mustang Island, Texas
Savannah, Georgia
Key West, Florida
Oahu, Hawaii
Tucson, Arizona
Los Angeles, California
Siesta Key, Florida
Channel Islands National Park, California
South Padre Island, Texas
Kauai, Hawaii
St. John, US Virgin Islands
Huntington Beach, California
Austin, Texas
Palm Springs, California
Port Isabel, Texas
Clearwater, Florida
Scottsdale, Arizona
Big Island, Hawaii
Joshua Tree National Park, California
Destin, Florida
As a beach girl myself, I'm drawn to anywhere I can comfortably put my toes in the sand. But I'm curious to know where your next warm winter getaway is? Comment below – I'd love to hear!

Related content you'll love:
28 Underrated Travel Destinations in the US
20 BIG Adventure Vacations in the US Not to Miss
100 Most Romantic Vacations in the US You'll Love
35 Swoon-worthy Island Vacations (that are also cheap!)
26 Best Beaches on the Gulf Coast You Gotta See
Find this post helpful? Save it for later or share it on social media!