It's one of the most iconic road trips in the USA…driving the stretch down the Florida keys is incredible! Your Miami to Key West road trip can be high adventure, low key (haha, had to) or anything in between.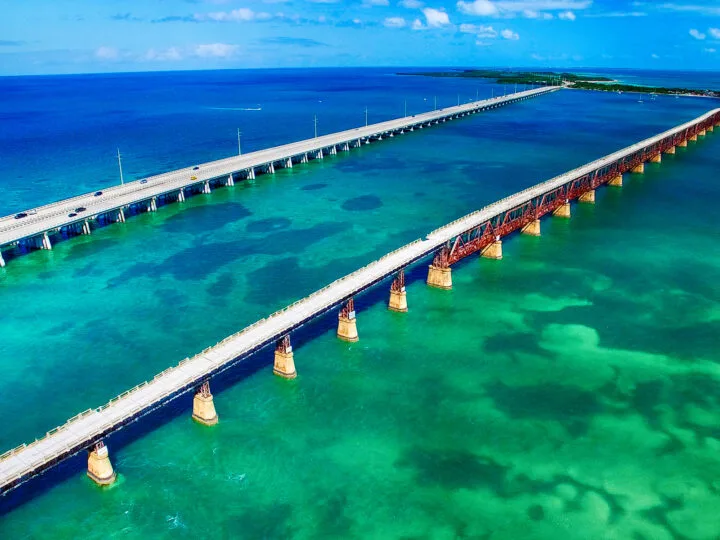 This post may contain affiliate links. For more info, see my disclosures.
I loved my vacation in the Florida keys, but I got to thinking there was probably more on this epic road trip from Miami to Key West than what I experienced. So I reached out to my fellow travel bloggers to see their favorite parts of the Florida keys and they did not disappoint!
There's honestly probably a hundred stops driving to Key West that would be great for soaking in the Florida keys. If you have unlimited time you absolutely should do it all! But if that's not the case, here's the top 22 things you can do on your road trip from Miami to Key West.
Oh, and seriously consider what your Florida road trip itinerary might look like. I'd highly recommend staying at least one night in Miami, 2 nights in Key West, and at least one night between. I'll get into that more later. 🙂
Miami Beach to Key West road trip
With so much to do in and around Miami, let's make a couple stops on our way to Highway 1.
Stop #1: Miami Beach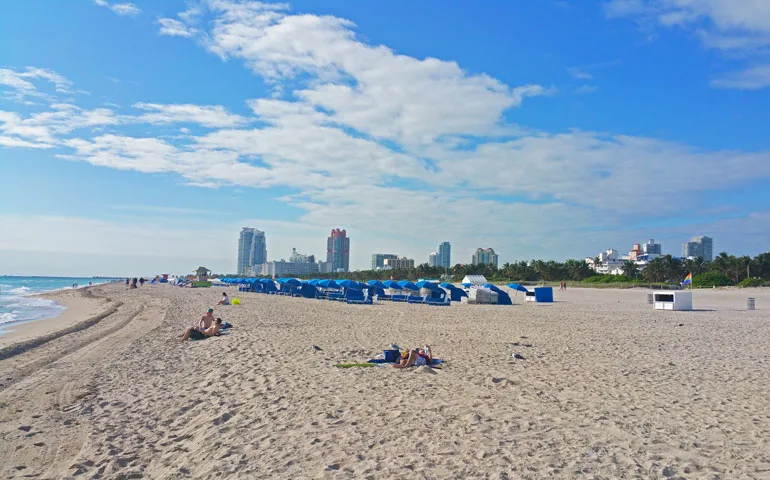 Because Miami Beach is such an iconic beach in Florida – and the USA – we're going to start this road trip there! Now you could probably spend an entire week just exploring the Miami Beach area, because there's so much to do. Hang out at South Beach, the Art Deco Historic District or the popular Ocean Drive.
Pro tip: Ocean Drive can be a bit of a tourist trap. My husband and I fell for a terrible ad at a restaurant and ended up paying $25 for each margarita – plus a pricey dinner. So keep your eyes out and try not to spend all your vacation money before you hit the road.
Pro tip #2: if you're going to spend much time at Miami Beach, plan to get there early. The beach is large but it fills up early, especially on the weekends.
Recommended by me! Nikki of She Saves She Travels

Related read: 101 Road Trip Snacks You'll Love
Capture insta-worthy pics at the Wynwood Art District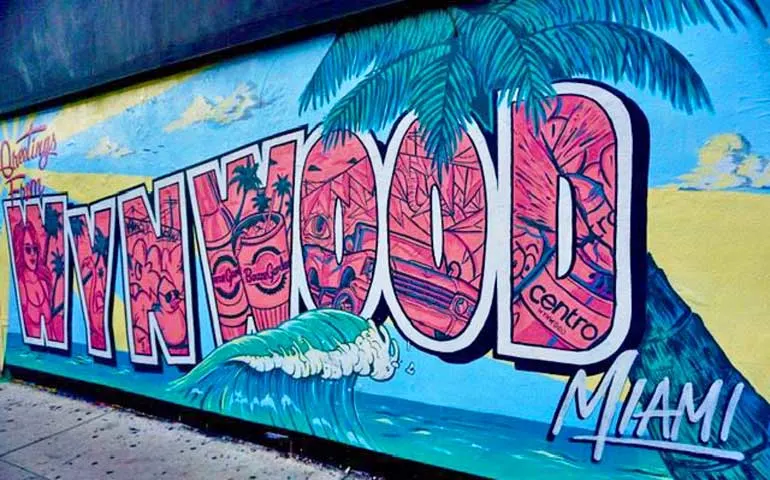 Before embarking on an epic Florida Keys road trip, stretch your legs by spending a few hours admiring the murals in Miami's Wynwood Art District. Because of the constant updates, no 2 visits to the murals will ever be exactly alike.
Whether you choose to walk through the area by yourself or join a guided tour, you'll find murals from both world-famous and rising artists. A guided tour led by a local artist adds a unique dimension as you'll get some behind the scenes info.
With over 400 businesses in the area, there's plenty to see. Shops and galleries showcase local artisans' works. The neighborhood also houses some of the best foodie destinations in Miami, from James Beard award-winning restaurants, food trucks, and craft breweries.
Saturdays are the busiest days to visit but also the most fun. The best time to visit is the second Saturday of every month. Starting at 6 pm, Wynwood's Art Walk turns the entire area into Miami's largest block party.
Shops and galleries stay open into the night so you can enjoy a great night out. And if you want to send a few more days in the area before hitting the road, check out this Miami itinerary for more ideas.
Be sure to add a stop to Miami's Wynwood Art District to your best things to do on a road trip from Miami to Key West.
Recommended by Annick Lenoir-Peek of The Common Traveler
Step back in time at the Vizcaya Museum and Gardens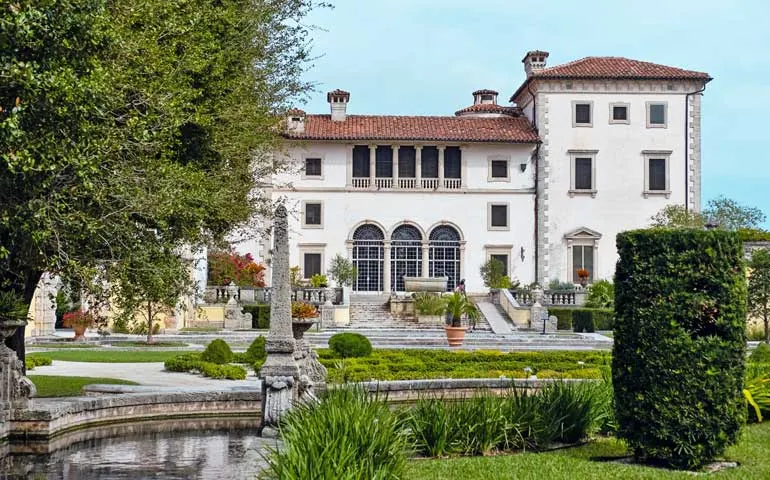 In the heart of Biscayne Bay, Vizcaya Museum and Gardens is an oasis-like escape.
Built between 1914-1916, it served as a winter estate for Chicago-businessman James Deering. After his death and a devastating hurricane, it became a public museum in 1952. The interiors and gardens are well preserved with an antique quality about them.
Stepping into this home is like traveling back in time to a lavish Italian villa. The architecture and gardens are heavily influenced by Italian design. You're free to explore the two floors of the house, which overlook a stunning indoor courtyard. You immediately get a sense of Mr. Deering's lavish lifestyle.
My favorite part about the visit was the Barge in Biscayne Bay, outside the East terrace. Not only was the view stunning, but there were several iguanas enjoying the sunshine. This is one of the most interesting and historical places to stop on the drive from Miami to Key West.
Pro tip: visiting during the weekdays and early morning will be less crowded.
Location: 3251 S Miami Ave, Miami, FL 33129
Recommended by Natasha Lequepeys of And Then I Met Yoko
Looking for more of Miami? Check out what to do in Miami if you have a few more hours to spend there.
Must-see during every Florida road trip: Everglades National Park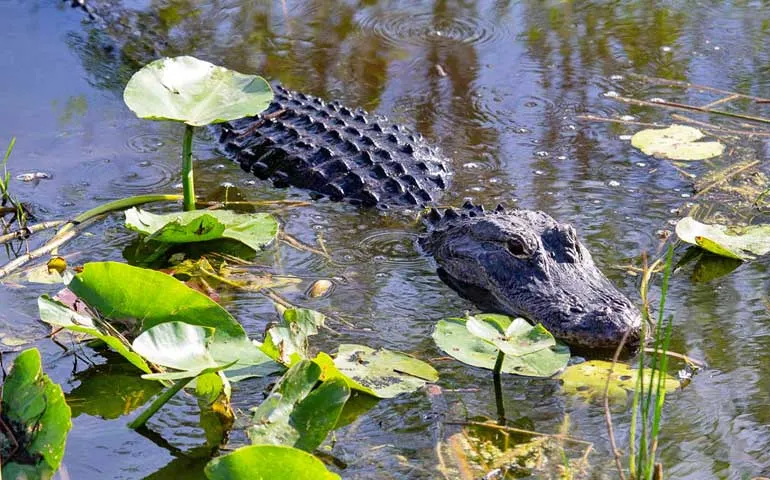 On your way from Miami to Key West, you will pass little Florida City – this town is a starting point to the south/main entrance of Everglades National Park. If you can book 2 hours of your travel time, it's an excellent idea to visit at least Anhinga Trail and observe some fantastic birds and alligators.
Actually, it's the easiest way and the best place to see Everglades wildlife in their natural habitat on your Miami to Key West road trip, so don't waste this opportunity.
From Florida City, it's about 13 miles drive (about 20 minutes) to Everglades Anhinga Trail, then take a short walk on designated paths. On your way, stop to pay the $30 USD entrance fee that allows you to stay up to 7 days.
The park itself is much bigger, and you can spend many days in it. But for the beginning and as a stop by, we definitely recommend visiting at least Anhinga Trail that most of the year gives you 100% chance to encounter alligators and birds like anhinga, egrets, herons, and vultures.
You can also spot turtles and fish. The best time of the day to visit this trail is early in the morning or afternoon just before the sunset. And the best time of the year is any sunny day between December and May.
Location: Anhinga Trail is near the Royal Palm Visitors Center, 40001 State Road 9336 Homestead Florida 33034
Recommended by Krzysztof of The Van Escape
Drive to Key West from Miami…let's hit the road!
I know, I know, you're ready to see the Florida Keys. It's seriously one of the best scenic drives in Florida. Here we go!
Stop for water activities at Key Largo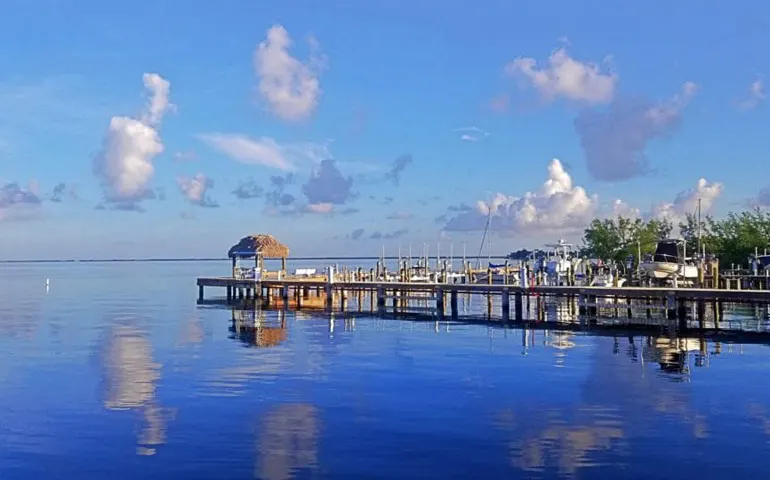 Key Largo is the first town on the Florida Keys you reach while driving to Key West. Highway 1 enters halfway down this 33-mile long island after it leaves the mainland of Florida.
Money conscious tourists can find great values in Key Largo. Everything from gas to groceries to overnight accommodations costs less there than they do in Key West.
Key Largo is where the Highway 1 drive starts to become truly beautiful.
This island is more than a pit stop to gas and go. There are sights you'll only see in Key Largo. Scuba divers flock to the Keys, and they'll certainly want to stop at John Pennekamp Coral Reef State Park to see the underwater sculpture Christ of The Abyss. Even non-divers will enjoy this History of Diving Museum!
Everybody should stop at the Florida Keys Visitor Center for inspiration and money-saving coupons. Do you want the best-kept secret in the Upper Keys? You can park for free and play at Library Beach Park! It's the perfect place to get out and stretch your legs on a long road trip.
Recommended by Jenn & Ed of Coleman Concierge
Take a glass-bottom boat tour in Key Largo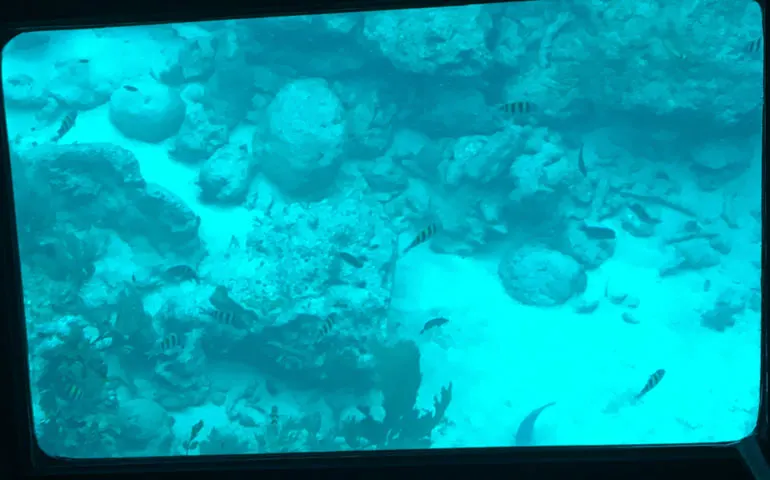 Experience the reef without stepping foot in the water. The glass bottom boat is the best way for kids and non-divers to espy this new world. Take a tour at John Pennekamp Coral Reef State Park, America's first underwater park.
The 2 ½ hour glass bottom boat tour traverses through the vast mangrove plantations, then deep into the ocean for a glimpse into the charming aquatic world. The glass floors of the catamaran allow you to huddle to see the beautiful fishes, coral reef and diverse aquatic ecosystem. Tours include a guide in the boat that thoroughly explains what you're looking at.
Pro tip: Book your tour in advance. With price of the tickets ranging from $17 for children to $24 for adults, it is a great steal. Here's a great glass-bottom boat tour in Key Largo.
Pro tip #2: Take medication before the tour if you suffer from seasickness.
Recommended by Neha of Travel Melodies
Hang out at the beach in Plantation Key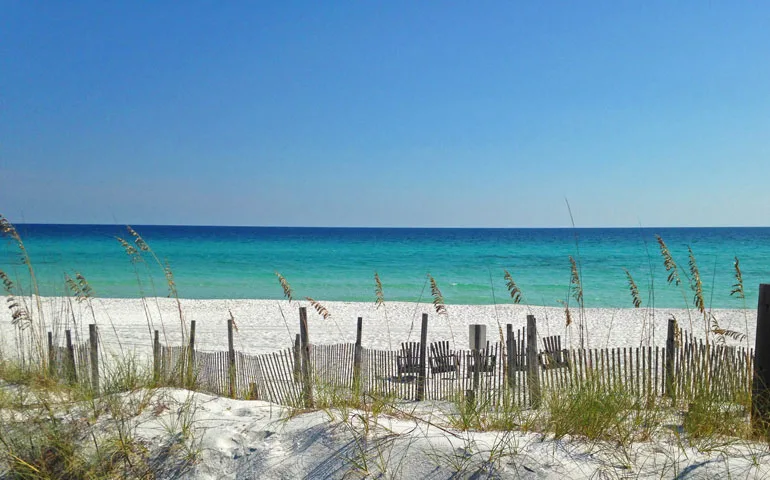 As you drive through Key Largo and Islamorada, make sure to stop for some beach time at Plantation Yacht Harbor at Founders Park. The water is shallow for swimming and it's a great spot to catch a sunset. Founders Park has amenities and is a great spot for a picnic, too.
Pro tip: make sure you pack your water shoes for this beach as the ocean floor can have seaweed. These are my favorite water shoes from Amazon and have traveled with me everywhere!
Location: 87000 Overseas Highway, Islamorada, FL 33036
Recommended by me! Nikki of She Saves She Travels
Related reads:
8 Best Beaches on Turks and Caicos
7 Day Itinerary in Kauai, Hawaii
Popular stop on a Miami to Key West road trip: feed the tarpons Robbie's in Islamorada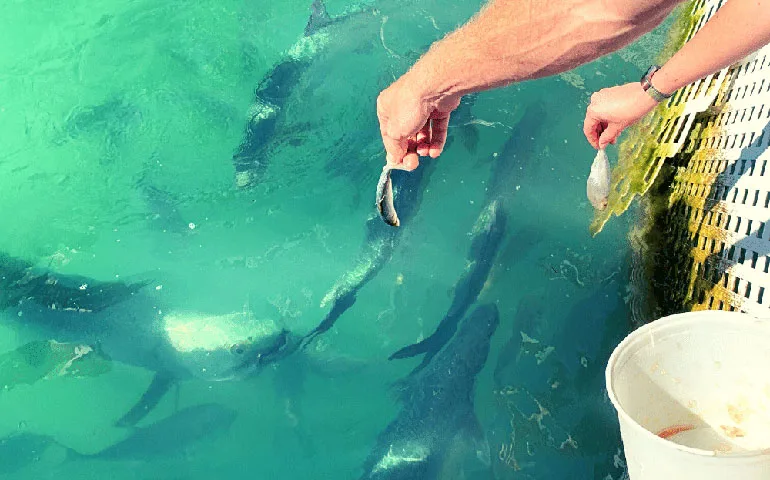 While road-tripping through the Florida Keys, there are few things more unique and incredible than just enjoying the long bridges and impossibly blue tropical water. However, located about halfway along your journey you'll come across Lower Matecumbe Key, and a wonderful road trip stop there: Robbie's Marina.
At Robbie's Marina, you'll be able to have a drink and enjoy some amazing fresh seafood. However the thing that makes this place unlike any other is the tarpon feeding!
At Robbie's you are able to buy a small bucket of fish which you can feed to the huge tarpons that hang out near the dock. You must try feeding the tarpon here, it is an awesome experience, especially if you are traveling with a family.
Also at Robbie's is a cool market where you can shop for trinkets, souvenirs, and really anything you can think of that you may need while enjoying your road trip through the Florida Keys. Your road trip will be a wonderful experience, and tarpon feeding at Robbie's Marina is definitely one of the best places to stop on the road trip from Miami to Key West.
Location: 77522 Overseas Hwy, Islamorada, FL 33036
Recommended by Zach & Julie of Ruhls of the Road
Go kiteboarding at Vaca Key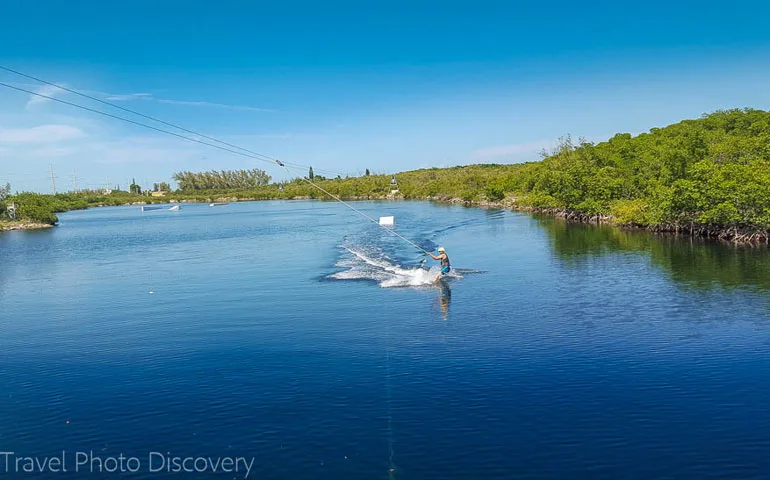 One of the best adventure experiences that you can do on your drive to Key West from Miami is a kiteboarding experience at Vaca Key. It takes a little getting used to but if you are experienced with windsurfing or wake surfing, you can pick it up very quickly.
When you take a tour or class, the instructor is very cool and easy to work with and at the same time watches his students very carefully to make sure that safety is always considered and that there's always enough time between wakeboarders to enjoy a session safely.
The course is fairly straight-forward but there are also jumps set up in different areas if you're more advanced and want to try your skills with jumps and other fun techniques for advanced boarders. You can definitely pick up the basics in just one 2-hour session.
The wakeboarding is done on the grassy key at Cable Lake and run by Other Boardsports on their man-made lake. For adventure seekers, this is definitely a fun and exciting adventure sport that you can easily enjoy and even get hooked on.
Recommended by Noel of Travel Photo Discovery
Visit the Dolphin Research Center in Marathon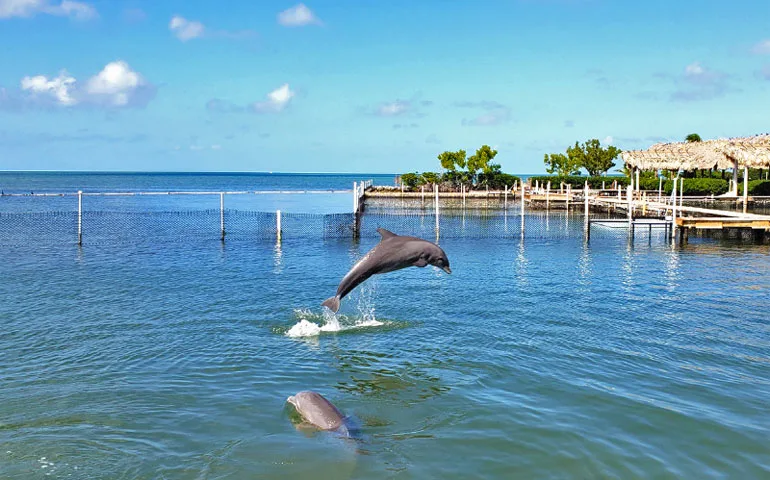 Although there are many things to do in Key West, there are certainly a number of attractions on this Florida road trip. One of my favorite stops on Marathon is the Dolphin Research Center (DRC). At DRC, staff work with dolphins on different behavioral and cognitive projects in an effort to better understand how dolphins think.
The animals aren't in tanks; they live in natural seawater lagoons. During your visit, you may catch an interactive session where trainers work with dolphins and sea lions (yes, they have some of those too!). Be aware that none of the animals are forced to participate so it's possible that session times and participation will vary.
I recommend giving yourself at least an hour at the DRC, although you could easily spend all day there. General admission for adults is $28 although they do offer other more interactive experiences at a higher cost.
Location: 58901 Overseas Highway, Grassy Key, FL 33050
Recommended by Vicky of Buddy The Traveling Monkey
More marine life at Turtle Hospital in Marathon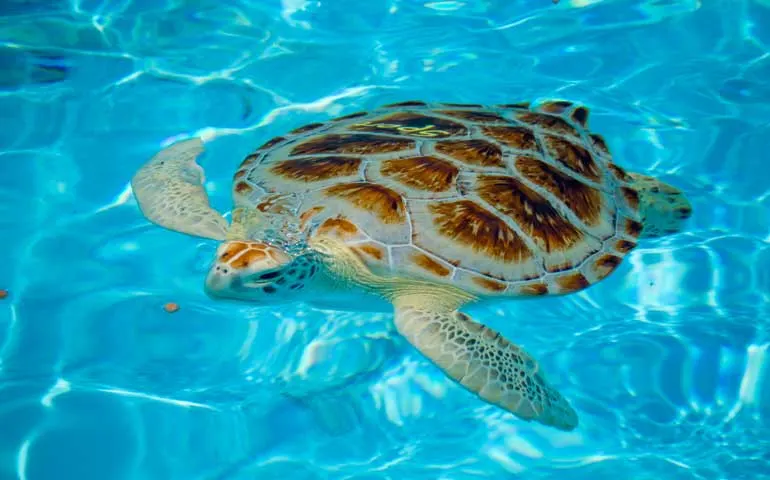 Just with any other road trip, I love the endless freedom of just stopping wherever I want and do just the things that come up. Same was the case for my Florida road trip a while back. On my way to Key West, I read a sign indicating a turtle hospital. Being an avid diver, there was no way I was driving past it.
The Turtle Hospital is located in Marathon, and I highly recommend taking the time to tour through the facilities. The tours run between 9 am and 4 pm on the full hour and take about 1.5 hours. To take part currently costs $27 USD. Think of it more as a donation rather than an entrance fee.
Because it is a working hospital, you are not allowed to wander around without supervision, but believe me, you won't regret joining the tour. The staff provides a lot of interesting background information about the hospital and its inhabitants.
We were allowed to visit an OR as well as the outdoor pools. This is where many turtles recover and to be then released. I'm sure you'll like this educational visit on your road trip around Florida.
Location: 2396 Overseas Hwy, Marathon, FL 33050
Recommended by Viki of Chronic Wanderlust
Miami to Key West road trip: halfway there
Marathon is just over halfway from Miami Beach to Key West. So if you're planning to take multiple days with this fantastic Florida road trip, you could stay in Marathon to break up the drive.
Seven mile bridge on Highway 1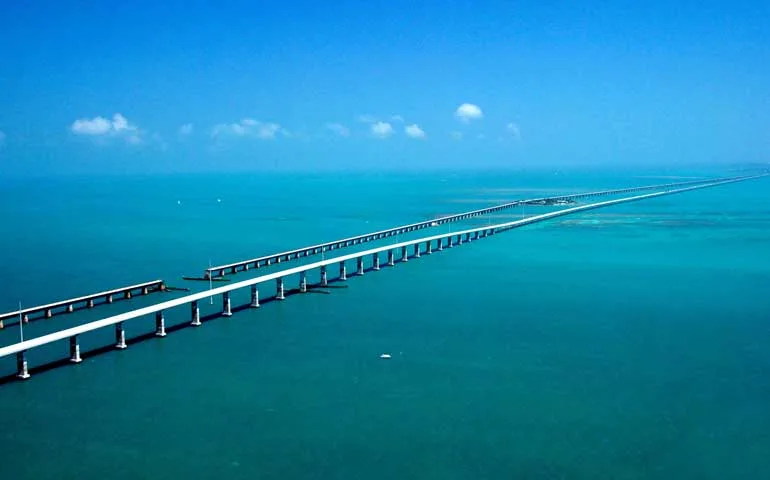 Alright so this one's an easy one. If you're on the drive to Key West from Miami, this will automatically be included. 🙂 The 7-mile bridge is just that – a bridge that doesn't touch earth (except under the ocean) for 7 miles. It's one of the most fun sights along one of the best US road trips!
Right as you're leaving Marathon Key, you'll hit the bridge. Plan carefully – once you're on the bridge there's no turning back until you're done!
Pro tip: stop at the Sunset Grille & Raw Bar to take photos of the 7-mile bridge before entering it. There's also an entrance plaque on the opposite side of Highway 1, near the Florida Keys Overseas Heritage Trail.
Recommended by me! Nikki of She Saves She Travels
Rest and relax at Bahia Honda Key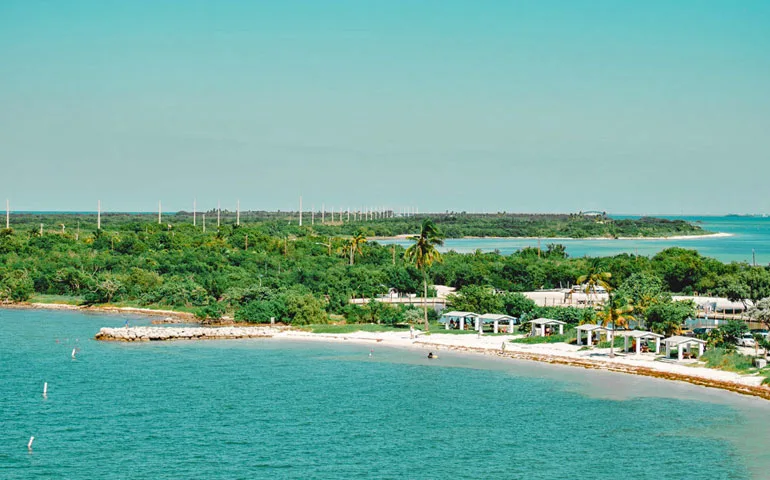 Bahia Honda State Park located on Bahia Honda Key at mile marker 37, is the perfect stop on your road trip from Miami to Key West. Take a little swimming break at the pristine beaches in this park. Not only is the water calm and crystal clear, but there's the Bahia Honda Railway Bridge that you can take a walk on for a great view of the beach.
We loved Calusa Beach in Bahia Honda for a quick dip to break up our long drive from Miami. The water here is the perfect turquoise, shallow, and placid. Making a great spot for relaxing and families with young children. And you have a view of the Railway Bridge from this beach!
The park is open from 8am to sunset and there is an $8 entrance fee per vehicle. The $8 is well worth it for such a beautiful beach!
Recommended by Diana of Sea of Blush
You might also be interested in:
Beach Vacation Packing Guide (Including a packing checklist)
15 Things to Pack on a Road Trip with Kids
More places to stop on the drive from Miami to Key West
There's so much goodness coming from these bloggers…here's a few more things to do on the drive to Key West from Miami.
Snorkel the reef at Looe Key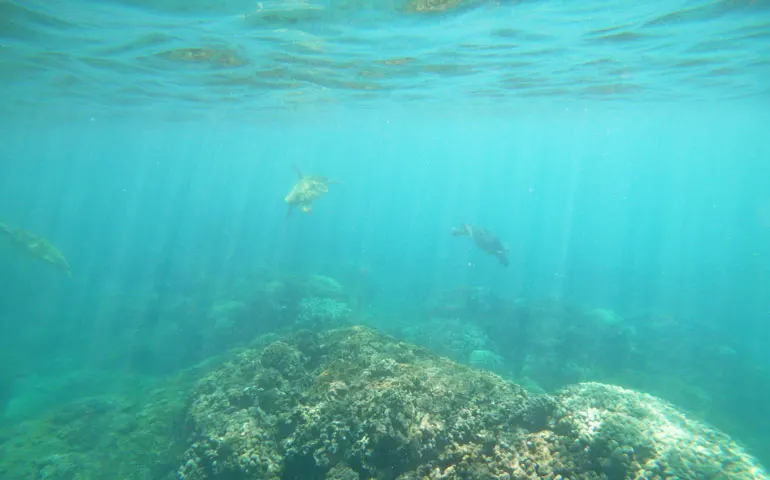 Right outside of Big Pine Key is a special place, perfect for snorkeling. Part of the Great Florida Reef, Looe Key is the spot in the Keys to spend a day snorkeling on these gorgeous blue waters.
You can take a tour to Looe Key to see the incredible reef. Swim with sea turtles, rays, colorful fish, small(ish) sharks and so much more!
Tip (not pro, just life in general): if your husband sees a reef shark while snorkeling, don't let him grab the camera and swim after it. Arguments occur for years later…
Check out snorkeling tours at Looe Key here.
Pro tip: make sure you're packing reef-safe sunblock for any water activities. This is my favorite snorkeling-approved sunblock that actually smells fantastic. You can get it on Amazon here.
Recommended by me! Nikki of She Saves She Travels
Kayak the mangroves at Geiger Key (my favorite of all the places to stop on the drive from Miami to Key West)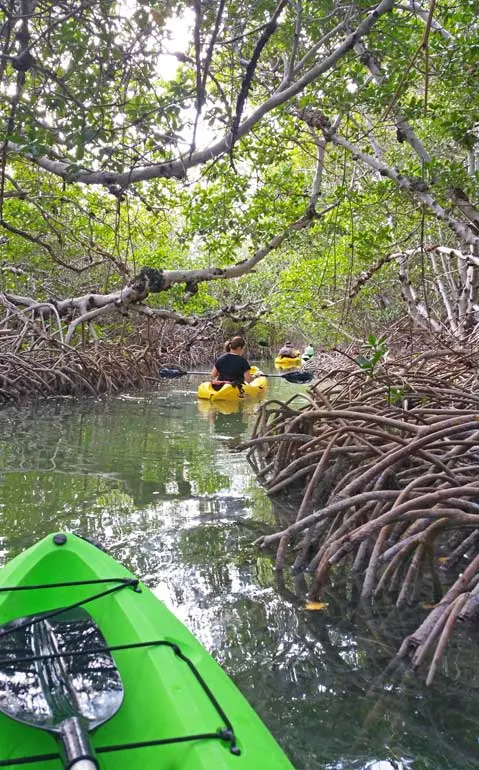 One of the most amazing experiences I had on my road trip from Miami to Key West was my time kayaking in Geiger Key. Of all the places in the world I've ever kayaked, this was one of my most favorite!
Kayaking in the Florida Keys is special because you can kayak through islands of mangroves. Basically, mangrove trees make cave-like tunnels where you can explore nature at it's finest.
While there's many places to go kayaking in the Florida Keys, I especially liked Geiger Key because the water is so shallow near the mangroves that you can see a ton of interesting marine life. From star fish to jelly fish, horshoe crabs, sea sponges and a lot more.
Here's the kayaking tour I took on my vacation and would highly recommend it!
Kayaking the mangroves is one of the best stops driving to Key West. If you're staying in Key West for a few days, just a short drive to Geiger Key will allow you to take a break from the noise of the city and connect with nature.
Recommended by me! Nikki of She Saves She Travels
Final destination on this Florida road trip: Key West
Key West is such a good time, I simply haaaave to include a few things to do in Key West during an epic road trip like this one. Here are a few of my favorites!
Rent a bike and drive down Duval Street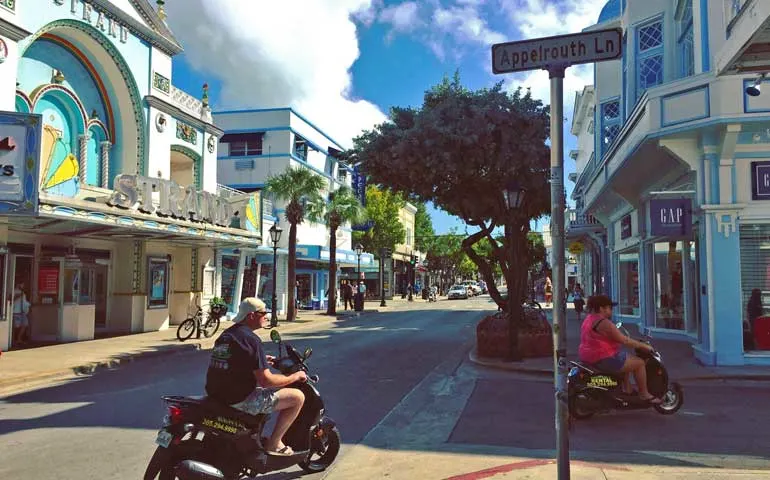 In Key West, rent a bike and explore this tiny island but filled with rich historical and cultural impacts. You could rent motorcycles or bycicles, depending on your style!
The streets on the island of Key West are in grids and it's very easy to navigate. Seek out some of the most popular "southernmost" locations, from the southernmost point, the southernmost café, the southernmost hotel to the southernmost shop.
Duval Street is the main street with lots of restaurants, souvenir stores, and historic Art Deco buildings. Go for a movie at the historic movie theatre, and take pictures of the Goods Store, Joe's bar, and many others. Stay alert as you are biking on the road as you will see a lot of chickens roaming on the sides!
After a good exercise, chill out in a roadside cade and you just have to taste the island's signature dessert – the key lime pie. Only those authentic pies are white in color.
There are a couple of shops or hostels around Mallory Square with bike rentals. To finish your day, head to the waterfront and view one of the most beautiful sunsets in the Caribbean.
Recommended by Kenny of Knycx Journeying
You might also like:
28 Underrated Travel Destinations in the US You Need to See
Which is the Best Island in Hawaii to Visit? Take the Quiz to Find Out!
Tour and taste Papa's Pilar Rum Distillery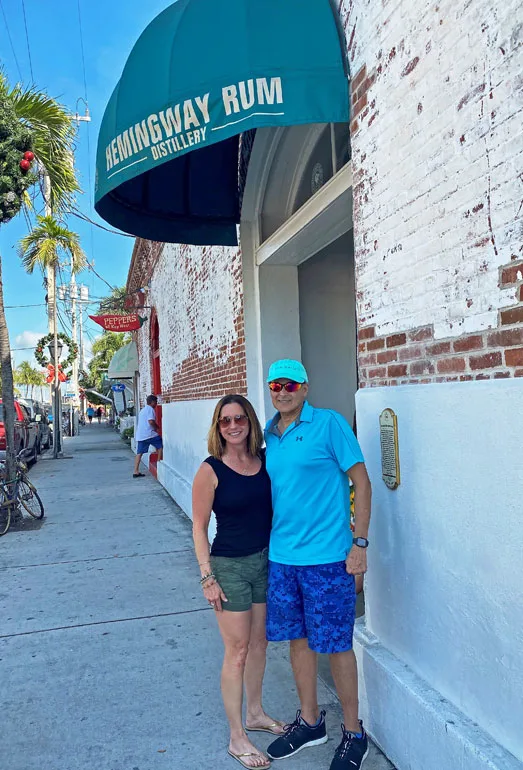 The 10 traffic lanes leaving Miami turned into 2 lanes. The highrise buildings replaced by one-story nautical boutiques, key lime pie selling restaurants and mangroves. And the noise of the city turned into a soft breeze and the birds singing – the color changes to green.
On my drive to Key West from Miami, I only had 2 things on my list (well 3 if you count the Champagne); relax and tour Papa's Pilar Rum Distillery in Key West.
Ernest Hemingway has been a lifetime love for me. From running with the bulls in Pamplona to sipping wine in Venice, eating fresh-caught seafood in Key West, drinking rum, and reading his words, I have tried to be his top fan. I was over the moon to be able to tour the distillery during our visit to the Florida Keys.
Papa's Pilar Rum Distillery, housed in an old tobacco warehouse, costs $10 per person. The behind-the-scenes tour takes about 30 minutes. Then you get to taste not 1, not 2, but 3 shots of goodness.
And Papa's Pilar Rum tasting did not disappoint. Try them all, the blonde, the dark, and then mix them – delicious, smooth as butter, sippable, fresh, and sweet like a birthday cake.
Beyond teaching the creation of this lovely rum, Captain Kirk, our tour guide, told entertaining Hemingway stories and secrets. Fun fact: Papa's Pilar Rum Distillery is the only business in Key West that the Hemingway family is still involved in.
Location: 201 Simonton St, Key West, FL 33040
Recommended by Jennifer of Traveling Party of 4
Visit the southernmost point in the continental USA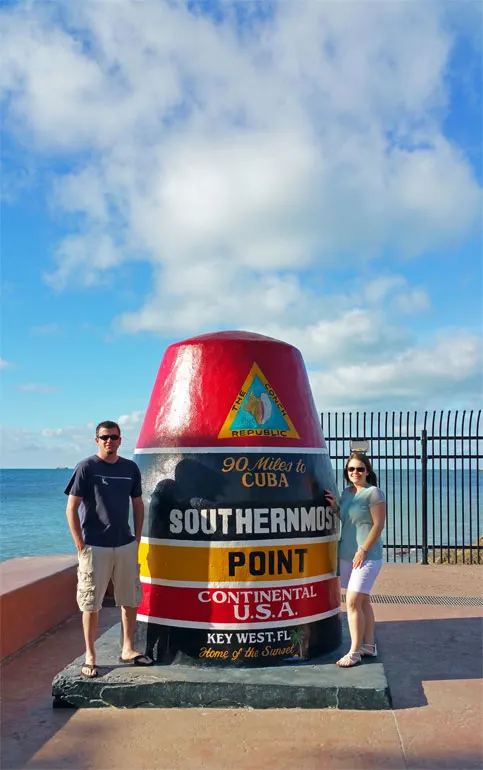 Probably the most photographed spot in all of Key West, the southernmost point is one of the top things to do in Key West. This concrete buoy is an insta-worthy photo opp, and quite the attraction.
During our week-long trip down the Florida Keys, we stopped by the famous landmark several times before grabbing a photo. There's often long lines, so chose non-peak hours to avoid the wait.
Pro tip: Early in the morning or later in the evening is the best time to grab a pic with the shortest line. (Key West is a popular destination for cruises, which can mean thousands of people flood the island during the day.)
If you come during the off, season, like September, October or Key West is even one of the best places to visit in November, you may find shorter lines and less crowding vs. the summer or over winter or spring break.
Location: Whitehead St &, South St, Key West, FL 33040
Recommended by me! Nikki of She Saves She Travels
Explore the popular Mallory Square and catch a sunset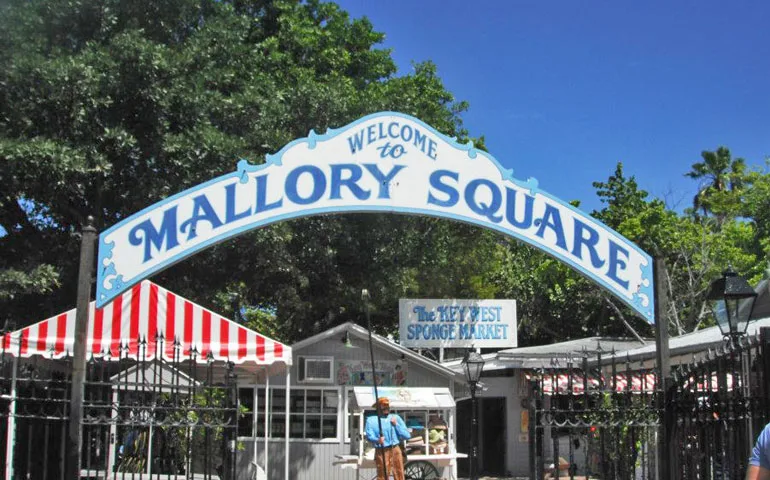 Mallory Square has long been an area of commercial and social events in Key West. Today it is the hot spot for nightlife and entertainment, as well as one of the best locations to view the Key West sunset. Mallory Square has lots to offer visitors, including entertainment, shopping, social gatherings, great food and stunning views!
If you are visiting Mallory Square, the evening time is the best option as it will allow you to capture a gorgeous sunset. Mallory Square also comes to life with performers and entertainers, including performances such as a sword swallower, unicycle riders, musical performances, psychics, and or course refreshment stands offering tropical drinks and delicious snacks.
If you're visiting with children, Mallory Square is also home to many great attractions that are located within or just outside the square, such as the Key West Aquarium, the Key West Shipwreck Museum, and Ripley's Believe It or Not Museum.
One thing that you must try while visiting Mallory Square are some key lime treats! Visit Kermit's Key Lime Pie Shop near the entrance to Mallory Square for a variety of treats, including Key Lime cookies, Key Lime salsa, Key Lime taffy, Key Lime jelly beans, and of course Key Lime Pie.
Depending on what you want to do in Mallory Square, I would recommend at least 3 hours, but you could certainly spend half a day (or more!) in Mallory Square and it's nearby attractions.
Recommended by Melissa of Navigation Junkie
Dine at Latitudes in Sunset Key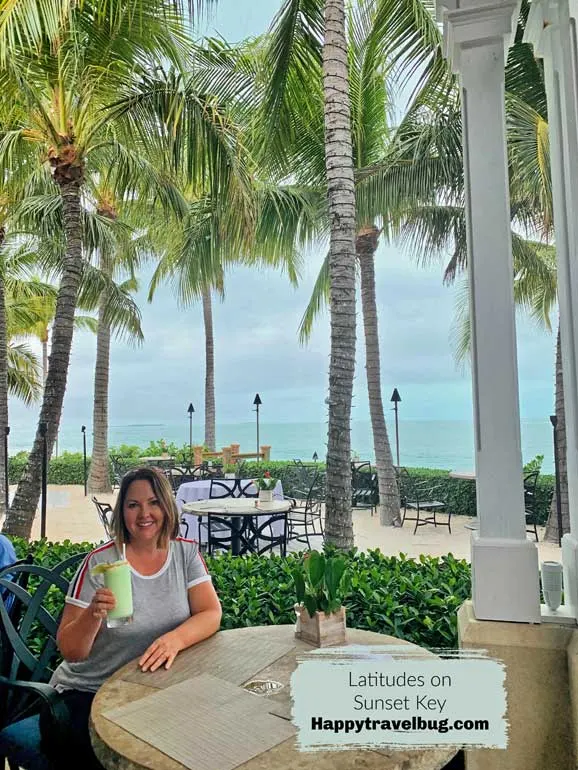 Sunset Key is a little private island off of Key West that has homes, a 4-star hotel and a restaurant. In fact, you can see it while watching the sunset from Mallory Square. You have to take a private boat to get there. And you must have reservations for the hotel or the restaurant to even get on the boat.
That's how I went to Sunset Key. I made reservations for their upscale restaurant, Latitudes. The trip over gives you views of Key West, as well as all around Sunset Key. I enjoyed a lovely lunch overlooking the water with the palm trees swaying.
The atmosphere is fantastic. Of course, I had a Key Lime Colada because you just can't get enough of those when you're in the Keys. After a relaxing lunch, walk around the island to check out Sunset Key Cottages, the 4-star hotel.
The boat back to Key West runs every 30 minutes. Dinners fill up well in advance, so get your reservations in early for that. So go, relax, you're on island time now!
Recommended by Sonja of Happy Travel Bug
Day trip to Dry Tortuga National Park (Fort Jefferson)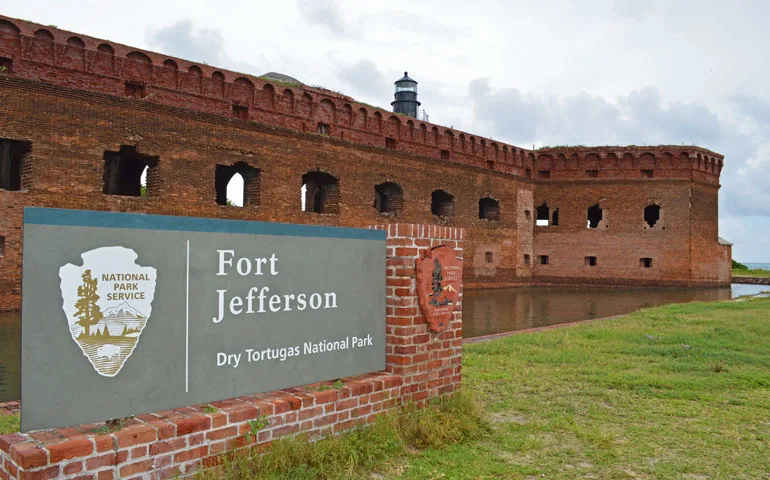 One activity not to miss when visiting Key West is the Dry Tortuga National Park. You can get to the Island via charter boat, seaplane or a ferry, you can pick the one that best suits your budget.
The ferry seems to be the most popular option and they provide a continental breakfast and light lunch. It departs promptly at 8 am and returns around 5:15 depending on the water conditions. There is also an option to camp overnight on the island if you are adventurous.
The Fort is full of history, you can take advantage of a 45 minutes narrated tour of just explore on your own with many photo opportunities. The ferry also provides snorkel gear or you can also bring your own and enjoy the beautiful water and sea life that calls that home.
Pro tip: snorkeling is beautiful at Dry Tortuga National Park but beware of jellyfish. It varies by day but the jellyfish can be overpowering so keep it in mind if you're planning to get in the water.
Recommended by Patricia of Travel Fam Life
Enjoy key lime pie at Blue Heaven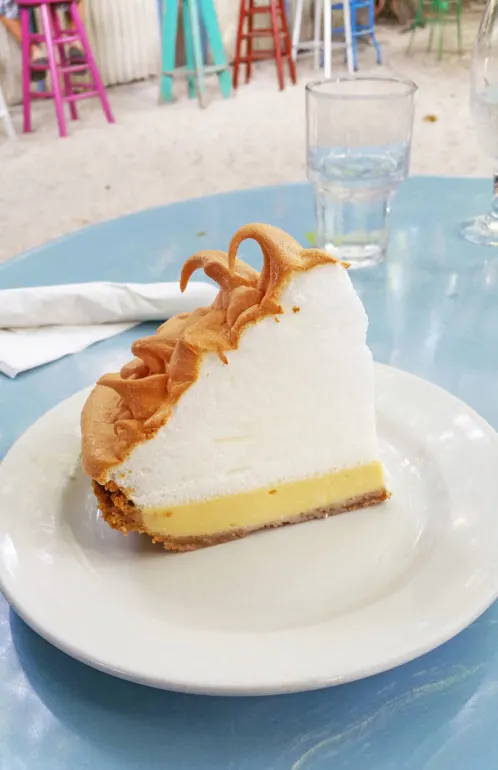 Listen, I don't really even like key lime pie but knew I had to try it in Key West. After all, it's a staple on the island! But after venturing around town, finding the famous Highway 1 sign and almost getting swallowed by the huge Kapok tree, I ventured over to Blue Heaven to try a slice.
The verdict? It was fantastic! The delicious meringue-whipped heavenly delight melts in your mouth like no pie you've ever tasted.
One of the things I loved most about Blue Heaven was the vibe. It's super casual, outdoor seating was relaxing as we enjoyed a cocktail on the island. Oh, and the free-roaming chickens give you plenty of entertainment while you eat your pie.
Location: 729 Thomas St, Key West, FL 33040
Recommended by me! Nikki of She Saves She Travels
Miami Beach to Key West road trip – that's a wrap!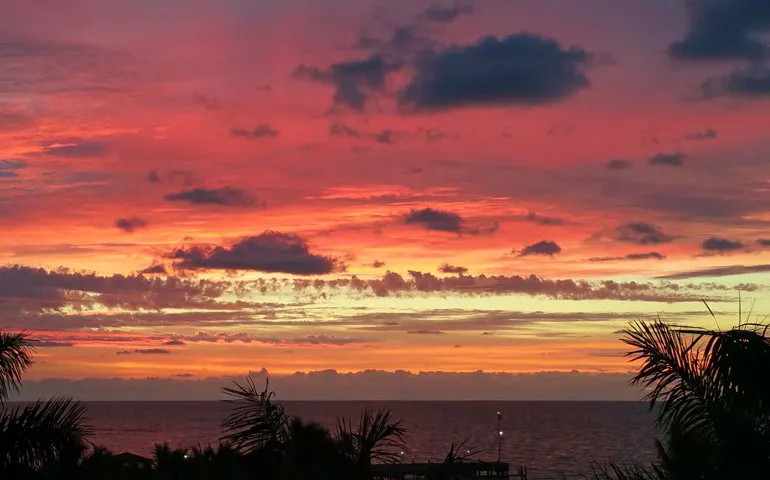 This guide has gone through a few things to do in Miami, a few things to do in Key West, and a ton in between. From water activities to filling your belly, soaking in some history and marveling at marine life, there's plenty of places to stop on the drive from Miami to Key West.
With vivid blue waters that will make you swoon and island breeze that the best vacations include, be sure to plan plenty of time lounging at the beach, too!
Real quick: we all love the turquoise green water of the Florida Kays. But in recent years there's been red tide, toxic algae blooms, seagrass die-offs and fish kills due to 150-year old decisions of water mismanagement in Florida.
Captains for Clean Water is trying to change that by providing education and funding for the Comprehensive Everglades Restoration Plan, which restores Florida's natural waterways, and reduce these toxic (not to mention unpleasant) extreme algae occurrences. Consider supporting this non-profit to ensure future trips to the Florida Keys are enjoyable. (And bonus – they rate 80 by Charity Navigator, so give with confidence. 😊)
Alright so I want to know, what stops are your favorites on the list? Comment below with your must-do activities!
Related content you might like:
26 Best Gulf Coast Beaches Perfect for Vacation
Road Trip of Adventure: 16 Scenic Stops from Denver to Moab
25 Awesome Things to Do in Anna Maria Island You'll Love
Perfect Colorado Itinerary: 22 Road Trip Stops You Need to See
16 Best Midwest Road Trips: Scenic Routes You Can't Miss
Find this post helpful? Save it for later or share it on social media!