Thinking about a vacation to the Gulf Coast? With it's pristine white beaches and plenty of things to do, you're going to have a great time. But in the battle of Destin vs Gulf Shores – who wins?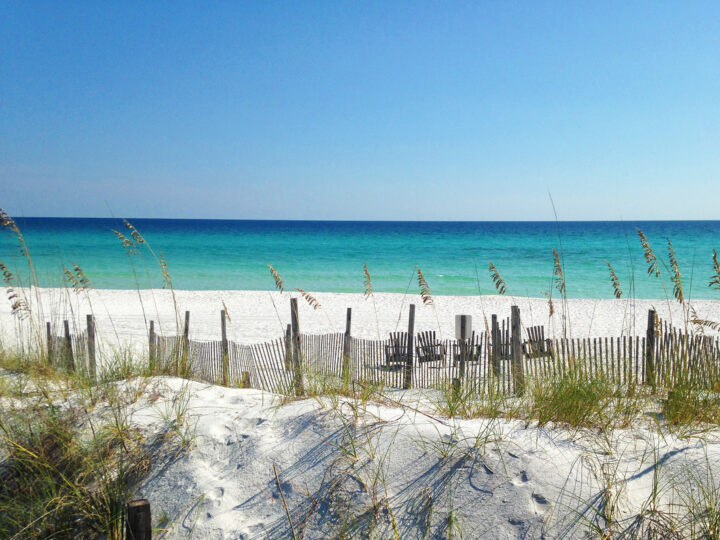 This post may contain affiliate links. For more info, see my disclosures.
It's a really great question! What's the best spot for vacation along the Gulf Coast? Whether you're traveling as a couple, family, group (hello bachelorette parties) or solo, there's lots to consider!
I've vacationed at the Gulf Coast many times and honestly, I love both the Destin area and the Gulf Shores area! It's one of my favorite spots in the USA to vacation, so you really can't go wrong.
But for the sake of it, someone's gotta win in the battle Destin vs Gulf Shores…..right?!
Gulf Shores vs Destin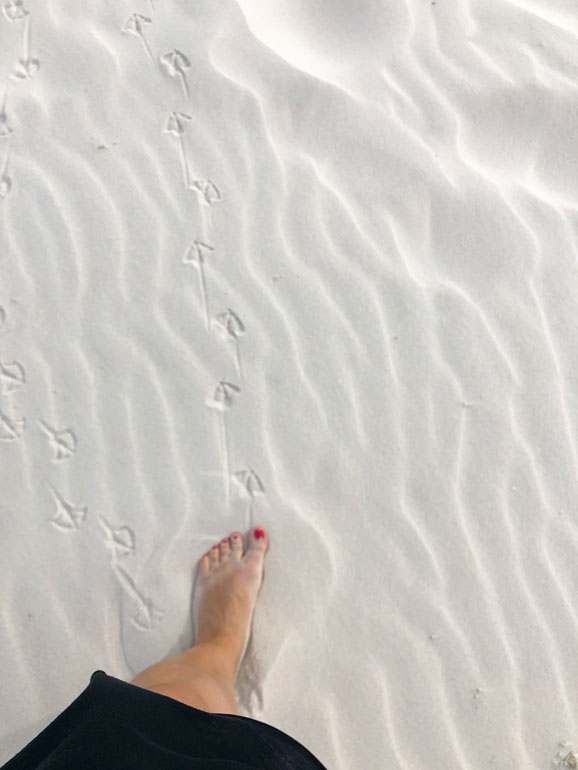 I'm breaking this comparison guide into categories. Each category below will have a winner. And the areas that matter most to you will help you decide where to vacation!
Let's get to it!
Best Gulf Beaches
Alright you cannot talk about the Gulf Coast without the crisp, white sand beaches. So let's start there. Destin and Gulf Shores both have pillow-soft, white sand. It's the kind dreams are made of…honestly.
And better yet, they go for miles! So take your long walks on the beach literally and have fun exploring the area!
So for this category, it's a tie!!
Pro tip: when visiting Gulf Shores or Destin Florida beaches, or any beach for that matter, make sure to pack ocean-safe sunscreen. This one is my favorite reef-safe sunblock and bonus – it smells awesome, too.

Gulf Shores vs Destin – comparing on price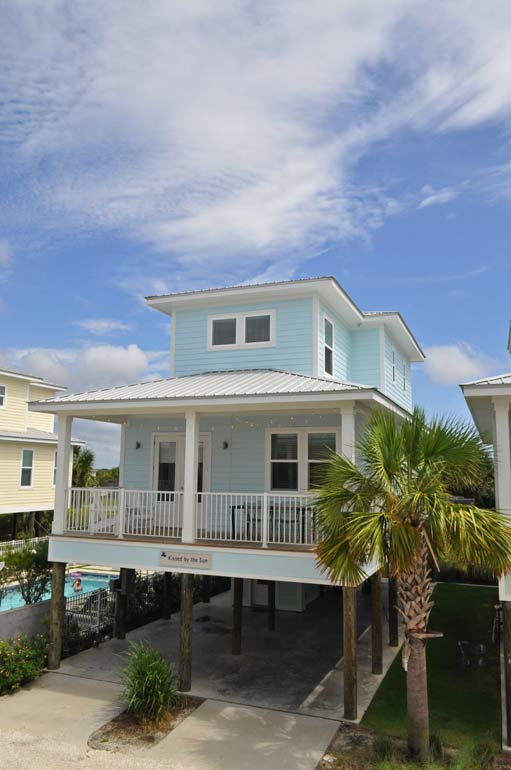 Next, because I love to find a good deal on travel (who doesn't?), let's rate each destination based on price. There's good news and bad news with this one….both destinations can be pricey!
You'll find luxurious accommodations in both cities. Destin and the surrounding area is larger and therefore has more accommodations in general, so you might have more luck finding a more affordable option if that's what you're looking for.
But honestly, you can still find affordable accommodations in Gulf Shores and surrounding area, too.
Related: Best Budget Travel Tips You Need in Your Life
To find the best deal on accommodations in any spot along the Gulf Coast, consider these tips:
Look further inland. Beach views come at a premium.
Find accommodations with a kitchen or kitchenette. Grab a few, quick meals at the store to keep costs down.
Travel during the off-season. Memorial Day through Labor Day will naturally cost more for almost any destination!
Gulf Coast vacation price comparison
Still more to compare for price here!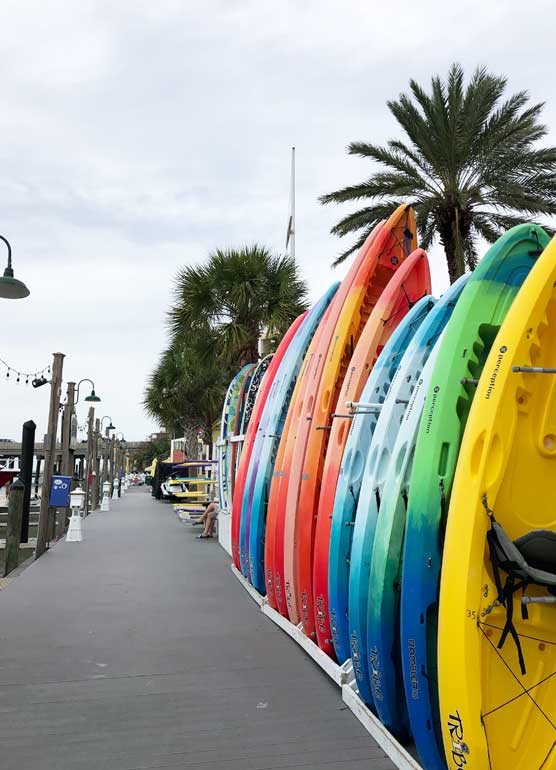 As far as activities go, I think Destin tends to be more pricey. It seems like the businesses know it's a tourist destination, so they price accordingly. However, Gulf Shores or Destin both have activities that are free – like beach days! And there are a ton of entertainment choices that will cost ya.
For food, both destinations seem to be pretty even. You'll be able to find amazing restaurants with views of the water that are priced at a premium. Or you can find local good eats off the main tourist strip for a deal. It's nice to have options, isn't it?
Related: 12 Fun Places to Eat in Gulf Shores
Okay, so Gulf Shores vs Destin… in this category I think Destin is slightly more expensive. So if you're looking for an affordable spot…Gulf Shores wins!
Destin or Gulf Shores – who wins??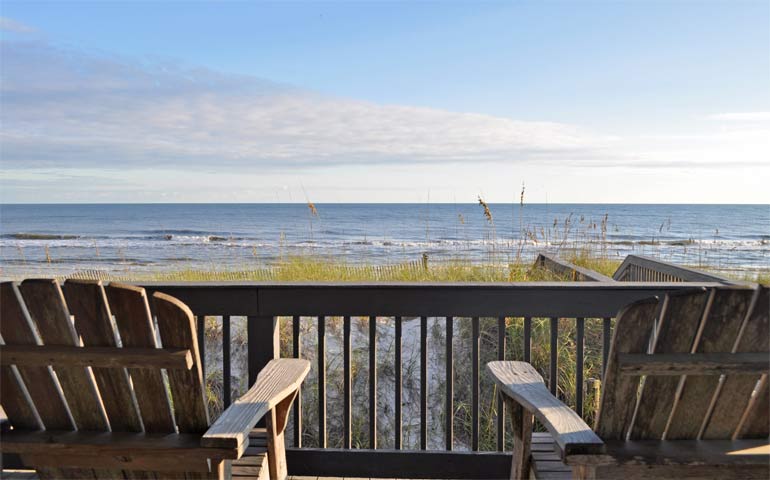 Eeeek! I'm so excited for you to go to either destination. Start preparing yourself now for those gorgeous turquoise waters!
Destin nightlife vs Gulf Shores nightlife
It's easy to vacation in the Gulf Coast and close the bars down. Or bring your bachelor/bachelorette party to Gulf Shores or Destin. My first few trips down to the area were definitely more lively than the last couple with kids in tow!
Anyway, because the Destin area is larger than the Gulf Shores area, there's simply more options. There's also more bars closer together in Destin along the main strip than Gulf Shores.
While you can definitely have a good time at both Destin and Gulf Shores at night, Destin wins this one!
Which destination is more family-friendly?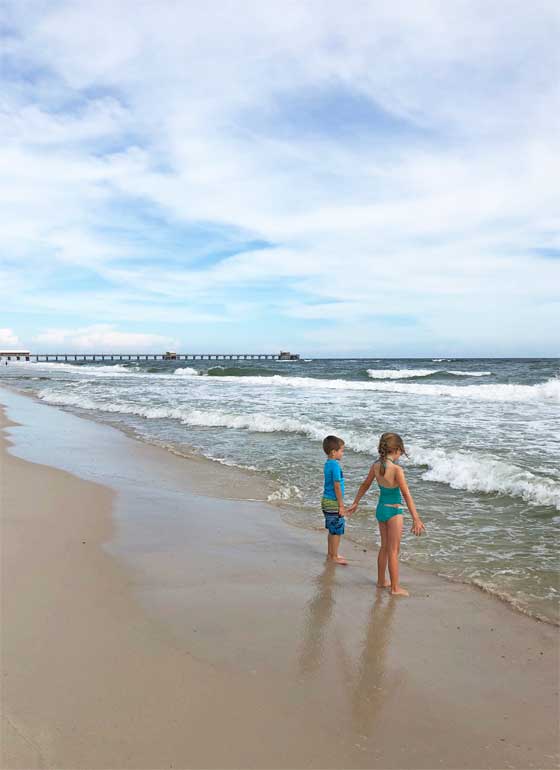 Let's go on the flip side and evaluate each destination for families. I've visited both areas with my family, and both are truly amazing locations to create tons of memories!
With lots of kid-friendly things to do in Gulf Shores and Destin, either spot is fun for families. From free beach activities, arcades, mini golf, zip lining, dolphin tours, literally anything for families!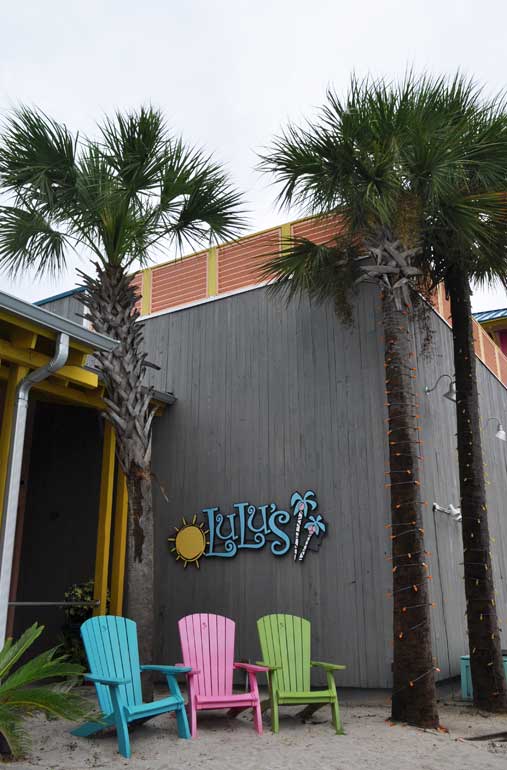 One of my favorite things I've done on the gulf coast with my family is go to Lulu's. It's a restaurant owned by Lucy Buffett, Jimmy Buffett's sister. It's a great time for kids and adults, complete with tons of adventure activities.
And the best part is there's a Lulu's in both Gulf Shores and Destin!
Another giggle-inducing time for both kids and adults is go-karting at The Track. My family had so much fun here, and it's a perfect way to take a break from the beach!
Same thing is true – The Track is located in both Destin and Gulf Shores!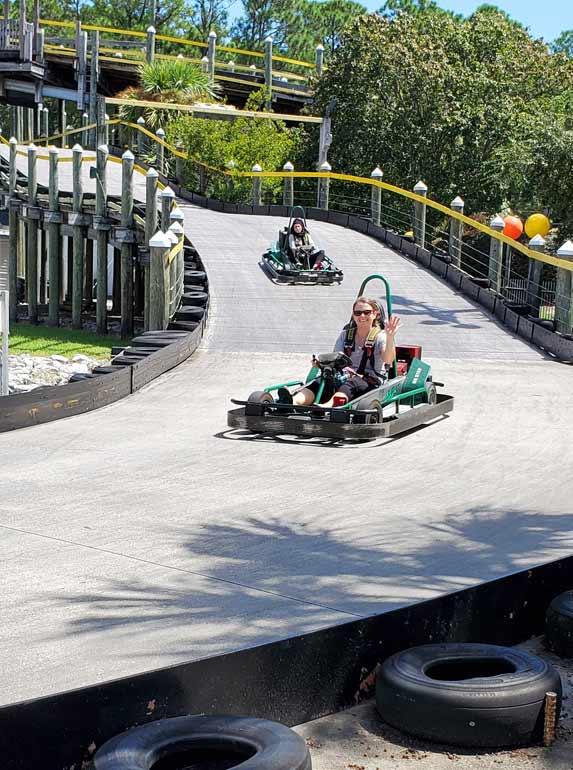 Here are a few more of my favorite family-friendly activities in Destin:
And a few of my favorite family-friendly activities in Gulf Shores:
So I think in this battle of Destin vs Gulf Shores, we've determined that both destinations are family-friendly at this point. However, I lean towards Gulf Shores because it still has that small-town feel and there just seems to be fewer people doing crazy things. And as a parent, local culture and less negative influence is better in my opinion.
So for families, Gulf Shores wins!
By the way, if you love family-friendly beaches, check out the 25 best things to do in Anna Maria Island! It's another really fun beach vacation spot.
Best shopping along the Gulf Coast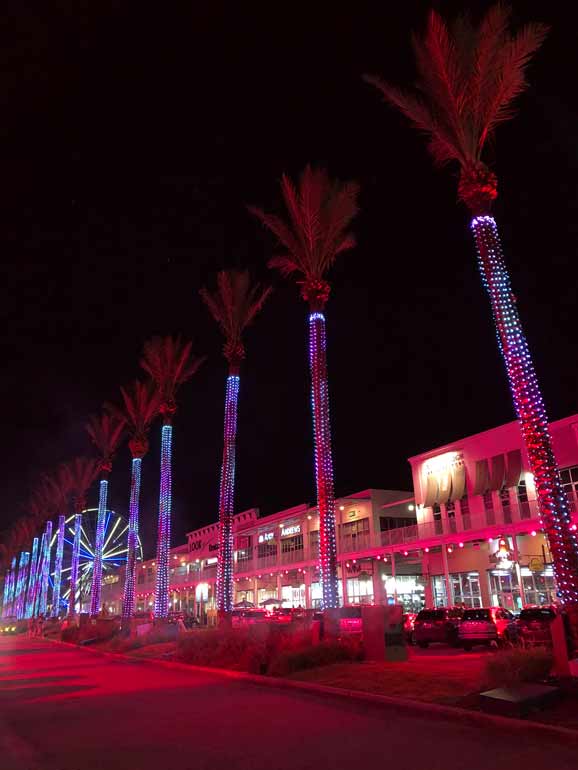 Okay, so what if one of the activities you want to do is go shopping during your vacation to the Gulf? Well, you're in luck because both Destin and Gulf Shores have great shopping options.
If you're looking for shopping and entertainment in Destin, you need to go to Harbor Walk Village. In addition to boutique stores and awesome restaurants, you'll find zip lining, rock climbing and many other carnival-style games.
For your shopping and entertainment combo in the Gulf Shores area, head over to The Wharf at Orange Beach. Fun shops and water-view dining are just the start – you'll find a Ferris Wheel, light show, live music and so much more.
To wrap up this category, let's talk for a second about the outlet mall in Destin, Florida. It's one of the largest outlet malls in the Southeast, with over 100 stores.
Because of the outlet mall, I'd say Destin wins this category.
Destin vs Gulf Shores: ease to travel to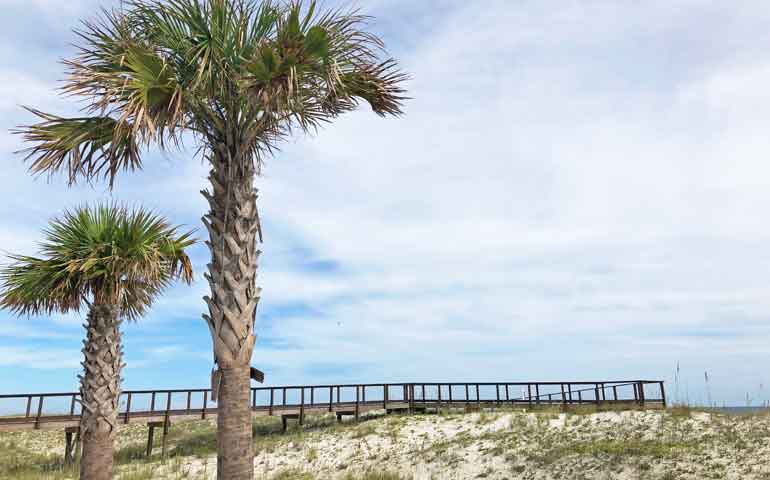 In an article comparing Destin or Gulf Shores, this category clearly depends on the location you're traveling from and how you're getting there. The city of Pensacola has a pretty good sized airport, so if you're flying in you'll likely end up there.
Bonus – the Pensacola airport is located right between the two cities so it's easy to either city.
If you're traveling via car, the ease of getting into Gulf Shores or Destin obviously depends on the proximity and direction you're traveling from. However, both are about the same in terms of nearby highways and interstates.
So for this category of Destin vs Gulf Shores, it's a tie!
Oh, and by the way, if you're looking for any spot to vacation along the Gulf Coast, check out these 26 fantastic Gulf Coast beaches for a huge list of options!
Traffic along the Gulf Coast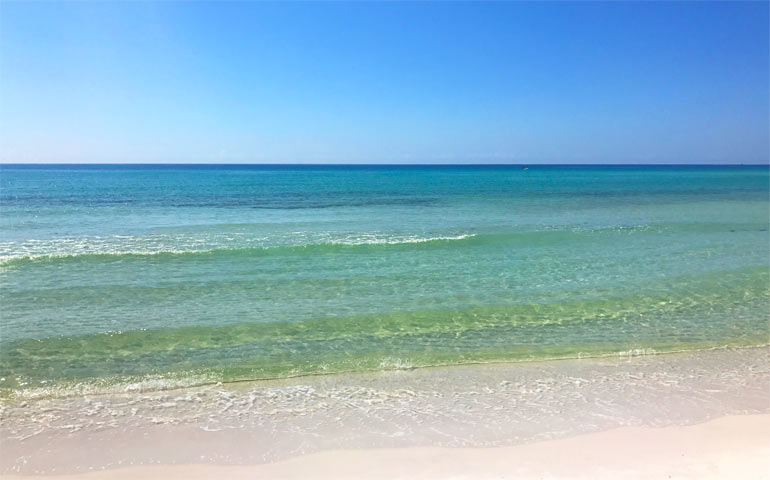 Okay let's talk about one of the least favorite parts of vacation…traffic! In many vacation hot spots in the USA, you're bound to experience some traffic. But let me tell ya:
Gulf Shores wins this category.
Here's why: The traffic in and out of Destin, Florida is insane. It can take absolutely forever to drive 10 miles. So unless you're staying right on the beach and within walking distance of everything you need, you're going to experience Destin's traffic.
Alternatively, Gulf Shores does have some traffic, especially along the main strips. Truth is, there are very few road options because it's a tiny strip of land connected to the mainland by bridges. (The same is actually true for Destin too.)
With limited roads, you're forcing all the traffic heading to the best Gulf beaches…or hotels/condos with beach views in the same general area. So the traffic isn't fun at either location. But, is traffic ever fun??
The good news is that the roads in and out of Destin are being expanded so hopefully that helps the congestion in the future. 🙂
Destin vs Gulf Shores – who wins?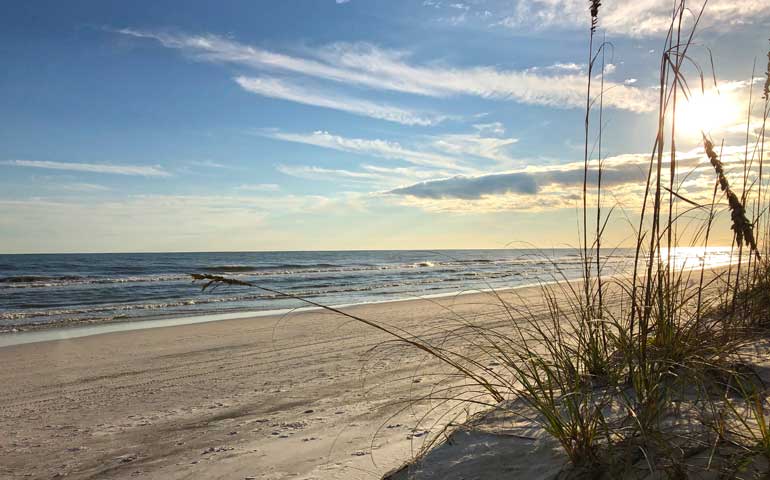 Alright so have you decided which amazing destination ''wins' in your opinion?
To be honest, you really can't go wrong!! Both Gulf Shores and Destin have amazing food, accommodations, activities and of course – beaches!
I hope this article helped you to decide and that you have a fabulous trip, regardless of the destination! 🙂

More content you might like:
Gulf State Park: 14 Things to Do Plus Best Beaches, Camping & More
35 Swoon-worthy Beach Destinations You Need to See
21 Cheapest Island Vacations that are Surprisingly Affordable
Miami to Key West Road Trip: 22 Awesome Activities You Need to Do
2 Days in San Diego: Your Perfect San Diego Itinerary
Exactly What to Pack for a Beach Vacation
Find this article helpful? Save it for later or share it on social media.