Woo-hoo! Spring break! Ready to go somewhere awesome? But are you also watching your spending? #storyofmylife Well here are 35 amazing cheap spring break trips for families that are actually fun!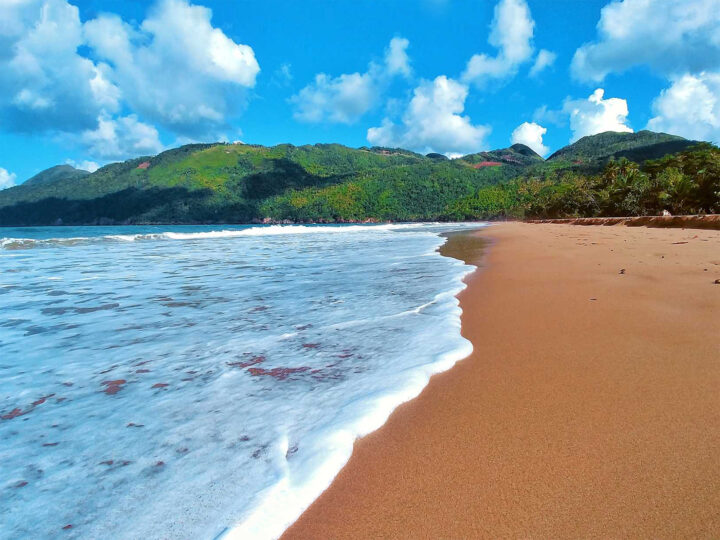 This post may contain affiliate links. For more info, see my disclosures.
So whether you're looking to kick back and relax on a beach, take in some history and go for high adventure, this list has a bit of everything.
As someone who's actively crossing off travel bucket list destinations, I've been a lot of places. But obviously not everywhere so I called in back-up! To create the most comprehensive list possible, some travel blogger friends of mine helped out in creating this list of best family destinations for spring break.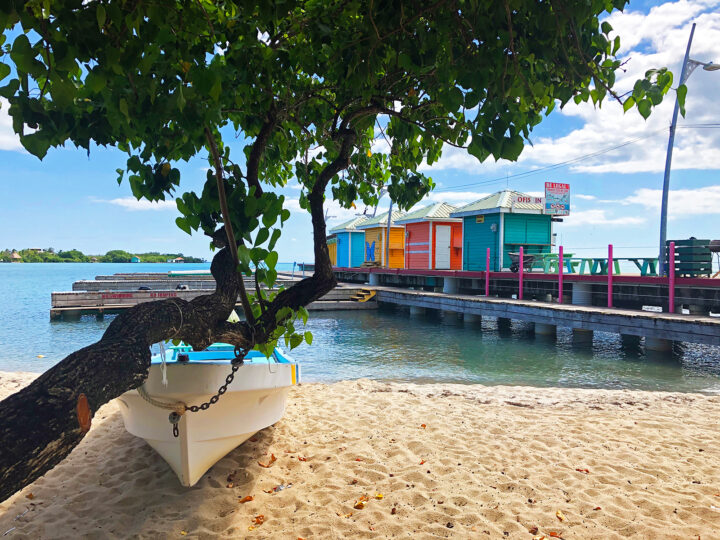 This post may contain affiliate links. For more info, see my disclosures.
And we're covering the globe with this list! We'll start in the USA, then head on over to Asia, Europe, the Caribbean and more!
Map of the best spring break destinations for families
If you're a visual person, here's a map to help you plan a vacation your family will not soon forget! Pinch an zoom on this world map since there's destinations in nearly every region that are attainable on a budget.
Spring break family vacations
Since this list is so vast, we're going to start in the USA and then follow other regions like Europe, Caribbean and more. Be sure to follow the tips and tricks for how to do each spot on a budget!
Here are the best cheap spring break trips for families. Let's do this!
Best spring break destinations in the US for families
The USA is a big place with lots of phenomenal options. So we're going to focus on affordable vacation spots in the west first, then make our way across the country.
1. Phoenix, Arizona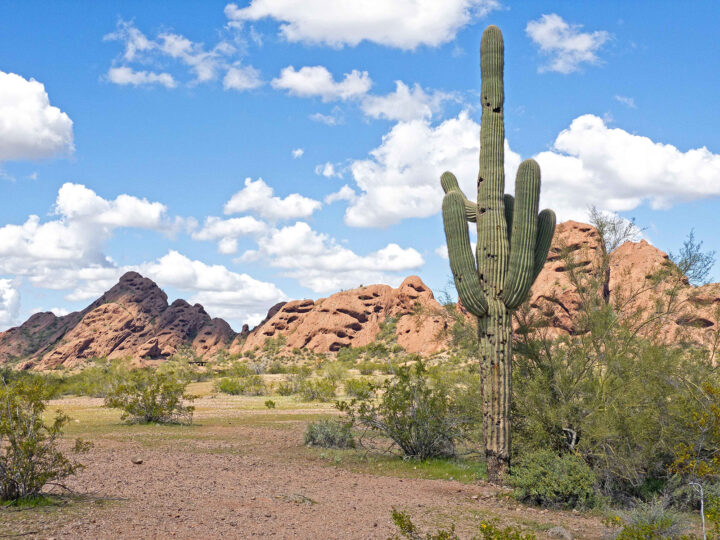 Warm weather and budget-friendly activities make Phoenix the perfect spot for a family spring break trip!
Avoid expensive resorts, and stay at a vacation rental property. The nightly rate won't break the bank, and you can save money by cooking your own meals. Rent a home with a pool and splash around without worrying about crowds or resort fees.
Explore incredible hiking locations around the greater Phoenix area. Admire cacti and sunset views at Papago Park as you trek through the red butte formations. It's perfect for hikers of all ages. Older kids and adults can enjoy a more challenging hike up Camelback Mountain while taking in phenomenal 360-degree views.
Attend Major League Baseball Spring Training any day of the week from late February to the end of March. It's free to watch batting practice and get autographs from up-and-coming stars. And most stadiums offer single-digit ticket prices for your family to relax picnic-style on their outfield lawn and take in the ball game.
Don't forget…Phoenix is only a day trip away from the world-famous Grand Canyon and magical Sedona. Make memories with under the Arizona sun, as Phoenix is the spring break destination for families!
Recommended by Abby of Worth Every Trip
READ MORE: Perfect Phoenix Itinerary
2. Utah National Parks road trip (a favorite on this list of cheap spring break trips for families)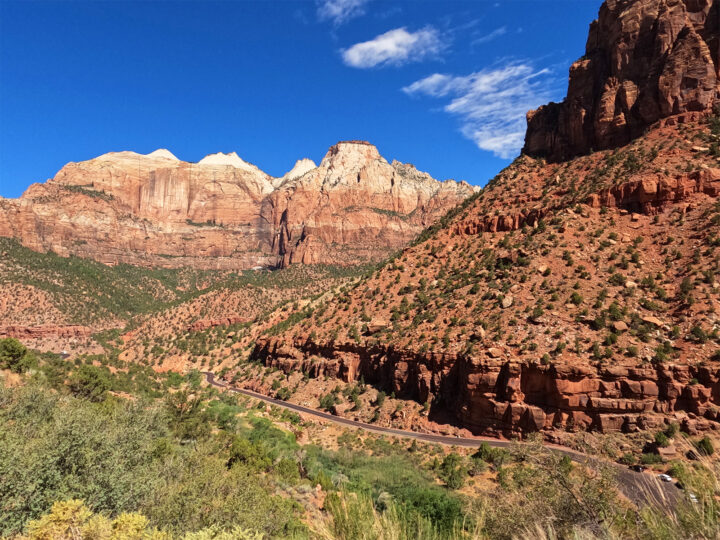 One of the best ideas for cheap spring break trips is to see the Mighty 5 in Utah – Arches, Canyonlands, Capitol Reef, Bryce Canyon and Zion. By taking a Utah national parks road trip, you'll be able to spend time outdoors, which is one of the cheapest ways to vacation.
If you live in Western USA, you may be able to drive to Utah to start your road trip. If you're not very close, your family can fly into Salt Lake City, visit the 5 national parks, then depart from Las Vegas.
Visiting 5 national parks, you'll want to save money by purchasing an America the Beautiful pass. It gets you unlimited national park and federally preserved lands for one fee, instead of paying for each, saving you lots of money.
See massive views at Canyonlands National Park near Moab. Witness unreal landscapes with over 2,000 stone arches at Arches National Park. This park has many short hikes, perfect for young kids!
Then, head west within Utah to Capitol Reef National Park. All ages will love the Hickman Bridge Trial! From there, visit the impressive Bryce Canyon and the crazy hoodoos as far as the eye can see. Be sure to hike the Queens Garden Trail to experience the hoodoos up close.
The last of the Mighty 5 in Utah is Zion. One of the most popular national parks in the country, spring break is a great time to visit. There will be less crowds than in the summer and fall, yet the weather is better than wintertime.
Your family will have fun with so many things to do in Zion with kids! Don't miss hiking the Canyon Overlook Trail, Riverside Walk and the Mt. Carmel Highway scenic drive.
There are so many ways to save money on this trip, including camping or finding budget hotels along the way. The Utah national parks is by far one of the best cheap spring break trips for families!
Recommended by Nikki of Inspired Routes
3. Estes Park, Colorado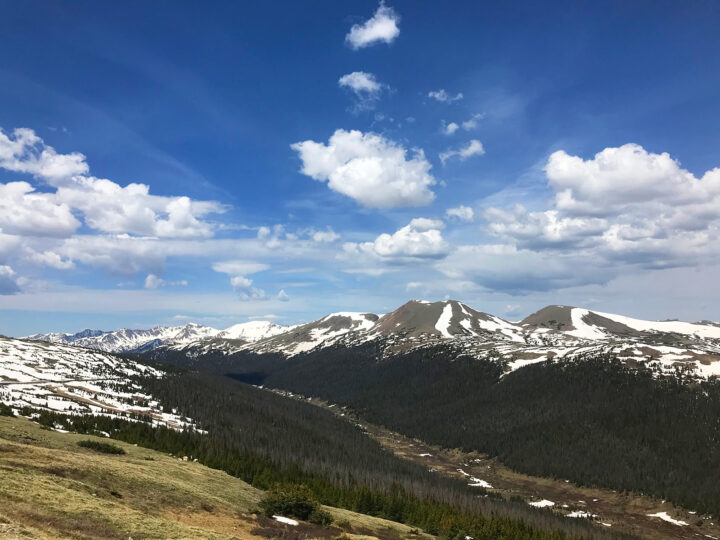 If you are looking for affordable spring break trips for families, then you should definitely consider visiting Estes Park, Colorado. Located at the base of Rocky Mountain National Park, this small town is big on personality.
There are so many affordable things to do in Estes Park, CO that you and your family will be entertained for days!
The most popular attraction in this area is Rocky Mountain National Park. You can spend days hiking the many trails and discovering all of the fabulous wildlife that calls Rocky Mountain National Park home.
In order to save some money on entry, be sure to buy an annual National Park Pass. This pass will allow you entry to all U.S. National Parks for an entire year!
You can also take the kids to do some stargazing at the Estes Park Memorial Observatory, which is free to enter! Or grab a fishing pole and do some fishing at Lake Estes. After all of this, be sure to take some time to explore the downtown area with all of the great shops and restaurants.
Estes Park, Colorado truly is a great destination for families!
Recommended by Michelle of That Texas Couple
Related read: Colorado Road Trip Itinerary – 22 Stops You'll Love
4. Joshua Tree National Park, California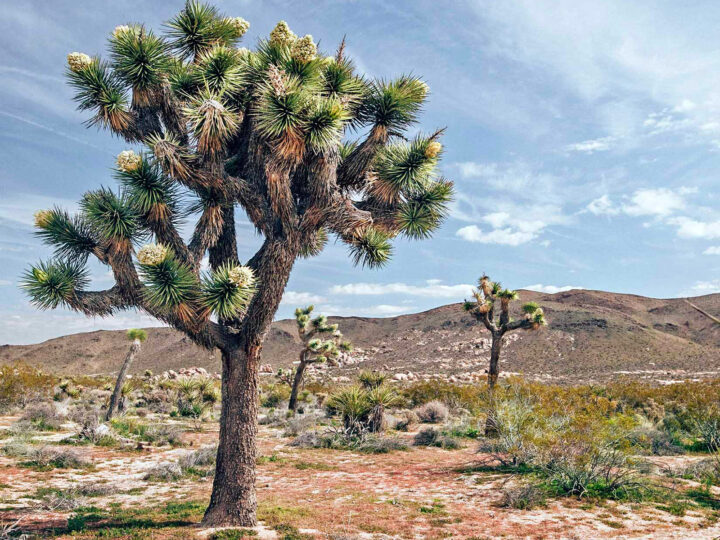 Thanks to the outdoor activities and affordable options for camping and hotels, Joshua Tree makes for a great spring break destination for families!
Spring is the perfect time for a day trip to Joshua Tree as part of a California road trip or a longer stay to really explore the park. The weather makes it an ideal time to visit with cooler mornings and evenings and perfect temperatures for hiking in the day time.
To keep Joshua Tree affordable, your best option is to camp for your accommodations. Campsites start at $15 a night and go up to $25 a night. Make sure to make a reservation in advance if you are visiting in the spring.
For those who don't enjoy camping, there are plenty of affordable hotels near the park as well if you are willing to drive about 20 – 30 minutes to get to the park.
As far as visiting Joshua Tree, entry to the park is $30 for a 7-day pass. If you already have an America the Beautiful pass, entry is free. If not, it might be worth the $80 if you plan to visit other National Parks during the next 12 months.
Once you are in the park, the activities are free. Many of the hiking trails are perfect for kids as they are mostly flat, well-marked, and not too difficult. Joshua Tree is the perfect place to enjoy the great outdoors for an unforgettable time with your family.
Start in LA and head to Joshua Tree, just about 130 miles away, which is one of the best US road trips for your family!
Recommended by Christine of Live Love Run Travel
Related: 28 Absolute Best National Parks to Visit in Summer
5. Sedona, Arizona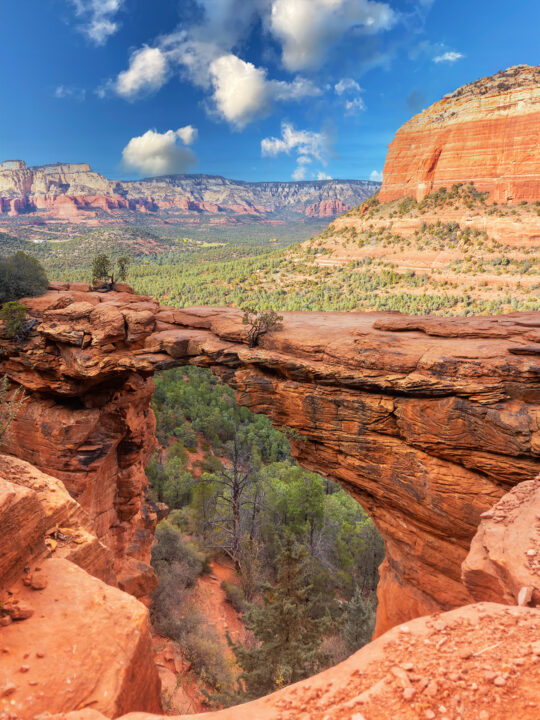 Consider Sedona at the top of the list of spring break ideas for families on a budget! The weather is warm but not too hot and there are endless possibilities of free things to do.
Sedona is perfect for outdoor activities and taking in the beautiful red rocks the area is known for. One of the best places to visit is Oak Creek Canyon and then into Slide Rock State Park. For the adventurous family, head to Oak Creek for rafting, kayaking or tubing and then over to Slide Rock to check out the pools and sandstone rocks.
Hiking in Sedona is a great way to see the scenery and for a $5 Red Rock Pass, you will have access to several different hikes in the area.
One of the most popular hikes is Devil's Bridge. This is a 4 mile easy hike that takes you to a natural red rock bridge in the area. If you have a 4×4 this hike is only a two mile hike, making it even easier for kids. Make sure you bring plenty of water and go early!
Sedona also has affordable places to stay. You can check out these incredible Airbnbs in Sedona for some family friendly accommodations.
Sedona is one of the best spring break destinations for families, with it's outdoor adventure, great weather and affordable accommodations.
Recommended by Nicole of American SW Obsessed
6. Yosemite National Park, California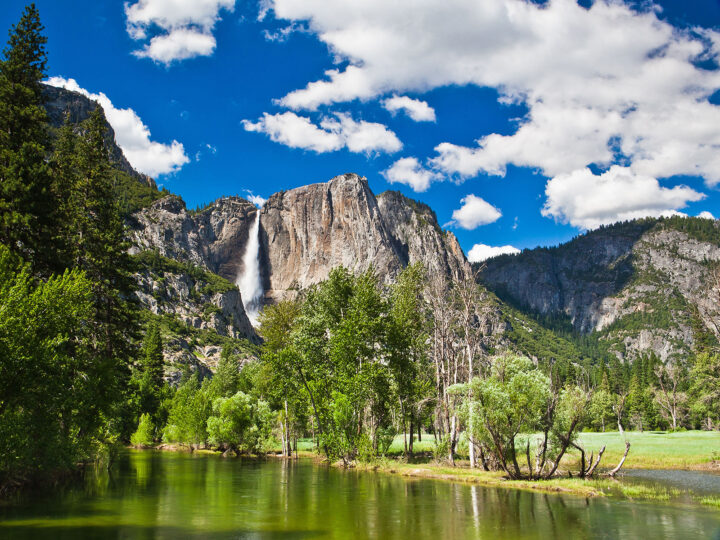 The vast Yosemite National Park is an outdoor destination situated in the green heartland of Central California. It's truly one of the top spring break destinations in the US!
Famous for its plethora of natural attractions, a guide to Yosemite National Park is one of the easiest ways to make the most of your time in the park.
There's the iconic Half Dome, Yosemite Valley, and El Capitan which soars over the valley. Make a quick pit stop at the numerous lookout points such as Tunnel View or Glacier Point, to marvel at the geological wonders of the park.
Stay dry and warm as you explore Yosemite during the spring. Snow is melting, flowers are in full bloom and waterfalls are cascading from the mountainside snow. Enjoy Bridalveil Falls, (0.5 miles out and back), or witness Yosemite Falls (1 mile loop), the tallest waterfall in North America.
Take the family on an easy level hike through Mirror Lake, or venture toward the backcountry to explore Cathedral Peak and Lakes for a more moderate to strenuous hike. Pack a picnic, snacks and extra water for a more budget friendly trip while visiting Yosemite.
Consider camping in the valley to save on time and to wake up amongst the giant oak trees. The cool morning breeze and fresh oak smell is truly an amazing feeling.
Yosemite is by far one of the best family destinations for spring break!
Recommended by Ciara from Wellness Travel Diaries
Cheap spring break trips for families in the US
Next let's look at the center part of the United States. The middle states of the Midwest and South Central region are some of the most affordable spring break family vacations! Don't be fooled by these 'flyover states' as they can make for excellent destinations.
Let's dive back in!
7. Omaha, Nebraska (underrated and one of the best spring break destinations for families)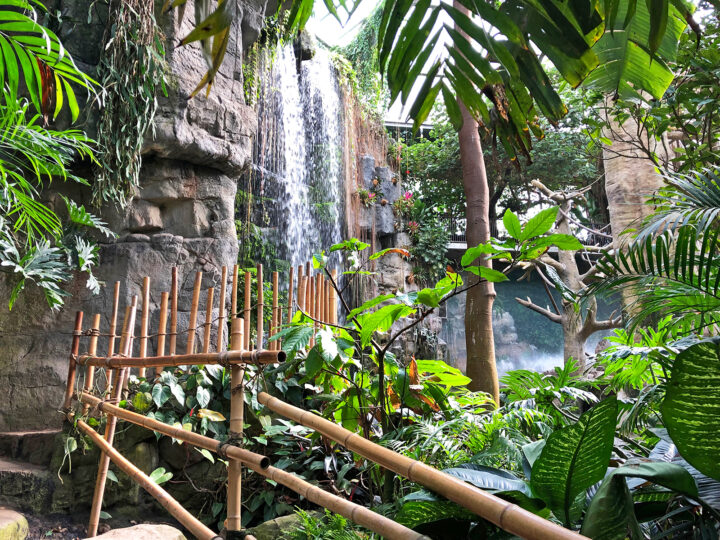 If you're looking for great spot for spring break destination for families, look no further than the middle of the country! With family-oriented values, Omaha is a fantastic spot to vacation.
Nebraska's #1 tourist attraction is the Omaha Henry Doorly Zoo and Aquarium. It regularly competes with the San Diego Zoo as the top zoo in the country!
With plenty of indoor exhibits like the jungle, desert dome, butterfly house and aquarium, you can enjoy a day – or more – at the zoo, regardless of the weather. Head on over to feed the giraffes, hear the lions roar or watch the elephants and zebras meandering among their large habitat. It's truly a spectacular zoo!
Other kid-friendly Omaha attractions include the Lauritzen Gardens, Durham Museum, Joslyn Art Museum, Fontenelle Forest, just to name a few. Also make sure to walk the Bob Kerry Pedestrian bridge. It's the first bridge to connect 2 states together. So you'll get to see Iowa while in Omaha.
The downtown area is probably the most touristy spot in the city to stay, which makes it a little more pricey too. Finding a vacation rental property or staying in a hotel further from downtown will help to keep your price down.
But do make sure to visit the historic Old Market, as you'll find some of the most Instagrammable spots in Omaha, not to mention some amazing restaurants.
Recommended by me! Nikki of She Saves She Travels
8. New Orleans, Louisiana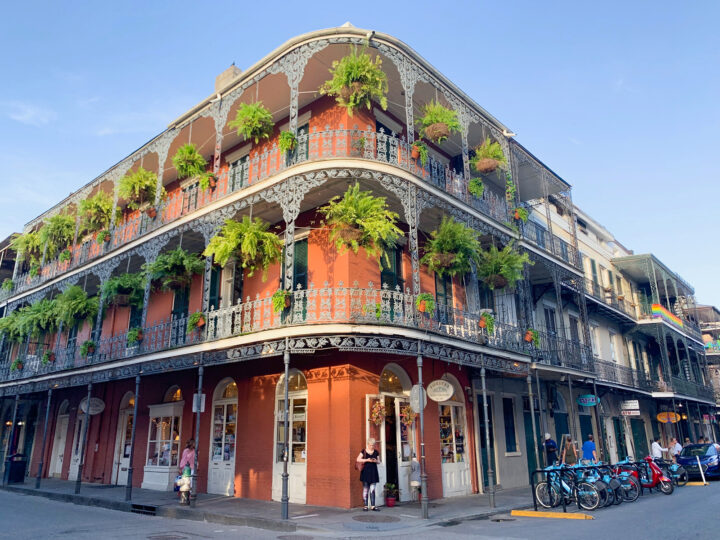 New Orleans is one of the most underrated destinations in the country when it comes to celebrating a spring break getaway.
Most people think of the city as pricey and a party city. However, you would be surprised to know that the city is a top cultural destination and has many budget-friendly attractions for families.
Spring Break is a relatively quiet time in the city. The festivities of Mardi Gras are just over and the city enjoys a lull between parades and summer tourists. That's why during spring break, you can find really good hotel deals in New Orleans.
Take a free walking tour of the French Quarter, enjoy free jazz music at the Preservation Hall, take a hike on the swamps at Barataria Preserve, and spot an alligator. Take a ghost tour of the city to keep teens happy or an airboat tour of the swamps.
Enjoy the many culinary delights in the city and enjoy a break with your family.
Recommended by Ketki of Dotted Globe
Read next: 21 Best Beaches in Florida for Families
9. Badlands National Park, South Dakota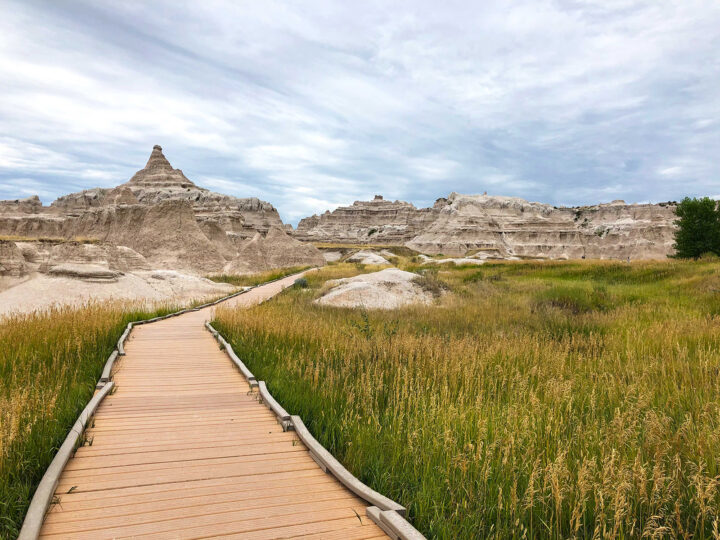 What is there to do in South Dakota for families? Well, a ton, actually! But for starters, there's Badlands National Park in southwestern South Dakota, which is one of the best cheap spring break trips for families.
One of the most underrated national parks in the USA Badlands National Park can be explored without long lines of cars and overcrowded spaces.
There's a ton of things to do in Badlands National Park, but my family's favorite was hiking. From easy boardwalk trails to challenging terrain, there's a variety of options for every family, age and skill level.
While there are plenty of designated trails, Badlands National Park is also an open hike park, meaning you can freely explore the park off-trail. Just use caution if doing this, as some of the scenery can be disorienting!
Close to Badlands National Park is Mount Rushmore and the Black Hills of South Dakota. Custer State Park is a phenomenal park to experience with families, too.
So if you're looking for spring break ideas for families on a budget, the Badlands and Black Hills in South Dakota is a really good option!
Recommended by me! Nikki of She Saves She Travels
More spring break destination for families in the US
Heading toward the eastern part of the country, here are the top picks for cheap spring break trips for families.
10. Hudson Valley, New York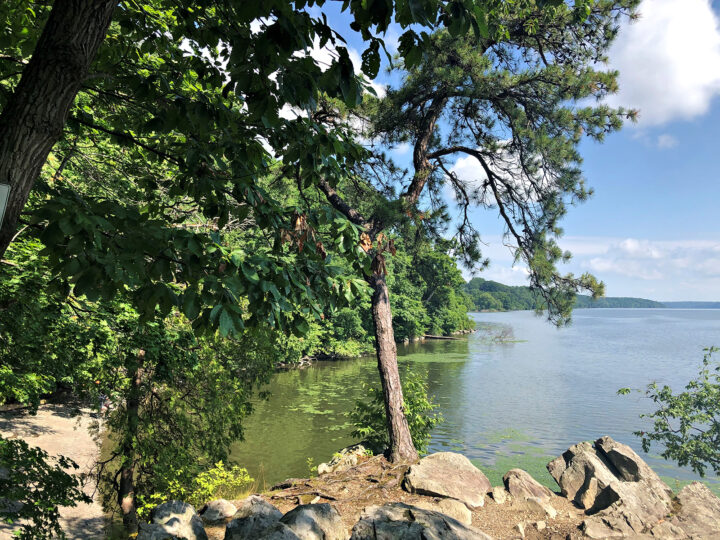 The Hudson River Valley, north of New York City, is a great spring destination for families on a budget who want to experience the American northeast.
The area has plenty of awesome hikes that the whole family can do. It costs just $10/ car to visit Minnewaska State Park for the day. Find adventure with easy hikes around a lake and to a waterfall.
There are also plenty of hikes you can do for free, including:
Poets' Walk – great views of the Catskill Mountains and the Kingston-Rhinebeck Bridge
Black Creek Preserve – stunning views of the Hudson River and a tiny beach
Stony Kill Falls – a beautiful waterfall
Shaupeneak Ridge Trails – a lake with lily ponds, fern groves and a small waterfall
For a splurge, you can take a 2-hour sightseeing cruise down the river from Kingston. The river has a couple of lighthouses that kids will love and is lined with trees that are especially beautiful in spring.
There are also many farms open for spring fruit picking such as strawberries and apricots. Pack a picnic and make a day of it.
Many farms have petting zoos, but another great opportunity for kids to see farm animals is the Woodstock Farm Sanctuary (admission by donation), which is home to dozens of rescued farm animals.
The area has fun for the whole family that costs very little! It's one of the leading cheap spring break trips for families, and one to seriously consider.
Recommended by James Ian at Travel Collecting
11. Charleston, South Carolina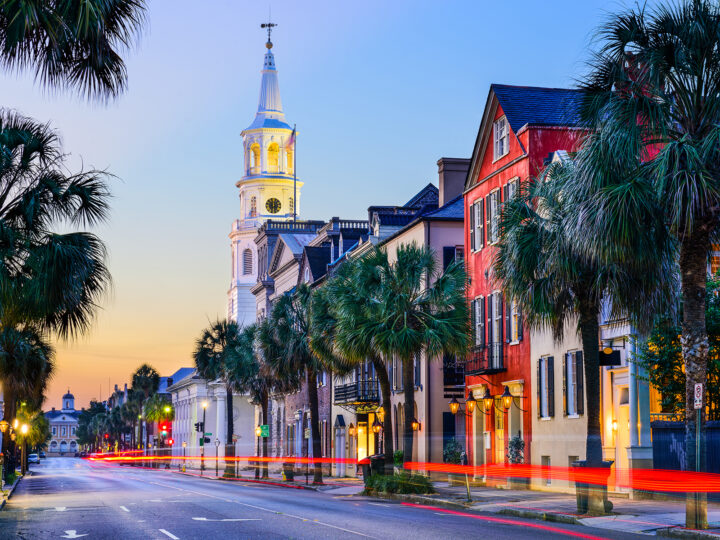 Charleston, South Carolina, is the perfect spring break destination for a fun, relaxing getaway and an educational, historical adventure. There's so much to do in Charleston that the whole family will enjoy – from exploring the city's famous landmarks to enjoying delicious, authentic southern food.
Tips for traveling to Charleston on a budget
Stay on James Island or Mount Pleasant, just outside of Downtown Charleston for more affordable lodging.
Rent a car to save on rideshare costs and take advantage of the incredible day trips from Charleston.
Dining in Charleston can be pricey, save on lunch costs by eating a heart brunch that will satisfy your family until dinner.
Charleston is full of family-friendly activities, and many of them are free!
Enjoy these fun family activities
Dive under the sea at the South Carolina Aquarium.
See where the Civil War began at Fort Sumter National Monument.
Step onboard the USS Yorktown Aircraft Carrier, USS Laffey Destroyer, and USS Clamagore Submarine at Patriot's Point.
Admire the pineapple fountain in Waterfront Park.
Learn how tea is made at North America's only tea plantation, the Charleston Tea Garden.
Relax on the beach at Kiawah Island or Folly Beach.
Recommended by Brittany of Travel by Brit
12. Gulf Shores, Alabama (one of the best spring break destinations US)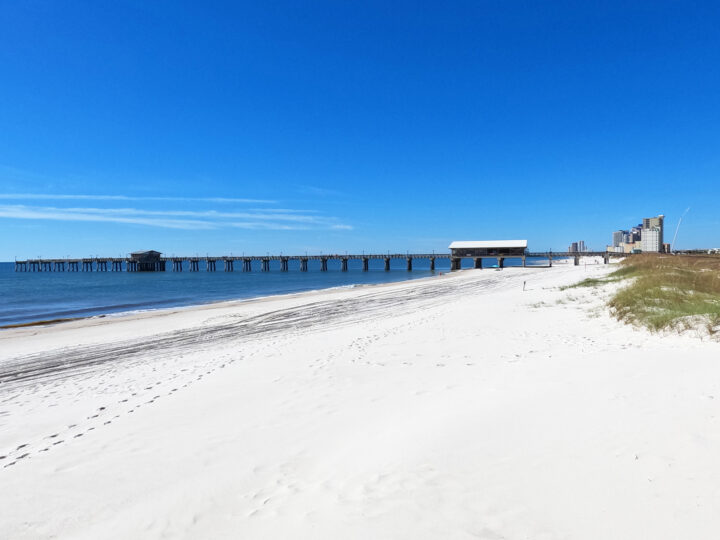 Wow, it's hard to believe this is the first beach spot on this list of best spring break destinations for families! But that's because so many of them aren't affordable, especially over spring break.
But Gulf Shores, Alabama is the perfect vacation spot for kids. Perhaps the biggest draw to the Gulf Shores and neighboring Orange Beach is the crisp, white sand beach and turquoise water of the Gulf of Mexico. It's truly stunning!
Beach days are awesome, but there's so much more to do in Gulf Shores with kids!
Family-freindly activities in Gulf Shores
Hiking or biking through the Hugh S. Branyon Backcountry Trials
Mini golf
Hunting sand crabs at night
Go-karting
Free light show at The Wharf at Orange Beach
Taking a sand castle building class
Dolphin cruising
And don't forget to check out all the fun places to eat in Gulf Shores. There are so many family-friendly options, this is definitely one of the best spring break destinations with kids!
For the most affordability, search for accommodations in Gulf Shores or the nearby Orange Beach that are away from the beach. You'll find inexpensive vacation rentals and hotels that are perfect for your beachy getaway.
For best results, book your stay at minimum a few months in advance. Gulf Shores absolutely deserves a spot on this list of cheap spring break trips for families – it's truly awesome!
Recommended by me – Nikki of She Saves She Travels

13. Philadelphia, Pennsylvania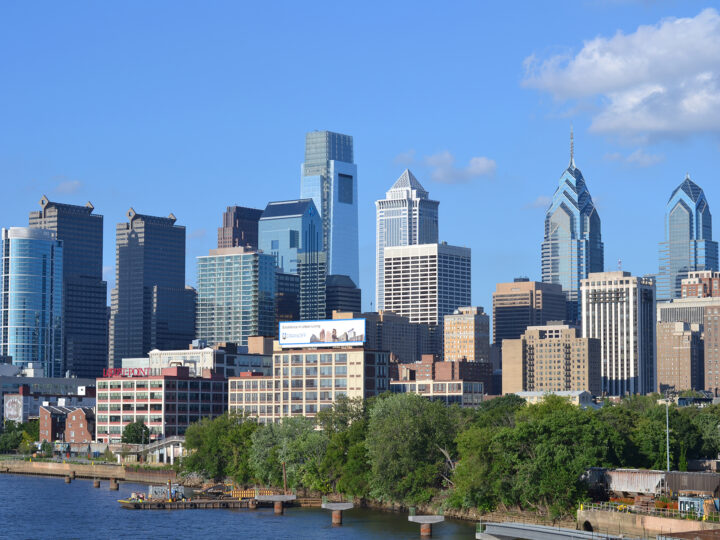 A fantastic family-friendly destination is Philadelphia, Pennsylvania. Visiting Philadelphia during spring break can be an important educational experience. The City of Brotherly Love is filled with history and culture, making it both fun and educational for children of all ages.
The city of Philadelphia is the birthplace of America and an important historical destination. The U.S. Constitution was conceived and signed here. General George Washington made his headquarters here. And this was the first capital of the United States of America.
For families on spring break, visiting the Old City is essential. Here visitors can explore the Constitution Center, Betsy Ross' house, the first hospital in America, and many of Ben Franklin's important sites. Just outside of the city, there's Valley Forge National Park where the Continental Army spent several famous winters.
The Germantown neighborhood is one of the most important African American communities in the country and a critical stop on the Underground Railroad. Beyond the history, Philly is a great cultural destination. Younger children will love the Please Touch Museum.
Many of the historical attractions are free or very affordable. Hotels in the center of the city can be a little pricey, but accommodations in the suburbs can be very affordable.
Recommended by Lance and Laura of Guide to Philly
14. Washington D.C.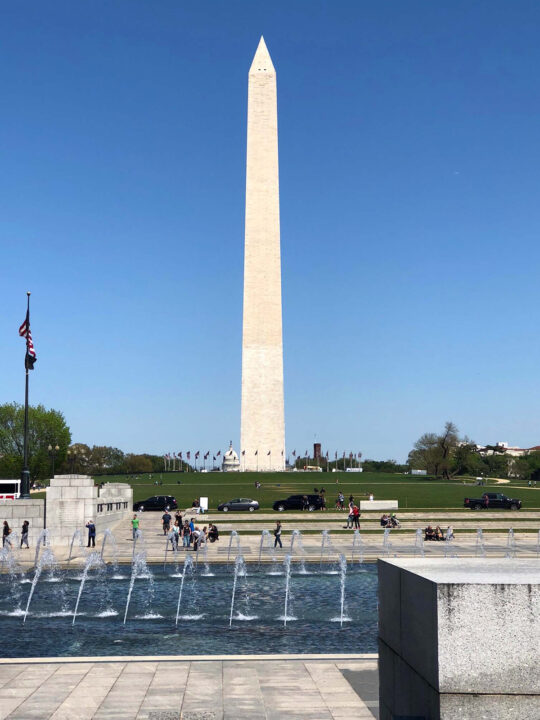 Washington D.C. is a great family-friendly spring break destination that can definitely be done on a budget! Families can explore all that D.C. has to offer in a budget-friendly way by taking advantage of all of the free activities within the city.
The Smithsonian museums, most of which line the National Mall, are interactive, suit visitors of all ages, and are all free of charge. Popular Smithsonian museums include the Museum of Natural History, the Air and Space Museum, and the Museum of American History.
The National Zoo is also free and is one of 4 zoos in the U.S. that houses giant pandas. In addition to visiting the Smithsonian museums, there is much to explore on the National Mall including the Washington Monument, and the Lincoln Memorial.
Free tours can also be arranged in advance for the White House and the Capitol Building. For more ideas on how to spend your time in D.C., check out this 3-day itinerary. Washington D.C. is often overlooked but is one of the best spring break destinations in the US!
Recommended by Sarah of Roadmaps and Restaurants
15. Virginia Beach, Virginia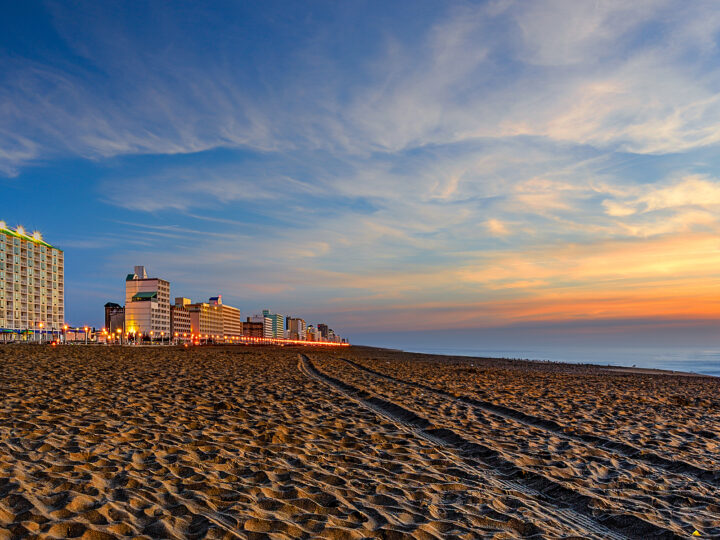 Virginia Beach is a wonderful spring break family vacations on the East Coast with so many affordable options! The jewel of Virginia Beach is its 28 miles of beautiful sandy public beaches.
All public beaches are free and are easily accessible from the downtown hotels at a variety of price points. At a lot of beach destinations, only the high-end hotels and resorts are on the beach, but at Virginia Beach, there are many hotels at all levels.
Budget tip: check out hotels or rentals with a kitchenette to save money on making meals in the room.
There are tons of great kid-friendly attractions right on the 3-mile Boardwalk! Try the Bike and Surrey Rentals, the King Neptune Statue, fishing on the pier, 31st Street Park and a wonderful Grommet Island playground right on the beach!
Off the Boardwalk, check out the famous Virginia Aquarium & Marine Science Center, Cape Henry Lighthouse and First Landing State Park. All affordable family fun for kids of all ages!
Spring break tip: if you want to pair a trip to the beach with a trip to Capital City, it's only a 3-hour drive north to Washington, DC. There is so much to explore in DC with kids, including the Smithsonian Museums for kids.
Recommended by Jennifer of Family Trip Guides
Cheap spring break trips for families in Asia
Next, let's head to Asia! A nice, long spring break is the perfect time to go overseas. Some of the best family destinations for spring break can be found in Asia. It's culturally rich and full of adventure for the whole family.
Asia is a continent that's widely affordable, once you get there! Check out these budget travel tips to find the best deals on flights.
16. Koh Tao, Thailand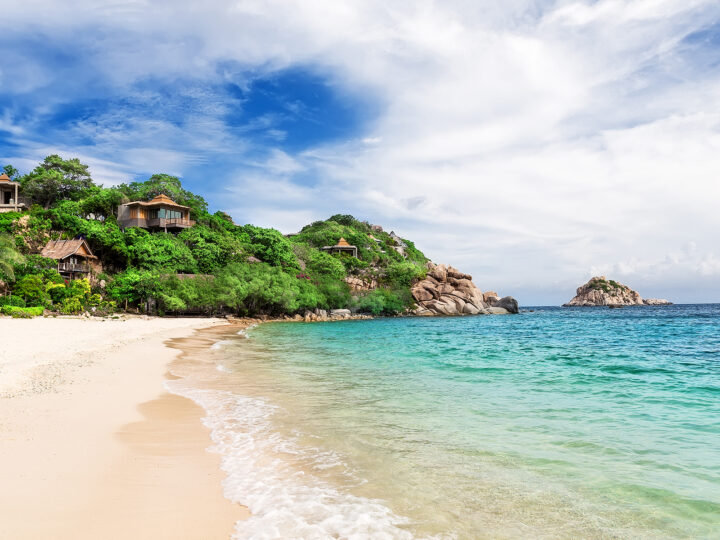 Koh Tao, an island in the Gulf of Thailand, is a fantastic place to visit for an affordable spring break. This tropical paradise is an amazing place to visit this time of the year for the whole family and this does not have to cost a fortune.
A great option on this list of spring break ideas for families on a budget, Koh Tao is known for blue skies, hot and sunny weather and crystal clear warm water. This is the dry season and both air and water temperature hover at 30 degrees Celsius.
Scuba diving is good in the Gulf of Thailand all year round and March and April is fantastic with the biggest fish in the world, Whale Sharks, being present this time of the year. Swimming with these magnificent docile creatures is an unreal, safe activity.
The dive schools on Koh Tao are known as some of the best and most affordable in the world. If you are not a diver, snorkeling trips around Koh Tao is very popular for all ages, visiting several islands including the magnificent Koh Nang Yuan with some of the most beautiful beaches in Thailand.
You can go on a full day or half day snorkeling trip, going around Koh Tao visiting several coral reefs where you can see turtles, reef sharks and many fish.
With high temperatures and humidity, Sairee Beach is a great place to stay. There are many dive centers, restaurants, nice swimming beaches and accommodation to suit all budgets close to the sea with a nice ocean breeze to cool you down.
Recommended by Campbell and Alya of Stingy Nomads
17. Cebu, Philippines (amazing and cheap spring break trips for families)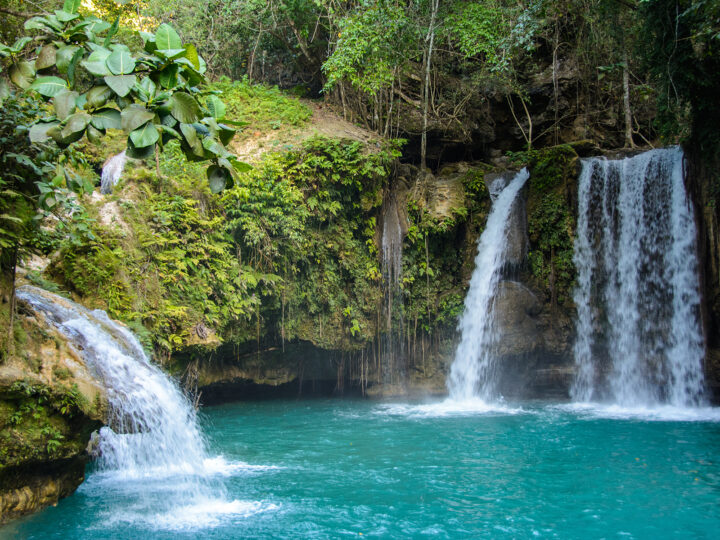 Cebu is amongst the top 10 largest islands in the Philippines with 196 kilometers from north to south and 32 kilometers across its widest point. It's also one of the most popular destinations in the country because getting to Cebu is easy. This makes Cebu an affordable spring break destination with kids.
The Mactan-Cebu International Airport, located close to Cebu City, connects this island to different cities in Asia and major cities around the world.
Generally, the Philippines is a cheap country where you can easily find affordable luxury hotels and budget accommodation. Eating out in Cebu is relatively cheap, you can go for fine dining by spending only $12 for your meal.
While in Cebu City, make sure to check out Sirao Flower Garden and take a day trip to Bohol Island.
The best time to visit the Philippines is in dry seasons, from December to May. Most tourists travel to Cebu in wintertime. That means the island is less busy during the springs while the weather is still pleasant and dry.
Recommended by Mansoureh of Travel With Mansoureh
18. Bali, Indonesia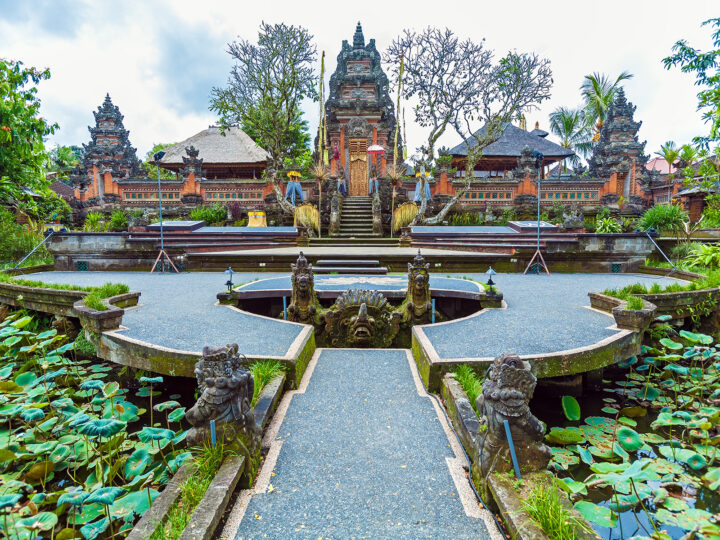 A picturesque Indonesian island filled with white sand beaches, gorgeous rice terraces and forests, unique temples, and an exotic Balinese culture, Bali is just the perfect spring break trip for families.
There's a lot to do in Bali with your little ones. Apart from relaxing at one of Bali's many beaches, you can check out the monkeys at Ubud's Monkey Forest, interact with feathered friends at Bali Bird Park and learn all about protecting sea turtles at Bali Sea Turtle Society.
When in Ubud, do not forget to check out the Royal Palace and Hindu temples that are great examples of traditional Balinese architecture. You can also shop for souvenirs at the Ubud Art Market. End your day with a magical sunset at the temple of Tanah Lot, located on a cliff by the sea.
Bali is an ideal destination for budget travelers. Accommodation is cheap and you can even find private villas with stunning views at seriously low prices. Avoid hiring taxis if possible and rent motorbikes instead to get around.
Bali is certainly full of adventure, and one of the most fun cheap spring break trips for families!
Recommended by Soumya from Stories by Soumya
19. Penang, Malaysia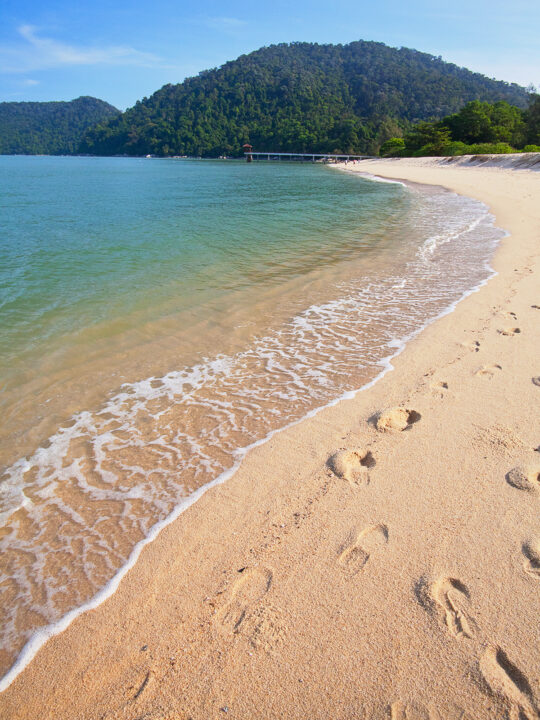 Penang, a UNESCO Word Heritage Site island off Malaysia's northwestern coast, is one of the best family destinations for spring break.
There are plenty of things to do in Penang, and most are perfect for families, too. First of all, with 1 USD being equivalent to 4 Malaysian Ringgit (the price of a meal in one of the islands famous hawker food centers), you'll have everything on a budget. Accommodation, restaurants, transport and entry admissions are all affordable.
Start in George Town, taking in the UNESCO-listed old town and trying all the food you can fancy. Not far away are the Botanic Gardens, a perfect place for families to stroll and unwind appreciating the local nature.
If it's beach that you want, mind well that Penang doesn't have amazing clear waters, but the resort-strewn coast near Batu Ferringhi, with its night market and plenty of shops and beach-facing restaurants, is great for tucking toes in the sand.
If your kids are young, a visit to KOMTAR, the island's highest building, is great as it's filled with theme-park-alike attractions and at about 15$ per head to enter, makes for very good value.
Recommended by Marco Ferrarese of Penang Insider
20. Sri Lanka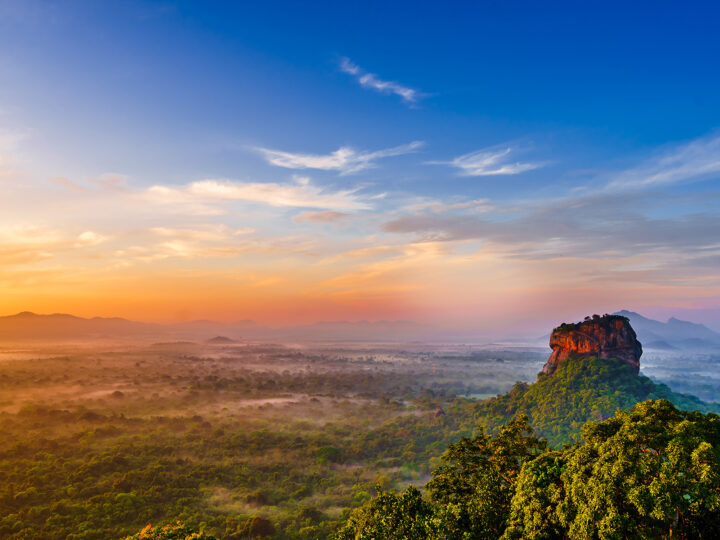 The cultural triangle in Sri Lanka is a great budget destination for families in during spring break. When you think of Sri Lanka you probably think of its beautiful palm-fringed beaches, but Sri Lanka is much more!
Once you go inland there's a different world of jungles teeming with wildlife and ancient Buddhist temples. With such a variety of things to do there is something for everyone and for every age.
The cultural triangle of Sri Lanka lies in the center of the island and it's a place where history, culture and nature meet. It's name refers to the 3 former royal cities of Anuradhapura, Polonnaruwa and Dambulla.
All of them left behind well preserved ruins of temples, palaces and Buddhist statues. Most impressive are the colorful Dambulla cave temples and the mysterious Sigiriya Rock. The Sigiriya Rock is a tough climb with young children, but the views are very rewarding.
In the other places you can rent a bicycle or tuk tuk for more comfort. One thing you will notice is that for the local population these places are still very holy and active places of worship. Another thing you will notice is that the cities are surrounded by thick jungle.
Children will love the opportunity to go on a safari to meet monkeys and elephants up close. Spring is considered to be one of the best times to visit the island's cultural triangle with dry and sunny weather.
Recommended by Ellis of Backpack Adventures
Europe – spring break destination for families
Let's check out the best that Europe has to offer for spring break! These spots are the best for families who are looking to travel on a budget. From historically significant cities to beautiful, wide open spaces, Europe has so much to offer families!
21. Athens, Greece (another favorite on this list of spring break destinations with kids)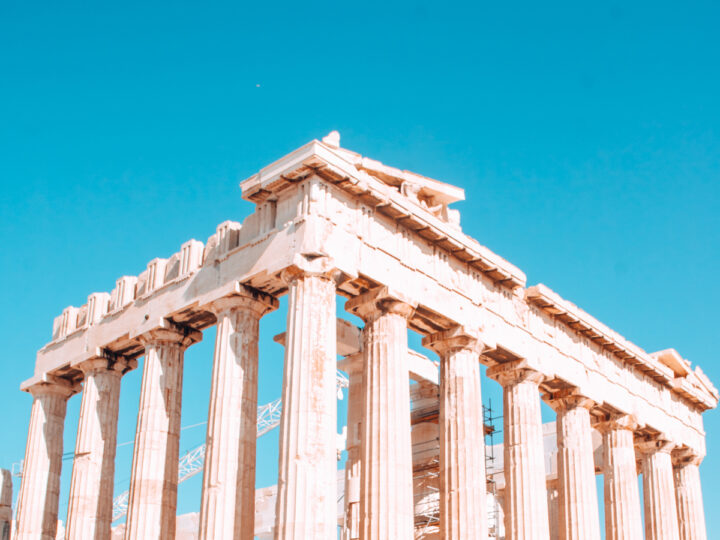 Athens is a great option if you're looking for cheap family spring break trips. The city is the capital of Greece and there is plenty to do and see for families here.
Athens is much cheaper than many other European cities, so that's very convenient. Moreover, Athens has a good metro system so you could also stay a bit further from the city center and save money while still being able to fully experience Athens.
One of the things to do for families includes going to the Acropolis Museum. This is one of the best museums of Greece and is all about the Acropolis. The Acropolis is an old citadel from Ancient Greece located on a hill that you can see from all parts of the city. Here you find the famous Parthenon.
Another thing to do is seeing the changing of the guard at the Greek Parliament. Guards dressed up in traditional clothing perform a ceremony where they change shifts.
Besides that, walking through Plaka is a must when you go to Athens. Plaka is the oldest part of Athens with many shops and restaurants. What's great is that most streets are completely car-free, so kids can run around safely.
Recommended by Dymphe of Dymabroad
22. Rome, Italy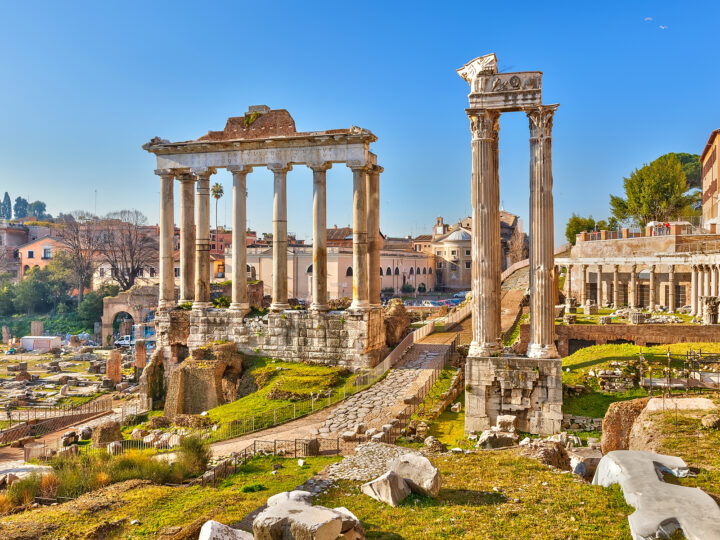 The historic capital of Italy, Rome is an incredible budget spring break destination for families. During this time of the year, the crowds are lighter versus the peak season of summer, and the weather is also quite perfect (50-80°F).
If you have a week in Italy, I'd recommend at least a 3-day Rome itinerary so that you and your family can cover all the main highlights of the city. The historic center of Rome is super family-friendly and an amazing place to take a stroll. Make sure to stop by the Vatican, Colosseum, Trevi Fountain, Pantheon, and Spanish Steps.
Kids will also love Piazza Navona, which is home to lots of artists, street performers, and clowns. Be sure to also stop by Villa Borghese for a fun afternoon at the park. Lots of local families go there to relax, and you can also rent a 4-people quadricycle and ride around this charming park.
One great way to budget in Rome is to eat the amazing local specialty of pizza al taglio, which can cost as low as €3 ($3.50) per person per meal. You can find tons of pizzerias around town to try it in. You can also find plenty of great budget accommodations for €7-22 ($8-26 USD) a night!
Recommended by Jiayi of The Diary of a Nomad
23. Gdansk, Poland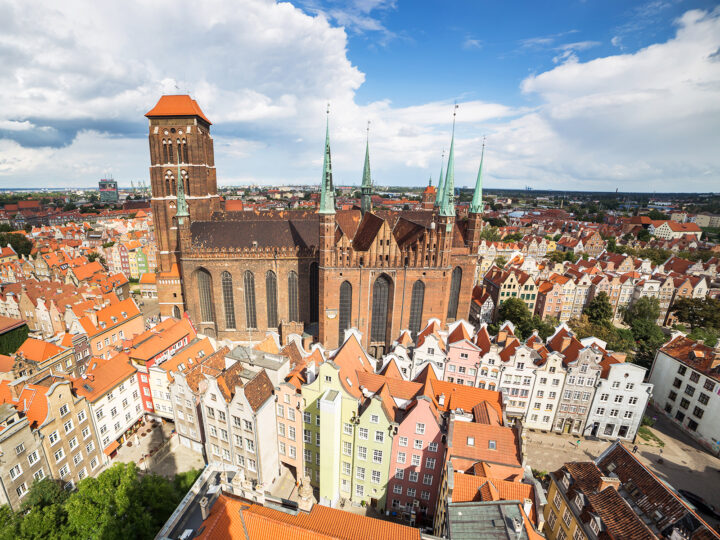 For the best cheap spring break trips for families in Europe, Gdansk is a wonderful place for vacation! There is no shortage of fun but also educational activities for what to do in Gdansk, with one of Europe's biggest old towns jam-packed with attractions.
Most of the city was destroyed during World War II, but the Poles have done an amazing job in rebuilding it. Go to Westerplatte which was ground zero for World War II, discover the Museum of the Second World War, which also has a children's section, or go on a tall ship adventure in the Motlawa River.
For the best city views, climb the Clock Tower of the Main Town Hall. The unique houses of Gdansk Old Town almost look like doll houses from above. From there you also get a good bird's eye view of St. Mary's Church, which is the city's most prominent building and one of the largest brick churches in the world.
Gdansk, like the rest of Poland, is extremely cheap and you can find deals on luxury hotels for hardly nothing. To save money on transportation, take the bus or train, or download the app FreeNow which is a cheaper version of Uber.
Recommended by Linn of Brainy Backpackers
24. Montenegro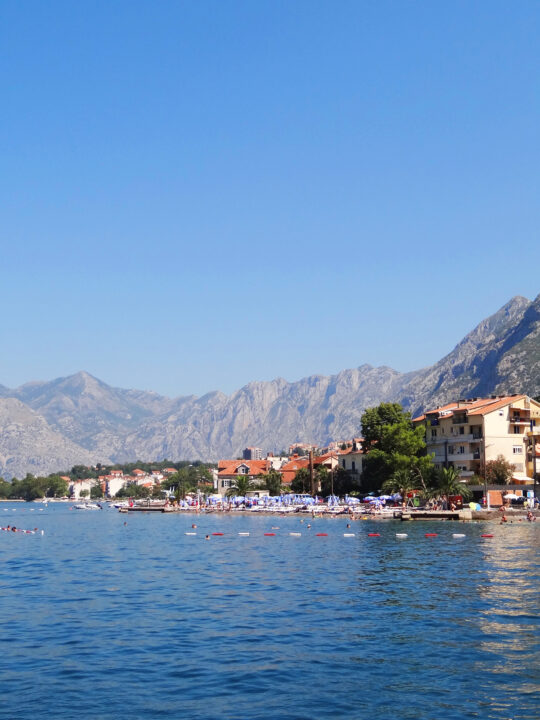 Montenegro is still relatively hidden gem on the Adriatic Sea coast. The country is perfect for families looking for a relaxing or even adventurous spring break vacation on a budget.
Montenegro has a wide ray of different attractions from spectacular mountains, crystal clear lakes to all-inclusive beach resorts, waterparks and stunning beaches. You can explore 2,500-year-old Budva old town or get lost in Kotor's Old Town which was built like a maze. You can even take your kids on a fun miniature train ride to Lipa Cave.
Montenegro has the coastal beauty of neighboring Croatia but remains more affordable for family vacations. It's surprisingly easy to stay under budget when accommodation and attractions cost half of the price of what you'd expect to pay.
For the even more budget-friendly trip, choose self-catering accommodations. If you want to visit Kotor Bay, staying further away from the town center will save you money, as well as choosing nearby villages rather than the most popular spots in the country.
Recommended by Leta of Blogger & Owner of The Nerdy Me
25. Alsace, France (an underrated region for spring break destination for families)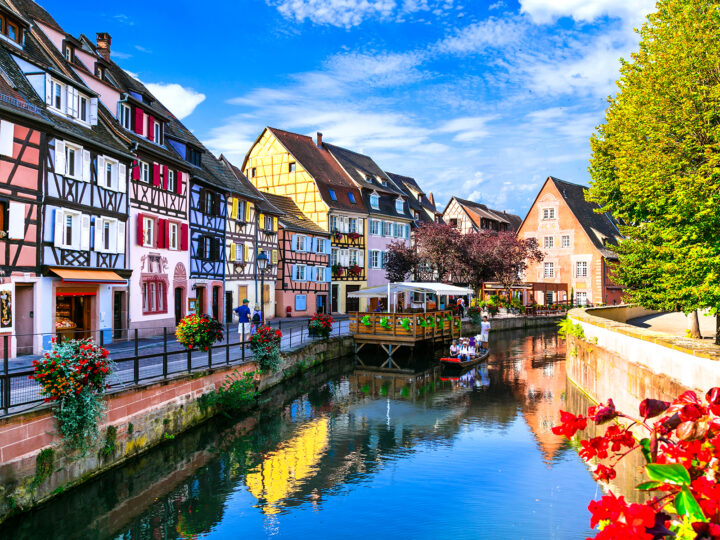 Alsace, in Eastern France, is a good destination for spring break family vacation. This region, at the border with Germany has picturesque villages, beautiful forests, intriguing medieval fortresses, and 2 exciting cities great for sightseeing.
Alsace is cheaper than Paris and other French regions, so you are set for a fun and affordable vacation in France.
Strasburg is a beautiful city, great for a couple of days sightseeing. From Strasbourg, we recommend hiring a car to explore the rest of the region on an Alsace road trip. The distances are short, and you can explore many different places in a short time.
While in Alsace, don't miss the local cuisine with typical dishes like choucroute or tarte flambée (a kind of local pizza). The best places to eat are the winstubs, a popular and affordable restaurant typical of Alsace serving delicious local food in a very traditional atmosphere.
Alsace's capital is Strasbourg, a city well connected to Paris and other European cities by train. Enjoy the ride around European destinations by packing the right train travel essentials for your family. What an adventure over spring break!
Recommended by Elisa of France Bucket List
26. Himara, Albania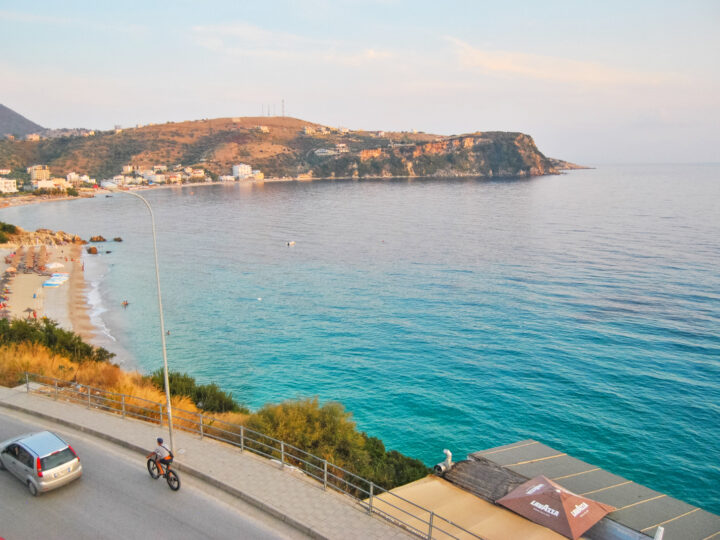 Just a ferry ride across the Adriatic Sea from Italy and in between Montenegro and Greece, Albania is an extremely affordable spring destination for families. Being in such proximity, Albania has strong Greek and Italian influences, but without the high costs.
In Albania, there is one of the best hidden gems in Europe; a small, quaint village along the Ionian Sea with the beautiful Ceraunian Mountain range behind it. The charming beachside town of Himara is 2 hours north of Saranda when driving along the Albanian Riviera.
Himara is perfect for a spring break trip since it has mild Mediterranean weather and even boasts of 300 days of sunshine a year. Even though accommodation is already considered affordable, going for spring break will be during the off-season making prices even more affordable.
Families can have a peaceful and relaxing getaway in Himara. They can enjoy authentic Italian pizza or fresh, locally caught fish at affordable prices in Albanian LEK and there are plenty of family activities available. Try doing a boat tour or kayaking to secret sea caves, hiking to nearby castles and forts, and visiting secluded beaches.
Recommended by Maria of Maptrekking
27. Ljubljana, Slovenia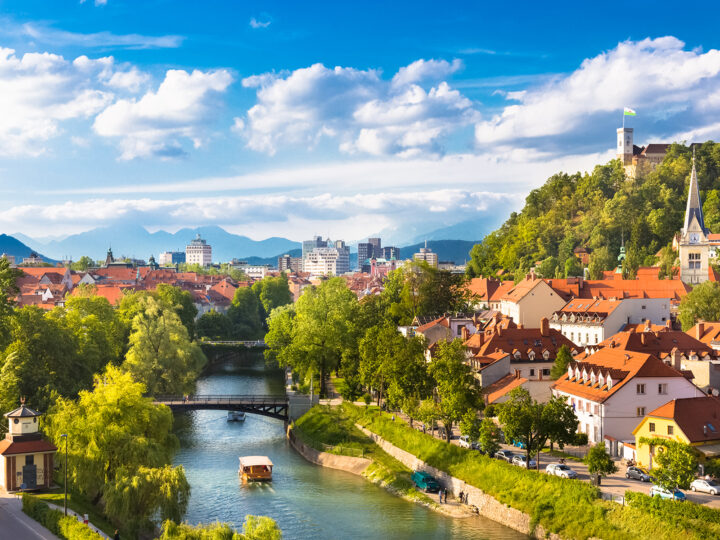 Ljubljana is the perfect spring break destination with kids. It's much cheaper than its immediate neighbors, and some of the prices there are the cheapest in Europe.
It's perfect for spring when the cafes along the river open for hot chocolate and you can sit with a blanket over your knees and watch the world go by. It's close enough to Venice to get some of the cheap flights in to Italy and drive over or get the coach between the cities.
Once there, kids will love the House of Illusions, or take a trip up to the castle for spectacular views. If you're planning a Slovenia family holiday the hotels in Ljubljana are really well priced and it's easy to find one with a pool or other child friendly amenities.
Take a boat trip through the center to really appreciate the beautiful architecture and then head to a nearby thermal pool for an afternoon of fun in the warm waters. Ljubljana is relatively undiscovered and it's a European city that has so much charm.
Recommended by Nichola of Globalmouse Travels
Caribbean: spring break ideas for families on a budget
Gah! The gorgeous Caribbean is up next on this list of best family destinations for spring break. Known for it's affordability, there are lots of options within the Caribbean for a family vacation.
Here are a few favorites…
28. Playa del Carmen, Mexico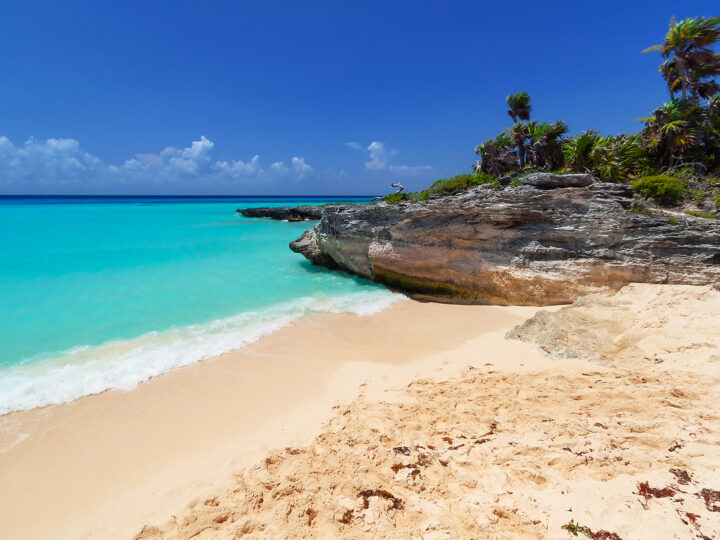 When looking for affordable spring break trips for the family, Mexico offers some unique destinations that you simply can't ignore. Avoid all the spring break party crowd by heading over to Playa del Carmen and staying at one of the family-friendly resorts.
The beaches are beautiful and you can cut costs by staying in one of the many budget hotels. Or find a self-service apartment that will allow you to cook and eat out at much cheaper prices than you would find in places like Cancun's hotel zone.
From Playa del Carmen, you can easily access the plethora of things to do in the Rivieria Maya region, which in many cases, are perfectly suited to family trips. One place to visit is the Xaman-Ha Bird Sanctuary which is a great place to learn about local wildlife and is free for children.
Playa del Carmen has something for any family who is looking for an entertaining beach getaway.
Recommended by Daniel of Layer Culture

29. Dominican Republic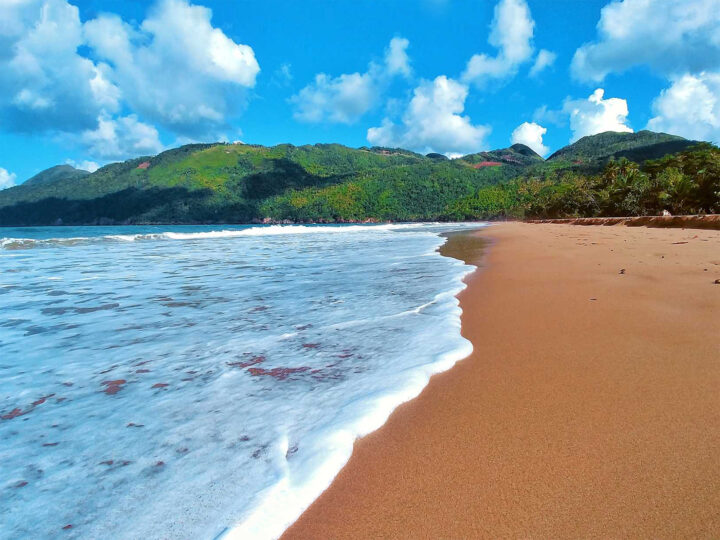 The Dominican Republic is the perfect spot for spring break family vacations, as it's one of the cheapest destinations in the Caribbean!

If your family is up for unforgettable adventures, pristine beaches and lots of fun in the unspoiled nature, consider renting a car and plan a road-trip in the Dominican Republic.
Book an affordable apartment within walking distance to the beach (for as low as $60 per night for a family of 4) on the Samaná peninsula. It's one of the most beautiful regions in the Dominican Republic and guarantees you'll be away from all the spring break crowd.
Furthermore, you can count on stunning and authentic kid-friendly experiences, such as exploring waterfalls, horseback riding along the beach or ziplining over the tropical vegetation.
If you shop at local markets and buy regional produce, you can lower your travel costs significantly, as most food prices are at least half or less compared to the United States.

If you feel that you just want to relax and get pampered, you can consider an all-inclusive resort instead. While Punta Cana has the biggest selection of resorts, it might be worth considering Puerto Plata on the north coast.
Those resorts are a bit cheaper than Punta Cana, starting from $130 per night for a family of 4 including an all-inclusive meal plan. Additionally, you will avoid the spring break crowds of Punta Cana, which tend to be predominant in some of the resorts during this time.
If you don't find flights to Puerto Plata, consider flying into Santiago, which is just an hour away from Puerto Plata.
Recommended by Christian of Punta Cana Travel Blog
30. Belize (another favorite on this list of cheap spring break trips for families)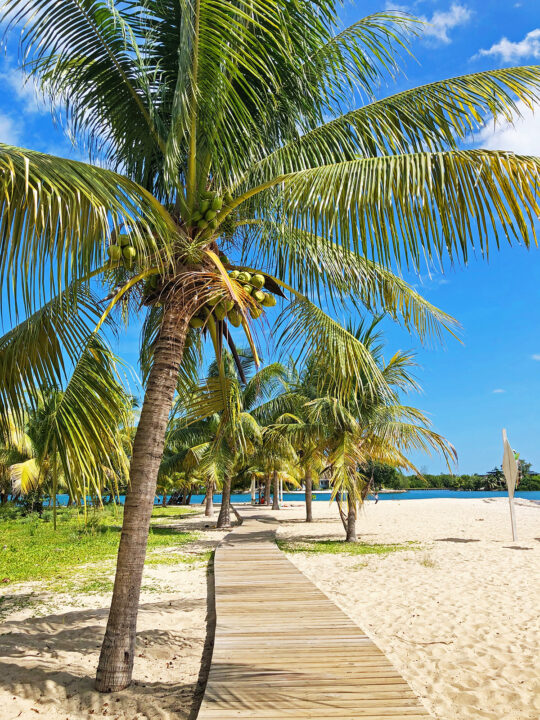 One of the best spring break destinations for families has absolutely got to be Belize! It's easy to keep it low cost while spending a week in this tropical paradise. Here's an exact cost breakdown on how to do Belize on a budget.
If staying on the beach is a must, consider staying in Placencia, San Pedro or Caye Caulker. However if your family is up for adventure, staying further inland in San Ignacio might be right for you.
From visiting ancient ruins to learning how to make chocolate like the Mayans to taking a snorkeling trip to a private island, there's plenty of things to do in Belize for your family.
Your family will love visiting this culturally-rich country!
Recommended by me! Nikki of She Saves She Travels
More of the best spring break destinations for families
There's still a few left on this list! Here are a few more spots around the globe that are worth considering for your family!
31. Guatemala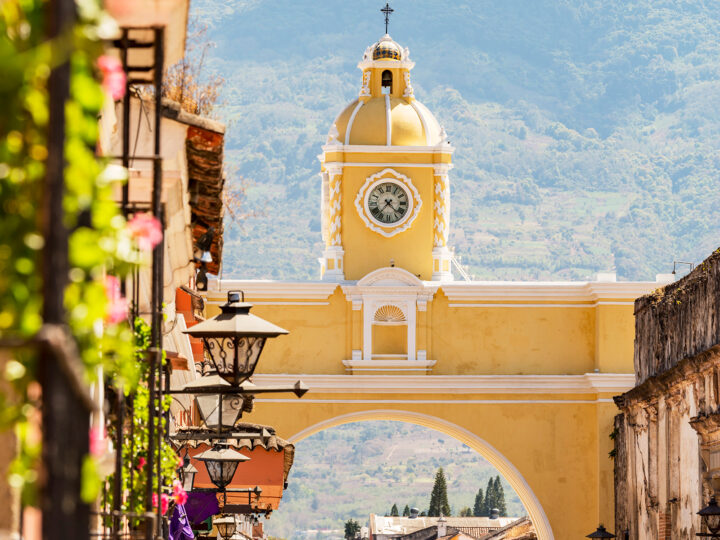 Popular with backpackers and – surprisingly – cruise ships, Guatemala remains relatively undiscovered by families. Which is shame, because this Central American country is the perfect place for a family spring break vacation on a budget.
This is a country filled with mysterious ruins, colourful Colonial cities, lots of volcanoes and even more adventures. Start your holiday in Antigua, pretty town filled with cobblestones streets and painted homes. Affordable hotels are plentiful but you can also rent a house here and many people do, choosing to stay for weeks, or even months, to learn Spanish.
Other places you must visit include Chichicastenango. Located in the Guatemalan highlands, this towns is famous for its weekly market, one of the largest and busiest in Central America.
Lake Antigua, once described as "the most beautiful lake in the world" is another one of the country's highlights. There are lots of towns dotted around the lake, many of them offering budget accommodation and food options.
Guatemala's star attraction, however, is Tikal. You can drive from Guatemala City to Flores, the gateway to Tikal, by car. This route takes around 8 hours. Alternatively, you can fly from Guatemala City to Flores, although this will be more expensive. However, you choose to travel, however, don't miss these most magical of Mayan ruins when visiting Guatemala with kids.
Recommended by Katja of Globe Totting
Related read: Visiting Tikal: Everything You Need to Know About the Tikal Ruins
32. Costa Rica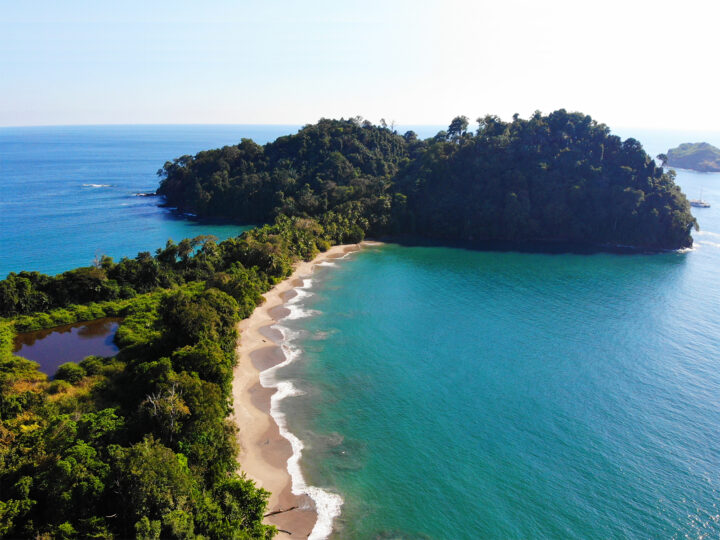 A super fun, not to mention inexpensive spring break trip for families is Costa Rica! This Central American country is a few hours flight from Southern US locations (like Miami, Houston or Los Angeles).
Pro tip: set up a flight alert from your home airport to San Jose, Costa Rica on Google Flights to find the best deals. If you can be a little flexible with your dates (like a Wednesday – Wednesday trip), you'll find better pricing.
Despite being a small footprint, Costa Rica has many regions to visit. If you want resorts, beaches and shopping, head to Tamarindo. For outdoor adventures and nature, you'll want to explore all the best things to do in Monteverde.
My family love the beach, so we're all about the best beaches in Manuel Antonio. This region also offers abundant wildlife and cheap activities like visiting the Manuel Antonio National Park, bringing your own snorkeling gear and snorkeling off the beach, and visiting waterfalls.
To further reduce your cost and make this an amazing cheap spring break trip, rent a vacation property that includes a kitchen and make some or most of your meals. For families, it's cheaper to rent a car than to get transfers from the airport to different areas.
Costa Rica is one of the best family destinations for spring break, and one you'll want to check flights prices ASAP!
Recommended by me – Nikki of She Saves She Travels
33. Ecuador (unexpected and cheap family spring break trip)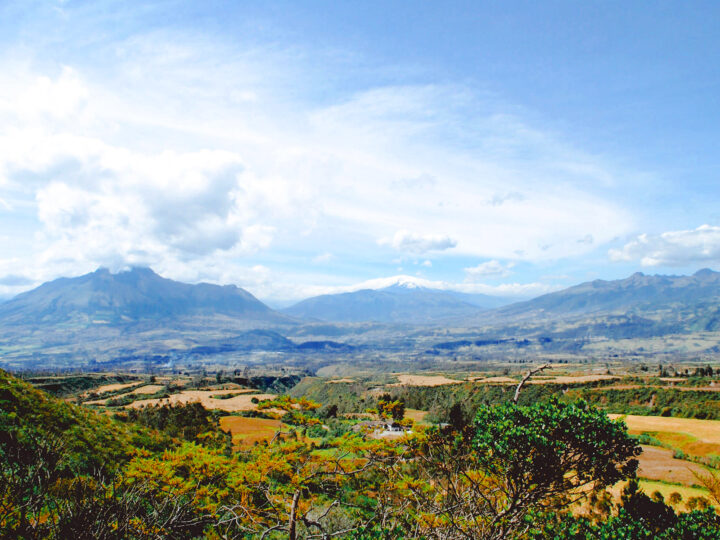 While many travelers are initially drawn to visit Ecuador because of the Galapagos, a notoriously expensive destination, mainland Ecuador is extremely budget friendly, with plenty of natural beauty and adventure activities perfect for a family getaway.
So skip the Galapagos and visit the mainland Ecuador if you're looking for spring break ideas for families on a budget!
Ecuador's major cities perched in the Andes like Quito offer breathtaking views and plenty to see and do for all ages. A favorite in Quito includes the Teleferico cable car that whisks visitors to the top of a dormant volcano for a breathtaking view of the city and surrounding valleys.
A visit to Ecuador's beautiful jungle, just a few hours north of Quito, is the perfect affordable and memorable getaway for parents and adults alike. Visit Mindo, Ecuador in the cloud forest for plenty of inexpensive adventure travel experiences perfect for children.
There are countless ways for children to meet wildlife in the jungle, including visiting a butterfly sanctuary and watching hummingbirds. A popular tubing excursion along a gentle bubbling river is both exhilarating enough for children to enjoy and relaxing and safe enough for parents as well.
Easy waterfall hikes to swimming holes are another way for families to enjoy Ecuador's natural beauty together.
To the south of Quito is one of the most gorgeous landscapes, and a hike to get there! The Quilotoa Lake hike and Quilotoa Loop is one of the most incredible adventures you can have as a family. Adventurous souls only!
Recommended by Carley Rojas Avila of Home to Havana
34. New Zealand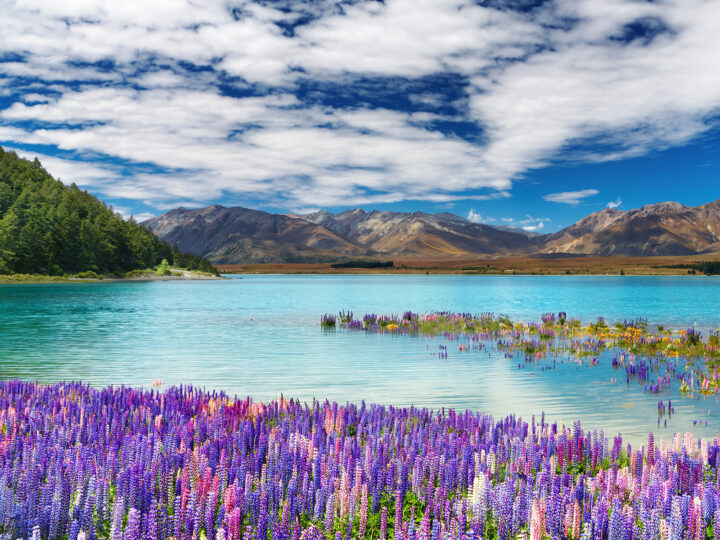 New Zealand is the perfect place to visit with a family. It's safe, exciting, and contrary to popular belief, super affordable! Plus, during spring break it's the end of summer in New Zealand which makes for the perfect weather for exploring the great outdoors.
The best way to travel New Zealand on a budget is to go on a family road trip in a motorhome. This way, you can camp for free (or very cheap) each night as well as cook your own meals. Simply rent a motorhome and start your journey from where you fly in (Auckland is the cheapest destination to fly to in NZ.) Avoiding domestic flights will be a big budget saver as well!
On top of that, the best activities in New Zealand are free too. National Parks are free to visit and all of the most amazing places are natural attractions.
Even in tourist hot-spots like Queenstown, there are tons of things to do and many of them are family-friendly and budget-friendly. Stick to hikes, waterfalls, lakes, natural hot pools, beaches, and you'll be sure to have one of the best spring break vacations possible!
Recommended by Bailey of My Queenstown Diary
35. Cape Town, South Africa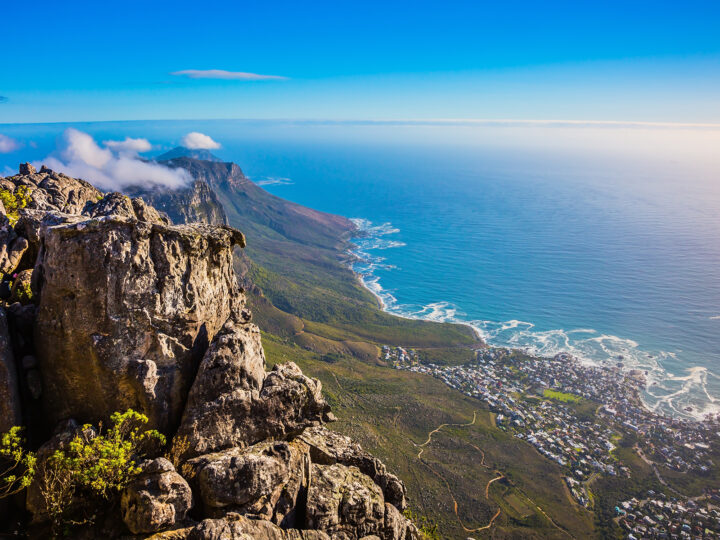 If this is your first time travelling in South Africa, you'll be surprised by how friendly and accessible Cape Town is, especially if you're from an English-speaking country. Spring break is a particularly good time to visit for families, as the weather is wonderful, but the summer rush (Dec-Feb in the southern hemisphere) has largely died down.
Visit the touristy V&A Waterfront for great views of the harbour and Table Mountain, then make your way to Sea Point or Camps Bay for more affordable meals and beautiful views.
Going up Table Mountain is a must. Take the cable car or, if you have older children, hike up the mountain instead. The views at the top are spectacular.
Hire a car to get the most out of Cape Town. The drive over Chapman's Peak is stunning!
Go to Cape Point where the Atlantic and Indian Oceans meet, stopping for a picnic on the way. Keep out for baboons – they have a nasty habit of trying to steal your food. Also visit Boulders Beach, a sheltered cove with huge rocks and a large colony of penguins.
Other activities of note are the beautiful Kirstenbosch Gardens, the Two Oceans Aquarium, and visiting the fishing villages and beaches near False Bay.
Recommended by Roxanne of Faraway Worlds
Cheap spring break trips for families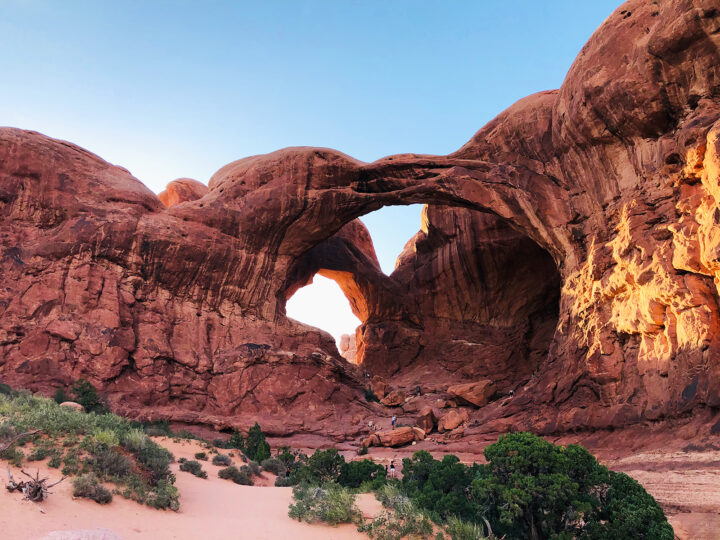 Alright so which one will it be? Which is the perfect and affordable spring break vacation spot for your family? From national parks to beaches, hiking adventures and historic cities, this list has something for every vacation style.
Let's recap those options again, in a quick list!
Best family destinations for spring break
Phoenix, Arizona
Utah National Parks road trip
Estes Park, Colorado
Joshua Tree National Park, California
Sedona, Arizona
Yosemite National Park, California
Omaha, Nebraska
New Orleans, Louisiana
Badlands National Park, South Dakota
Hudson Valley, New York
Charleston, South Carolina
Gulf Shores, Alabama
Philadelphia, Pennsylvania
Washington D.C.
Virginia Beach, Virginia
Koh Tao, Thailand
Cebu, Philippines
Bali, Indonesia
Penang, Malaysia
Sri Lanka
Athens, Greece
Rome, Italy
Gdansk, Poland
Montenegro
Alsace, France
Himara, Albania
Ljubljana, Slovenia
Playa del Carmen, Mexico
Dominican Republic
Belize
Guatemala
Costa Rica
Ecuador
New Zealand
Cape Town, South Africa
I hope this list has been helpful for you as you plan your spring break getaway. And maybe you've even found inspiration for your travel bucket list, too! 🙂
Related content you won't want to miss:
21 Best Beaches for Families in Florida You'll Love
28 Underrated Travel Destinations in the US You Need to See
21 Absolute Best National Parks to Visit in May You Can't Miss
21 Stunning and Affordable Island Vacations
26 Gulf Coast Beaches You Can't Miss
100 Most Romantic Vacations in the US
35 Cheapest Beach Vacations: Swoon-worthy Spots You'll Love
Fin this article helpful? Save it for later or share it on social media!