Lake Erie will pull you in to this destination, but Sandusky's charm will win you over! From amusement parks to lighthouses, spending time on the water or at wine tastings, there's so many things to do in Sandusky Ohio. It's a destination for all to enjoy!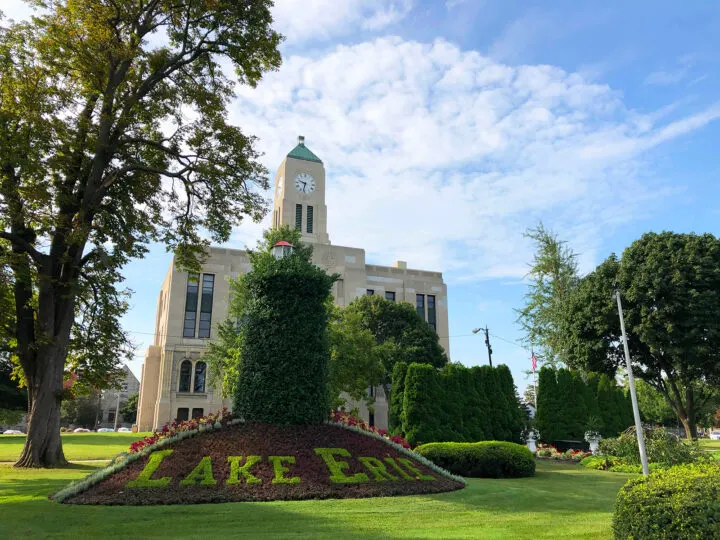 This post may contain affiliate links. For more info, see my disclosures.
Sandusky and the entire Lake Erie Shores and Islands area is the right mix of lake life, beach vibes and Midwestern charm. It's a perfect getaway for families, couples or even a girls' trip (which is what I did!) You'll have plenty to see and do in Sandusky and the surrounding space.
Located on the northern coast of Ohio, this gem of a destination is going to wow you!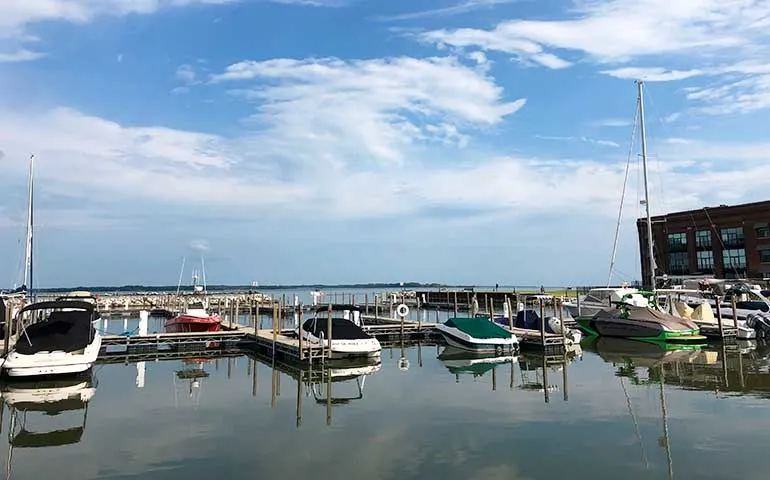 Map of all the things to do in Sandusky, Ohio
If you're a visual person like I am, then this map will help you get familiar with the area and plan out your days on the shores and islands of Lake Erie.

This guide is packed with things to do in Sandusky Ohio and the entire area. But first, let's go through a few helpful details.
How about a road trip to Sandusky, Ohio?
Depending on where you live, road tripping to Sandusky may be easier, more convenient or cheaper than flying. You might even opt to rent a car for the road trip if you don't want to put the miles on your own vehicle.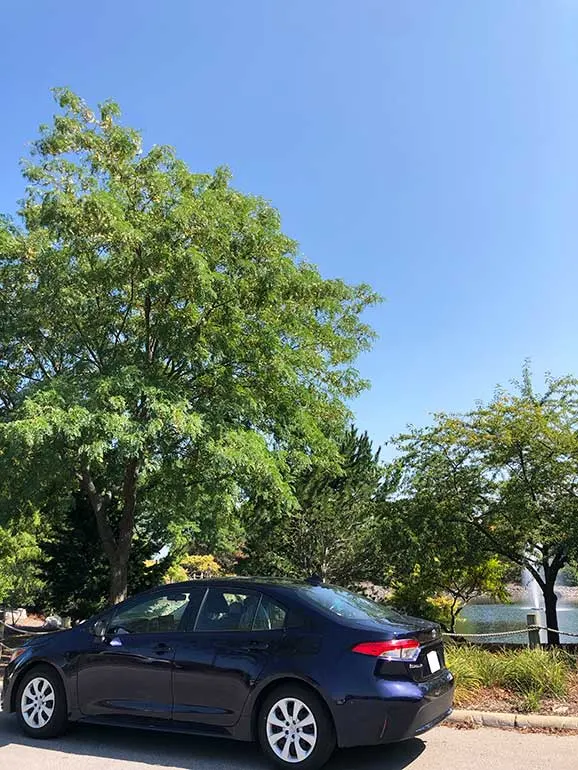 For a road trip to Sandusky, you'll want to pack:
Cooler full of goodies! Drinks, snacks and meals are pretty much a requirement on road trips, right? Cheaper than gas station food and usually healthier, too! I made homemade banana bread for my girl friend and I to enjoy on our way to Sandusky and packed a ton of other food. Here's 101 road trip snack ideas to prep for the trip!

Audio books or playlists. This seriously helps you pass the time! You can get a free trial of Audible or Spotify if you don't have subscriptions yet, which is perfect for a road trip.

Pillow and comfy clothes. One of my favorite things about road trips is that you can transport your pillow with you for the hotel or vacation rental. Plus use it while another person is driving!

Water shoes. You'll want these when you get to Sandusky to explore all the beaches in the area! These are the water shoes I took to Sandusky (and other beachy spots like Aruba, Kauai and the mountains of Dillon, CO and Glacier National Park). Anyway, pack your water shoes and prepare to hit the lake!
Oh, and be prepared for toll roads when traveling in Ohio. They're usually inexpensive but can take a few extra minutes. Otherwise you may be able to use the avoid tolls feature in Google Maps to navigate around them.
Alternatively, Cleveland Hopkins International Airport is the closest large commercial airport, about an hour to the east of Sandusky.
Alright, let's get to this list!
Fun things to do in Sandusky Ohio
The whole Lake Erie Shores and Islands consists of many communities close to and on Lake Erie. This guide covers awesome things to do in Sandusky and the surrounding area. There's so much fun to be had, I couldn't leave anything out! 😉
1. Cedar Point Sandusky Ohio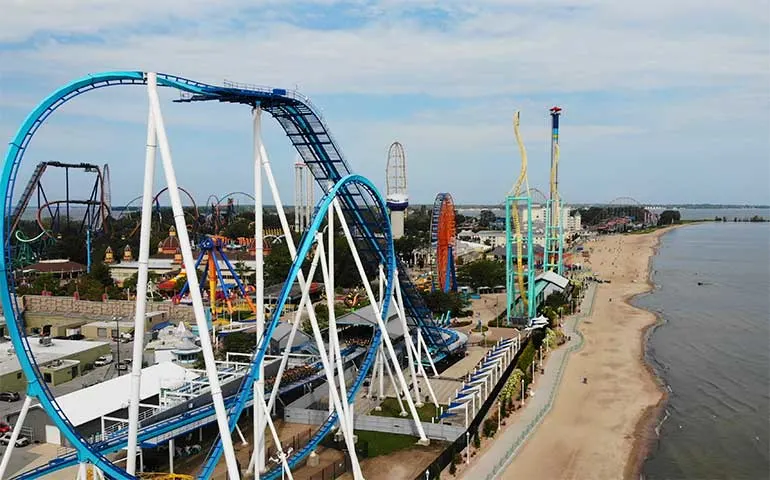 Starting this list off with a bang! Probably the most well-known attraction near Sandusky, Cedar Point is a legend within the amusement park world. At over 150 years old, it's the 2nd oldest operating amusement park in the US (behind Lake Compounce in Connecticut).
Adventures at Cedar Point are for every age group. Ride the Giant Wheel – one of the tallest Ferris wheels in the USA. Cheese-lovers will love to eat at The Mac Shack, where you can get customized mac n cheese just how you like it. And if you're visiting Cedar Point in the summer, be sure to check out the Snake River Expedition – a perfectly gentle ride for young ones or a casual activity.
With 18 mega roller coasters plus a waterpark and hotel, you could spend your entire vacation here. But with so many more things to do in Sandusky Ohio, let's keep going!
Pro tip: add a trip to Cedar Point to your vacation savings plan so you can stay on budget. You'll need to pay for tickets, food and even parking, so plan accordingly.
Location: 1 Cedar Point Dr, Sandusky, OH 44870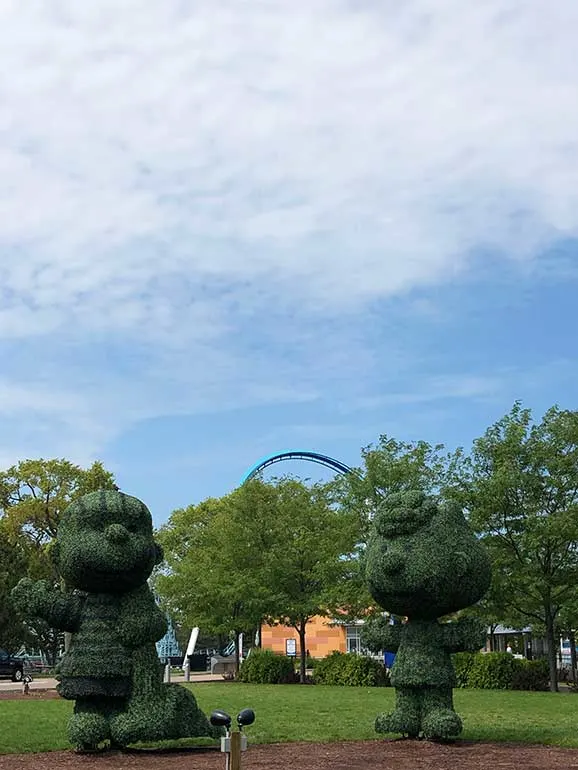 2. Cedar Point Boardwalk
Since we're nearby, let's chat about hanging out at the Cedar Point Boardwalk. This mile-long boardwalk is a staple on the Lake Erie shore.
Take a stroll to watch the rides from Cedar Point Amusement Park zoom and whirl right past you. Stop for lunch or a snack at the Sand Bar restaurant. Or simply check out the beach and watch the waves come in!
It's like a miniature version of the Wildwood Boardwalk in New Jersey with food, games and so much to do.
Location: on the far north side of Cedar Point. Look to the right of the large American flag after you park.
3. Marblehead Lighthouse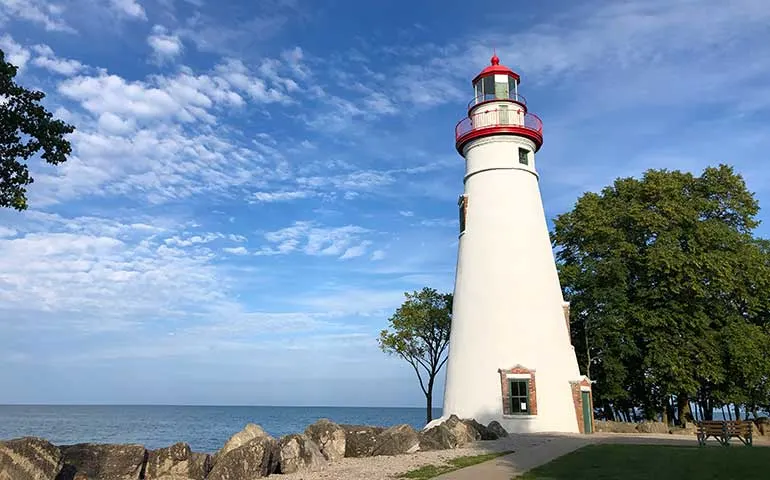 You'll want to see the most photographed lighthouse on the Great Lakes! It's a must-see when visiting Sandusky. Running since 1821, the Marblehead Lighthouse is the oldest lighthouse in the continuous operation on the Great Lakes.
Tours are available for limited hours during the day – check the official Marblehead Lighthouse website for times. Walk up the 77 steps to catch superb views of Lake Erie! From here you'll also see Kelleys Island and Cedar Point.
Location: 110 Lighthouse Dr, Marblehead, OH 43440
4. Segway Tour (one of my favorite things to do in Sandusky Ohio!)
If you're looking for a genuinely fun time, then don't wait another minute to book your guided Segway tour of downtown Sandusky. Even if you've never been on a Segway, I know it will be a trip highlight!
This charming city is fun to see on wheels, and your friendly tour guide will help share the history and landmarks of Sandusky. The tour starts off with learning how to use a Segway safely and comfortably. Then you'll hit the streets and see the sights!
Rolling through downtown Sandusky, you'll feel the wind in your hair while listening to the audio tour by your guide. Enjoy the views of Washington Park, Shoreline Park and the lakefront, Mylander Park, historical buildings, street art and so much more! It's seriously one of my most favorite things to do in Sandusky Ohio!
Segway tour reservations through Sandusky Segwave can be made for up to 8 people, and all participants must be 14 years or older to ride.
Pro tip: wear comfy shoes and bring a water bottle. And get ready to have a blast!!
Location: 107 Columbus Ave, Sandusky, OH 44870
5. Spend the day at Kalahari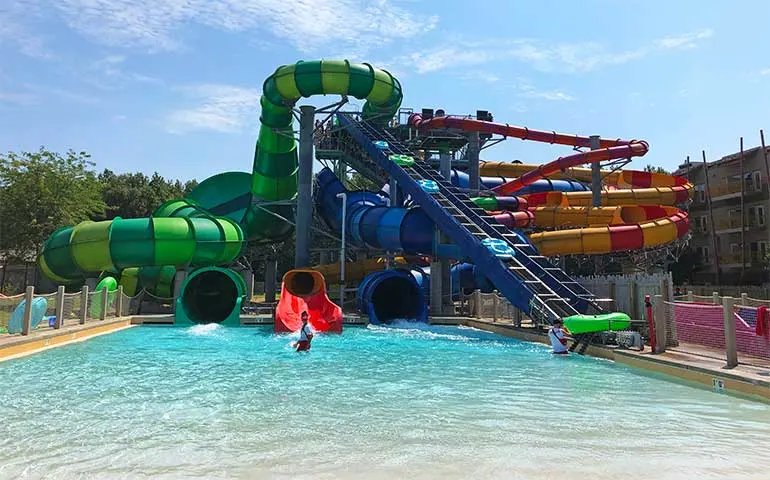 Let's be honest, you could spend an entire vacation here. But considering this article is about all the amazing things to do in Sandusky Ohio, let's just stick to a day, ok?
Kalahari Resorts & Conventions is the Midwest's largest indoor water waterpark. It's one of the best hotels with indoor water parks in the US. And let me tell ya – it's huge!!
At a warm 84 degrees year round, it's the perfect for a rainy day activity, traveling to Sandusky over the winter or even spring break. There's a large area outdoors too, where you could spend all your time soaking up the sun while enjoying the park (open Memorial Day through Labor Day).
In addition to the water park, there's a spa, arcade, restaurants, zoo, mini golf, adventure park including zip line, rope course, climbing wall and so much more.
Pro tip: be sure to put this in your vacation budget so you stay on track. It's easy to go overboard here!
And if you're wanting to plan a waterpark getaway in a more tropical destination, check out all the things to do in Atlantis Bahamas, where you'll find an equally impressive waterpark!
Location: 7000 Kalahari DriveSandusky, OH44870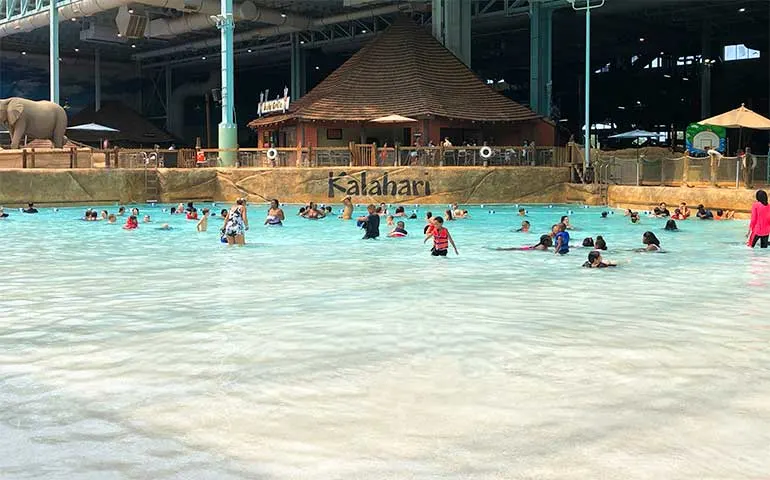 6. Floral gardens at Washington Park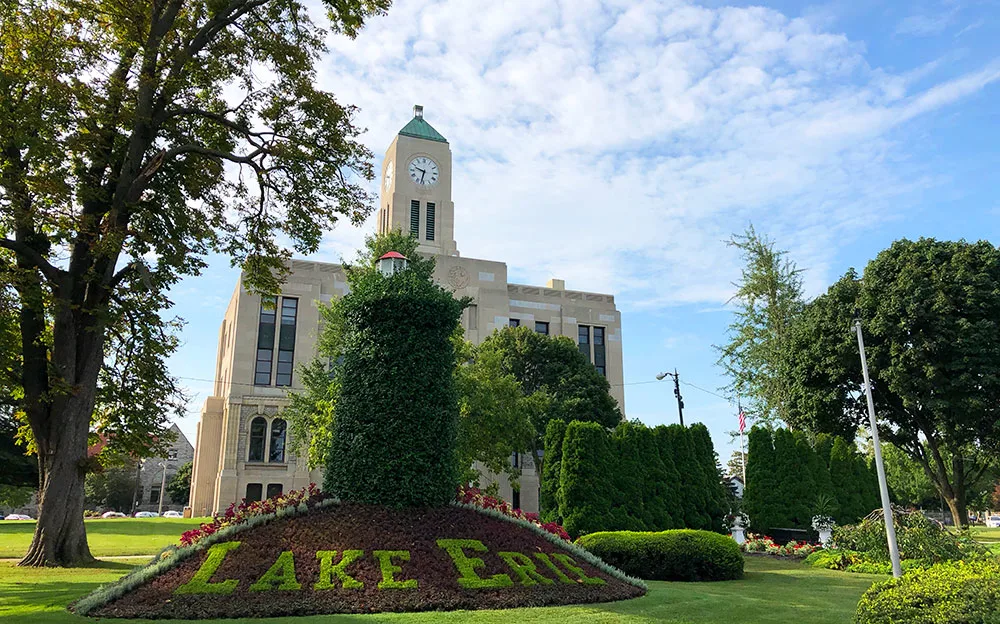 Downtown Sandusky boasts a beautiful and scenic Washington Park. Dating back to the early 1800's, the Washington Park area has always been preserved for public enjoyment. Hang out in the Sandusky Gazebo or grab some popcorn at the famous Red Popcorn Wagon.
You'll find beautiful floral arrangements, including a floral clock throughout the grounds, with historical buildings as perfect backdrops. Today the Erie County Common Please Court is on one side of the street, with a school and other county buildings nearby.
Kids will love the Boy with the Boot fountain, which dates back to 1895! A replica fountain stands there now, with the original on display at the Sandusky City Hall.
Location: navigate to Washington Park, Sandusky, OH 44870
7. Merry-Go-Round Museum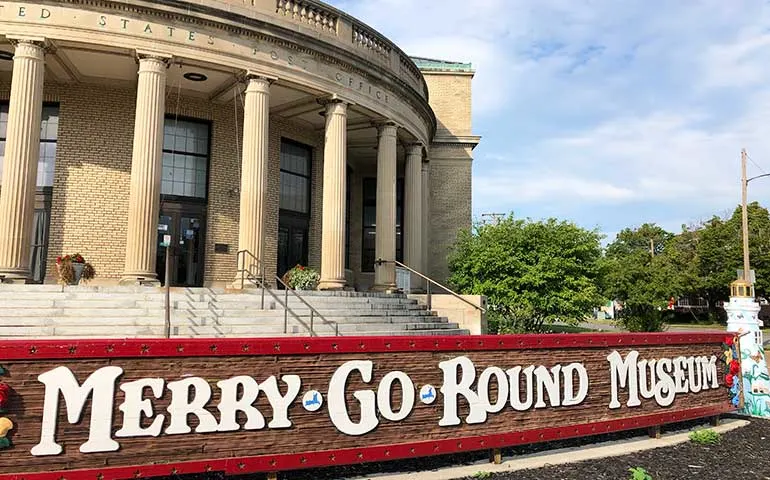 Right next to Washington Park is the Merry-Go-Round Museum. This museum is part of Sandusky's charm, and it's an important service to the community and merry-go-rounds worldwide!
There's a large carousel inside available for rides, which is a favorite for kids and adults alike. The museum is open to the public, check museum hours here.
Fun fact: Other carousels from all over the US send pieces to the Merry-Go-Round Museum for restoration. Artisan carvers fix these components to help preserve the 200 or so original carousels that still operate in the USA today.
Location: 301 Jackson Street, Sandusky, OH 44870
More things to do Sandusky Ohio
Can you believe this lineup so far? And yet there's soooo much more to see and do. Let's keep it going. One of my faves is next!!
8. Ice cream at Toft's Dairy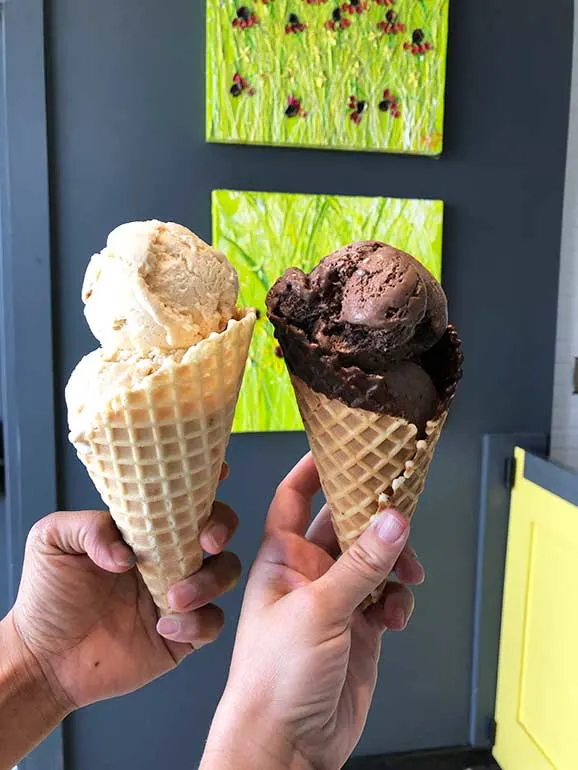 Half of the fun of traveling is the food, right? As someone who's literally booked a vacation around ice cream, I take it very seriously. So believe me when I say: you need this ice cream in your life!
It's Ohio's oldest dairy and they surely know what they're doing! Drive to their original location on Venice Road, or check out the additional locations. With fun flavors like Caveman Chocolate, Muddy Sea Salt and Lake Erie Cookie Monster, how will you ever choose?
Pro tip: drive to Toft Dairy multiple times to find your fave! 😋
Locations:
3717 Venice Rd, Sandusky, OH 44870
4318 Milan Rd #1B Sandusky, OH 44870
4016 E Harbor Rd, Port Clinton, OH 43452
1 Cedar Point Dr, Sandusky, OH 44870 (inside Cedar Point amusement park)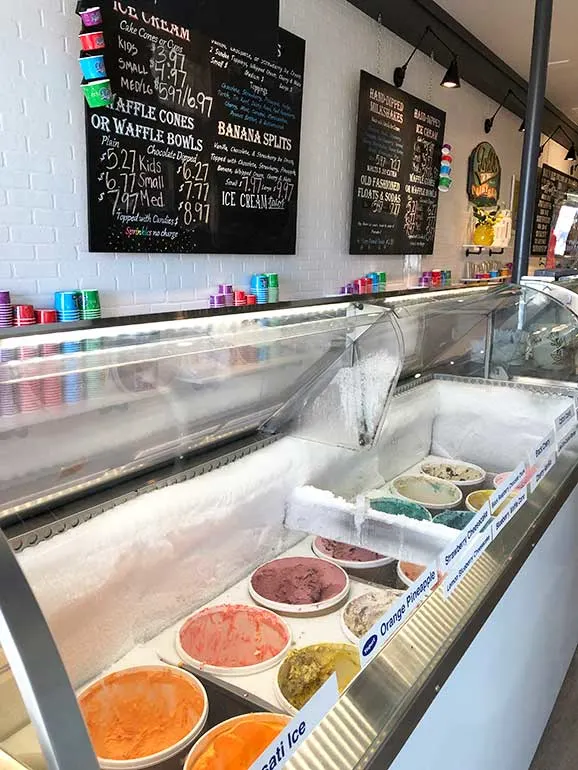 9. Try Perch
Sticking with the food theme, you absolutely must try the Perch. It's the local catch and you'll find it in many restaurants in the area. It's a light, white fish that's commonly fried.
Perch fish and chips or Perch sandwiches are the favorites amongst locals.
Best places to eat Perch in the Sandusky area:
New Sandusky Fish Company (downtown Sandusky)
Lemmy's Eatery (in Huron)
Rosie's Bar and Grill (in Port Clinton)
The Village Pump (on Kelley's Island)
Dock's Beach House (in Port Clinton)
Goat Soup & Whiskey (on Put-in-Bay)
10. Parasailing over Lake Erie (another favorite on this list of things to do in Sandusky Ohio!)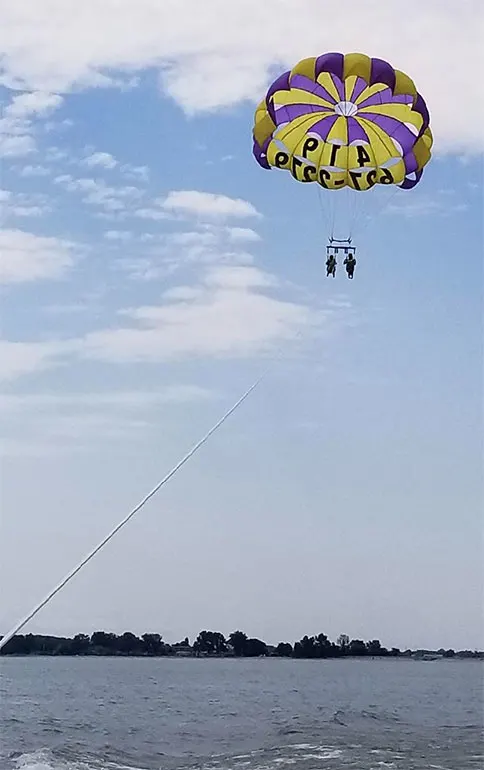 If you want to get your adrenaline pumping, then you absolutely must try parasailing! This was one of our favorite activities during our girls' trip to the Sandusky area.
Located at Cedar Point Beach, parasailing is fun for everyone. If it's your first time, I can only best describe it as floating in the air, or being on a giant swing. The staff at North Coast Parasail make the ride very smooth and provide clear directions how to get up in the air and back down on the boat safely.
You don't even have to get wet, although it's fun to have your legs 'dipped' into Lake Erie at the end of the ride!
For ages 5 and up, book your parasailing adventure with North Coast Parasail.
Location: Cedar Point Beach Boardwalk, Cedar Point, OH 44870. Look to the right of the large American flag after you park.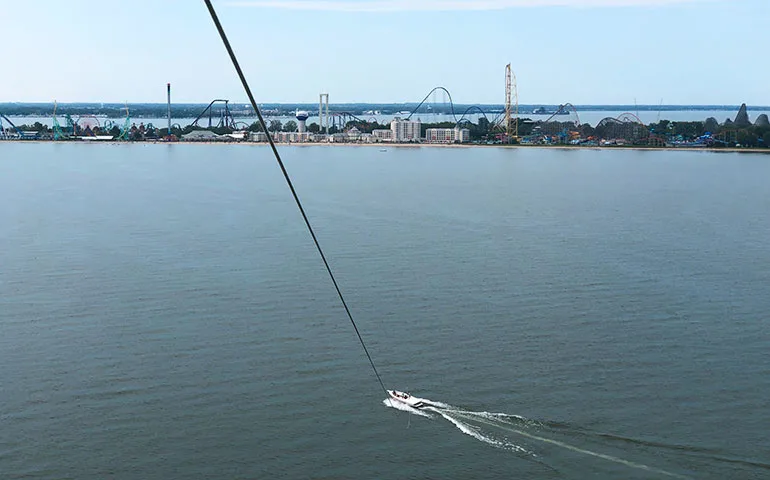 11. Live music at Jackson Street Pier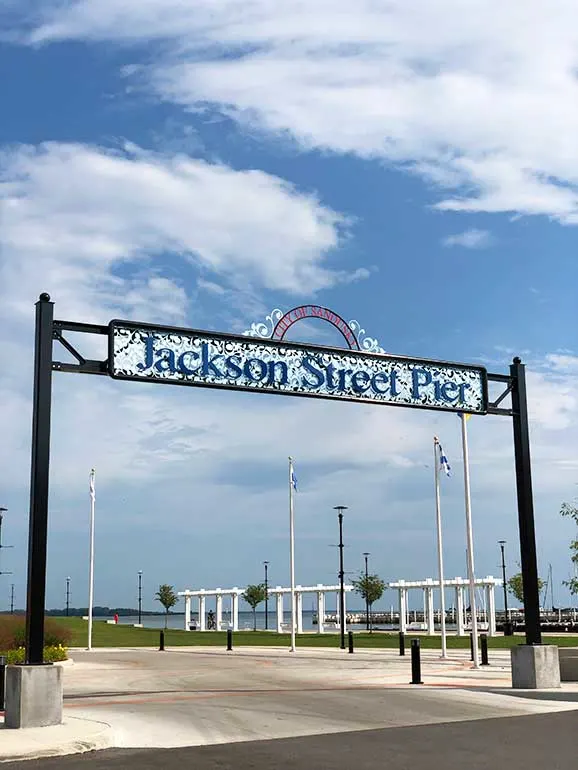 The city of Sandusky really knows how to have a good time! Jackson Street Pier is home to plenty of green space and waterfront views. But it's also the spot to catch live music!
There are free concerts every Thursday night from Memorial Day to Labor Day. Check out the Facebook page for updates and schedule.
Location: 221 W Shoreline Dr, Sandusky, OH 44870
12. Fish tacos at Dockside Cafe
If you love water views and tacos, then you need to walk, ride or boat right over to the Dockside Cafe! Serving fresh fish tacos, burgers and frozen drinks, this outdoor restaurant has excellent views of the bay…and of course food, too.
Open seasonally check the Dockside Cafe Facebook page for their live music schedule and hours.
Location: 611 W Shoreline Dr, Sandusky, OH 44870
13. Kayak on Lake Erie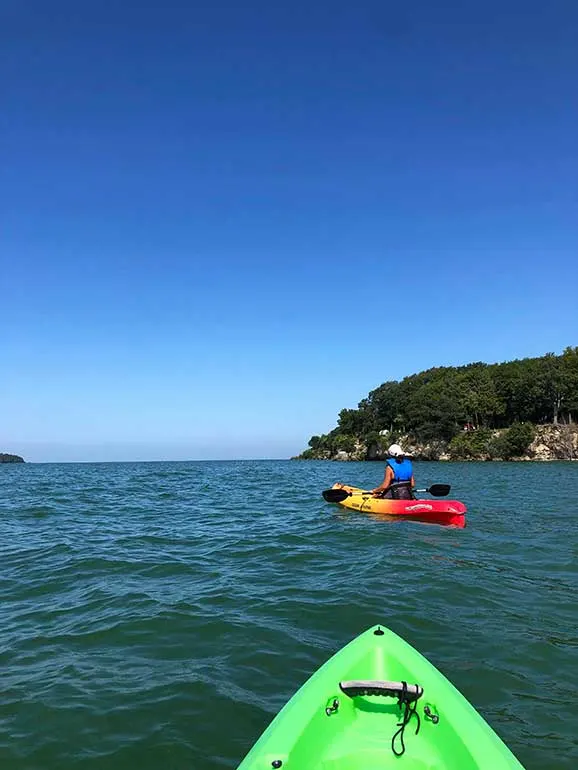 What better way to enjoy Lake Erie than kayaking on it? That blue-green water is best observed from above. 😊
Whether you're on a family vacation, with a significant other, on a friends trip or solo, kayaking is a good time no matter who you're with. Connect with nature, or maybe a bit more with yourself in the process!
I've packed my kayaks on the top of my vehicle for long road trips, so if you own them don't hesitate to bring them along on a road trip! Although now it's pretty easy to travel with inflatable or folding kayaks too. Or better yet – reduce your stress of travel and just rent kayaks!
Favorite spots to rent kayaks in the Sandusky area:
Put-in-Bay Watercraft Rentals (on Put-in-Bay)
Paddle & Climb (in Sandusky)
Kelleys Island Kayak Rental (on Kelleys Island)
Lake Erie Adventure Company (in Huron)
14. Day trip to Put-in-Bay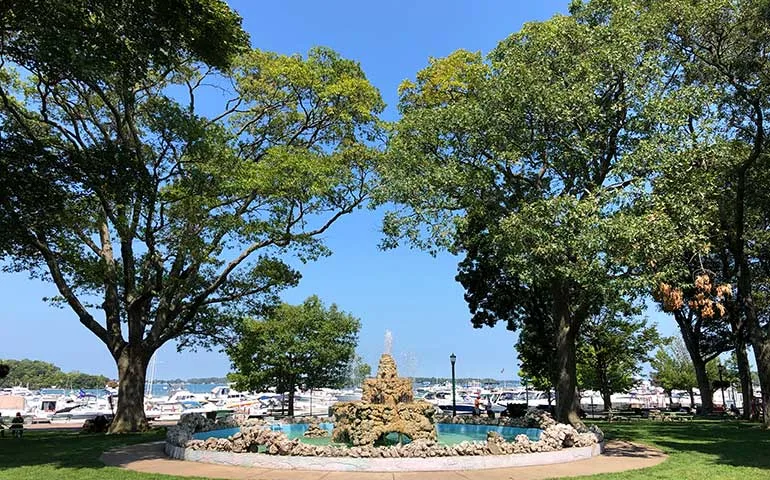 Alright you can actually spend an entire vacation because there's so many things to do in Put-in-Bay, but you definitely at least need to spend a day on the island. Put-in-Bay is one of the closest, most commercialized islands to Sandusky on Lake Erie. And boy is it a good time!
If you're road tripping to Sandusky, you can even take your car on the ferry over to the island. It's just $19 each direction on the ferry for a vehicle, plus passenger fees. Otherwise renting a golf cart on the island is fun, too!
Check out these top attractions at Put-in-Bay:
Massie's Cliffside Preserve
Heineman Winery and Crystal Cave
Perry's Victory and International Peace Memorial
Downtown area for shopping and restaurants
Perry's Cave Family Fun Center
South Bass Island Lighthouse
DJ's Ice Cream Parlor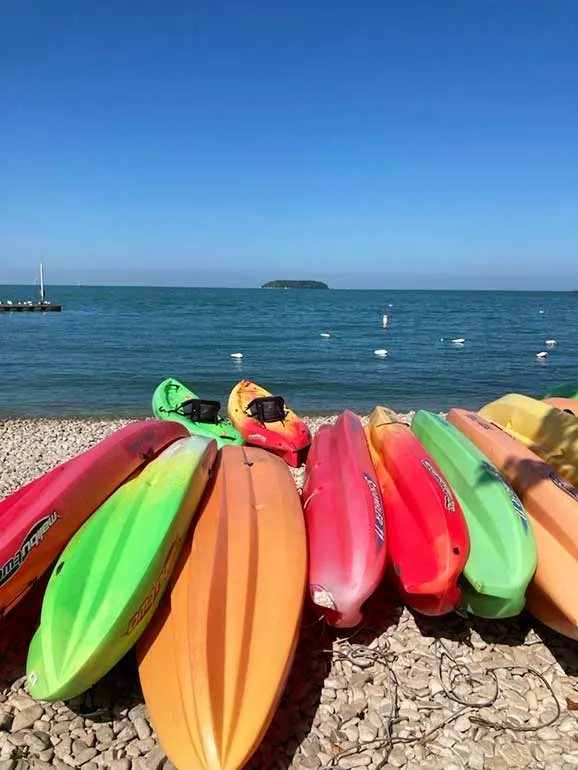 More attractions in Sandusky Ohio
This mega list of things to do in Sandusky Ohio has been full of adventure so far. There's still more fun to be had, but the next few activities are a bit more relaxing!
Let's keep going.
15. Visit a winery (another one of my favorite things to do in Sandusky Ohio)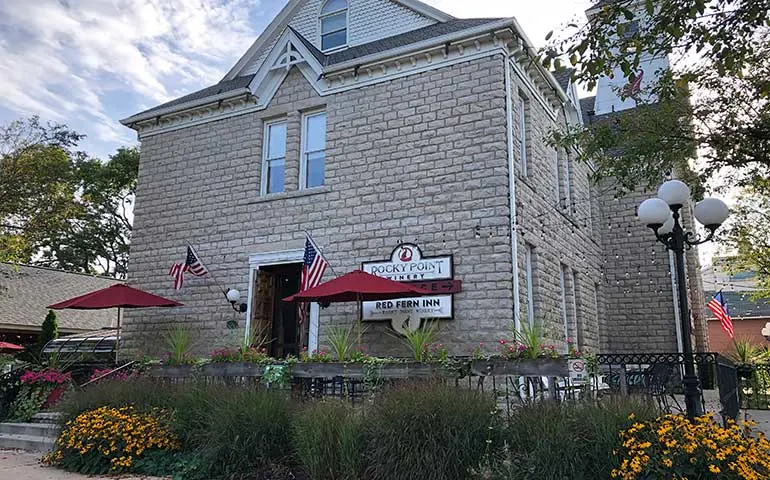 Winery in Sandusky Ohio?! Yes…many of them! I'll be honest with you…during my girls' weekend to Sandusky, we visited 4 wineries. 😋 And here's the thing: they were all fantastic and unique in what they offered!
Fun fact: the wine industry in Ohio is older than the tourism industry. So yeah, it's good wine!
Wineries have existed in the Lake Erie area since 1888. Specialized Concord and Catawba grapes are grown on the islands and shores of Lake Erie, and the unique ecosystem creates amazing growing conditions! Take a tour, grab a flight of wine and enjoy your vacation!
Check out these wineries in the Sandusky area:
Rocky Point Winery (in Marblehead)
Kelleys Island Wine Co (on Kelleys Island)
Firelands Winery (in Sandusky)
Heineman's Winery and Crystal Cave (on Put-in-Bay)
Put-in-Bay Winery (on Put-in-Bay)
Bonus: grab a cheers trail at any Lake Erie Shores & Islands welcome center. It's a map of the area's wineries, breweries and ciders. Visit 6 and claim a free gift! #enjoyresponsibly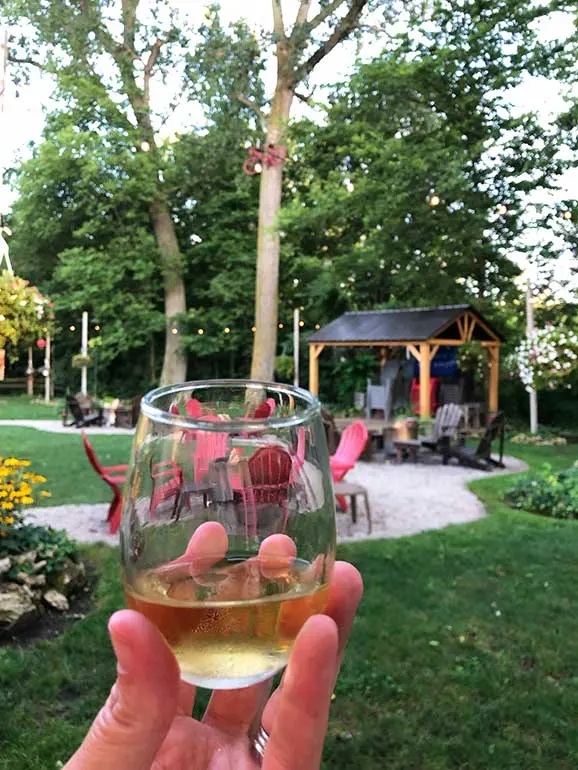 16. Catch a magical sunset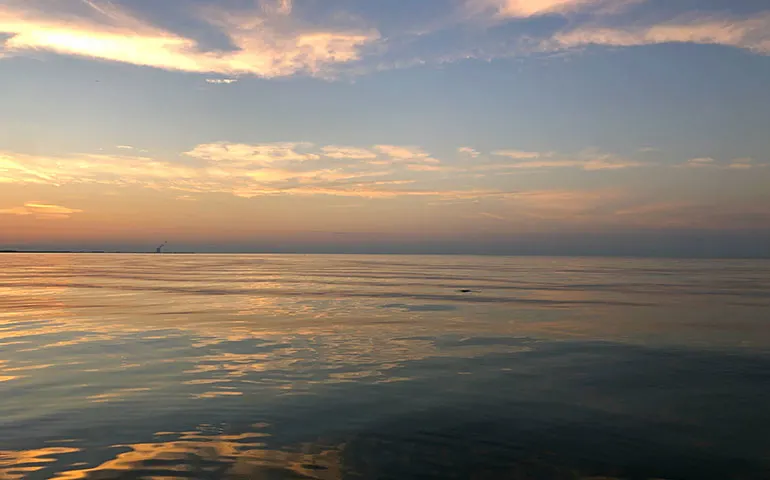 Alright, I can't really promise an epic sunset will occur during your time in Sandusky. But I can definitely say the lake views certainly feel magical and that water sunsets are amazing. This Lake Erie sunset above reminded me of sitting on Leeward Beach, watching the sunset in Turks and Caicos.
For the best sunset views on the water, consider these spots:
17. Relax on a Sandusky Ohio beach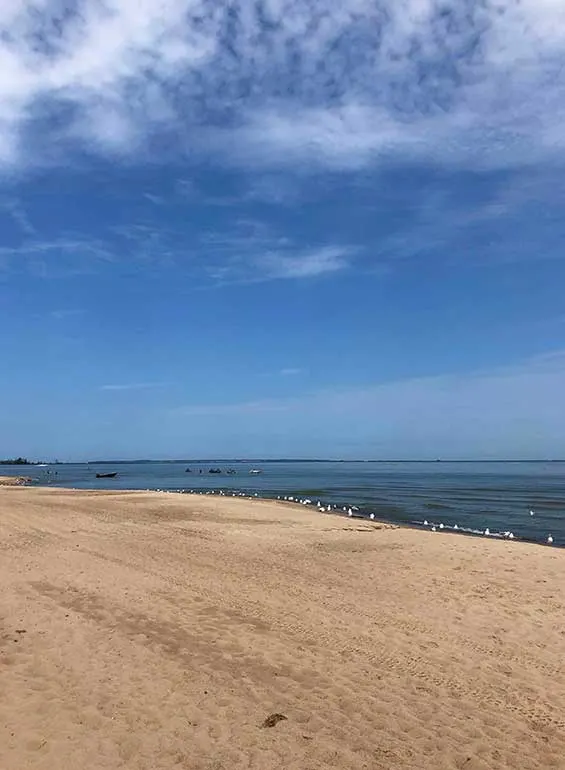 If you're a beach lover, you're in luck! There's plenty of spots for watching the waves, having a picnic, skipping rocks or going kayaking. It's one of my favorite things to do in Sandusky Ohio (or any other vacation for that matter 😉).
The Nickel Plate Beach in Huron is one of the best in the area, that has the softest sand, mimicking an ocean beach. But there's plenty of others to choose from, and one close to your hotel or vacation rental.
Here are the best beaches near Sandusky:
Lakeside Beach (in Marblehead)
North Swimming Beach (near Catawba Island)
Kelleys Island State Park Beach (on Kelleys Island)
Cedar Point Beach (at Cedar Point)
Waterworks Park Beach (in Port Clinton)
South Bass Island State Park (on Put-in-Bay)
Nickel Plate Beach (in Huron)
Pro tip: pack your water shoes for this trip! The beaches along Lake Erie have varying degrees of sand and rock, so be prepared. These are the water shoes I used for my time in Sandusky (I have them in gray).
18. Boat or jet ski on Lake Erie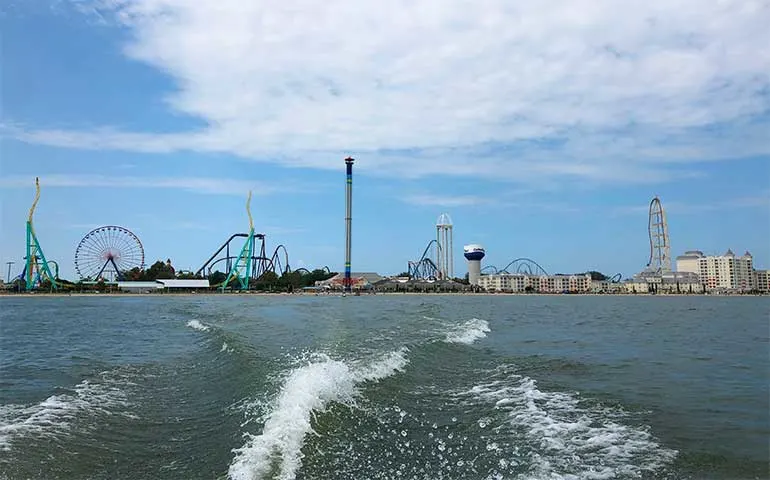 What better place to jet ski and boat than a Great Lake?! The guys at North Coast Parasail also offer jet ski and boat rentals. If you're a water lover and want to see and experience more of it, then you'll love jet skiing.
The WaveRunner jet skis are smooth on the water and really comfortable, making this a great experience for first-timers! Or rent a boat and visit Kelleys Island, Put-in-Bay or hang out in the Sandusky Bay.
You'll be posting #lakelife pics after this trip, for sure!
Jet ski drivers need to be 16 years or older, and to ride on the back, participants must be at least 5 years old. Groups of 6 or less can rent a boat – but be sure to book in advance as they sell out quickly!
Location: Cedar Point Beach Boardwalk, Cedar Point, OH 44870. Look to the right of the large American flag after you park.
19. Visit Kelleys Island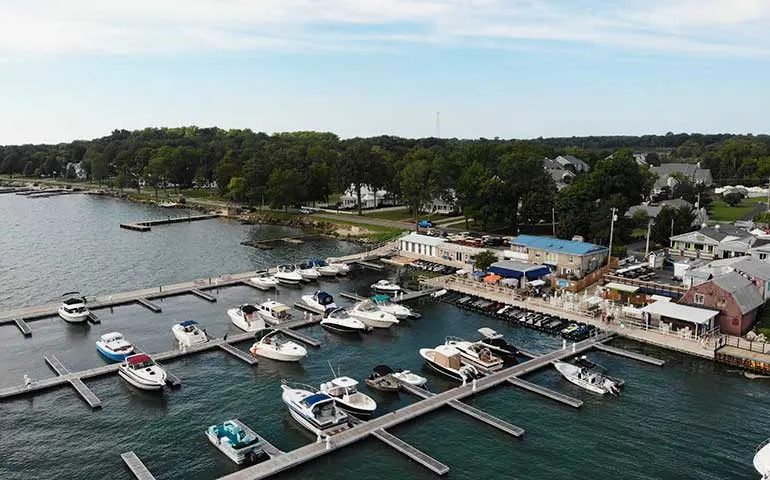 If you're looking to escape the city and enjoy pure nature, then Kelleys Island is a perfect way to spend the afternoon. Just hop on the ferry and spend the day exploring.
Much larger and much less commercialized than Put-in-Bay, this getaway is for those who truly love the outdoors. A majority of the island is still in its natural state, protected by either the Kelleys Island State Park or several nature preserves.
Here are a few of the best things to do on Kelleys Island:
Glacial Grooves State Memorial
Shopping and dining in downtown
Inscription Rock
Kelleys Island Wine Co
Visit one of the many beaches on the island
If you're on an epic Midwest road trip, you can even take your car to Kelleys Island.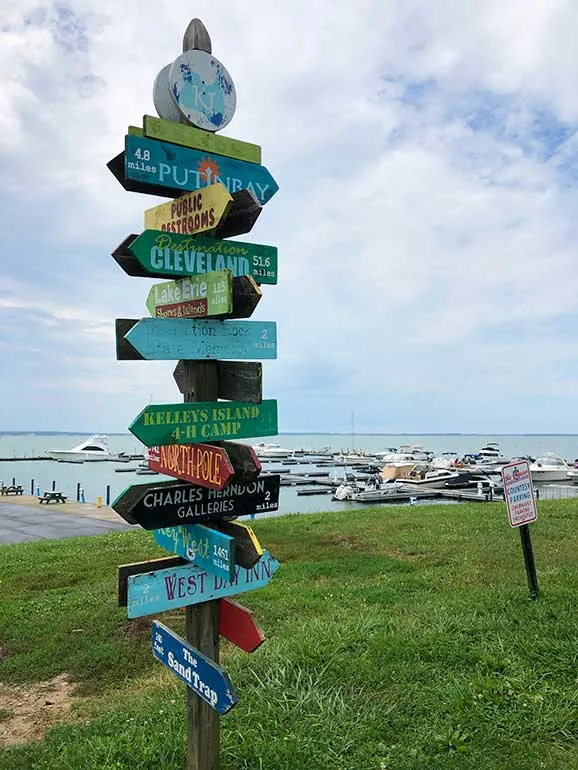 20. Ride the Jet Express Sandusky
If you're looking for a fun way to island hop, the Jet Express is it! It's a high-speed passenger ferry that departs from downtown Sandusky, Kelleys Island, Put-in-Bay, Cedar Point and downtown Port Clinton.
Kids will love this speed boat ride, and it's family-friendly pricing offers kids under 5 free, which is a bonus if you're traveling with littles.
The Jet Express operates May through October. Check rates and schedule here.
21. African Safari Wildlife Park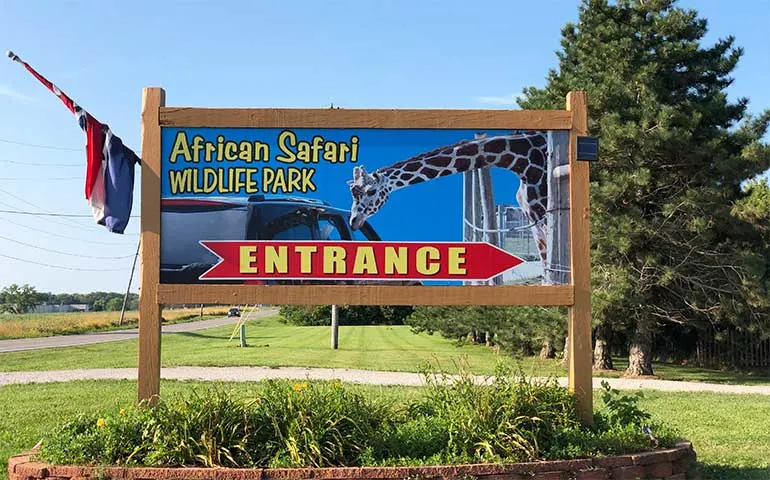 If you like zoos, you'll love this activity! The African Safari Wildlife Park in Port Clinton is a drive-through park that offers the ability to feed animals from your car. Your admission price comes with food and the animals walk right up to your vehicle for that tasty goodness!
Feed giraffes, deer, cows, elk, bison, llamas, alpacas and more! There's also a walk-thru safari with smaller animals, and an aviary adventure that's a hoot! (sorry, had to😜)
Pro tip: save some lettuce for the end of the drive as the giraffes like that best and they're last. Oh, and be prepared to clean your hands and car of animal slobber after the tour!
Location: 267 S Lightner Road, Port Clinton, OH 43452
Can you believe there's still more things to do in Sandusky Ohio?!
There's a few more activities and sights before wrapping up this list. The next few will help you see more of the area, learn a bit more history and are just generally a good time along Lake Erie, Ohio!
22. Lake Erie Love signs (one of the most unique Sandusky Ohio attractions)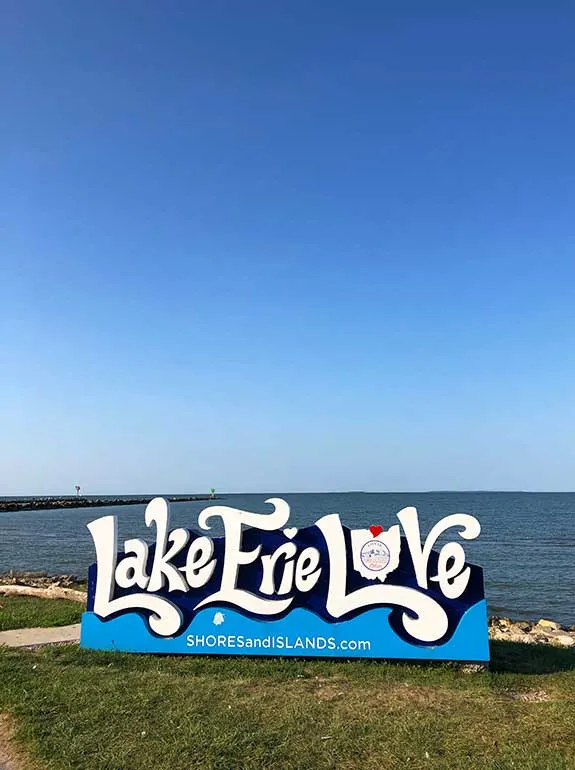 I mean, these signs are just fun, right? Whether you're traveling with kids or posting them on social, find a Lake Erie Love sign! Get creative with poses, save the pics for your phone background or vacation scrapbook.
Here's a list of Lake Erie Love locations:
Waterworks Park, Port Clinton (sign above)
Nickle Plate Beach, Huron (sign like the photo above)
The Keys, Put-in-Bay (mural)
Jackson Street Pier, Sandusky (Adirondack chair)
Toft's on 250, Sandusky (Adirondack chair)
Cedar Point Sports Center, Sandusky (Adirondack chair)
Romp's Putt-putt, Vermilion (mini Adirondack chair)
23. Check out the local street art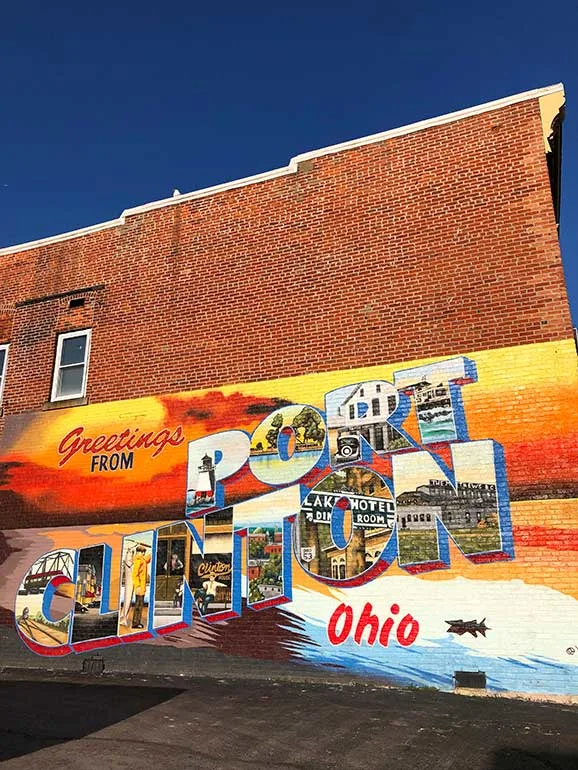 And if you love taking photos with signs, then finding street art in definitely has to be on your list! I caught this mural while visiting Port Clinton.
Location: 106 W Perry St, Port Clinton, OH 43452 (Greetings from Port Clinton sign)
24. Downtown Port Clinton
Alright so this is over in Port Clinton, about 20 minutes away from Sandusky, but worth mentioning! Downtown Port Clinton a cute area with restaurants and little shops. The "MOM" district, or Meals on Madison has some seriously delicious food.
And Thursday – Sunday the area has live music, outdoor games and is just generally a good time. Grab food to go and enjoy the outdoor space the city has blocked off. Or, an excellent local brewery is Twin Oast Brewing Co with plenty of green space, not to mention a full menu of food.
Pro tip: get a Perch sandwich and grilled brussel sprouts from Rosie's Bar & Grill downtown – you won't regret it!
25. Waterworks Park and lighthouse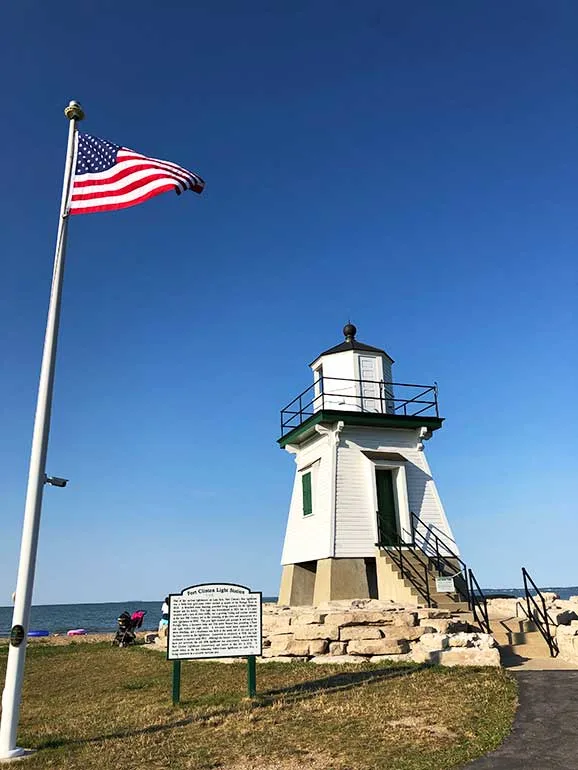 This fun area just outside Port Clinton includes one of the best beaches in the area…but the highlight is the Port Clinton Lighthouse. Another historic gem, this lighthouse was privately-owned but now sits where the public can enjoy it year round.
The Port Clinton Lighthouse was built in 1896 and restored in 2014. The nearby Lightkeeper's Boathouse includes original artifacts and even a gift shop. It's open for tours on weekends, seasonally. Check the official Port Clinton Lighthouse website for hours and admission info.
Location: 1868 E. Perry St, Port Clinton OH 43452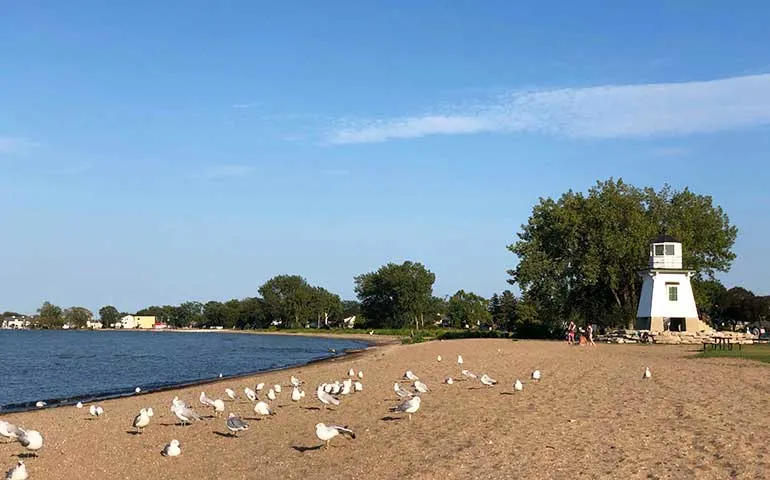 26. Rent e-bikes around Sandusky
Back in downtown Sandusky…if you love seeing the sights but want to do it quickly, then rent e-bikes and ride around Sandusky Bay. And bonus – it's way less work than a traditional bike.
If you've never been on an e-bike, they're a lot of fun! You have a few options for riding.. Opt to use only the gears (like a traditional bike) or choose to use a hybrid approach for assistance as you bike. Alternatively you can use the full electricity where no pedaling is required.
So hop on your e-bike and see views of Cedar Point, Lyons Park, the Jackson Street Pier and more. Be sure to ride over to the Medusa Marsh area for wildlife watching, too!
Book it now: e-bike rental in downtown Sandusky
Location: 131 E Water St, Sandusky, OH 44870
27. Goodtime 1 Sunset Cruise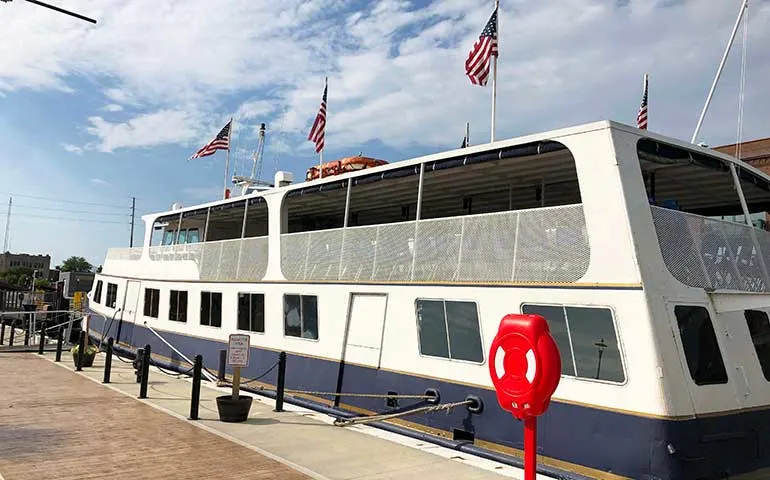 One of the area's largest sightseeing cruises and a top Sandusky attraction is quite literally a good time! The Goodtime 1 Cruise provides unique views of Sandusky, Kelleys Island, Put-in-Bay and more. Food, dining, drinks and a fun atmosphere are all part of the experience!
A one-day cruise offers narrated tours of Kelleys Island and Put-in-Bay, with views of Cedar Point, Marblehead Lighthouse, Lakeside Chautauqua and more! Or opt for the sunset cruise and relax with food and happy hour.
Operating seasonally, the Goodtime 1 has special events like Party on the Pier, Sunday Funday Party Cruise, Friday Night Party Cruise and so much more. Check out the schedule of events here.
Location: 109 West Shoreline Drive, Sandusky, OH 44870
Things to do in Sandusky Ohio (a recap)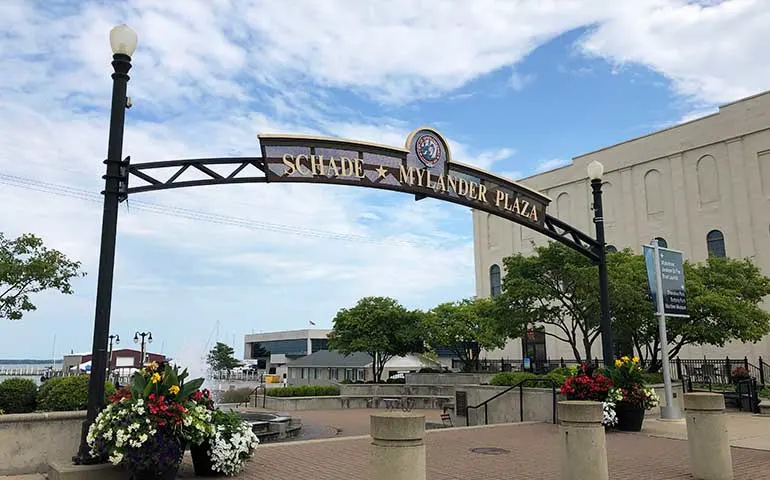 Sandusky is truly a destination that almost any water lover will enjoy exploring. Between the beautiful views, historic charm and amazing adventure, Sandusky is full of exciting possibilities waiting for you around every corner.
Here's a recap!
Best things to do Sandusky Ohio
Cedar Point Amusement Park
Cedar Point Boardwalk
Marblehead Lighthouse
Segway Tour
Kalahari Waterpark
Floral gardens at Washington Park
Merry-Go-Round Museum
Ice cream at Toft's Dairy
Try Perch
Parasailing over Lake Erie
Live music at Jackson Street Pier
Fish tacos at Dockside Cafe
Kayak on Lake Erie
Day trip to Put-in-Bay
Visit a winery
Catch a magical sunset
Relax on a Sandusky Ohio beach
Boat or jet ski on Lake Erie
Visit Kelleys Island
Ride the Jet Express
African Safari Wildlife Park
Lake Erie Love signs
Local street art
Downtown Port Clinton
Waterworks Park and lighthouse
Rent e-bikes around Sandusky
Goodtime 1 Sunset Cruise
Related content to see next:
Best Hiking in the Midwest: 16 Cool Hikes You'll Want to See
16 Awesome Midwest Road Trips You Need to Experience
Road Trip with Kids: 15 Road Trip Essentials
101 Delicious Road Trip Food Ideas
Find this post helpful? Save it for later or share it on social media!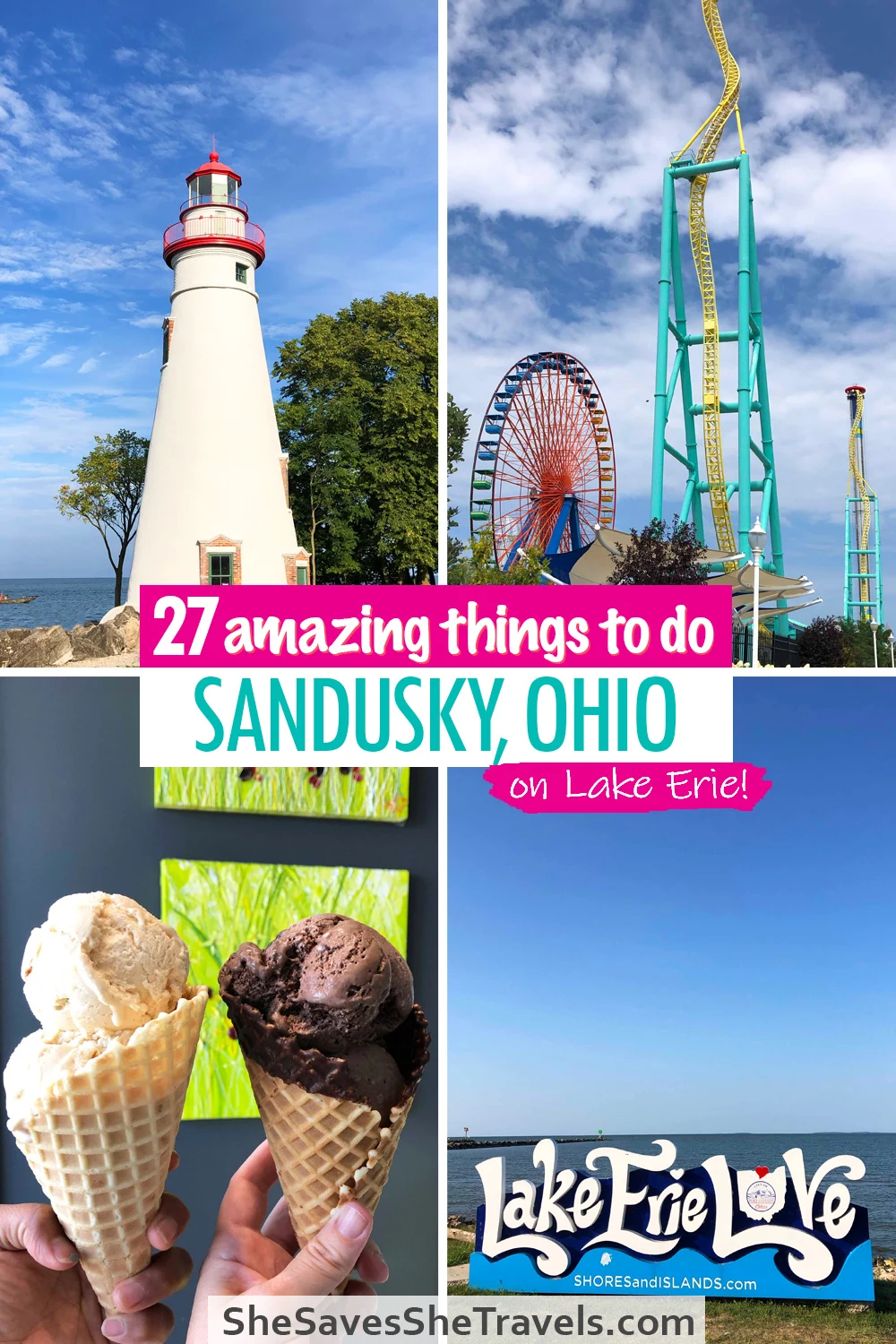 Thank you to Lake Erie Shores and Islands Tourism for hosting me! As always, all opinions are my own.