Ahhh, the Midwest. Vast landscapes with beautiful scenery, the ability to connect with nature and fun attractions. One of the best ways to explore the middle of the USA is with a Midwest road trip!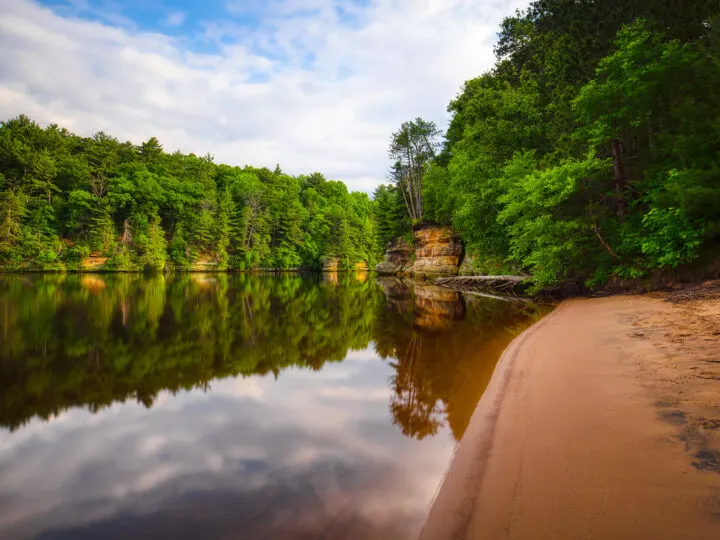 This post may contain affiliate links. For more info, see my disclosures.
For those of us who live here, we know there's so much to offer. Our waving grasses with rolling hills make for beautiful, peaceful sunsets. Gorgeous lakes simply begged to be explored.
Our cities each have something unique to offer, and mix that with Midwest charm, it makes for a great place for a road trip!
Midwest road trip ideas
I've explored many places across the Midwest, but I haven't covered it all. So I turned to other experts to help me out to create this list of best Midwest road trips!
Here's a bunch of Midwest road trip ideas, ranging from 2 days to 10. From outdoorsy to artsy, there's truly something for everyone in the Midwest!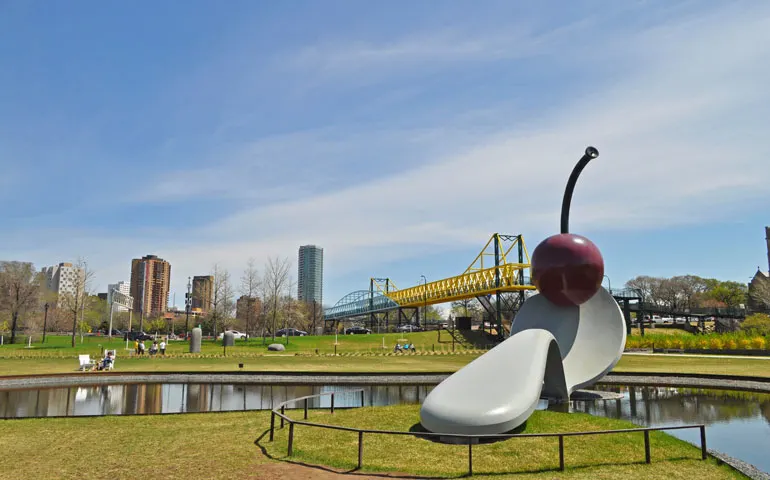 List of Midwestern States
But before we dive in, let's clarify the states that cover the Midwest to help you plan your trip:
Ohio (OH)
Indiana (IN)
Illinois (IL)
Missouri (MO)
Kansas (KS)
Nebraska (NE)
South Dakota (SD)
North Dakota (ND)
Minnesota (MN)
Iowa (IA)
Wisconsin (WI)
Michigan (MI)
Looking for more Midwest adventures? Check out these 16 trails – the best hiking in the Midwest!
Ready to hit the road? Here's the best Midwest road trips
Black Hills, South Dakota (a classic!)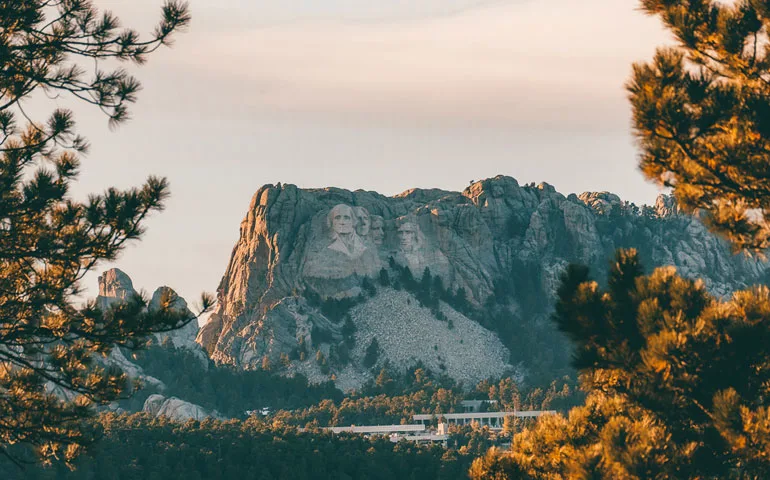 Recommended trip: 7-10 days
The Black Hills in South Dakota is one of the best places for a road trip in the Midwest. There is so much to see and do, you could easily spend months here, but for a shorter trip, 7-10 days would be great.
Rapid City is probably the best place to fly in and out of for a Black Hills trip. I would start with a couple of days in Badlands National Park. Spend the night in Wall, visit Wall Drug and the Badlands from here, then head over to Wind Cave National Park.
Spend a night or 2 in Hot Springs to easily access the park where you can do some hiking, look for bison, and do a cave tour. Make a stop at the Mammoth site while you're here, too.
Finally, head to Keystone for a few days. This is the perfect base for exploring the Mount Rushmore and Custer State Park area.
Some of the must-do activities here are visiting Mount Rushmore (of course), driving Iron Mountain Road, driving the Needles Highway, driving the Custer Wildlife Loop Road, hiking Cathedral Spires Trail, and relaxing at Sylvan Lake. If you want a little side trip, you can easily visit Devils Tower in Wyoming, too.
Recommended by Megan of Red Around the World
Chicago to St. Louis road trip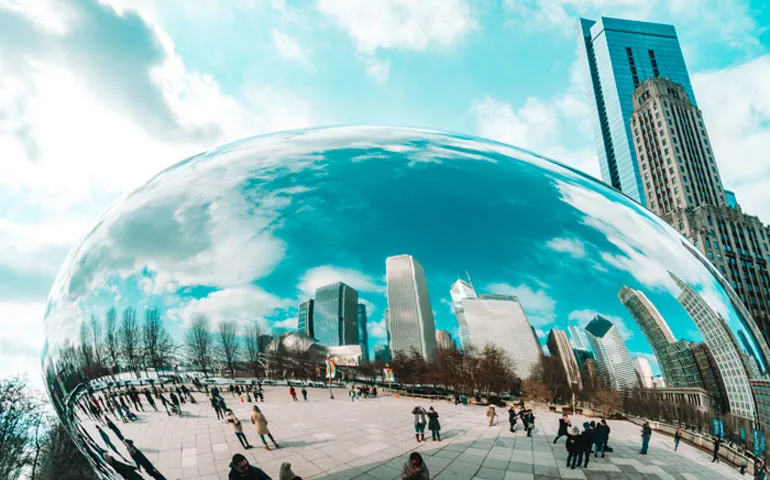 Recommended trip: 4-6 days
Driving from Chicago, Illinois to St. Louis, Missouri should be on any midwest road trip. This journey is part of Route 66, one of the original highways in the United States. Route 66 was the primary route for people wishing to move west. Opt to spend one day driving this four and a half-hour drive, or break it up and spend the night in Springfield, Illinois.
For this journey, start in Chicago. Make sure to spend at least 3 days in Chicago. Stay in the centrally located Downtown/River North area. Do not miss the Art Institute of Chicago and the Field Museum.
Grab some pictures at "The Bean" in Millenium Park. Daredevils can opt for "The Edge" experience at the Skydeck or the Tilt Experience at the John Hancock Building.
In the morning depart Chicago to drive south towards Springfield, the capital of Illinois. Stop by the capitol building and take a free tour of the building.
Visit Abraham Lincoln's grave at Oak Ridge Cemetery and then visit the Abraham Lincoln Presidential Library and Museum. Grab a custard at Krekel's before heading onward to St. Louis, Missouri.
Plan to spend at least 2 days in St. Louis to explore the main sites. Plan to stay in the Downtown area. Ride to the top of the St. Louis Arch at Gateway Arch National Park.
Take a peek into history at the Old Courthouse, where the Dread Scott decision was made. Make sure to eat some delicious BBQ before departing St. Louis.
Recommended by Francesca of Home Room Travel
You might also like:
101 Road Trip Food Ideas: Best Fun and Healthy Snacks You'll Love
Indianapolis, IN to Boyne City, MI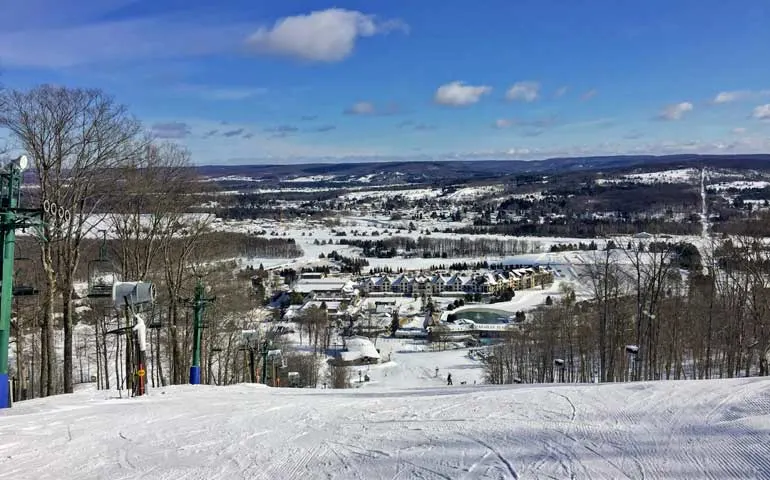 Recommended trip: 2-3 days
Ready for a fantastic Midwest road trip? Regardless of the time of year, driving from Indianapolis, Indiana to Boyne City, MI is a perfect way to enjoy a long weekend.
Day one, you'll want to get up early and head to Lansing, MI. It's about 3.5 hours from Indy, so if you time it right, be sure to stop for lunch at Soup Spoon Cafe – a flight of soup is a fun way to start your mini-vacation. Next, if you have younger kids, head over to the Impression 5 Science Center – they'll love the full sensory experiences.
After the museum, finish your drive north and check-in at Boyne Mountain for the night. Enjoy a full day of exploring Boyne Mountain and nearby Boyne City the next day. If it's winter, hit the slopes for a little skiing or even tubing.
If it's summertime, enjoy hiking, ziplining, or swimming. Downtown Boyne City is situated right on Lake Charlevoix and the town is full of delicious restaurants such as Cafe Sante and Red Mesa as well as unique local boutiques.
Leave Boyne Mountain, and head over to Petoskey for your final day. Start it off right with amazing bagels and donuts at Johann's Bakery and then hurry over to the main Kilwins location for a factory tour. Kilwin's offers free tours Monday – Friday every half-hour from 10 – 4:30, and each one ends with a decadent chocolate treat.
After the tour, spend a little time poking around downtown Petoskey for lunch and to pick up a few Michigan souvenirs before heading back to Indianapolis.
Recommended by Pam of Our Adventure is Everywhere
You might also like: Road Trip with Kids: 15 Essentials to Pack
Central Iowa road trip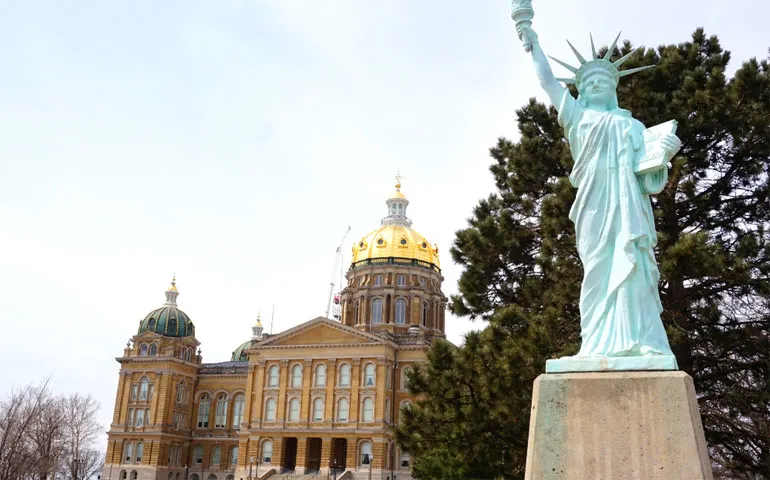 Recommended trip: 2-3 days
We highly recommend taking a road trip through Central Iowa. You'll pass through Des Moines, Iowa's capital and other smaller towns that have some fun and interesting attractions.
Heading east along I-80, your first stop should be the town of Winterset. It's famous for having the actual bridges of Madison County. Six of the original 19 covered bridges in Madison County have been preserved just outside of town. Winterset is also the birthplace of John Wayne. There is a museum dedicated to him, with lots of personal and movie memorabilia.
Continuing east, you reach Des Moines. We love this artsy city! It's easy to find street art there and downtown has a 4.4-acre sculpture park that is free to the public. There's also a really lovely botanical garden in Des Moines.
Of course, visiting the Capitol Building is a must. You can do a free self-guided tour and marvel at the building's incredible architecture.
The next stop on your road trip should be the town of Grinnell. Home to Grinnell College, they have a small but impressive art museum on campus.
Grinnell is also the home of one of eight "jewel-box" banks built by legendary architect Louis Sullivan. He is considered the father of modern American architecture and mentored Frank Lloyd Wright. The bank is beautiful, with large stained-glass windows and pink Tennessee marble floors.
Recommended by Vicky of Buddy The Traveling Monkey
More road trip destinations in the Midwest
St. Louis to Kansas City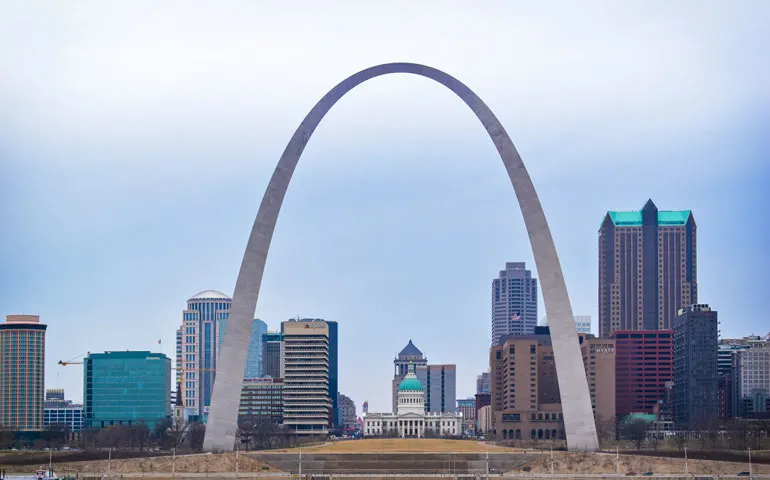 Recommended trip: 3-5 days
While many people think of Missouri as a fly-over state, it's full of not-to-be-missed gems, from St. Louis to Kansas City. So why not see some of them in one fell swoop with a 5-day road trip?
Start in St. Louis, a city bursting with historic architecture and a thriving food and cocktail scene. Spend 2 days here, exploring the City Museum, an adult playground/art installation of interactive salvaged architectural objects. Visit Forest Park, one of the country's largest urban parks and its world-class museums, all boasting free admission. And, of course, the Missouri Botanical Gardens, consistently ranked one of the best in the nation.
At night, eat your way through the exploding culinary landscape, with one of the many restaurants helmed by James Beard nominated chefs, like Vicia or Lona's Lil' Eats.
Once you've gotten your fill, drive west to Hermann, a tiny town that has several wineries, breweries, and distilleries nestled in its idyllic grassy hills. For just $20, the Hermann Trolley will shuttle you between these establishments all day, so you can responsibly imbibe in as many craft beverages as you please.
After a day here, finish your trip with 2 days in Kansas City, famous for its jazz scene. To get a taste of it yourself, head to the American Jazz Museum during the day and the Green Lady Lounge at night to see some of the world's best musicians in action. By the end of the trip, you'll be ecstatic to have discovered some of the Show Me State's abundant treasures!
Recommended by Jessica of Uprooted Traveler
Oh, and if you're planning to rent a car for one of these Midwest road trip routes, be sure to check out the cheap rates on Discover Cars. I usually save 10-30%, which can really add up! Discover Cars searches the top carriers to find the best deal, at no extra cost to you. It's a win-win! Search cheap rental cars now.
Milwaukee to Wisconsin Dells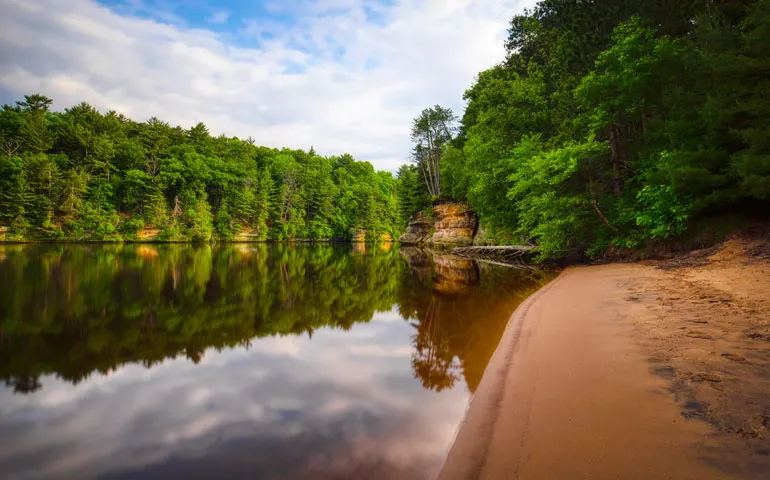 Recommended trip: 3-5 days
One of the best Midwest road trips you can take is exploring the highlights of Wisconsin. The ideal road trip itinerary takes you from Milwaukee to Green Bay and ends in Wisconsin Dells.
Start your road trip in Milwaukee, but you can't leave without spending at least 2 days in this vibrant city. As a matter of fact, people flood from all over the United States to visit Milwaukee for its food, attractions and history.
Must do's are the Harley Davidson Museum and the historic Third Ward. Stay in the iconic Pfister Hotel in downtown.
From here you finally head out to the beautiful North of Wisconsin. Along the Michigan river you'll cross scenic towns such as Port Washington. When you arrive in Green Bay, get ready to explore this vibrant town located in Door County.
Some of the best things to do here are visiting the Heritage Hill State Park and watch a game by the legendary Green Bay Packers. Plan at least 1 day to visit the city and all the best things to do in Door County.
From Green Bay you'll drive to Wisconsin Dells which is famous for its waterparks. However, there is so much more to do here. From shopping to hiking in the Dells or staying overnight in one of the most romantic cabins in Wisconsin, there will be plenty of options to spend at least 2 days in Wisconsin Dells.
Recommended by Paulina of Paulina on the Road
Southern Minnesota road trip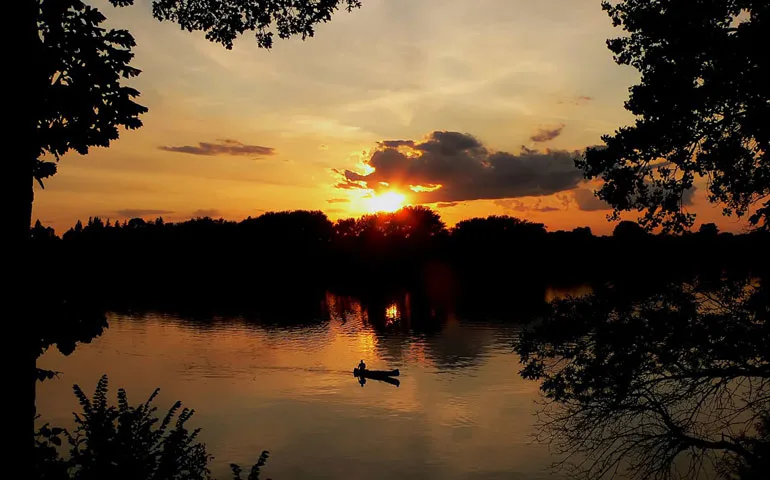 Recommended trip: 2-3 days
Eat, relax and have fun in Southern Minnesota! Enjoy a food lovers paradise in Austin, Minnesota. Known for having some of the best Mexican food in the state of Minnesota, Austin is also known for award-winning BBQ sauces, french onion soup and stuffed raspberry french toast.
Want to have a food challenge, then be sure to stop by the Tendermaid. Also, don't forget to visit the one and only SPAM Museum! Yes – it's real and there are nearly 20 restaurants with SPAM on the menu.
Then sit back, relax and enjoy the view in Fairmont, Minnesota. Home to a chain of 5 lakes and 29 parks in city limits, Fairmont provides you that opportunity to become one with nature. Explore lakeside dining, outdoor recreation and an arts and culture scene that is sure to impress.
Next discover how Germans Have More Fun in New Ulm! Enjoy a road trip through the MN River Valley National Scenic Byway to the most German city in America.
In New Ulm you can climb 102' to the top of the 'Herman the German' monument. Enjoy a tour/tasting at Schell's Brewery, MN's oldest brewery. Shop the unique boutiques in the historic downtown. Hear bells chime at our Glockenspiel. See the 1873 murals in the rathskeller at Turner Hall.
With so much to do in Southern Minnesota, there's something for everyone!
Read next: How to Save Money for Travel: Your Vacation Savings Plan
Richmond, IN to Butler County, OH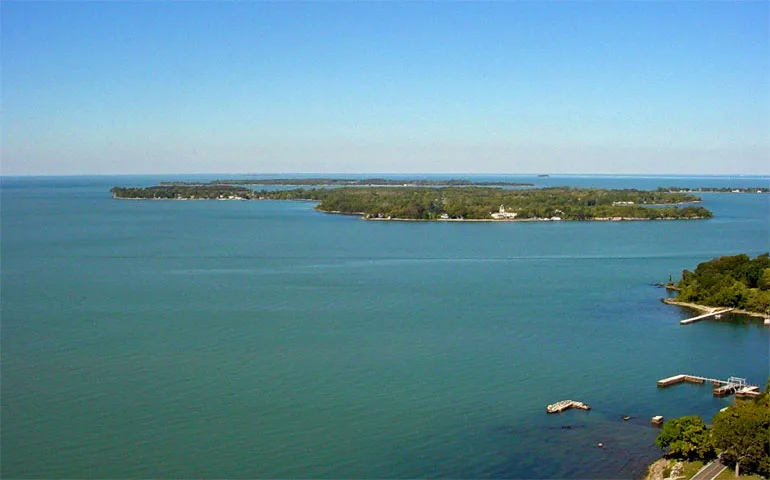 Recommended trip: 2-3 days
If you're looking for a cool trip, head to Indiana and Ohio! Starting off in Richmond, Indiana, visit the Wayne County Historical Museum and the Levi Coffin House. Be sure to hear their amazing story of the Underground Railroad!
Stay at the Starr Loft in Richmond before heading to Ohio. On your way to Ohio's Lake Erie Islands, take a diversion into Bremen at the Bicycle Museum of America. Then onto the Marblehead Lighthouse in Marblehead, Ohio where this historic lighthouse guided sailors safely since 1822.
That night stay at Port Clinton's Fairfield Inn & Suites. The next morning, head over to Ohio's Lake Erie Islands. Take Miller Boat Line's Ferry to Put-in-Bay where you can ferry your car over to the island.
Visit Perry's Peace Memorial which honors the War of 1812. Check out the view up the 352-foot tower! The memorial honors those who fought in the Battle of Lake Erie. The next day, on Kellys Island, take a tour in a golf cart to check out natural phenomenons like the Glacial Grooves.
Be sure to hang out for an afternoon in Downtown Sandusky, Ohio. Take a Segway tour, visit Cedar Point Amusement Park, visit the Merry-Go-Round Museum or go parasailing.
Last stop on this road trip is Butler County, Ohio! Enjoy the Donut Trail and tour outdoor art at the Pyramid Hill Sculpture Park.
Recommended by Cindy of Traveling Adventures of a Farm Girl
Related read: Best Midwest Camping Spots
Loess Hills Scenic Byway (Missouri to Iowa)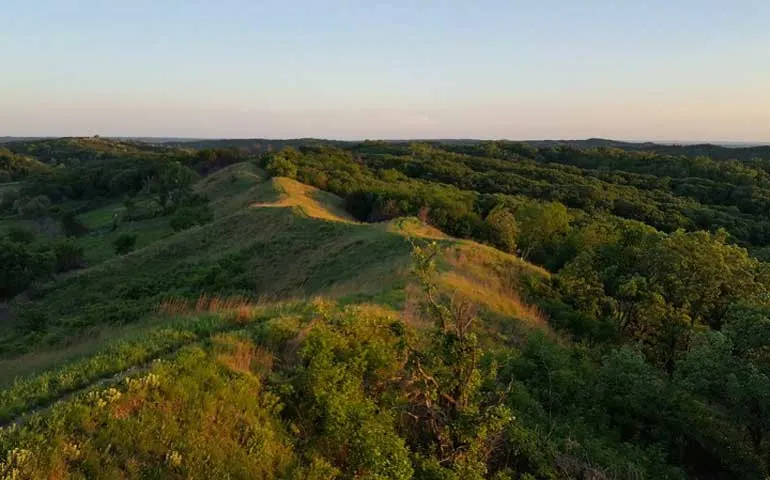 Recommended trip: 2-3 days
The Loess Hills Scenic Byway takes its travelers through the most extensive loess (essentially, ancient wind-blown silt deposits) outside a remote region of China! While the byway officially starts at the Iowa state border, the hills themselves run north-south a bit east of the Missouri River, from St. Joseph, Missouri to the Sioux City, Iowa area, passing near Omaha, Nebraska in the middle of the journey.
Each of these cities are destinations in their own right, and combined, they make a road trip full of scenic views and ample entertaining places to stop along the way.
In St. Joe, Missouri, local museums provide fascinating looks at the history of the Pony Express, the art of Thomas Hart Benton (often depicting loess hills!) and the life of the nefarious Jesse James. Near Mound City, Missouri, visit the Loess Bluffs National Wildlife Refuge to see waterfowl and bald eagles.
The Hitchcock Nature Center near Omaha and the Dorothy Pecaut Nature Center in Sioux City provide more information about the unique geology, flora, and fauna of the Loess Hills along with opportunities for hiking, boating, and more!
For ideal cruising food, try Billy Boy Drive-through just a few miles from the Dorothy Pecaut Nature Center in Soiux City for a burger and a shake!
Recommended by Lindsay of Siouxland Families
More ideas: Midwest road trips
Minneapolis to Omaha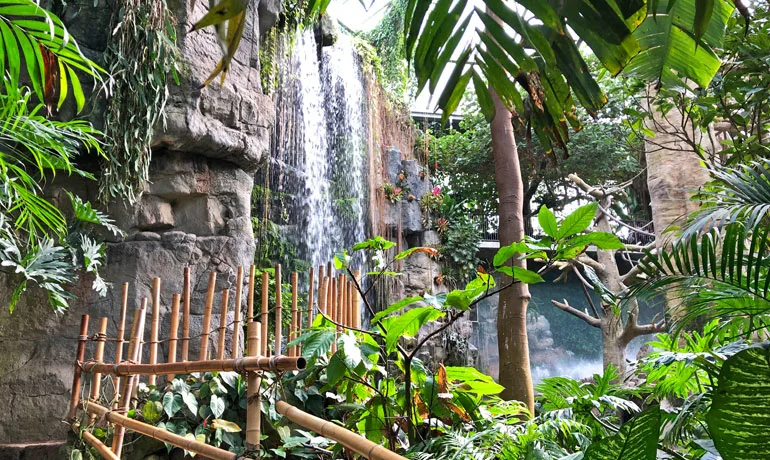 Recommended trip: 4-5 days
Get a nice mix of cities and wide open spaces on a Midwest road trip from Minneapolis to Omaha. Starting in Minneapolis, you'll want to spend 1-2 days visiting the lakes, restaurants and of course, checking out the Mall of America.
Visit the Minneapolis Sculpture Garden in downtown and grab an ice cream cone at Izzy's Ice Cream. The largest mall in North America (Mall of America) is a whole lot more than shopping, too. With an indoor amusement park, it's the perfect activity for any weather.
Then hit the road! Next stop: Northwestern Iowa. Stop in Estherville, Iowa for a rustic winery, experience an 80-year old swinging bridge or to visit the site of the largest known meteorite seen crashing into North America.
You could stay in Esterville for the night, or head about half an hour west to Lake Okoboji. In Okoboji, Iowa you'll find shopping, dining and a bunch of water activities, of course! Try the Arnold's Park Amusement Park or live music after a day on the water.
Next on this Midwest road trip is Sioux City, Iowa. Grab lunch or dinner at the Fourth Street Historic District in downtown Sioux City, catch a show at the Orpheum Theatre or visit Palmer's Old Tyme Candy Shoppe for a sweet treat before leaving town.
Omaha, Nebraska is the final destination on this Midwest road trip itinerary. You'll want to spend 1-2 days visiting this fun city. Omaha is known as the silicone prarie, a tech hub that's family-friendly, yet trendy enough to support a vibrant art scene and plenty of outdoor space.
One of the best things to do in Omaha is to visit the Omaha Henry Doorly Zoo and Aquarium, It's the largest tourist attraction in the state, and regularly competes with the San Diego Zoo as the #1 zoo in the country! It really is that fantastic!
Check out North America's largest indoor rain forest, feed the giraffes, walk under sharks in the aquarium and watch the animals in the world's largest indoor desert dome. Tip: be sure to buy your tickets in advance online and arrive early to avoid the crowds as best as you can.
Get a good tour of the city while taking fun photos at the most Instagrammable places in Omaha. Spend some time wandering the Lauritzen Gardens or check out the Fun-Plex Waterpark.
For some mystery check out the Joslyn Castle, and for some history visit the Lewis and Clark Landing. The Old Market in downtown is the perfect spot to grab a bite to eat after a long day touring the city.
Recommended by me! Nikki of She Saves She Travels
Duluth to Grand Marais, Minnesota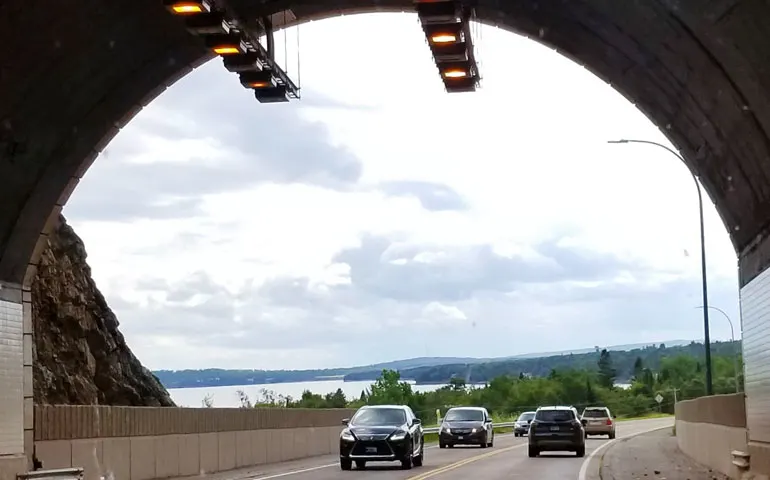 Recommended trip: 1-2 days
A Minnesota road trip on Highway 61 between Duluth and Grand Marais will offer you amazing views of Lake Superior, numerous options for a delicious bite to eat, and some can't miss attractions.
As you leave Duluth, choose the 24-mile scenic route to Two Harbors, and take in the view of Lake Superior along the way. In Two Harbors you can walk along the breakwater to the lighthouse, and watch the ore ships coming and going. Enjoy a local brew at Castle Danger Brewery after doing some shopping in Agate Bay.
Just north of Two Harbors is Betty's Pies and you don't want to miss stopping here! This is a full service restaurant, but they also have a walk up counter where you can order their famous pie. The pie flavors change every day, but you definitely want to try the Great Lakes Fruit Pie. This pie is filled with blueberries, strawberries, raspberries, apples, and rhubarb and it is one of a kind.
It is 11 miles to the next stop, in Castle Danger, but get your camera ready because you'll be driving through 2 large tunnels, and the exits of both perfectly frame Lake Superior.
Castle Danger is home to Gooseberry Falls and Split Rock Lighthouse State Parks. You can learn a little history of the area while touring the lighthouse and take a hike down the hillside to dip your toes in the cool Lake Superior water.
Gooseberry Falls State Park has 5 waterfalls that you can hike to, and a very nice visitor center to buy some souvenirs at.
Along the remaining 72 miles to Grand Marais, take the time to stop at a beach or two to hunt for agates. The beaches along the North Shore are loaded with agates and it's fun to find a few to bring home.
The city of Grand Marais has a main street full of local shops that ends on the shore of Lake Superior. The beach is a popular spot to watch the water, and to eat a delicious donut from World's Best Donuts or maybe you'll want a slice of thin crust pizza from Sven and Ole's.
Grand Marais is also the start of the Gunflint Trail. This is a 57-mile paved roadway that ends in the Boundary Waters Canoe Area near the border of Ontario.
This 110 mile road trip between Duluth and Grand Marais can be made in one day, but why not take your time and really discover the beauty of Lake Superior and the North Shore.
Recommended by Vicki of That Was a First
I-70 Kansas road trip: Abilene to Kansas City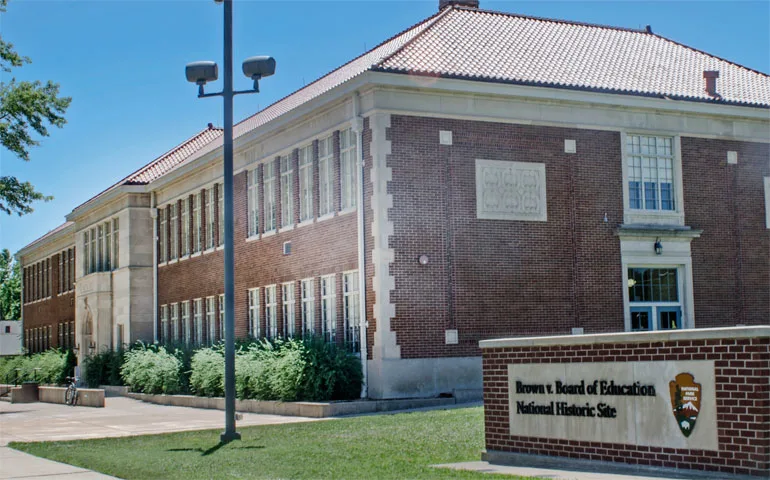 Recommended trip: 2-4 days
Enjoy a wealth of historic, cultural, and recreational activities along Interstate 70 in northern Kansas. Start in Abilene, Kansas with visiting the Eisenhower Presidential Library, Museum, and Boyhood Home. Head over to pet Ginger, the greeter at the Greyhound Hall of Fame. Enjoy award-winning fried chicken at the Brookville Hotel.
Next stop along I-70 in Kansas is Junction City, home to Milford Lake and the Fishing Capital of Kansas. Tour Fort Riley's museums, but prepare for security. Eat Munson-raised, dry-aged beef at Munson's Prime restaurant, a local favorite. A perfect spot to call it a night is by the lake at Acorns Resort.
Then you'll hit Manhattan, Kansas. For high adventure, fly zip lines at Wildwood Adventure Park. Afterwards, relax and eat and drink at Liquid Art Winery & Estate!
Slide into Topeka, Kansas where you can dive into history and visit the state capitol and the national historic site where the Supreme Court reversed segregation in Brown v. Board of Education of Topeka. A great way to end the day is with elegance at the Cyrus Hotel.
As you head east on I-70, you'll get to Lecompton, Kansas. Learn more about where slavery began to die at Constitution Hall State Historic Site and the Territorial Capitol. Then lighten things back up by grabbing a slice of gourmet pie at Aunt Netter's Cafe. Delicious!
Next up is Lawrence, Kansas and downtown is the place to be! Experience downtown Lawrence during the day or night. See basketball's original rules at The Cradle of Basketball. And if you're looking for a brewery, Free State Brewing Co. is Kansas' first post-prohibition brewery. Stay at in the heart of Lawrence at The Oread.
The final stop on this Northern Kansas road trip before arriving at Kansas City is Leavenworth, Kansas. Visit Fort Leavenworth, or ride antique carousels at C.W. Parker Carousel Museum. A must-try in Leavenworth is the steak house tenderloin at Metropolitan Steakhouse.
Wrapping up the I-70 Kansas road trip is of course, Kansas City! Enjoy the major leagues: sporting Kansas City at Children's Mercy Park and NASCAR at Kansas Speedway. Eat top-notch barbecue at SLAP's BBQ. After a great road trip in Kansas, stay in the Chateau Avalon.
Recommended by Roxie of Roxie on the Road
Midwest road trip: Missouri Route 66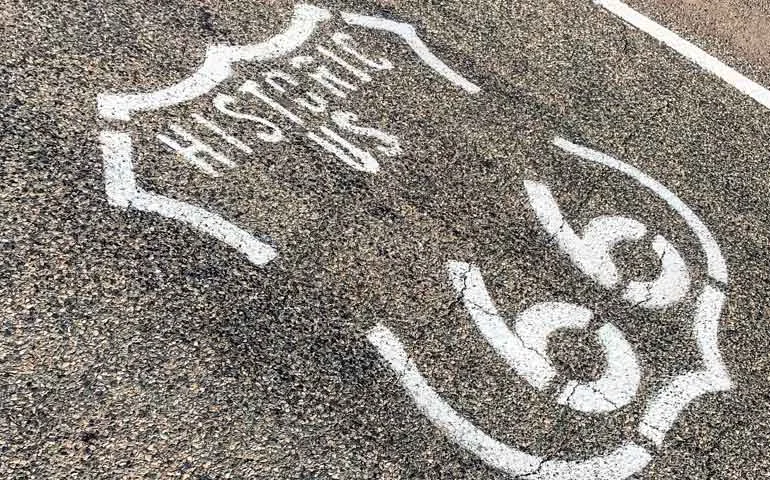 Recommended trip: 2-3 days
While most people think of a Route 66 Road Trip as starting in Chicago and ending in Santa Monica, you don't need to take two weeks and traverse half the country to get in a taste of the Mother Road. Instead, you can pick a portion and explore it in-depth.
Missouri has a great stretch of Route 66 right here in the Midwest. It starts in the northeast crossing over from Illinois into St. Louis and ends at the Oklahoma border after passing through Joplin.
Obviously the most iconic site on Missouri's portion of Route 66 is the Gateway Arch, which practically welcomes you onto the road. Make sure to tour Meramec Caverns, see the one-room jail in Cuba, and explore the interesting history of Carthage.
Take advantage of the fun roadside kitsch of the route and get out at as many stops as you can. A real Route 66 road trip means you need to spend a few nights in the state's retro motels and enjoy some diners and dive bars.
Recommended by Stephanie of Oklahoma Wonders
Driftless Area Scenic Byway (Iowa)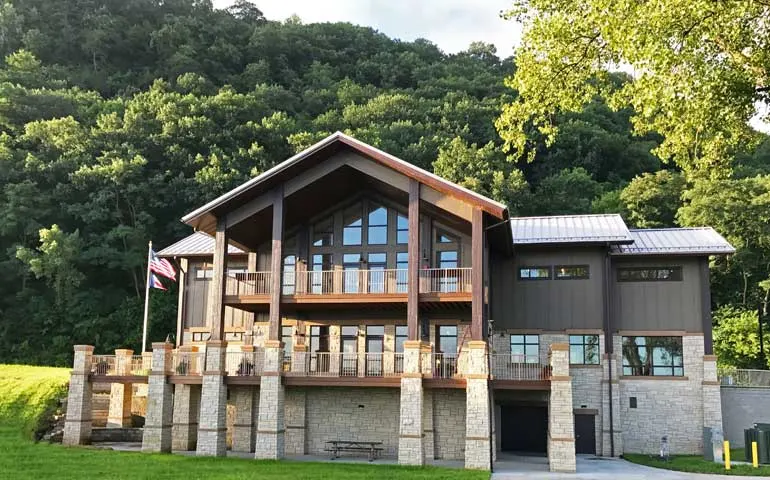 Recommended trip: 1-3 days
Allamakee County is the home to the most scenic byway in the state of Iowa, Driftless Area Scenic Byway. This beautiful scenic byway zigzags its way on hard-surfaced and gravel roads through the high relief, pre-glacial landscape in extreme northeastern Iowa in Allamakee County.
This byway has been voted most scenic byway in the state of Iowa. It's 100 miles of amazing! Along the Driftless Area Scenic Byway you will find…
Effigy Mounds National Monument, the 2,526-acre park by the Yellow River has walking trails with modest to extended routes, allowing you to select your route and view a variety of mounds. An accessible boardwalk trail into the wetlands near the visitor center is available for persons of all walking abilities.
Yellow River State Forest was first acquired as a state forest in 1935, the Yellow River State Forest has grown to encompass nearly 9,000 acres of natural beauty.
Great River Road, where you can enjoy 36.2 miles of the Great River Road in Allamakee County. You will discover the best of the Great River Road right here!
Driftless Area Education & Visitor Center, where you'll see live animals, interpretative displays, 2 viewing decks of the Mississippi River, and a great group educational experience. Located just south of Lansing.
This Midwest road trip takes your scenic adventure to another level with:
Hiking
Wine Tasting – Madigan Winery, Lansing & Empty Nest Winery, Waukon
Bird Watching
Beer Tasting – Safe House Saloon in Lansing
Trout Fishing
Cheese Curd Tour – WW Homestead Dairy in Waukon
Kayaking
Shopping – Horsfall's in Lansing, Paint Creek Gifts in Waterville and City Meat Market inNew Albin
Recommended by Val of Allamakee County
Triple Nickel Byway (Ohio)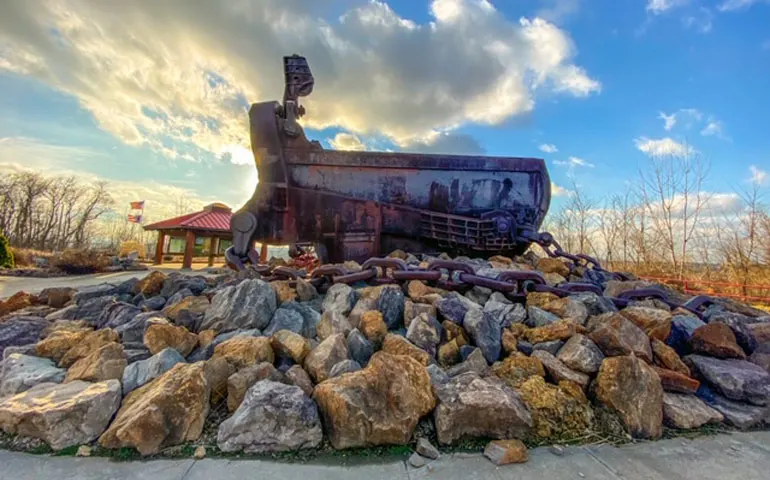 Recommended trip: 1-2 days
Winding through the southern part of Ohio is the Triple Nickel which encompasses parts of State Route 555. If you've never been on this scenic, twisting by-way through the hills of Ohio, you need to put it on your bucket list! This is a perfect day trip that takes you from the picturesque town of Zanesville to the history-rich city of Marrietta.
The Triple Nickel is one of the more challenging roads in Ohio, but you can take in some of the amazing historical sites when you're in the area. While touring through Morgan County you can see the Big Muskie bucket part of the world's largest earth-moving machine in Miner's Memorial Park and Barkhurst Mill Covered Bridge.
No trip on the Triple Nickel is complete without stopping to eat at the Triple Nickel Diner in Chesterhill. Pro-tip: Make sure to check their website for the hours of operation because they vary with the seasons.
If you're looking for a great place to stay while on the route, take a small detour to the Stockport Mill Inn located in Stockport, Ohio. You'll be treated to stunning views of the Muskingum River and the operating locks. Dotty, the owner, will treat you like family and feed you amazing comfort foods only found at the Inn.
The Triple Nickel doesn't disappoint the road tripper looking for a challenge in the Midwest.
Recommended by Brandy of Gleason Family Adventure
Madison to Spring Green, Wisconsin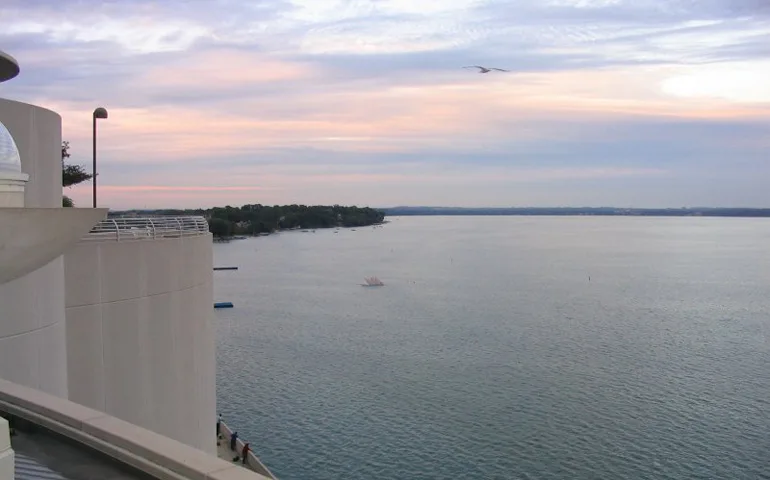 Recommended trip: 2-3 days
One of the most exciting small cities in the Midwest is Madison, Wisconsin. It has a wonderful dining scene and miles of shoreline and bike trails.
A culmination of a college-town and a bustling city, Madison is also home one of America's most beloved architects: Frank Lloyd Wright. Wright used Madison and its neighborhoods as a canvas, where visitors can see his many designs come to life. Although several of Madison's Wright-designed houses are private residences, designs like the First Unitarian Meeting Houses and Monona Terrace are must-see spots for any architectural buffs! Both buildings are just a short 10-minute drive away.
If you want to see more of the city's art scene, visit either the Madison Museum of Contemporary Art or the Chazen Museum of Art! Both museums boast both Wisconsin-based artists, as well as international artists too. Furthermore, admission is free for adults, making this the perfect stop for anyone that loves to travel on a budget.
While you're in Madison we also highly recommend grabbing tacos from Matthew Danky and his exciting outpost El Grito Tacqueria.
From Madison, drive about 40 minutes to the quaint town of New Glarus, Wisconsin. The main attraction here is New Glarus Brewing, one of the most highly regarded breweries by beer snobs across the country so make sure to spend a few hours there.
New Glarus also has rich Swiss heritage. Explore and find an authentic Swiss bakery or locally made raclette and cheese fondue.
Our last stop is very enjoyable Spring Green, an hour away down winding country roads. Frank Lloyd Wright spent the better part of his life living and working in Spring Green and maintained a school at Taliesin. Wright's students designed many unique buildings in and around Spring Green.
Recommended by Nick of Road Goat
16 best Midwest road trips
Well there you have it! I hope you've found some inspiration on which route you'll take on your upcoming Midwest road trip! Midwest states have a lot to offer for any type of road trip you're looking for!
Comment below on which you're considering – or which route surprised you most!
You might also like:
Best Hiking in the Midwest – 16 Cool Hikes You'll Love
Denver to Moab Road Trip: 16 Scenic Stops You Gotta See to Believe
27 Awesome Things to Do in Sandusky, Ohio You Can't Miss
Perfect Colorado Itinerary: 22 Road Trip Stops You Need to See
Miami to Key West Road Trip: 22 Stops Along the Way
26 Best Places to Visit in October in the US
Planning to rent a car for one of these scenic routes? Check out the cheap rental car rates on my favorite site. I save up to 30%, which is awesome!
Find this article helpful? Save it for later or share it on social media!