Ready to hit the beach? And maybe not spend a fortune? Well it's possible! This guide has the best, and cheapest beach vacations around the world.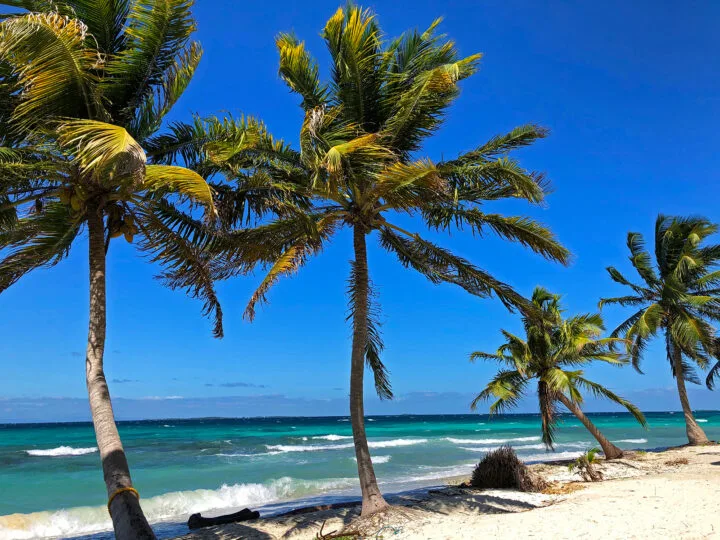 I've been on some pretty amazing vacations on a budget. But Since I haven't been everywhere, I called in some backup. Collaborating with other travel bloggers from around the world, here are 35 of the cheapest tropical vacations.
These dream-worthy locations are going to make you swoon. Ready for them? Let's dive in!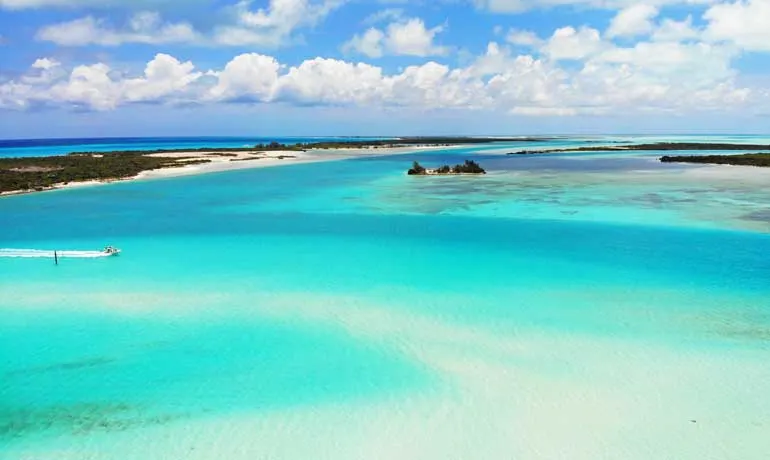 This post may contain affiliate links. For more info, see my disclosures.
Cheapest beach vacations around the world
There are cheap destinations all over the globe, but sometimes the problem is getting there. Check out these best budget tricks to help book cheap travel.
Back to the list. You'll find destinations near and far on this list of affordable beach vacations. So here's a map to help you navigate this list of 35 dreamy vacation spots all over the world!

Cheapest beach vacations USA
Starting this mega list in the United States, here are some favorite beachy destinations. These are all warm-weather spots, and all of them can be visited on a budget!
1. Maui, Hawaii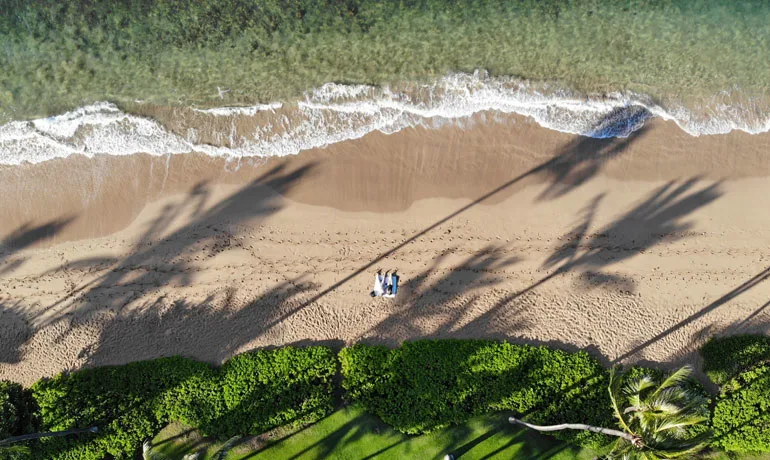 Maui on a budget? Yeah, I know it's hard to believe. But it's completely possible that Maui, Hawaii is on this list of cheapest beach vacations!
As someone who's done Hawaii on a budget, you just need to figure out how to do it for cheap. These top tips will help you visit Maui on a budget:
Book accommodations away from beach for the best prices. The further away, the better. There's plenty of public beaches that you can enjoy all day, no need to have an ocean-front hotel.
Tours can get pricey! Enjoy these free or cheap things to do on Maui instead.
Find cheap airfare through flight alerts. So wait until it's on sale – then book! Here are the cheap flight websites I use.
Avoid Maui during high tourism season – which is summer and the peak of winter. So consider a visit April-May or September-October for best prices.
Maui can be one of the cheapest beach vacations in the USA. I've been on a budget trip to Hawaii and it's way more fun knowing your vacation is cheaper than pretty much any other tourist you see on the island. 🙂
Recommended by me – Nikki of She Saves She Travels

2. San Diego, California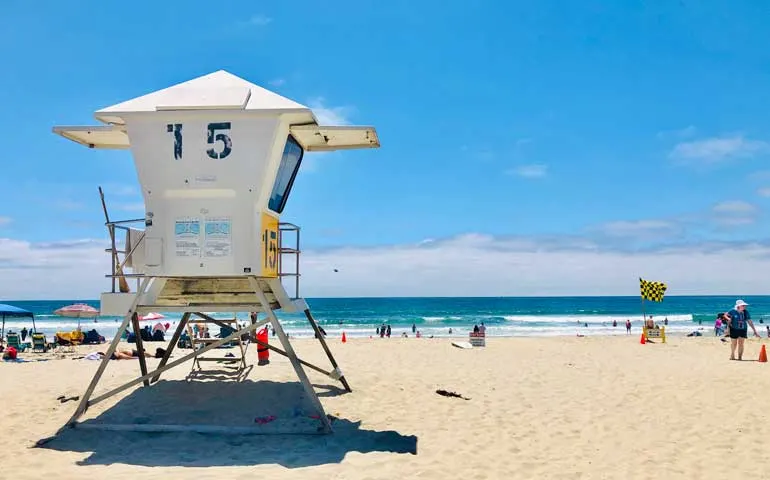 Let's head to southern California next. There are ways to make a trip to sunny San Diego quite affordable. Accommodation is most likely the biggest expense, but there are plenty of budget-friendly options.
You will find budget accommodation options throughout the city, but I recommend staying at one of the hostels in the Gaslamp Quarter. That way, you can have many of the cities within walking distance or easily reached by public transportation.
Walking around downtown is free and there is lots of stuff to check out, including the waterfront promenade, Balboa Park, Seaport Village and Gaslamp Quarter. For a fun and cheap "bay cruise", hop on the ferry to Coronado and check out this beautiful island.
And then there are the San Diego beaches. Beaches are always a great budget-friendly way to spend the day. One of the most popular ones in San Diego is Mission Beach.
You can easily reach it by bus and public transport from downtown and there is a lot of stuff to do. You will find a nice beach, a boardwalk with lots of bars and restaurants, and even a small amusement park.
Recommended by Maria of San Diego Explorer
Read next: Perfect Weekend in San Diego (2-day Itinerary)
3. Gulf Shores, Alabama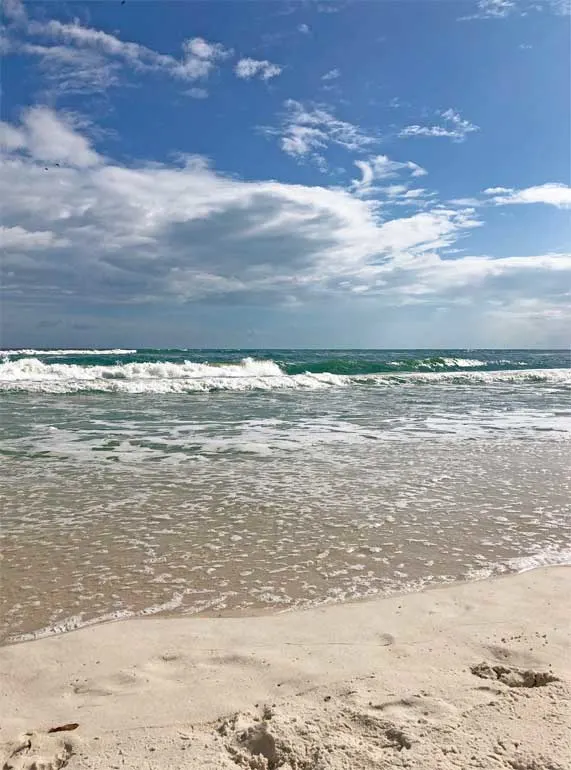 The white sand beaches of Alabama's Gulf Coast are beautiful and a completely underrated destination in the USA! Gulf Shores can easily be done on a budget, too, which is my favorite kind of beach destination.
There's a ton of things to do in Gulf Shores, and it's a perfect destination for families, couples or a girls' weekend. Spending time enjoying the white sand beaches is the best free activity in the area.
Staying further away from the beach and choosing a vacation rental will help keep the costs low. Cooking a meal or 2 at the rental each day will help surely save some money, but since you're on vacation I'd recommend to make sure you're still checking out Gulf Shores restaurants, too.
Gulf Shores is one of the best, cheapest beach vacations in the USA there is!
Recommended by me – Nikki of She Saves She Travels
4. St Pete, Florida (one of the cheapest beach vacations in the USA)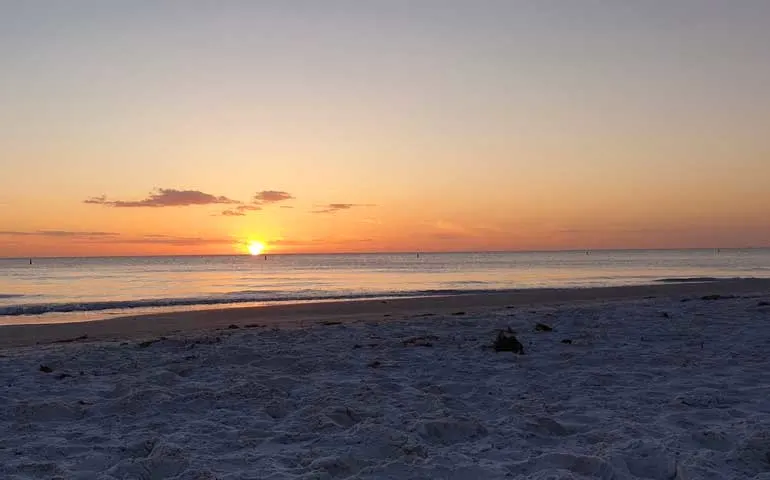 If you are looking for an affordable beach destination in the USA, St Petersburg in Florida will be perfect for you!
Located on the gulf of Mexico, 30 minutes away from Tampa, St Pete is known for its dreamy beaches and lively downtown. The area is home to some of the most beautiful beaches in Northern America including St Pete Beach and Clearwater Beach!
In the evening, grab a drink and play with the life size games at Park and Rec. Then head towards central avenue to go see a gig at Jannus Live. This open air music venue is one of the most unique places to see a concert you will ever go to!
If you'd like to discover hidden gems in Florida, head to Honeymoon Island and Caladesi Island. It's only a 30 minute drive and you'll discover beautiful and well preserved beaches.
In terms of accommodation, you can opt for a condo in St Pete Beach but the best way to get a good deal is rent an Airbnb a bit north of downtown. Properties are way cheaper and it's a pleasant area.
For food, you're in for a treat! There is so much to choose from! One of the best places to go to is Bodega on Central Avenue. They serve delicious Cuban sandwiches and their prices are very reasonable.
Recommended by Pauline from BeeLoved City
5. Chincoteague, Virginia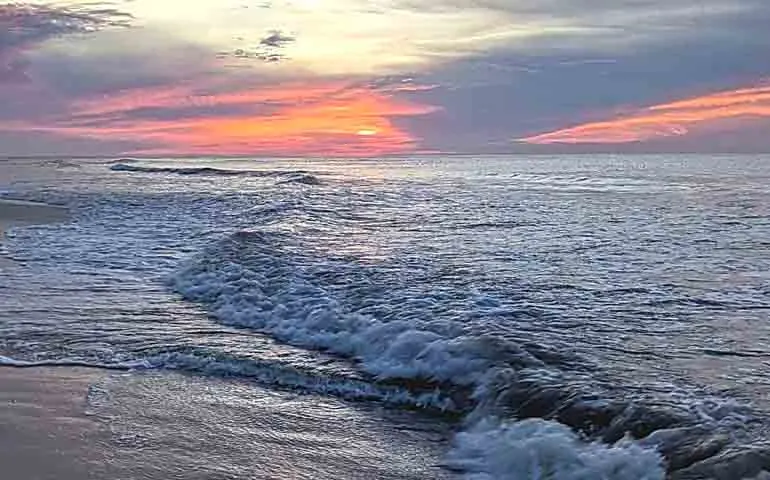 A hidden beach gem on the east coast is the beautiful Chincoteague Island in Virginia. Located about 2 hours north of Virginia Beach, Chincoteague is a more affordable (and less crowded) option for travelers.
Chincoteague and its neighbor Assateague are a great mixture of nature and relaxing beaches. One of the best things to do in Chincoteague is to see a sunrise at the beach.
While the sunsets are also gorgeous, to see the sun rise above the water is truly breathtaking. Since Chincoteague is not as well known as Virginia Beach or Ocean City, Maryland, the beaches are much less crowded!
If you would like a break from the beach, there is plenty of nature to explore. You can visit the Wildlife Loop Trail which is a great paved path for biking. You can see a variety of birds but also the Assateague Ponies.
One of the best things about visiting Chincoteague is the 37 miles of beach! The affordability, beautiful beaches, and wonderful nature make Chincoteague a great beach vacation.
Recommended by Pam of Directionally Challenged Traveler
6. Monterey, California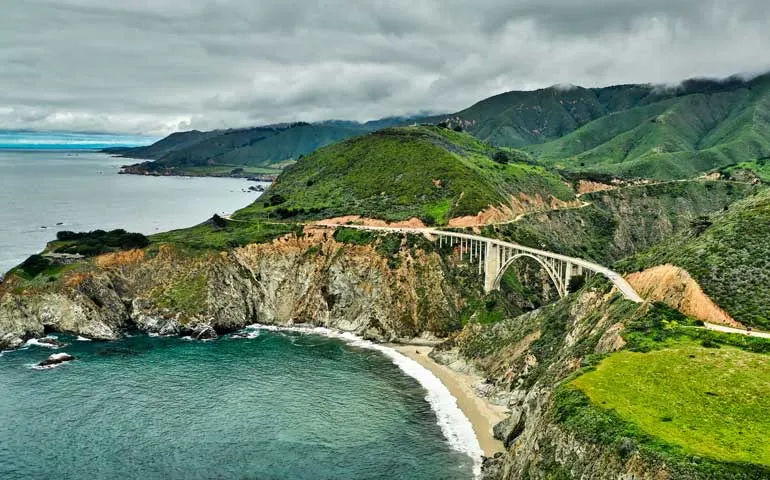 Monterey is one of the most beautiful cities in all of California. Located in the northern part of the state, it's the perfect spot to witness the mountains meeting the sea with dramatic views.
Monterey is a great stop on a Pacific Coast Highway road trip from San Francisco to San Diego, but it's also an affordable weekend getaway destination. Going in the shoulder season, fall and spring, will help keep your costs low.
There are plenty of affordable vacation rentals in the Monterey area, too. Oh, and consider food trucks for breakfasts and lunches instead of pricier restaurants. One of my favorite things to do on vacation is getting food truck lunch and eating while on the beach.
Two must-do activities while in Monterey, California:
Check out the incredible Bixby Creek Bridge in Big Sur. It's a phenomenal sight to see.
Take a kayaking tour of Monterey Bay. I saw a ton of wildlife while kayaking the bay!
Recommended by me – Nikki of She Saves She Travels
7. South Padre Island, Texas (fun and affordable beach vacation)
South Padre Island is located in Texas and is one of the most fun Gulf Coast beaches to explore! It's on the southern border of Texas near Mexico. It can be easily reached from the greater Houston/San Antonio area as well as makes an easy day trip from Corpus Christi.
While you can visit South Padre Island year-round, the best time to visit is from fall to spring. It is very easy to plan a cheap beach vacation on the island. Avoid the popular spring break season and you should easily find great hotel deals.
You can find plenty of budget restaurants and eateries offering Tex-Mex and seafood on the island. Take advantage of all the free beaches and bring your own beach shelter to save renting on umbrellas. Enjoy free attractions like hiking trails and sandboarding to enjoy the day.
The city is located on a barrier island in the Gulf of Mexico and is a paradise for outdoor lovers. Visitors can go ATV riding over the giant sand dunes or take a moonlit horseback ride on the beach.
You can even take sandcastle lessons or go beachcombing for driftwood and seashells. South Padre Island also has plenty of watersports including kayaking, standup paddleboarding, sailing, fishing charters, windsurfing, and dolphin cruises.
Recommended by Ketki of Dotted Globe
8. Destin, Florida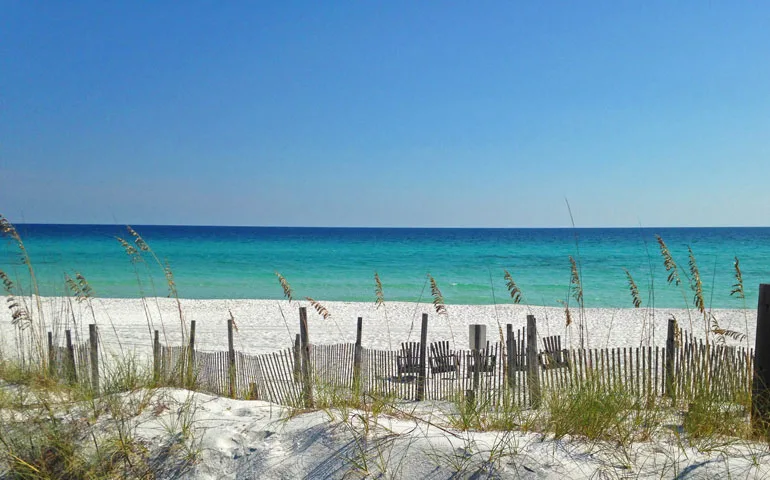 One of the most beautiful and cheap beach destinations in the US has got to be Destin, Florida. The heart of the Emerald Coast, the turquoise waters and fluffy white sand is enough to make you swoon.
Having been to Destin many times, I can truly say that this is a spot that you can go big or go for cheap. There's a few things to look for if you want to visit Destin but don't want to spend a lot.
First, stay for cheap. Finding a condo or vacation rental off the main strip – and away from the beach will slash your prices dramatically. Consider staying in Valparaiso, Niceville or Miramar Beach as cheaper alternatives.
Be sure to go in the non-peak season. Visit Destin April-May or September-October. You'll still get warm weather but with less demand for accommodations, you'll pay less.
A perfect trip to Destin includes plenty of time on the beach. If you like shopping, one of the largest outlet malls in the country is in Destin. Also be sure to check out Harbor Walk Village for great entertainment, shopping and dining.
Just avoid restaurants on the water. The views are gorgeous but they'll cost ya!
Recommended by me – Nikki of She Saves She Travels
9. Santa Barbara, California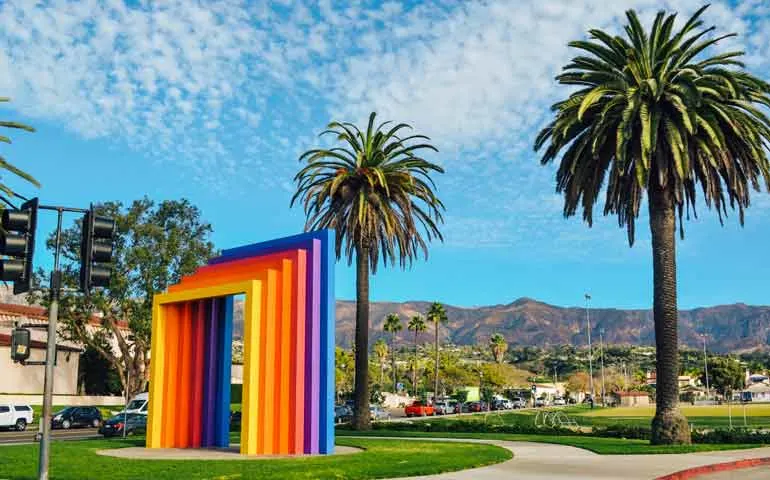 Located along California's Central Coast, Santa Barbara is a perfect destination year-round. But what makes it a great place to visit for budget travelers is the combination of unique cultural landmarks along with great outdoor opportunities that can be accessed year round thanks to the mild climate of Central California.
Head to Old Mission Santa Barbara to get a lesson in the area's history and then take a walk through El Presidio De Santa Barbara e Santa Barbara State Historic Park, an open-air museum that showcases the colonial past of the area.
The city also boasts world class beaches and great outdoor opportunities. Surfing, kayaking, biking along the coast and scenic overlooks that can be explored at your own leisure. Spend at least half a day at Butterfly Beach where you can enjoy the incredible atmosphere.
Downtown Santa Barbara is walkable and boasts many outdoor venues. A must visit is Paseo Nuevo, a gorgeous outdoor mall built in the Spanish colonial style with plenty of stores and restaurants.
After you're done shopping and dining, check out Santa Barbara Botanic Garden located against the backdrop of the Santa Ynez Mountains. Or soak in the views of the Pacific Ocean from the Stearns Wharf in the harbor of Santa Barbara – the oldest working wharf in California!
Recommended by Daria of The Discovery Nut
10. Kauai, Hawaii (my favorite of the cheapest beach vacations in the USA)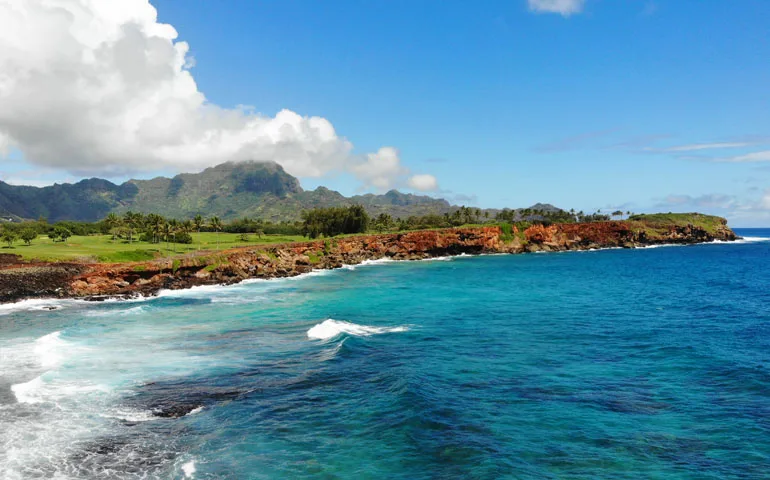 If you're looking for the cheapest beach vacations in the USA, Kauai, Hawaii can be on your list!
Kauai is an adventure lover's dream. There's tons of hiking, tours, snorkeling and beaches in Kauai to fill your days. With so many amazing sights to see, it's hard to believe this is an affordable beach vacation destination.
Here's 5 tips to getting to Kauai for cheap:
Stay in a vacation rental away from the beach. And if you can tough out no air conditioning, you'll save up to 50% on your rental! (Island breezes and fans go a long way my friend.)
Book your flights using flight alerts through FareDrop. That's how I scored my last trip to Kauai and it was perfect for a budget trip.
Go to Hawaii during off-season. Avoid the peak of summer or winter when there's high demand, meaning higher prices.
Buy a few meals at a grocery store when you first get to the island. Plan simple things to throw together for breakfast and/or lunch to save money. Splurge on good Kauai restaurants but not for every meal.
Get a rental car through AutoSlash. I regularly save 30% through their quoting system, and saved more than that on my last rental car in Kauai.
Recommended by me – Nikki of She Saves She Travels
Related read: Perfect Kauai Itinerary: What to Do for 7 Days
11. Fort Meyers, Florida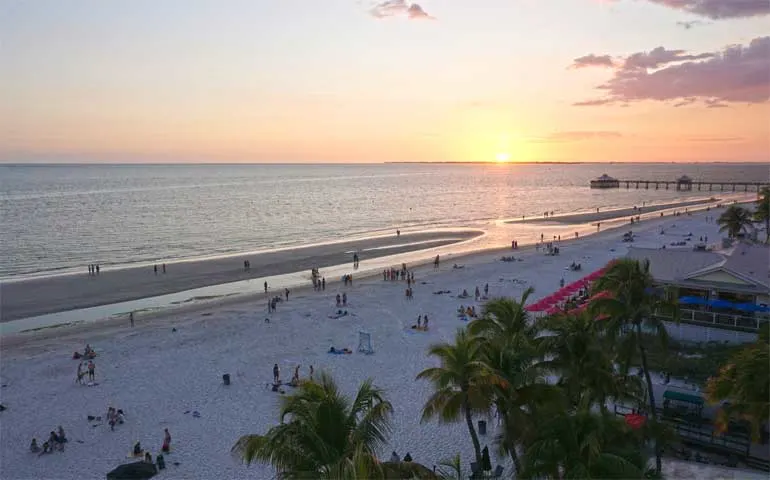 Florida is the ultimate budget beach vacation and Fort Myers is the perfect spot. With incredible fishing, shelling and Great Calusa Blueway kayaking trail, you'll never run out of things to do. After spending a full day of fun in the sun, enjoy a stunning sunset each evening as the sun sinks into the Gulf of Mexico.
To help stay on budget, stay at an Airbnb in Fort Myers, so that you can save money by cooking your own meals. Pack sandwiches for the beach and make delicious dinners in the comfort of your own kitchen.
Pro tip: do your grocery shopping at Publix and be sure to indulge in one of their award-winning key lime pies. It is Florida's national dessert!
To save money on a rental car, stay on Fort Myers Beach. Estero Island is very walkable and offers an inexpensive beach tram. Additionally, many Airbnbs on Fort Myers beach include use of their beach chairs, coolers and boogie boards to ensure you have optimal fun in the sun.
With several options for budget airlines flying into Southwest Florida International Airport, it shouldn't be difficult to find a cheap flight. Fort Myers Beach is calling you!
Recommended by Danielle of Rambling Companion
12. Lake Tahoe, California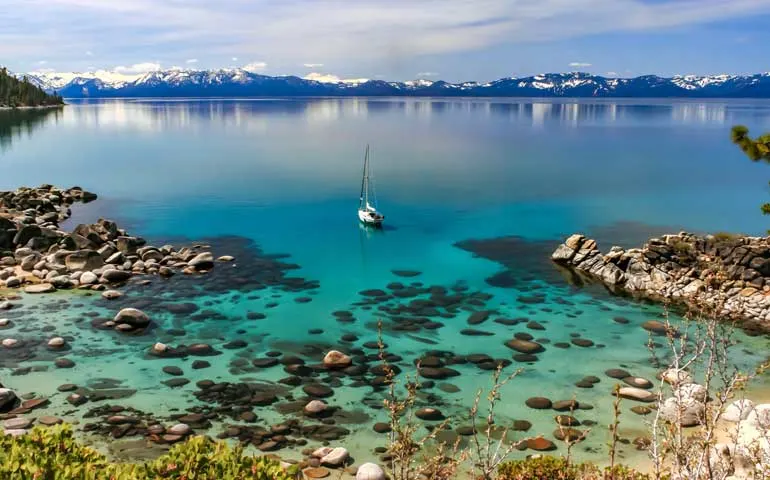 With it's picturesque mountains and stunning scenery, Lake Tahoe has go to be one of the best vacation spots in the USA. And yes, this alpine lake is beachy enough to be on this list of the cheapest beach vacations.
The gorgeous sand and crystal clear waters of Lake Tahoe can be done on a budget, if you get creative. Because while there are plenty of luxury resorts in the area, there's also budget-friendly accommodations.
Staying in a vacation rental is going to be the cheapest option. And if you can find another couple or family to join in on the cost, that's better for a budget trip and it can be more fun, too.
Like many other affordable beach vacations on this list, you'll find your highest cost during peak travel season. Best prices are typically April-May and September-October.
Be sure to check out the beautiful Sand Harbor Beach, Pope Beach and Kinds Beach State Recreation Area. Lake Tahoe is full of beauty and adventure, making it a perfect spot for hiking, too.
Recommended by me – Nikki of She Saves She Travels
Cheapest beach vacations in Asia
Next, let's head over to Asia. Once you land on the ground, many spots in Asia, especially Southeast Asia, are incredibly cheap! It's a budget traveler's dream!
13. Mirissa, Sri Lanka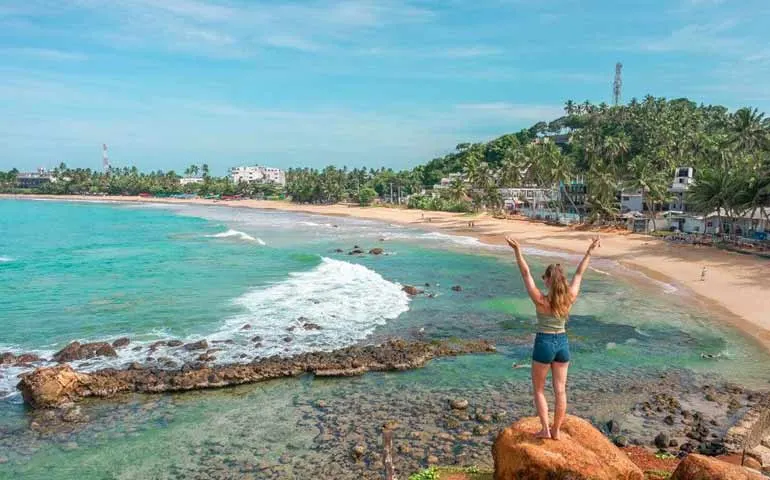 Mirissa is the most vibrant little town in Sri Lanka that is not only cheap to visit, but also home to one of the absolute best beaches in Sri Lanka! Mirissa Beach borders the town of Mirssa and offers a long stretch of white sand.
You can just relax on the beach, go snorkeling, climb Parrot Rock viewpoint, eat seafood at a beachside restaurant, or even go surfing.
Although there are luxurious hotels and resorts in Mirissa, most of the accommodation is really affordable in the form of small guest houses. You can get a beautiful private room with breakfast included only a couple of minutes-walk from the beach for around $20 USD a night!
And besides accommodation, most of the best activities and attractions in Mirissa are completely free, so you won't need to spend much at all!
From Mirissa, Secret Beach is a small bay only a 10-minute drive from town. The water is crystal clear and calm at Secret Beach so you can just relax amongst the rock pools. Polhena Beach is a little bit further at around an hour away, but it is almost guaranteed you'll swim with sea turtles there!
Whatever you do, be sure to enjoy at least one magical oceanfront sunset in Mirissa – you won't be disappointed!
Recommended by Bailey of Destinationless Travel
14. Ao Nang, Thailand (a cheap tropical vacation)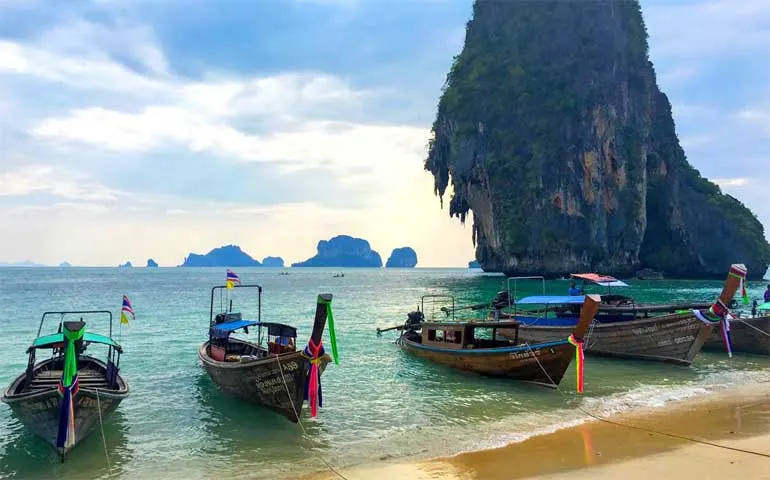 Charming Ao Nang is a small resort town on the Andaman coast in Krabi Province in southern Thailand. It's one of the cheapest tropical vacations you can find.
Unlike Phuket Province, stunning Krabi Province is well-preserved and unspoiled by heavy tourism. While Krabi Town is the busy main town of the province, Ao Nang is less touristy, more relaxed, and less pricey than Krabi Town.
Picturesque Ao Nang is a small u-shaped town between the cliffs and Andaman Sea, famous for its long and sandy beachfront. In fact, Ao Nang bay with cozy Klong Muang Beach and quiet Noppharat Thara Beach is one of the most beautiful bays in Thailand.
Even world-famous Koh Phi Phi islands are often visited on a day trip from Ao Nang. In other words, gorgeous Railay Beach is a 30 min boat ride from Ao Nang and paradise-like Ko Phi Phi Islands are an hour and a half-hour ride by ferry from Ao Nang.
Relaxing in serene Ao Nang, touring nearby scenic limestone islands, having a zip-line adventure over the rainforest canopy in Ao Nang Fiore Adventure Park and swimming and diving in the beautiful Andaman Sea are some of the best things to do in Thailand.
Small, completely walkable, and relaxing Ao Nang offers a wide range of accommodation: from upscale hotels to budget-friendly guest-houses and cheap hostels.
If you are traveling Thailand on budget, choose peaceful and affordable Ao Nang as a base to stay, and explore some of the most famous beaches and islands in Thailand from Ao Nang.
Recommended by Milijana Gabrić of World Travel Connector
15. Nha Trang, Vietnam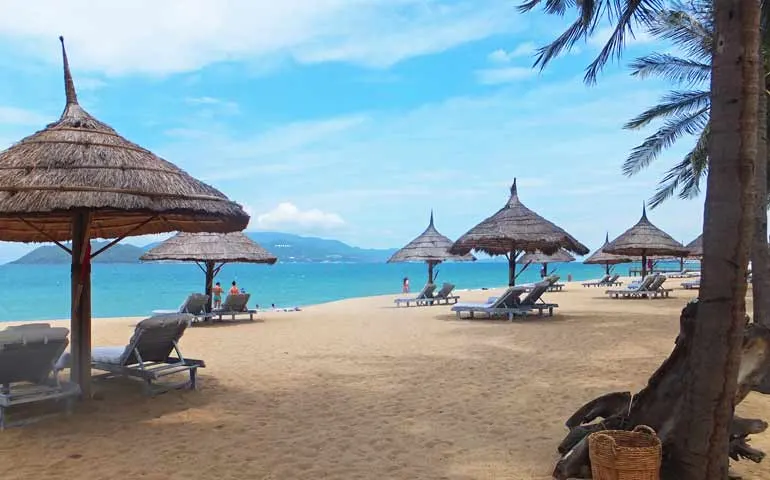 Nha Trang is a short 40 min flight from Ho Chi Minh City and very cheap when flying with VietJet an internal Vietnamese airline. Nha Trang is a very budget friendly location as with most of Vietnam.
You can expect to pay $30-$40 AUD for a 3 star hotel in Nha Trang which is very affordable and only a couple of blocks back from the beachfront.
Street food in Vietnam is lovely, fresh and cheap and as long as you choose somewhere that is busy, ensuring regular turnover of food. The beautiful white beach is clean and there is plenty of space to park your towel and enjoy the beach.
Nha Trang can definitely appeal to all travellers, you can easily visit here on a very small budget but you can also visit Nha Trang in style in some top luxury beach front hotels. There really is something for everyone.
Prices have risen over the last few years due to increase in tourists however Nha Trang remains popular with Russian and European visitors. The Vinpearl Resort Nha Trang is a luxury hotel and there is also a water theme park, a Vietnamese version of Disneyland I suppose. You'll see the chair lift going across to the island from most parts of Nha Trang beach. It's quite cheap to go across for a day trip.
Recommended by Sally of Our 3 Kids V the World
16. Canggu, Bali, Indonesia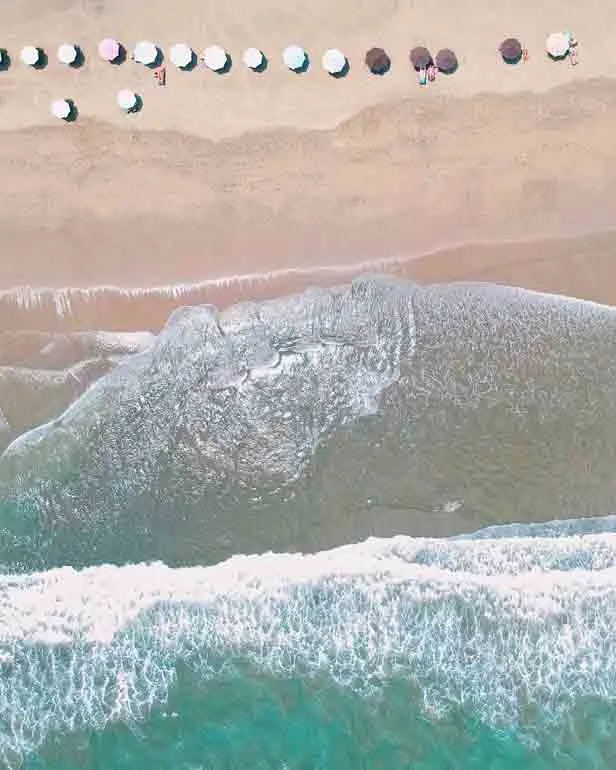 The once sleepy surfer town of Canggu in Bali is now a must visit destination in the Island of the Gods – and is one of my top picks for those looking for a cheap beach vacation in Southeast Asia.
This hipster Mecca is filled with great places to eat, a huge range of accommodation options (perfect for all budgets and styles) and when it comes to being social and meeting fellow travelers you have everything from upmarket beach clubs to budget friendly beach bars where you can enjoy a few ice cold Bintangs and party the night away.
The biggest draw of Canggu though has to be the surf – and with a variety of spots within a short walking distance it's ideal for everyone, from those learning to surf, to seasoned pros. So make sure you book yourself a lesson and hit the waves, there are heaps of local surf coaches who will show you the ropes!
When it comes to keeping things on the cheap, guesthouses are certainly the way to go. Even though eating out can seem a bit pricey to begin with (especially by Bali standards) spots like Warung Nonni and Warung Varuna serve up some epic local cuisine for just a few dollars a plate.
Yes, Canggu does come with a bit of a hipster reputation – but it's still certainly one for the Bali bucket list and still offers up plenty of options for budget travelers, so make sure you add it to your bucket list!
Recommended by Chris of Stoked for Travel
17. Koh Rong Island, Cambodia (a super inexpensive destination)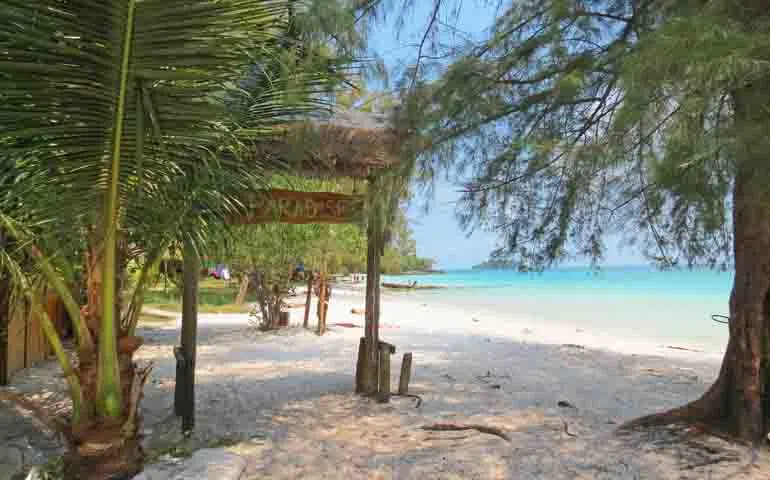 If you're looking for a cheap beach vacation in SE Asia, then you should consider visiting the island of Koh Rong in Cambodia. Located half an hour boat ride away from the coast of Sihanoukville, Koh Rong is the second-largest island of Cambodia and Paradise on Earth.
Considered as one of the most beautiful islands in SE Asia, Koh Rong has 43 kilometers of white sandy beaches and crystal-clear ocean waters. You can also enjoy stunning Cambodian sunsets.
Cambodia is a very budget-friendly destination in general and Koh Rong doesn't make an exception. A fresh fruit shake will cost you as little as $1, and a tasty fulfilling meal is $1-$5.
Activities won't blow up your savings either. An island tour that finishes with a night swim with glowing planktons is only $5!
Koh Rong is home to some of the most exquisite marine life and so snorkeling and diving are among the best things to do on the island. Diving might not be the most affordable activity, but doing it in Koh Rong is definitely worth every dollar. The island is a famous diving destination for the Coral reef with Bamboo and Coral catsharks.
Recommended by Bilyana of Owl Over The World
18. Da Nang, Vietnam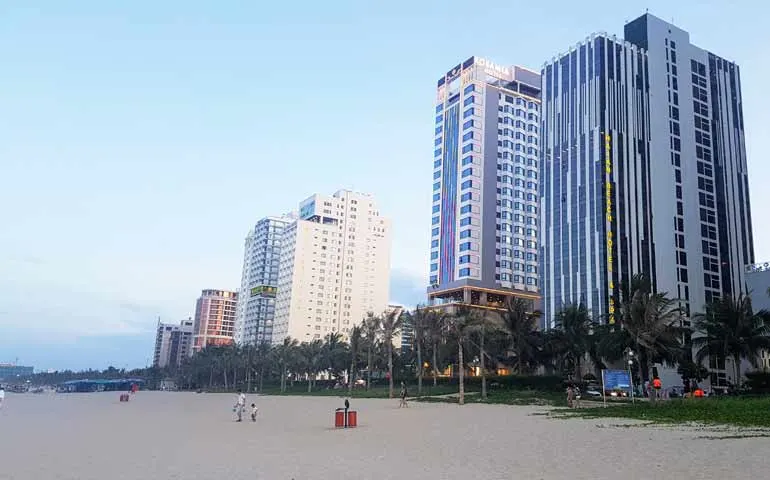 Da Nang is a great place to hang for a few days the city has plenty of shopping, food and attractions for all, and it's easy to do on a budget. It's in central Vietnam is the landing point for most people heading to Hoi An. Da Nang itself is a city not to be missed.
White sand beaches as far as the eye can see with warm calm waters is enticing, to say the least. Beach clubs allow you to kick back and enjoy a drink between swims.
The yellow sand beaches are at their busiest in the late afternoons when tourists flock to the water after some of the sting has been taken out of the sun. The main beach areas have lighting so you can enjoy the shallow calm waters as the sun goes down on the South China Seas.
The famous giant hand's walkway is in the hills behind Da Nang, sitting at 1400 meters above sea level provides amazing views of the Vietnam coast.
The Marble Mountains offer a chance to explore caves close to the city that once produced most of Vietnam's marble. These rocky escarpments are similar to ones rising out the water in Halong Bay in the north.
Recommended by Mark of Wyld Family Travel
19. Perhentians, Malaysia (one of the best beach vacations for cheap)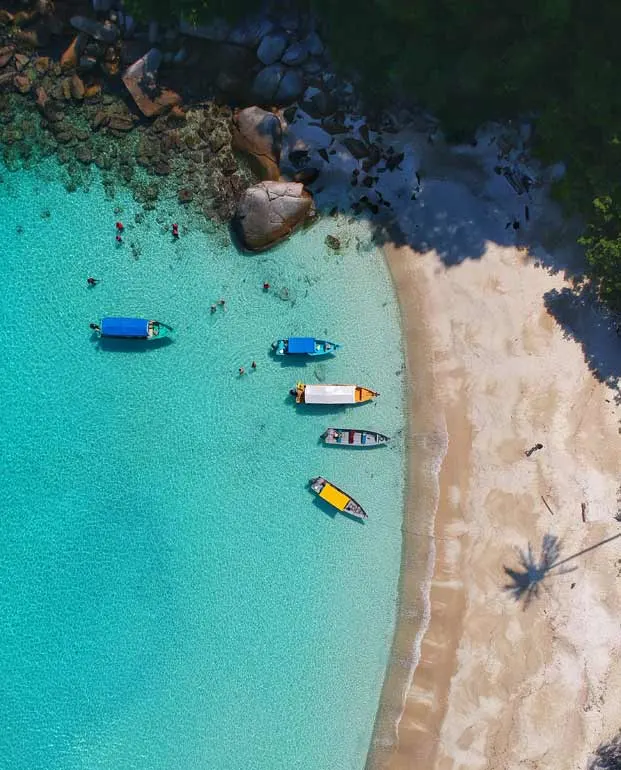 The Perhentian Islands, a tropical paradise in Malaysia, are a great choice for a budget beach getaway. Made up of 2 neighboring islands, Perhentian Kecil is a great choice for anyone on a super tight budget and is very popular with backpackers.
Perhentian Besar may be more suitable for families, couples, or backpackers who want better quality accommodations still at a very low cost.
Sunbathing, volleyball and swimming are understandably popular activities on the island. After dark you can drink rum on an island bar, enjoy the fire shows or go on a night dive.
Speaking of diving, the Perhentian Islands are one of the cheapest places to get your PADI and learn how to scuba dive! When I booked my course with Turtle Bay Divers, the cost rivalled the better-known diving hot spots such as Koh Tao in Thailand. My new friends preferred snorkeling trips, where they saw turtles and reef sharks in the crystal clear water.
Jungle hikes, kayaking and boat trips are other great activities to enjoy on the Perhentian Islands. Or just lie back on the pristine white beaches and enjoy the picture-perfect ocean view!
Recommended by Cassie of Cassie the Hag
Cheapest beach vacations in Europe
Next we're heading to Europe to find affordable beach vacations! There's more spots in Europe to explore than would ever fit on this mega list, but here are some favorites from travel bloggers all over the world.
20. Crete, Greece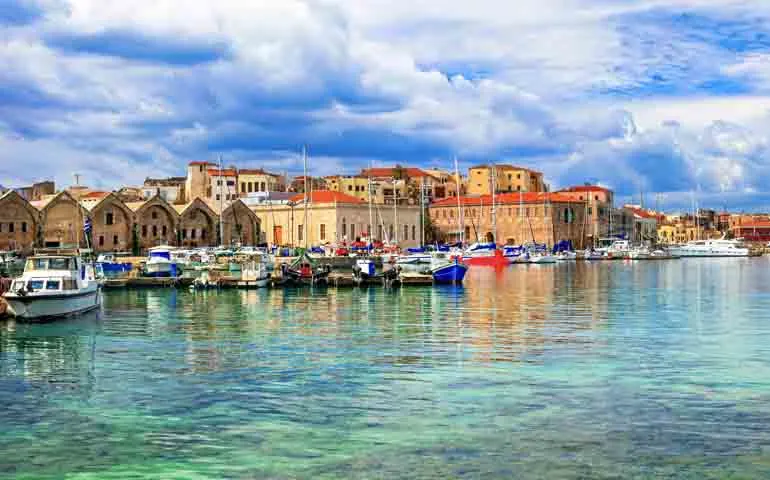 It's the biggest Greek island situated just of the country's shores on the Mediterranean Sea. Crete is a perfect destination for a budget beach holiday especially if you travel outside of the peak season which runs from June to August.
May and September are some of the best times to visit Crete, and in this Celestyal Cruises review you can see how budget-friendly Greece can be.
And the good news is that Crete's weather stays mild and sunny long into the winter! Crete's exceptional hospitality means that family-run restaurants serve hearty portions at affordable prices. Customary after the meal you get desert on the house followed by traditional Greek spirit – Raki.
Crete has a fantastic range of things to do. Visit some of the stunning Crete's beaches – Balos Beach with a unique post volcanic landscape and white sanded Elafonisi Beach. Head to Knossos to discover the ruins of an impressive ancient civilization, and if you're into hiking and spending time outdoors, there is Samaria Gorge to be conquered.
Finally, make sure you include Chania in your Crete itinerary. Chania is a beautiful coastal city with a stunning historic harbor and a lighthouse. It is the perfect place to go out for a seafood dinner enjoyed al fresco.
For the best value, stay in one of the self-catering apartments a little away from the main tourist hot spots like Chania or Heraklion. Try Aglia Marina or Maleme.
Recommended by Mal of Raw Mal Roams
21. Ksamil, Albania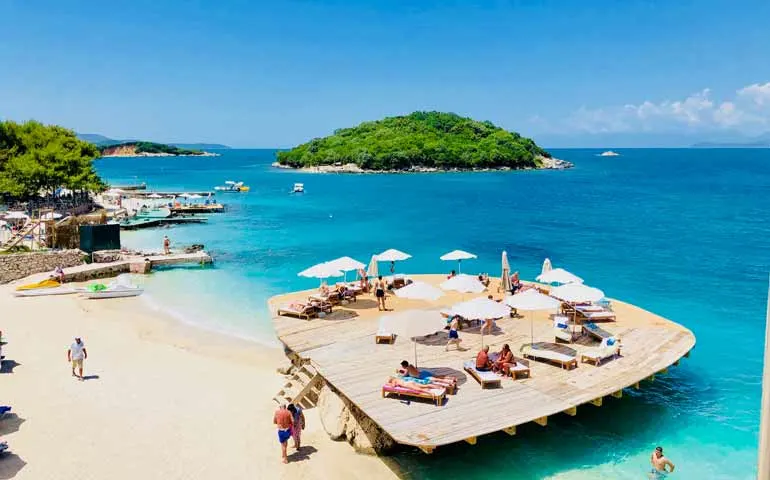 Kasmil is the best kept secret of Adriatic. This beautiful beach town is made up of 3 islands and the beaches that surround them.
Ksamil is located in the south of Albania at the end of Albanian Riviera close to the city of Sarande. When most people think of pristine beaches on Adriatic they think of Greece or Croatia but Albania has something that both these countries cannot offer; it is cheap and offer a great value for money.
The best option is to stay in Sarande which has many options for accommodation and explore Ksamil and its beaches which are a few km away.
There are multiple options here whether you want to lounge on a beautiful beach all day or want to enjoy the adrenaline rush with water sports. Kayaking out to the islands when the sun is setting is the perfect activity that balances both tranquility and gentle exercise.
There are multiple beach clubs, bars and restaurants all offering a chance to enjoy life like Albanians; non stop and to its fullest.
Ksamil is the perfect choice if you are looking for a stunning beach destination where your money goes a long way.
Recommended by Ucman of Brown Boy Travels
22. Sitges, Spain (one of the cheapest beach vacations in Europe)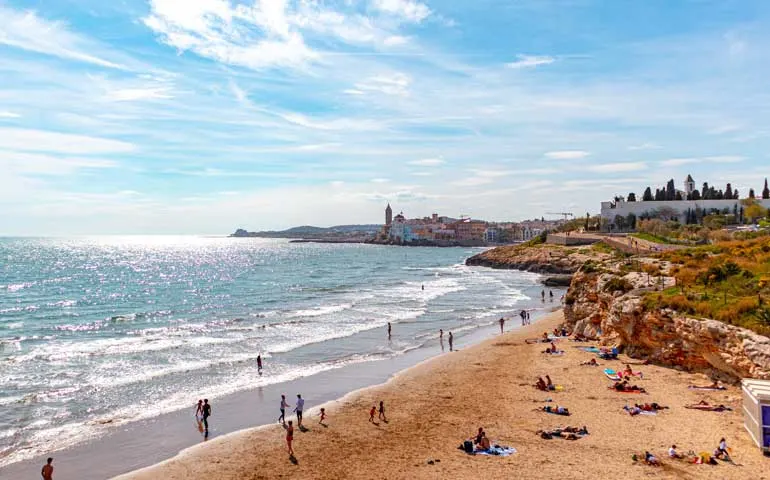 One of Europe's most affordable beach destinations is located on the Costa Brava in Spain. Sitges, Spain is about 40 minutes south of Barcelona and easily reached by bus, train or renting a car.
The lovely oceanside city has a medieval center and a long coastal promenade full of busy cafes, scenic restaurants and the perfect evening stroll. The city is also popular with LGBTQ+ travelers who pack the beaches and bars of gay Sitges in the summer.
The coastline of Sitges is gorgeous and dotted with beaches that you can access for no cost. One of the best beaches in town is the Platja de la Ribera. It's normally a less-crowded option with a lifeguard stand and beach bar to keep you safe and hydrated.
One of the city's most beautiful landmarks is the church of Iglesia de San Bartolomé y Santa Tecla. It's a postcard-perfect seaside church that's easily reached by walking south of the city center along the shoreline.
Sitges also provides a delicious food and drink scene that's light on the traveler's budget, making it an affordable beach vacation.
The tapas and seafood are truly exquisite in Sitges and the nightlife is lively and diverse. A tapas dinner is the ideal way to start off a night out. Sitges restaurants like El Cabel and the Basque-style restaurant, La Picara are perfect options to enjoy the local cuisine.
Recommended by Derek and Mike of Robe Trotting
23. Šibenik, Croatia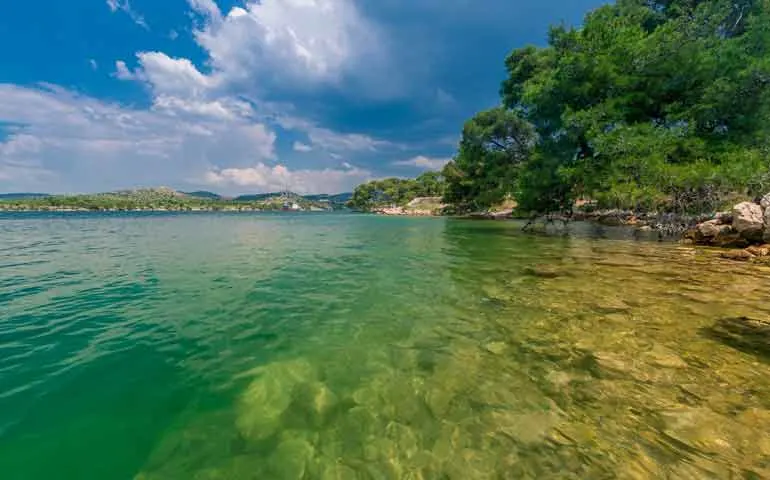 If you're looking for a cheap beach vacation in Europe, head to Šibenik, Croatia, as your destination. Not only will you find yourself in a historic city, but there are many gorgeous beaches in Šibenik to choose from.
If you're interested in lounging on the beach in between sightseeing excursions, you'll find Banj Beach at the end of the city's Riva. Pass the coffee shops, ice cream stands and the beach bar before arriving at this city beach.
It's free to enter and offers free showers, in addition to lounge chairs for rent. When you're on the beach, you'll be at the base of the city, which means you'll have phenomenal views of Barone Fortress, St. Michael's Fortress, and St. James' Cathedral.
Or, if you're looking for a beach day just outside Šibenik, Jadrija Beach is a seaside destination located on a peninsula just outside the historic center. The city offers a convenient ferry, which runs many times during the day every summer from the Riva in Šibenik to the Jadrija dock, and costs just a few kuna each way.
It's just a few minutes' walk from the dock to the beach area when you land, where you can lie down on the mostly stone shoreline or swim in the sea. And, make sure you grab an incredible Croatian donut from the pastry shop next to the water.
Recommended by Lyndsay of The Purposely Lost
24. Apulia, Italy (one of the best beach vacations for cheap)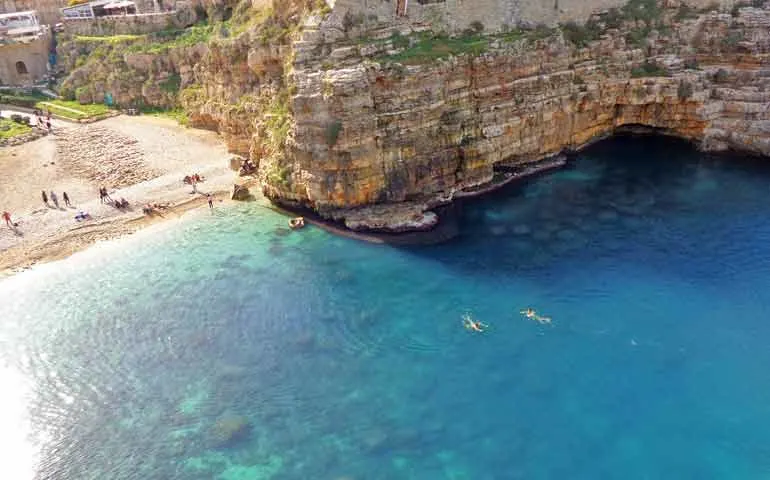 Everybody wants to visit Italy, but few tourists visit the unspoiled region in the heel of Italy, Apulia or Puglia in Italian. It is a strip of land that stretches between the Adriatic and the Ionic Sea.
The coast has sandy beaches, limestone cliffs, and whitewashed towns by the sea. You can easily explore Puglia for 2 weeks or more and visit a different beach every day.
Because it is still a hidden gem and not overwhelmed by tourists, the prices are very affordable in this part of Italy even in high season.
The season is long, you can still bathe in the sea even at the end of October, and the weather is great.
The beaches in Monopoli and Polignano a mare are the most accessible, and you can get there by train from Bari. However, if you want to find the most secluded beaches, I recommend renting a car and exploring the coast.
You can even stay inland, in beautiful Lecce, in a masseria in the middle of the olive groves, or in a trullo in Alberobello and drive to the beach.
One of the best beaches in Puglia is Cala Paura in Polignano a mare, a small beach sheltered by spectacular limestone cliffs. Another beach you shouldn't miss is Torre Guaceto, a large sandy stretch in Brindisi. It's a protected marine area where the waters are clear and snorkeling is a lot of of fun.
Recommended by Anda of Travel for a while
25. Algarve, Portugal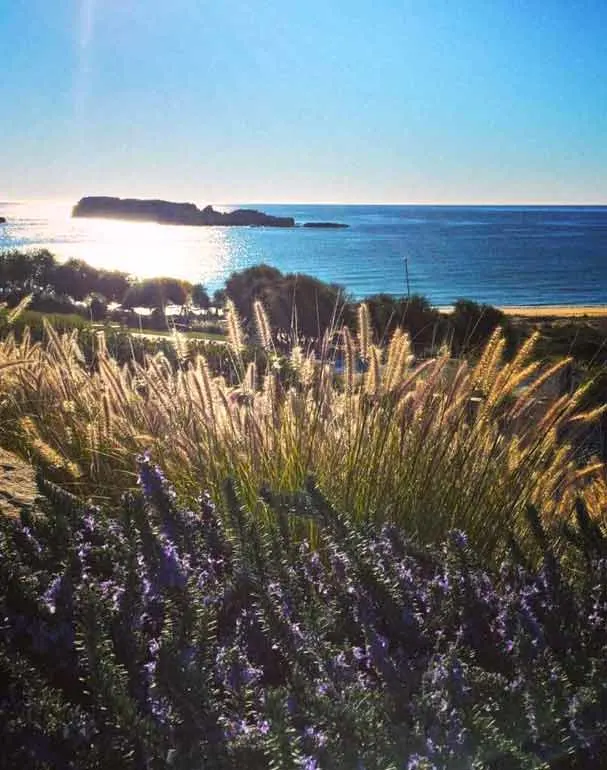 The Algarve is one of the cheapest beach vacations in Europe with plenty of well priced or free activities and great places to stay. Situated at the southern end of Portugal, the Algarve is a vacation delight with almost guaranteed sunshine and warm and welcoming people.
Tapas is well known throughout Spain but Portugal has its own version (known as petisco) and it's easy to pick up an easy meal of a few dishes to share which is really inexpensive. The best reason to visit this region is for its breathtaking beaches which are free to enjoy.
There are plenty of other activities though including bird and wildlife watching in the beautiful Rao Formosa Natural Park. One of the most atmospheric things to do is to head to Sagres. It's on the most south western tip of the country, which Europeans once believed was the end of the world.
Watching the sun set here (the Romans claimed if you listened hard enough you could hear the hiss as it sank in to the sea) is a wonderful experience.
There are some fantastic Algarve family resorts which are very well priced since having so much choice helps to keep the prices down. If you're looking for even better priced accommodation there are some fantastic campsites across the region too.
Recommended by Nichola of Family Hotel Expert
26. Vama Veche, Romania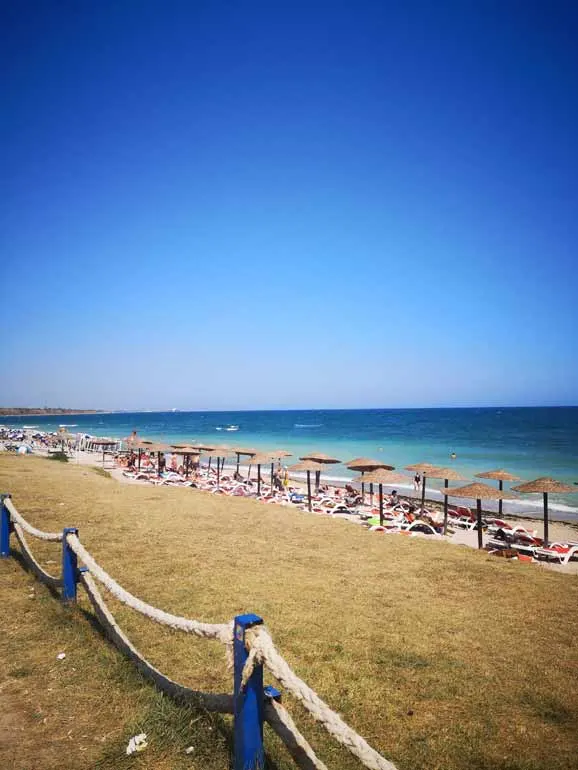 If you're in search of a cheap European beach destination, why not check out the coastal village of Vama Veche, Romania? Vama Veche is a tiny gem on the Black Sea that's been gaining in popularity over recent years.
In the 70's and 80's, Vama Veche was a haven for intellectuals, hippies, free-thinkers and artists of all kinds. It became synonymous with creativity and freedom of thought, providing a much-needed sanctuary during Romania's communist regime.
Modern-day Vama Veche attracts the same alternative crowds, although it is very much a party destination. While costs are high in comparison with the rest of Romania, they are dirt-cheap when considering more popular western European beach destinations.
A big dinner for two complete with a few drinks each will run you about 25-30 euro total, or up to 15 euro per person. To rent a chair on the beach is approximately 6-10 euro for the entire day. A beer in a restaurant is roughly 3 euro while a mixed drink is around 4,50 euro.
There's more to do than eat and drink in Vama Veche – you can actually walk across the border to Bulgaria! There are plenty of water sports to enjoy as well. The Black Sea is a highly underrated beach destination, but well-worth a visit for both its beauty and affordability.
Recommended by Jade of The Migrant Yogi
Cheapest tropical vacations in the Caribbean
The Caribbean is synonymous for beautiful beaches and cheap vacations. It's a beach-lover's dream region, and I can't wait to share these amazing and affordable beach vacations with you!
27. Puerto Vallarta, Mexico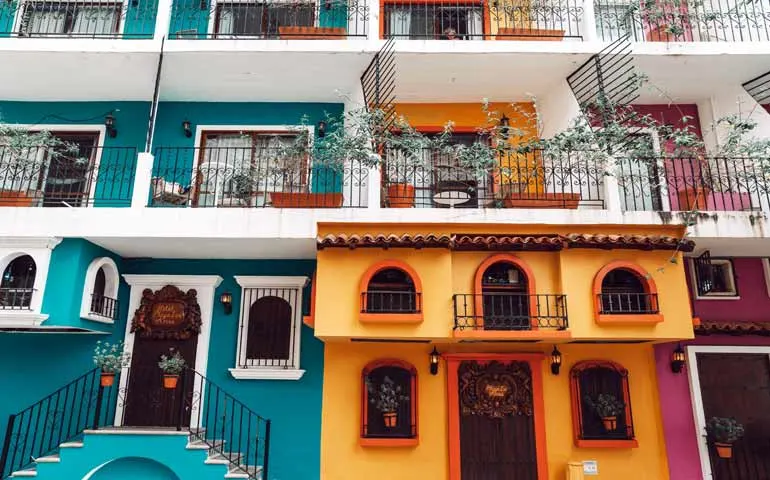 Puerto Vallarta is one of the best cheap beach destinations in Mexico. Unlike Cancun or Cabo, Puerto Vallarta has plenty of all-inclusive options, but also has a comfortable balance of affordable boutique hotels in town for a less secluded resort vibe.
Because the town of Puerto Vallarta is close to the beach and very walkable, you can stay at less expensive (but still fabulous) lodging and still enjoy the warm beach water and boardwalk that you can at more expensive resorts.
The food is also very affordable, and even the best tacos in Puerto Vallarta won't be more than $1 USD! You can get a whole meal for 2 people at the same price of a drink at other popular beach destinations.
Puerto Vallarta is also a city that places an emphasis on art and culture, and as one of Mexico's most friendly LGBTQ+ cities, there are plenty of options ranging from bottomless brunch to drag shows to discounted karaoke nights at bars.
For tighter budgets though, you could stroll the many open art galleries and shops – many of which are owned by the area's Wixárika community. Nature enthusiasts can explore Islas Marietas or Marino Los Arcos National Parks, both under an hour (and a cheap taxi ride) away!
Recommended by Kay of The Awkward Traveler
28. Providenciales, Turks & Caicos (a surprisingly affordable beach vacation)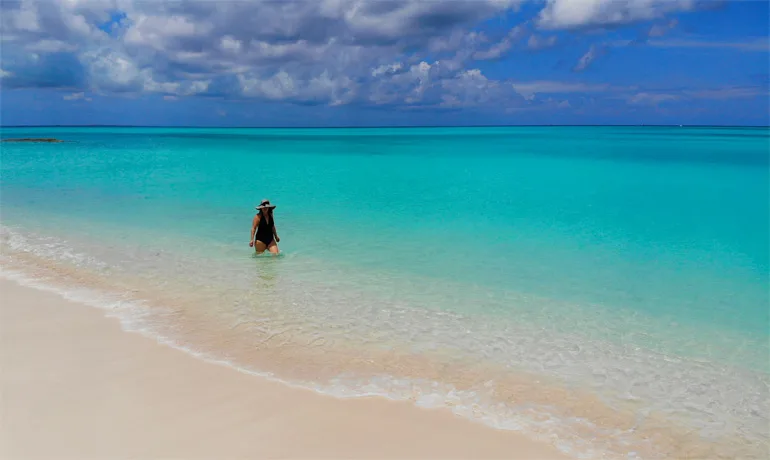 Look no further than Providenciales, Turks and Caicos for an affordable beach vacation. Located in the heart of the Caribbean, this destination can't be beat for beauty. The beaches here are pure luxury but the price of the vacation doesn't have to be.
Turks and Caicos is known as a luxury vacation destination. In fact, on a recent trip to this gorgeous island chain, I saved over $7,000. Read all the ways to visit Turks and Caicos on a budget here. I was super creative and still had an amazing time.
There's lots of things to do in Turks and Caicos for free or cheap, too. If you like to snorkel, this is the perfect destination!
I'd recommend taking your own snorkel gear because there are a lot of beaches with excellent snorkeling right off the coast. My husband and I regularly travel to beachy spots with our snorkel gear, saving us tons of money instead of taking tours.
Providenciales, Turks and Caicos is one of the cheapest tropical vacations in the Caribbean, and one not to miss!
Recommended by me – Nikki of She Saves She Travels
Related read: 28 Amazing and Unexpected Things to Do in Turks and Caicos
29. El Cuyo, Mexico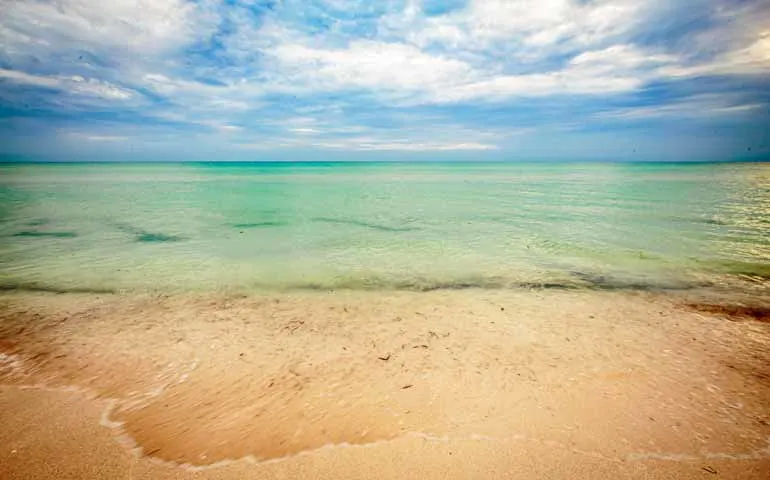 El Cuyo is a hidden gem on the coast of Yucatan, Mexico. If you wish to escape from the busy and expensive Riviera Maya in Mexico, you surely will love El Cuyo.
It became popular among kite surfers for the favorable winds all year round and the long deserted beach perfect both for beginners and professionals.
It's now a favorite beach escape for anyone in search of a tranquil and peaceful getaway on the beach. The water reflects many shades of emerald green and blue depending on the weather. The beach is white and soft, the town is mainly unpaved with nice little hotels for every budget, either on the beach or as far as 2 blocks away.
The few restaurants are more than enough to offer delicious local and international cuisine and a couple of cafes for hearty breakfast and a chat with the friendly locals.
A colony of gracious pink flamingoes will welcome you from the lagoons that border the only paved road that takes you to the village. Here you can decide to bask in the sun, take a walk on the never-ending beach or enjoy some watersport such as kayaking, paddle boarding, or kitesurfing.
It's the perfect destination for a cheap and yet precious beach getaway far from the crowd and the noisy touristy destinations.
Recommended by Isabella of Let's Travel to Mexico
30. Placencia, Belize (one of the best beach vacations for cheap)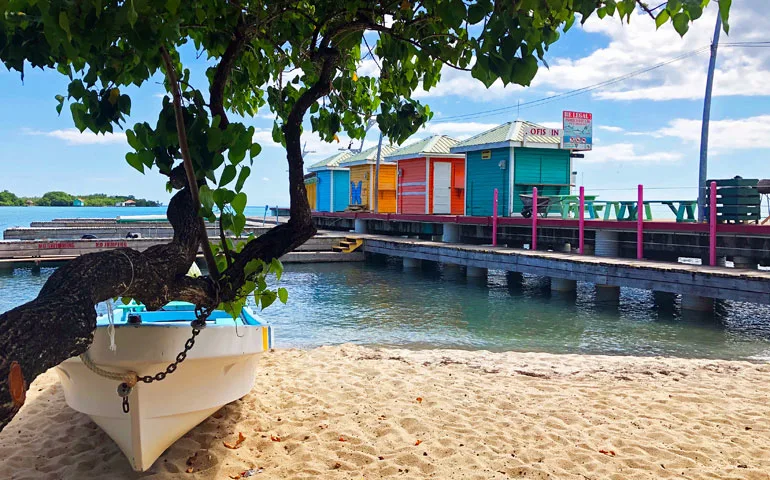 The small village of Placencia, Belize is a hidden gem in Central America. With beautiful beaches and a ton of things to do in Placencia, it's a destination that needs to be on any bucket list.
Way more low key than Belize City, Ambergris Caye or Caye Caulker, Placencia is a cheaper alternative to experience the beauty of this nation while staying on budget. Renting a cabana literally 15 yards away from the ocean was a highlight of my trip – and cost less than $50 USD per night!
More on my exact trip cost and how to visit Belize on a budget here.
Be sure to check out the snorkeling or diving scene, as the Belize reef is part of the 2nd largest reef system in the world. Taking a tour to a nearby private island is a unique way to experience the water, too.
Recommended by me – Nikki of She Saves She Travels
31. Puerto Morelos, Mexico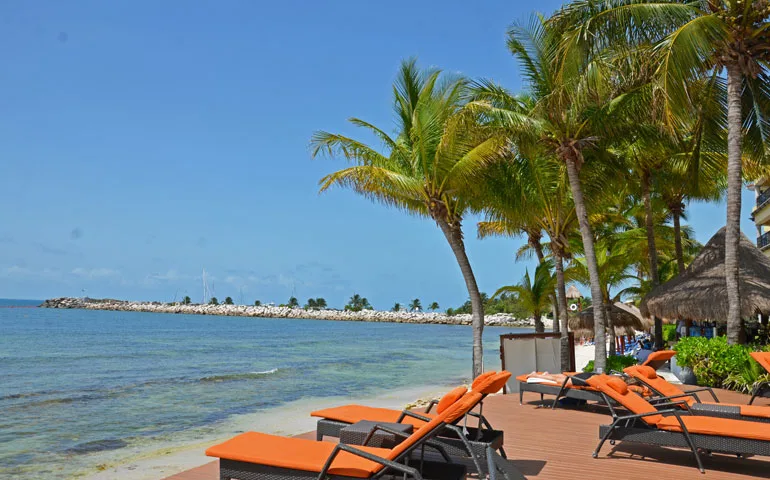 This little fishing village is one of my favorite spots in all of Mexico. Puerto Morelos is full of charm and super laid back. It's conveniently located just 20 minutes from the Cancun airport, but lacks the crowds of Cancun.
Peaceful, affordable and fun…what more can you want out of a vacation?
One of the cheapest tropical vacations out there, Puerto Morelos does have inexpensive all-inclusive resorts. But to save even more, try a vacation rental in town. Walk down to the farmer's market to grab a few groceries for the week, or dine on a dime at a local restaurant.
Puerto Morelos is one of Mexico's best-kept secrets!
Recommended by me – Nikki of She Saves She Travels
More of the cheapest beach vacations
Rounding out the list with the final spots of affordable beach vacations. Sad to see this guide come to an end, but excited to start planning another trip. Anyone else??
32. Rapid Bay, Australia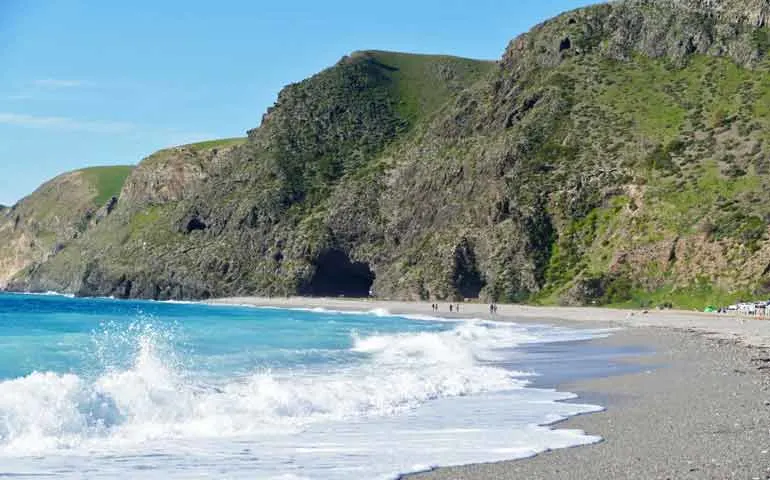 One of the cheapest beach vacations in Australia is Rapid Bay. It's 90 minutes south of Adelaide on the Fleurieu Peninsula. The beach hugs a hilly coastline, the mountainous backdrop makes it a beautiful place to spend a few days.
If you like camping, there's a campground located right behind the beach. The campground is cheap but basic. It costs AUD$12.50 a night. There is a BBQ area and cold water amenities. During summer the campground is busy and booking is a must.
There is plenty to do at Rapid Bay. It is best known as a snorkeling and dive site. At the end of the older, longer jetty there is abundant marine life on and around the pylons.
You can see everything from big schools of fish to sea horses and the occasional seal and dolphin. The Jetty is also a popular fishing spot.
The coastline around Rapid Bay is dotted with caves so there are some great kayaking opportunities. There are guided tours you can do to learn more about the caves or you can explore them yourself.
Back on land, Deep Creek Conservation Park is less than a 20 minute drive from Rapid Bay. There are more great hikes and walks along the coast to do there and the park is also a great spot to see Australian wildlife.
Recommended by Natalie & Steve of Curious Campers
33. Dahab, Egypt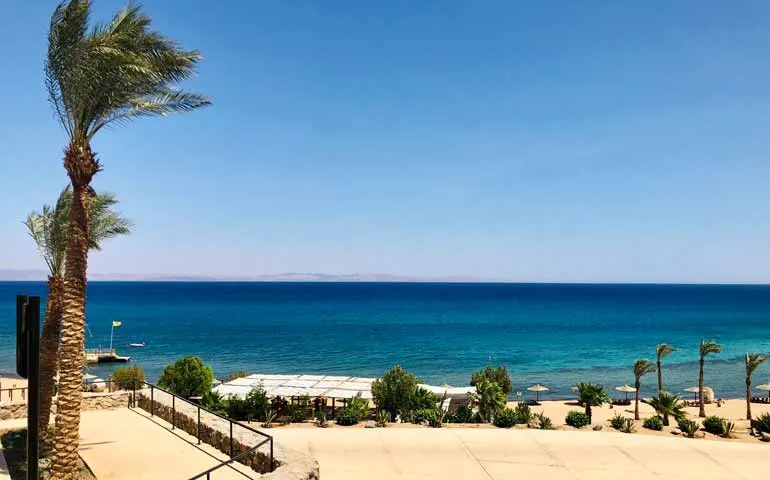 There are so many amazing and cheap beach destinations scattered around the world and Dahab, Egypt is one of them. When people think of beach vacations, Dahab doesn't usually come to mind. But, it truly is a gem and a great place for a relaxing beach getaway.
Located on the Southeast coast of the Sinai Peninsula, Dahab used to be a Bedouin fishing village. The nearest airport to Dahab is Sharm El Sheikh International Airport and it takes around an hour and a half to get there via car.
The best part about vacationing in Dahab is that it's very budget-friendly in terms of lodging, dining, and more. The bus from Sharm El Sheikh to Dahab costs less than $6 USD per person.
You can also score a four or five star, all-inclusive hotel for less than $50 per night. Yes, that includes your meals too! A nice three or four-course meal at a nice restaurant will cost you around $10. Excursions and activities are very reasonable compared to other beach destinations.
Dahab has a relaxing environment and you'll be away from the hustle and bustle of big cities. It's a resort town and only 15,000 people live here. It sits between the Sinai Desert Mountains and the Gulf of Aqaba so the scenery is naturally beautiful.
If you're into snorkeling and scuba diving, the Blue Hole is a must. Kitesurfing and windsurfing are also fun activities to do in Dahab. If you're a history buff, be sure to visit St. Catherine's Monastery.
If you're wanting to see the pyramids in Egypt, including visiting Cairo and Luxor, definitely use this 7 day Egypt itinerary to plan the best route, and work in Dahab at the beginning or end of your trip!
Recommended by Disha of Disha Discovers
34. Wineglass Bay, Tasmania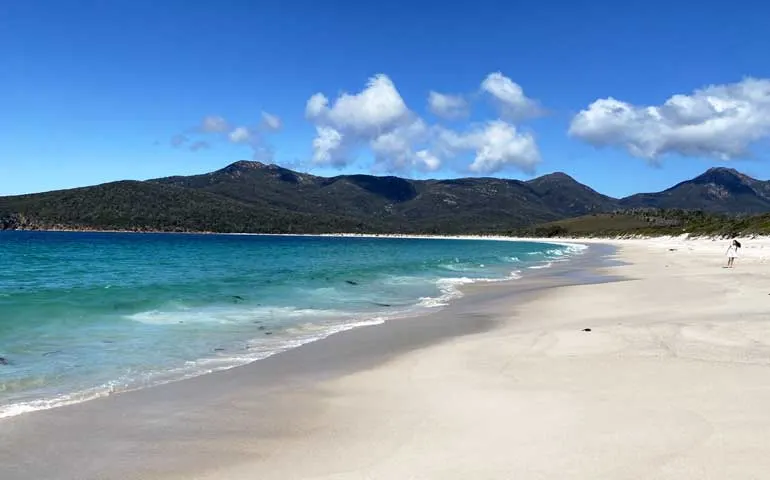 Often named among top 10 lists of the most beautiful beaches in the world, Wineglass Bay is the perfect place for your budget beach vacation. Stunningly beautiful and with the only access via your feet or boat and camping the only possible way to stay here, this not only keeps costs very low but also keeps away the masses.
Located in Freycinet National Park on the east coast of Tasmania, the walk to Wineglass Bay is only about one hour but it is on steep paths with many steps. Once you hit the beach with its powdery white sand, aqua blue water and contrasting orangey coloured rocks, every step would have been worth it. This is heaven!
You will need to take your own camping gear, food and water (there's a tap for drinking water at the start of the hike to Wineglass Bay). There is a campsite at the far end of the beach at Wineglass Bay with a composting toilet here.
While conditions are basic, you'll love the surroundings and the cost – it's free to camp here (although you do need a Tasmanian National Parks pass to enter the national park).
The activities are all about nature – enjoying the beach and hiking further into Freycinet National Park. If your dream beach vacation is all about enjoying gorgeous surrounds on a budget, Wineglass Bay is definitely a winner.
Recommended by Sharon of Dive into Tasmania
35. Yamba, Australia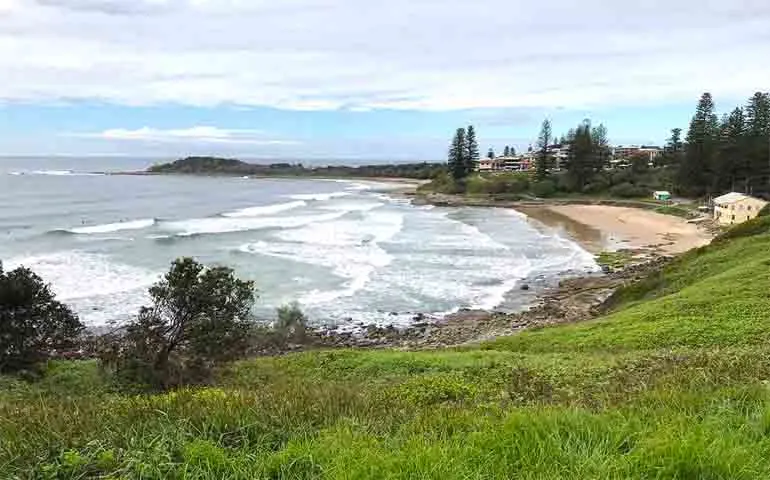 Australia is well-known for its fantastic beach destinations and can be an affordable beach vacation. Famous Australian beaches like Bondi Beach, Noosa and Surfers Paradise attract visitors and celebrities from around the world but staying at these popular beach destinations can get rather expensive, especially during the holiday season.
If you're looking for an inexpensive and fabulous beach on the New South Wales north coast that is every bit as good as the country's well-known beaches, head for the small town of Yamba.
In recent years, Yamba has grown from a sleepy fishing town to become popular with surfers. The nearby Angourie Point is a challenging break that all serious surfers must try.
The good thing about Yamba is it is unpretentious, and it's still a destination that travelers can stay cheaply. For cheap accommodation, stay at Yamba Backpackers, which is an excellent location within walking distance of shops and cafes.
Another way to have a budget beach vacation in Yamba is to look for a room or an Airbnb offseason. This beach town can get rather busy with families during Australian school holidays. Prices drop when kids are back at school or in winter. One way to save costs on meals is to head to the Yamba River Markets or the Yamba Farmers & Producer's Market for tasty food truck meals.
Other things to do in Yamba include exploring the Blue and Green Pools, fishing, kayaking, swimming and bushwalking. Yamba is a 3.5-hour drive from Brisbane, or you can fly to Ballina-Byron Airport.
Recommended by Christina of Travel2next
Love this list of the cheapest beach vacations?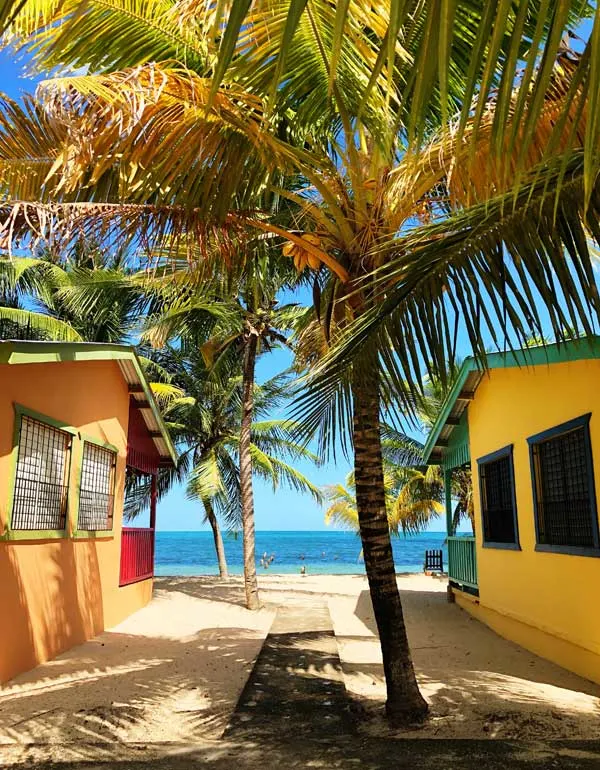 If you're feeling giddy about the cheapest beach vacations, get ready to book that trip!
Here's a recap of the best and most affordable spots you'll want to see in real life:
Maui, Hawaii
San Diego, California
Gulf Shores, Alabama
St Pete, Florida
Chincoteague, Virginia
Monterey, California
South Padre Island, Texas
Destin, Florida
Santa Barbara, California
Kauai, Hawaii
Fort Myers, Florida
Lake Tahoe, California
Mirissa, Sri Lanka
Ao Nang, Thailand
Nha Trang, Vietnam
Canggu, Bali, Indonesia
Koh Rong Island, Cambodia
Da Nang, Vietnam
Perhentians, Malaysia
Crete, Greece
Ksamil, Albania
Stiges, Spain
Sibenik, Croatia
Apulia, Italy
Algarve, Portugal
Vama Veche, Romania
Puerto Vallarta, Mexico
Providenciales, Turks and Caicos
El Cuyo, Mexico
Placencia, Belize
Puerto Morelos, Mexico
Rapid Bay, Australia
Dahab, Egypt
Wineglass Bay, Tasmania
Yamba, Australia
Whew! What a list. Which one will you hit first?
Related content to read next:
100 Most Romantic Vacations in the United States
28 Underrated Travel Destinations in the US You Need to See
26 Stunning Fall Destinations in the USA
101 Travel Bucket List Ideas

Find this article helpful? Save it for later or share it on social media!