Planning a day trip to Phoenix? This fun city is the perfect way to spend a day!
There's plenty of things to do in Phoenix and it's easy enough to see the highlights in a single day. This guide will walk you through what you absolutely must see in Phoenix in a day, a map of the activities, where to eat, places to stay, how to get around and a schedule to make the most of your time in this vibrant city.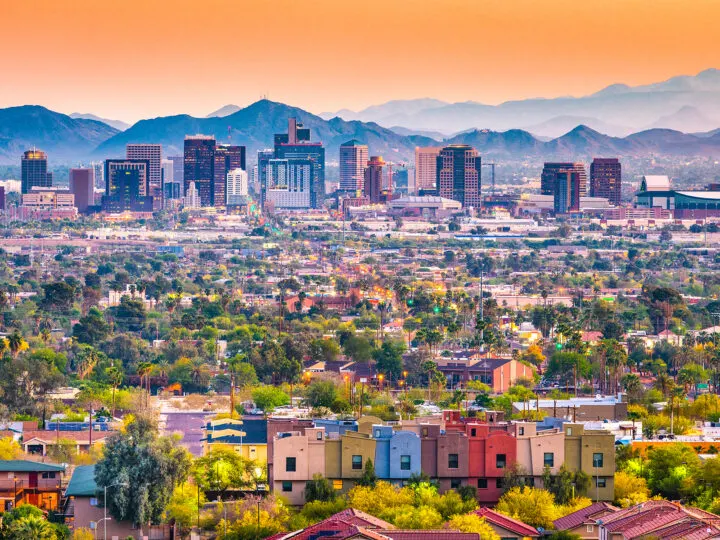 This post may contain affiliate links. For more info, see my disclosures.
Day trip to Phoenix
Whether you're coming from another area in Arizona, heading on to the Grand Canyon, or you're passing through town for your day trip to Phoenix, you'll have a great time! From nature and art, animals and culture, there's plenty of things to do and see in Phoenix!
Hanging out in this city for a day reminds me of the time I spent just a day in Seattle. Cities like these two are easy enough to get around in, and easy to see a lot in a small amount of time.
Regardless of what's bringing you to Phoenix, this is an action-packed itinerary! And because everyone loves options, there's a few of those thrown in here, too.😊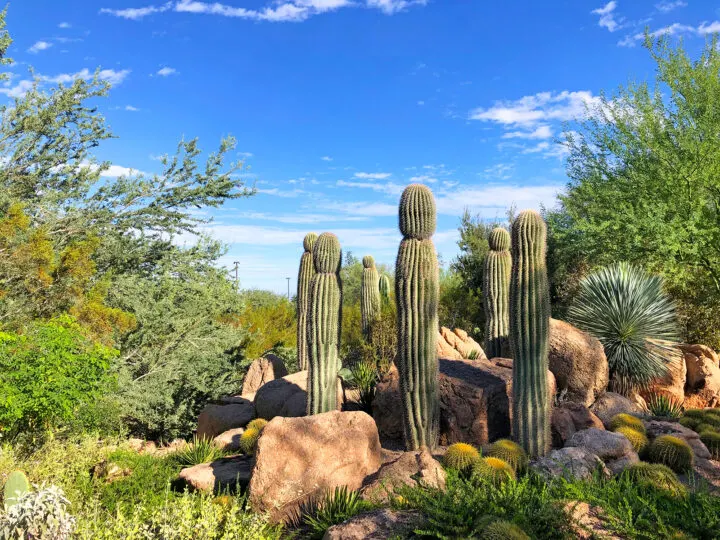 This guide includes some nature activities before the heat of the day sets in, just northwest of downtown. Then you'll head downtown to enjoy the sights and more of the best things to do in Phoenix.
Map of one day in Phoenix itinerary
If you're a visual person, here's a map to help guide you on the day's activities.
Note: if you're looking to spend more time exploring Arizona, check out the route from Phoenix to Sedona, Grand Canyon and Page – it's on this list of the best RV vacations!
How to get around Phoenix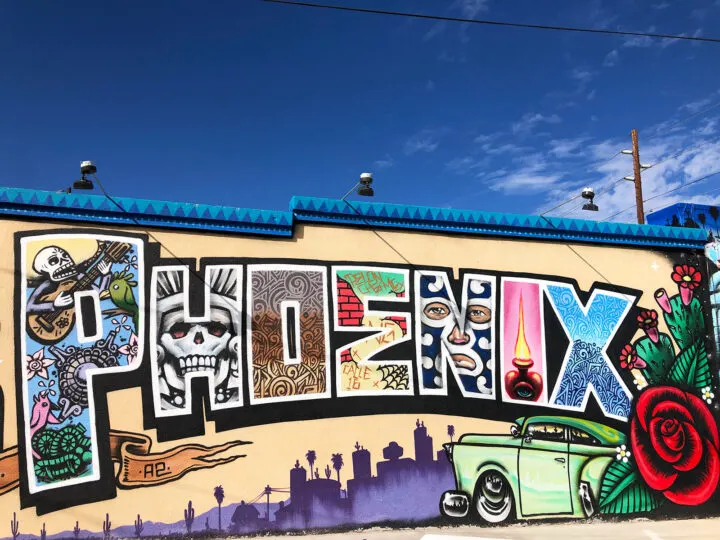 If you're wondering how to get around the city with limited time – the answer is it really depends! 😆
Phoenix has a great public transportation system. However since you're on a time crunch, waiting for the rail or bus will eat into more of your time to see the sights and explore everything there is to do.
The most efficient way to get around Phoenix in a day is to rent a car. I love using Discover Cars because it's super affordable. It searches the best car companies and provides you the best deal, at no extra cost. I typically save 10-30% on rental cars when using them.
If you don't want to rent a car in Phoenix, the next best way to get to all the places on this list is to use a ride share. Uber and Lyft are both easily available in most areas of the city.
Day trip to Phoenix – best things to do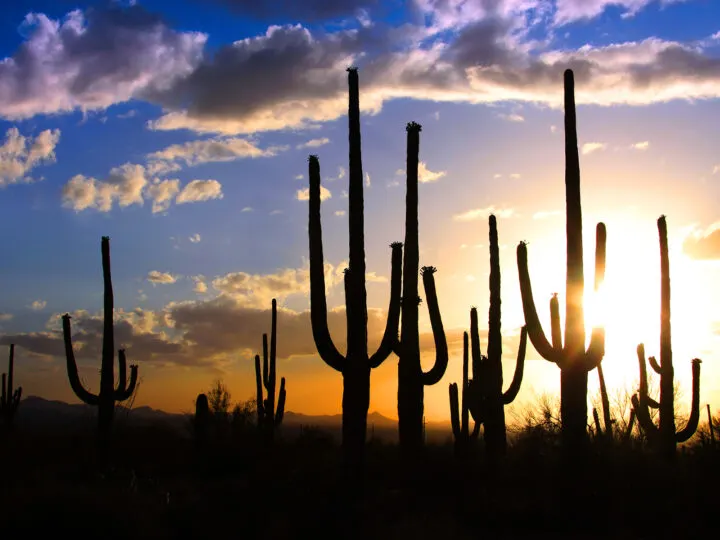 Alright let's get to it! This guide shows you how to see Phoenix in a day. There's also alternative recommendations to fit your travel style so you can customize your Phoenix itinerary based on what you want to do.
Note: this guide assumes you're arriving early into town, or that you're traveling there the night before and starting your adventure early in the morning. If you're arriving mid-morning, adjust as needed.
Oh, and by the way, let's assume you're not traveling in the heat of winter. In fact, Phoenix is one of the best warm winter vacations in the USA, so hopefully you're traveling during that time. 🙂
Have an amazing breakfast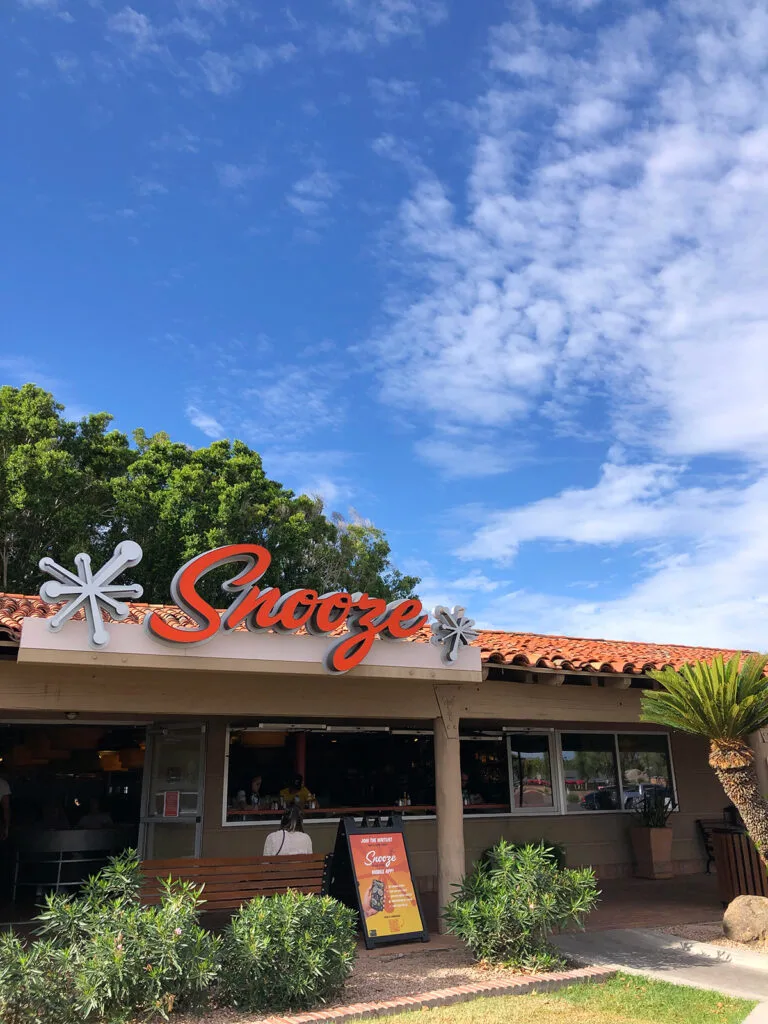 Estimated time: 1 hour
Schedule: 8:00 – 9:00am
Let's start the day off right! Whether you're into high protein, low carb breakfasts, ultra sweet breakfasts or anything in the middle, Phoenix has an awesome breakfast spot for you!
My favorite breakfast in Phoenix is Snooze, An A.M. Eatery. They have early happy hour every day, including a breakfast margarita. (Which definitely reminded me of the margaritas in Old Town San Diego – delicious!)
Snooze has traditional breakfast options as well as unique takes on breakfast. Love that their ingredients are responsibly sourced, too.
Locations: 800 N Central Ave Suite 3, Phoenix, AZ 85004 or 2045 E Camelback Rd A17, Phoenix, AZ 85016 are likely most central to your starting point. Alternatively, 615 S College Ave Suite 103 & 104, Tempe, AZ 85281 or 4901 E Ray Rd STE 120, Phoenix, AZ 85044 are also in the area.
Other breakfast favorites in Phoenix:
After breakfast you're headed to one of the most popular spots in Phoenix for outdoor activities. Hop in your car or ride share for this drive.
Hike the Hole in the Rock Phoenix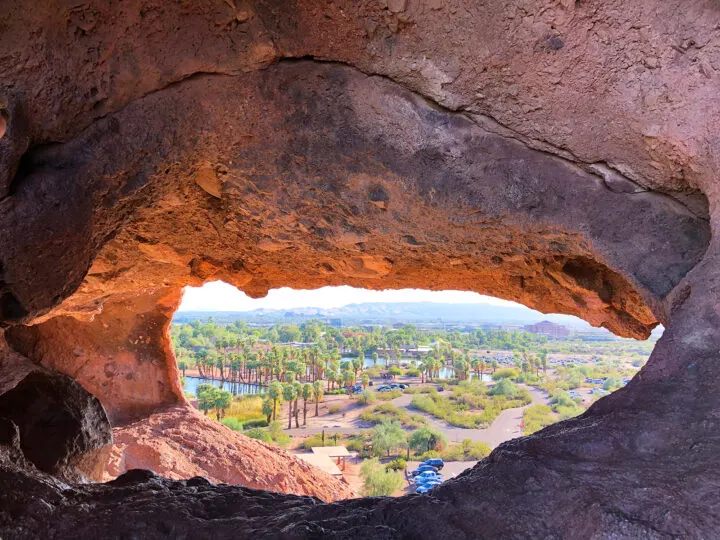 Estimated time: 30 minutes
Schedule: 9:30 – 10:00am
After that delicious breakfast, a bit of light hiking is in order! Stretch your legs and see some cool sights of the area. If you only have one day in Phoenix, this is a must on your list!
This easy trail reminds me of some of the easy hikes on Oahu – because it's so short it's almost hard to call it a hike! Coming in at 0.3 miles, it's a pretty easy trail!
Hole in the Rock is exactly what it sounds like – a big hole in a rock. Take a short, yet somewhat steep trail up and you can walk through the large hole. Once there, you'll get great views of downtown Phoenix!
It's a popular spot so there may be a quick wait to get through the hole. Especially because everyone wants to take a picture in it or by it.
Although it's not difficult, it's also not recommended doing the hike in open-toe sandals because of the slick rock. And use caution along the ledge…it's a long way down!
Location: 625 N Galvin Pkwy, Phoenix, AZ 85008
Visit Papago Park (a favorite activity for your day trip to Phoenix)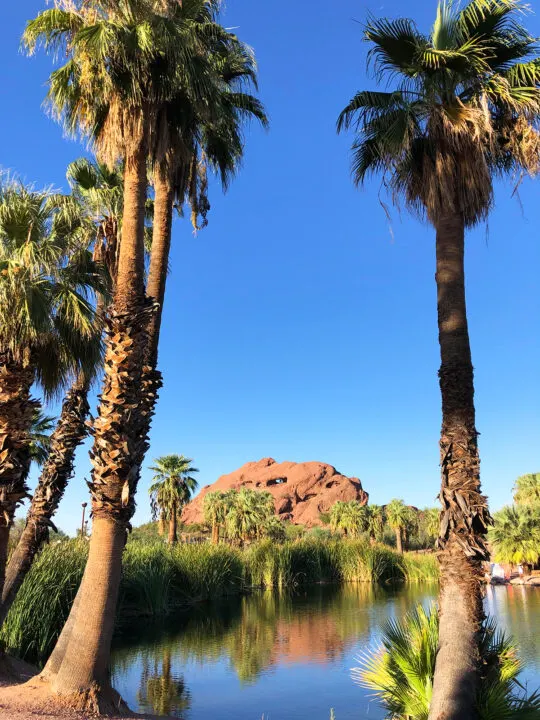 Estimated time: up to 1 hour
Schedule: 10:00 – 11:00am
The Papago Ponds are a beautiful, serene place to go in the middle of the city. Sharing a parking lot with Hole in the Rock, this picturesque place has views of the red butte formations in the area, swaying grasses and desert palm trees.
The ponds are so picturesque, and it's a fun spot to walk around. Papago Park has a long history, which is quite fascinating.
It was once a home to the Maricopa and Pima native tribes. After the U.S. government took it over, it was deemed a fishing area during the Great Depression, and later a POW camp during World War II. Woah!
Location: 625 N Galvin Pkwy, Phoenix, AZ 85008
The Papago Park itself is quite large, and encompasses a few other sights during this Phoenix itinerary. Let's keep going with those…
Desert Botanical Garden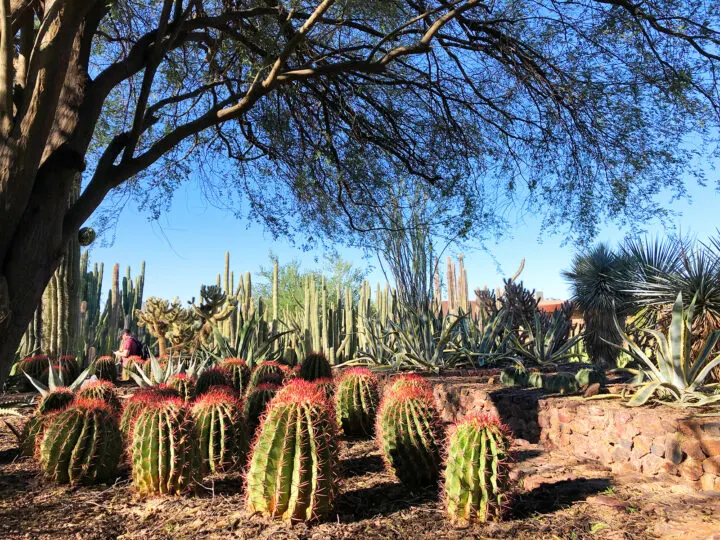 Estimated time: 1 – 2 hours
Schedule: 11:00am – 12:00pm
If you love plants and nature, this place will blow you away! The Desert Botanical Garden is a favorite stop if you only have one day in Phoenix.
Full of over 50,000 plants, it's an incredible botanical garden! It actually reminds me of the Lalbagh Botanical Gardens in Bangalore, India, because the paths are so well laid out and there's so much to see.
You'll love the variety of plant life. And if you don't live in a desert region, it really is mind-blowing the assortment of desert flora and fauna.
The giant Saguaro Cactus are a sight to see. Of course, if you're in Phoenix for a day in the spring, you'll see the blooming cacti – so cool!
You could literally spend a whole afternoon walking the 2 miles of trails within the Desert Botanical Garden. However, since you're only in the area a short while, grab a map when you enter and select a few areas to see.
The on-site restaurant, Gertrude's, is welcoming with fun patio seating. Also if you're looking for a quick souvenir, the gift shop has plants, jewelry, books, clothing, etc.
This is one of the more expensive activities on the list, but it's well worth it. You'll need to purchase tickets in advance, too.
Location: 1201 N Galvin Pkwy, Phoenix, AZ 85008 (in the Papago Park area)
By the way, if you love exploring the top sights in a city in a single day, check out this guide to Rome in a day!
Alternative: Phoenix Zoo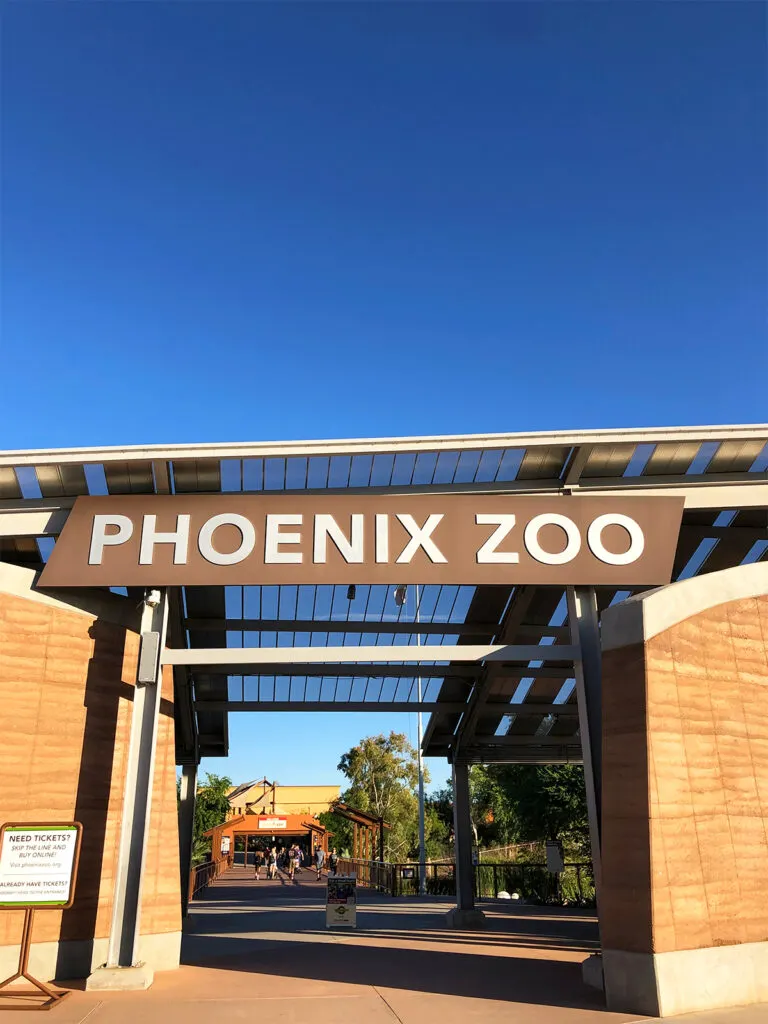 Estimated time: 1 – 2 hours
Schedule: 11:00am – 12:00pm
If you'd rather see animals than plants, then a trip to the Phoenix Zoo might just be in order!
Located right next to Papago Park, the Phoenix Zoo features interactive exhibits like petting stingrays, a monkey walk-through village and giraffe encounters. The tram is worth riding and towards the middle of the zoo is a cave, a welcome retreat from the sun!
There's so much to do here, you could spend an entire day walking around and seeing all the animals in the zoo. However since you're only on a day trip to Phoenix, try to keep it to less than 2 hours to allow time to see all the highlights of the area.
Location: 455 N Galvin Pkwy, Phoenix, AZ 85008
To get from Papago Park, simply walk to the Phoenix Zoo entrance. 😊
Day trip to Phoenix: time for lunch
Well – this is the half way point in your day. Can you believe all these cool activities so far?
Depending on how much time you've spent at each, you might be having a late lunch. Time to get enough energy for the next part of your day!
As you leave the Papago Park area, grab lunch on your way to the downtown Phoenix. You'll need to drive or take a ride share to get some good food.
Eat delicious Mexican food (a must-do on this Phoenix itinerary)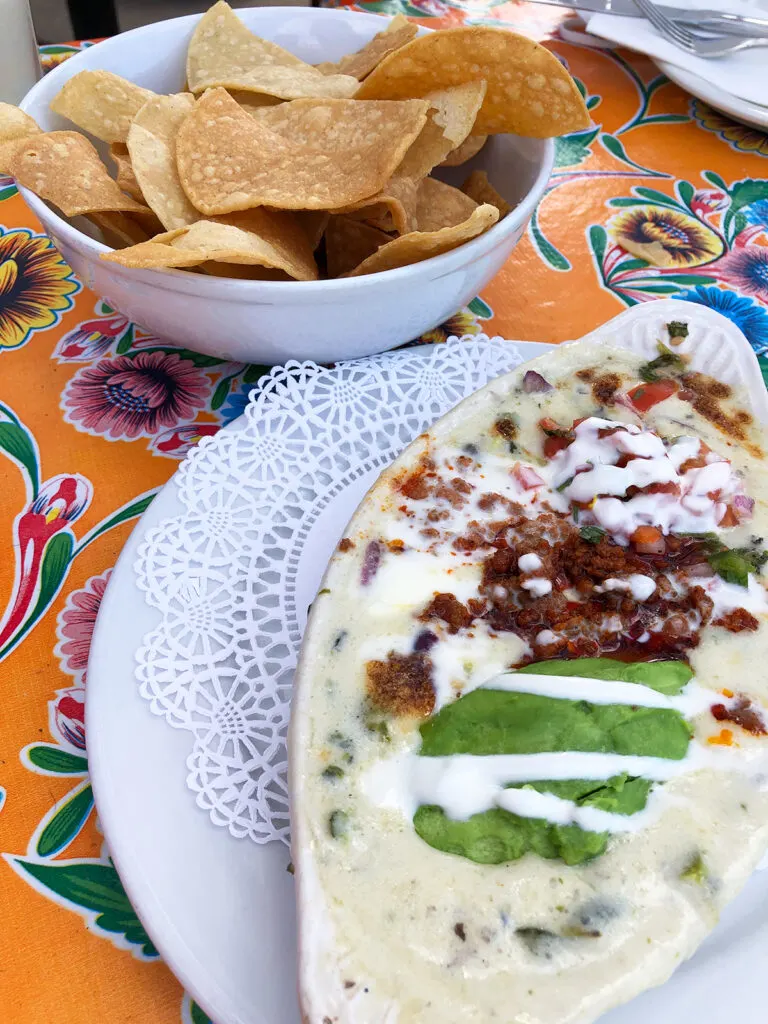 Estimated time: 1 – 1.5 hours
Schedule: 12:30 – 2:00pm
Can't go to Phoenix without eating fabulous Mexican food!
If you're looking for amazing flavor that packs a punch, look no further than 2 of Phoenix's finest Mexican eateries: Barrio Cafe and Taco Guild.
Ranked over and over again as 2 of the best Mexican food spots around, you'll love both these places.
At Barrio Cafe, the creative, modern twist on authentic Mexican cuisine will send your taste buds spinning. Try the Queso Fundido (to die for) and the Couchinita Pibil. And don't forget a legendary margarita!
Location: 2814 N 16th St #1205, Phoenix, AZ 85006
Converted from an old church, Taco Guild has a unique atmosphere which is quite fun to experience. Menu favorites are the Street Style Corn, and Chipotle Cherry Steak Tacos and Charred Cauliflower Tacos.
Location: 546 East Osborn Road, Phoenix, AZ 85012
The next set of activities are in downtown Phoenix. You'll need to drive or take a ride share to get there.
Japanese Friendship Garden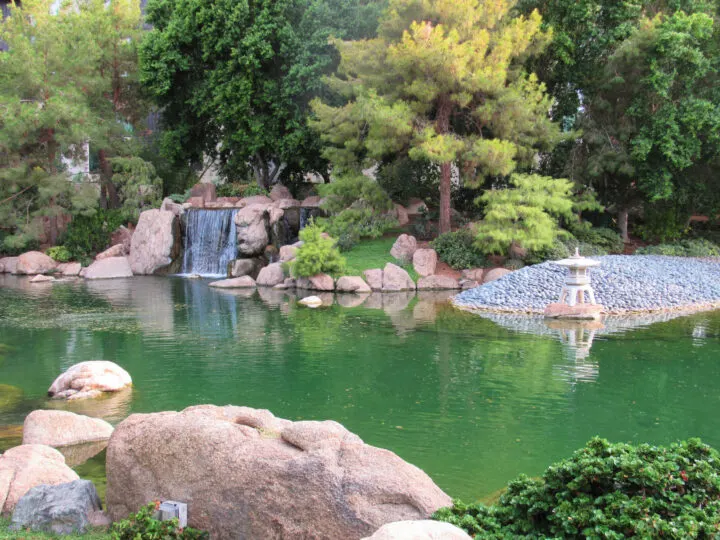 Estimated time: 30 minutes – 1 hour
Schedule: 2:00 – 3:00pm
After a delicious lunch, enjoy the beautifully designed outdoor space, the Japanese Friendship Garden. It's the calm you're looking for in a big city. Probably the most low-key thing on this Phoenix itinerary, actually. 😊
You'll experience beautifully running waterfalls while Koi fish play in the ponds and streams. The walkways lend themselves to a nice leisurely stroll through one of the most serene spots in Phoenix.
I personally didn't get to experience the Japanese Tea events, but have heard amazing things about them. Check online for events at the garden while you're in town.
Pro tip: download the interactive map to learn about different garden features as you walk around.
Note: if your day trip to Phoenix happens to be on a weekend, you'll need to purchase tickets in advance. Also, the last admission for the day is at 3:30pm, so be sure to make it there early in the afternoon.
Location: 1125 N 3rd Ave, Phoenix, AZ 85003
Heard Museum (discover area culture on your day trip to Phoenix)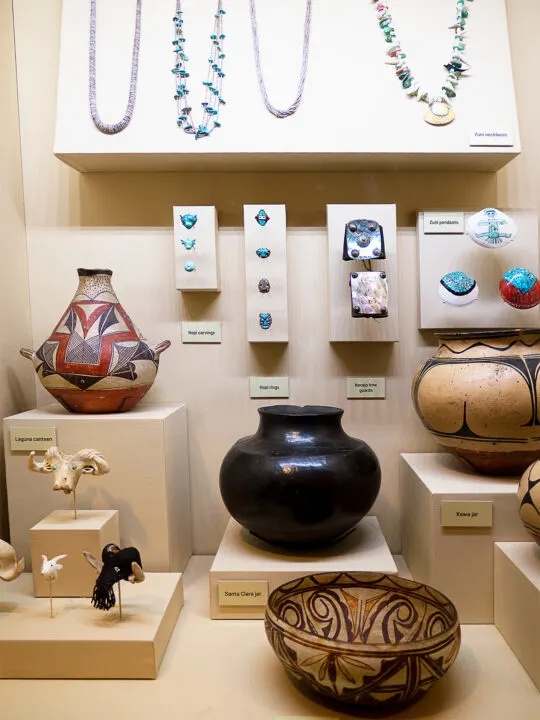 Estimated time: 1 – 2 hours
Schedule: 3:00 – 4:00pm
Take a break from the heat and head inside to one of the best cultural exhibits you'll see: the Heard Museum. It's one of the best things to do in downtown Phoenix, and a breathtaking collection of Native American artwork.
There's an incredible amount of history within the Heard Museum, which tells stories of Native Americans through well curated collections of art. You'll see galleries and courtyards of amazing sculptures, jewelry, oil paintings and weavings.
These are the essential elements of America – the culture and history of Native Americans.
Pro tip: the museum closes at 4pm daily. Plan to get there at least by 3pm to see the highlights!
Location: 2301 N Central Ave, Phoenix, AZ 85004
Alternative: Phoenix Art Museum
Estimated time: 1 – 2 hours
Schedule: 3:00 – 5:00pm
If you love art, the Phoenix Art Museum is the place for you! From classic to contemporary to modern, you'll love this collection of art in downtown Phoenix.
The paintings will draw you in, and the sculptures expertly placed will guide you through this really cool museum. If you're interested in visual storytelling, you can spend so much time here! With 3 floors of art to see, you'll want to reserve at least an hour of your afternoon at the Phoenix Art Museum.
Note: the museum hours can vary, and they close at 5:00pm some days. Check the hours here.
Location: 1625 N Central Ave, Phoenix, Arizona 85004
Get artsy at Roosevelt Row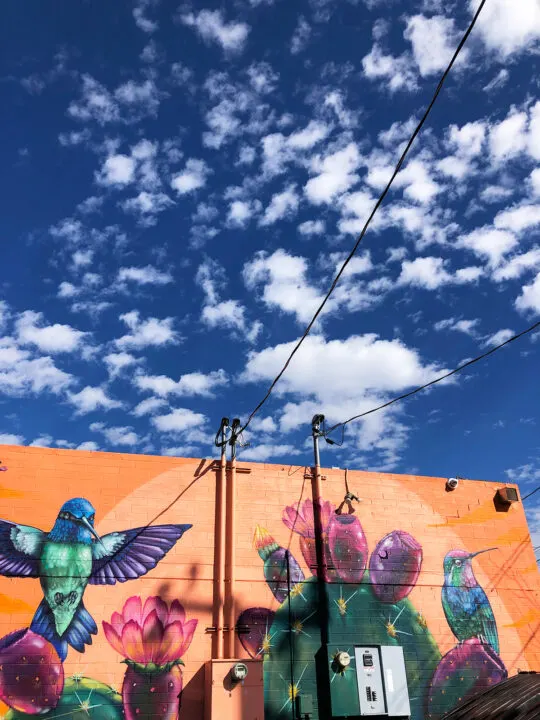 Estimated time: 1 – 2 hours
Schedule: 5:00 – 6:00pm
A local collection of small businesses, Roosevelt Row is a community within the downtown Phoenix area that focus on the arts.
From street art to community events, unique eateries, live music and boutique shops, there's something for everyone at Roosevelt Row! Go see a performance at The Trunk Space, pick up a statement hat at Straw and Wool, or hang out sipping a cocktail at the trendy neighborhood hangout, Lucky's Indoor Outdoor.
Alternative: Dobbins Lookout, South Mountain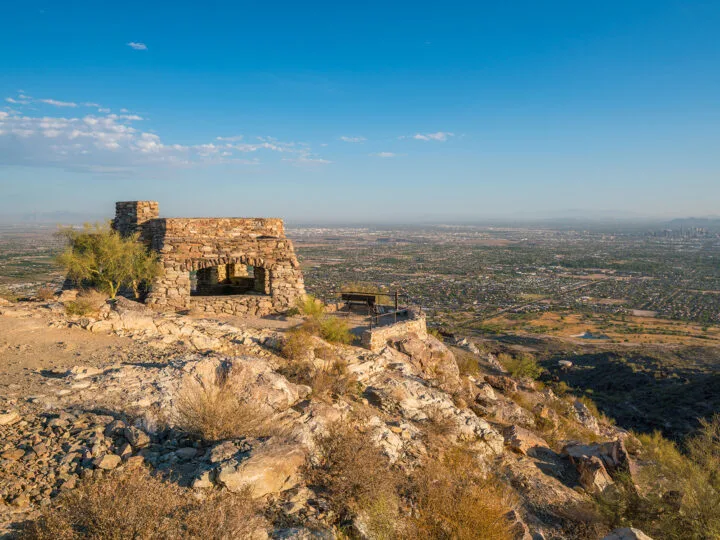 Estimated time: 1 – 2 hours
Schedule: 5:00 – 6:00pm
If you're looking to get out of the city for more views of the area, the Dobbins Lookout at South Mountain might just be the last active thing you do on your day trip to Phoenix.
FYI – you'll need to drive or take a ride share to get to and from Dobbins Lookout.
Dobbins Lookout is basically the highest point in the area, at over 2,000 feet elevation. The scenic observation point is a fun spot to watch the sunset over Phoenix, too! So obviously you're here for the views.😊
You can drive to the mountain and take the short walk to the lookout. Alternatively, you can hike the Holbert Trail to Dobbins Lookout, which provides a great workout in addition to the awesome views.
Location: navigate to Dobbins Lookout, Phoenix, AZ 85042
Day trip to Phoenix – evening activities
Whew! So many amazing things to do in Phoenix. It's really easy to pack a lot in a day in this fun city. Let's talk about dinner to finish off the evening.
Dinner on 7th Street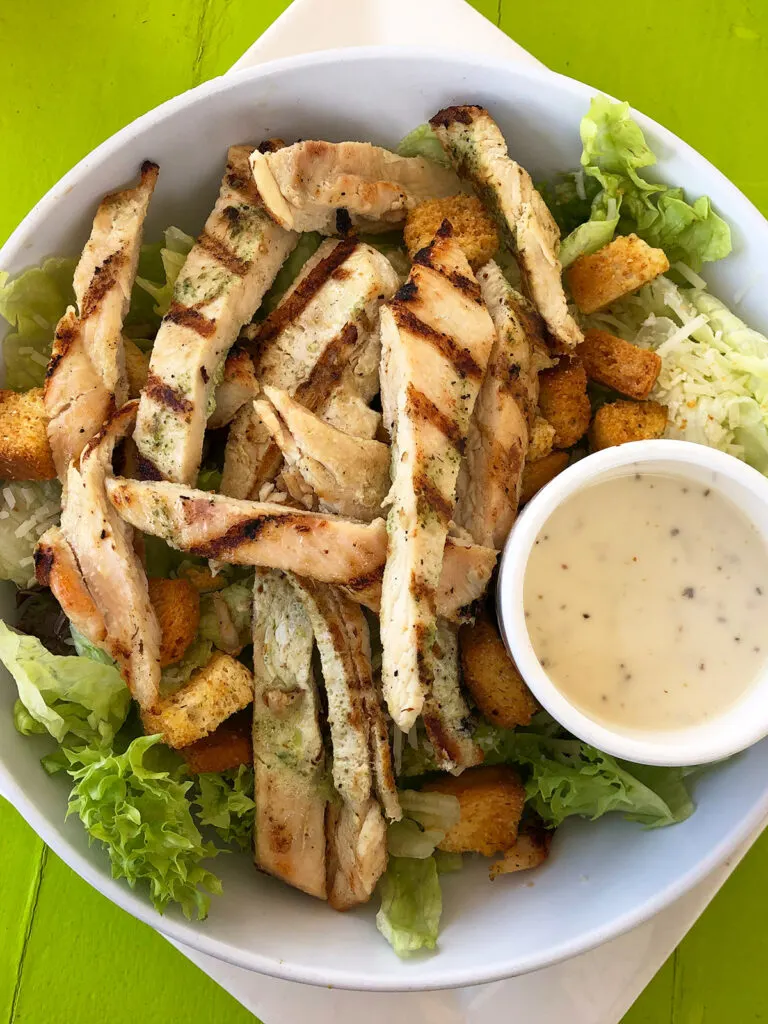 Estimated time: 1.5 – 2 hours
Schedule: 6:00 – 8:00pm
For some of the best dinner in Phoenix, head downtown. Relax while you dine, soaking all that you've seen during this action-packed day in Phoenix.
From high-end Italian food to cheeseburgers or pizza, there's something for everyone (and every budget) on 7th street.
Try the Pasta al Pomodoro at Mora Italian, Wood-Fired Veggie Lavash Wrap at Pita Jungle, Kung Pao Chicken at Chen & Wok or the famous pretzel balls at Culinary Dropout.
And don't forget the drinks! Hula's Mai Tai at Hula's Modern Tiki, the Best in Show margarita at REVOLU Taqueria or Cash Money (Dirty Martini) at The Womack.
You've had a long day and this dinner won't disappoint! With so much variety, you'll love dining in downtown Phoenix.
This is the last thing on the Phoenix itinerary, but definitely check out the additional activities below to customize your day!
Bonus activity: Camelback Mountain
Swap this activity for another on the list!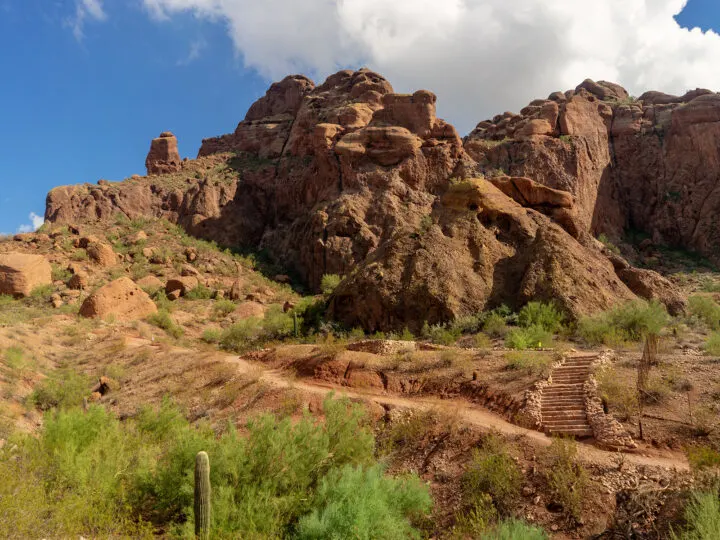 Estimated time: 2 – 3 hours
If you love nature and the weather is nice (or even tolerable), hiking Camelback Mountain can be a great way to spend part of your day trip to Phoenix!
With 2 trail options, Echo Canyon or Cholla, you'll get to experience some of the best hiking in the area. Prepare yourself for fantastic views.😍
The down side? This is one of the most popular hikes in all of Phoenix, so it gets quite busy. Get there early in the day or bring your patience for others on the trail.
Echo Canyon Trail is 2.5 miles, and pretty steep incline. Cholla Trail is just about 3 miles, but less steep.
Pro tip: this is a fairly difficult hike. Be sure to have the proper hiking gear for the day and enough water to stay well hydrated during your time on the mountain.
Location: navigate to Camelback Mountain in Camelback Mountain Echo Canyon Recreation Area
Day trip to Phoenix: additional things do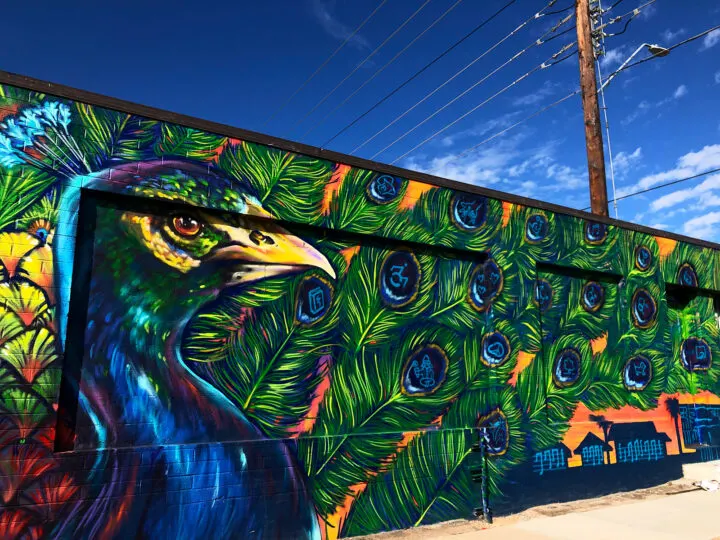 Options are nice, right? Well just in case you haven't found the *perfect* set of activities for your day in Phoenix, here are some additional ideas to round out your day.
One day in Phoenix: more ideas
Okay, so do you have your plan for your day trip to Phoenix? Here's a few more things to go over that may help you plan your time in this fun city.
Where to stay in Phoenix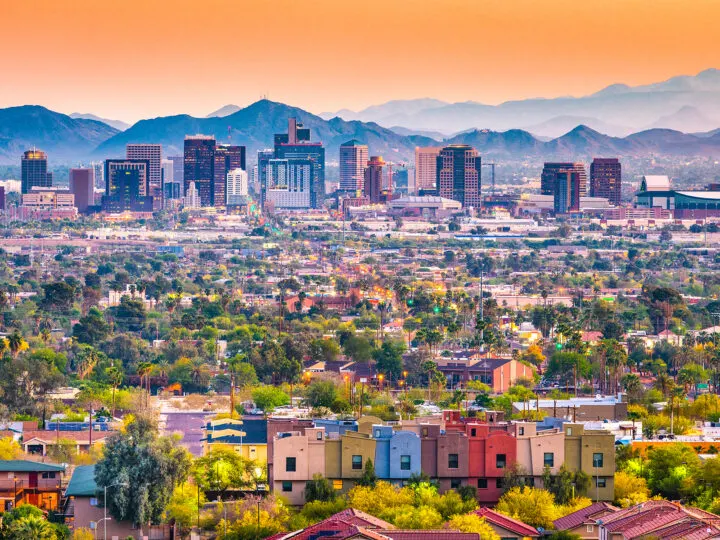 If you want to take advantage of a full day in Phoenix by staying the night before, the night after – or both, this list is perfect for you.
To stay close to the action, look for accommodations downtown. Roosevelt, Downtown Core, Evans Churchill or the Warehouse neighborhoods are all close to the action. Alternatively, you could stay a little further out, towards Papago Park.
Places to stay in Phoenix:
I love staying in both hotels and vacation rental properties. Using Booking.com you can search both options within one site. And they have more affordable pricing than other sites, too!
What to pack for a day trip to Phoenix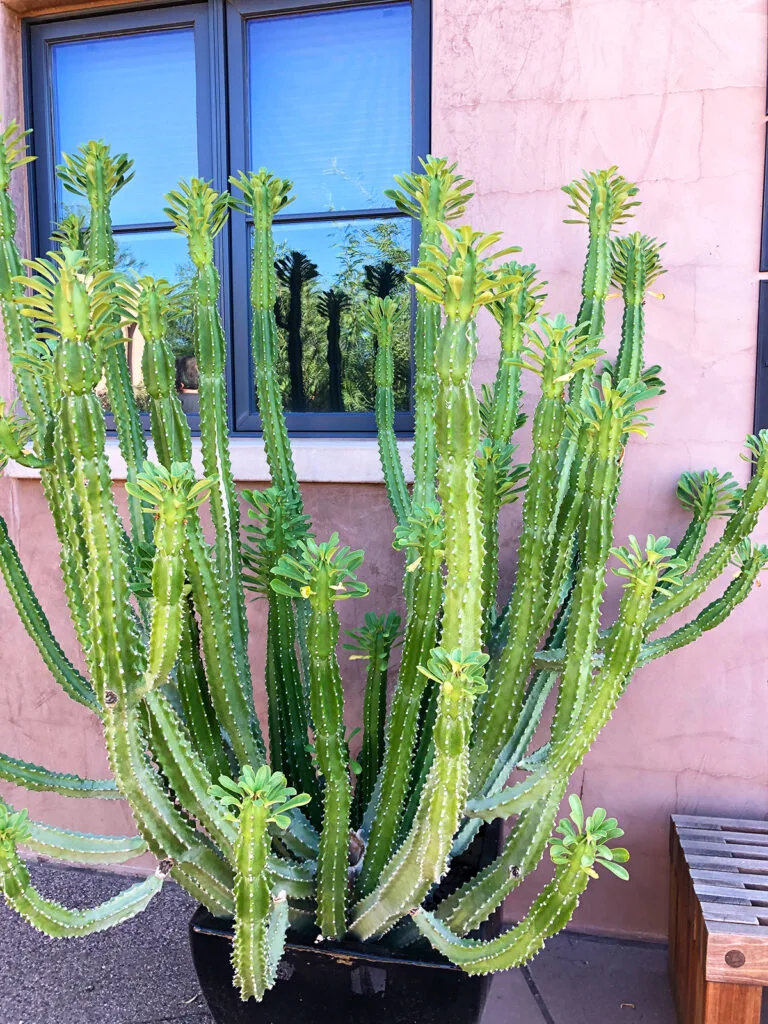 Before wrapping up this Phoenix itinerary, let's talk about what you'll need for your visit.
Reusable water bottle. Let's be honest – it's hot in Phoenix any time of the year. Be kind to the earth and refill your water at restaurants, your hotel or various attractions with fill stations.

Good walking shoes. Your day trip to Phoenix will likely consist of walking through museums, attractions and maybe a hike or two! Be sure to keep your feet in mind.

Eco-friendly sunblock. Avoid getting sunburnt while ditching the harsh chemicals bad for the earth. This is the fabulous-smelling sunblock I took to Phoenix (and to every trip, actually!)

Over the shoulder bag or purse. This is convenient to hold your extra water, sunscreen, etc. while exploring Phoenix. Use a zipper pocket for valuables!

Mace. You can never be too careful, right? As a traveling female, I always have it on me. Just remember if you're flying into the area you'll need to check it in your luggage.
Day trip to Phoenix (a recap)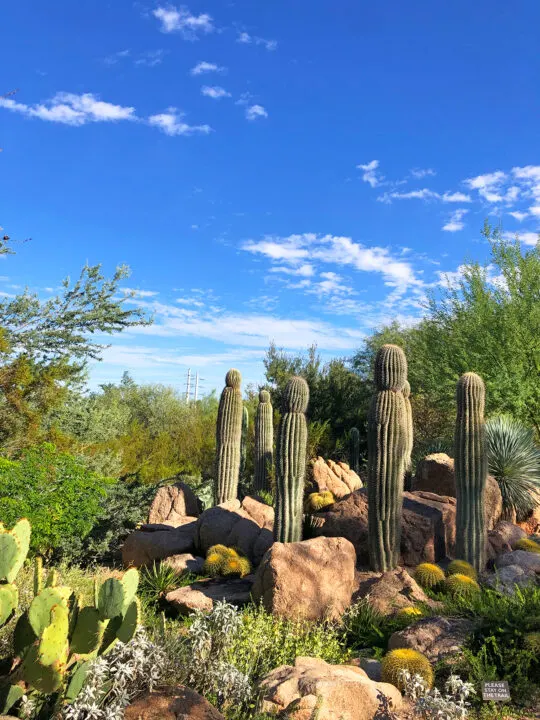 Phoenix is a fun city with a ton to do! Outdoor lovers, history fans and foodies alike will all enjoy Phoenix. Pack as much into your day as you'd like, or use a lighter version of this itinerary. There's plenty of options in Phoenix.
Let's recap…
Phoenix itinerary
8:00am Breakfast

9:00am Hole in the Rock

10:00am Papago Park

11:00am Desert Botanical Garden

12:00pm Mexican Food Lunch

2:00pm Japanese Friendship Garden

3:00pm Heard Museum

5:00pm Roosevelt Row

6:00pm Dinner on 7th Street
Swap out some of these activities for alternatives, or spend more time at attractions that really interest you, and you've got a customized Phoenix itinerary! Hope you have a great time on your day trip to Phoenix!
Related content to read next:
28 Underrated Travel Destinations in the US You Need to See
30 Actually Cool Things to Do in Moab, Utah
Perfect Colorado Road Trip Itinerary: 22 Stops You Need to See
30 Incredible Warm Winter Vacations in the USA
100 Most Romantic Vacations in the US You'll Love
30 Hiking Trails for Beginners all Across the US
Find this post helpful? Save it for later or share it on social media!