You're heading off to a beachy destination, YAY!! But first…packing. You want to pack what you need and not the extra stuff you don't. So if you're wondering what to pack for a beach vacation, I've got the list perfect list for you.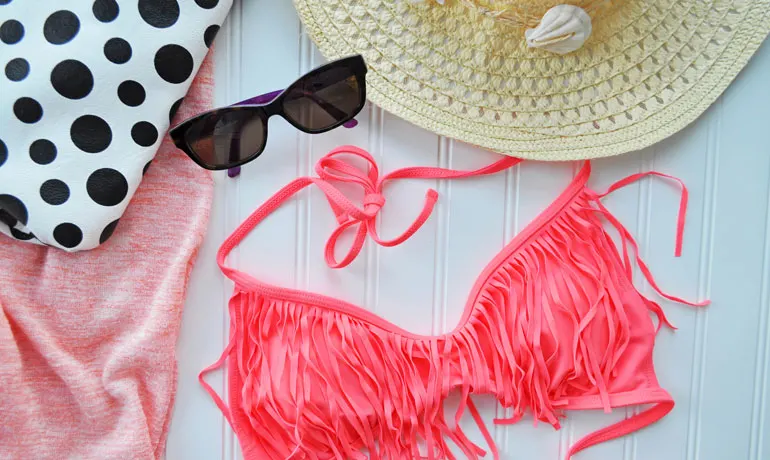 Oh, and get this… women over-pack by 2/3rds when they go on vacation. Don't be one of them! Use this guide and don't be tempted to over-pack, mmmkay?
What to pack for a beach vacation?
Okay so the very first thing you'll do is consider the activities on your beach vacation. Will you be hanging out on the beach the whole trip? Or will you be exploring the area and have more adventures that will require different types of clothing and gear?
It's important to have a really good idea about which activities you're planning so you don't overpack. And so you have everything you'll actually need at your beach destination.
Will you be tubing the mountains of Kauai? You'll need a rash guard.
Are you planning to hike the ancient Mayan ruins of Tulum? You'll probably want decent shoes!
Next you'll want to check the weather before you go! I've forgotten this step and just made assumptions in the past and it's not a good combination!
Based on your activities and the weather, it's time to get to packing.
Okay, let's dive in!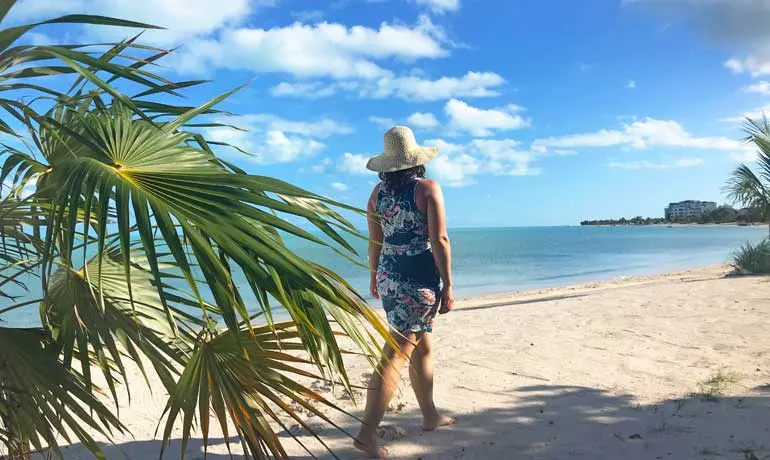 Things to pack for a beach vacation
I'm going to assume your trip is going to be 7 days (because week-long vacations are awesome). So here's your beach packing list for a week. If your trip is longer or shorter, adjust the number of total outfits you'll need.
Just don't overpack.
Here's my #1 tip for packing: you'll always need less than you think!
I'm guessing you don't want to spend hours packing to leave on your trip. Or waste precious vacation time by having to pack everything back up. So simplify your packing list and you'll be glad you did.

For a week-long vacation to the beach, you'll need:
Clothing:
Dresses or shorts/shirt combo: 3 total outfits.
I prefer dresses so I might take 2 dresses and 1 shorts/shirt. For my trip to Turks and Caicos I didn't even take shorts. I packed all dresses!
Now you might be thinking this is not enough. Well friend you're going to the beach to enjoy the sunshine, water and sand. You'll likely be in your swimming suit most of the trip. If you go out for lunch or dress up for the evening, rotate your outfits during your week.
If you work out consistently and are planning to keep that up, you should pack athletic gear. Better yet, wear them on the plane so your big shoes don't have to go in your luggage.
But if you only *think* you'll workout during your vacation, skip it because you likely won't use it.
Also for clothing, be sure to pack pajamas! (1 set) This is something I used to forget all the time and it was unfortunate. So don't skip this!
Last thing before we move on – don't forget bras, undies and socks. I won't give you advice on how many pair here, it's up to you on that one. 😉
Swimming suits: 2 suits, 2 swim covers
Take 2 so you can wear one while the other is drying out. You really don't need more than 2 swimming suits on your beach vacation. I mean, unless you're planning to post beachy pics to Instagram. 🙂
Same with swim covers. I mean, who doesn't love a good swim cover? You can go shear, layer with an actual dress, oversized shirt – love all the options! But just pack 2.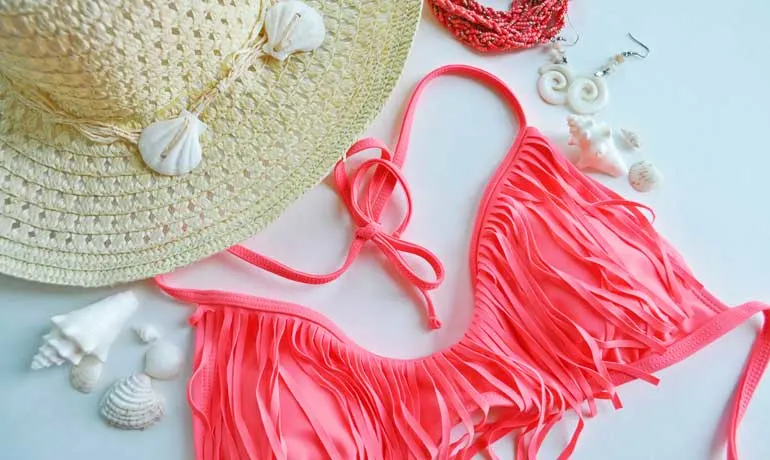 Shoes and accessories:
Shoes: 1 flip flop for the sand, 1 dressy sandal plus water shoes
*Athletic shoes only as needed.
Don't take 7 different kind of sandals. Truth is, you really won't need a huge variety. So keep it simple and stick to 2 sandals – one for casual and a dressy pair that works with your outfits.
And I always recommend water shoes for a beach vacation. Some beaches have powdery white sand. But many beaches do not! And cutting yourself on a piece of coral is no fun.
These are hands down my favorite water shoes. I love that they're dual purpose, too. I've used them hiking in Hawaii, kayaking in Iowa and of course for a great beach water shoe.
Get these water shoes on Amazon.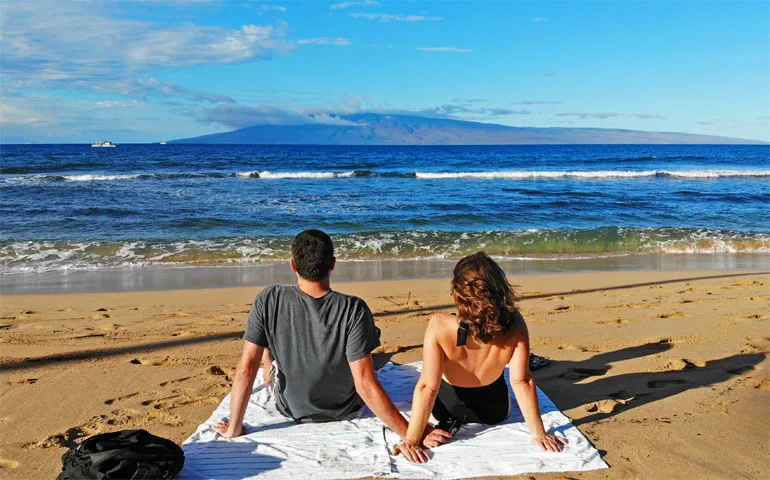 Accessories
When you're thinking about what to pack for a beach vacation, don't forget about a fantastic beach hat!
If you don't have a beach hat, buy a beach hat before you go or shop for one at your destination. I love a good beach hat because it's so functional! It really keeps the sun away from your scalp and face, and even shoulders and ears, too.
Pro tip: wear it on the plane to prevent it from getting bent.
Next consider your jewelry.
Simple is better here. When planning outfits, plan one set of jewelry that can go with any of them. Packing and getting dressed are both super simple!
Looking for personal hygiene items? Keep reading!
Beach vacation essentials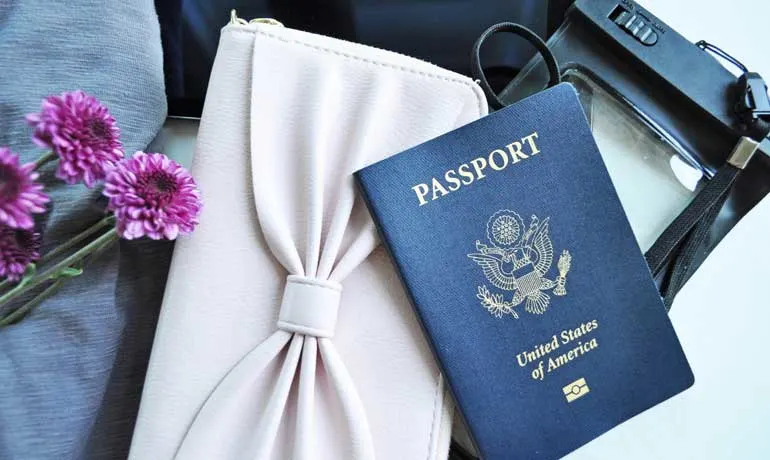 There are definitely things that I pack for week-long beach vacations that I don't pack on other types of trips. Here are the beach vacation essentials that get used most when heading to the beach.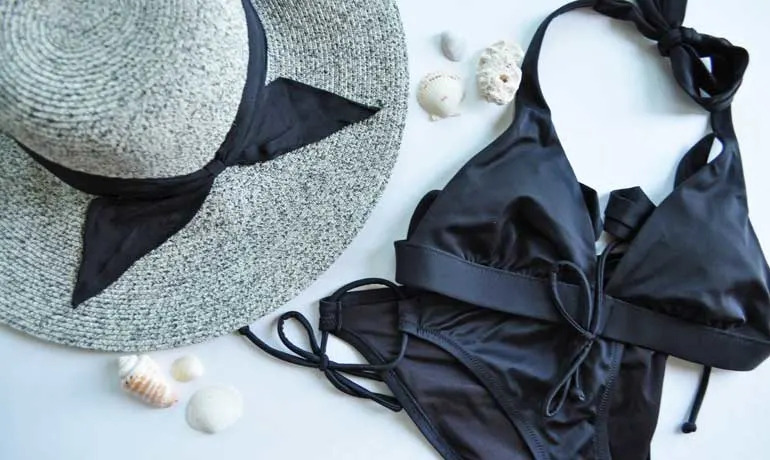 Pro tip: if you're heading to a VRBO or airbnb, make sure to ask them if towels, beach chairs and a cooler are available.
Turks and Caicos is a must-see destination because of it's breathtaking beaches! Whether you're looking for the perfect honeymoon location, a family trip or anything in between, you'll want to dip your toes in the sand of the beaches in Turks and Caicos.
More things to bring to the beach
Here are a few more things you might want to consider packing for the beach. I don't consider them beach essentials, but if they fit and you think you'll use them, pack them!
Now let's pack items you'll need for specific activities.
If you're thinking woah, there's a lot to consider, you're right! With so many things to bring to the beach, let's keep it moving.
Misc stuff I pack for every trip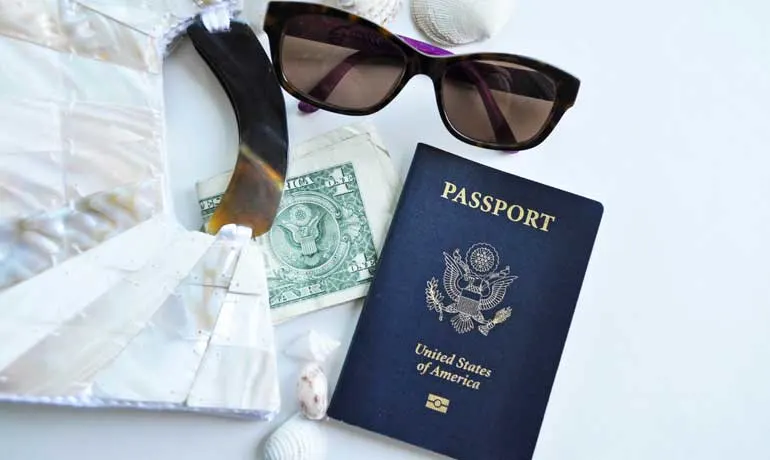 Also consider buying travel insurance. As much as we all want our vacations to go 100% perfect, sometimes they don't. Travel insurance can protect you and the money you spent on your vacation.
Next is putting it all together….the fun part!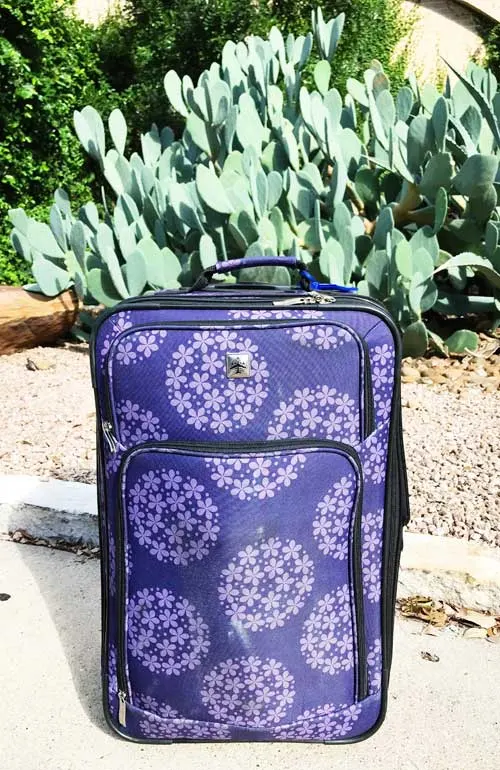 How to pack for a beach vacation
After years of traveling, I've got packing down to an art. #justsayin
My first tip is to try everything on at least a week before your trip (more time if possible). This will allow you to narrow down what to wear based on how you feel in your clothes. You want to feel your best self on your trip! This also gives you time to grab something if needed.
Next lay out everything you think you might need, according to your list. Then ask yourself if something can be used for multiple things. For instance, can you bring your beach towel and use it as a blanket on the plane?
Instead of a personal item being a backpack or tote, can you use your beach bag? This will help you to save space in your luggage.
Next, buy packing cubes. I mean it! They're 100% worth every penny. Packing cubes are basically a travel hack that allows you to pack more into less space by condensing everything. It's like they shrink everything into a wayyyy smaller space.
So they're pretty much magic. Just buy the packing cubes!
I've used them for family trips, beach vacations, and the smaller ones work great if you're packing super light for a weekend getaway.
Related article: Best Budget Travel Tips (so good you'll want to try them now)
Packing list for a beach vacation -printable
Okay so here's your downloadable beach vacation checklist. Just customize it based on your activities, the weather and your length of beach vacation.
And remember not to overpack!
Well hopefully by now you've figured out what to pack for a beach vacation. I hope you have an absolutely amazing time on your beach getaway! Comment below with where you're going – I'm dying to know!
Love this packing list for a beach vacation? Save this to Pinterest for later!