This fun, iconic city in the Pacific Northwest is so much fun you could spend a week exploring the area. But what if you only have a day in Seattle?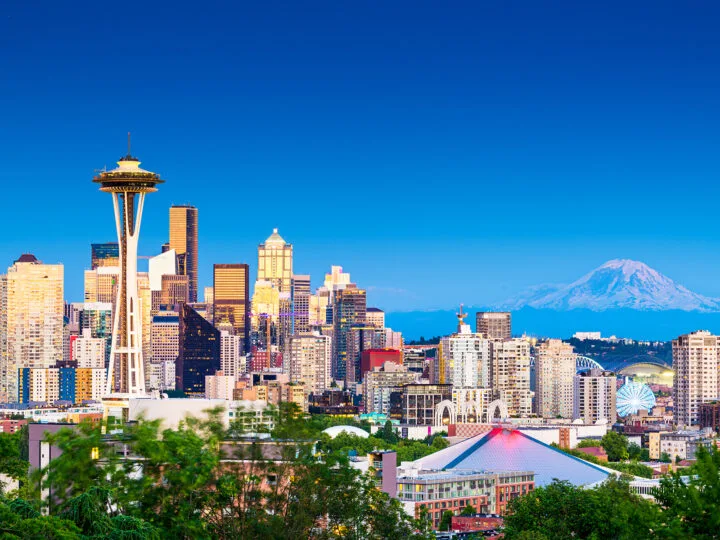 This post may contain affiliate links. For more info, see my disclosures.
There's a ton to see in Seattle in a short amount of time, especially in downtown. You've likely seen Pike Place Market over and over again, but the city has so much more to offer! This guide walks you through exactly what to do in Seattle for 1 day, including how to get around, where to stay and other insider tips.
Whether you're traveling as a couple, with friends, family or solo, this city will fascinate you and leave you hungering for more than a day in Seattle. You'll want to come back, that's for sure!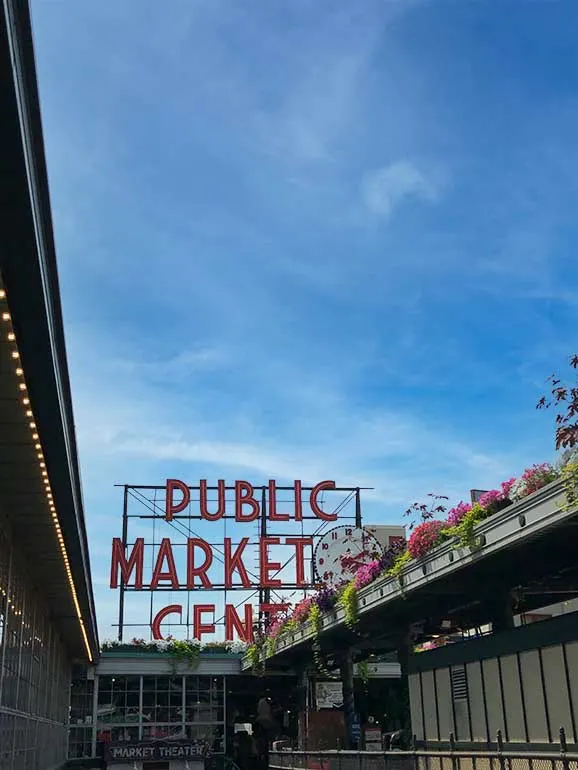 Day trip to Seattle
If you're heading into Seattle for the day from nearby Portland, Vancouver or anywhere else in the Pacific Northwest, I highly recommend to hit the road early to make the most of your day! Otherwise if you can stay overnight at least one night, that will give your more time to explore this great city.
You may be flying into Seattle to spend some time exploring the popular Mount Rainier National Park, heading on an epic road trip down the Pacific Coast Highway or you may even have a full day layover before hitting the beach in Kauai, Hawaii.
Regardless of what's bringing you into the city, this is an action-packed itinerary for your one day in Seattle.
This guide walks you through the best sights in the downtown area. You'll be able to see a lot on foot, before needing wheels to visit a few other spots near downtown. Then, we'll head to West Seattle to finish off the day.
Get ready for some awesome sights!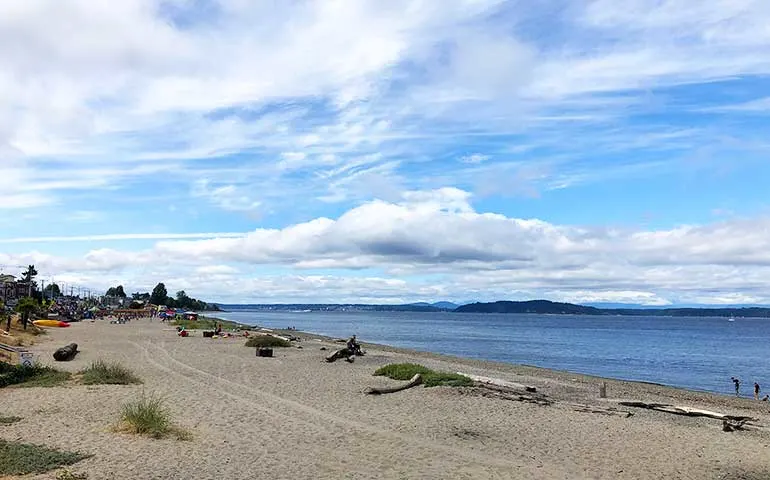 Map for your day in Seattle
If you're a visual person, use the map below to see where the top sights and activities to experience Seattle in a day. This guide will walk you through each sight or activity, along with how to travel between them.

How to get around the city
If you're wondering how to get around for your one day in Seattle, there's good news! Many of the best sights are within walking distance of each other.
If you have a car, you'll want to park it for most of the day while you walk to attractions, food and activities. It's nice to have a car for a few different areas within this guide.
And by the way if you need to rent a car to go beyond the city, I highly recommend the discounted rates on Discover Cars. I routinely save 10% – 30% on rentals (using the most reputable car carriers)!
Alternatively, you can use ride share like Lyft or Uber, which is what I recommend for a few parts of this itinerary.
There's also public transportation and a great monorail system in Seattle. If you're staying in Seattle you could consider this to transport downtown and a couple places on this itinerary if you don't have a vehicle. But since you only have one day in Seattle, the timing is a bit trickier using public transportation, so just keep that in mind!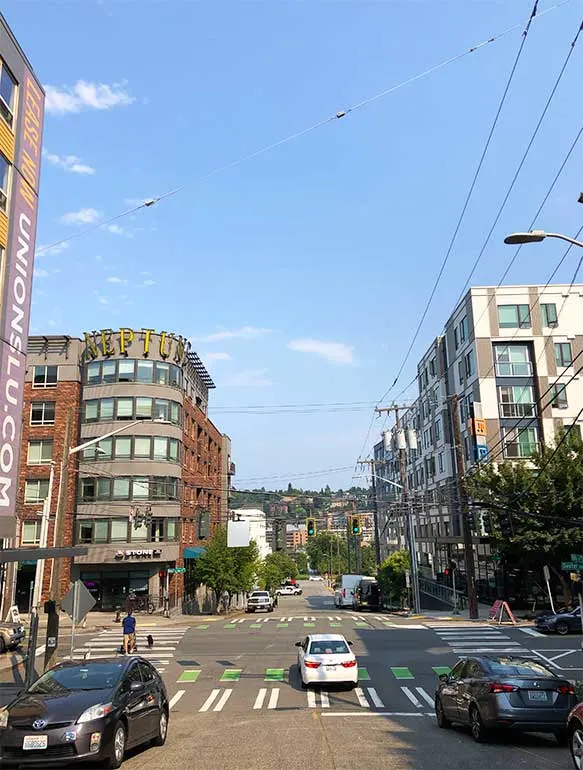 A day in Seattle
Alright let's get to it! The guide below will walk you through how to see Seattle in one day. And because it's nice to have options, you'll get alternative recommendations so you can customize your Seattle itinerary based on what you want to do.
And for the purposes of seeing as much as you can in a day, this guide assumes you'll start the day early in Seattle. If you're flying in or planning to get in mid-morning, adjust as needed.
Let's dive in!
Visit the original Starbucks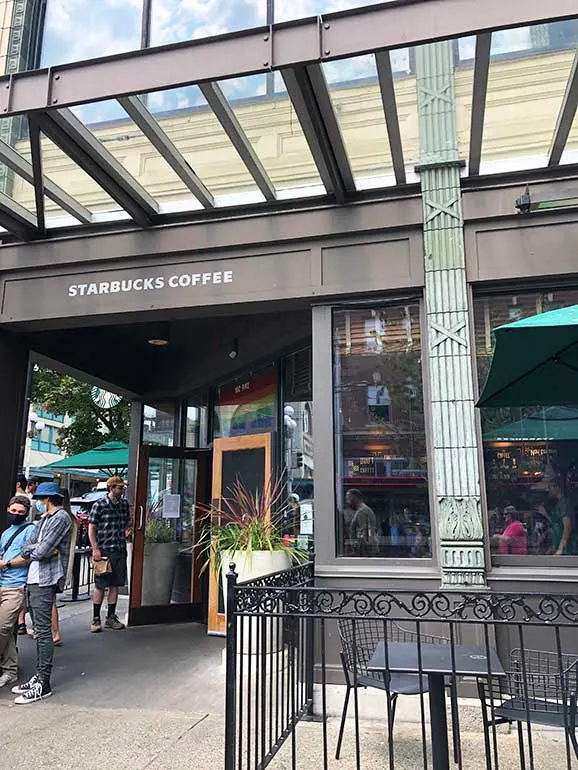 Estimated time: 5 – 30 minutes
Schedule: 8:00 – 9:00am
Regardless if you love Starbucks coffee or not, it's an icon in Seattle and worth a visit. Stopping at the original Starbucks location in Downtown Seattle will set you up good for the day, as most other things are walkable from here.
While the atmosphere (and line at the door) might reflect nostalgia, the drinks inside are what you can find at most other Starbucks locations. So keep your regular order and enjoy the history!
Fun fact: the actual original Starbucks was located at 2000 Western Avenue from 1971–1976 and moved to its current location. This is currently the oldest operating Starbucks.
Location: 1912 Pike Place, Seattle, WA 98101

Pike Place Market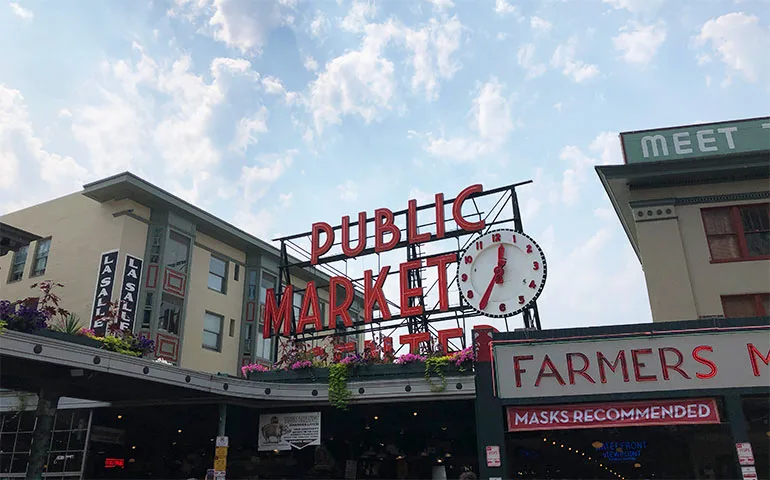 Estimated time: 1 – 3 hours
Schedule: 9:00 – 11:00am
I mean, obviously the market is going to be on your list, especially if it's your first time to Seattle! And honestly, even if it's not your first visit – there's so much to see, do and eat at Pike Place Market that it's worth visiting over and over again.
Wanna see flying fish at the fish market? How about watching cheese made by hand? And how about finding the most gorgeous bouquet of flowers for less than $10?
It's all at the Pike Place Market!
The best time to go to Pike Place Market is right when it opens at 9am. Although some businesses and merchants will still be opening, you'll see far less crowds.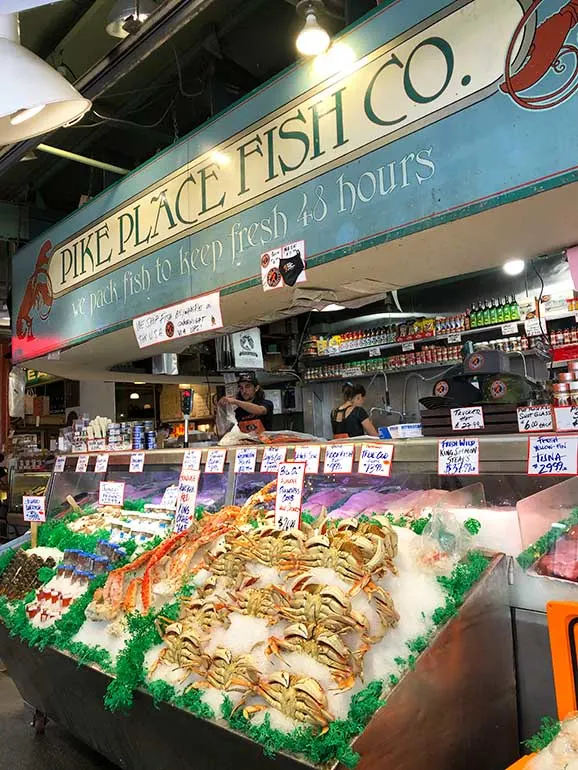 You could spend an hour here or an entire day soaking up the sights, smells and tastes of Pike Place Market. So since you're crunched for time on this day trip to Seattle, these are a few of the highlights…
Best things to do at Pike Place Market
Visit the original Pike Place Fish Market. Watch them throw fish back and forth to each other. Or ship some fresh back home!
Shop the market. Flowers, jewelry, home decor and a whole lot more!
Go to Beechers Handmade Cheese. Made on-site and delicious. You'll usually find a line out the door.
See the mascot, touch the pig

. And if you have spare change,

donate to the cause

. Two bronze pigs hang out at the market and collect change for charity. More about

Rachel and Billie here

.

Grab produce to go. It's fresh and local. And if you're hitting the road after your day in Seattle, grab some produce for car snacks.
Location: 86 Pike Place, Seattle, WA 98101 (address to the fish market)
Seattle Great Wheel (for epic sights during a day in Seattle)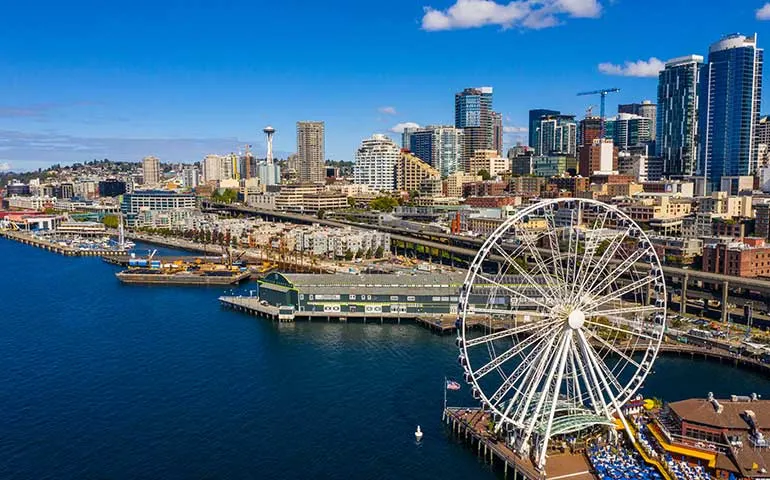 Estimated time: 1 hour
Schedule: 11:00am – 12:00pm
Right down the street from Pike Place Market is Pier 57, home to the Seattle Great Wheel. It's a walkable area with scenic views of Elliott Bay.
A ride on the Ferris wheel will show you the city, and is one of the top things to do in Seattle in one day! See the city's skyline, ships and boats at the marina, and on clear days a great view of Mount Rainier.
Perfect for all ages, The Seattle Great Wheel is the largest Ferris wheel on the west coast at 175 feet tall. It's got to be on your list of things to do in Seattle with kids!
Buy tickets in advance or at the ticket counter to keep on scheduled to be sure to see everything you want in a day in Seattle. In the peak of summer, on weekends and holidays expect a line at the big wheel, as it's one of Seattle's top tourist attractions. (Another reason to reserve your time in advance!)
Location: Miners Landing, 1301 Alaskan Way, Seattle, WA 98101

Alternative: Seattle Art Museum
Estimated time: 1 – 2 hours
Schedule: 11:00am – 12:00pm
If you've got a fear of heights or just prefer art over rides, this one's for you. The Seattle Art Museum (SAM) is located in downtown and in a building that's sleek and contemporary, and as creative as the art within it. It's a multi-level space with a permanent art collection and often fascinating rotating exhibits.
An important part of this museum is the focus on a wide variety of cultural and ethnic art, including Native American, Asia, Mediterranean and Australian Aboriginal collections. The SAM also features a library and restaurant to check out while you're there.
Pro tip: buy tickets in advance! As of the time of this publication, the museum only accepts reservations for guests.
Art lovers could easily spend an afternoon at the SAM, but with only one day in Seattle, it's time to move on!
Location: 1300 First Ave, Seattle, WA 98101
Lunch at Pike Place Market (the perfect spot to eat on this Seattle itinerary)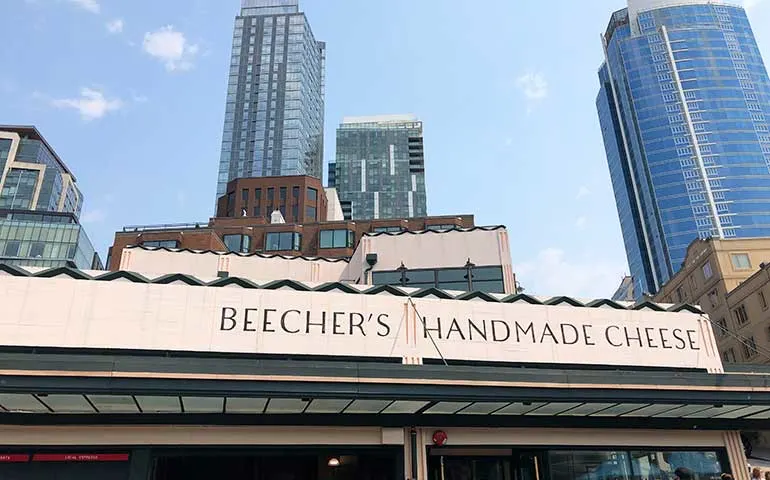 Estimated time: 1 hour
Schedule: 12:00 – 1:00pm
Return to Pike Place Market for lunch because there's just so many incredible restaurants to try, you absolutely must eat here! Grab a famous Flagship Sandwich from Beecher's Handmade Cheese and eat it at the picnic tables overlooking the bay.
Or try one of the many restaurants in Post Alley. From Italian to Thai, Irish to Mexican, there's something for everyone here. A few other favorite spots to try are…
Best lunch spots Pike Place Market
Oh, and be sure to grab some sweet treats to go from Three Girls Bakery, The Confectional (my favorite) or Joe Chocolate Co.
If you really want to get into the food scene in Seattle, be sure to check into the best Pike Place Market food tours. Yum!!
Olympic Sculpture Park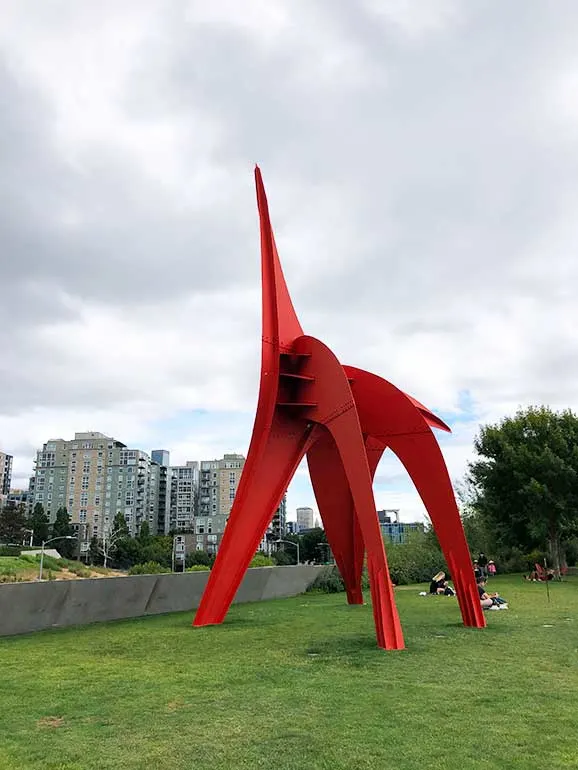 Estimated time: up to 1 hour
Schedule: 1:00 – 2:00pm
Walk off all that food by heading down to the Olympic Sculpture Park. Just a few blocks away from Pike Place Market is this sculpture park. It's surprisingly serene and relaxing considering the hustle and bustle of the city and the nearby bay. It's also got great views of the entire area, perfect for seeing Seattle in 1 day!
Walk among the giant sculptures and absorb the city sights all around you. Made with different types and styles of art, the sculpture garden is fun to look at for all ages. In fact, it reminded me of the sculpture park in Minneapolis, Minnesota which I visited as part of a Midwest road trip.
Bonus: there's a glass pavilion on site with public restrooms. It's free, although they take donations if you'd like to donate a couple bucks to keep the place clean and running.
Location: 2901 Western Ave, Seattle, WA 98121
From here, you can take the Seattle Center Monorail, drive a rental car or take a ride share to your next destination…
Space Needle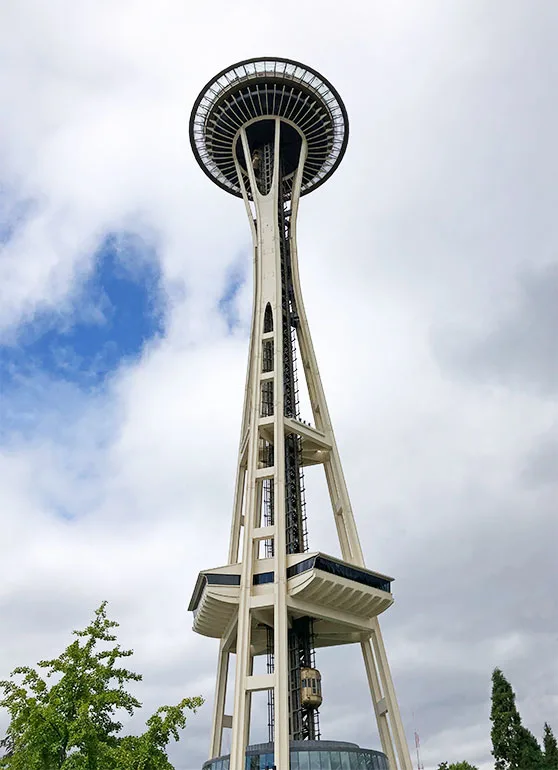 Estimated time: 1 hour
Schedule: 2:00 – 3:00pm
It's an iconic landmark in Seattle since 1962, and one that's recognized all over the world!
If this is one of your top things you're most excited to see, then riding to the top of the Space Needle is a must! It's highly recommended to buy tickets in advance to reserve your time – especially if you're only spending a day in Seattle you're crunched for time!
Once at the top, the views are spectacular. You'll get 360 degree views of the city, Mount Rainier plus the Cascades and Olympic mountain ranges, all from 605 feet above ground!
If you only kind of want to see it, then simply driving by or walking the grounds is an option, too. You can get some fun photos and see it up close without spending the time to ride to the top.
Location: 400 Broad St, Seattle, WA 98109

Chihuly Garden and Glass (a must-see for one day in Seattle)
Estimated time: 1-2 hours
Schedule: 3:00 – 4:00pm
Located right near the Space Needle is the Chihuly Garden and Glass. It's one of the most unique things to do in Seattle, and a fun stop for all ages.
The works from famous glass artist Dale Chihuly, this glass museum is full of vibrant colors and designs, all breathtakingly spectacular. There are 6 rooms inside the exhibit and an outdoor garden to stroll. There's even a theater to watch how the exquisite designs are made.
You could easily devote an afternoon here, but since you're only spending a day in Seattle, be aware of your time as you explore this place!
Pro tip: be sure to listen to the free audio tour on your phone as you walk the museum and see the pieces.
Location: 305 Harrison St, Seattle, WA 98109
Quick note: if you're planning to see the Space Needle, Chihuly Garden Glass and more attractions, I highly recommend the Seattle CityPASS. You'll save up to 46% off admission prices!
Kerry Park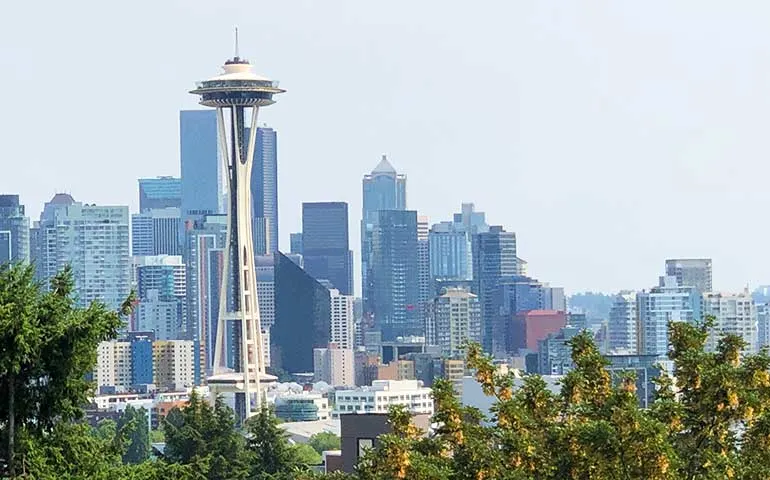 Estimated time: up to 30 minutes
Schedule: 4:00 – 4:30pm
Next we're going to venture a little further from downtown. If you don't have a vehicle, I recommend taking a ride share to get to Kerry Park.
Kerry Park is a spectacular spot in Seattle to see the city skyline. From here, you'll be able to view the Space Needle, downtown, waterfront park, the bay and on a clear day, Mount Rainier in the background.
It's one of the best views in all of Seattle, and can be seen quickly or you could spend a bit more time to sit and relax.
The park itself isn't very big and doesn't have a lot of parking, so be prepared to walk a little. If you're traveling with kids, watch out for the drop-off and hill at the lookout as it's steep.
Location: 211 W Highland Dr, Seattle, WA 98119
This next spot is a good one, but no where near downtown. You'll need a car or ride share to get here, and plan to allow at least 20 minutes travel time.
Alki Beach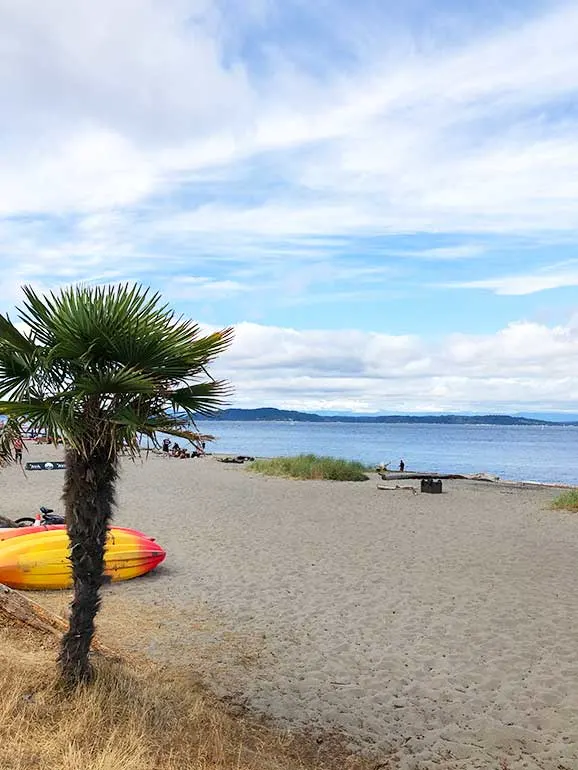 Estimated time: 1-2 hours
Schedule: 5:00 – 6:00pm
Alki Beach in Seattle is one of the best sand beaches in the whole area! Nestled right on the Elliott Bay, the waves are fierce enough to crash on the beach. Water temperatures peak at about 57 degrees in the summer, so not very many people swim, even on the warmest of days.
The beach is deep enough to sit on the sand and enjoy the water and waves. There's also sand volleyball courts set up and on most weekends you'll find teams playing volleyball.
The area is built up with steps for sitting on, so you don't actually have to get sandy if you don't want to, perfect if you only have a day in Seattle and don't want to worry about bringing extra beach gear. By the way, if you love these kinds of pebble coastal beaches, head further north to experience the best of North Vancouver Island, including Cape Scott Provincial Park, Grant Bay, Malcolm Island and more.
There are a few palm trees sprinkled throughout the area. It's not quite like the gorgeous beaches of Aruba or as warm as Flamenco Beach, Puerto Rico, but it will certainly do for any beach lover!
Location: 2665 Alki Ave SW, Seattle, WA 98116
Duke's Seafood (a favorite during a day in Seattle)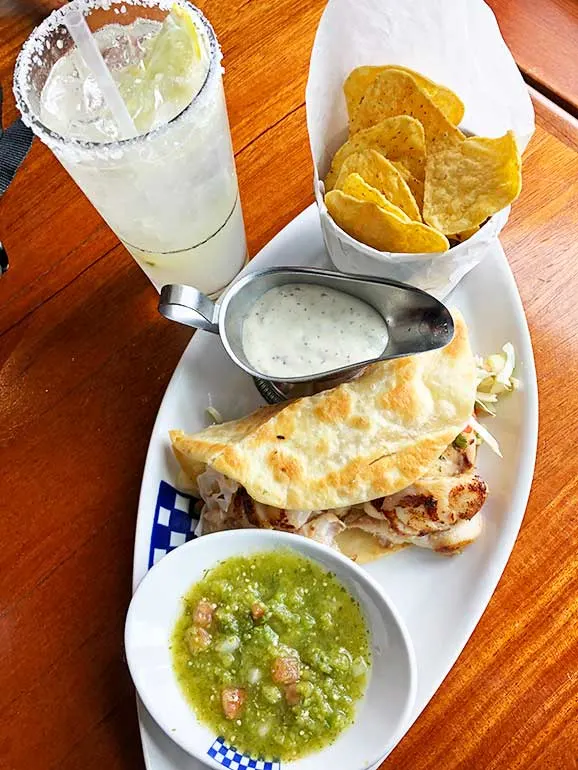 Estimated time: 1 hour
Schedule: 6:00 – 7:00pm
Okay, when you're in Seattle, you absolutely must eat at Duke's Seafood! With several locations to choose from, you'll likely be close to one. Especially if you follow this guide on how to spend one day in Seattle!
They're known for…. well, everything! From the fish and chips, crab 'un' cakes, bread bowl clam chowder (served in 4 size options), you'll find really good seafood at Duke's.
And can I share something else about Duke's Seafood? They have incredible margaritas! As a margarita lover, this means a lot to have the perfect marg alongside fish tacos. I mean, their margaritas are right up there with the margs in Old Town San Diego – and that's saying a lot!
Duke's Seafood has locations in Alki, Bellevue, Lake Union, Green Lake, Ruston Way, Kent Station and Southcenter. It's some of the best seafood in Tacoma, Seattle and the surrounding area!
Location: 2516 Alki Ave SW, Seattle, WA 98116 (at Alki Beach)
This is the last stop on this Seattle itinerary, but I encourage you to check out the bonus activities below and incorporate some into your day.
If you love quickly visiting a city and seeing the top sights, you'll definitely want to add spending one day in Rome to your bucket list. The incredible history and architecture in the city is simply unbeatable.
Bonus activity: visit the flagship REI location
Swap this activity out for another on this list, or squeeze it in before heading to Alki Beach.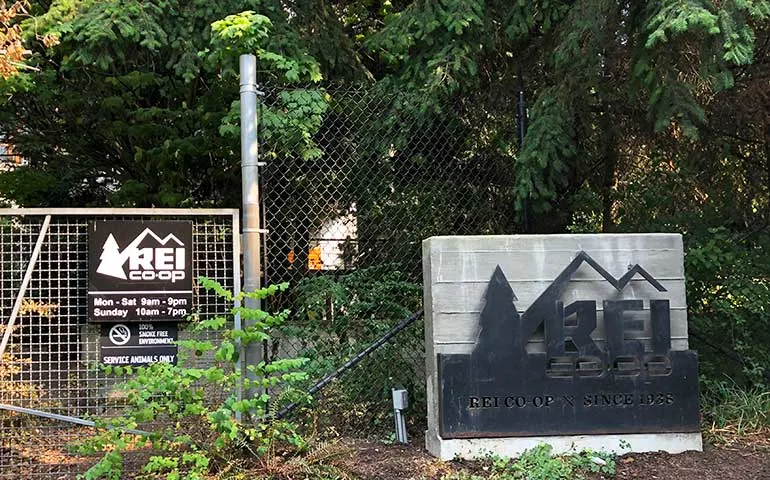 Estimated time: up to 1 hour
So many cool, founding companies in Seattle, right? You'll want to drive or ride share over to REI, as it's a bit off from downtown, located in the Cascade neighborhood. And to be honest, you'll probably miss it if you didn't know it was there!
The flagship REI store is disguised under heavy foliage, right in the city! Waterfalls and lush, tree-lined paths welcome you as you walk to the front door. It's a welcome change from the concrete city that surrounds REI.
If you're an outdoor lover (like I am), then make time to visit REI on your one day in Seattle! Read more about the history of REI here.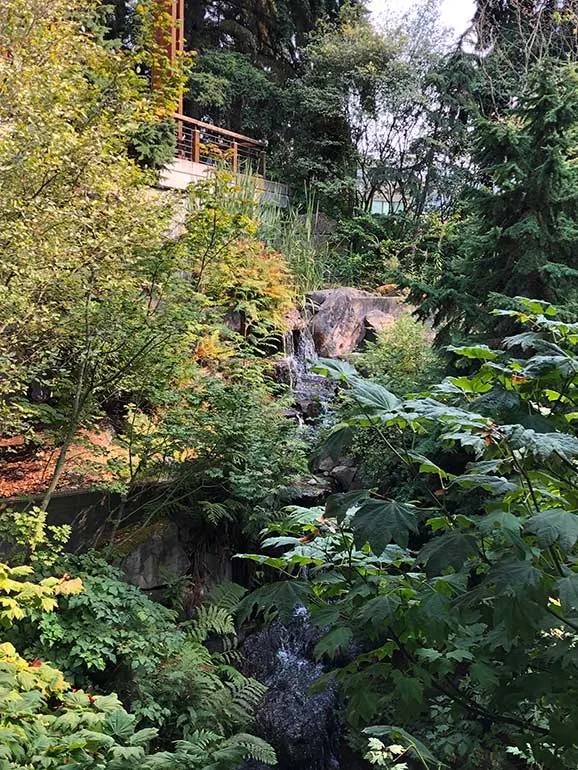 And by the way, if you enjoy hiking, here's a few guides to inspire future travels!
Anyway, grab any gear you've been eyeing while you're here!
Location: 222 Yale Ave N, Seattle, WA 98109
Day trip to Seattle: additional things to do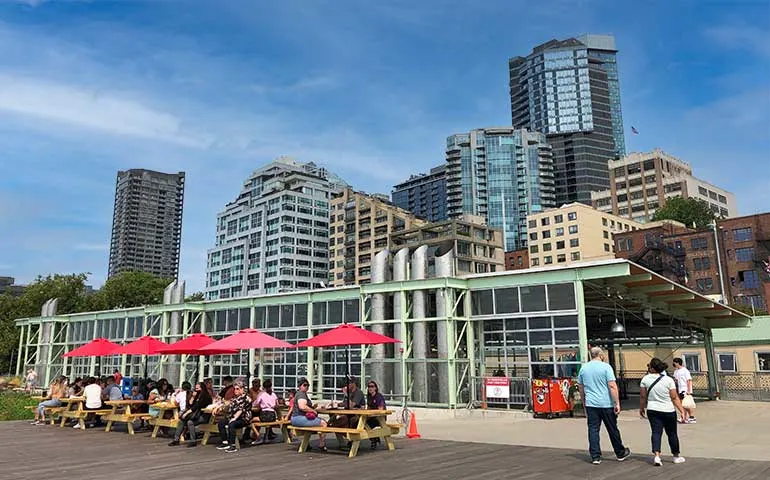 It's nice to have options, isn't it? Well just in case one of the things above isn't your cuppa tea, here are some alternative ideas for how to fill your time!
One day in Seattle: more ideas
Seattle Aquarium. Be sure to book in advance to witness sea otters, seals, octopus, a variety of birds, fish and more!

Underground tour of Seattle. After a massive fire in 1889, the current city was rebuilt above the old one. Touring past storefronts and sidewalks through interconnecting tunnels underground is a fun, unique way to see into the city's unique history.

Walkable Waterfront Park. This area includes 20 piers to eat, relax and enjoy the sights. Many whale watching tours start from this area, too.

Museum of Pop Culture. If you're a pop culture fan, you'll love this place! You could spend just an hour seeing the highlights or a whole day exploring everything music from Disney to Pearl Jam. This is also one of the best things to do in winter in Seattle!

Freemont Troll. A weirdly fun attraction just about 15 minutes drive north of downtown Seattle. It's a photo op that kids and adults will love. Kind of reminds me of the Breckenridge Troll in Colorado!

Market Theater Gum Wall. If you're into germy things, anyways! 😆 Located in an alley under Pike Place Market, feel free to leave your mark…er, gum, here.

Waterfall Garden Park in Pioneer Square. This lovely gem is a beautiful, serene spot in a busy city! I love that you can hear it as you drive by! And fun fact, it's located at the founding location of UPS!

Gas Works Park. A huge park built on a former coal gasification plant. It's a fun spot for relaxing, picnicking, kayaking and enjoying views of Seattle across the water.

Alright do you have your plan set for your day trip to Seattle? Next let's go over a few more details for your time in the city.
Where to stay in Seattle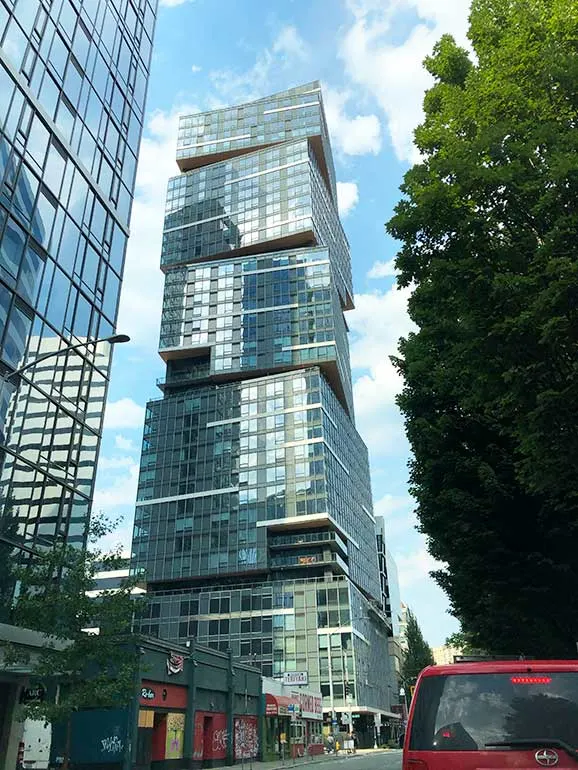 If you're trying to decide where to stay in Seattle to take full advantage of your full day of exploring, I got you!
To stay close to the action, you'll want to get accommodations in downtown, Belltown, Lower Queen Anne or the Cascade areas. Here's a few places below that are within these areas…
Places to stay in Seattle:
I like staying in hotels and vacation rental properties, and using a search site like Booking.com allows you to search both at the same time. And bonus – it's one of the more affordable travel sites out there!
What to pack for Seattle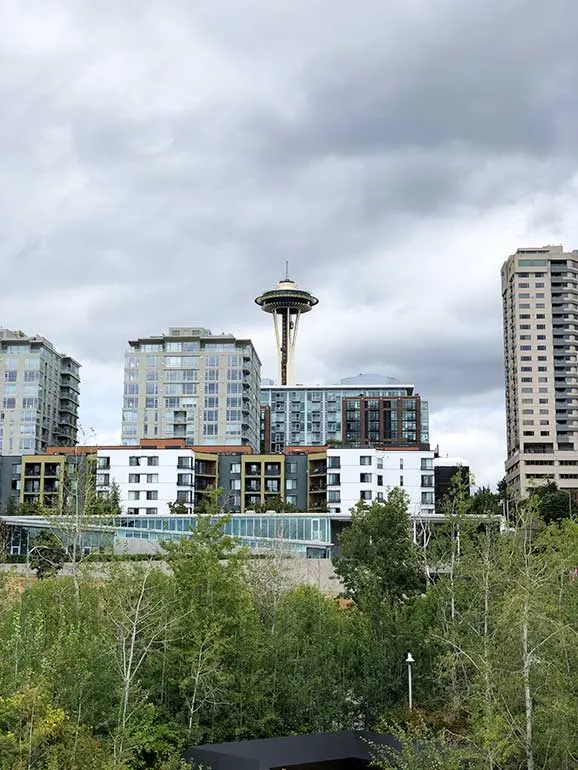 Real quick, before wrapping up this Seattle itinerary, let's talk about things that will make your day exploring this city even better.
Comfy shoes. Spending a day in Seattle, you're going to be walking a lot and you don't want to be uncomfortable. Consider versatile travel shoes perfect for the city.

Over the shoulder bag or purse. The most convenient way to hold your money while exploring, plus a larger bag supports small shopping purchases, too! Make sure you get one with a zipper so it's more difficult for pickpocketers to take advantage of you.

Rain jacket. Let's face it, Seattle is known for rain. If you're visiting anytime except during the peak of summer, you could face drizzly rain. Your day will still be awesome, but packing a jacket might make you more comfortable. This is my favorite lightweight jacket I took to Seattle.

Mace. As a traveling female, I always carry mace with me! Just note if you're flying in you'll need to pack it in your checked luggage.

A day in Seattle (a recap)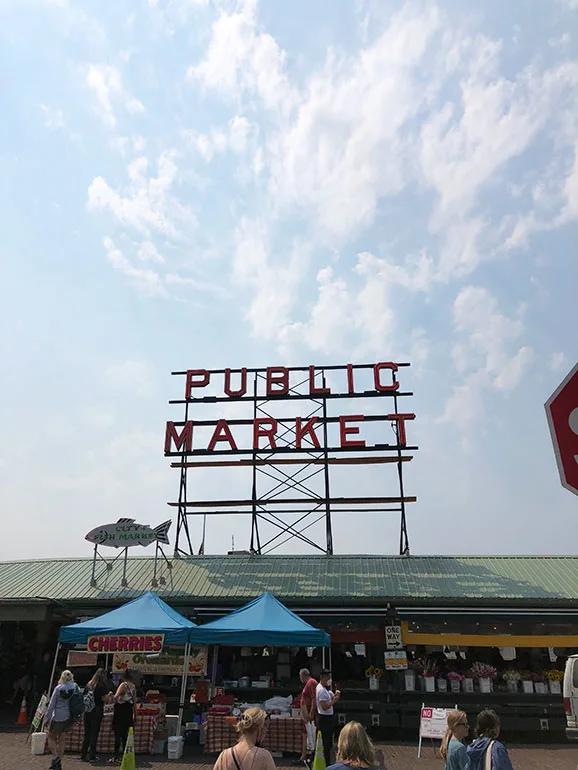 Seattle is a fun, vibrant city that is fun to explore. Between the historic charm, sweeping views of the water and surrounding mountains and activities for all ages, Seattle is full of exciting things to do in any amount of time.
Here's a recap!
One day in Seattle:
8:00am Visit the original Starbucks
9:00am Pike Place Market
11:00am Seattle Great Wheel or Seattle Art Museum
12:00pm Lunch at Pike Place Market
1:00pm Olympic Sculpture Park
2:00pm Space Needle
3:00pm Chihuly Garden and Glass
4:00pm Kerry Park
5:00pm Alki Beach
6:00pm Dinner at Duke's Seafood
Add in a few bonuses or alternative spots above, and you've got your customized Seattle itinerary! Have fun exploring this city!
Related content to read next:
Ultimate Guide to Skyline Trail Mount Rainier
22 Best Hikes in Mount Rainier NP: Cool Trails You'll Love
33 Amazing Spring Break Ideas on a Budget
28 Absolutely Best National Parks to Visit in Summer
26 Places to Visit in Fall in the USA You'll Love
30 Incredibly Warm Winter Vacations in the US
Find this post helpful? Save it for later or share it on social media!