What are the best honeymoon destinations in the USA?
This guide has 30 of the most unique, underrated and best honeymoon spots in the USA! If you're planning a honeymoon anytime soon, this list is for you.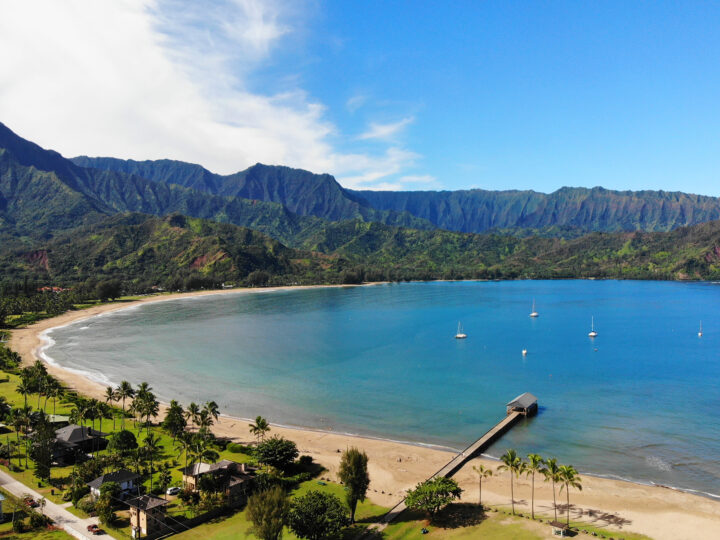 This post may contain affiliate links. For more info, see my disclosures.
From beaches to mountains, cozy cabins and luxurious destinations, plus a bunch of extra honeymoon spots thrown in, you'll be ready to pack your bags in no time!
By the way…as someone who's actively checking destinations off my travel bucket list, I haven't been everywhere (yet). So I called some of my favorite travel writers to help me with this huge list.
Honeymoon destinations USA
Find your perfect honeymoon spot, regardless of your vacation style. This list includes…
beachy locations perfect for romance
adventurous honeymoon destinations
underrated spots you'll love
best big cities for couples
romantic spots you haven't thought of
By the way, look for the 🏳️‍🌈 in this guide for LGBTQ+ friendly honeymoon destinations! These have been hand-selected for hotels, attractions and restaurants that are especially accommodating.
It's time to fall in love…with your perfect honeymoon spot! 😉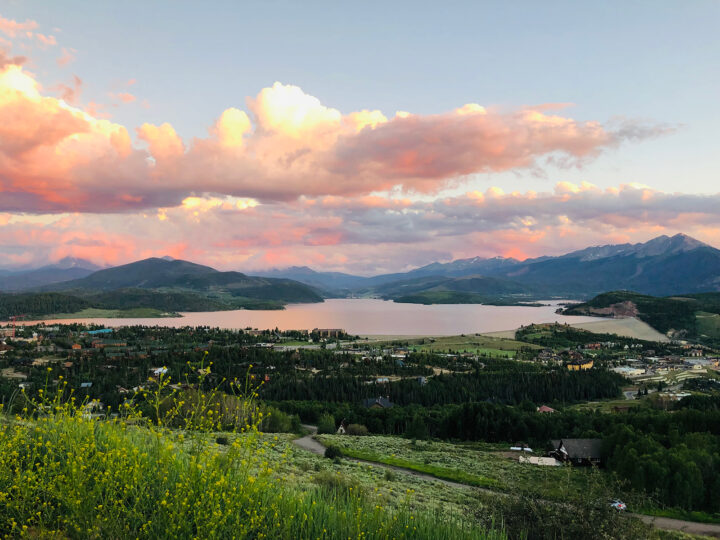 Map of the best places to honeymoon in the US
From coast to coast and even some islands beyond that, here's a visual map of the locations on this list.
Oh, and if you're looking for more romantic destinations across the states, check out the most romantic vacations in the US!
Best honeymoon destinations USA
Starting this list off with some incredible spots. But let's be honest – they're all great! Enjoy!!
Beachy honeymoon ideas
Grab those flip flops and bathing suits! As a beach-obsessed traveler who personally honeymooned at a beachy destination, these are some of the best beach honeymoon destinations in the USA!
1. Puerto Rico (an absolute favorite on this list of honeymoon destinations USA)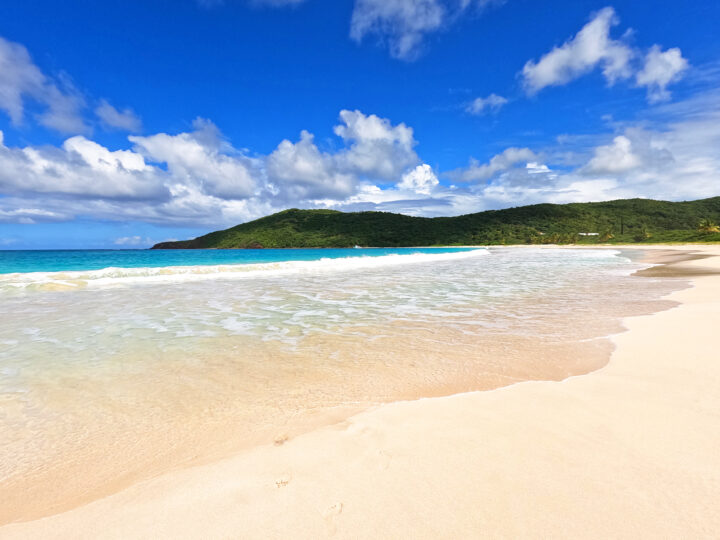 Location: Caribbean Sea
Perfect for: history, adventure and great beaches
Recommended accommodation: Palacio Provincial or Aleli Cottages
🏳️‍🌈LGBTQ+ friendly
If you're looking for top honeymoon destinations USA, look no further than Puerto Rico! It's literally perfect for any type of traveler.
For the history lovers, walk the cobblestone streets of Old San Juan. Visit the place Christopher Columbus found on his voyage over 500 years ago. Seeing inside the San Juan Fort is one of the top things to do in Old San Juan.
The colorful architecture is fun to see, and has a much different vibe than most other places on this list of the best honeymoon destinations USA. The food scene is top-notch, and the city has great nightlife, too. A great spot for couples to stay close to the action is Palacio Provincial.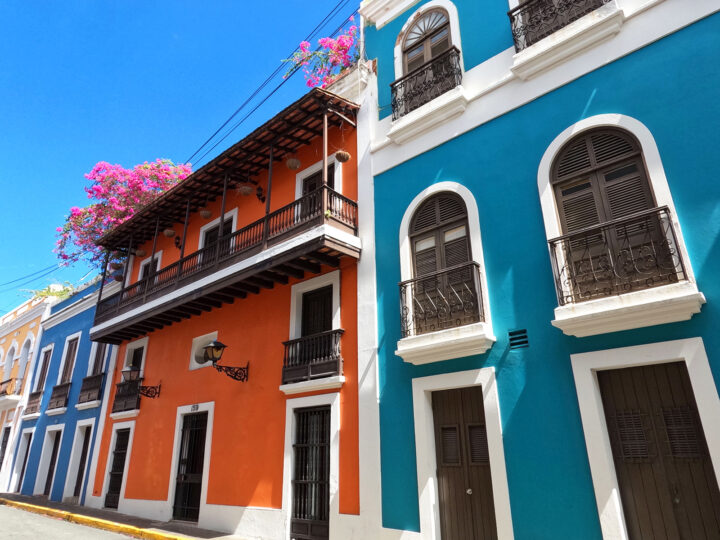 For adventure, look no further than El Yunque National Forest! Chase waterfalls and hike amongst the trees to find spectacular island views.
If you're looking for even more adventure, consider zip lining in El Yunque, one of the best adventure vacations in the US!
For beach lovers, the tiny island of Culebra Puerto Rico is just off the mainland. With a quick ferry or plane ride, you'll be in paradise.
Home to the famous Flamenco Beach Puerto Rico, it's one of the top beaches in the Caribbean – and the world!
Couples will find peace and romance by staying at the Aleli Cottages on Culebra. Sweeping views of the island and beaches are the perfect way to wake up on your honeymoon!
Recommended by me – Nikki of She Saves She Travels
2. Anna Maria Island, Florida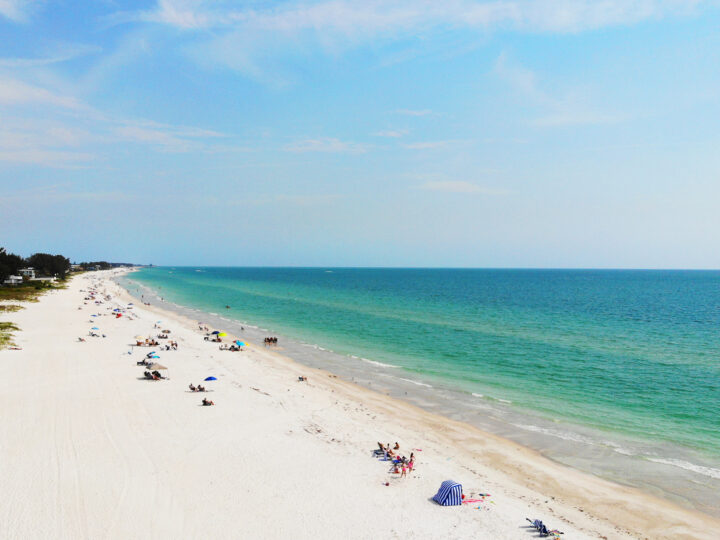 Location: Western coast of Florida
Perfect for: beaches, relaxation
Recommended accommodation: Runaway Bay Condos
Anna Maria Island, Florida is by far one of the best places to honeymoon in the US! Couples love Anna Maria Island for the relaxation and small-town charm the island offers.
Located about an hour west of Sarasota, there's quite a bit of things to do on Anna Maria Island, although the beaches are the best part!
Bradenton Beach is a centrally-located beach with plenty of amenities, including nearby shopping and dining. To find space from the crowds, visit Bean Point. There you'll find the beautiful green water of the Gulf Coast, met with bright white sand perfect for lounging.
Anytime of year is great for honeymooning in Anna Maria Island. April through October is when the water is warmest for swimming in the Gulf. Springtime is great for watching wildlife like manatees, dolphins and sting rays.
If you're up for a little adventure, drive to the southern end of the island for a kayak tour through the mangrove forest at Lido Key. On your drive back, be sure to stop by Saint Armand's Circle for shopping and dining.
You won't find high-rise hotels on Anna Maria Island. Instead, there's a variety of condos, small hotels and vacation homes. Try the Runaway Bay Condos for a honeymoon.
Recommended by me – Nikki of She Saves She Travels
3. South Padre Island, Texas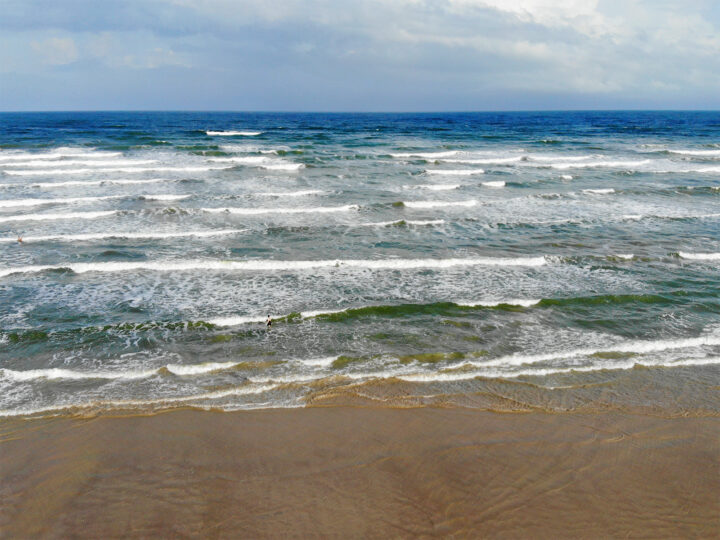 Location: Southern tip of Texas
Perfect for: beach lovers
Recommended accommodation: Island Grand Beach Resort
If you want to enjoy one of the best honeymoon spots in the US, then book a trip to South Padre Island, Texas.
It's a beautiful barrier island off the coast of southeast Texas that is brimming over with sandy beaches and romantic activities that you and your partner will love.
So, start with a visit to Sea Turtle Inc., an amazing wildlife center and rehabilitation hospital that was started in 1977 to save the Kemp's Ridley sea turtle.
Visit the South Padre Island Birding and Nature Center before taking a romantic walk along the 3,000+ foot boardwalk. Then, climb the five-story viewing tower here for impressive panoramas of the area.
Next, take a sunrise walk along South Padre Bayside Beach before spending a relaxing day sunbathing and swimming in the area's crystal blue waters.
Also visit the largest outdoor sandcastle in the USA before taking in the idyllic charm of the Port Isabel Lighthouse. It's a historic lighthouse that was built in 1852 to help guide ships through the Brazos Santiago Pass. Learn all about this amazing structure in the visitor's center before going on a romantic, sunset dinner cruise.
Or, if you want to remain on land, you can book a romantic dinner for two at F&B. It's a casual but elegant steak and seafood restaurant that serves delicious salt encrusted red snapper.
Now, once you've experienced the magic of one of the best places to visit in Texas, spend your romantic honeymoon the Island Grand Beach Resort. They have 10-acres of beachfront property on the Gulf of Mexico and allow guests to use two outdoor pools, a hot tub and an on-site nightclub.
Recommended by Ketki of Enchanting Texas
4. St John, US Virgin Islands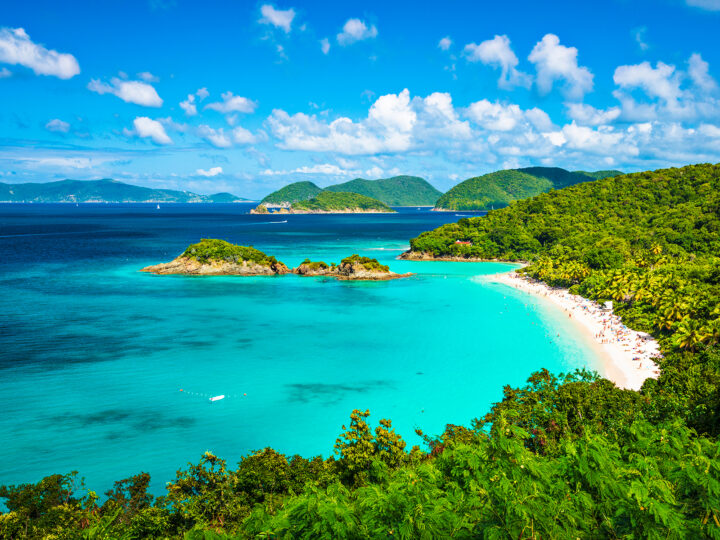 Location: Caribbean Sea
Perfect for: history, beach lovers, adventurers
Recommended accommodation: The Westin St. John
🏳️‍🌈LGBTQ+ friendly
Since the United States Virgin Islands (USVI) is an American territory, you do not need a passport to visit this beautiful tropical oasis. The USVI consists of three main islands, St. Thomas, St. John and St. Croix.
St. John is the perfect honeymoon spot for beach lovers, adventure seekers and history buffs. Same-sex marriages have been legal in the USVI since 1985, making this a very LGBTQ+-friendly location!
St. John is quite possibly the most photogenic island on the planet. In fact, it's home to one of the most photographed beaches in the world, Trunk Bay! A majority of the island is protected by the National Park Service which means that much of the island is undeveloped and has been left in pristine condition.
The stunning crescent-shaped stretch of powdery white sand, known as Trunk Bay, has consistently voted as one of the top beaches in the world. The beach features an underwater snorkeling trail that is not to be missed!
Nearby, you'll find the Annaberg Sugar Plantation. At its prime, this plantation was one of the top sugar-producing factories on the island. A trail meanders through factory ruins, slave quarters, a windmill, and other ruins. The plantation offers some of the best views of St. John and the neighboring islands!
After spending the day snorkeling and basking in the sun, head to Loving Resort and Beach Club or Lime Out for a bite to eat.
The best time to honeymoon in the USVI is from April to June. During this time you can expect mild weather and very little rainfall. The peak season is from December to March when the temperatures range from the mid-70s to the high 80s. July to October is hurricane season.
The Westin St. John is perfect for honeymooners. They have bedroom villas, an amazing spa and great amenities. They also can arrange excursions for a hassle-free vacation.
Recommended by Elle of 5 Suitcases
5. Kauai, Hawaii (one of the best beach honeymoon destinations in USA)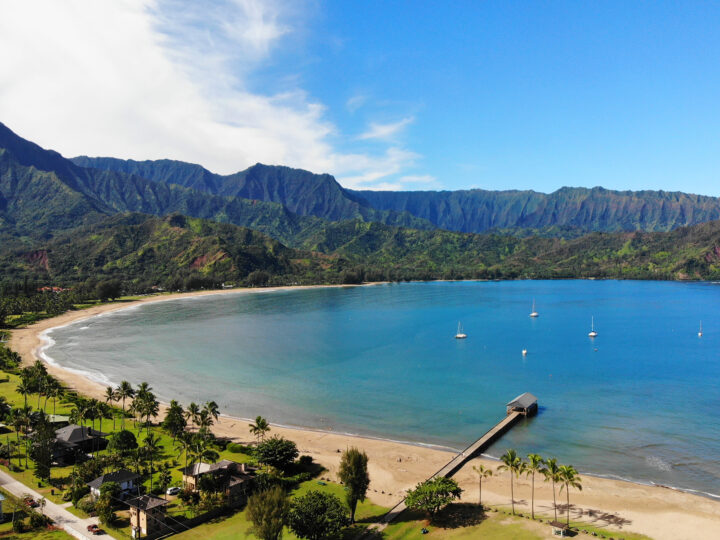 Location: Hawaii archipelago, Pacific Ocean
Perfect for: beach lovers, nature enthusiasts, active travelers
Recommended accommodation: Sheraton Kauai Resort
You know you can't have a list of the best honeymoon destinations USA without talking about Hawaii! Kauai is the least-known of the 4 major Hawaiian Islands. It features the stunning NaPali Coast and Waimea Canyon and all the adventures they offer.
Adventure lovers will want to hike the Waimea Canyon Trail to get mind-blowing views from inside the canyon. For a more leisurely walk, check out the Mahaulepu Heritage Trail, which follows the southern coast for amazing water views.
Honeymooners will love taking a helicopter ride over the island. Considering 80% of the island is inaccessible any other way, you'll get the best views of the island! See dozens of waterfalls from the air, fly over the Waimea Canyon and NaPali Coast for an epic day you'll never forget!
But of course, a trip to Hawaii is not complete without beach time! Visit Anini Beach or Tunnels Beach for the best snorkeling Kauai has to offer. The best sandy beaches in Kauai for relaxation are Kiahuna Beach and Poipu Beach on the south side of the island.
Couples will love sitting next to the picturesque palm trees watching a colorful Hawaiian sunset as the sun dips into the ocean. For the ultimate in romance, get an ocean-facing room with a lanai at the Sheraton Kauai Resort. Be sure to eat at their on-site restaurant, the RumFire Poipu Beach.
Recommended by me – Nikki of She Saves She Travels
6. Outer Banks, North Carolina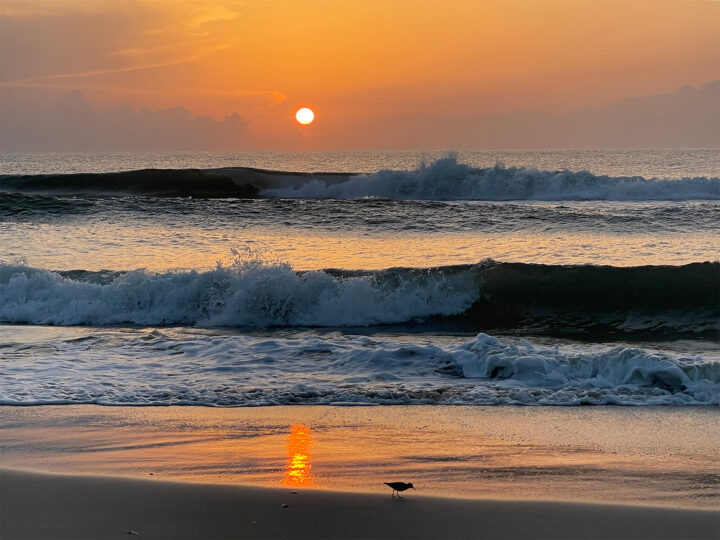 Location: Eastern North Carolina, on the Atlantic Ocean
Perfect for: water activities, relaxation
Recommended accommodation: First Colony Inn
If your criteria for the best US honeymoon destinations USA includes beautiful coastal sunrises and sunsets, the Outer Banks will fill the bill.
Outer Banks, also called OBX, is made up of narrow barrier islands that run north to south off the coast of North Carolina. The sound boarders the westside of the islands, and at the widest point, the Atlantic Ocean is 3 miles to the east.
So it's easy to visit both coasts daily to see the sunrise and sunset. What could be more romantic?
OBX offers many water activities like most beach locations. The pristine white sand beaches on the Atlantic are wonderful for surfing, swimming, sunbathing and taking long walks. The calmness of the sound is perfect for couples to stand-up-paddle or kite surf.
For those who want to venture out, visit the quaint towns of the area, each has something different to offer. Nature lovers should visit the National Wildlife Refuge in Manteo and take a hike or kayak the paddle trail.
Couples who enjoy history will have 2 must-see excursions. The first is the Wright Brothers National Memorial in Kitty Hawk.
Don't miss the Cape Hatteras Lighthouse in Buxton, the tallest brick lighthouse in the U.S.! While in Buxton, stop at the Orange Blossom Bakery and Cafe for one of their famous Apple Uglies (they close at 11:00 am)!
There's also the 1870s Bodie Island Lighthouse just south of Nags Head. Climb to the top for some of the best views of the seashore.
You can stay at the nearby First Colony Inn, which is listed on the National Register of Historic Places. The charming inn boasts wrap around porches, antique furniture, and some rooms have what every honeymooner needs, a Jacuzzi whirlpool tub. To avoid hurricane season, come in the spring!
Recommended by Denise of Chef Denise
7. Oahu, Hawaii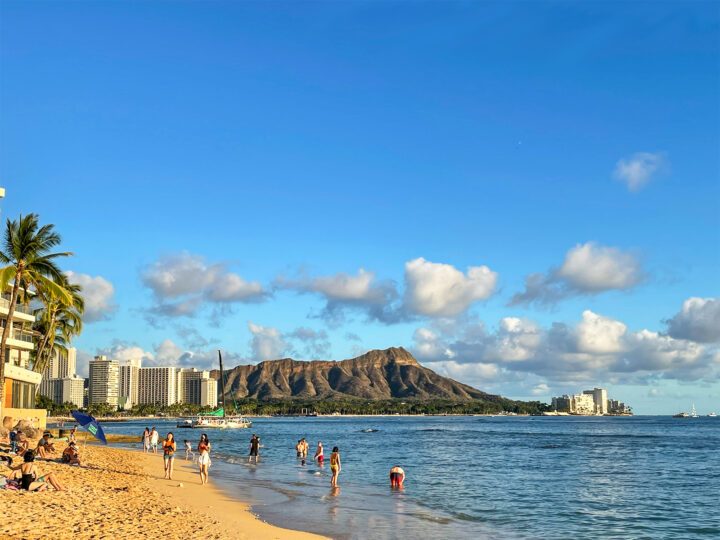 Location: Hawaii archipelago, Pacific Ocean
Perfect for: relaxation, adventure, beaches
Recommended accommodation: Turtle Bay Resort or The Royal Hawaiian
🏳️‍🌈LGBTQ+ friendly
If you're looking for a tropical honeymoon destination in the United States, head to the beautiful Hawaiian island of Oahu. It's only a 6-hour flight from the West Coast, but you'll feel a million miles away!
You'll also find lots of romantic honeymoon activities across the island. A few popular Hawaiian honeymoon activities include going snorkeling at Hanauma Bay, riding ATVs at Kualoa Ranch, exploring the North Shore, and learning to surf on Waikiki beach.
You can also hire a vacation photographer to get some amazing honeymoon photos. If you'd like to try the best Mai Tai in Hawaii, head to Merriman's Honolulu. They put a Lilikoi Foam on top that's to die for!
While Oahu is a fabulous destination year-round, it does tend to rain a bit during the winter months. So, spring, summer, or fall are the best times to go. You can even find cheaper hotel rooms and airfare if you go during the shoulder season of mid-April to June or September to mid-November.
When you're planning your Oahu honeymoon, be sure to leave room in your itinerary to relax by the pool or hang out at a beach. And take advantage of the time difference to catch a gorgeous Oahu sunrise on your first morning in Hawaii.
There are tons of fabulous Oahu honeymoon resorts with amenities like swim-up bars, massages on the beach, private cabanas, and so much more. Many Oahu luxury hotels also have honeymoon packages available. Plus, Oahu is a LGBTQ+ friendly vacation spot.
If you're looking to stay on the North Shore, give the Turtle Bay Resort a try for incredible views and amenities. For a classic Waikiki Beach honeymoon, choose The Royal Hawaiian for beach-front rooms and a private beach.
Recommended by Marcie of Hawaii Travel with Kids
Adventurous honeymoon destinations USA
If too much down time drives you crazy, then maybe these next honeymoon ideas are the right fit for you! Epic views and finding secluded spots, here are some pretty fun locations for you and your new spouse!
8. Oregon Coast road trip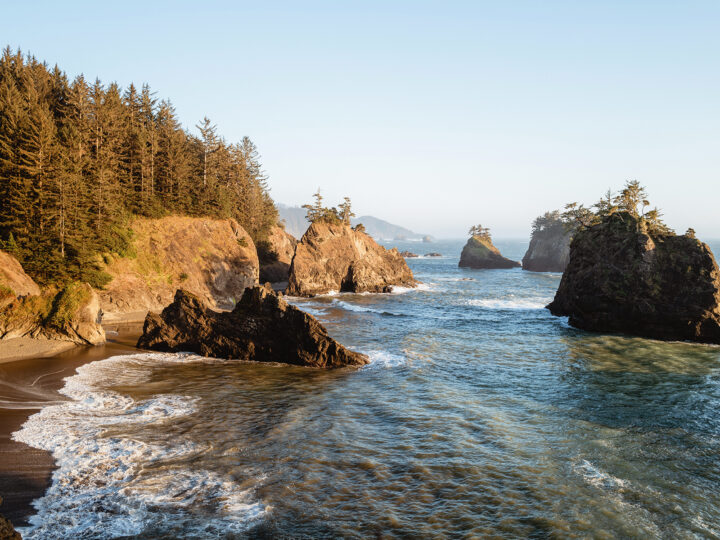 Location: Western Oregon, along the Pacific Coast
Perfect for: hiking, stunning views
Recommended accommodation: Ocean Lodge or Headlands Lodge
🏳️‍🌈LGBTQ+ friendly
One of the dreamiest honeymoon destinations for adventurous and active couples is planning an Oregon coast road trip!

This 363-mile stretch of highway has romantic resorts, sprawling beaches and absolutely incredible hiking trails to discover. The easiest way to plan a trip here is by flying into Portland, Oregon, renting a car, and driving the coast from north to south.
Once you reach the bottom near California, you can take a faster route up Interstate 5 to return back to the Portland airport in a half day's drive.

The best time of year to plan your honeymoon trip to Oregon is in the summertime. Really anytime is a good time to visit, but you'll get the best weather between June – September.
Oregon is very LGBTQ-friendly, so you can expect to be greeted with a warm welcome in places on the North Coast like Cannon Beach, Astoria, Manzanita, and Seaside.

On the north coast, stay at the Ocean Lodge in Cannon Beach for a romantic, sea view from your room. Spend the day hiking at the nearby Ecola State Park and taking a sunset walk on the Seaside Promenade.
Another romantic resort nearby is the Headlands Lodge in Cape Kiwanda, which has incredible views of Haystack rock right out the window!
The central coast is more adventurous: spend some time hiking to remote beaches and exploring tide pools at Cape Perpetua and the Devil's Punchbowl. On the southern coast, wind down by booking a secluded treehouse on Airbnb and find a seaside park like Meyers Creek Beach to have a romantic oceanside picnic.
If you're an active couple, the Oregon coast is the perfect honeymoon destination!
Recommended by Emily of The Mandagies
9. Smoky Mountains, Tennessee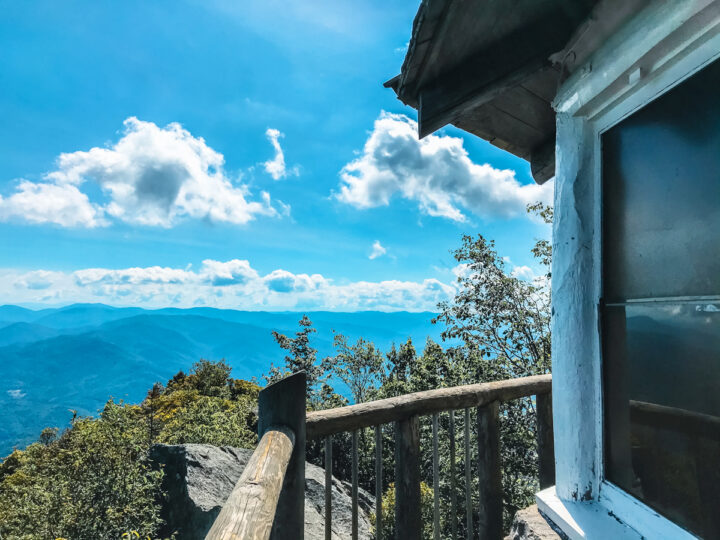 Location: Eastern Tennessee
Perfect for: mountain views, hiking, waterfall chasing, relaxing
Recommended accommodation: secluded vacation rentals throughout the park
The Great Smoky Mountains National Park in Tennessee is one of the best honeymoon spots in the US.
For starters, what could be more romantic than renting a dreamy log cabin with a hot tub on the balcony with views of the mountains? Feel secluded and in your own little world without even leaving your cabin. You can easily book a cabin on Airbnb or VRBO.
However, if you do choose to leave your cabin, (which is highly recommended) opt for some adventurous hikes that lead to breathtaking views of the park. A favorite hike is Mount LeConte, but for a hidden gem, opt for hiking up to Mt Cammerer.
Then, chase waterfalls in the park including Ramsey Cascades, Abrams Falls and Baskin Creek Falls. You may even have Baskin Creek Falls to yourself!
Aside from hiking, be sure to take a romantic drive or bike ride through Cades Cove for beautiful views and the chance to spot black bears!
After all of that adventure, have a lovely meal at the Old Mill Restaurant that serves up southern classics like fried chicken, southern fried ham and corn fritters.
There really isn't a bad time of year to visit the Great Smoky Mountains.
It all depends on what you'd like to do, whether that is cozying up in a cabin and watching the snowfall on the mountains, admiring the fall foliage in the autumn, spotting wildflowers in the spring or hiking and enjoying the surrounding nature in summer.
Recommended by Kat of World Wide Honeymoon
10. Denver to Moab road trip (a favorite on this list of best honeymoon destinations USA)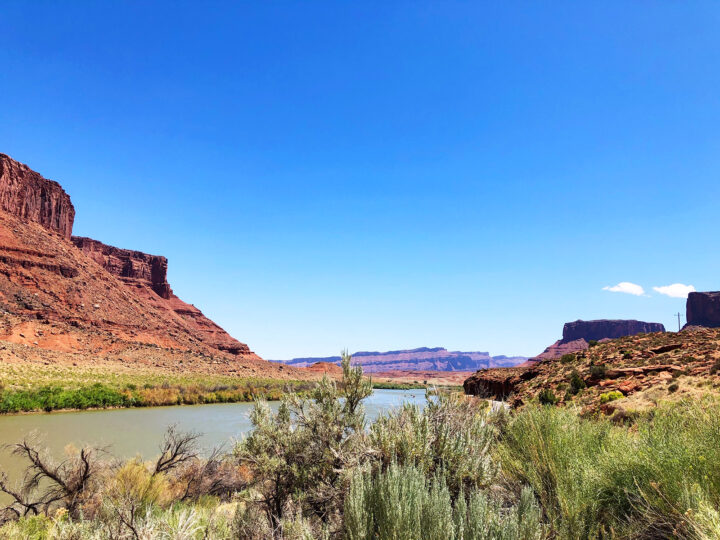 Location: American west
Perfect for: active couples looking for adventure
Recommended accommodations: Hotel Glenwood Springs or Hyatt Place Moab
Set off on an epic adventure with a Denver to Moab road trip! From the majestic Rocky Mountains to the incredible desert architecture in Moab, this road trip is for outdoorsy couples who are looking for an active honeymoon.
Start out exploring downtown Denver before heading west along I-70. Take the northern route from I-70 and visit Rocky Mountain National Park.
If you have a winter honeymoon, you could stop for skiing or snowboarding at the popular towns of Breckenridge or Vail. Summer in Breckenridge and Vail is pretty amazing too, with plenty of hiking, white water rafting and other adventure activities.
Further west along I-70, Glenwood Springs offers the world's largest mineral hot springs. Open year round, this is a fun spot for couples to enjoy.
Stay in the classic Hotel Glenwood Springs with walking distance to the springs. And if you love tacos or ice cream, be sure to walk the quaint downtown for some great food.
Just before leaving Colorado be sure to stop at the Colorado National Monument. As you head into Utah be sure to take Scenic Highway 128 to Moab. Driving along the Colorado River through the canyon is a really cool experience!
Once you're in Moab, it's a mecca for outdoor enthusiasts. Couples will enjoy sightseeing and hiking in the nearby Arches and Canyonlands National parks and Dead Horse Point State Park. After a long hike, enjoy the water at Ken's Lake or one of the wineries or breweries in Moab.
There are so many things to do in Moab, honeymooners could spend an entire week just in this area. Couples will love staying at Hyatt Place Moab, close to all the best attractions!
The road trip across Colorado and Utah is perfect for couples who can't sit still! And bonus – it's one of the best cheap honeymoon destinations USA.😊
Recommended by me – Nikki of She Saves She Travels
11. Yellowstone National Park, Wyoming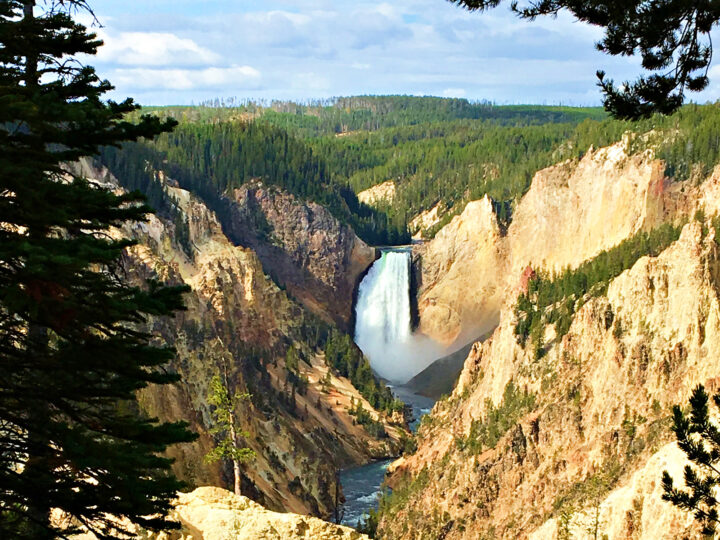 Location: Northwestern Wyoming
Perfect for: hiking, wildlife viewing, nature enthusiasts
Recommended accommodation: Old Faithful Inn
Yellowstone National Park is one of the most incredible places to go for your honeymoon. Whether you like adventure, or whether you just appreciate nature, there are so many incredibly romantic and exciting things to do and see there.
Something absolutely not to be missed are the Lower Yellowstone Falls, which are nearly twice as tall as Niagara Falls! The most iconic view of the falls is from Artist Point.
Pro tip: If you time your visit right around 10:30am on a sunny day, you can see a rainbow in the mist at the bottom of the Falls.
The view of the falls with the colorful Grand Canyon of the Yellowstone in the foreground is one of the most breathtaking scenes that you will ever see and is perfect for a romantic morning.
If you like to be more active, then there are several trails that go beyond below the rim of the canyon for even closer views of the falls. A top pick is the trail to the Brink of The Falls. The trail steep but short and ends right at the top of the falls, so you can see the water thundering over the edge down into the canyon below.
Another highlight of any trip to Yellowstone is to see Old Faithful and the other geysers and amazing brightly colored pools. You can spend hours wandering around the boardwalks pasta pools and watching geysers irrupt.
Yellowstone is also often called the Serengeti of America because of the incredible diversity and amount of wildlife in the park. Popular places to see animals are Lamar Valley and Hayden Valley.
There are also romantic places for dinner and or drinks. I'd recommend staying at Old Faithful Inn because it's the classic national park lodge experience, with an incredibly romantic lounge and restaurant and location that's hard to beat.
Pro tip: don't miss having a drink on the balcony of the iconic Old Faithful Inn while watching Old Faithful erupt!
The best time for a Yellowstone honeymoon is summer, when the weather is perfect.
Recommended by James of Parks Collecting
12. Alaska road trip (one of the coolest on this list of honeymoon destinations USA)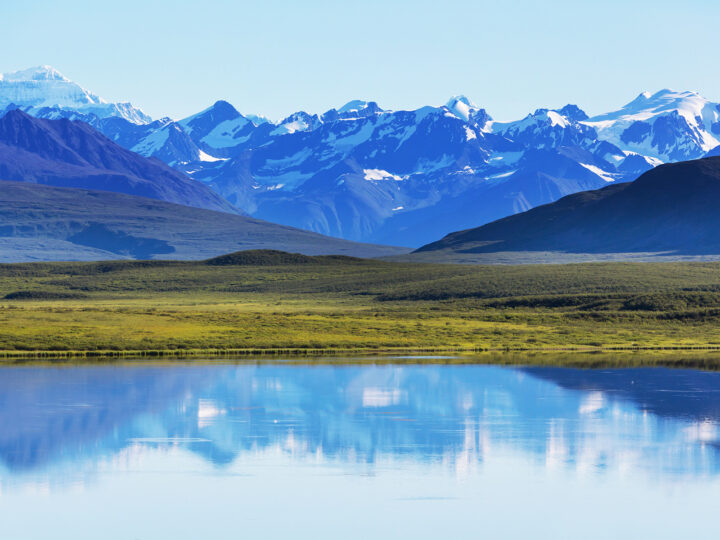 Location: South and Eastern Alaska
Perfect for: hiking, scenic views, adventurers
Recommended accommodation: Chena Hot Springs Resort
If you are looking for a very unique and active destination in the USA for your honeymoon, you should consider a road trip to Alaska. The last frontier state offers plenty of opportunities to see breathtaking landscapes, enjoy the rich wildlife, explore stunning hiking trails, and drive the most scenic roads in the United States, and even, in the world!
Sure, Alaska is one of the top spots for adventure vacations in the US. But it's also a romantic destination, and Fairbanks is a great stop. Here you can soak on the hot springs at the Chena Springs, and have the opportunity to see the Northern Lights, as Fairbanks is one of the best places to see the Aurora borealis in the USA of the best in the world.
When you choose to spend a few nights at the Chena Hot Springs Resort, you can plan an unforgettable romantic experience chasing the Northern Lights, while soaking in the springs. Nothing can get more romantic than this!
Denali National Park is one of the highlights of any Alaska. Here you can find a very diverse opportunity to see the wildlife and unspoiled wilderness with glacier rivers. All of this is surrounded by mesmerizing peaks, with plenty of adventures such as amazing hiking trails to explore, or even a romantic overnight camping opportunity inside the park.
The best time to honeymoon in Alaska is from June to August because this is when you will get the best weather with more sunny days and less rain and warmer temperatures.
Recommended by Paula of Paula Pins the Planet
Underrated locations: best honeymoon spots in the US
These next few spots you probably haven't considered for a honeymoon, and you may not have even heard of them! Find more seclusion and less crowds at these destinations…which is a great thing for a honeymoon.
13. Put-in-Bay, Ohio (lesser-known of these honeymoon spots in USA)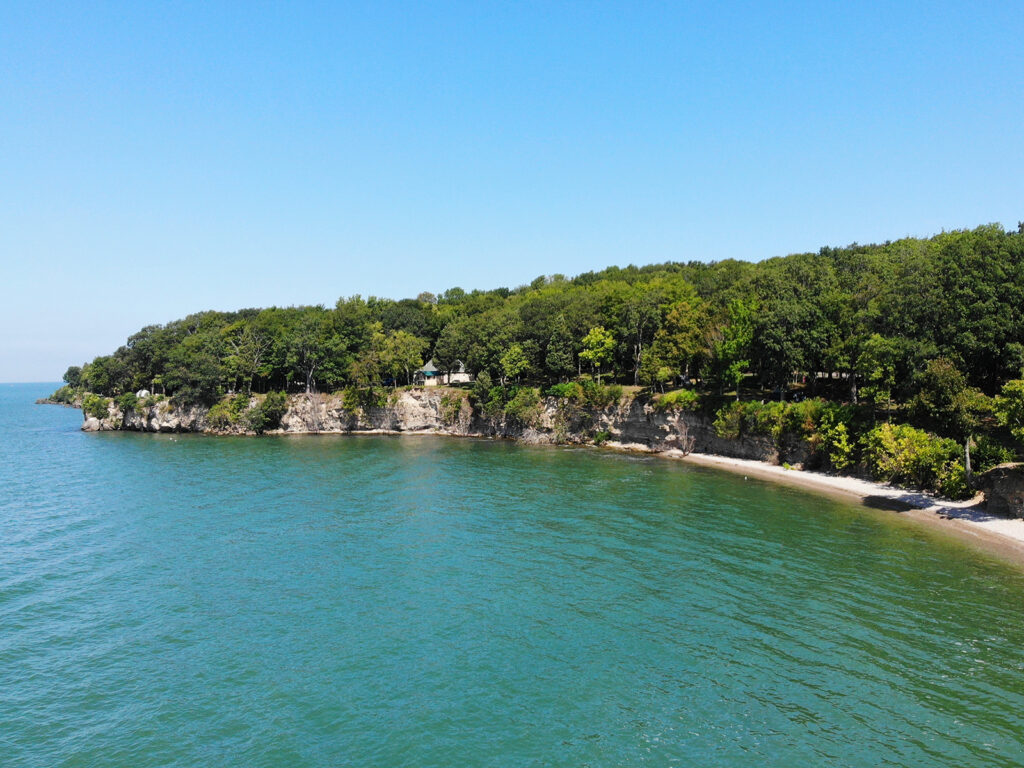 Location: Lake Erie, Northern Ohio
Perfect for: tropical vibes, relaxation, wineries
Recommended accommodation: Commodore Resort
🏳️‍🌈LGBTQ+ friendly
The island of Put-in-Bay on Lake Erie, Ohio is one of the most underrated honeymoon spots in USA. It's a small island that really comes alive during the summer months. At only 2.5 miles wide by 5 miles long, it offers so much for couples to do.
Rent a golf cart and see the whole island! Hang out in downtown Put-in-Bay for live music, excellent food and bar scene and the marina. Explore Massie's Cliffside Preserve or South Bass Island State Park for some hiking.
If you're looking for some adventure, go parasailing or kayaking while enjoying awesome views of the Great Lakes! Discover the underground caves and check out the crystals – which are incredible to see in real life.
Visit Perry's Victory and International Peace Memorial, which provides history-lovers with memorabilia from the Battle of Lake Erie during the war of 1812. Take the elevator to the top of the world's largest Greek Doric Column and see views of the whole island from 352 feet in the air.
Couples will enjoy the wineries on the island, the butterfly house or even the 9-hole golf course. Honeymooners can stay at the Commodore Resort, with full amenities and complete with a swim-up bar.
With so many things to do in Put-in-Bay, it's a great way to spend a honeymoon!
Recommended by me – Nikki of She Saves She Travels
14. San Juan Island, Washington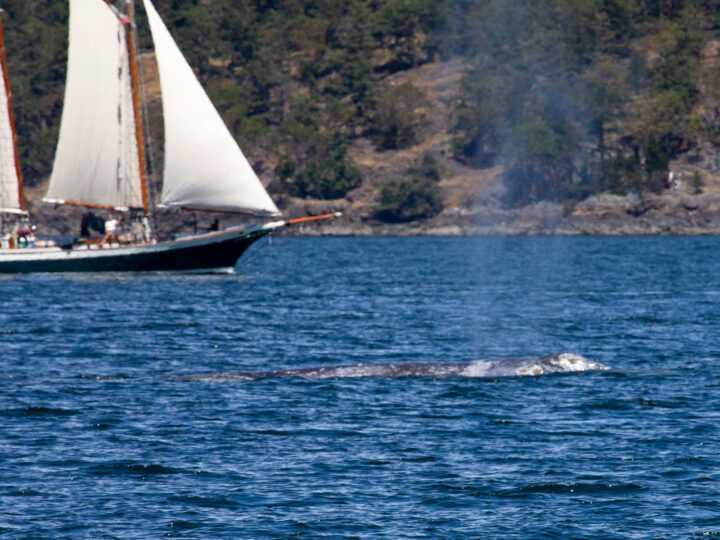 Location: Northwestern Washington State
Perfect for: wildlife viewing, adventurers
Recommended accommodation: Snug Harbor Resort
🏳️‍🌈LGBTQ+ friendly
For the outdoor adventure couple the best honeymoon can be had on LBGTQ+-friendly San Juan Island in Washington state. Really a fantastic summer destination, there is so much to do, plus a little pampering to be had, and that makes a perfect honeymoon.

Just getting to San Juan Island is somewhat of an adventure. Since it's an island, you must take a ferry or fly. Most people take a ferry and take a rental car with them so they can get around easily.
Once you land in Friday Harbor, it's a 12 minute drive to Snug Harbor Resort, the best place to stay for honeymooners. Located on the western coast of San Juan Island, it has modern cabins complete with its own gas fireplace. It's the best way to unwind after a long day of adventuring.
While on the island, the #1 activity is whale watching. There are many tours, some private and some on larger boats, all with knowledgeable skippers. It's the best place to see humpbacks, minkes and even orcas as well as many other marine animals and birds.
Another very popular adventure is kayaking. You can rent or bring your own kayak, or you can sign up for a day or more tour which includes camping overnight. It's a lot of fun, and you might see whales from the water.
Other things to do on the island include biking, hiking, exploring some beaches and historical sites. While on island, one of your meals should be lunch at Westcott Bay Shellfish Co. for some of their fresh oysters. There's nothing more romantic than some raw oysters and wine and a sunny day.
Recommended by Corinne of Roving Vails
15. White Mountains of New Hampshire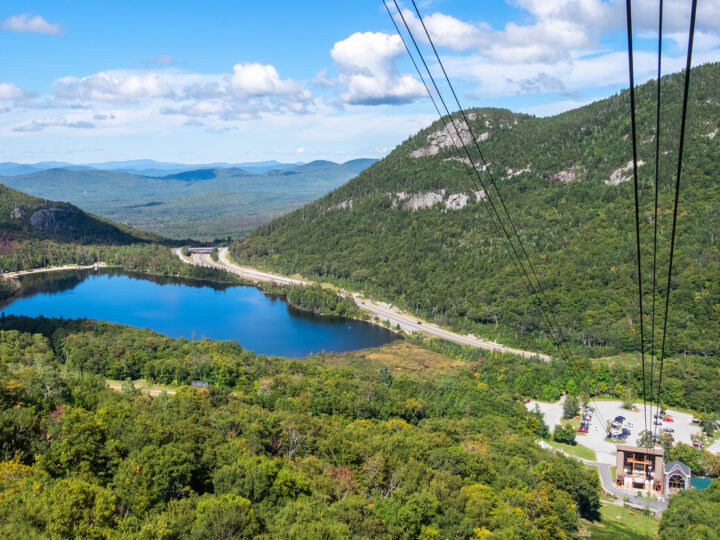 Location: Northern New Hampshire
Perfect for: skiing, hiking, sightseeing, breweries
Recommended accommodation: Cranmore Inn or Sugar Hill Inn or Omni Mount Washington Resort
🏳️‍🌈LGBTQ+ friendly
If you love mountain scenery, hiking, and classic small towns, you are going to love the White Mountains of New Hampshire! This region is home to some of New England's best hiking and skiing, and there's no better way to bond with your new spouse than soaking up the outdoors together.
This region is one of the best mountain honeymoon destinations in the USA!
You'll find plenty of hikes for all fitness levels all over the White Mountains, plus climbing, river tubing, and mountain biking. But the White Mountains are also home to some unique things to do in New Hampshire, like late-night moose-spotting tours and the steep-slanting Mount Washington Cog Railway that climbs the tallest mountain in the Northeast US.
The White Mountains are also home to some of the best breweries in the Granite State.
Don't miss Schilling Beer Co in Littleton, a much-lauded brewery serving European style brews; Moat Mountain Brewing Company in North Conway, where the sampler gives you eight unusual beers; and Rek-Lis Brewery in Bethlehem, an LGBTQ+-friendly brewery whose burgers and poutine make the best post-hiking meal!
A honeymoon deserves special accommodation, and the White Mountains particularly excel at high-end inns. In North Conway, the Cranmore Inn is upscale, beautiful and LGBTQ+-owned.
In Sugar Hill, the Sugar Hill Inn has sumptuous rooms and has one of the best restaurants in the state. Want more of a resort vibe? You'll love the Omni Mount Washington Resort in Bretton Woods.
Recommended by Kate of New Hampshire Way
16. Dillon, Colorado (another favorite of the best honeymoon destinations USA)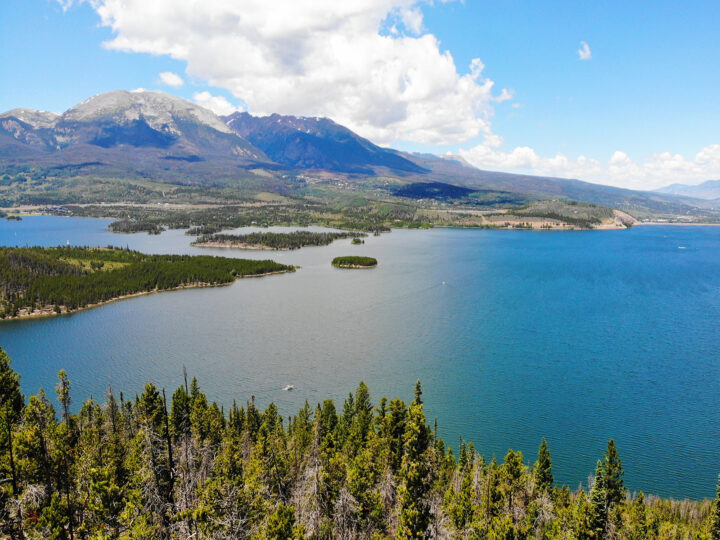 Location: Central Colorado
Perfect for: hiking, sightseeing, adventurous couples
Recommended accommodation: Dillon Inn
One of the best honeymoon destinations in USA is Dillon, Colorado. Perfect for the adventurous couple, this is also one of the most underrated spots in Colorado.
With so many things to do in Dillon, any time of year is great for honeymooners.
In wintertime, honeymooners can go snowmobiling, snow tubing or ice skating. The ski towns of Vail and Breckenridge are close by for hitting the mountain, too.
During the warmer months, hiking and water activities are a big draw in the Dillon area. Lake Dillon is a huge lake with awe-inspiring views of the Rocky Mountains.
Take one of the many trails around the lake to soak in views! Favorites are Sapphire Point Overlook and Old Dillon Reservoir Trail.
Off the trials, couples can enjoy massages, local breweries and excellent dining. On the other side of the lake, downtown Frisco has a cute main street, perfect for a weekend stroll. There you'll find shopping, more restaurants and some really good gelato!
Honeymooners will love staying at the Dillon Inn. With spacious rooms and a hot tub to enjoy at the end of the day, it's a great hotel.
Recommended by me – Nikki of She Saves She Travels
17. Roanoke, Virginia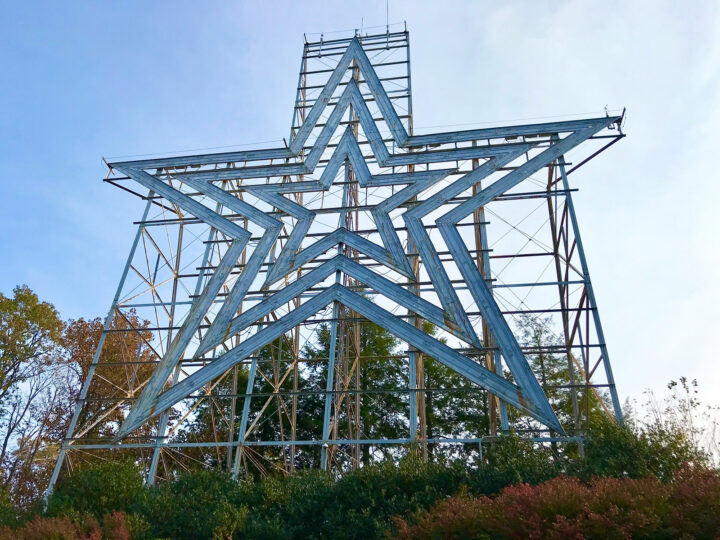 Location: Western side of Virginia
Perfect for: adventure, nature, relaxation
Recommended accommodation: Black Lantern Inn
For outdoor-loving couples, there's much to fall for in Roanoke at most any time of year. It's one of the best honeymoon destinations USA because it offers year-round adventure for couples.
In spring, sunny, scenic views and colorful wildflowers, like rhododendrons and mountain laurel, are plentiful across Virginia's Blue Ridge Mountains. Meanwhile, fall brings awe-inspiring bursts of golden yellow, fiery orange and persimmon foliage across the mountainous landscape.
Drive along the winding Blue Ridge Parkway, which runs 469 miles across Virginia and North Carolina, skirting around Roanoke as it meanders from north to south.
Stop for wildly scenic overlooks and Blue Ridge Parkway hikes, like Flat Top and Apple Orchard Falls. A romantic sunrise hike to savor 360-degree views from the summit of Sharp Top is a must for couples.
In warm-weather months, spend a day at Explore Park at milepost 115 on the Blue Ridge Parkway. This 1,100-acre recreation area has it all for outdoorsy couples, including kayaking, disc golf, hiking and biking trails, a treetop course, camping and tubing on the Roanoke River.
Pop in the on-site Twin Creeks Brewpub for a pint to celebrate a day well spent outdoors.
In town, plan a visit to the Mill Mountain Star, the world's largest man-made star that nobly stands at 100 feet tall. The iconic steel star has been welcoming visitors to Roanoke since 1949. An overlook that can be reached by car or by way of a 1.6-mile hike (one-way) boasts far-reaching views across the Roanoke Valley.
For dinner, book a table at Alexander's for innovative flavors and locally-sourced ingredients. It's long been a favorite dining destination in Roanoke.
Settle in for the night at the Black Lantern Inn, a romantic bed and breakfast that wows with made-from-scratch breakfasts, relaxing green spaces and an outdoor fire pit, as well as views of the iconic Mill Mountain Star.
Recommended by Erin of Go Hike Virginia
Best city honeymoon destinations USA
This epic list has included beaches and mountains, road trips and national parks. So now it's time for the biggest – and best – cities in the USA for couples. Let's go!
18. New York City, New York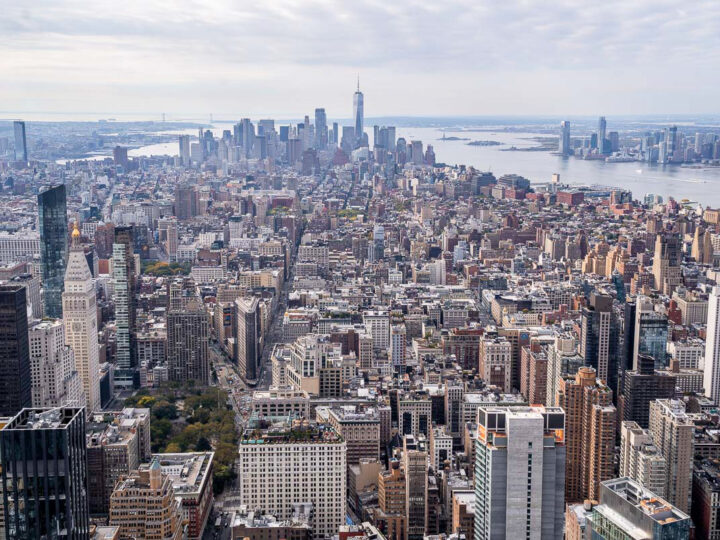 Location: Southern tip of New York State
Perfect for: history, architecture, foodies and excitement
Recommended accommodation: Hyatt Centric Times Square or 1 Hotel Brooklyn Bridge or The Dominick Hotel
🏳️‍🌈LGBTQ+ friendly
New York City is one of the best honeymoon spots in the US for many reasons. The city is full of excitement and romance, with plenty of activities and attractions to keep couples busy.
There are many beautiful hotels with amazing skyline views in New York City, making it the perfect place to relax and enjoy your time together. New York City is also home to some of the world's best restaurants, so couples can enjoy a romantic dinner date while they're in town.
There are many wonderful romantic things to do in New York City. Some of the most popular activities include visiting the Empire State Building, walking through Central Park, riding on the Staten Island Ferry and strolling on the High Line.
New York City is a great honeymoon destination year-round, but the city is especially busy and crowded during the summer months. If you're looking for a quieter and more romantic experience, consider visiting New York City in the fall or winter. Both seasons have their own unique charm, and there are plenty of activities and attractions to keep couples busy.
If you want to make your honeymoon even more memorable, you can also spend Christmas in New York City which is utterly romantic. The city is decked out in festive decorations and there are many special events and activities happening throughout the month.
The best Christmas activities in New York City include visiting the Rockefeller Center Christmas Tree, going ice skating at Bryant Park, and checking out the holiday window displays at stores like Saks Fifth Avenue and Macy's.
For honeymooners, the Hyatt Centric Times Square which is absolutely amazing! For a bigger budget, 1 Hotel Brooklyn Bridge and The Dominick Hotel also has an awesome view that cannot be missed.
No matter which season you choose for your honeymoon in New York City, you're sure to have a wonderful and romantic time.
Recommended by Kriszti of She Wanders Abroad
19. Las Vegas, Nevada (a fun city on this list of best honeymoon destinations USA)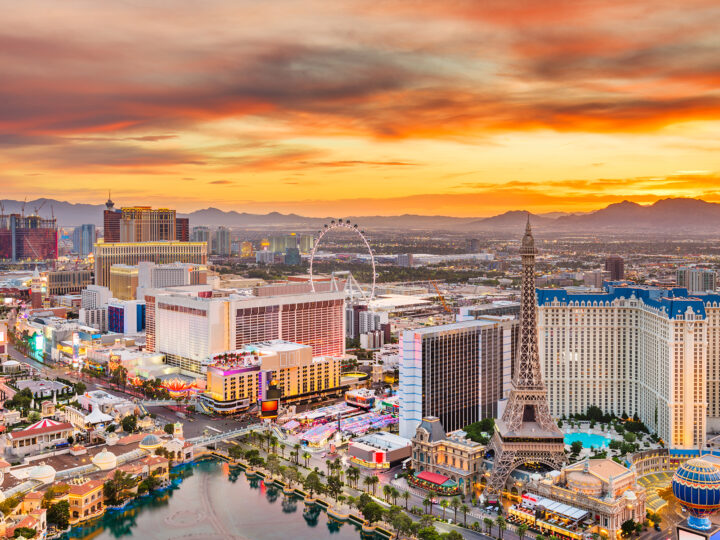 Location: Southern tip of Nevada
Perfect for: world-class entertainment, nightlife
Recommended accommodation: Venetian Resort
🏳️‍🌈LGBTQ+ friendly
It may not be the first destination that comes to mind when you think about the best places to honeymoon in the US but Las Vegas is actually one of the most popular spots for couples looking to celebrate their love in style!

Countless 5-star hotels, endless entertainment, an extravagant atmosphere, perfect weather all year round, LGBTQ+ friendly, and an incredibly scenic desert location… When you think about it, it really does have all the most desirable elements needed for the perfect honeymoon!
If you're looking for romance, look no further than the famous Venetian Resort where you can travel to one of the most romantic destinations in the world without leaving the USA. Take a gondola ride, relax on the pool decks, indulge in deluxe spa treatments and be entertained every night by a different show!
When you finally decide to leave the hotel, the incredible city of entertainment is waiting for you. Of course you have the endless glitz and glam of the Las Vegas strip and countless casinos to try your luck, but even if you are looking for a more intimate escape, Las Vegas has something for you.
Have a romantic meal in world-class restaurants like Partage, take a helicopter ride over the Grand Canyon, climb the Eiffel tower at the Paris Hotel and Casino, admire Las Vegas from above on the High Roller or even re-live your special day at an Elvis-themed chapel!
There are so many incredible things to do in the city and also spectacular day trips from Las Vegas, no matter what type of couple you are!
Recommended by Yulia of Miss Tourist
20. New Orleans, Louisiana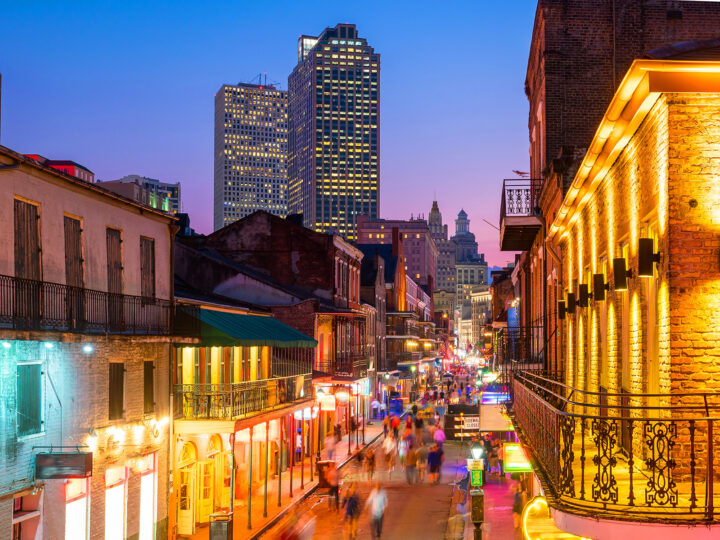 Location: Southeastern tip of Louisiana
Perfect for: foodies, nightlife, architecture
Recommended accommodation: Omni Royal Orleans
🏳️‍🌈LGBTQ+ friendly
New Orleans would be one of the best honeymoon spots in the US provided you avoid the summer months when extreme heat and humidity of the summer. Spring, fall and winter you'll find warm temperatures and sunny days allowing you to happily explore all that New Orleans has to offer.
New Orleans is a fantastic walking city. Start with exploring the French Quarter. During the day, it feels like you have been dropped into a romantic European city.
You walk along narrow cobblestone streets, shop in unique boutiques, pop into bakeries and bistros and watch fantastic street performers.
Make sure you stop at Cafe Beignet, sit at one of the cute outdoor tables, order a coffee and enjoy a delicious beignet. A beignet is a cross between a french pastry and a doughnut. It's impossible to eat only one!
For a romantic and sophisticated dinner, consider Galatoire's, a high end decadent french restaurant in the center of the French Quarter that has been in business for over 110 years. The service is fun and exceptional.
A little different adventure will take you beyond the city, on a swamp tour on the bayou. There are many tour companies that offer transfers to and from New Orleans.
For a couple of hours you're transported into the middle of rivers and swamps, surrounded by feral hogs, alligators and beautiful birds. Bring a bottle of wine and a picnic and enjoy the beautiful surroundings.
When you plan your trip to New Orleans, make sure you double check the date of Mardi Gras. New Orleans becomes very busy and more expensive during Mardi Gras. In addition, accommodation should be booked very far in advance.
If you can, stay at the Omni Royal Orleans, with its old world charm in the center of the French Quarter, you'll be in an ideal spot to explore the French Quarter and all that it has to offer.
Recommended by Nicole of Go Far Grow Close
21. San Diego, California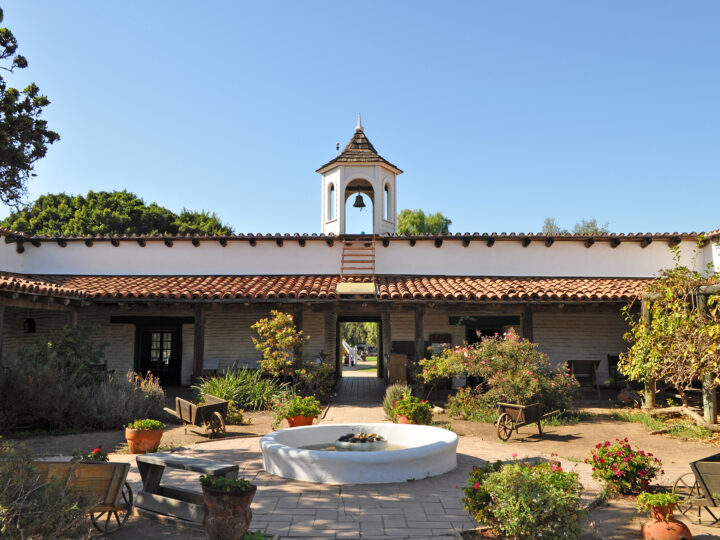 Location: Southern California
Perfect for: city lovers, foodies, , history, beaches
Recommended accommodation: Hotel del Coronado or Pendry San Diego
🏳️‍🌈LGBTQ+ friendly
One of the best places to visit in the country year-round, San Diego is a perfect spot for honeymooners.
With excellent nightlife and even better daytime activities, this city has something for everyone. Walk through the USS Midway Museum, the retired military ship. Or visit Balboa Park for the beautiful botanical gardens, artwork and free museums.
For some vitamin sea, visit La Jolla for picturesque California views. If you're up for adventure, take a kayak tour of La Jolla Cove where you can watch the lively sea lions from the water.
Some of the best Mexican food you'll ever have in your life is at Old Town San Diego. It's the birthplace of California, so it's full of history and museums. Oh, and a dozen Mexican restaurants, too. Yum!
For the best nightlife, head down to the Gaslamp district. You'll find sports bars and night clubs, karaoke and Irish Pubs. There's a bit of everything in Gaslamp!
One of the most romantic spots in the San Diego area is Coronado Beach. Watch a sunset from the beach while the water hits the glimmery sand. It's super romantic and a great way to spend a honeymoon in San Diego.
Couples will love the Hotel del Coronado on the beach, or Pendry San Diego, in the middle of all the action in downtown.
Recommended by me – Nikki of She Saves She Travels
22. Miami, Florida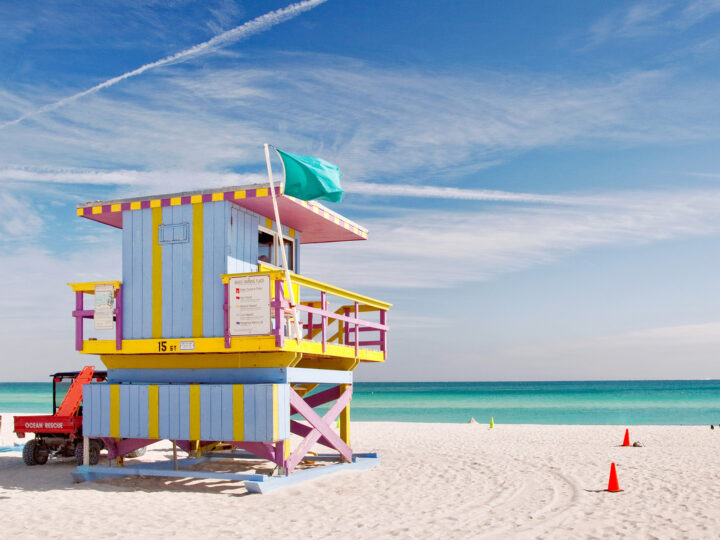 Location: Southeast Florida
Perfect for: beaches, nightlife, foodies, culture
Recommended accommodation: The Savoy Hotel & Beach Club
🏳️‍🌈LGBTQ+ friendly
Many travelers frequent Miami for its stunning beaches and colorful neighborhoods, but what makes Miami unique is that with or without the crowds, it still is one of the most romantic honeymoon spots in USA!
Irrespective of whether you spend two days in Miami or a week, there's plenty to do. The weather is perfect for most parts of the year and there are activities for every type of visitor to enjoy.
If you're tired of all the planning that went into the wedding, relaxing at one of the beaches enjoying the beautiful sunrises and sunsets is ideal. However, if you're looking to explore the area, there's a lot you can do!
An airboat ride in the Everglades National Park while keeping an eye out for the crocodiles and enjoying the sea life. If you prefer water sports, kiteboarding and speedboat rides at South Beach are great!
Once tired with all the activity, enjoy some Southern dishes like shrimps and grits at the Yardbird Table & Bar.
Wynwood neighborhood is great to check out the murals that keep changing every few months and Little Havana has an excellent cultural scene and restaurants on offer too!
When in Miami, one of the hotels with some great reviews is the The Savoy Hotel & Beach Club, which is located in a fantastic location! Their service is also quite good and the rooms are spacious.
Recommended by Lavina of Continent Hop
23. St. Louis, Missouri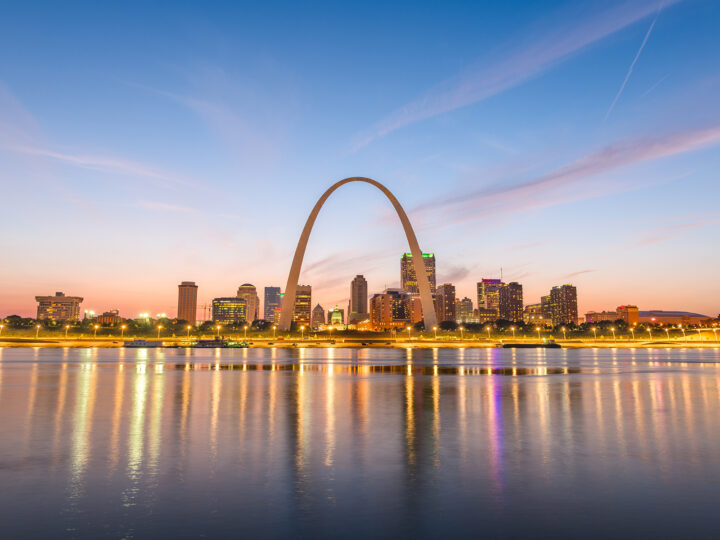 Location: Eastern edge of Missouri
Perfect for: wineries and breweries, art and nightlife
Recommended accommodation: Angad Arts Hotel
Located in the Midwest, St. Louis is one of the best places to honeymoon in the US. The city is full of romantic destinations, adventure and history. St. Louis has something to offer every couple!
Looking for a unique and romantic hotel? Located in the arts district, the Angad Arts Hotel will allow you to match the color of your room to your mood.
Regardless of if you want a red, blue, green, or yellow room, the King Loft Room with tub is highly recommended. Enjoy 6 windows and a free-standing claw foot tub! Pro tip: be sure to ask for a room on one of the higher floors for the best city views.
Next door, check out one of the productions at the Fabulous Fox Theater or St. Louis Symphony next door at Powell Hall. After the show, check out the Art Bar back at the hotel.
During the day you'll want to check out the Gateway Arch. Located on the Mississippi River, learn about the history of the arch and the area. You'll want to take the tram to the top of the Gateway Arch for great views at 630ft above the ground!
About 3 miles from the Arch is the Anheuser-Busch Brewery, which offers a variety of interesting and fun tours for couples.
For a relaxing day, check out one of the Missouri wine trails. The Augusta Wine Trail is located about 1 hour from downtown St. Louis, while the Hermann Wine Trail is about another 30 minutes away.
With 11 wineries between the 2 trails, you're sure to find the atmosphere and wine perfect for your honeymoon.
If you prefer to stay in town for a more adventurous day, then stop by Upper Limits in Chesterfield for indoor rock climbing or Top Golf to enjoy an afternoon practicing your swing.
St. Louis is easy to reach by air and is connected by interstate to many major US cities including Chicago, Nashville, Memphis and Tulsa. Additionally, St. Louis is connected by Amtrak rail to Chicago, New Orlean and Kansas City.
Recommended by Christina of Ragain Adventures
24. San Francisco, California (another personal favorite for best places to honeymoon in the US)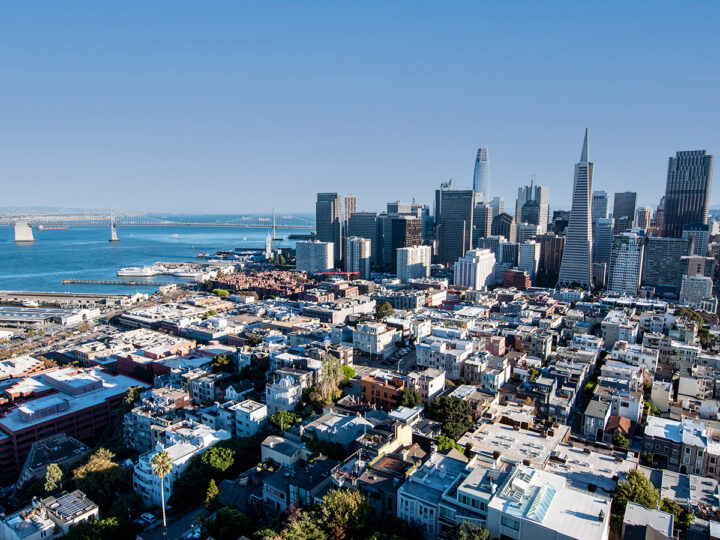 Location: Western coast of California on the Pacific Ocean
Perfect for: sightseeing, foodies, culture, history
Recommended accommodation: Argonaut Hotel, a Noble House Hotel
🏳️‍🌈LGBTQ+ friendly
San Francisco is one of the most beautiful cities in the USA and undoubtedly the perfect place for a honeymoon. The famous Golden Gate Bridge or Alcatraz prison are the icons of California. There are many great things to do in San Francisco for couples.
One of the most romantic things to do on your honeymoon is to take a helicopter ride over the Golden Gate Bridge, Alcatraz Island and the city because the views are breathtaking. A sunset boat ride on San Francisco Bay is perfect for a romantic evening.
A walk along the waterfront with Fisherman's Wharf, Ghirardelli Square and Pier 39 will give you a lot of pleasure as well. A ferry ride to the famous Alcatraz Prison is also a must.
San Francisco is also known throughout the world for its excellent cuisine. Along the waterfront and the famous Embarcadero area are fabulous restaurants that serve excellent seafood or steaks.
The Hog Island Oyster Bar, located in the historic Ferry Building Marketplace, offers the best selection of oysters and craft cocktails. Also perfect for dinner are the House of Prime Rib and the Crab House at Pier 39.
San Francisco also has the oldest Chinatown in North America and the largest Chinese enclave outside of Asia. Any fan of Asian cuisine will melt with culinary delight in this neighborhood.
What's more, the city is LGBTQ+-friendly and has played a significant role in the LGBT equality and rights movement. The beautiful Castro neighborhood is considered the gay capital of the world. In the 1970s, the Castro was home to Harvey Milk, the first openly gay public official in California and one of the first in the United States.
The best time for a honeymoon in San Francisco is spring and fall. In April-May and September-October, the weather is perfect, and the city is less crowded than in the summer.
The choice of accommodation in the city is vast. But for honeymooners, the Argonaut Hotel, a Noble House Hotel in the heart of Fisherman's Wharf is the best choice. From here you can walk to all the city's exciting attractions. Moreover, the hotel is eco-friendly.
Recommended by Agnes of The Van Escape
Read next: 32 Amazing Stops on a San Francisco to San Diego Road Trip
Romantic honeymoon destinations USA
This last set wraps up this amazing list! These locations have been hand selected as some of the most romantic spots in the USA.
25. Savannah, Georgia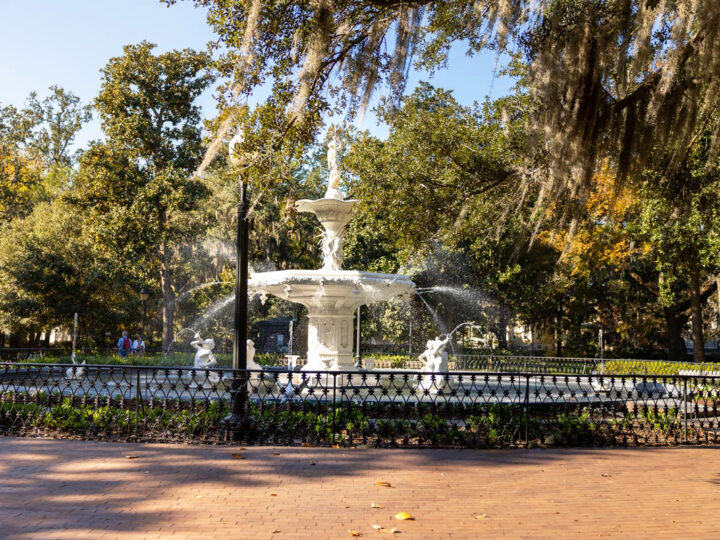 Location: Eastern Georgia
Perfect for: relaxing, sightseeing, nature
Recommended accommodation:
If you're looking for a charming and romantic destination on the East Coast, look no further than Savannah, Georgia! Known for its Southern hospitality and charm, Savannah makes for a great honeymoon!
Some of the best things to do in Savannah for honeymooners include visiting one of Savannah's original Squares, relaxing by the Riverfront, enjoying some beach time at Tybee Island, visiting Forsyth Park and exploring down the historic streets of Savannah.
With 22 Squares to choose from, embrace the city's charm from one of the original green spaces. Lined by hundred-year-old oak trees that are covered in Spanish moss, you'll certainly experience that quintessential Southern charm. Many squares offer monuments, fountains and benches.
Another great experience for couples is to check out the Riverfront. Not only is the Riverfront one of the most historic places in the city, but it is also bustling with great restaurants and shopping.
With incredible sunsets, couples should make sure to spend at least one night at one of the many rooftop bars to watch the sun sink below the horizon!
Tybee Island is a great option for couples looking for some tropical beach time. The Island is a perfect day trip from the city and offers pristine white sand beaches and even dolphin watching tours.
Additionally, a honeymoon in Savannah wouldn't be complete without visiting the famous Forsyth Park, having a romantic dinner at the Olde Pink House and then ending the day with a delicious treat from the famous Leopold's Ice Cream.
The end of spring is a fantastic time in Savannah. Couples can enjoy the spring blooms and azaleas along with the warmer beach weather.
For the ultimate honeymoon accommodations, The Bohemian Hotel Savannah Riverfront is a romantic boutique hotel. They even have balcony rooms overlooking the river and a great rooftop bar!
Recommended by Sam of Find Love & Travel
26. Portland, Maine (one of the most underrated and charming honeymoon destinations USA)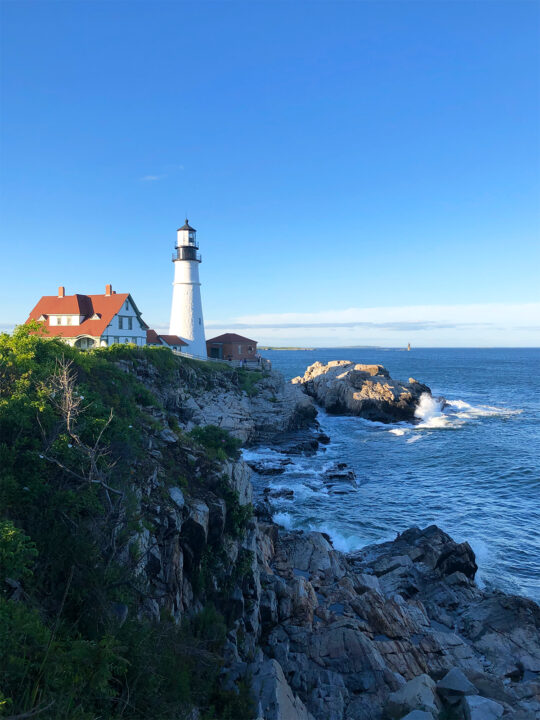 Location: Southern Maine
Perfect for: relaxation, nature, foodies, sightseeing
Recommended accommodation: Portland Harbor Hotel or Press Hotel
Honeymoons are meant to be special and Portland, Maine is one of the best places for a romantic getaway! It offers something special regardless of adventures through hiking or exploring the city.
One of the most romantic spots to visit is the Portland Headlight located in Fort Williams Park. Couples can grab a delicious lobster roll at the Portland Lobster Company and have a romantic picnic beside the lighthouse or down below on the beach.
There is also a trail at the Portland Headlight for couples to stroll and take in the gorgeous views of Casco Bay.
The historic district of Portland offers couples a chance to take a stroll through Old Port. With the cobblestone streets and cute boutiques, couples are sure to find a souvenir of their honeymoon.
For a sweet treat, head into the popular Holy Donut where all donuts are made by hand with potato.
While in Old Port, couples can stop in Central Provisions, which offers small plates, cocktails and sandwiches. Another option for dining is Duckfat which boasts of the best cut fries. Portland, Maine is also known for its breweries so couples can experience craft beer by taking a brewery tour.
To experience amazing hiking trails and views, honeymooners should do a day trip to Acadia National Park in Bar Harbor. Acadia has beautiful nature trails such as the Beehive and Bubble trails and beaches for relaxing afterward.
Couples should stay in or near Old Port to get the best experience in Portland. The Portland Harbor Hotel offers a sleek new style with their rooms, while the Press Hotel offers a more modern boutique experience.
The best time to honeymoon in Portland is during the cooler months of fall when the trees turn beautiful shades of red and orange and the crowds are thinner.
On the other hand, the summer months offer warmer temperatures and more social events for the higher numbers of tourists. Either way, planning a honeymoon in Portland will be a memorable experience for newly wedded couples.
Recommended by Pafoua of Her Wanderful World
27. Napa Valley, California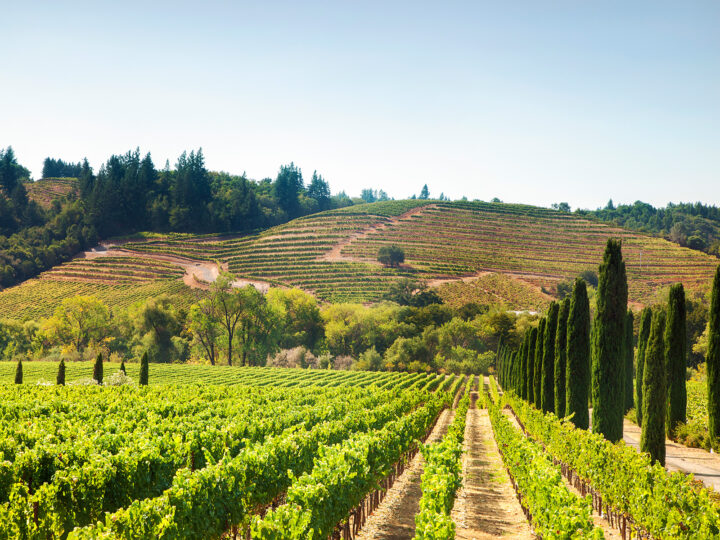 Location: Northern California
Perfect for: upscale dining and wineries, beautiful views
Recommended accommodation: Auberge du Soleil, An Auberge Resort
Napa Valley is one of the most popular honeymoon destinations USA and for good reason! The setting is absolutely beautiful, nested in Northern California amongst rolling hills and vineyards, it's perfectly romantic and picturesque.
There are hundreds of wineries in Napa to enjoy visiting and wine tasting. Take a tour or two and see which wine is your favorite. Visit Castello di Amorosa to explore its romantic Tuscan castle winery.
Napa is not only known for its wine but also for having many award-winning restaurants, including many that are Michelin-starred.
Another fun and romantic activity is taking the Napa Valley Wine Train. Here you can enjoy lunch or dinner while taking in Napa's amazing scenery.
Head to Indian Springs Resort for its famous mud bath and mineral pool. For the adventurous couple, take a hot air balloon ride over beautiful Napa.
Any time of the year is great to honeymoon in Napa Each season has a little something special to offer. A popular time to go to Napa is August through October because this is the regions' harvest season.
For an unforgettable honeymoon, stay at Auberge du Soleil, An Auberge Resort. Get a room with an outdoor tub and rain shower overlooking the beautiful Napa Valley.
Complimentary amenities here include a welcome glass of wine on arrival, a bottle of wine, fresh fruit, and other drinks and snacks for your room. A daily complimentary breakfast is served. There is even a complimentary Mercedes-Benz to use on a first-come, first-serve basis!
Recommended by Kim of Traveling Swansons
28. Newport, Rhode Island (an incredibly romantic honeymoon spot in USA)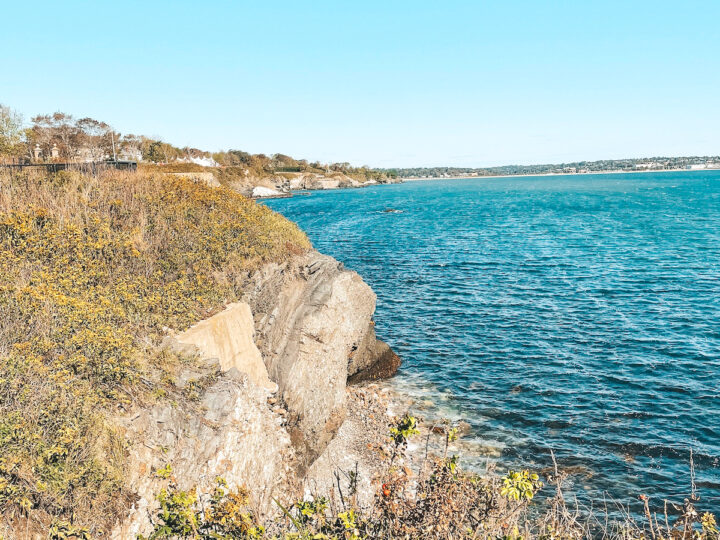 Location: Southeastern Rhode Island
Perfect for: relaxation, spas, hiking, history
Recommended accommodation: Castle Hill Inn or Hotel Viking
If you're looking for a quaint, coastal town for your honeymoon that oozes charm, beauty, and relaxation then Newport, Rhode Island, might be the perfect destination for you. Newport is an excellent location for couples because it offers beautiful resorts, delicious dining options and a laid-back atmosphere.
If you're hoping to spend some time at the beach during your honeymoon, Newport shines during the summer months. However, if you'd rather see the city's gorgeous fall colors, autumn is a lovely time to visit Newport, too!
If you're willing to splurge on a luxury, romantic stay – Newport does not disappoint! You can book a spacious room at Castle Hill Inn, a 40-acre estate, to enjoy access to a private beach, an on-site restaurant, and stunning oceanfront views.
Or, if you're like to stay closer to the city, the historic Hotel Viking on Bellevue Avenue might be perfect for you! Offering elegant rooms with an on-site restaurant, rooftop bar, and Spa Fjor, you'll be able to enjoy a couples massage or other spa treatments.
When you're ready to explore, there are plenty of fun things to do in Newport, RI, to keep you busy during your honeymoon.
You can go for a romantic stroll along the Cliff Walk, a 3.5-mile path that offers extraordinary views of the Atlantic Ocean. Or go shopping at the local stores on Thames Street or Bellevue Avenue.
Couples can also tour one of the historic Newport Mansions, like The Breakers, The Elms, or the Marble House, or go wine tasting at Greenvale Vineyards.
Don't miss the chance to book a 5-course blind tasting experience at Cara, an upscale restaurant located in The Chanler at Cliff Walk, or make dinner reservations at The Mooring Seafood Kitchen and Bar for superb seafood and beautiful harbor views.
Recommended by Brittany of Travel by Brit
29. Nantucket Island, Massachusetts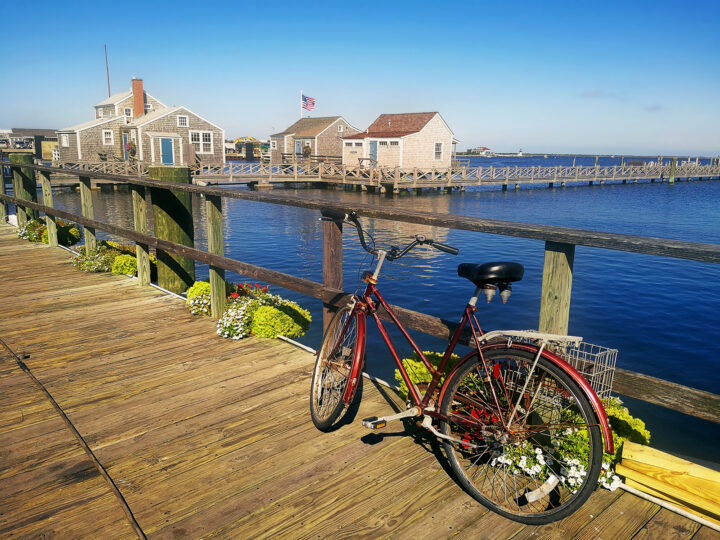 Location: Island off the coast of Massachusetts
Perfect for: relaxation, history, biking, coastal views
Recommended accommodation: Brass Lantern Inn
Nantucket Island in Massachusetts is one of the most romantic honeymoon spots in the USA!
With an enchanting downtown, perfect for walking hand in hand while window shopping and stopping by cute cafes for a coffee break or brunch. There, you can learn more about the island's history at the many museums. Visit the Nantucket Shipwreck and Lifesaving Museum, Nantucket Whaling Museum or the Museum of African American History.
But there are a lot of other things to do in Nantucket, especially for nature lovers – and there is no end to romantic activities.
To explore the rest of the island in the most romantic way, rent a bike and follow the bike trails to sweeping beaches in Surfside and Madaket. Bring food and drinks and enjoy a lovely picnic at the beach or go for a swim if the weather allows it. If you like walking in the forest, there are also beautiful forest trails where you might see wildlife.
For a romantic sunset, take the bus or ride the bike to Siasconset and walk the Sconset Bluff Walk to the Sankaty Head Lighthouse. You can even bring a tripod for romantic sunset shots in front of the lighthouse.
If you want more adventure, Nantucket and the nearby waters are excellent for whale watching. You can see Humpback whales, Finback Whales and Minke Whales. But also Basking Sharks and dolphins hang out in the area!
A lovely place to stay for newlyweds is the Brass Lantern Inn, a short walk from Brass Point Lighthouse and shops and restaurants in the historic district.
The Whaling Museum is also very close. If you need a day of relaxing, you can sit in the charming garden with a book or a magazine.
The easiest way to get to Nantucket is by ferry from Hyannis whether you travel by car or by foot. If you don't bring your own bikes, there are many places to rent on the island. For the best experience, make sure you plan your honeymoon in the summer months between June and August.
Recommended by Linn of Brainy Backpackers
30. Charleston, South Carolina
Location: Eastern edge of South Carolina, along the Atlantic Ocean
Perfect for: food, festivals, history, beaches
Recommended accommodation: Charleston Place, A Belmond Hotel
Southern hospitality at its finest, Charleston, South Carolina is consistently ranked the #1 destination to visit in the US! This romantic coastal city has it all: sandy beaches, a thriving foodie scene, festivals every month of the year and history dating back to the colonial era.
Enjoy a relaxing honeymoon at the beach. Sip cocktails while sunbathing by day and taking long walks on the beach as the sun sets and the moon and stars come out.
There's a beach honeymoon for every budget here. From chain hotels and Airbnbs on public beaches to upscale rental condos and 5 star resort luxury on private islands.
Experience an intimate getaway at Charleston Place, A Belmond Hotel in the heart of Charleston's historic district. Book the spa package for some serious pampering!
Dive into the city's history on a private horse carriage tour, or visit one of Charleston's plantations for an in-depth look into the city's origins and a stroll through the oldest gardens in America.
There is no shortage of romantic things to do in Charleston! Book a sunset cruise on the harbor or enjoy a drink from one of Charleston's rooftop bars. Stroll hand-in-hand under gorgeous Southern live oak trees at the Battery, or simply explore the streets of Charleston with flowers in bloom all year long.
Spring is the most popular time for visitors, especially from mid-March to early April when the azaleas burst into bloom.
Summers have their own allure (like sea turtle nesting and hatching season!), but be warned that the heat and humidity is not for the faint-hearted. Winters are mild, with temperatures in the low 60's and rarely any snow or ice.
Fall is a sneaky shoulder season in Charleston, with lower prices and fewer tourists but no colorful leaves or crisp, cool evenings until closer to November. There's no bad time to visit Charleston for your honeymoon!
Recommended by Rachel of Means to Explore
Best honeymoon destinations USA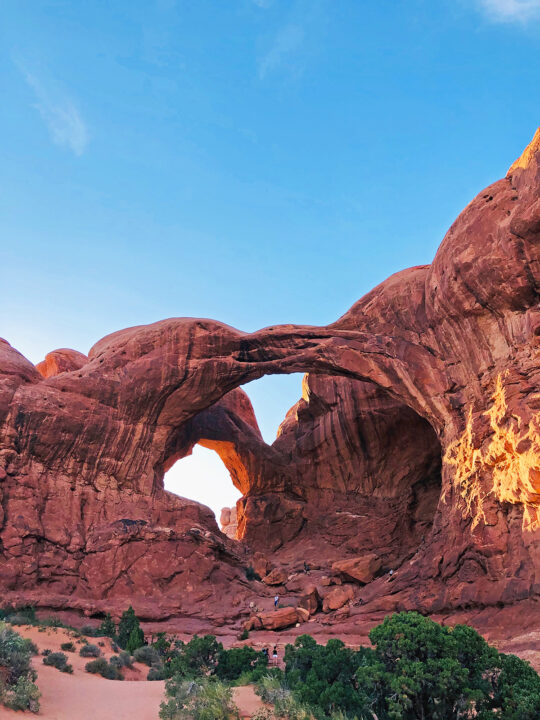 Woah what a list! With so many spectacular places to honeymoon, there's a perfect spot for every style, no matter what you're looking for.
Let's recap that list again, in a much quicker fashion…
Honeymoon destinations USA
Puerto Rico
Anna Maria Island, Florida
South Padre Island, Texas
St John, US Virgin Islands
Kauai, Hawaii
Outer Banks, North Carolina
Oahu, Hawaii
Oregon Coast road trip
Smoky Mountains, Tennessee
Denver to Moab road trip
Yellowstone National Park, Wyoming
Alaska road trip
Put-in-Bay, Ohio
San Juan Island, Washington
White Mountains of New Hampshire
Dillon, Colorado
Roanoke, Virginia
New York City, New York
Las Vegas, Nevada
New Orleans, Louisiana
San Diego, California
Miami, Florida
St Louis, Missouri
San Francisco, California
Savannah, Georgia
Portland, Maine
Napa Valley, California
Newport, Rhode Island
Nantucket Island, Massachusetts
Charleston, South Carolina
Related content:
100 Most Romantic Vacations in the US You'll Love
20 BIG Adventure Vacations in the US Not to Miss
How Should Married Couples Split Finances? Money Experts Weigh In
26 Best Beaches on the Gulf Coast You Need to See
35 Cheapest Beach Vacations: Swoon-worthy Destinations You Need to See
Find this post helpful? Save it for later or share it on social media!