Dreaming of a January getaway? From amazing beach vacations to exploring winter wonderlands, the winter is a fantastic time to travel! So if you've ever wondered what are the best countries to visit in January – here's your list.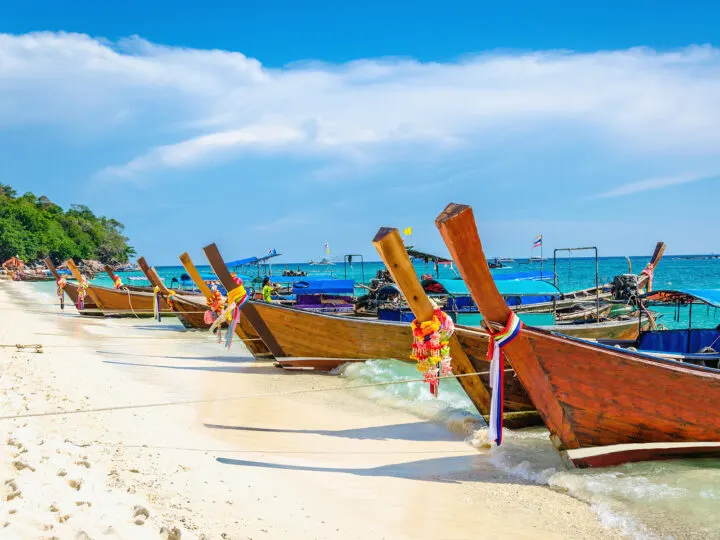 This post may contain affiliate links. For more info, see my disclosures.
Whether your idea of the best place to visit in January is to escape the cold and look for sun or the beach, or you're wishing for snowy adventures like skiing and ice castles, this list has a little bit of everything.
Some of these destinations are in the shoulder season, so you'll find affordable pricing, which is always a bonus, too! From experiencing destinations with tons of culture to cities with amazing food scenes, you'll find the perfect spot for your vacation in January.
Covering countries from all over the world, this list is going to inspire you to start searching for flights! Let's dive in!
Map of the best countries to visit in January
From the Alps to the Caribbean and some underrated spots you haven't thought of, this list covers a lot! Use this map as a visual to help you plan your vacation in January.
Pinch and zoom in to narrow down on a region that you're considering, then check out the descriptions below.
Oh, and by the way, since I'm continually checking places off my travel bucket list but haven't been everywhere yet, I've asked some of my fellow travel writers to help with this list. I think you're gonna love it.😉
Best countries to visit in January
January is a fabulous time to travel! Whether you're looking to escape the winter cold and hit the beach, you're up for adventure in a new city, or you're wishing for a winter wonderland to enjoy, here's some amazing destinations.
1. Costa Rica (one of the best places to visit in January for sun)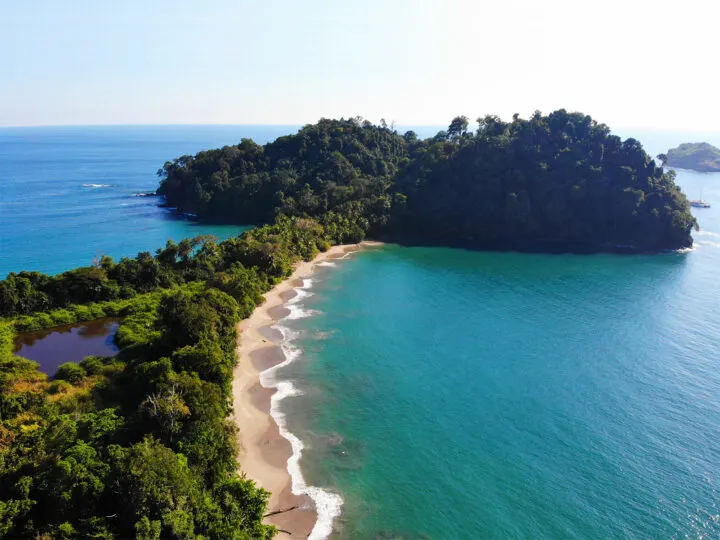 Average temp: high 78, low 64 (varied by region)
Fly into: Juan Santamaria International Airport, San Jose
If you're looking for the best countries to visit in January, then Costa Rica absolutely needs to be on your radar! Zipline through cloud forests, watch monkeys and toucans dance around in the trees, dip your toes into luxurious sandy beaches and enjoy great food, Costa Rica has so much to offer visitors.
December through April is dry season, as it's when you'll see the best weather in Costa Rica. Although the temperatures vary based on which region you travel to, it's still a great getaway than being stuck in the cold back home.
Visit the famous Arenal Volcano and enjoy the hot springs in La Fortuna. Still in the mountainous region, there are plenty of things to do in Monteverde, including ziplining and walking the suspension bridges through the cloud forests.
For a perfect beach getaway, head west to Tamarindo, where you can hit the water surfing, kayaking or stand up paddle boarding. With hotels and restaurants sprinkled throughout the beach, it's a great spot to spend a few days.
If you're looking for more adventure, head to Manuel Antonio National Park, where you can witness monkeys and sloths hanging about!
Be sure to spend some time at the best beaches in Manuel Antonio, including my favorite, Playa Espadilla Sur. There's so many things to do in Manuel Antonio, you could spend an entire vacation just in this area.
Costa Rica is definitely one of the best places to visit in January for sun, and a destination you'll love!
Recommended by me – Nikki of She Saves She Travels
2. Austria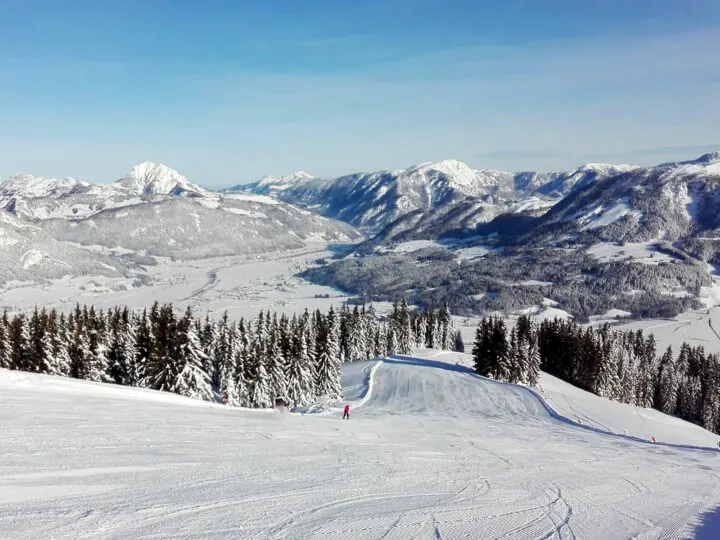 Average temp: high 37, low 27 (varies by region)
Fly into: Vienna International Airport, Schwechat
Austria is a landlocked country between Germany and Italy, located in Central Europe. The alps extend from the west to the east and create a perfect winter wonderland every year.
People come from all over the world to enjoy the warm and fun ski resort experience in the Austrian mountains. There is something for everyone, from skiing, ski touring, snowboarding, ice skating, snow walking, sledging to country cross skiing.
A mulled wine or a Jagertee warm up every cold heart! Villages and cities are decorated with wonderful lights, creating a magical dreamy environment, the perfect place for a vacation in January. This is the best time to relax body and soul in some of the most remarkable thermal baths and sauna villages in Central Europe.
Old traditions make Austria a unique place to be in January. They can still be experienced at the beginning of January, the Perchten run in the Tyrol region and the Glöckler run in Styria. The capital city Vienna, as well as other well-known cities such as Salzburg and Innsbruck, are for all those looking for classic inspiration and the vibes of a long gone empire.
Curious travelers can discover more top places in Austria. Definitely check out Vorarlberg, a mountainous state in the west, including the charming Bregenzerwald, Austria.
The weather in Austria in January is usually between 0 and 50 Fahrenheit. The higher one travels, the colder it gets.
The best way to get to Austria is via the Vienna airport, located in the east. Other options include the Salzburg airport, Innsbruck airport or even the much larger Munich airport in Germany.
The Austria Trend Hotels provide the most comfortable and memorable stays in Austria. Budget-travelers will want to look out for homely vacation rental properties. Things can be a bit expensive in Austria in January, but your journey will be less costly than a stay in neighboring Switzerland.
Recommended by Paul of Paulmarina
3. Colombia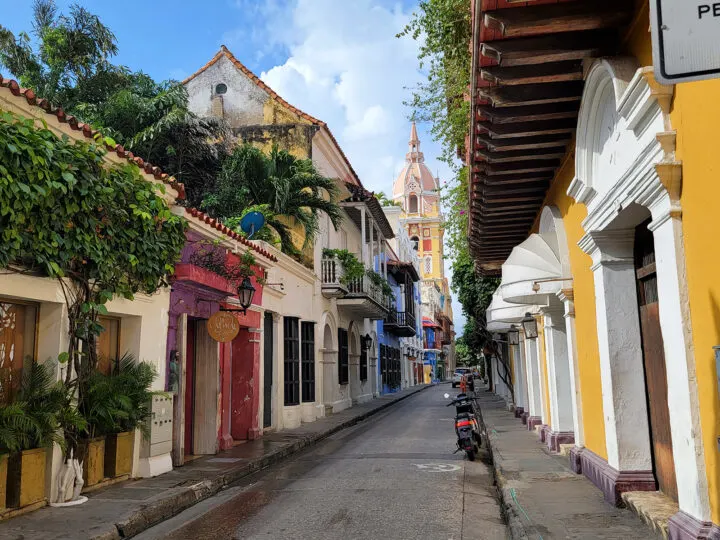 Average temp: high 66, low 45
Fly into: El Dorado International Airport, Bogota
The South American country of Colombia is a great destination in January – in fact, it's one of the best weather times to visit of the entire year! In January, the sun is shining, the weather is warm (though there is a huge variety of average temperatures throughout the country), and the rain is low.
In general, Colombia is a great place to visit, no matter the time of year. It's a very inexpensive country to travel to, and there's a wide variety of things to see and do. The capital city of Bogota has an old town filled with colonial architecture, cobblestoned streets, and a wide variety of historical buildings and world class museums.
Or, you can visit the Coffee Region of Colombia, such as the little, colorful town of Salento. Here, you can visit the coffee farms of Colombia or go hiking in the Cocora Valley, a magical hike into the mountains, where you can see the famous wax palms of Colombia – the tallest palms in the world that grow up to 200 feet high!
Finally, a must visit spot in Colombia is the coastal city of Cartagena, a photogenic, absolutely gorgeous colonial walled city with colorful buildings covered in plants and flowers.
As you travel throughout Colombia, you'll likely take a quick plane ride between the different cities. Many people choose to start their Colombia adventure by flying into the El Dorado International Airport in Bogota, and staying in Bogota at the Magdalena Guest House is a perfectly located spot to start your exploration of this gorgeous and varied country in South America.
Colombia is one of the best places to visit in January for sun, culture and history!
Recommended by Stephanie of The Unknown Enthusiast
4. Aruba (a favorite on this list of best countries to visit in January)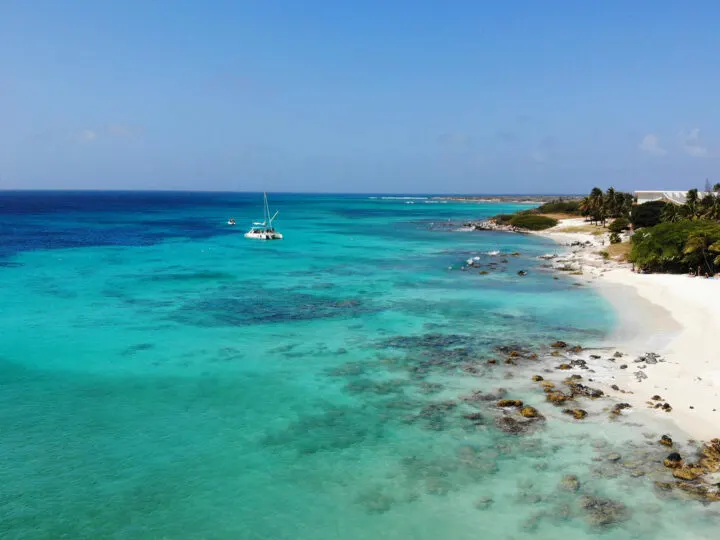 Average temp: high 86, low 76
Fly into: Queen Beatrix International Airport, Oranjestad
If you're looking for a beachy escape from the clutches of old man winter, look no further than gorgeous Aruba! January is a fantastic time to visit not only to enjoy sunny skies and 80-degree weather, but it's also a unique place to ring in the New Year.
Typically, New Year's Eve is kicked off with loads of fireworks throughout the city (if you were planning to sleep – good luck 😉), from large displays over the water to traditional Pagara (long strings of Chinese firecrackers) throughout the streets; there's no end to colorful and fiery displays.
After that, the party doesn't stop! Throughout January and into February, there are countless parades like the nighttime Torch Light Parade and other festivities in honor of Carnival. The official start of Carnival is in November, but most of the festivities happen in January and February.
Because of these fun festivities, you should expect to pay a little more for accommodations. To get the best deal, book early!
Aside from a colorful party scene, Aruba is also known for mesmerizing white sand beaches like Palm and Eagle Beach. These are 2 great spots to kick back and relax with a fruity cocktail. They're some of the best beaches in Aruba!
After relaxing, you'll have an endless selection of dining options, including Dutch, Asian, African and it's even one of the most vegan-friendly Caribbean Islands!
Aruba is one of the best beach vacations in January, and a destination you'll love.
Recommended by Rebecca of Veggies Abroad
5. Iceland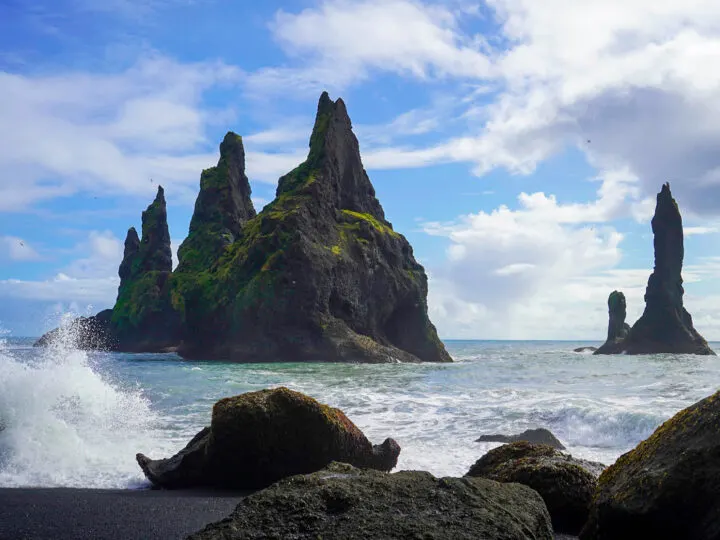 Average temp: high 37, low 26 (varies by region)
Fly into: Keflavík International Airport, Keflavik
If you're looking for an epic winter adventure, consider visiting Iceland in January.
While the days may be short here, you'll get to enjoy Iceland's spectacular scenery to yourself, given that the summer crowds have long departed. Better yet, you'll likely get to see Iceland covered with glistening snow. This is a fantastic time to explore the country's ice caves or go on a glacier hike!
People travel from all over the world to Iceland in January, given that it's one of the absolute best months to see the spectacular Northern Lights, thanks to the long, dark nights.
You can either book a guided tour to try to find the lights or drive outside of major cities, away from light pollution, to spot them yourself. Patience is key- seeing the lights depends on whether there's solar activity, as well as whether there's clouds obscuring the night sky.
Another excellent winter activity here is taking advantage of any of the geothermal hot springs you'll find scattered throughout the country. The springs may be more natural, like the Hellulaug Hot Pool, which is just an organically-formed pool overlooking the ocean, or can be straight up swanky, like the recently opened Sky Lagoon, with an infinity pool and sauna with stunning views of Kársnes Harbour.
The easiest way to reach this tiny island country is to fly into Reykjavik's Keflavik International Airport.
Iceland's weather in January is cold, but not as chilly as its Northern location might suggest, thanks to the relatively warm water from the gulf stream- you can expect temperatures to generally range from 26 to 37 degrees Fahrenheit.
So be sure to include lots of warm layers on your Iceland packing list, like a base layer, parka, and gloves so you can actually enjoy exploring Iceland's incredible landscape.
You'll love visiting Iceland – perhaps absolute best place to vacation in January for adventure!
Recommended by Jessica of Uprooted Traveler
6. Thailand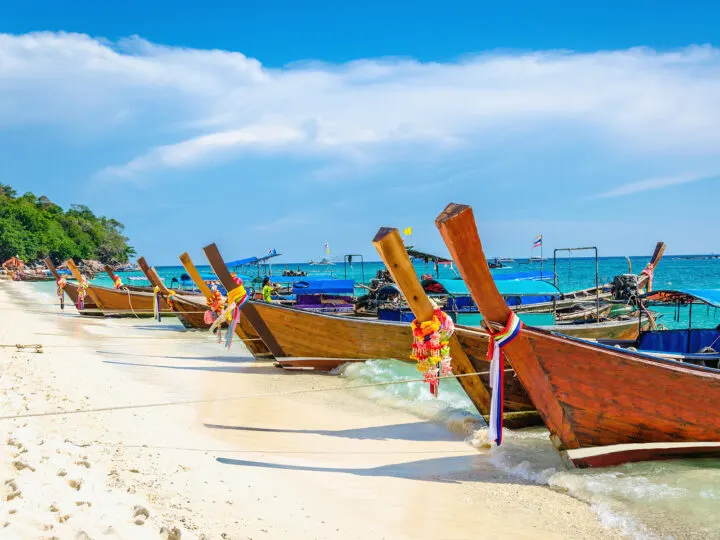 Average temp: high 89, low 73
Fly into: Suvarnabhumi Airport, Bangkok / Phuket International Airport, Phuket
Thailand is an incredible place, and one of the best countries to visit in January. With a large variety of destinations to see within Thailand, you'll need to decide what kind of experience you want to have, and plan your vacation accordingly.
If you're looking for beautiful temples, rich in historic architecture loaded with history, then Bangkok or Chiang Mai might be the right spot for you. Stay in the city a few days to soak in the sights. Be sure to take a food tour, and if your'e in Bangkok, visit the floating markets.
If a beach getaway is what you're after, you have a variety of choices as well. The Phi Phi Islands offer some of the most pristine beaches in all of Thailand. Or, you can opt for Krabi, where there's a mix of beaches and historical sights to explore.
Phuket is one of the most popular destinations in Thailand, and for good reason. With beautiful white sand beaches and plenty of amenities and accommodations, there's something for everyone.
Take a snorkeling tour or day trip to Coral Island Phuket to see the area. And with an international airport, it's easier to get to Phuket than some of the other islands in Thailand.
January is a fabulous time to visit Thailand because it's the dry season. With plenty of sunshine, culture, food and activities, you're sure to have a great time in Thailand!
Recommended by me – Nikki of She Saves She Travels
7. France (one of the best places to visit in January Europe)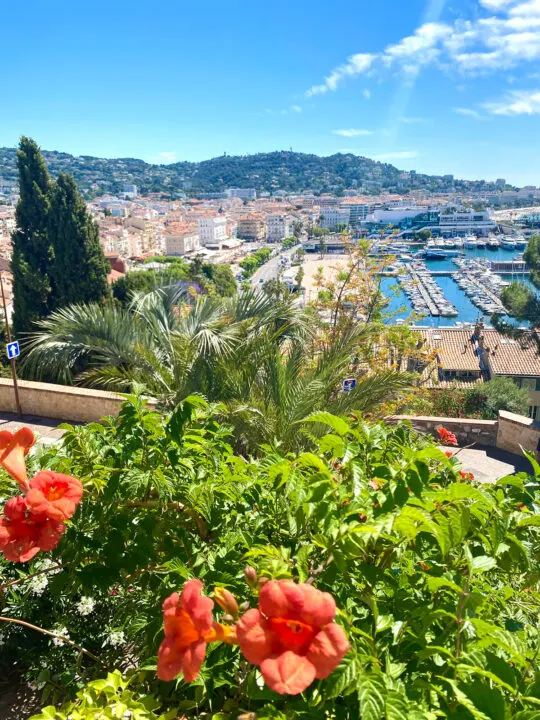 Average temp: high 56, low 37 (varies by region)
Fly into: Aéroport Nice Côte d'Azur, Nice
The month of January is a great time to visit France because it is less crowded. Since it's part of the low season, hotel and flight prices are more affordable.
Outside of the capital, Strasbourg in the north is a fantastic alternative. The Cathedral, art galleries, and taverns serving hearty plates of sauerkraut and local wines await visitors to this peaceful and unhurried city.
However, the French Riviera may be the best choice for people who prefer a warmer vacation in January. Also known as La Côte d'Azur (Azure Coast), it is accessible via the Aéroport Nice Côte d'Azur which is the second busiest international airport in France next to Paris. The French Riviera is a good option for those who prefer milder temperatures.
Visiting the French Riviera in January will show you a more laid-back side of France, free of curious tourists and offering more affordable rates. Fewer visitors mean you get a good deal in even the more expensive hotel rooms, as well as cheaper meals in the area's top restaurants.
A highly recommended place to stay in the Royal Antibes, a stylish modern hotel with a prime location on the beach. The price of a room with huge glass windows and great views starts at slightly over €100.
You can spend your days touring the Côte d'Azur in between taking in the breathtaking vistas of the sea and basking in the mild Mediterranean weather. Enjoy the crisp winter days hiking the French Riviera's beautiful trails, including the spectacular route over Èze-village or the Baou above St. Jeannet, with superb views over the Var Valley.
You might also find mimosas in the village of Tanneron, which is also home to Europe's largest mimosa forest, the Massif de Tanneron.
The town of Menton, meanwhile, is known for its beautiful gardens and well-preserved old town center. The ancient walled city of Antibes is also well worth exploring. And if you want to experience a winter vacation like celebrities, you can also explore Cannes.
Recommended by Christine of Journey To France
8. Antigua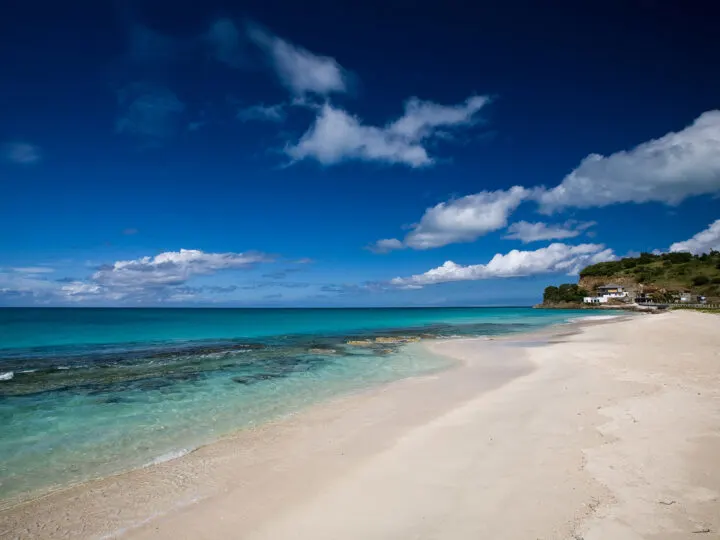 Average temp: high 82, low 71
Fly into:
Situated in the middle of the Leeward Islands, part of the Lesser Antilles, in the American West Indies, Antigua is arguably one of the prettiest Caribbean islands.
Although it is a favorite destination for honeymoons and romantic escapes, it makes a perfect vacation for any kind of traveler that is not on a budget.
It is in fact quite an expensive destination, especially if you choose to stay at one of the beautiful Antigua all inclusive resorts on the pristine Caribbean coast, which is very much recommended if you want to enjoy the island at its best.
Antigua and Barbuda is actually made of the 2 namesake islands and many small islets, some of which are great snorkeling spots that you can visit by joining one of the boat tours available.
Antigua is one of the best countries to visit in January because it's dry season with less risk of rain. So expect a lot of sunshine and blue sky. But also it's the most expensive time of the year to travel to Antigua, for the same reason, which is something to keep in mind as well.
Antigua is renowned for its incredible beaches (they say there are 365, one for each day of the year) and spectacular landscapes. Its home to gorgeous scenery with lush hills tumbling over the white sand beaches and the turquoise Caribbean sea.
Among the things you shouldn't miss in Antigua, besides getting pampered in your gorgeous luxury hotel, are:
Rent a car to explore all the spectacular beaches, including Darkwood beach, Dickenson bay and Half Moon Bay
Dance at the sound of calypso music at Shirley Heights on a Sunday while watching the sun going down
Try the local cuisine in one of the delicious restaurants on the beach
Take a walk around the historical site of Nelson Dockyard at English Harbour and join one of the boat tours around the island.
If you're traveling on a budget you can also find more modest accommodations but keep in mind that the overall cost of living in the island is high.
Recommended by Isabella of Boundless Roads
Best place to vacation in January
Can you believe this list? And we're just getting started! Let's keep exploring all the amazing winter getaways!
9. Mexico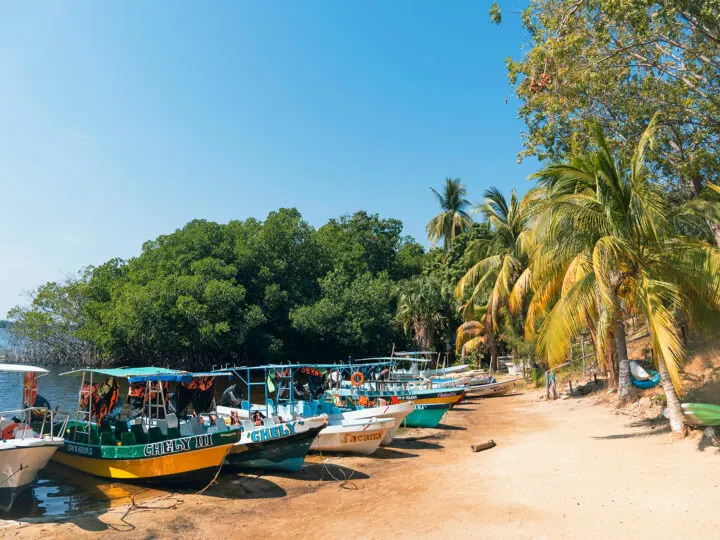 Average temp: high 72, low 41 (varies by region)
Fly into: Benito Juárez International Airport, Mexico City
If you're looking for a sunny getaway this January, take a trip adventuring around Mexico. As a massive country, enjoy everything from the vibrant Mexico City to the stunning cenotes of the Riviera Maya to colonial cultural towns and ancient ruins.
With its close proximity to the equator, Mexico enjoys year-round warm weather, making it the perfect place to escape the cold. One of the best months to visit the country, January is in the midst of Mexico's dry season when temperatures are excellent and rain levels are low.
Average daytime temperature hovers between 75°F-85°F, but differs from region to region. At this time, colder winds and temperatures hit northern Mexico compared to the higher humidity in the south.
Everyone celebrates Christmas in Mexico, and even though January is a bit late for the festivities, enjoy strolling around every town decorated to the brim with holiday decor. January also signals the start of amazing festivals like Merida Fest, Fiesta Grande de Chiapa de Corzo, and Carnaval Jiutepec in Cuernavaca.
Most international flights will land you in the capital Mexico City or other popular tourist hotspots like Cancun or Cabo San Lucas. From there, a fantastic public transportation system can bring you to any neighboring cities and tourist attractions.
For those landing in Mexico City, book a stay in Hotel MX Centro as a starting point for your Mexico adventure!
Recommended by Catherine of Nomadicated
10. Spain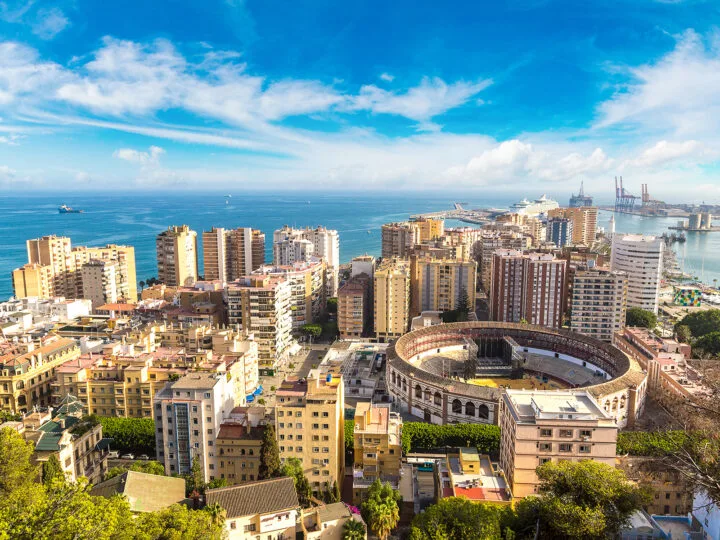 Average temp: high 62, low 46 (varies by region)
Fly into: Malaga-Costa del Sol Airport, Malaga
If you are looking for a warm winter destination, the south of Spain and the Spanish islands are excellent options. Enjoy the mild temperatures and sunny days, discover beautiful landmarks and landscapes and immerse yourself in the food culture.
Travelling to the south of Spain or the Spanish islands in January is a smart choice to avoid crowds, extreme heat and high prices on flights and accommodation.
There are many incredible destinations in these parts of Spain, but a popular choice in the south of Spain is Malaga, the best destination for anyone that wants to escape the cold and rainy winter.
Many people believe that Malaga is a summer getaway, however, there are many reasons to visit Malaga in winter.
One of the reasons is the weather. Temperatures are mild and most days are sunny. The average maximum temperature in January is 16.8°C (62.24°F) which is ideal to do outdoor activities.
This time of the year is fantastic for sightseeing and exploring as the heat and humidity in the summer months don't allow you to do so. When visiting Malaga, you can't miss attractions like the Alcazaba, a Moorish fortress palace, the cathedral and Picasso Museum.
However, if you love nature, you can also enjoy going on beautiful hiking trails. One of the best places to go hiking is Montes de Malaga Nature Park.
Another good reason to visit Malaga in January is to experience the festive period as Christmas ends on the 6th of January. If you are in the city on the 5th, don't miss the Three Kings Parade.
Last but not least, January is the cheapest month to visit Malaga. If you travel from a European country, you will find amazing and budget-friendly flight fares and good accommodation rates too.
The nearest airport to travel to Malaga is Malaga-Costa del Sol Airport (AGP) which is 15 minutes from the city centre, and if you are looking for a hotel, Room Mate Valeria offers beautiful and comfortable rooms at reasonable prices.
Southern Spain is a lovely winter getaway, and Spain is one of the best countries to visit in Europe in January.
Recommended by Cristina of The Little World of Travelling
Want more Spain travel inspiration? Check out a week in Mallorca – stunning!
11. Belize (another favorite for best beach vacations in January)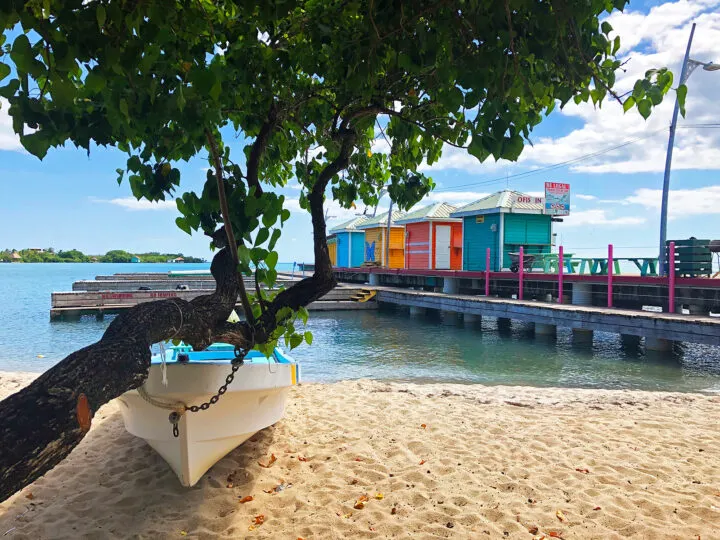 Average temp: high 83, low 68
Fly into: Goldson International Airport, Belize City
The small Central American country of Belize is a dream to visit if you're looking for a sunny vacation in January. Offering a variety of things to do in Belize from picturesque islands to fun beach towns and ancient ruins to explore, there's so much to experience!
January is a great time to travel to Belize because many of the holiday tourists are gone and it's the dry season, so you'll have gorgeous weather for exploring.
For a beach vacation, head to Ambergris Caye or Placencia. You'll find beautiful beaches that aren't overcrowded like they can be in Florida or other spots in the Caribbean.
If you're looking for history and culture, head inland to San Ignacio and visit the Xunantunich Mayan Ruins. Learn the fascinating history of how the Mayans lived and operated their stone structures while climbing atop the largest in the complex, El Castillo.
Whether you're looking for a vacation where golf cart is the preferred method to get around or you're up for chasing waterfalls and seeing monkeys roam through the jungles, Belize has a destination perfect for you!
Recommended by me – Nikki of She Saves She Travels
12. Maldives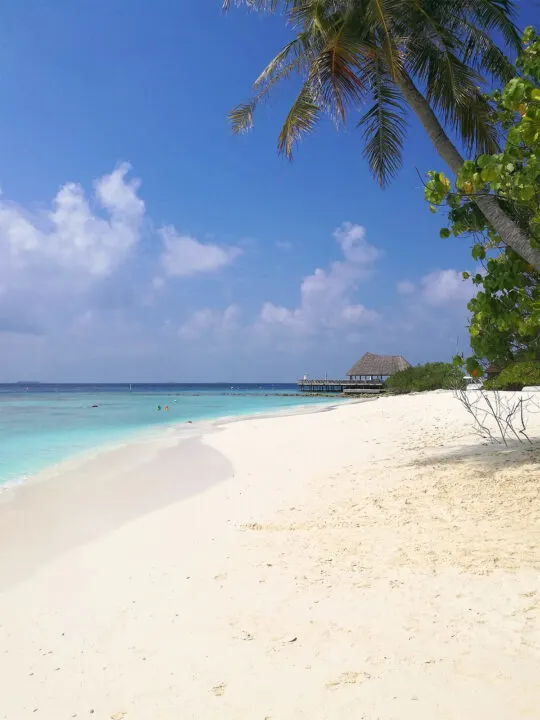 Average temp: high 80, low 77
Fly into: Velana International Airport, Male
If you're thinking of starting the New Year with a bang, what better way to do this than laying on a dreamy beach, with white powdered sand and sone of the clearest water in the world? A trip to the Maldives should be on everyone's bucket list, and January is the perfect time to do it.
Although it's right in the middle of the season, January is perfect for a trip to the Maldives as it's right after the holidays and just before Valentine's Day, so the prices are really great during these times. You can even find some affordable water villas if you dig enough, and you can maybe score a nice room at this resort that I'm sure you've seen on Instagram already.
Getting there is easy, as there's one main airport used as a hub, located next to the Capital city of Male. From here, you reach your resort island by either speed boat, seaplane, or a combination of the two, but this is handled by the accommodation itself so you really don't have to worry about anything while on your trip.
And if you usually have a long list of activities to do while on vacation, you'll have to adjust when in the Maldives: here, you can only lay on a beach or float in the water.
Of course, you can do various water activities like snorkeling, diving, or going on sunset cruises, or you can lay on a sunbed, hammock, or on a massage table, but you get the point. There's really no better place in the world to relax than this tropical paradise!
Maldives easily earns a spot on this list of the best countries to visit in January!
Recommended by Cristina of Honest Travel Stories
13. Singapore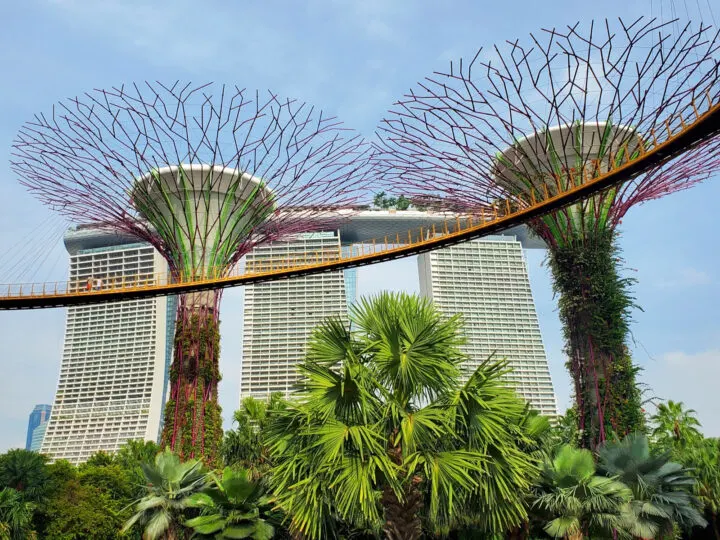 Average temp: high 87, low 75
Fly into: Singapore Changi Airport, Singapore
Singapore is one of the best countries to visit in January for those looking for a warm and sunny getaway. The weather is hot and humid year round but January is one of the cooler months making it a great time to visit.
The temperature will still be hot so it is best to see indoor attractions during midday and early afternoon. The evening is a great time to walk around and explore as Singapore is considered one of the safest countries in the world.
One of the top and most unique Singapore attractions is Gardens by the Bay, a large nature park with both outdoor and indoor gardens and conservatories. Don't miss Supertree Grove, made up of huge tree-shaped vertical gardens, that puts on free light and music shows every night.
Another must do is to walk along the waterfront promenade while enjoying skyline views and passing by landmarks including the ArtScience Museum, Helix Bridge and the Merlion statue. Explore and dine at one of the many interesting city neighborhoods such as Kampong Glam, Little India, and Chinatown.
The beautiful Singapore Botanic Gardens is also worth visiting. Ride the cable car to Sentosa Island for family friendly attractions and beaches.
Singapore is very easy to reach by air as it is home to Changi Airport, which is considered an attraction itself. Consider staying at a hotel with a rooftop pool such as the Marina Bay Sands, the iconic hotel known for its long rooftop infinity pool.
Recommended by Matilda of The Travel Sisters
14. Switzerland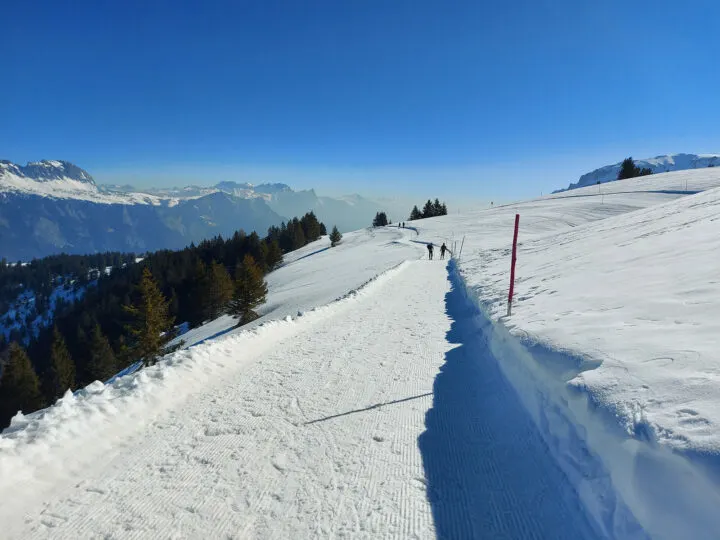 Average temp: high 38, low 28
Fly into: Zurich International Airport, Zurich
Switzerland is definitely one of the best places to visit in Europe in January if you like snow!
Since 60% of the country consists of the Alps, it's designed for winter sport activities. Switzerland has an incredible number of famous ski resorts with a high amount of lifts and gondolas to take you into the beautiful winter wonderland.
Impressive landscapes, exemplary service and snow reliability, you can expect great skiing and snowboarding in Switzerland. The Alpine country has a lot to offer when it comes to winter sports.
The mountain village of Zermatt, for example, impresses with a total of 360 kilometers (223+ miles) of slopes and over 60 lifts. It's the largest ski area in Switzerland and one of the best ski resorts in the world.
Enjoy a little less hustle and bustle, a smaller but just as beautiful is Flumserberg in central Switzerland or Samnaun in the east. No matter which of Switzerland's many standout spots you choose, traditional cheese fondue is available almost everywhere, often served in small, beautiful chalets or under open starry skies.
South of the Alps, in Ticino, snow may not be guaranteed in January, but this region scores with the sunniest days in the country. So, if it's raining or snowing elsewhere in the country in January, you can take a beautiful walk along Lake Lugano and enjoy the snow-covered Alpine peaks through your sunglasses in the bright and warm sun.
Pro tip: come to Switzerland in January and bypass the school winter vacations, the country's slopes are a little less busy.
The biggest airport in Switzerland is Zurich and thanks to a great developed railroad network, you can reach almost any place in the country from Zurich in 3 hours.
Recommended by Linda of Hiking the Alps
15. Guatemala (perfect for a low-key January getaway)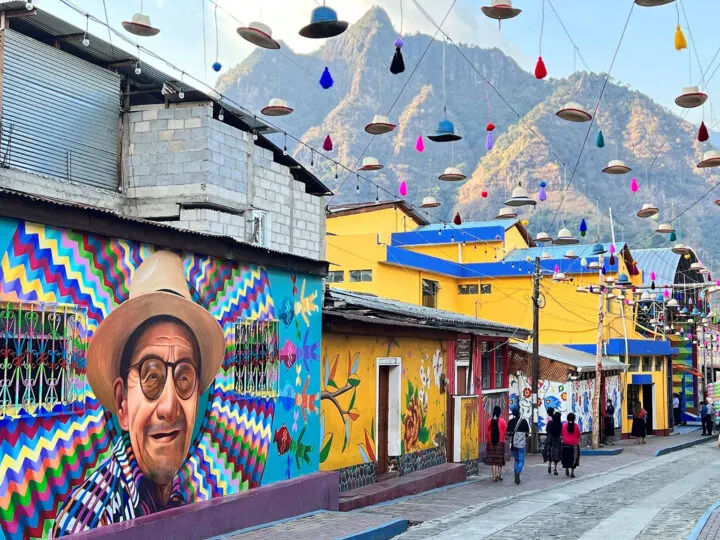 Average temp: high 75, low 54
Fly into: La Aurora International Airport, Guatemala City
Guatemala is a great vacation in January as it's the peak dry season. Enjoy warm weather, great culture and amazing adventures.
It's a budget destination, so your money will stretch further here than in nearby countries such as Costa Rica and Panama.
Top travel destinations in Guatemala include Antigua and Lake Atitlan. Antigua is a beautiful Spanish colonial city with many things to do. In fact, it's one of the best tropical Christmas destinations in the Americas.
The #1 attraction near Antigua is climbing Acatenango Volcano and witnessing its' neighbour, Fuego (Fire) Volcano, erupting every 30-40 minutes. This is a once-in-a-lifetime experience not to be missed!
A 3 hour drive from Antigua will take you to the central highlands and Lake Atitlan. The lake is a magical place with a near-perfect mid-20s temperature (mid-70's in Fahrenheit) all year round. Surrounded by 3 volcanoes, the views from Lake Atitlan are something special!
There are 12 towns surrounding Lake Atitlan, each offering something a little different and unique. San Pedro is a favorite for backpackers and San Marcos is a favorite for the hippy crowd. Wherever you end up visiting, travel between towns is quick and easy.
Travel between towns across the lake on little boats, known locally as Lanchas. The longest journey will be about 30 minutes and the cost less than $2.
Free Cerveza in Santa Cruz La Laguna is an interesting place to stay. A glamping site with private eco-lodges and tee-pee style tents, there is always something going on.
Enjoy complimentary use of the facilities, such as kayaking and stand-up paddle boarding. Santa Cruz is one of the best places on the lake to swim and offers fantastic views of the volcanoes in the distance.
Go for something a little different on your next holiday, go to Guatemala!
Recommended by Wes of Walk About Wes
16. Canada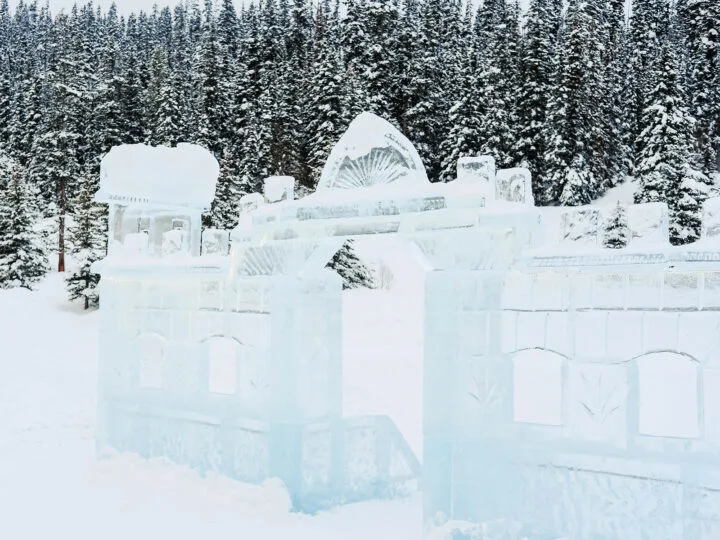 Average temp: high 30, low 13 (varies by region)
Fly into: Calgary International Airport, Alberta
So many destinations in Canada turn into the most magical winter wonderland during the month of January, and are sure to cure anyone's post-holiday blues.
One of the most exciting places to visit is the Canadian Rockies region and Banff National Park. At Lake Louise, you'll have the chance to skate across the frozen lake with a backdrop of the snow-capped mountains.
This outdoor ice rink has even been named the world's best by CNN! During the month of January, the entrance to the lake is surrounded by a beautiful ice castle, which will have you feeling like you're in a snow globe in no time.
Through most of January, Canyon Lights puts on an amazing display at the Capilano Suspension Bridge in North Vancouver. This bridge is one of the most scenic places to visit in Canada year-round, but when the bridge and surrounding park are aglow with thousands of twinkling lights, it's even more amazing to experience.
Heading over to the East Coast side of Canada, the best place to vacation in January is Old Quebec, a historic section of Quebec city. This area has been designated as a UNESCO World Heritage Site, and will have you feeling you've been transported to Europe.
Many of the picturesque streets will still have their holiday decor and lights up through most of January, and are especially magical after a snowfall. Visitors can enjoy rides down a toboggan chute, which has been operating for the last 135 years.
To visit Banff National Park and Lake Louise, you'll want to fly into Calgary, and from there, you'll need to rent a car to get around. If you want to visit Capilano Suspension Bridge's Canyon Lights display, you can fly right into Vancouver, and rely on public transportation and ride share services to get around. Then to visit Old Quebec, the best airport to fly into is Quebec City Airport.
Canada offers a variety of experiences, and it's definitely one of the best countries to visit in January.
Recommended by Sam of New England Wanderlust
More of the best countries to visit in January
Not even half done with the list. Do you have your January getaway picked out yet? Here's more fabulous ideas ahead…
17. Australia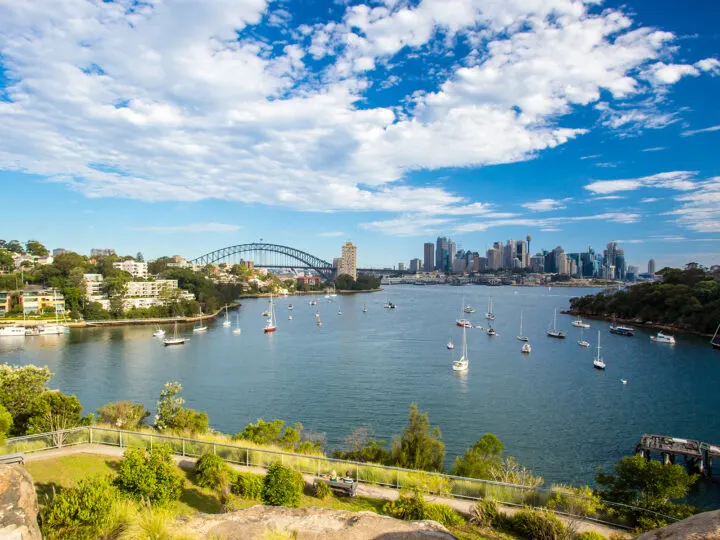 Average temp: high 79, low 66 (varies by region)
Fly into: Sydney Kingsford Smith International Airport, Sydney
One of the best countries to visit in January for sun is Australia. On the other side of the hemisphere, January is one of the warmest summer months.
Australia is an enormous country which means that temperatures can vary depending on where you go. From as warm as 89 F(32 C) degrees in Perth to as "cold" as 79 F (26 C) in Melbourne.
Besides the sunny weather, Australia has a lot more to offer. With a 21,126 miles (34,000 KM) long coastline, you can find beautiful beaches and cliffs all around the country. This makes beach hopping and surfing 2 of the most popular things to do in the country.
Nature lovers will have no shortage of green scenery as Australia is the number one country when it comes to the most national parks worldwide (over 650).
A good place to start your Australian vacation is Sydney. It's home to the largest airport that has the most international flight connections. On top of that, Sydney is also just a beautiful and lively city with amazing beaches.
For outdoor lovers, its close proximity to the Blue Mountains National Park is perfect. And wine lovers will enjoy a day trip to the Hunter Valley to try some Australian wine and bring home a unique Australian souvenir.
For solo travelers, The Wake-Up Bondi hostel is a great place to stay. If you're looking for a hotel, the Travelodge Hotel Sydney Martin Place is a good option too.
Recommended by Lara of The Best Travel Gifts
18. UAE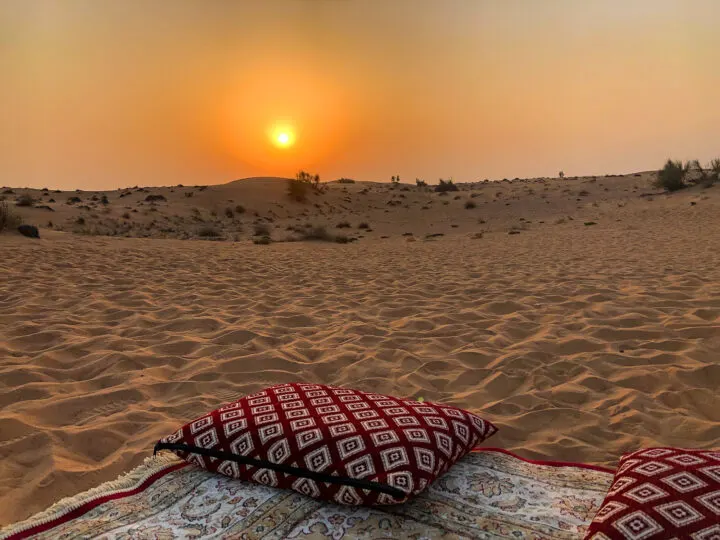 Average temp: high 75, low 59
Fly into: Dubai International Airport, Dubai / Abu Dhabi International Airport, Abu Dhabi
If you're looking to soak in the warm winter sun, then the UAE makes for an amazing destination. This Middle Eastern country is home to 7 Emirates, Dubai and Abu Dhabi being the most popular ones.
Both these glamorous Emirates have their own international airport and an array of hotels to choose from. From ultra-luxurious to boutique properties, from business hotels to glamping sites and from desert retreats to oceanfront suites, the accommodation offer is downright dazzling.
With daytime temperatures averaging 24°C or 75°F and nighttime temperatures averaging 15°C or 59°F, January is an excellent month to spend your vacation days outdoors without suffering from the scorching heat that affects the UAE most of the year.
You could choose to spend your days relaxing at a soft white sand beach, admire the view from the observation deck at the world's tallest building, take an adventurous desert safari from Dubai, soak up the atmosphere of the souks, visit the mesmerizing Abu Dhabi mosque, cruise the Arabian Gulf by speedboat, kayak through the mangroves or zipline between the most spectacular mountainscapes.
And fashionistas will certainly appreciate the Dubai Shopping Festival that takes place in January. So, when an action-packed winter vacation with a touch of glamour is what you're looking for, then the UAE will not disappoint!
The UAE is one of the best places to visit in January for sun and adventure!
Recommended by Sarah of CosmopoliClan
19. Portugal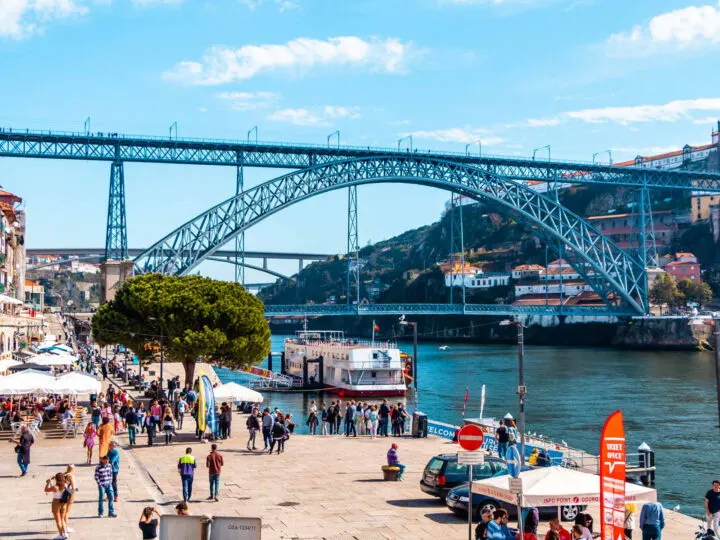 Average temp: high 59, low 47 (varies by region)
Fly into: Francisco Sa Carneiro Airport, Porto
Portugal is a charming winter destination and is one of the top warm European places to visit in January. Portugal's temperate climate is perfect for a wonderful vacation across the country.
Start your Portuguese adventure with the second-largest city in Portugal, Porto. It's a city famous for its association with port wine.
From boat trips on the Douro River to discovering hidden architectural gems, there are plenty of places to visit in Porto. The old Historic Centre of Porto, alongside the nearby Luiz I Bridge and Monastery of Serra do Pilar, are considered a UNESCO World Heritage Site.
Rumoured to be the inspiration behind the Harry Potter books, Livraria Lello is one of the most beautiful libraries in the world and one of the must-visit attractions in Porto.
Next, climb the Clerigos Tower for a stunning view over the city skyline. No visit to Porto is complete without taking a tour of its famous port wine cellars. You'll find many of them in Gaia, on the other side of the Douro River.
Finally, head down to Matosinhos beach and Foz do Douro promenade for a day out by the beach. The closest airport to the city is the Francisco Sá Carneiro Airport, which is well-connected to the city by public transport.
You can also add the vibrant capital city of Lisbon to your holiday itinerary. Lisbon is one of Europe's sunniest cities, having received more days of sunshine than any other European capital.
When visiting Lisbon, be sure to check out the best things to do in Almada, too. You'll love visiting Portugal. It's deserving of a spot on this list of best places to visit in January (Europe).
Recommended by Moumita & Sankha of Chasing the Long Road
20. USA (so many can't miss destinations for a vacation in January)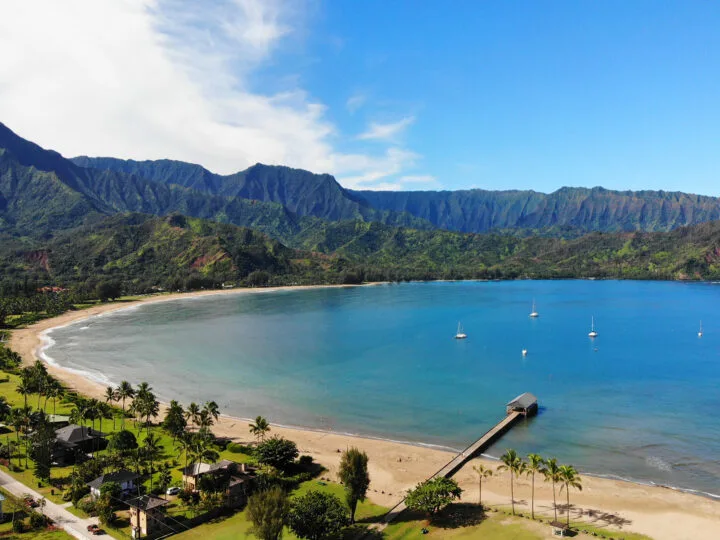 Average temp: high 68, low 46 (in the southern region – varies greatly throughout)
Fly into: Denver International Airport, Denver / Kahului Airport, Maui / Luis Muñoz Marín International Airport, San Juan
Similar to Canada, Mexico and Australia, the USA has a variety of climates and destinations perfect for January. And although it's impossible to choose just one, these popular January destinations in the USA are all great for wintertime travel.
Vail or Breckenridge, Colorado offer some of the best ski resorts in the world! If you're looking for a perfect winter getaway with fluffy white snow, consider the Rocky Mountains of Colorado.
Hawaii is an obvious choice if you're looking for warm vacations in January in the US, since it's average high temperatures hover around 80 degrees throughout the islands.
Watch the sunset on Haleakala in Maui, take a helicopter ride over the NaPali Coast in Kauai, visit the impressive Volcanoes National Park on the Big Island, or hike to the top of Diamond Head to overlook Waikiki Beach in Oahu. Hawaii is full of adventure!
Another hot spot for a best place to vacation in January is Puerto Rico. There's so many things to do in Old San Juan, including visiting the 500+ year old fort, El Morro. And if you're looking for a perfect beach, head to Flamenco Beach Puerto Rico on the nearby island of Culebra.
Without a doubt, the USA offers some spectacular January getaways!
Recommended by me – Nikki of She Saves She Travels
21. El Salvador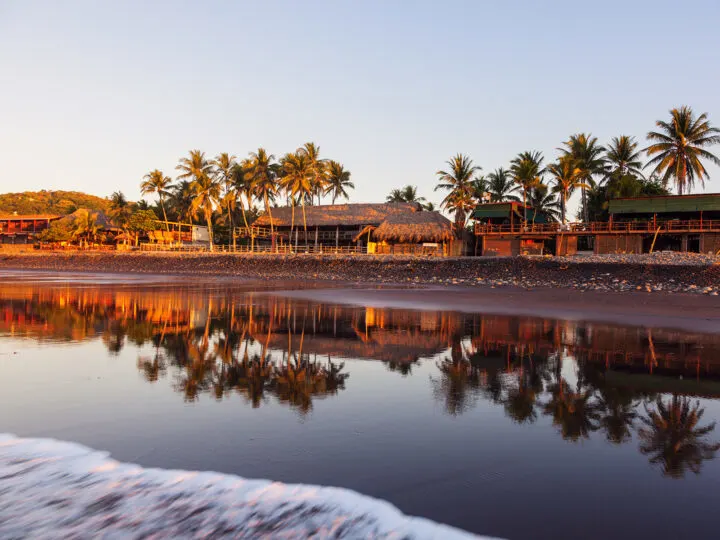 Average temp: high 85, low 64
Fly into: San Salvador Monseñor Óscar Arnulfo Romero International Airport, San Luis Talpa
El Salvador is an underrated destination in Central America, and one of the best countries to visit in January. A great spot to visit in El Salvador is the town of El Tunco.
Located on the Pacific coast, El Tunco, El Salvador, is a great getaway in the middle of winter. The weather is hot and sunny, with temperatures averaging in the high 80s. January is one of the best times to visit El Tunco because it's the middle of the dry season, so the chance of a downpour is minimal.
The best things to see and do in El Tunco involve enjoying its beautiful beaches, which are perfect for swimming and surfing. You can also sunbathe but some of the beach areas are a bit pebbly, especially right after high tide.
If you want a chill vibe, you can take some yoga classes and relax in a beach hammock. Or if you're up for some adventure, you can explore the beach caves (low tide only) or go waterfall hiking.
There are also a number of restaurants and bars in the town. The best thing to eat in El Tunco is pupusas, the national food of El Salvador! These thick corn tortillas are filled with meat, cheese, and/or beans.
If you want to party 24/7, there are a number of party-focused hostels in town. If you want to get a good night's sleep after going out but still be close to the action, stay at Eco del Mar Hotel.
El Tunco is easy to get to from the San Salvador airport. It's just a short drive to the coast on well-paved highways. You can hire a driver in advance, rent a car, or just call an Uber at the airport.
If you're looking for a fun, affordable vacation destination in January, El Tunco is definitely worth considering.
Recommended by Brodi of Our Offbeat Life
22. Serbia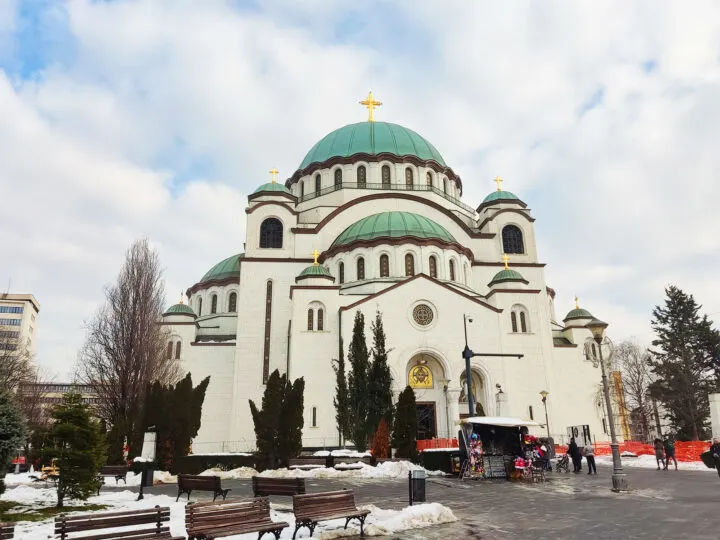 Average temp: high 39, low 28
Fly into: Nikola Tesla International Airport, Belgrade
Serbia is the best place to vacation in January if you love Christmas and lengthened holiday seasons. As a country with Christian Orthodox as its major population, Serbia celebrates Christmas on January 7th. And on top of that, in addition to the New Year on January 1st, they also celebrate Serbian New Year based on the Julian calendar on the 15th.
The best way to visit Serbia is to fly to Nikola Tesla International Airport in Belgrade, or you can easily travel by car from the neighboring countries in Balkan.
Serbia is quite small, so you can easily travel from the north to the south of the country for a week or two. Depending on the location, there are many things to do in Serbia in January. From enjoying the nightlife scene in Belgrade to spending your winter wonderland in popular ski resorts like Zlatibor or Kopaonik, there is always something for everyone!
For accommodation, you can easily find budget-friendly hotels and vacation rentals in each city. If you have a little extra budget for your accommodation, take a chance to stay at the Moskva Hotel in the heart of Belgrade. One of the most important landmarks in Serbia, the hotel has become a cultural heritage in the capital city since 1968.
Recommended by Marya of The BeauTraveler
23. Philippines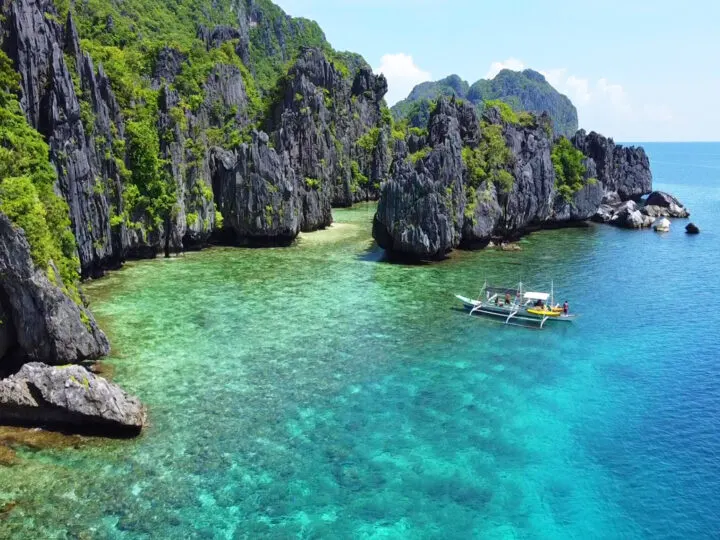 Average temp: high 86, low 74
Fly into: El Nido Lio Airport, Palawan / Puerto Princesa International Airport, Puerto Princesa
With the dry season in full swing, the Philippines is one of the best places to visit in January for sun. You can expect the weather to be hot and humid, yet there will always be a beach nearby when you feel the need to cool off.
One of the best places to visit is the island of Palawan, which has been voted to be "the most beautiful island in the world" multiple times by Travel + Leisure's Best of Awards.
Once you're there, it's easy to see why. In the northern part of the Palawan near El Nido you'll find beautiful islands, turquoise-blue lagoons, and jagged limestone cliffs. Thus, island hopping is one of the best things to do in Palawan!
If you don't want to take the detour through Puerto Princesa – the capital of Palawan – you can fly to El Nido directly via Airswift from Manila. Some of the best places to stay in El Nido are Frendz Hostel and Blue Mango.
If you're adventurous, you can also venture out to other places on the island, like San Vicente and Port Barton. San Vicente is known for its 14-kilometer-long beach, whereas Port Barton is a small, laid-back town attracting travelers from all over the world. From here, you can hike through the jungle to get to low-key beaches and even a picturesque waterfall, kayak around the bay, or go snorkeling for sea turtles.
As you can see, no matter where you go in Palawan, you can't go wrong! You'll have a wonderful vacation, perfect for a January getaway!
Recommended by Lena of Not Another Backpacker
24. Jamaica (another favorite on this list of best countries to visit in January)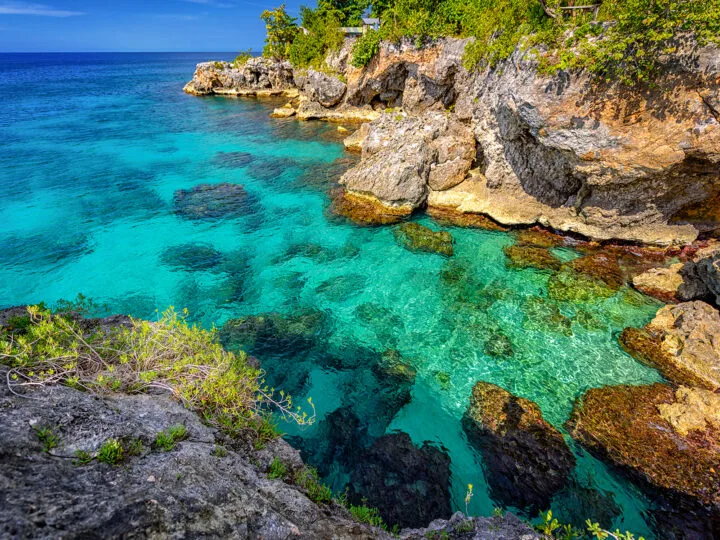 Average temp: high 83, low 74
Fly into: Sangster International Airport, Montego Bay
One of the best beach vacations in January is Jamaica. In the middle of the Caribbean Sea, the hurricane season is over and the rush of holiday travelers is gone. However, January is one of the busiest months for visitors to the island, as many are trying to escape the winter back home.
Relax and rest in luxury at an all-inclusive resort in Montego Bay, Negril or Ocho Rios. From family friendly options to adults-only resorts, there's something for everyone. Although, make sure to save up for it in advance, as January has some of the highest prices.
Venture off the resort on a day trip to Dunn's River Falls, ziplining, bamboo rafting or take a sunset cruise, amongst many others. Or, rent a car and explore for yourself. Just be sure to ask your hotel which nearby areas to avoid, as there is some gang crime in Jamaica. And definitely get back before dark.
By the way, Jamaica is a great stop on some of the best young adult cruises, since it's a destination with so much action and culture.
Whether you're looking to sit on the beach for a week or soak in the amazing Jamaican food and culture, you'll love a trip to this tropical paradise!
Recommended by me – Nikki of She Saves She Travels
25. Morocco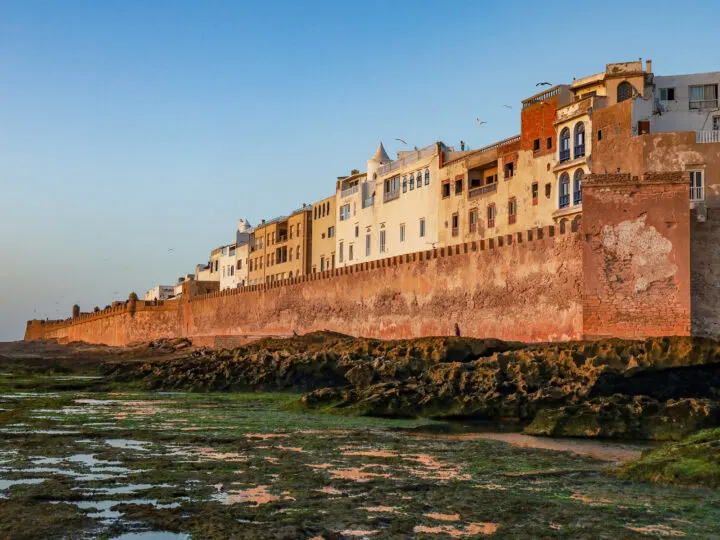 Average temp: high 66, low 45
Fly into: Marrakesh Menara Airport, Marrakesh
January might just be the best time of year for a trip to Morocco. Avoid the hot sticky summer, avoid the busy season and make the most of the moderate temperatures in Morocco during winter.
Marrakech, Essaouira and the Sahara Desert are just some of the destinations you'll want to add to your Morocco itinerary.
The beautiful chaos synonymous with Morocco is found right in the heart of the medinas of Marrakech. And you can start your journey here with a flight into Marrakech Menara Airport. Book the Riad Tizwa in Marrakech for a stay to remember, wander Jemaa el-Fna Square in the early evening, shop in the labyrinth of souks and stroll through the Jardin Majorelle.
But don't forget to see what else Morocco has to offer in winter. Marrakech is the perfect base to arrange a Sahara Desert tour or a beach adventure to Essaouira.
Book a visit to Merzouga or M'hamid, to see the rolling sand dunes of the Sahara. And on your way include a visit to Ouarzazate to admire the incredible kasbahs of this region. The Kasbah Aït Benhaddou is possibly the most magnificent, made famous by the many movies filmed here.
And finally, don't miss a couple of days stay in Essaouira to finish your Moroccan adventure. This beach destination is a great little medina town that impresses all. Book a beautiful riad for a true Moroccan experience, ride horses on the beach, walk the ramparts and book a surf.
Morocco vacation in January is always a good idea!
Recommended by Sharon of My Free Range Family
Best countries to visit in January – continued
In the final stretch of this epic list! A few more fun cities and some of the best beach vacations in January yet, let's wrap up this list with a bang!💥
26. Sweden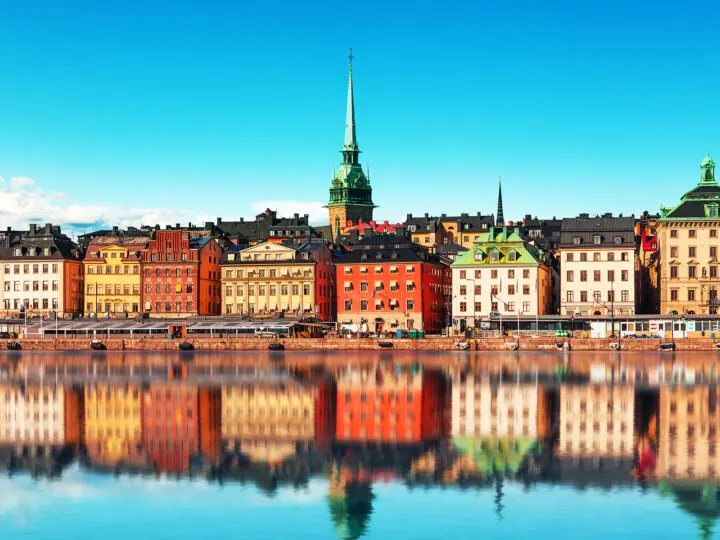 Average temp: high 33, low 26
Fly into: Stockholm Arlanda Airport, Stockholm-Arlanda
If you're looking for a vacation in January, then the beautiful country of Sweden is a fantastic option! With spectacular cities, unspoiled forests, and breathtaking lakes, it's no surprise that over 7.5 million people visit every year.
Sweden will take your breath away no matter what time of year you visit, but there's something special about visiting in January!
During this time of year, the ground is often covered in snow and temperatures will be well below freezing, although that's the perfect excuse to treat yourself to a hot chocolate and a Fika!
Sweden is one of the best places to visit in January to extend that 'festive feeling' as many of the winter palaces might still be running, especially earlier in the month.
Sweden's largest airport is Stockholm Arlanda which is just 39 km (24 miles) from the capital city. This often means Stockholm is the first port of call, and you'll find tons of fascinating things to do here – especially in January!
First of all, you'll have plenty of ice skating opportunities but the main spot to visit is Kungsträdgården! Then, you can head to Hammarbybacken if you're looking to ski or head out on a winter cruise of the archipelago!
If you're staying in the capital, there's no shortage of accommodation options but one of the best hotels in the city is Radisson Blu Waterfront Hotel.
Other fantastic places to visit in Sweden during January include Swedish Lapland, Abisko National Park, Gothenburg, and Salen.
Just keep in mind that if you're traveling through Sweden during this time of year, you'll need plenty of layers. You'll also want to indulge in a warm drink at every opportunity and fill your belly with delicious Swedish meatballs!
Recommended by Jack & Abbie of A Couples Calling
27. Grenada (another awesome contender for best place to vacation in January)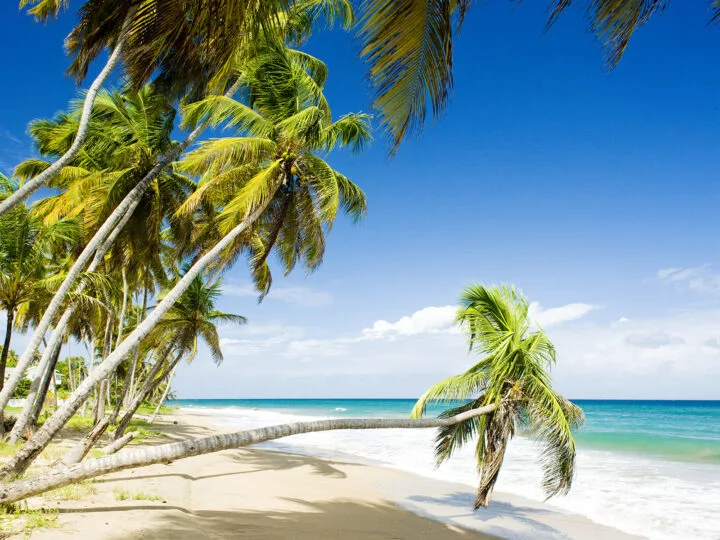 Average temp: high 86, low 74
Fly into: Maurice Bishop International Airport, Grenada
The island of Grenada in the Caribbean is one of the best islands to visit in January. Located at the southern end of the chain of Caribbean islands, Grenada is still rooted deeply in culture and nature to experience, without a whole lot of big chain influences.
January is an amazing time to visit, as the temperature is roughly 86 degrees year round during the day, and the water stays nice and warm too! It's the perfect getaway from the winter cold to enjoy warm water, beautiful beaches, waterfalls, a tropical climate and Caribbean culture.
The easiest way to get to Grenada is by flying into Maurice Bishop International Airport. Once you arrive, you can either grab a taxi (they look like small buses) or make your way to a shuttle if your accommodation offers transportation.
There's a huge range of accommodation options, including many homestay options, more casual resorts, all the way to luxury all inclusives. My recommendation for an eco-friendly boutique hotel is the True Blue Bay Resort, while if you're looking for something all inclusive, Spice Island Beach Resort.
January does fall within Grenada's high season, so be prepared for more crowds than if you went during the rainy season (summer months). Definitely visit one of Grenada's Best Beaches while there, and try to take an island wide guided tour to experience waterfalls, sulphur springs, cocoa farms, local distilleries or more!
You'll want to stay in Grenada at least a week to experience all there is to see and do! Grenada is one of the best countries to visit in January. It's an amazing destination with the welcoming and vibrant Caribbean culture that you don't want to miss!
Recommended by Taylor of Tea N' Sea Travel
28. South Africa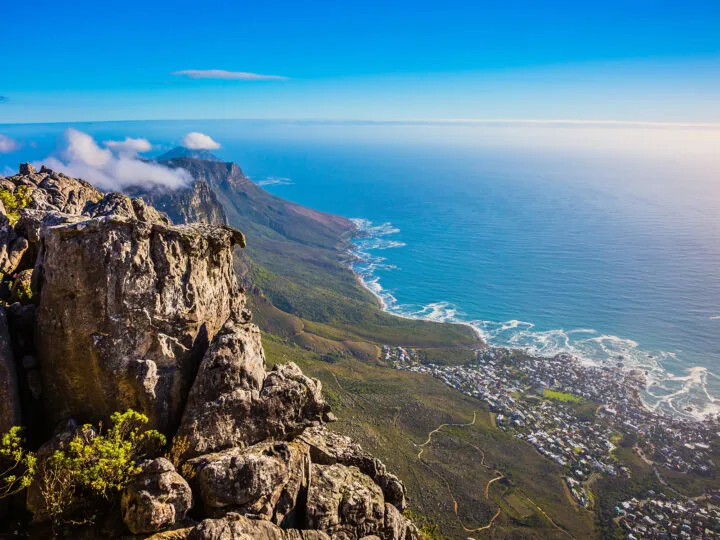 Average temp: high 83, low 63
Fly into: Cape Town International Airport, Cape Town
South Africa is one of the best countries in the world for a January vacation. It's the ideal spot to take a breath and enjoy life.
January in South Africa sees the weather at its best, particularly in the western regions. Summer below the equator is in full swing, and the air is warm and dry.
However you dream of spending your time, this sizable country is teeming with great adventures and awe-inspiring beauty just for you! Come to South Africa to see the iconic wildlife, enjoy the most picturesque road trips of your life, or explore its astounding urban highlights.
Or try a shark-cage dive off the coast! Whichever activity you choose, your options are countless.
If this abundance of activities doesn't earn South Africa a vote for the best countries to visit in January, maybe this will: all of these remarkable activities are accessible from the spectacular city of Cape Town. It's the ultimate base for your South African vacation.
January in Cape Town provides you with the opportunity to attend the Kaapse Klopse. This colorful January 2nd street festival will give you stories to tell! You can also visit famous local treasures such as Table Mountain, the V & A Waterfront, and the Kirstenbosch Botanical Gardens, right in Cape Town.
The Cape Town International Airport is just 20 km from the city centre, and services airlines that connect with all parts of the world.
Finding the best home away from home for you is as easy as amazing vacation rental options. How does a seaview apartment or a country cottage sound? It's all waiting for you!
Recommended by DJ of Introvert with Itchy Feet
29. England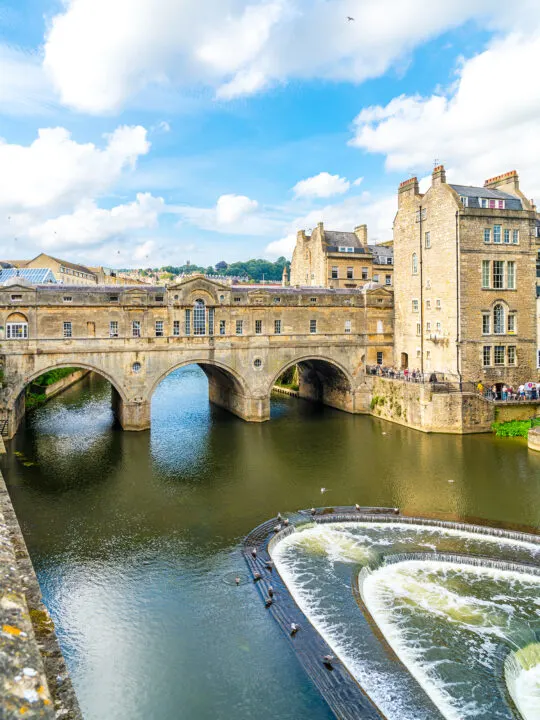 Average temp: high 45, low 35 (varies by region)
Fly into: London Heathrow Airport, London
England is an underrated country to visit in January. It's the perfect mix of winter wonderland and mild temperatures, depending on where you visit.
For example, Oxford and Birmingham typically see dustings of snow throughout January. You may even find enough snow a few days a year to build a small snowman!
But places like Brighton Beach will remain snow-less. There are even days London will be as sunny as in summer!
The mild temperatures attract visitors who are looking to escape the freezing cold of Canada or Scandinavia, but don't want to pay the inflated prices of a beach vacation. Temperatures average 5C (41F).
Don't forget to pack a light coat and some waterproof boots, as it can drizzle throughout January.
Luckily, the best things to do in the UK aren't summer-based.
Having high tea in Covent Garden, touring Shakespeare's birthplace in Stratford upon Avon, listening to live music at a pub, and enjoying British stand-up at local comedy houses are all great indoor activities to take advantage of.
There are plenty of ways to save money while still enjoying everything the country has to offer. For starters, take advantage of the many free museums and galleries.
You can also find cheap eats by avoiding tourist traps and sticking to local pubs. And finally, take advantage of the many cheap or free walking tours available in most cities.
The UK is easily accessible from anywhere in the world.
Major airports include London Heathrow (LHR) and London Gatwick (LGW). Stanstead is another option, but then you'll need to take a long train journey.
To get around, take trains for cheap day trips from London to places like Bath and Oxford.
Recommended by Nina of Nina Out and About
30. India (an underrated one on this guide for warm vacations in January)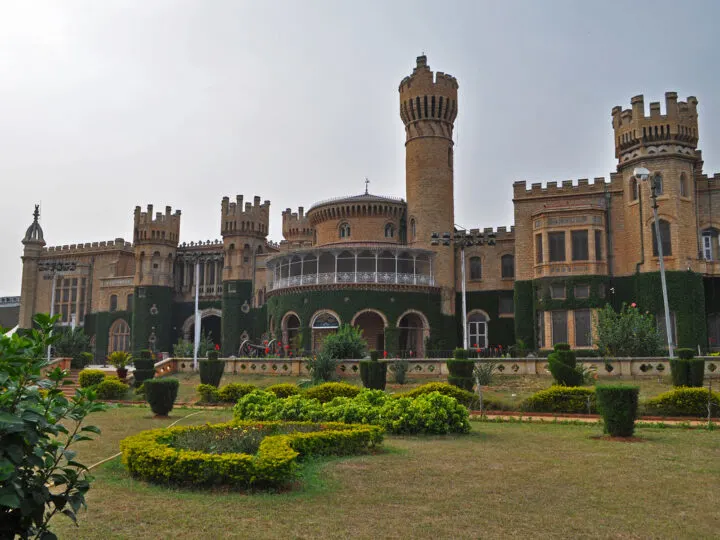 Average temp: high 83, low 60 (varies by region)
Fly into: Indira Gandhi International Airport, Delhi / Kempegowda International Airport Bengaluru, Bengaluru
While India may be on your travel bucket list, January is also a great time to cross it off!
January in India means it's dry season, so you don't need to worry about rain like you do during monsoon season. While India is a large country, narrowing down what you want to see and do will help determine what weather you'll face and where to fly into.
The northern part of India is home to the famous Taj Mahal. Located in Agra, the Taj Mahal can be visited via day trip from Delhi. One of the new 7 wonders of the world, the Taj Mahal's grand and impressive architecture is stunning in real life!
In southern India, the popular towns of Bengaluru (aka Bangalore) is a busy city with so many things to do. Bangalore is famous for the Lalbagh Botanical Garden, the Bengaluru Palace, Bull Temple and Cuban Park. Nearby Mysuru (aka Mysore) is a great day trip or weekend getaway from Bangalore. Be sure to watch the lighting of the Mysore Palace – stunning!
If you're looking for a beach destination in India, Goa is the place to be. With gentle waves, swaying palm trees and beautiful, relaxing hotels, Goa is a great spot to relax and unwind in India. It's truly a great destination, and one of the best countries to visit in January.
Recommended by me – Nikki of She Saves She Travels
31. The Gambia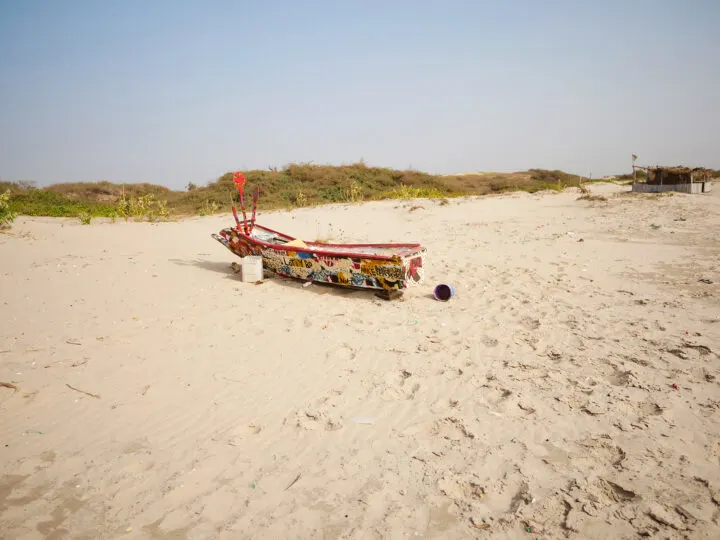 Average temp: high 91, low 65
Fly into: Banjul International Airport, Banjul
Perched on the west coast of Africa is a small but charming country known as The Gambia. The Gambia is renowned for its lengthy swathes of golden sand beaches, freshly caught fish and smiling locals.
The Gambia has 2 distinct seasons: the rainy season and the dry season. The dry season runs from November to May and is the best time to visit. The temperature at this time of year is pleasant – roughly 30 degrees Celsius (86 Fahrenheit) – and you can expect bright sunshine on most days.
January is also a great time of year to visit due to the country's annual Banjul Demba Cultural Festival. Here, you'll witness traditional music and dance performances in the country's capital city.
The Gambia is a very small country and so only houses one international airport: Banjul International Airport.
Most visitors to The Gambia choose to base themselves in Serrekunda, a vibrant town set behind a glorious stretch of beach, fringed by lazy palm trees.
Serrekunda is a mere 30 minute drive from the airport. It's easy to grab a taxi from the airport, or you can pre-arrange a taxi with your hotel or via a taxi company beforehand.
Alternatively, you can hire a car in The Gambia. I'd personally recommend pre-booking a taxi from a reputable company as some taxis at the airport are in questionable condition.
There are numerous hotels in Serrekunda for you to choose from but a personal favourite of mine is Luigi's Complex. It has a very friendly and laid-back vibe and is only a short walk from the beach.
Recommended by Ella of Ella McKendrick
32. New Zealand (by far one of the best countries to visit in January)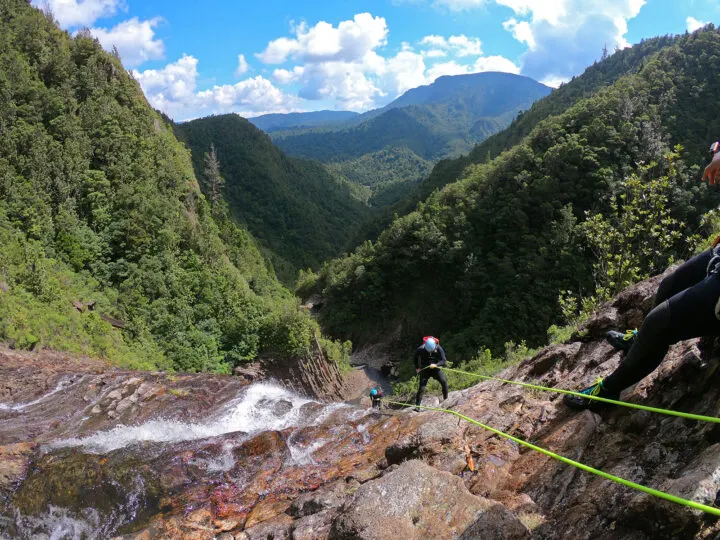 Average temp: high 77, low 53 (varies by region)
Fly into: Auckland International Airport, Auckland
A bucket-list destination for many, New Zealand is at the top of its game in January. This summer month brings some of the warmest temperatures in the country, delighting visitors that enjoy sunny days at the beach.
New Zealand is a surprisingly large country – a fact that many people underestimate when planning a vacation. The amount of time you have will affect the places you are able to visit, however, these are some amazing summer spots in Aotearoa.
If you're able to include them in your itinerary, you'll be sure to come away happy. After all, New Zealand is one of the best countries to visit in January!
Paihia is located in the Bay of Islands, and though it is beautiful at any time of year, it's particularly vibrant during the summer season. Known for its stunning beaches, uninhabited islands, settled weather and marine life, this is a must-see in January. Kerikeri is the closest airport to Paihia, but many choose to fly into Auckland and drive up.
Moving down the North Island, the Coromandel Peninsula is another summer-time favourite for locals and visitors alike. Significant highlights include Hot Water Beach (where you can dig your own natural hot pool in the sand), Cathedral Cove and New Chums Beach, all of which are best enjoyed in the warmth of the summer season. Auckland, Hamilton and Tauranga airports all service this region.
Finally, a summertime trip to Fiordland should be on your radar. Though this area experiences a lot of rain right throughout the year, this will be your best chance at seeing it on a nice day.
When the weather is still, the mirror reflection of Milford Sound on the water really is incomparable. Queenstown is the closest airport to Milford Sound, though many choose to stay in Te Anau.
Haere mai and welcome to Aotearoa New Zealand.
Recommended by Sarah of New Zealand Travel Tips
33. Malta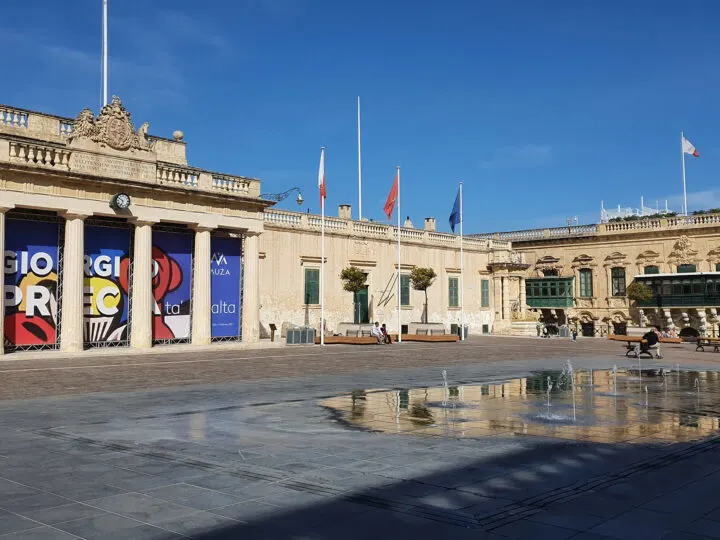 Average temp: high 60, low 49
Fly into: Malta International Airport, Malta
One of the best places to visit in January for sun is the European island of Malta. Actually, Malta is made up of 3 islands, Malta, Gozo, and Comino.
Compared to other European countries, Malta in winter is usually very sunny and in January temperatures can go up to 20 degrees Celsius which on a sunny day feels very pleasant.
One of the best things about going in January is that fewer tourists venture to the island which is mainly considered a summer destination. But what most people fail to realize is that it is the best time for going hiking and exploring the ancient towns.
Malta has a long history, and if you get rainy or windy days it's perfect to explore underground where you can walk through the World War Two Shelters or discover the old catacombs in Rabat. On the other hand, if the weather is nice, you can easily go for a quick dip in the crystal-clear water.
There are numerous flights connecting Malta with the rest of Europe. In addition, you can take the boat directly from Sicily in Italy.
Getting around Malta by bus is easy, it costs 1.50 Euros for a ticket that lasts you for 2 hours (including bus changes.) On top of that, they have tap and pay so there is no need for cash.
Recommended by Linn of Brainy Backpackers
34. Turks and Caicos (another favorite on this list for best beach vacations in January)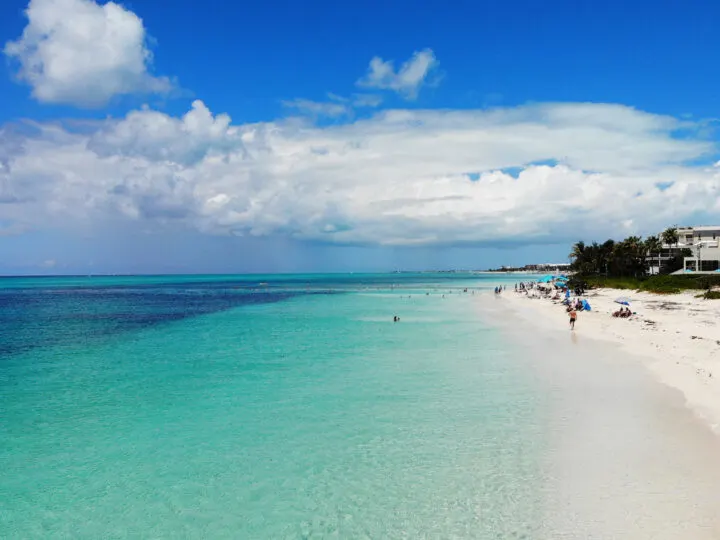 Average temp: high 82, low 74
Fly into: Providenciales International Airport, Turks & Caicos Islands
Last but certainly not least is the dreamy island chain of Turks and Caicos. Definitely worthy of a spot on this list of the best countries to visit in January, Turks and Caicos has unbelievable white sand beaches with the most turquoise water you'll ever see.
A beach destination with the right mix of good food and water activities, Turks and Caicos is a laid-back island chain where the term 'island time' could have been created.
The whimsical nature of the island is perfect for a January getaway when all that matters is what time you should re-apply your sunblock. (By the way, be sure to use ocean-safe sunblock at all times to protect marine life.)
Staying on the main island of Providenciales doesn't have to break the bank, either. It's possible to do Turks and Caicos on a budget, without sacrificing a good time on the island chain.
While there, be sure to visit the best beaches on Turks and Caicos. Grace Bay Beach is the most popular, but moving away from the busy tourist spot will provide you with amazing views where you *might* just be the only one there.
Enjoy a dreamy island vacation in Turks and Caicos!
Recommended by me – Nikki of She Saves She Travels
Best countries to visit in January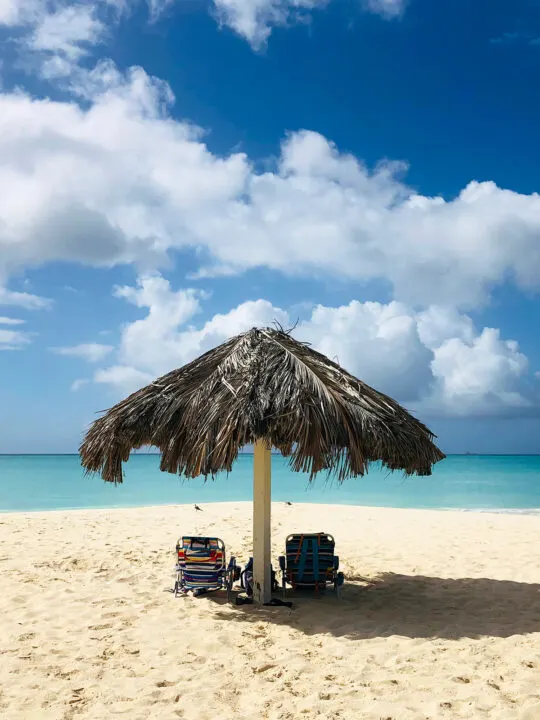 Whew! What a list! From the best beach vacations in January to frozen winter wonderlands, this was a fun guide to put together. So….are you ready to book your flights yet?
Let's review that list one more time, in a more succinct fashion….
Best places to vacation in January
Costa Rica
Austria
Colombia
Aruba
Iceland
Thailand
France
Antigua
Mexico
Spain
Belize
Maldives
Singapore
Switzerland
Guatemala
Canada
Australia
UAE
Portugal
USA
El Salvador
Serbia
Philippines
Jamaica
Morocco
Sweden
Grenada
South Africa
England
India
The Gambia
New Zealand
Malta
Turks and Caicos
Related content to read next:
30 Incredible Warm Winter Vacations USA (Say Goodbye to the Cold)
35 Cheapest Beach Vacations: Swoon-worthy Destinations You Need to See
28 Underrated Travel Destinations in the US You Need to See
32 Awe-Inspiring Adventurous Bucket List Ideas You Gotta See to Believe
Find this post helpful? Save it for later or share it on social media!